You might have seen thousands of bees whirling in the air and wondered what they're up to. Let's break the news to you—they are looking for a new home. Bees swarming–that's what this post is all about.
Bees generally swarm in spring. But you may see them swarming even in summer or the fall. They'll emerge from their hive and form a buzzing cloud that will land on a branch, post, or even under a roof.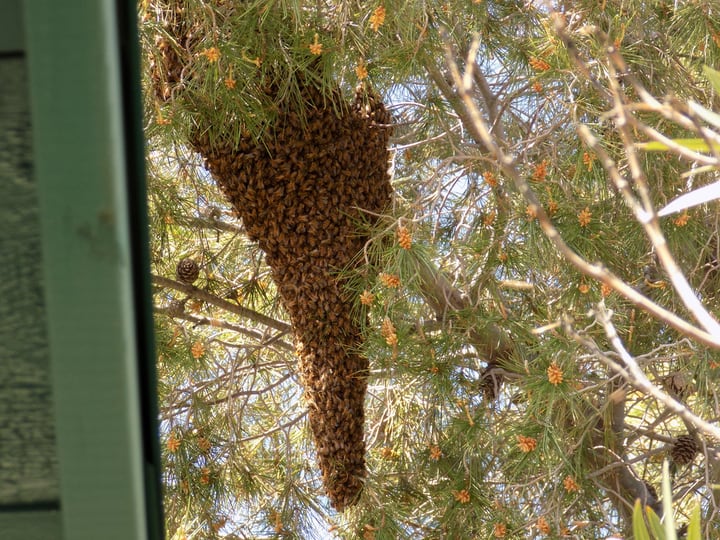 While some may be frightened seeing a wild pack of bees, ready to sting anyone in their path, know that stinging is not on their mind at all. They are full of joy and excitement, searching for a new nesting place.
What's more, there's a good chance you may be able to capture them and give them a new home in your garden. There's also the added bonus of honey and wax in store for you.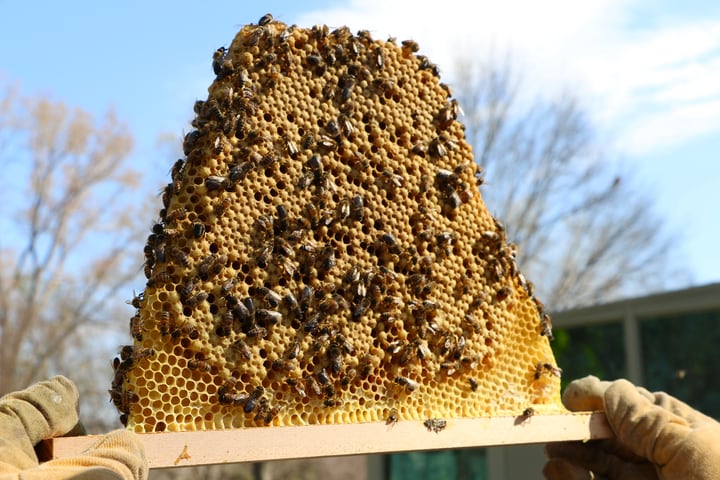 So if you're a newbee (get it?) in the field of beekeeping, or if curiosity got the better of you, read on to learn more about bees swarming.
We have also listed the best swarm traps and bait hives for you. Plus, an easy guide on how to catch a swarm of bees.
Why Do Bees Swarm?
Bees swarm for two major reasons—space and reproduction. You might find the first reason hilarious since their colonies are already so densely packed that bees hardly appear to want "space".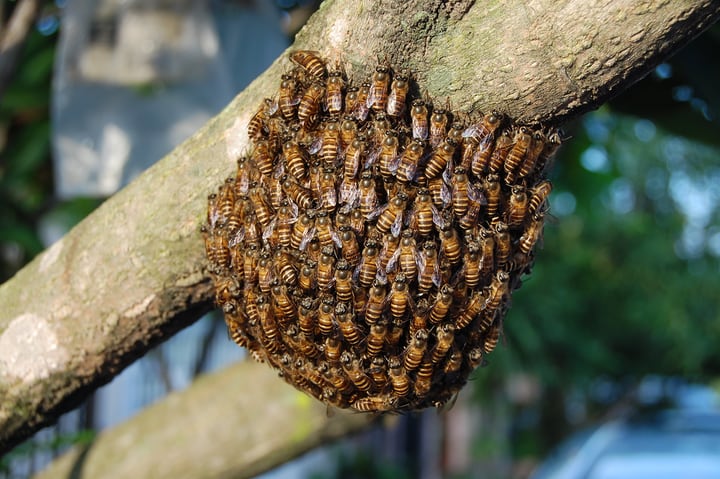 Well, it's true that bees live in dense colonies. But when their colony grows beyond the capacity of their hive, they decide to split into two or more groups.
When bees swarm to reproduce, they reproduce as a whole colony. That is, they want to multiply the number of hives, form new colonies, etc.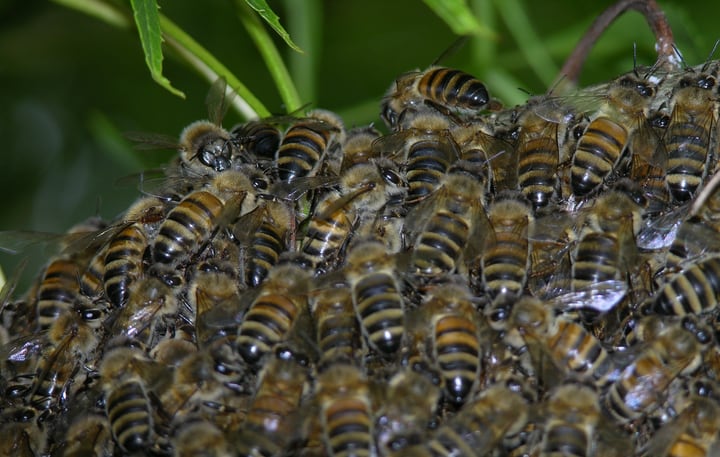 Good to know: Sometimes, bees also abandon the existing hive completely. This is called absconding and is different from swarming. Bees abscond due to lack of food or water, parasite infestation, or disturbance by humans or animals.
Bees Swarming Signs: How to Recognize Swarming Bees
Bees swarming is a beautiful phenomenon that anyone, beekeeper or not, can witness. It's a sign of a healthy and flourishing colony of bees.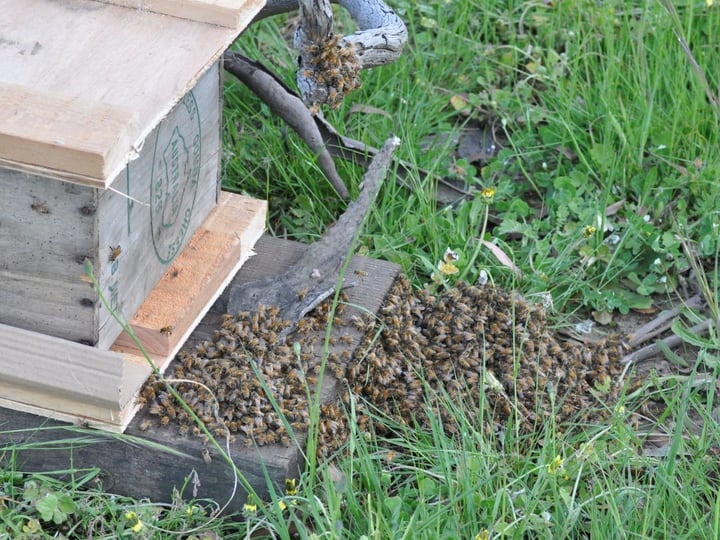 Swarming generally occurs in spring during the warmer hours of the day. Bees are quite intelligent in this regard—if they swarm in spring, they know that there will be enough time for them to store food for the winter.
Notice these signs to know a colony of bees is about to swarm:
High activity: You will notice a lot of activity near the entrance—worker bees flying in and out of the hive. There will also be a high worker and drone bee population.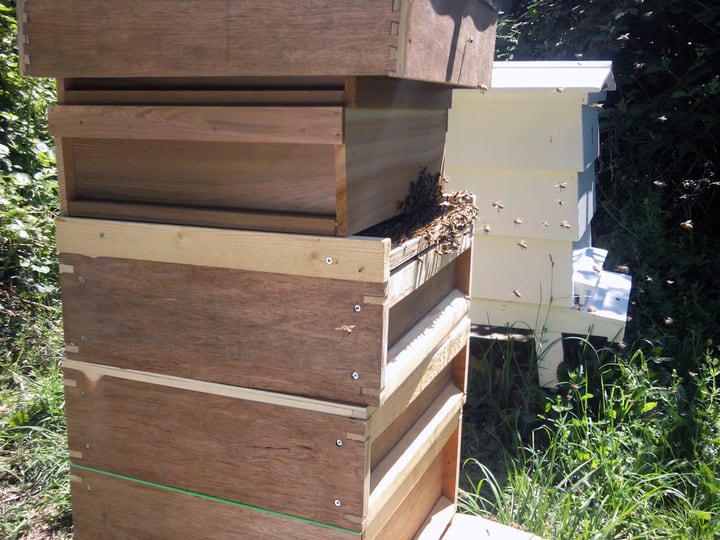 Lack of comb space: When most or all the cells in the hive are claimed, the bees would want more space for brood rearing. So they decide to swarm. Besides, the existing hive has become too cramped for them to store more honey and pollen.
Idle worker bees: Lethargic behavior can be another sign prior to swarming. Bees do not bring much food into the hive or expand it.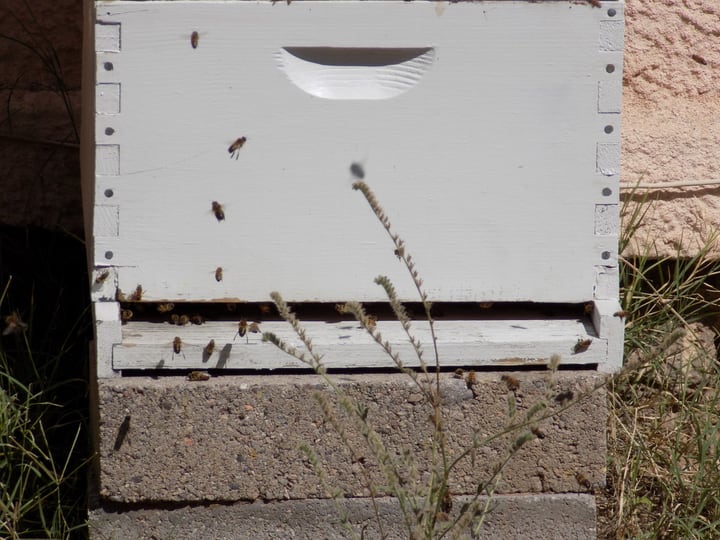 Size of the queen bee: If a colony decides to swarm, the older queen also has to leave with the swarm. To fly great distances, the queen must become smaller. And how? Worker bees restrict their queen's food intake prior to swarming.
Construction of queen cups: If you notice your bees making queen cells, they are definitely preparing to swarm. The existing queen bee will lay eggs in these cups to create a new queen for the old hive.
How to Catch a Swarm of Bees Safely
Catching loose bees may sound bold and daring, but it can be a viable option for even beginner beekeepers. So if a swarm of bees has landed on a nearby branch, wall, pole, or other covered areas, be brave and give it a try.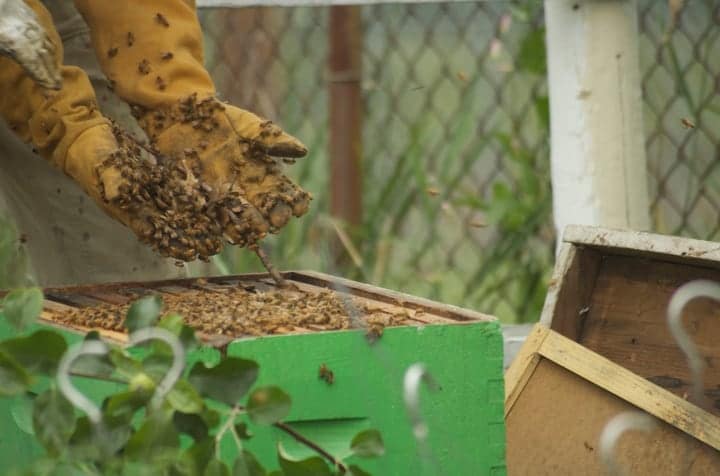 Warning: Make sure you are well-equipped and have your protective gear ready before you decide to catch a swarm of bees.
Tools and equipment you'll need:
Wood or cardboard box
Light-colored bed sheet or cloth
Shears
Bee brush
Sugar syrup and lemongrass oil
Protective gear
Once you have the tools ready, follow these steps to safely catch a swarm of bees. It doesn't have to be dangerous!
Step 1 – Locate the Swarm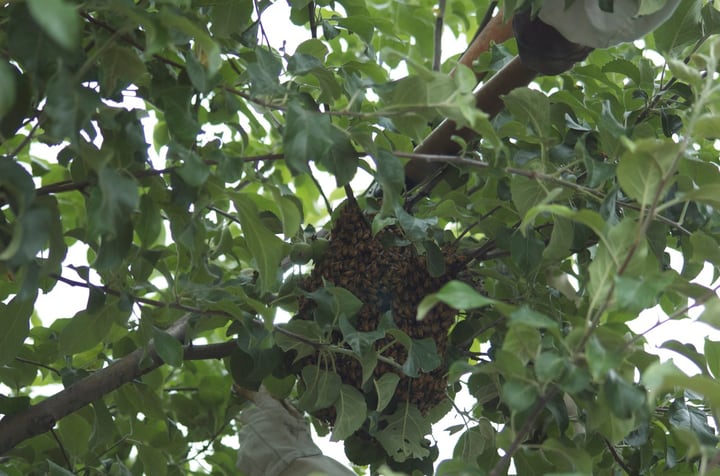 The swarm will initially be fairly chaotic, with bees buzzing about in large circles. They will eventually land on a nearby branch, fence, or pole and cling to each other.
Note that this clinging is only temporary, and that scout bees will be on the lookout for a potential home. So this is the best chance for you to recapture the swarm before it takes off for its new home.
Step 2 – Assess the Swarm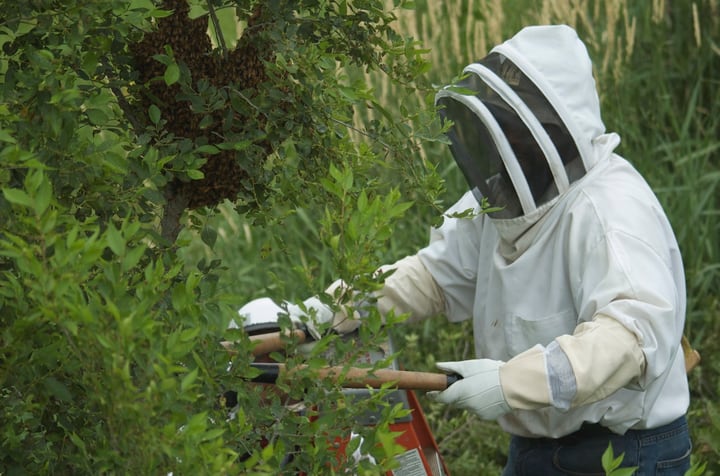 Now, see where the cluster is located. If it is within your reach from the ground, move on to the next step. But if it is located high up, you will probably need a stepladder to reach it.
A swarm of bees can weigh as much as 5 kilograms. So you'll have to be super cautious if you plan to climb up a ladder to capture it in your container.
Tip: Ensure that the swarm is settled before you proceed.
Step 3 – Put on Your Protective Gear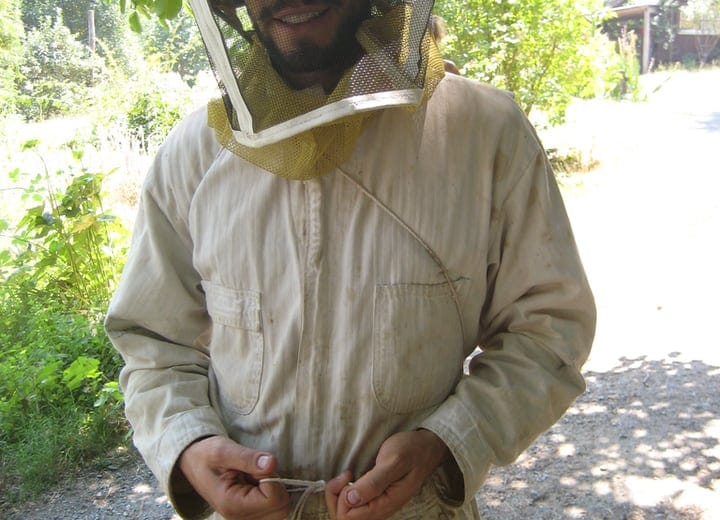 When bees begin to swarm, they are the least defensive. That's because they have no honey or hive to protect as they search for a new home.

That said, it's wise to wear your protective gear complete with a bee suit and veil while dealing with the swarm.
Step 5 – Catch the Swarm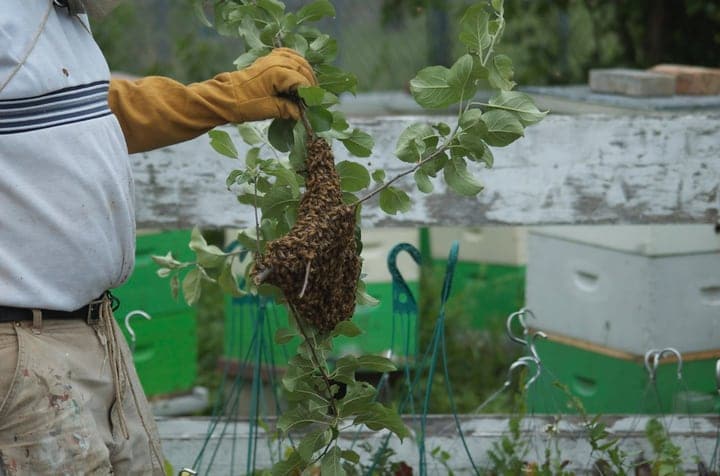 Once you have the gear and equipment ready, brace yourself to capture the swarm. Spray some sugar syrup on the swarm to hold the bees into one group.
Now, try to move it to your cardboard or wooden container. If the swarm is on a branch, give it a sharp jerk so the bees fall into your box. If the swarm is on a rigid object, use the bee brush to carefully whisk them into the container.
If, however, the swarm is on the ground, sprinkle lemongrass oil on the box to lure them in. Once you have the bees in the box, close it and keep it in a safe location.
Tip: Leave a small opening in the box for stragglers and returning scouts to enter through.
Step 6 – Install the Swarm in a Hive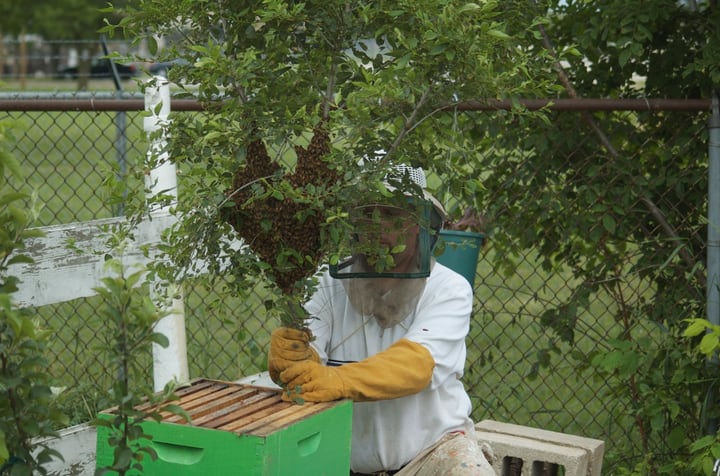 Here's the final step—installing the newly caught swarm. All you have to do is gently move it to a vacant beehive within 24 hours. And that's it—you have captured a bee swarm!
When it comes to capturing a swarm, the old saying, "A picture is worth a thousand words was never truer!"
Take a look at the video below to see how you can install a swarm of bees in your hive:
Bee Swarm Traps, Bait Hives, and Other Ways to Catch a Swarm
You've learned about the phenomenon of bees swarming, how to recognize the signs, and safely recapture a swarm. Now, let's review a few products you'll find helpful while dealing with a swarm.
Bee Swarm Traps
A swarm trap is any watertight wooden container with a small entrance at the bottom of one of the walls.
It's an efficient and safe way to trap a swarm. You can simply place it a few feet off the ground and add a few drops of lemongrass to lure the bees.
Lemongrass Oil
Lemongrass oil is the main ingredient for most swarm lures. It's effective at attracting bees to swarm traps. That's because this oil mimics the pheromone the queen bee produces to attract scout bees.
Nuc Box
A nuc (or nucleus) box is a temporary hive for bees. It's small in size, collapsible, and lightweight. Use it to capture the swarm before you install it in a hive.
Some beekeepers also use a nuc box to house a mini-sized bee family. But they'll have to move the bees to a full-sized hive when the bees reproduce and cover 80% of the nuc frames.
Bee Vacuum
A bee vacuum is a long hose for recovering bees from just about anywhere. Simply use the vacuum to suck the bees out of one area and put them in a container. You'll be able to capture the bees without damaging their wings or killing them.
Bait Hives
A bait hive is an empty hive set up to attract a bee swarm. It's similar to a swarm trap and can be installed up in a tree or other such location. Install bait hives a few weeks before the swarm season approaches.
Bee Smoker
A bee smoker is used by most beekeepers. It's a simple hand-held device with a nozzle for directing the smoke. It's designed to generate smoke that keeps the bees calm.
Once the bees are calm, you can easily transfer the bees to the hive, or repair or work with it.
Bee Brush
A bee brush will come handy when you'll need to move the bees from the swarm to your box. It features soft bristles and a solid wood handle. Remember that bees don't like being brushed, so use only one or two confident strokes.
Important Questions About Swarming Bees
Bees swarming is an awe-inspiring sight. But it's also quite a curious thing. You will first see thousands of bees buzzing around their hive.
After about ten minutes, this buzzing cloud of bees will drift away just to gather again in the form of a cluster.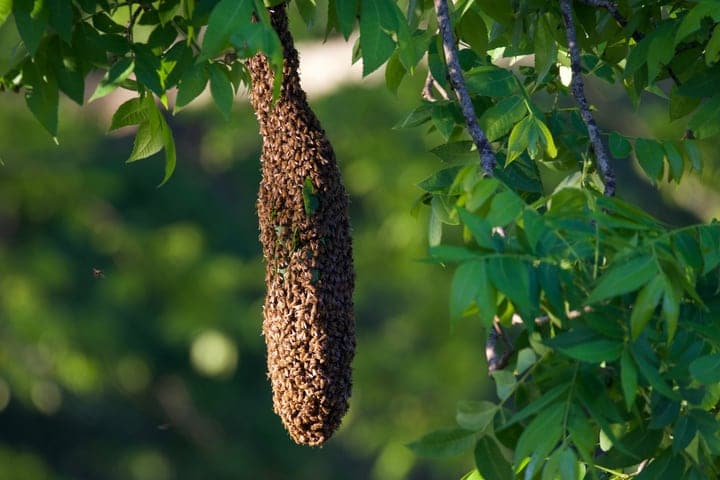 While there are still some riddles around bees swarming, we have answers to most of the frequently asked questions we receive.
If you're thinking of starting beekeeping, or you're a curious person with lots of bee-related questions, read these interesting FAQs about bees swarming.
Bee-Friend the Bee Swarms
Bees swarming is a glimpse into the splendor of the natural world. It's due to the bee's busy efforts that we can enjoy the delicious dripping honey and beeswax.
And of course, the food we eat, and which wouldn't exist without bee pollination.
But to many, a basketball-sized swarm of buzzing bees is the stuff of nightmares. Some are even tempted to call an exterminator or light a fire under it. Don't. It's time to befriend the bee swarms.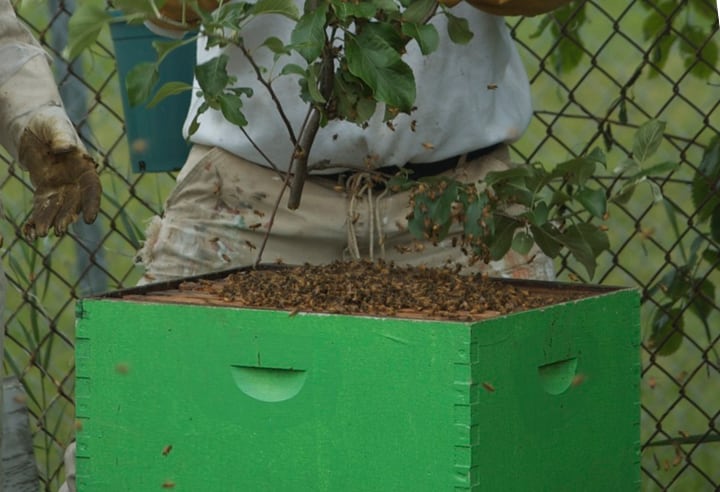 A swarm of bees can be safely removed and re-homed. And even if you don't know anything about bees and beekeeping, you can still do your part to save the swarms. Call your local beekeeping agencies to rescue it.
Do let us know if you've become friendly neighbors with a new swarm, or if you've recently had one relocated. And if you've got more questions about bees swarming, ask us in the comment section below.
And now we buzz off!