Why should cheese be a guilty pleasure when it's healthy for you? Different cheese types have different nutritional values. But usually, cheese is rich in protein, calcium, vitamins like A, B-12, K-2, and omega-3 fatty acids.
From giving you healthy teeth, bones, brain, heart to strengthening your immune system— cheese can be your new best friend!
Toss some vegetables like broccoli, kale, eggplant, or bell peppers with cheese for a healthy delight.
Nourishing foods don't have to be boring; they can be delicious too. So, go ahead and count the health benefits rather than the calories!
Note: How healthy cheese is depends on the cheese types you eat and the amount you consume so make sure to check our nutritional tips.
In this post, we'll talk about all the different cheese types out there and hopefully introduce you to some you haven't tried already.
Types of Cheeses Explained
Classifying cheese can get really confusing owing to the uniqueness of each cheese type.
That said, cheese types can be classified based on texture, moisture, ripening, methods of production, and the region of origin.
As a cheese lover, whether you love eating cheese or cooking with cheese, knowing about cheese types is immensely helpful.
Moisture Content
The moisture content of cheese determines its firmness and softness. It helps you identify cheese on the basis of its rind and texture.
Hard Cheese
Hard cheese has a low moisture content, a firm texture, and a long lifespan. You will relish the lingering savoury taste of hard cheese. Even better, its flavour ages well with time.
The nutty and buttery flavoured Emmental and the Parmesan and Romano that glorify your pizza, pasta, and risotto are popular kinds of hard cheese.
Semi-hard Cheese
Its flavour may not be as strong as that of hard cheese, but its blend of buttery and piquant taste and mild aroma is delicious. Semi-hard cheese types are firm and slightly elastic.
Popular examples include Gouda and Cheddar.
Semi-Soft Cheese
Made from pasteurized or raw milk, semi-soft cheese makes for your gooey scrumptious raclettes and fondues, and palatable quiches.
It undergoes an average ageing process which gives it the delight of fresh milk flavours. This cheese type is firm and compact but springy.
Muenster, Stinking Bishop, and the famous Italian Bel Paese are some common semi-soft cheese types.
Soft Cheese
Made from sheep, buffalo, cow or goat's milk, this cheese type is aged only for a month. Because of this, it has good moisture content and is soft in texture with a doughy white surface.
Besides Brie and Camembert, you cannot forget the delicious cream cheese without which bagels and cheesecakes would be incomplete.
Milk
The different types of milk cheese is made from influences its taste.
Even though cheese is produced from many different milk types–including cow, goat, sheep, buffalo, and yak–it's cow's milk that most cheese manufacturers use.
Did you know: The rich taste of Ricotta, Roquefort, and Feta is attributed to the sheep milk they are produced from.
Mold
With its colour and its effect on the flavor, mold is a great source of classifying different cheese types as soft-ripened cheeses, washed-rind cheeses and blue cheeses.
Soft-ripened cheese
This succulent cheese floods your mouth with its buttery, creamy taste sometimes even veering towards a mushroomy, grassy, or garlicky taste.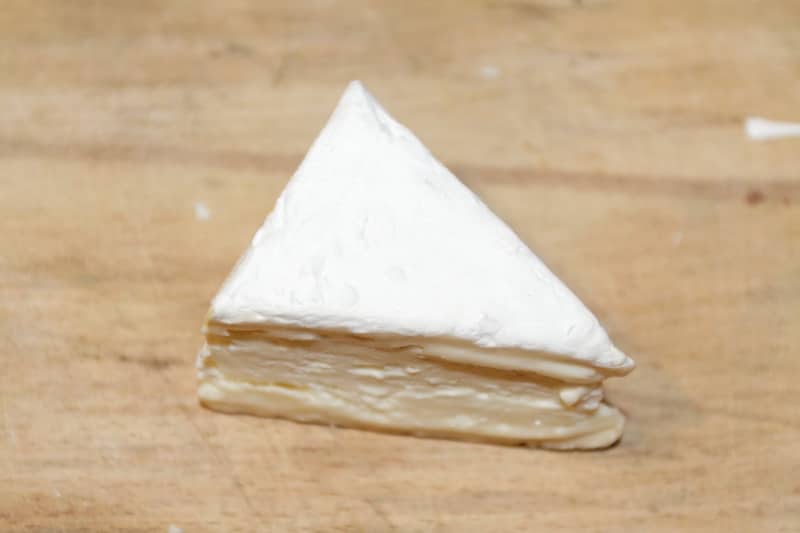 Soft-ripened cheese is cheese made to ripen from the outside. Mold is added to the milk. This gives the cheese a thin, white rind which is soft and edible although mostly flavourless.
Washed-rind cheese
Cheese types that are washed in brine are called washed-rind cheese. Brinemay either be saltwater or a solution of wine, brandy and other agents that foster the growth of bacteria.
The pungent smell and reddish color of the rind of these cheese types are due to bacteria.
Smear-ripened cheese
The orange rind of Muenster that attracts you is actually developed from bacterial or fungi solutions.
But don't confuse it with washed-rind cheese types. Here, the washing is done to ensure only the growth of some desired bacteria, not mold.
Bacteria give this cheese type not only its distinctive colors but a strong flavor as well.
Blue Cheese
You can easily distinguish this cheese thanks to the numerous veins that run through it.
These blue, green, greyish-blackish veins are nothing but spots of mold created during its ripening by Penicillium cultures.
This process develops the entire character of this cheese—from its smell to its soft creamy texture and sharp salty flavour.
Fresh Cheese
Made from fresh curd, fresh cheese is cheese that is not mature. With no rind, this cheese type is tender and can easily be spread over or mixed with salads.
Its different forms depend on their varying textures. Cottage cheese is fresh cheese with a grainy texture while cream cheese is fresh cheese with a velvety and creamy texture.
Stretched Curd Cheese
As the name suggests, stretched curd cheese is formed by kneading and wringing milk curd.
This process makes the cheese pliant and stringy. It's widely popular by its traditional Italian name pasta filata.
Cooked Pressed Cheese
To prepare cooked pressed cheese types, the curd is heated at a high temperature and later pressed to release excess moisture.
Swiss-type cheeses or Alpine cheeses are the main cheese in this category. Though semi-hard, these cheese types retain a pliable texture and a rich nutty and buttery flavour.
Brine Cheese
Brine cheese or pickle cheese is dipped in a brine solution for its ripening. According to their moisture content, they are soft or hard.
With no rind, this type of cheese is matured in brine. Its taste varies from salty and acidic to a sharp savory taste with age. Its texture varies from grainy to velvety.
Processed Cheese
You will recognize this cheese everywhere tucked easily between hamburgers and sandwiches, melting to form a luscious layer.
Different products like salt, emulsifying agents, preservatives etc are added to traditional cheese to make processed cheese.
Yet, it is a popular choice since its texture and flavour remain the same and also because of its nominal price and long shelf life.
Processed cheese is a good companion to foods with a neutral taste, for instance, bread, since it adds a depth of flavour to these foods.
All the Popular Cheese Types
When it comes to choosing cheese, the many cheese types around and their often foreign names can confuse even an aficionado.
But we want to make things easier for you, so here are all the important cheese types explained.
Types of Soft Cheese
Their soft and pliable consistency make soft cheese types easily spreadable. And don't forget their mild creamy flavour… It's delicious!
Spread it on your crackers or pair it with your favourite wine–here are some soft cheese types you want to try out if you haven't already.
Mascarpone
Fresh and creamy to taste and rich in texture, Mascarpone is not exactly cream cheese as it is simmered and contains added acid.
This Italian cheese type goes great with sides such as tiramisu or even coffee and sweet desserts.
100 grams of Mascarpone cheese has 400 calories, 4.8 grams of protein, and 40 grams of fat.
Cottage Cheese
Unlike other cheese types, cottage cheese does not require additional ingredients like artificial bacteria and special equipment.
It's fresh and creamy, with low to moderate moisture and a grainy and runny texture. It is relatively one of the healthiest cheeses out there.
100 grams of cottage cheese has 4.3 grams of fat, 98 calories, and 11 grams of protein.
Feta
Feta is fresh cheese. Made from sheep's or goat's milk, it's rich in nutrients. It provides a very neutral taste with a crumbly and juicy texture.
100 grams of serving contains 74 calories, 4 grams of protein, and 6 grams of fat. With its low-calorie count and fresh and creamy taste, feta is a good companion to salads.
Boursin
The distinguishing feature of this French cheese is the mix of herbs and spices added to its buttery creamy flavor.
Crumbly yet still soft, you can mix it with your salad to enjoy a zingy delight.
Burrata
Burrata is a blissful fusion of contrasting yet complimenting tastes providing a soothing rich experience.
The outer layer is made from Mozzarella and the insides are filled with cream. This cheese works wonders with any dish, be it a Margarita pizza or Pesto pasta. Bon appétit!
Edam
Now here's one of those soft creamy cheeses with a smooth texture.
This cheese type is subtle. You can eat it by itself or along with some veggies and chips. It also goes well with white wine.
In 100 grams of Edam cheese, you will find 357 calories, 28 grams of fat, and 25 grams of protein.
Paneer Cheese
The staple Indian cheese is widely used in many Indian dishes. Paneer is a type of fresh cheese with a solid and crumbly texture and a neutral taste profile.
A 100 grams block packs 321 calories, 21 grams of protein, and 25 grams of fat.
Havarti Cheese
With its sweet, buttery and milky flavour, Havarti is a must-have cheese for any table. Its smooth and even texture makes it great for sandwiches–this one melts with a good consistency because of its semi-soft nature.
100 grams of Havarti cheese has got 371 calories, 24 grams protein, and 30 grams of fat.
Types of Hard Cheese
Complex and full-flavoured with a pungent smell— the taste of hard cheese types is strictly acquired. Let us look at some of the more common hard cheese that you can try.
Gouda
Now here's a Dutch cheese aged to perfection, easy to recognize thanks to its orange color and robust taste. It's a cheese type with a strong aromatic appeal and a smooth texture.
Tip: Aged goat gouda is a great mix for Pu'erh Tea.
In 100 grams of Gouda cheese, you can find 27 grams of fat, 356 calories, and 25 grams of protein.
Raclette Cheese
The word "raclette" literally means umami— a brothy taste, making any dish more fulfilling and gooey.
It's one of the most ostentatious cheese types out of all.
100 grams of this cheese contains 330 calories with 23 grams of protein and 26 grams of fat.
Manchego
If you want to try hard cheese, you can start with Manchego. With its buttery and nutty taste, it's not too strong. Its creamy taste is accompanied by a slight zesty play of flavour.
You can enjoy it in all its stages—when it's young as well as when it's mature. It's great when served with olives, tomatoes, strong wine or even almonds and honey.
Grana Padano
This cheese derives its name from its grainy texture. It's similar to Parmigiano-Reggiano but lighter in taste.
You can actually taste the aged scent of this cheese type. It has a tough rind so it is usually grated over other dishes.
With a hint of sweetness, it's wonderful to eat with creamy foods like eggs.
Types of Blue Cheese
Besides standing out for its beautiful intersecting blue lines, this cheese type's specialty also rests in its creamy crumbly texture. It spreads and melts easily and can be added to a large variety of foods.
Tip: The sharp piquant flavor profile of blue cheese types and their unequivocal smell may not appeal to all.
Gorgonzola
This cheese type is eponymous to its Italian home. It enhances risottos, pastas, and pizzas thanks to its piquant touch.
Its flavor varies with its age. Young gorgonzolas can be soft, buttery, and creamy edging towards a slightly sharp taste while the mature ones will have a more robust and savory taste.
Coupled with grapes, pistachios or honey, gorgonzola makes for a wonderful snack.
Roquefort
Of all blue cheese types, Roquefort is probably the most popular. It offers a combination of strong tangy flavors coupled with a creamy texture.
This cheese type is made from sheep's milk. With no rind, its crumbly texture is edible and salty in taste.
Set your table with candles and wine and a slice of Roquefort to double the pleasure of your evening.
Types of Italian Cheese
Italian cheeses can transform dishes into something homely, wholesome, and authentic. Made with passion in specific regions, Italian cheese types are a must-try.
Let's explore more sources of the bliss the Italians have given us!
Mozzarella
Mozzarella is one of the most popular cheese types out there. Used with pizza and other Italian dishes, fresh Mozzarella is great for eating raw with tomatoes with a dash of olive oil.
This high moisture cheese isn't unhealthy in itself.
One ounce or 28 grams of Mozzarella has about 85 calories, 6 grams of protein, and 6 grams of fat.
Parmigiano-Reggiano
Parmigiano-Reggiano is a hard cheese type and is also known as the King of cheeses. Unlike Mozzarella, this cheese is aged like any good whiskey, which gives it a strong and unique taste.
For every 100 grams of this cheese type it has 392 calories, 35.71 grams of protein, and 25 grams of fat.
Pecorino-Romano (Sheep Cheese)
Made from sheep's milk, this one has a distinct and a very strong taste, usually too salty for you to eat it by itself.
It has a similar texture to that of Parmigiano, since it is also a hard cheese type.
100 grams of Pecorino-Romano has about 400 calories, 20 grams of protein, and 30 grams of fat.
Taleggio
This semi-soft cheese with contrasting flavors has a creamy interior and a slightly acidic touch. The red smear that makes this cheese type stand out also gives it a delicious taste.
You'll love its rich delicate taste and fruity tang.
Provolone
This semi-hard cheese type ranges in its flavors from light and sweet to strong—it all depends on the age and the moisture content of the variety you pick.
Its silky smooth texture is accompanied by the rich buttery taste with salty notes that fill your mouth. Its flavorful mellow character makes Provolone a well-liked cheese.
Types of French Cheese
When you say French cheese you are immediately going to the upmarket section of cheese. What makes French cheese and wine so good? Their rarity and panache.
Brie
Brie is a soft cheese with a mild smooth consistency and a tangy taste. French Brie, which is one of the most popular cheese types, is enjoyed by itself or with a snack that compliments its fresh and creamy texture and its aromatic tones.
In 100 grams of brie, you have 334 calories, 28 grams of fat, and 21 grams of protein.
Camembert Cheese
Carefully crafted, this soft cheese type develops two layers with a mild dry rind on the outside and a soft-runny inside. It has a soft and stinky smell and a strong taste.
100 grams of Camembert cheese will have 299 calories, 24 grams of fat and 20 grams of protein.
Epoisses
Sold in little wooden boxes, this cheese type is well-loved despite its penetrating smell. It's extremely soft with a velvety creamy texture.
When it comes to Epoisses, you may opt for a Vouvray or Burgundian white rather than red wine. Epoisses are a custardy-bacony delight and also compliment quiches really well.
Chèvre Cheese
And here's a goat's milk cheese with a strong earthy flavor. Tartness is common among all Chèvre cheeses.
100 grams of Chèvre cheese has about 364 calories, 30 grams of fat, and 22 grams of protein.
Picodon de Chèvre
With a powerful smell, this cheese type is a combination of sweet and salty flavors. It's made from goat's milk and its taste changes with its age.
The texture of the pâte is firm and smooth, changing to a crumbly grainy texture with maturity. It retains a spicy flavour.
Types of Swiss Cheese
To recognize Swiss cheese, you only have to recognize Emmental. What we may call "holes" in this cheese are actually called "eyes" formed by the effect of bubbles of carbon dioxide.
Note: Surprisingly, these "eyes" affect the flavour of this cheese. The intense flavour of this cheese is usually directly related to the largeness of its "eyes".
Emmental
This Swiss cheese made from cow's milk is almost sweet to taste with a pungent smell.
The visible holes or the "eyes" of this cheese type helps you recognize it easily.
100 grams of this cheese contains 380 calories, 26 grams of protein, and 28 grams of fat.
Gruyere
A hard Swiss cheese with complex flavors, this one's salty and nutty. It's great for melting over dishes. But it tends to overpower other flavors in a dish. It's famously used in soups.
A 100 grams of gruyere has 413 calories, 32 grams of fat, and 30 grams of protein.
Försterkäse
A strip of bark is fixed around this cheese. This bark aids the development of a pungent woody scent and a wonderful umami flavor.
With its earthy smoky flavours, it's far from being mild. It's good when paired with fig cakes or beer.
Moser Screamer
This triple cream cheese is loved for its luscious texture and delicious decadent creaminess.
Made from cow's milk, it has a thin rind and a center that is succulent and buttery.
Whether you serve it with sparkling white wine or some good walnut bread, the aromatic Moser Screamer will actually make you appreciate every mouthful.
Fresh Cream Cheese
Widely cherished for its mellow creamy taste and acidic resonations, cream cheese blends in just anywhere. It's sometimes flavored with herbs to add a zesty twist to its usually mild taste.
As compared to processed cream cheese, fresh cream cheese contains no preservatives or culture. Rather it's matured in natural preservatives which enhance both its taste and texture.
It can be made either from raw milk or pasteurized milk. Paired with fresh citrus fruits, this cheese type provides a delicious contrast with its deep umami taste. You can also enjoy it with chips and bread.
Vegan Cheese
Vegan cheese is unlike traditional cheese as it doesn't use any milk. It tastes somewhat similar to dairy cheese.
Different vegan cheeses taste different but they have a common creamy taste with hints of nutty scent.
100 grams of vegan cheese contains 260 calories, with about 11 grams of protein, and 12 grams of fat.
Cheese Powder
Cheese powder is a blend of cheese mixed together and then dried to be packed in a convenient sprinkler.
Its taste might differ from other types of cheeses due to the presence of anti-caking agents.
100 grams of cheese powder contains 500 calories, 29 grams of protein, and 29 grams of fat.
Cheese Types Commonly Asked Questions
With the large variety of cheese types available and their versatility, it's likely that you may be a bit confused about some facts. Here are some common questions we keep hearing about cheese types.
We hope you find the answers useful!
More Cheese Please!
With the long list of cheese types we have given you, you can experiment with different varieties and bring more cheese to your platter.
Go ahead and try as many varieties as you can–discovering all the different types of cheese out there can be a wonderful journey whether or not you're a gourmand.
And don't forget to pair all that cheese with freshly grown vegetables.
You can also make your own cheese at home. Check our easy making cheese at home guide to get started.
Do you have a favorite type of cheese? We'd like to hear all about it!