Got a lawn, garden, or yard that needs constant trimming? And do you also happen to care about the planet? Then you probably need an electric lawn mower. In this guide, we'll show you what to look for in an electric lawn mower, review a few top models, and guide your choice. Let's get down to business!
Why Buy an Electric Lawn Mower?
A gas lawn mower requires gas and oil plus constant maintenance. It's also harmful to the environment due to its emissions. It's very noisy too!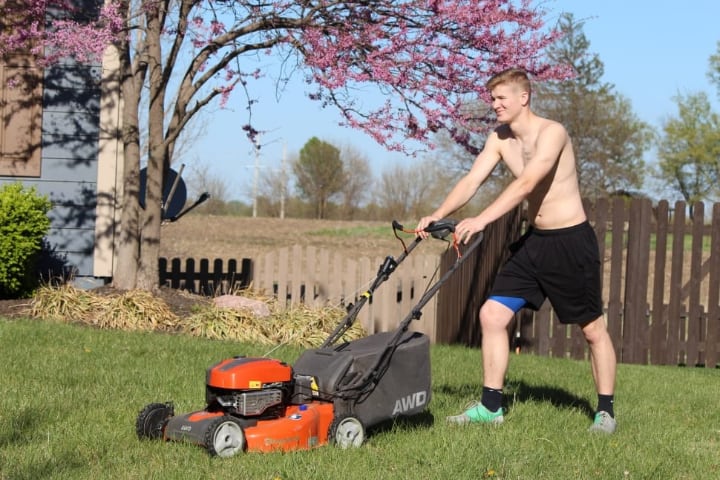 Push mowers are a more eco-friendly alternative, but they can only do so much. If you got a sizeable lawn or yard, an electric lawn mower is what you need to get the job done cleanly and properly.
Electric Lawn Mower vs Gas Lawn Mower
An electric mower is quieter compared to a gas mower. It starts quickly with just a push of a button. Gas mowers also require more maintenance.
Electric mowers work well in small and flat areas. However, you have to stay near an electric outlet, unless you choose a cordless model. There are also robotic lawnmowers you can try.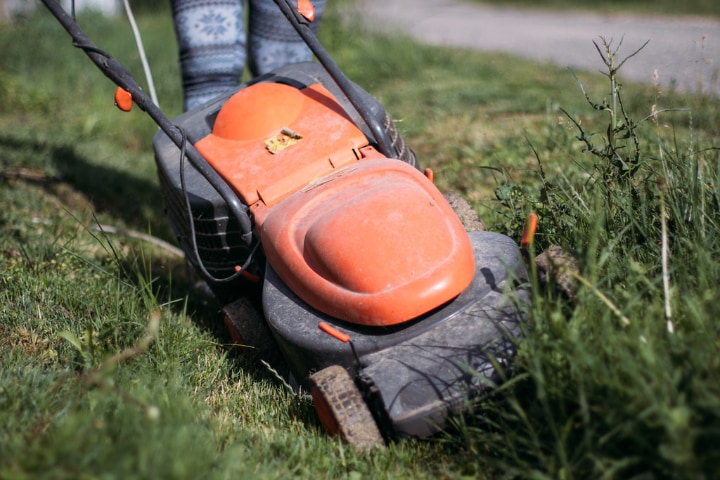 You also need to be careful with the wire so that it will not get caught up as you maneuver the mower.
Gas mowers tend to offer the best performance per dollar, but you can get some really powerful electric models as well that can help you maintain your lawn without any hassle. Or emissions.
Electric Lawn Mower Benefits
If you're on the fence about getting an electric lawn mower, we understand you. Many people are until they try it.
Take a look at some of its key advantages and decide for yourself whether it justifies the investment.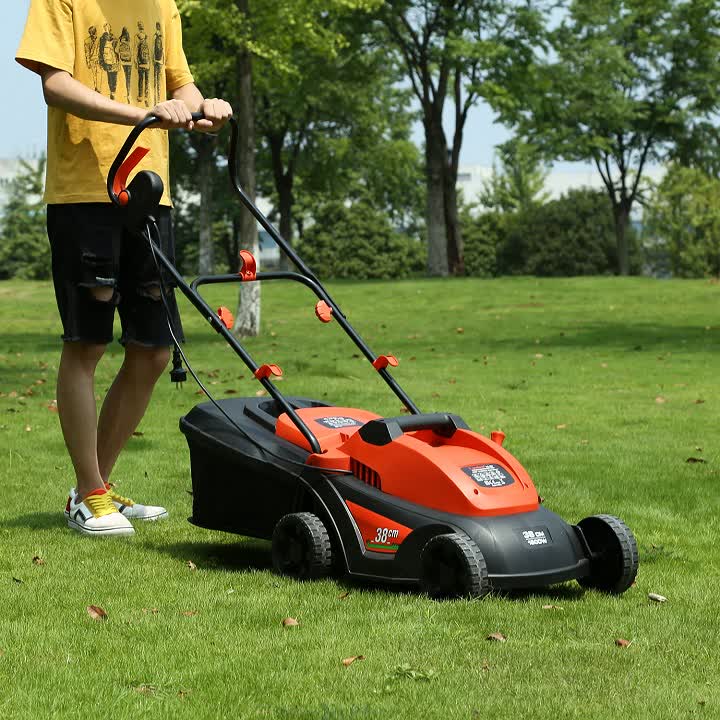 Environmentally Friendly
Gas lawn mowers provide good performance and they have been the traditional choice for most of us.
But they run on gas and have harmful emissions that have a real environmental impact. They contribute to global warming.
An electric lawn mower brings you power that's comparable to a gas one without the pollution.
Efficient
A few years ago, electric lawn mowers, and cordless ones especially, weren't as efficient as they are today.
Now they are capable of developing sufficient power to cut that grass nicely and slash their way through any weeds.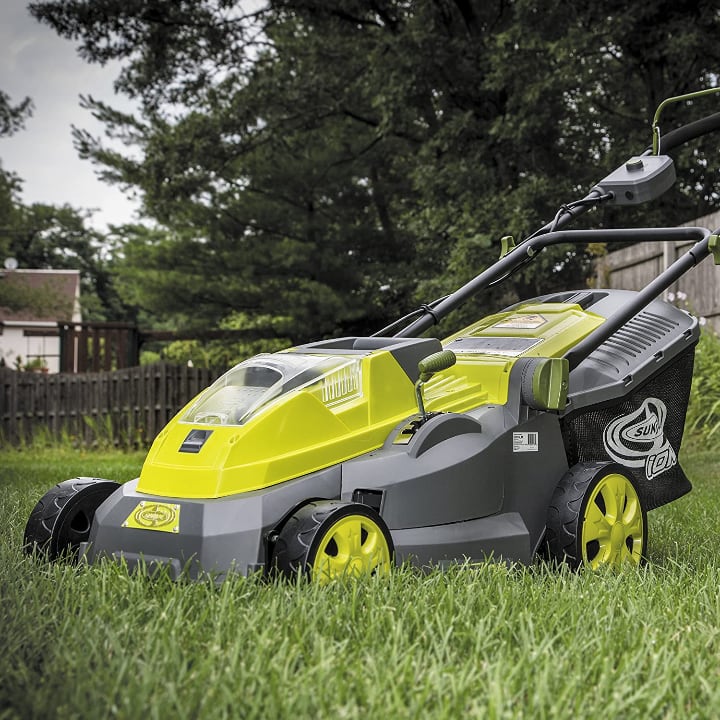 And with longer-lasting batteries too, you don't have to worry about running out of power before you get the job done. All of this, of course, provided you buy a good quality product.
Easy to Use
Tripping in the mower's electric cable isn't our idea of fun. That's why we feel that cordless electric lawn mowers are the easiest lawn mowers to use.
Just make sure to have the batteries charged and you're good to go. You don't have to worry about tripping over the cable or having your kids minding it while you go about mowing the lawn.
Check out some tips on using an electric lawn mower in the following video.
Low Noise
This isn't always a key consideration for people shopping for a lawn mower, but we think it's important. After all, you don't want to drive your neighbors nuts with your mowing sessions.
And most of all, you don't want to feel that you're in a noise battle with your mower. Noise is bad for your health and can take the fun out of an activity that otherwise can be relaxing and quite calming.
That's why we love electric lawn mowers–they tend to be quieter than their other counterparts, manual mowers excluded of course.
Easy Maintenance
Electric models are easy to maintain. This is generally true even of lower-end, models. No gas, no oil changes, only charging and cleaning.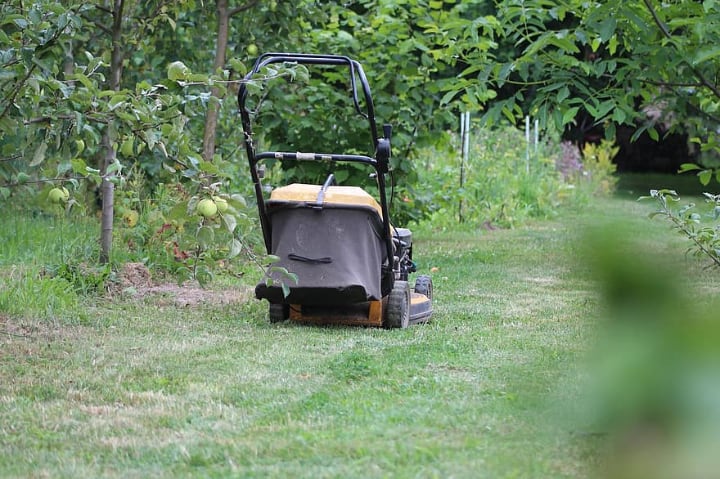 You still have to empty the grass-collector bag, though. And clean it now and then. But we think you can manage that, right?
How to Choose an Electric Lawn Mower
But just because an electric lawn mower is efficient and practical doesn't mean any model will do. There are a few things you want to consider before making your choice.
Size of Lawn
The most important consideration when choosing a lawn mower is the size of your lawn.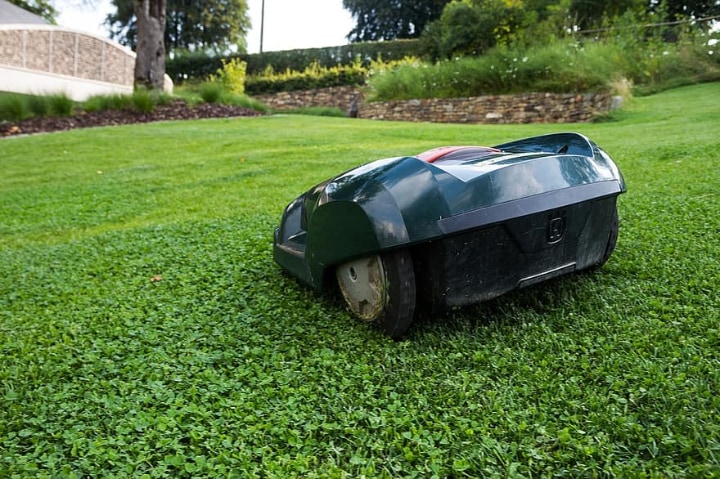 Tip: Compare your yard to a tennis court. A whole tennis court is equivalent to a medium-sized yard while half of it is a small yard.
If you have a small yard, you may get away with using a push mower. Whereas medium and large-sized lawns require an electric mower: cordless or corded–we'll talk more about than in a bit.
Portability
You should also consider its portability and the effort it takes to operate it. A power cable can limit its portability somewhat. Also factor in the size and weight of the mower.
Capacity
The size of the bag that collects the grass can determine how often you stop to empty it. If you have a small or medium-sized lawn, the size of the bag shouldn't be much of a problem–any size will do.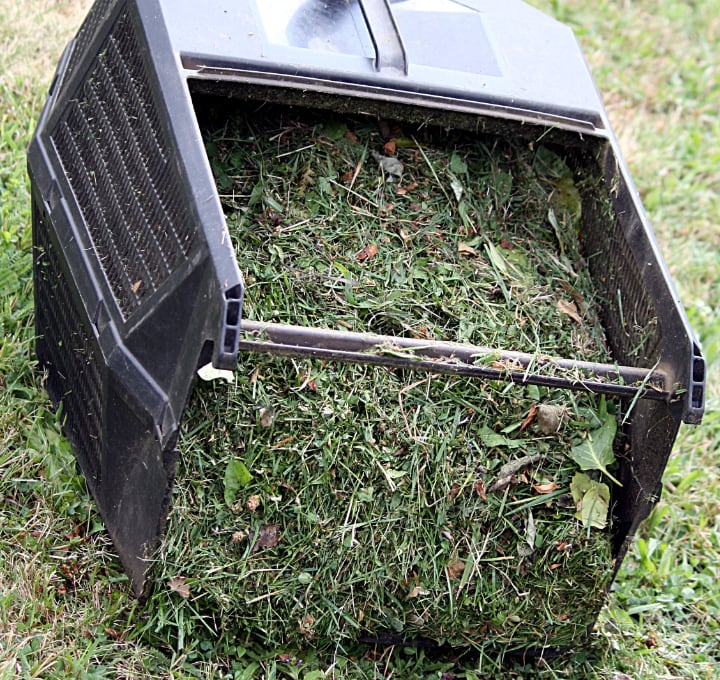 But if you have a big lawn, go for a model with a large bag size. That way you can mow everything in one go without having to pause repeatedly.
Self Propelled or Push
Self-propelled lawn mowers are easier to use on steep surfaces. Models that are not self-propelled require a bit more work, but if you have a level lawn or yard, you won't have a problem using them.
Corded Versus Cordless Electric Lawn Mowers
We've already touched on the benefits of the corded design. The only reason why you may opt for a corded model is if you have a really big yard and are not sure the battery will last you long enough.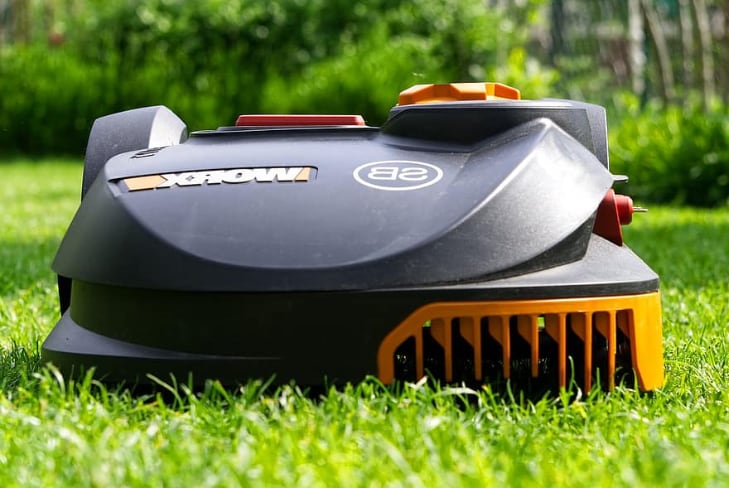 But even then, we recommend getting an additional battery pack or investing in a cordless electric lawn mower with a built-in higher battery capacity.
That way you can take full advantage of its portability. And you'll stop worrying about the damn cable tripping you or getting under the blades.
Battery
If you choose a cordless mower, check for how long the battery lasts. In some lower-end models, the battery can only last for half an hour or less, which may not be enough.
7 Best Electric Lawn Mowers Reviewed
Now that we've covered the basics about electric lawn mowers, let's look at some models you can buy.
Below you can find some of the best electric lawn mowers and their features. Included you'll find top performers, best buys, as well as affordable, entry-level products.
1. Sun Joe iON16LM Affordable Lawn Mower
Snow Joe is well-known for making electric snow blowers, now they have expanded and are now making cordless electric mowers.
Sun Joe iON16LM 16-Inch Lawn Mower is lightweight and can cut grass efficiently. Pretty much anyone can use this one, even a child.
It doesn't have any bells and whistles, but the simple, compact design does what's supposed to do, and does it well considering the price.
Pros:
Lightweight and easy to maneuvre
More affordable than other models
This mower is powered by a lithium-ion battery which can last about 40 minutes
Whisper quiet
Cons:
It does not include a side discharge
Not as powerful as other entries on our list (as can be expected from the price)
The Bottom Line:
The Sun Joe iON16LM is an inspired choice if you have a small lawn and don't require a mower that is self-propelled. It's also great if you've never had an electric mower before.
2. EGO Power+ LM2142SP Cordless Self Propelled Lawn Mower
The EGO Power+ LM2142SP Cordless Lawn Mower is a powerful substitute for traditional gas-powered lawn mowers.
It's one of our top picks for the best electric lawn mower because it performs as well if not better than a gas-powered lawn mower without the disadvantages of the latter. It's very efficient all-round.
Pro:
Battery lasts for over 80 minutes on a single charge
Strong build
Easy to operate
Cons:
Batter only gets 3 years warranty compared with 5 years for the mower.
The Bottom Line:
The EGO LM2102SP Cordless Lawn Mower is an impressive mower that delivers some serious power.
3. KT Kobalt 80-Volt Max Self Propelled Cordless Electric Lawn Mower
The KT Kobalt 80-Volt Max is a vigorous and adept electric lawn mower that can provide you with a neat trim.
Maneuvering does not take too much effort compared to gas-powered lawn mowers. Aside from being a clean-energy alternative to your gas-powered lawn mower, it also comes with a five-year warranty.
Pros:
Automatically adjusts motor performance based on grass conditions
Foldable design allows for easy storage, especially if you have garden storage features
Cons:
Battery lasts only for 60 minutes, which is not bad, but less than other models in a similar price range
Some users complain of uneven trim
The Bottom Line:
The KT Kobalt 80-Volt Max is best for mowing medium sized flat yards.
4. GreenWorks G-MAX Cordless Lawn Mower
GreenWorks G-MAX is a cordless lawn mower which resembles a racecar because of its big wheels and angled structure. It may look colossal, however, it's very easy to maneuver.
It's made of a sturdy polymer that can take a beating. With it, you can easily mow your lawn without being tied down to an electric cable.
Pros:
It comes with two batteries, each of which lasts around 45 minutes
Smart design all-right
Fairy powerful for the money
Cons:
This is not a self-propelled mower so it's harder to push on steeper areas or hills
The Bottom Line:
The GreenWorks G-MAX Cordless Lawn Mower works best for smaller lawns.
5. Earthwise 60420 Cordless Lawn Mower
The Earthwise 60420 Cordless Mower is powered by two lithium-ion batteries. It can be used for up to 55 minutes on a charge.
Recharging time takes two hours, which is similar to many other battery-powered lawn mowers.
Pros:
It includes two rechargeable batteries
Solid build
Cons:
Can be a bit difficult to maneuver with a full bag
The Bottom Line:
The Earthwise Cordless Electric Mower is competent and vigorous. However, it's a bit hard to move around due to its bulky bag design.
6. WORX WG779 Best Electric Lawn Mower
The WORX WG779 Cordless Lawn Mower has a broad cutting path of 14 inches. It also includes a single-lever adjustment where you can choose between 3 cutting heights.
It's not noisy at all, so you can use it pretty much any time of the day without disturbing your neighbors.
Pros:
It comes with two batteries that can last up to 40 minutes
Two-speed smart control make using it easier
Covers up to 5000 sq ft in a go
Cons:
Plastic deck may get damage if you're not careful
The Bottom Line:
This WORX mower is perfect for those who desire to have a quiet mower that is capable of mowing bigger lawns.
7. Sun Joe MJ401E Cheap Corded Electric Mower
The Sun Joe MJ401E Electric Mower is the most affordable electric lawn mower on our list. This is also one of the easiest to use if you don't mind the cord.
It has a cutting deck of 14 inches and includes a grass catcher. The blades are made of steel and can be adjusted in three different positions.
Pros:
Very affordable
Small, lightweight, and easy to handle
No questions asked two-year warranty
Cons:
Corded design makes it less practical than other mowers
Struggles with bigger lawns
The Bottom Line:
If you are looking for a very small and affordable corded lawn mower at a low price, MJ401E is a reliable choice.
Electric Lawn Mowers Frequently Asked Questions
Still got some unanswered questions? We've put together a list of frequently asked questions about electric lawn mowers. Find the answers below.
Time to Go Electric?
At the end of the day, an electric lawn mower is the backyard equivalent of an electric car. It's part of a new generation of machinery that's not just effective but also good for the environment.
Not all electric mowers are equally powerful, but you sure have a lot of options to choose from.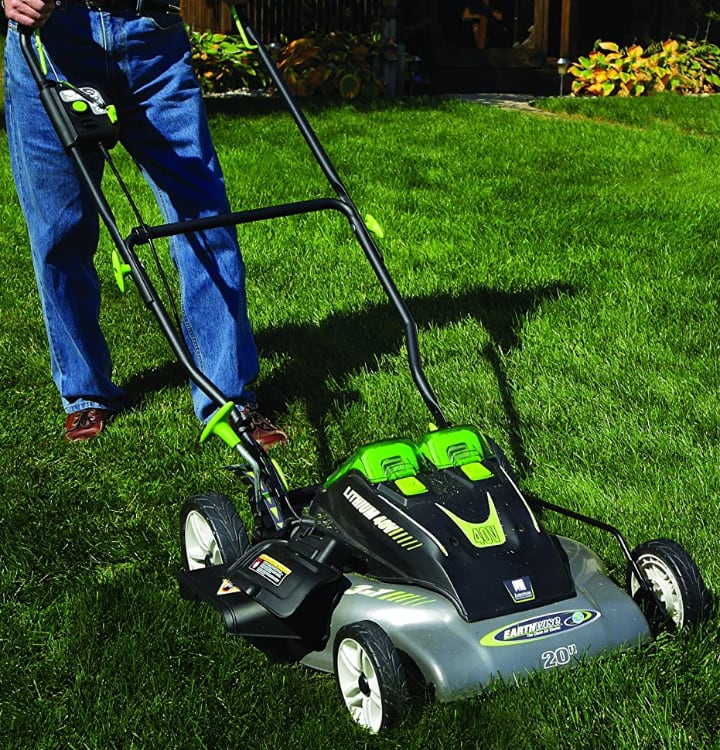 Whether you have a small or a big lawn, the top electric lawnmowers we shared with you got you covered.
While we're on the topic of lawn care, you may also want to check our lawn aeration guide. And, why not, explore creative lawn landscaping ideas.
Now over to you. We'd love to hear whether you decided on a particular mower we shared or have another one in mind.
Leave us a comment with your thoughts and we'd love to start a discussion.