Storing things in your garden? Why not? From garden tools and accessories to a host of other items, you can put all of these into convenient garden storage solutions. You won't just save space, but also find things more easily when you need them. Read on to discover our list of garden storage solutions for all types of gardens and yards.
Sometimes, we have so many things to store that they don't fit into small boxes. Or we don't have a shed or the money or time to make one.
It's a frequent problem and, quite frankly, it can drive a gardener nuts. But there's a fix, and no, we don't mean building a shed or reinventing your basement.
Benefits Using of Garden Storage
Gardens are beautiful when they are neat and clean. However, with the many tools you need to work your garden, your green patch of paradise can get quite messy.
That's where garden storage solutions come in. And when we call them "solutions", we really mean it. They can really save the day sometimes.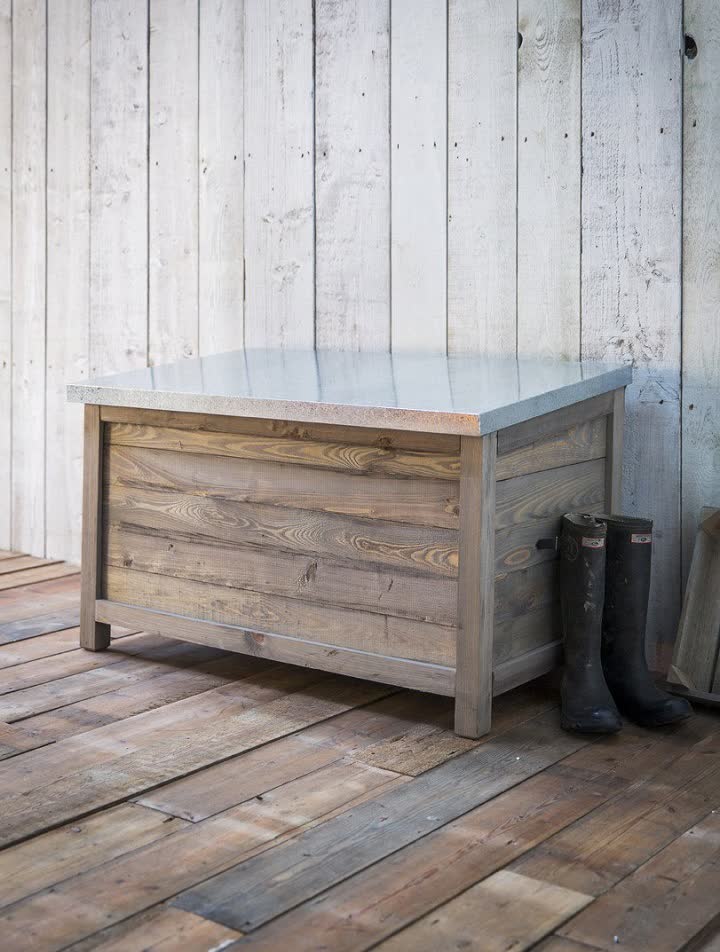 Easy Placement
You can place a garden storage box anywhere you want–and move it after to another spot. Or bring it indoors. Or put it in the shed once you build one.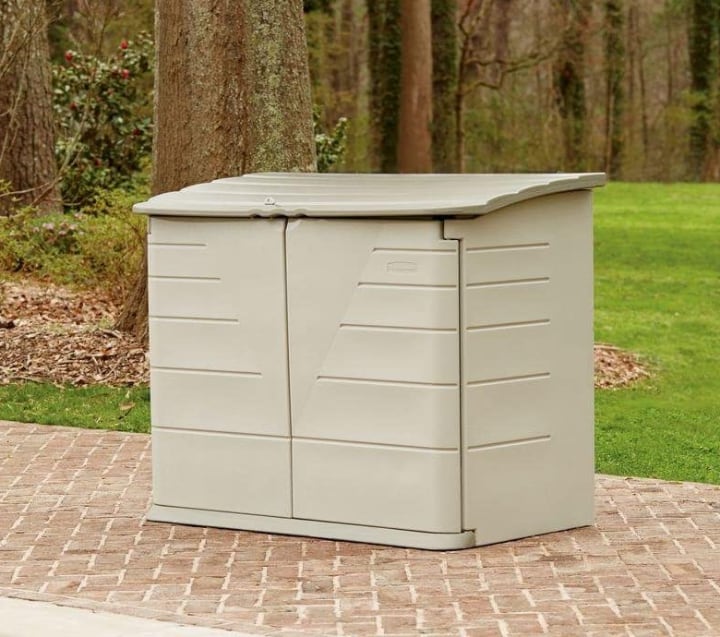 This storage option offers you the kind of portability that you just don't get with a shed or other similar storage construction.
Easy Access
Not only does garden storage minimize clutter in your garden, but it also helps you effectively arrange your tools and equipment for easier access.
Tip: Some outdoor storage boxes can open at 90 degrees so you can easily locate anything you want at a glance.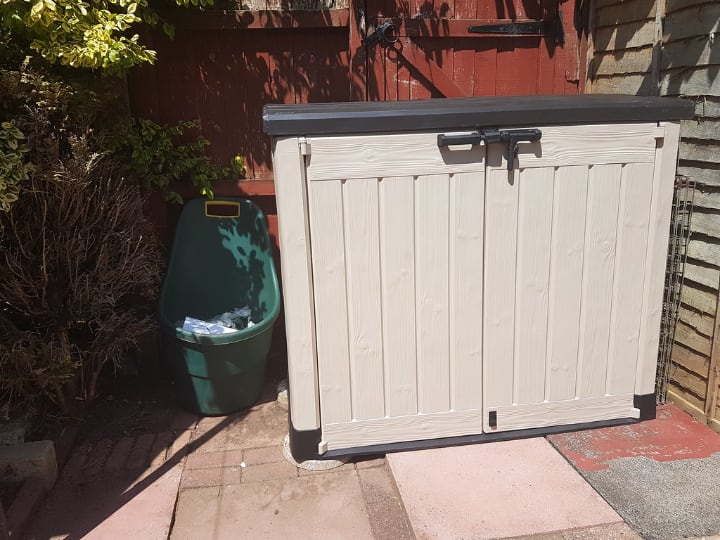 Some storage options are well-organized and allow for storing lots of different things. With them, it will also be easier for you to remember which items you placed where.
When you know which items you placed in the box, it will be a lot easier for you to get them.
Save Time
Well-arranged and well-organized garden storage can go a long way. It can save you time when looking for a specific gardening tool. To say nothing of stress. After all, mess causes stress. It's a fact.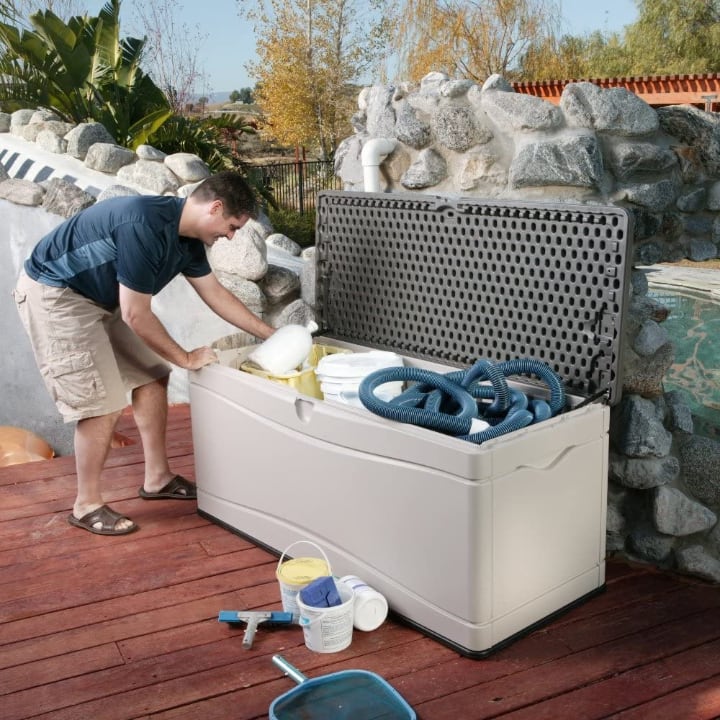 You do not have to spend time going here and there just to find a trowel, a shovel, or a fertilizer.
Save Energy
When you know where to get something, you can save energy in searching for it.
Why not spend your energy doing more enjoyable things, like growing vegetables, planting flowers, or doing some garden edging and landscaping?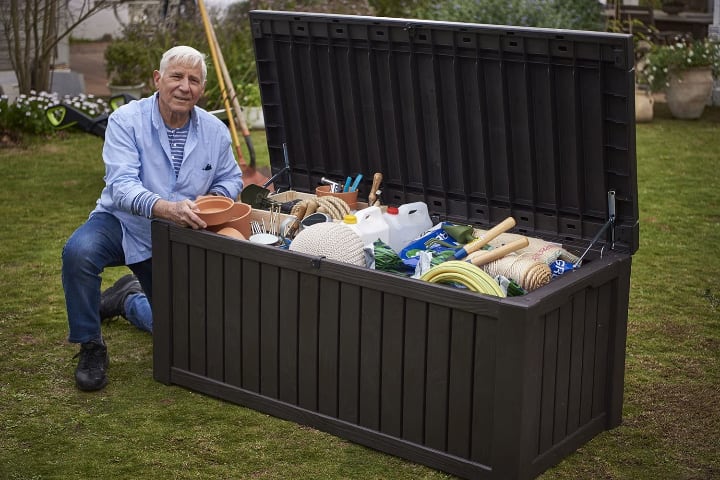 Instead of spending time looking for the item you need to complete a task, you can spend your time doing things. That way, you can take advantage of all the health benefits of gardening.
Protect Gardening Tools
Garden storage can keep your gardening tools safe from the weather, dust, rust, critters, and more.
Tip: You can find storage boxes that are water-resistant, weather-resistant, UV-protected, leak-proof, dent-resistant, and impact-resistant.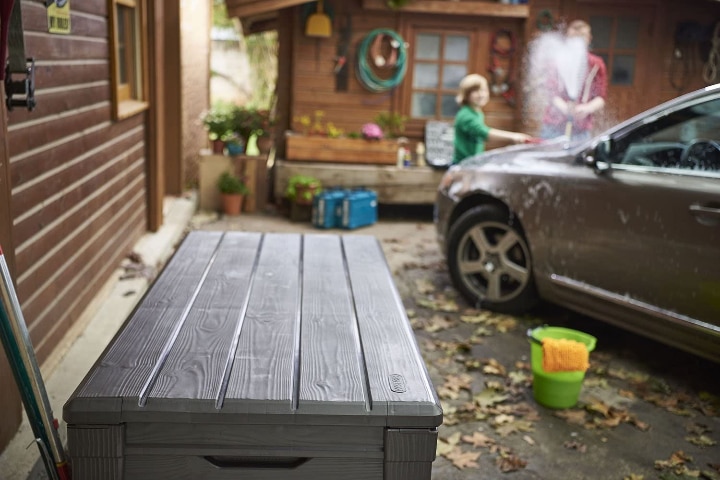 Keeping your tools in good shape will make the harder gardening tasks easier. Less work = more play.
Save Money
When your tools are protected, you don't have to replace them as often. Certain garden tools like electric lawn mowers or lawn aerators can become unusable if they get rained upon.
You can tuck the smaller of them into large garden storage solutions. And by doing so, keep them safe.
Dual Purpose
Many garden storage boxes double up as seating. They can be an affordable alternative to patio furniture or wooden benches.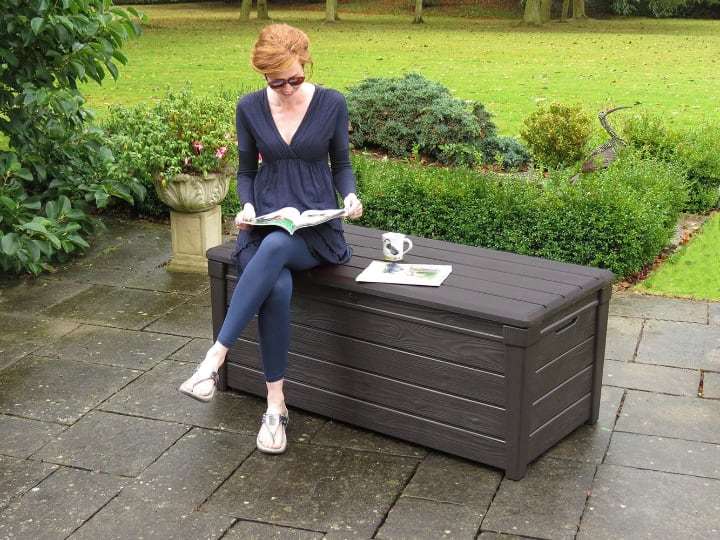 Most storage boxes can seat two people, but some can seat three or even more. If you really want to get fancy, you can even add some cushions. Voila! You have storage and new outdoor furniture for the price of one.
Best Garden Storage Solutions Reviewed
Storing things in your garden can help keep your garden tidy and declutter your home. But you can't store things in any old box.
Well, you can try, but your items may become damaged by the weather, critters, moths, and a host of other natural causes. If you're going to store things outside, you may as well store them properly.
To help you out, we've put together a list of the 7 best garden storage solutions with their key features, pros, and cons. Read on to learn more about them.
1.
Lifetime Extra Large Deck Box
The Lifetime Extra Large Deck Box is our first choice due to its huge capacity and best warranty. It has a spring hinge that prevents the lid from slamming. This is often a rare feature for the price.
Storage chests aren't only for the kiddies, though storing toys is often a little daily challenge (for tidy parents, at least).
Whether it's Christmas lights, tools, or odds and ends, you're looking to put away, this large deck box is a good option for that, too.
What's more, you can open the lid up to 90 degrees, which makes taking things from it and putting things in easy.
We also love that this garden storage solution has a spacious design that lets you add interior dividers or shelving.
It is has a high-density polyethylene (HDPE) construction and it's also UV-protected. It can withstand various elements since it's weather-resistant. The water-resistant seal keeps all items inside it safe and dry.
Pros:
10-year limited manufacturer warranty
Stylish design
Lockable lid with spring hinge prevents slamming
Powder-coated steel hinges
Cons:
Not as many color options as some other models
2.
Wicker Decker Box Plastic Garden Storage
Although many people have sheds for storing their gardening tools, this isn't always an option. Buying a shed can be expensive and building your own takes time.
It's because of its affordability that we chose the Wicker Decker Box Plastic Garden Storage at number two. This container box is an excellent piece of outdoor patio garden furniture.
It's great for storing gardening tools, sports equipment, cushions, and pool supplies, and the like. You can count on it for your essential storage requirements, big or small.
It's durable and weather-resistant thanks to its polypropylene resin construction.
Pros:
Extra-large 120 gallons of garden storage
Suitable for all types of weather
Attractive yet sturdy design
Easy to assemble
Cons:
3.
Suncast Wicker Resin Garden Storage
Are you a fan of wickerwork like we are? If so, this might be the right storage-buy for you. The Suncast Wicker Resin Garden Storage box is best for storing garden tools, cushions, as well as patio accessories.
It has a contemporary design with handles on each side. It also has a stay-dry design to keep your items safe and secure. This durable storage box can bring style and harmony to your outdoor space.
The mocha brown color is natural and blends well with any black deck furniture.
Pros:
Can be assembled in just 5 minutes without any tools
Contemporary stay-dry design
Durable double-walled construction
Wide opening of 90 degrees
Handles are molded without any sharp edges
Cons:
The wicker basket texture can (sometimes) trap dust and dirt
Curved lid design means that some items may roll off
4.
Suncast Elements Outdoor Cabinet
If "deck boxes" seem like oversized toy boxes to you, you can choose an outdoor cabinet instead. The next item on our list is the Suncast Elements Outdoor 40-Inch Wide Cabinet.
This cabinet is a perfect decor for your patio or balcony. It's made from durable double-wall resin which can resist rotting, rust, and dents.
With its contemporary wicker design, it can make your outdoor setting look stylish and sophisticated. In it, you can store your garden tools, grill supplies, and other outdoor accessories.
We especially love the look and the fact that it opens out and not "up." This can stop things stored on the bottom to be lost and never found again.
Pros:
Includes an adjustable shelf for extra storage capacity
Spacious storage in an attractive design
Cons:
You may have to drill holes into it for assembly
5.
Rubbermaid Extra Large Garden Storage
Back to boxes, here's another great option for garden storage. The Rubbermaid Extra Large Deck Box is a combination of outdoor storage and seating two in one.
It can also be used as comfortable seating for up to three adults. So, if finding a place to sit outside is a problem, this box could be a good choice.
Unlike wood or metal furniture, this resin deck box will never rot or rust. It has a double-walled construction to secure your belongings and that makes it quite stable when used as a seat.
Pros:
Very easy to assemble
Leak-proof and dent-resistant
No maintenance required
It will never rot or rust
Cons:
Doesn't include a lock (you have to buy one separately)
A bit pricey compared to other options
6.
Keter Brightwood Plastic Garden Storage
This is definitely one of the most attractive garden storage options around, at least according to our taste.
The Brightwood Plastic Deck Storage Container Box looks great and is well built. It's great both as a patio furniture item and as a storage container.
You can make your patio look neat and appealing with this sturdy, pleasantly rugged plastic deck box.
And, of course, you can keep all your outdoor supplies in one storage box for efficient access. All in all, it can blend perfectly into your outdoor decor.
Pros:
Looks more like seating than a storage box
Large storage capacity given its size
Made from eco-friendly materials resistant to UV
Cons:
Actual color may differ slightly from the image
The latch isn't as tight as it could be
7. Rubbermaid Horizontal Storage Shed
We love a good storage shed. But since wooden ones can be expensive to build and they quickly weather, we are always on the lookout for alternatives.
This durable Large Outdoor Storage Box from Rubbermaid is another good garden storage option. You can store all outdoor items and garden accessories neatly inside it.
It works well for storing large equipment, bicycles, mowers, trash cans, and more. Built-in rollers enable you to easily open it vertically.
It comes with eight wall anchors to keep all your things organized. Unlike wood and metal sheds, it will not rot, dent, or rust.
Pros:
Double-walled construction
Impact-resistant flooring
Maintenance-free
Cons:
Needs assembly using common household tools
Garden Storage Solutions Questions and Answers
If you are a gardener, you probably know how much equipment and tools you can gather over the years.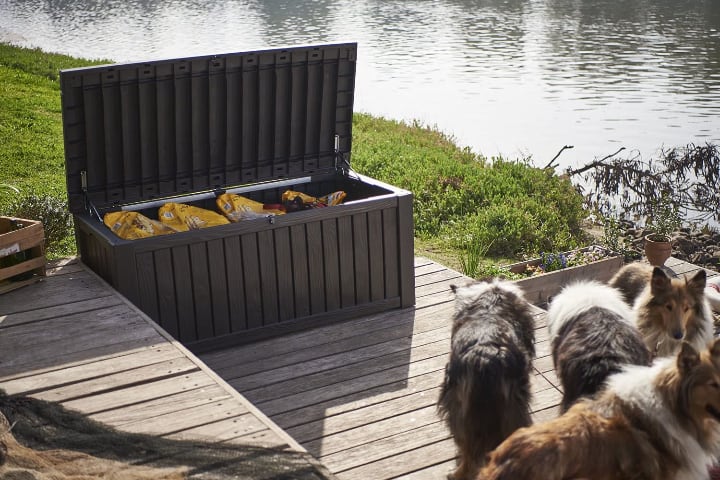 If you aren't careful, you could end up with a pile of stuff so unsightly that you can't find what you need when you need it.
But before you choose a garden solution, take a look at these frequent questions we've heard. The answers may prove useful.
How do I know what garden storage solution will work for me?
Consider how much storage space you need, its placement, and how exposed it will be to the elements. Also factor in whether it will blend in with the elements around it. Check out our list of favorite gardening storage solutions for inspiration.
Should garden storage solutions be weatherproof?
This depends on where you plan on placing it. If you want to keep the storage container outside in all seasons, you definitely need to choose a weatherproof option. The best garden storage solutions tend to be waterproof.
Can I make my own garden storage solutions?
Many people choose to make their own garden storage solutions, and that is a great idea! Not only can it save money, but it also allows you control over how much space you have. It's also great if you need an item to fit into a particular space since you have control over the dimensions and shape of your storage. Check out our best small garden shed ideas for inspiration.
Sometimes, a Big, Empty Box Is Just What You Need
You don't have to be a fan of garden storage solutions to want to use one. Whether we're talking about a simple box or a nice piece of furniture that doubles up as seating, these items can make garden storage less of a hassle.
Most garden storage boxes will serve you for years, if not for a lifetime. They can complement the storage space your shed provides or create an affordable alternative to it.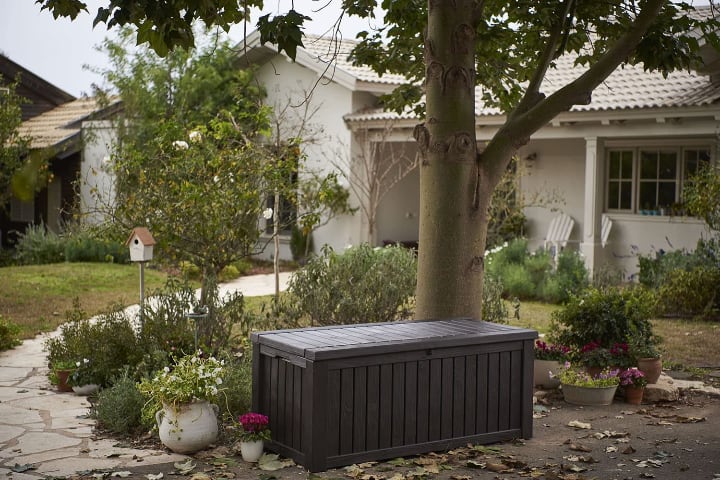 With enough garden storage, you will never have to worry about where to store things such as a gardening hoe. And, of course, you can reduce clutter in your garden.
Even if you're just starting out with gardening and don't have all that many tools, you can still invest in a storage box.
You'll add a lot more gardening items to your toolbox in time, and having an actual box to put them all in will make your life easier.
We hope you enjoyed this post and that you found at least one of the items we shared with you to be a solution for your needs.
Now over to you. We'd love to hear more about how you're tackling garden storage issues at home. Why not also share what has worked/hasn't worked for you in the past?
We'd be happy to learn of any creative solutions you've found to this old problem. So, drop us a comment or reach out to us on social media. You know where to find us!