Nothing is more satisfying than sipping a warm cup of ginger tea. Actually, it's referred to as an "infusion" as it doesn't have any tea leaves; hence, it is not considered as a true tea. Across the world, ginger is a healing herb used as spices in many cultures. Thus, ginger root is extremely favorable for one's well-being.
This specific aromatic tea is invigorating, enriching, and calming at the same time. Since it is also absolutely caffeine-free and has only 4 calories per cup, it is a great substitute for coffee or black tea. In this article, we will discuss how to make ginger tea, recipes of some fruity variations you can do, its benefits, and many more.
11 Health Benefits of Ginger Tea
With the fact that ginger is a medicinal herb, it is undoubtedly encouraging to drink this tea. This soothing tea whether in a glass or teapot is widely used in a lot of places to relieve illnesses. Here are some of the benefits that you can get when you drink this healthy concoction:
1. Good for the Respiratory System

One of the many benefits of ginger is aiding the respiratory system as it gives you better lung health. It helps fight mucus and makes it easier to release air.
2. Relieves Nausea

A glass of ginger tea will help you fight the feeling of being sick such as nausea. This is backed up as The National Institutes of Health (NIH) considers ginger supplements effective for avoiding morning sickness and reducing post-surgery nausea.
3. Controls Weight and Blood Sugar
This is backed up by a study in 2012 from Columbia University involving 10 overweight men found that drinking hot ginger tea (in this case, the ginger powder dissolved in hot water) increased their feelings of fullness and reduced hunger.
This also suggests that ginger may be effective in managing obesity. Ginger may help improve blood sugar control, reduce A1C, insulin, and triglycerides among people with type 2 diabetes, some research suggests.
4. Improves Blood Circulation

This powerful tea improves overall blood circulation. In line with that, we all know that it is women's struggle to complain about cramps during their menstrual cycle. Worry not, as this beverage can save the day. Try to dip a clean towel into the hot ginger tea and apply it to the lower abdomen area. The effect of ginger tea reduces pain and helps relax muscles.
5. Boosts Immunity and Helps Fight Cancer Disease

As it is good for immunity, fighting cancer cells has been proven effective by drinking ginger tea. Moreover, this remedial herb has been recognized to fight against cancer cells. Drinking 1-2 glasses of ginger tea a day is recommended.
6. Relieves Inflammation

One of the amazing benefits of drinking this tea is reducing joint inflammation. It is an ailment that can lead to other complications or health problems as the swollen and tender joints cause you to work out less.
7. Good for the Digestive System
Ginger is popular for aiding the digestive system. This ability makes it possible for the excretion of digestive fluids, thus, causing the digestive system to process foods more easily. Nevertheless, it is still strong in taste so drink it with moderation not to cause heartburn.
8. Relieves Diarrhea
Drinking this tea will help relieve your tummy, but there is actually more to that. It also aids in reducing gastrointestinal problems such as cramps, irritable bowel, flatulence, colic, diarrhea, and cholera.
9. Treats Headache and Migraines
Ginger has a natural ability to be a blood thinner and can be used to aid in headache relief. In case you opt to drink it, you aspirin should not be taken as the mixture of the two blood thinners could have unsafe effects. Both blood thinners work to stop headaches by reducing the soreness of the blood vessels as they thin the blood.
10. Reduces Risk of Heart Disease
A concoction made with ginger root can also reduce your risk of heart disease. It acts by lessening the amount of cholesterol immersed through the blood and liver. Of course, lower cholesterol gives you a lower possibility of a heart attack.
11. Increases Fertility
Did you know that studies say that drinking this tea is believed to help men produce sperm quality? Drinking ginger tea works as an aphrodisiac (increases libido when consumed) for men, thus helps increase fertility.
How to Make Ginger Tea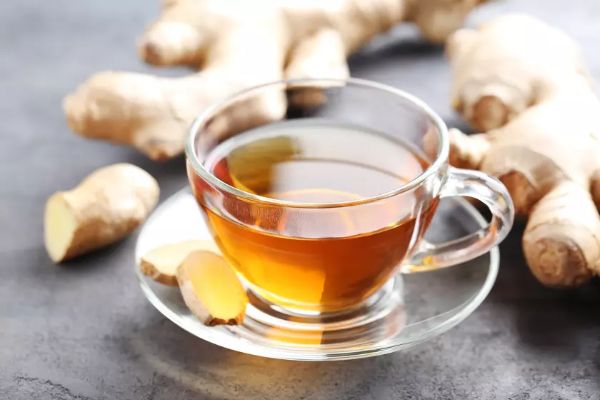 Who does not love the relaxing flavor of ginger tea? It is a delicious drink that you can have any time of the day. During winter, it's a perfect thirst-quencher warmer. Not only that, but it can also be relished as a summertime infusion. Here's a simple recipe of how to make a fresh ginger tea at home:
Ingredients:
1 or 2 slices of ginger root
1 cup boiling water
honey (optional)
Directions:
Put the ginger root slices directly in a mug.
Add the boiling water and allow it to steep for 5 to 10 minutes
Add honey to taste, if desired
3 Tasty Ginger Tea Recipes
While it is easy to make a fresh cup of ginger tea, this tea can be combined with other citrus fruits like lemon or lime, and other herbs such as turmeric or chamomile. Once made into tea, you can add peppermint, honey or lemon to mask the taste of the ginger. Here are some recipes for tasty ginger tea variations that you can make:
1. Ginger Green Tea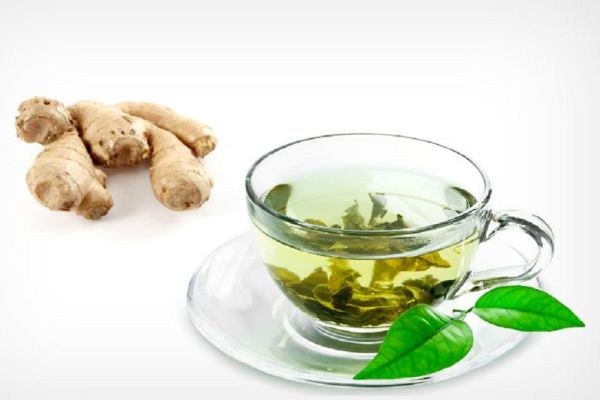 Ingredients:
5 cups of water
2 1/2-inch piece of fresh ginger (unpeeled is okay), coarsely chopped
3 tablespoons honey
6 bags of green tea
mint sprigs (optional)
Directions:
Pour 2 cups of water and the ginger into a pan and bring to a boil. Wait for the heat to become low and boil for 5 minutes. Stir in the honey. Remove the pan from heat and add the tea bags. Steep for 3 minutes, and then strain out all the solids.
In a large pitcher combine the strained tea with the remaining 3 cups water. Chill in the refrigerator. Serve over ice, garnished with mint sprigs, if using.
Tip: An easy and simple way to make ginger tea with green tea or any other type of tea (white tea, yellow tea, pu erh tea, oolong tea, black tea) is to make the ginger tea first and then steep the tea in the hot ginger tea for 1 to 2 minutes.
2. Lemon Ginger Tea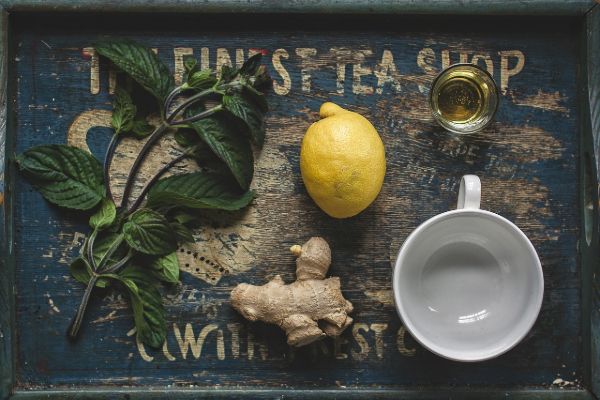 Ingredients:
1″ segment of fresh ginger
12-16 oz. hot water
1 fresh lemon
1-3 tbsp. honey
Directions:
Peel the ginger and cut into very thin slices. Put the ginger in your glass or mug. Then, add boiling water. Cover with a lid, and let steep for 5 minutes.
After steeping the ginger for five minutes, add the juice from the lemon (and then the lemon slice itself) and honey to taste of your desired sweetness.
3. Turmeric Ginger Tea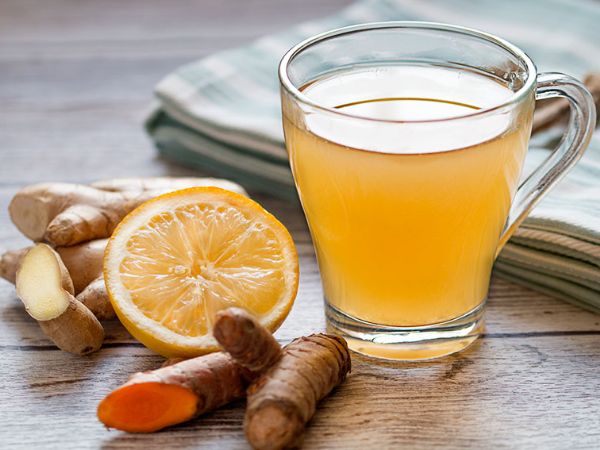 Ingredients:
1 or 2 slices of ginger root
1 cup of boiling water
1 dash of ground turmeric
1 dash of black pepper
honey (optional)
Directions:
Put the ginger root slices directly in a mug.
Add the boiling water, turmeric, and black pepper. Stir well. Allow the tea to steep for 5 to 10 minutes.
Add honey to taste, if desired.
Best Time to Drink Ginger Tea
The best time to drink your tea is when you wake up in the morning. When you drink it in 30 minutes after you wake up, it helps your body speed up your metabolism and even avoids nausea. Having a cup of ginger tea can be your morning coffee instead, plus it is caffeine-free.
Ginger Water May Reduce Belly Fat
It has been said that ginger tea can help promote weight loss. Thus, it is a good drink to detox your body, especially after a full meal. It is better to use fresh ginger root in water as it helps speed up your metabolism, support weight loss, get rid of belly fat, helps lower cholesterol and balance hormones. This ginger water can be hot, warm or at room temperature.
Drinking Ginger Tea on an Empty Stomach: Yay or Nay?
While it may be different from person-to-person, it has been found that drinking ginger water on an empty stomach is also a good way to help speed up metabolism by helping food digestion better and activates the kidneys responsible for removing liquids from the body.

However, to avoid gastric upset or making your stomach uncomfortable, Chris Kilham (The Medicine Hunter) highly suggested those with a sensitive tummy have some food in their stomachs and only drink modest amounts of ginger tea.
Recommended Dosage of Ginger Tea
It is said that the daily maximum is considered to be 4 grams of ginger (or less than 2 tablespoons) per day from all sources including food and tea. For some people, that means drinking one or two cups per day, or not more than. It is best to always know our body's capacity as well.
Side Effects of Drinking Ginger Tea
Ginger itself can cause diarrhea, stomachache, and heartburn when taken too much. A few cups of ginger tea a day is not an overdose. The University of Maryland Medical Center recommends not eating more than 4 grams of ginger every day and not more than 1 gram for pregnant women. Just remember to keep using fresh ginger to brew tea to reduce your chance of suffering any side effects.
Consuming in moderation should always be considered, given that ginger is a herb. More so, you should particularly be careful with drinking ginger tea during pregnancy. Research says it might cause miscarriage.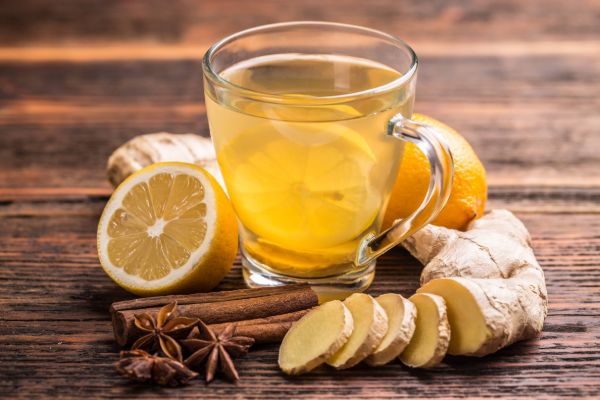 To sum up, ginger tea is truthfully a delightful and miraculous drink that boasts healing properties and overall happiness that are truly beneficial for health. Once consumed in moderation and brewed in the right way and quantities, you will be able to see results within a few weeks' time.