You must have heard of Vitamin E oil, but do you know the many things it can do for you? Alpha-Tocopherol, generally known as Vitamin E, is dubbed as a miracle drug. There may be some hype to that. Still, you're looking at a fat-soluble antioxidant beneficial for the skin, hair, nails, and overall health.
Vitamin E is a powerful radical-fighting antioxidant with the ability to protect cell membranes from oxidation. It's also an essential remedy in treating dry and dehydrated skin.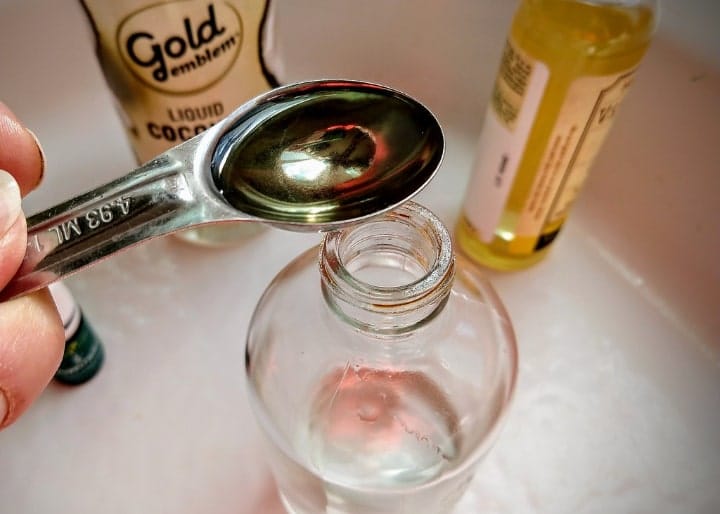 Moreover, it has anti-inflammatory properties that are vital in preventing numerous heart and blood complications.
To help you make the best use of this oil, we've put together a list of the best Vitamin E oil products you can buy right now. Discover them below!
Best Vitamin E Oils
With its excellent skin benefits, Vitamin E oil is, not surprisingly, widely used as an ingredient in various skincare products.
Some of the best facial oils/creams, anti-aging moisturizers, sunscreens, and lotions contain Vitamin E as a main ingredient. However, it needs to be combined with other antioxidants for best results, like green tea.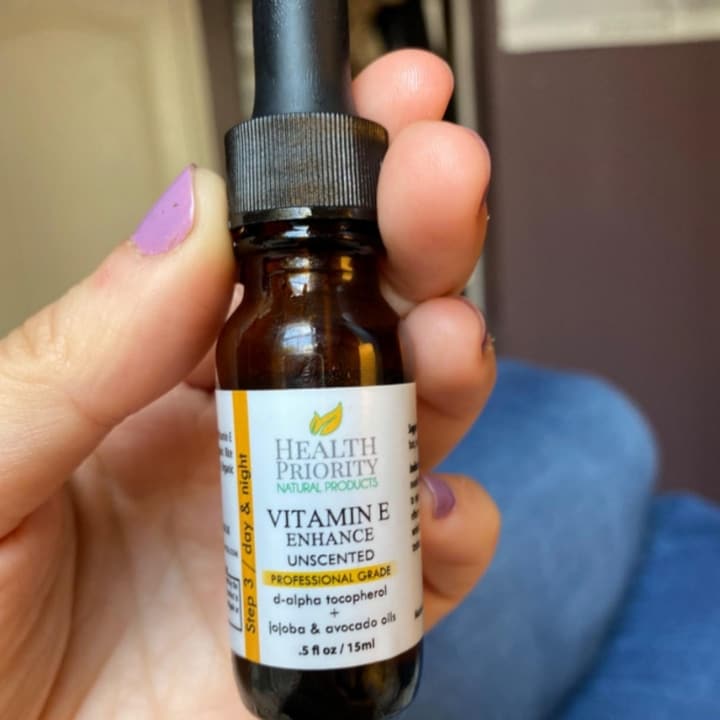 This combination will help skincare products from "first-string defense" (coined by Tatiana Kononov) against the damaging effect of free radicals and environmental stress.
Unfortunately for consumers, not all Vitamin E products are of high quality. To take away some of the guesswork, we have reviewed some of the best options out there.
So, if you're not sure which one to snag, take a look at our selection.
1. Vitamin E Oil by Kate Blanc
If you are looking for a natural skincare solution, then Vitamin E Oil by Kate Blanc is the product you need.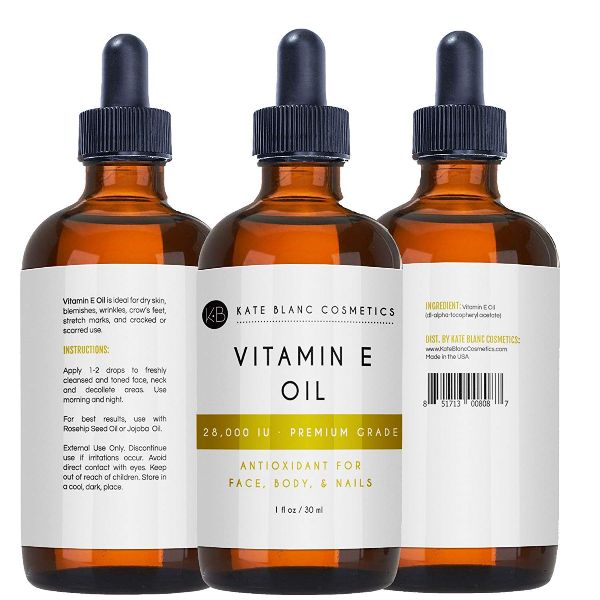 It can make your skin soft and helps minimize wrinkles. Vitamin E Oil by Kate Blanc also has anti-inflammatory qualities that aid in lessening fine lines, stretch marks, and scars.
So if you're a mommy trying to get rid of your "tiger stripes," this could help. You can also add a few drops to your creams, serums, or moisturizers to aid in your hydration routine.
Benefits:
It helps with the removal of stretch marks and scars.
You can use it on your hair and face.
It treats skin aging and elasticity.
This product is covered by a 100% satisfaction guarantee and a 1-year warranty.
2.
Health Priority Vitamin E Oil
Talk about a power-house product! Health Priority Vitamin E Oil V packs more Vitamin E power compared to other synthetic products. This is why it packs a punch that some of the others don't.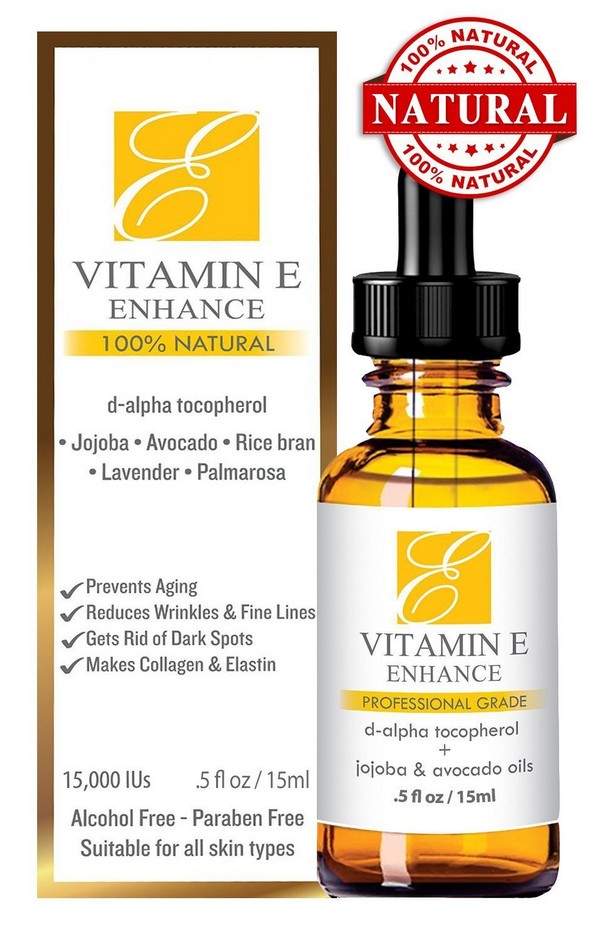 It is made of 100% pure Vitamin E oil combined with organic components such as jojoba, avocado, and rice bran oils so it's not too sticky, but just right.
Our favorite perk is that it comes with essential oils which are great for aromatherapy and with calming effects. Not to mention that this product is made in the USA and is 100% natural and organic.
So if you're into all-natural products, this non-synthetic and unscented Vitamin E oil seems perfect for you.
Benefits:
It can help in reducing wrinkles, dark spots as well as dark circles beneath your eyes.
You can use it as a moisturizer for your skin.
It can also treat damaged skin leaving you with much more natural skin.
3.
Jason Vitamin E
This product is a classic. Jason Vitamin E Oil 5,000 IU contains a natural blend of organic ingredients. It's made of pure vitamin E oil along with antioxidants from almond, apricot, sunflower, avocado, and wheat germ oils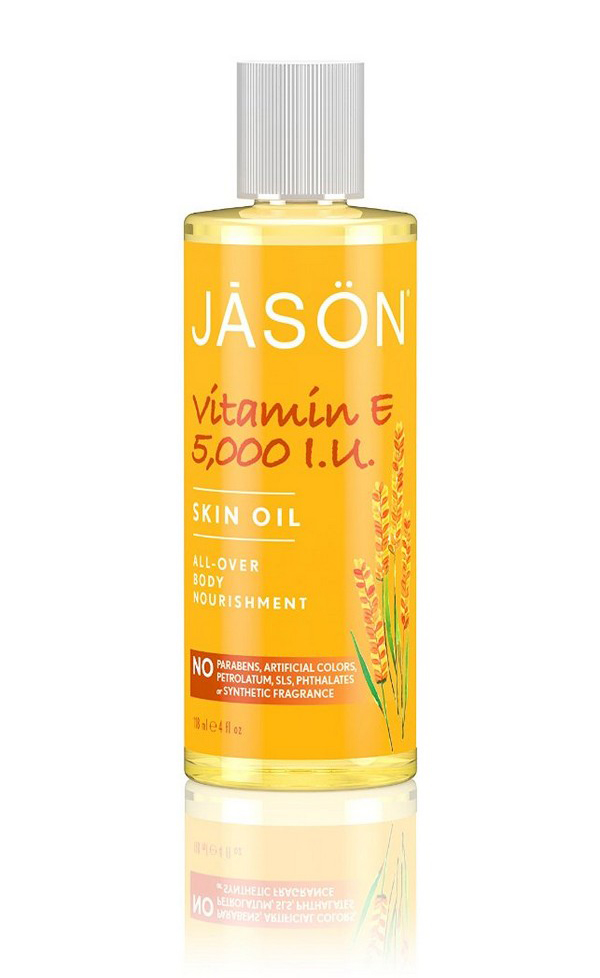 Say bye-bye to rough edges as this product can also renew the softness of your skin.
It was not tested on animals and it contains no parabens, sodium lauryl/Laureth sulfates, petrolatum, or other artificial and synthetic ingredients.
That's a plus if you love furbabies and you're 100% against testing on animals.
Benefits:
It protects your skin against wrinkles and fine lines and gives you a silky and smooth appearance.
This is an organic product that can help regenerate your skin.
It nourishes and moisturizes your skin long after the initial application.
4. Derma E Vitamin E Skin Oil
Need a stress reliever? Derma E vitamin E 14,000 I.U. Skin Oil is formulated with pure Vitamin E which is the best antioxidant around. Pure safflower oil serves as its product base.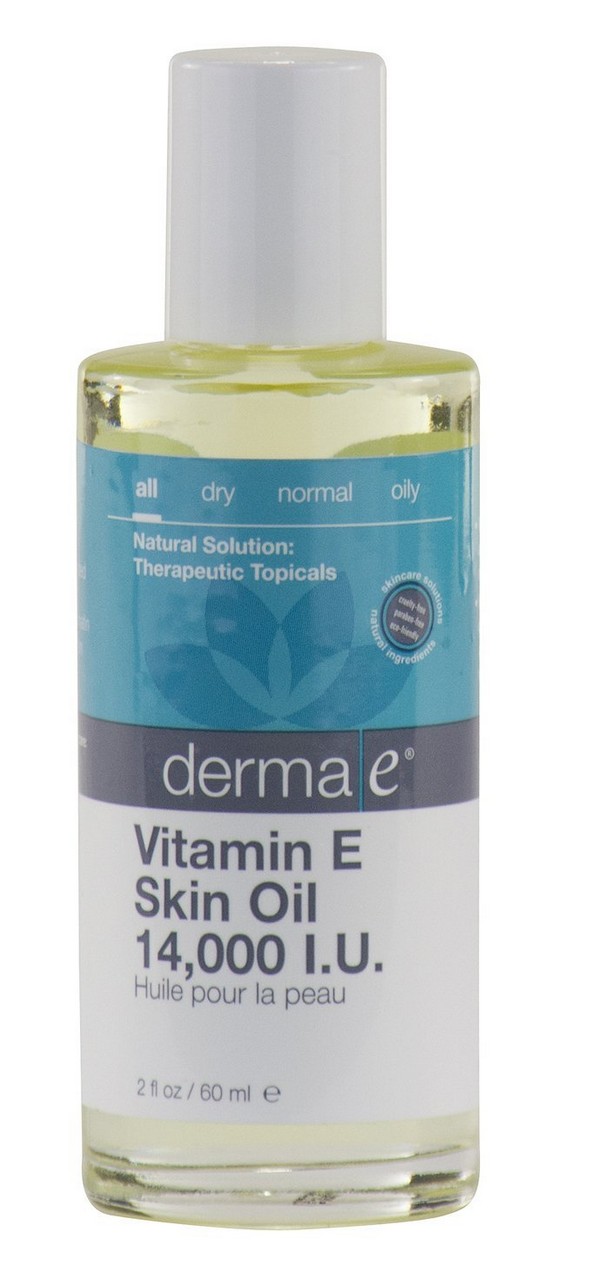 As mentioned earlier, Vitamin E fights free radicals and oxidation that can damage your skin. This is why Derma E Vitamin E Skin Oil can make your skin healthy and remove the effects of stress and pollution. This product was not tested on animals either.
Benefits:
It helps moisturize your skin in ways that other products can't match.
It softens your dry and rough skin if it's in bad shape.
It lessens the occurrence of fine lines and wrinkles so it makes the aging process more graceful.
5.
OGX Healing Plus Vitamin E Penetrating Oil
Your skin is not the only one to benefit from Vitamin E. OGX Healing Plus Vitamin E Penetrating Oil is an all-around winner because of its powerful and nutrient-rich vitamin E oil formula.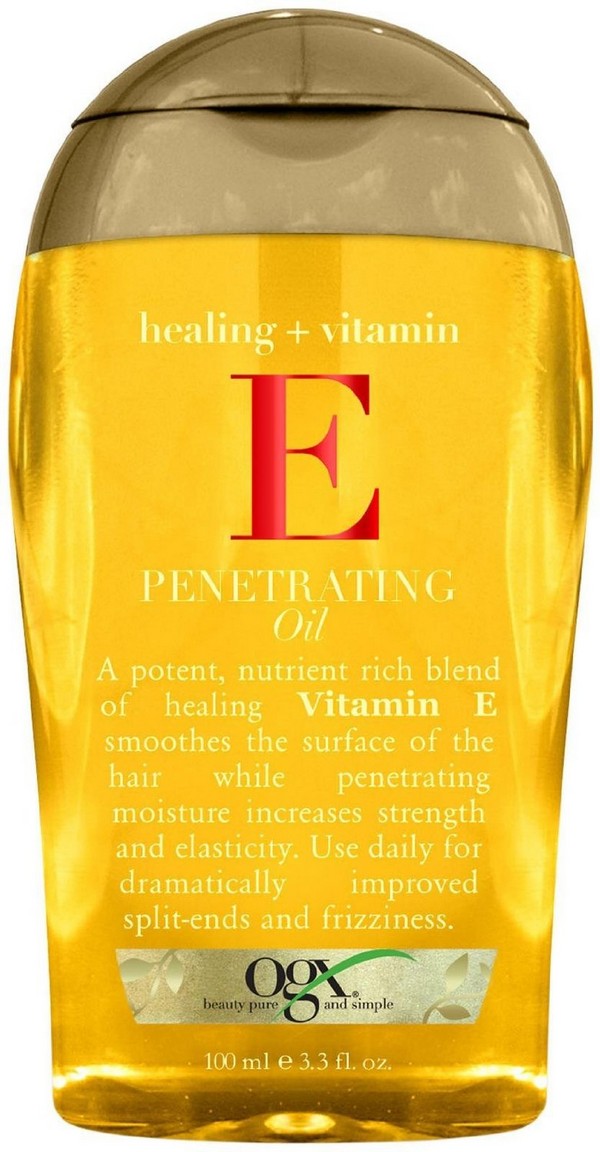 This concentrated Vitamin E oil will penetrate, heal, and protect your hair strands as well as your skin. Aside from making your hair look healthier and glowing, it can also reduce the risk of upcoming hair breakage.
Benefits:
It gives your hair a healthy glow and natural shine.
Use it daily to heal your damaged hair.
It can soothe frizzy hair.
Prevents hair breakage and dullness.
Repairs split ends on your hair.
Best Vitamin E Capsules
So far, you've learned about how Vitamin E can help you with your exterior. However, this oil brings health benefits for the inside as well.
Of course, you won't be guzzling oil. But you can take capsules of Vitamin E to promote cardiovascular health, for example.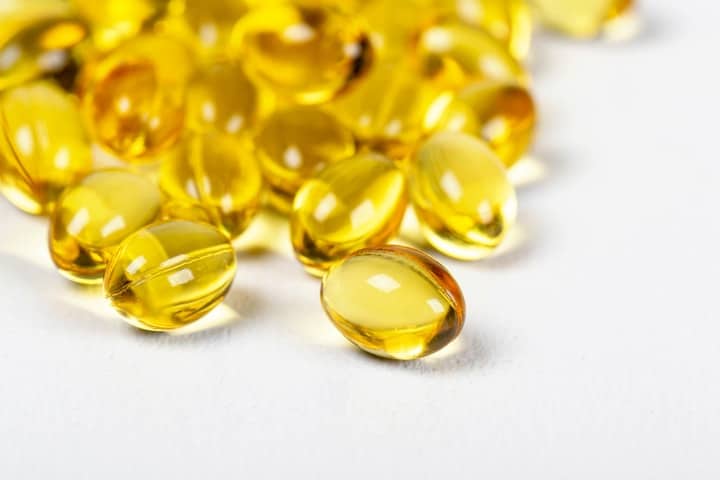 Here's how it works: Vitamin E helps protect LDL cholesterol from oxidation that may result in cellular damage.
Vitamin E helps in supporting and maintaining healthy immune function and brain function as well as keep your eyes and skin healthy.
So Vitamin E really does provide the best antioxidant protection you can get.
Here are some Vitamin E supplements you may want to consider adding to your list of health boosters.
1.
Kirkland Signature Vitamin E
These Kirkland capsules do not have artificial colors and flavors. They do not contain any preservatives, yeast, starch or gluten. The USP has tested and verified its ingredients, potency, and manufacturing methods.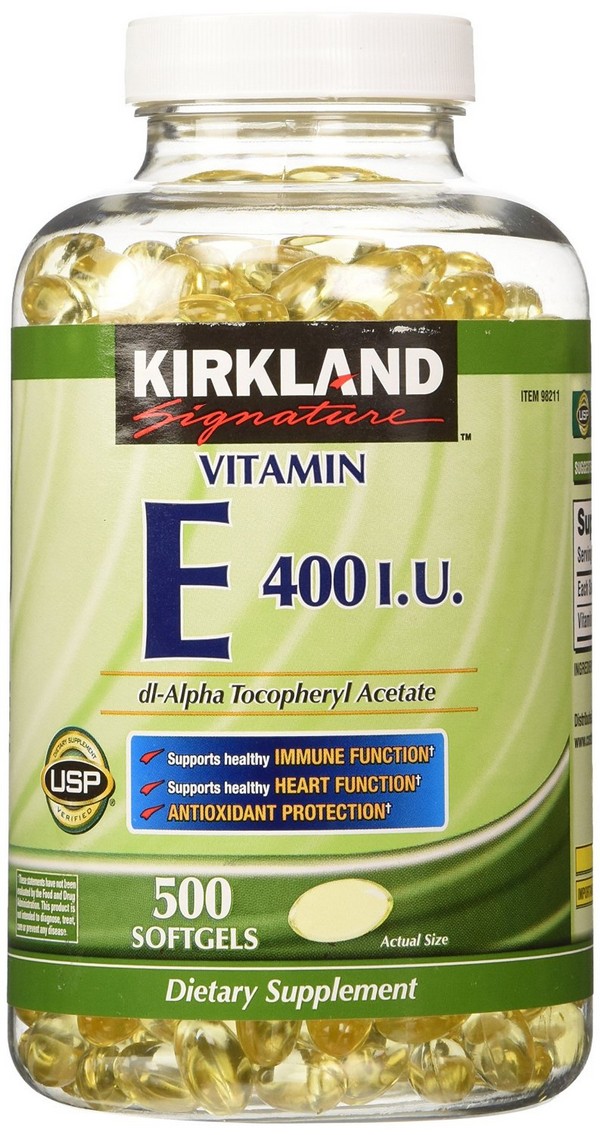 Since the USP is responsible for setting the official standards when it comes to dietary supplements, this is a pretty big deal.
Benefits:
Promotes a healthy immune system as well as cardiovascular health.
It works wonders for your skin and eyes too.
This product contains only natural ingredients.
2.
Nature Made Sam E 400Mg
This dietary supplement can improve your mood by balancing the function on some parts of your brain cells which include the neurotransmitters, dopamine, and serotonin. Many doctors are now prescribing it instead of depression meds.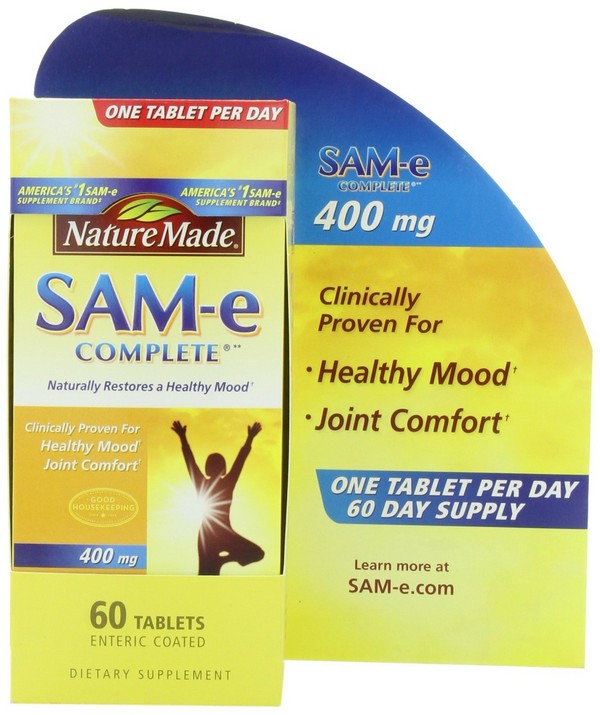 Moreover, it can improve your joints health by maintaining your joint cartilage. Due to aging and physical activities, our joint cartilage tend to deteriorate with time, but this Vitamin E supplement can help prevent part of the process.
It also promotes overall healthy liver functions and is a potent detoxifier.
Benefits:
It improves your overall mood.
It keeps your joints healthy as you age.
Provides you with healthier liver function.
Helps in preventing depression, panic attacks, and anxiety.
3.
Nature Made Vitamin E 400 Iu
Nature Made Vitamin E 400 IU is a dietary supplement that tested and verified by the USP. It's a potent antioxidant that helps maintain a healthy cardiovascular function.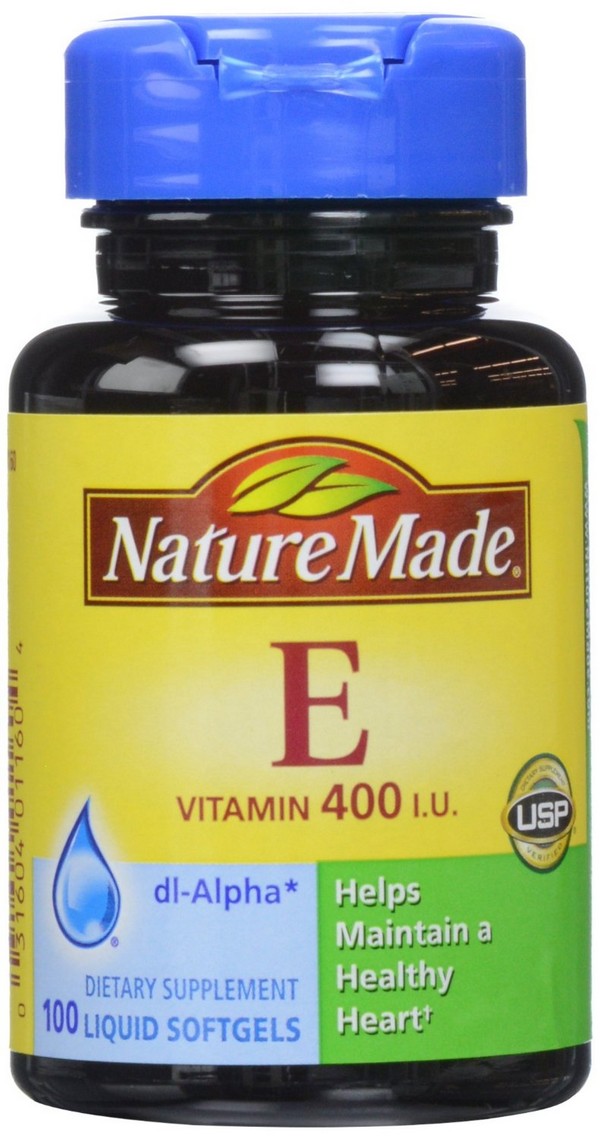 Aside from this, it can help in maintaining healthy muscle tissues and red blood cells. Other perks include being great for memory, prenatal care, long life, and overall health.
It may also guard your body cells against harmful compounds such as lead and mercury. You can take this supplement simultaneously with Vitamin C for a double whammy.
Benefits:
It provides you with a healthy heart and immune system.
Promotes good memory, long life, and overall health.
It is also an excellent health supplement for prenatal care.
4.
Now Foods E 400
If you're looking for a science-backed product, look no further. Now Foods E-400 is a natural supplement that brings together four tocopherol members which are the alpha, beta, delta, and gamma.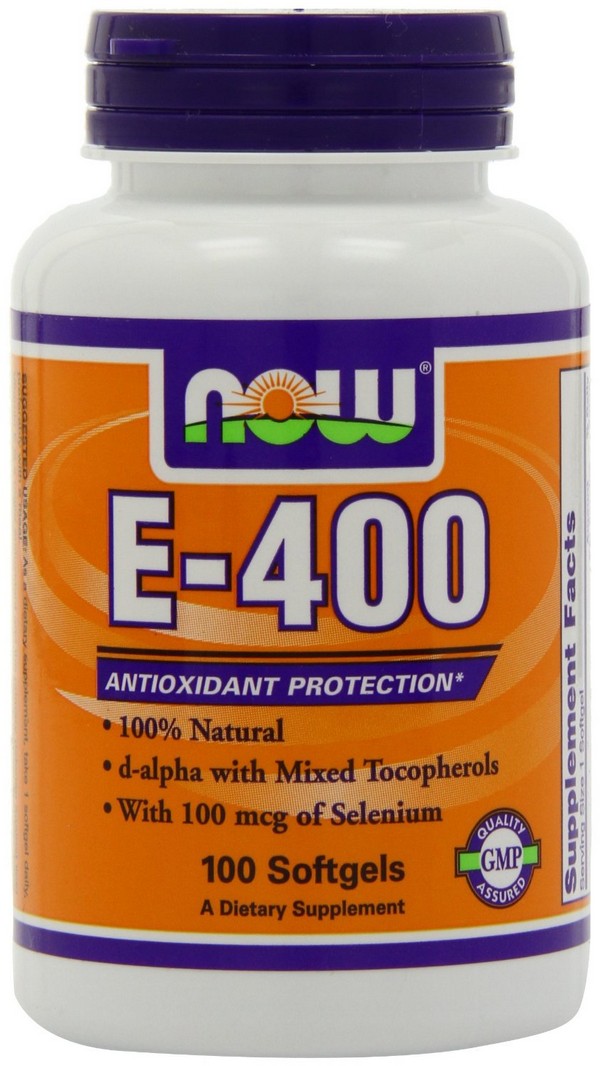 It's an ultimate antioxidant and an excellent defense against lipid peroxidation. It protects your body's cells against harmful free radicals and oxidative damage.
At the end of the day, you can only benefit from all of these protections with a supplemental intake which has a higher content compared to your normal diet.
Selenium is a significant trace mineral that included in Vitamin E as a complement. Selenium may help in lowering cancer risk, though for now, the proof is still limited.
Benefits:
Provides antioxidant protection
It could reduce the risk of cancer, although evidence is limited
5.
Solgar Vitamin E 1000 Iu
Gluten and dairy-free, this dietary supplement is one of the best natural soft gels around. Solgar Vitamin E 1000 IU is a natural vitamin E.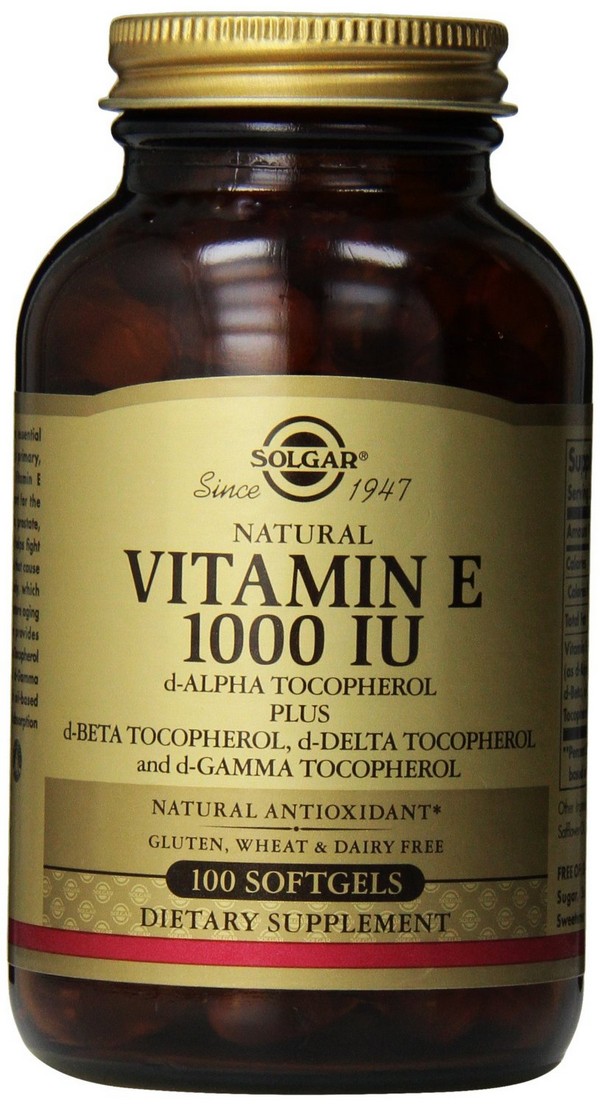 It is a significant nutrient that is an excellent fat-soluble antioxidant. It combats free radicals that can damage cells and result in oxidative stress in the body.
This is an oil-based soft gel for quick absorption and assimilation into your system.
Benefits:
It promotes healthy skin as well as healthy cardiovascular and immune systems.
Prevents premature aging of cells.
Vitamin E Oil: Benefits and Uses
Vitamin E Oil is a skincare product with Vitamin E content—either organic or synthetic that usually comes in a sizeable bottle meant only for topical use.
Its Vitamin E content is limited to less than 100% and is combined with other ingredients like coconut oil. This is why it can be used topically.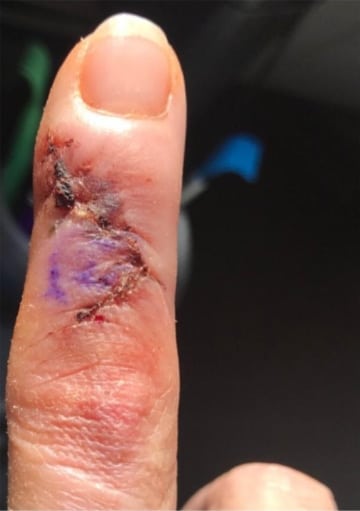 Vitamin E Oil for Skin
With its significant Vitamin E content, Vitamin E Oil can work wonders for your skin. This product can be helpful depending on the imperfection you would like to treat or repair. Here is a short list of things you might want to improve:
Wrinkles
Vitamin E oil prevents the formation of wrinkles by blocking damage induced by free radicals, augmenting collagen production, supporting new skin cell growth, and accelerating cell regeneration.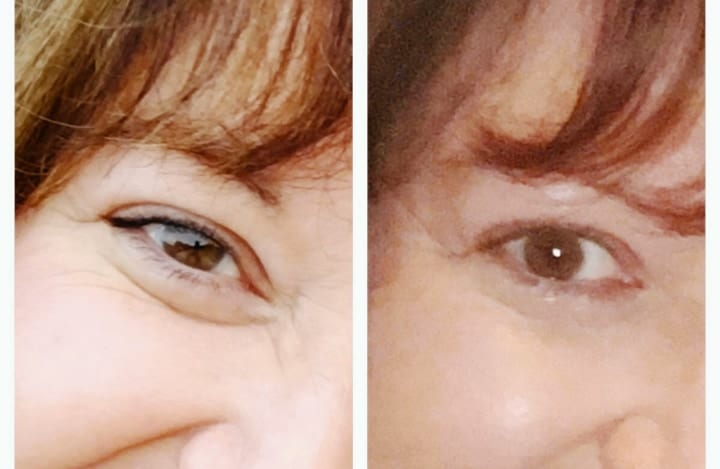 Stretch Marks
What makes Vitamin E Oil great for getting rid of stretch marks? Of course, it is the way Vitamin E works from inside out. It heals marks by penetrating down to the second layer of the skin and filling up the depression on it. Thus, healing happens naturally and effectively.
Rough Skin
Vitamin E Oil in combination with olive oil is the perfect treatment for rough skin. Together, they provide the skin with sufficient and necessary moisture and antioxidants with a non-grease feel.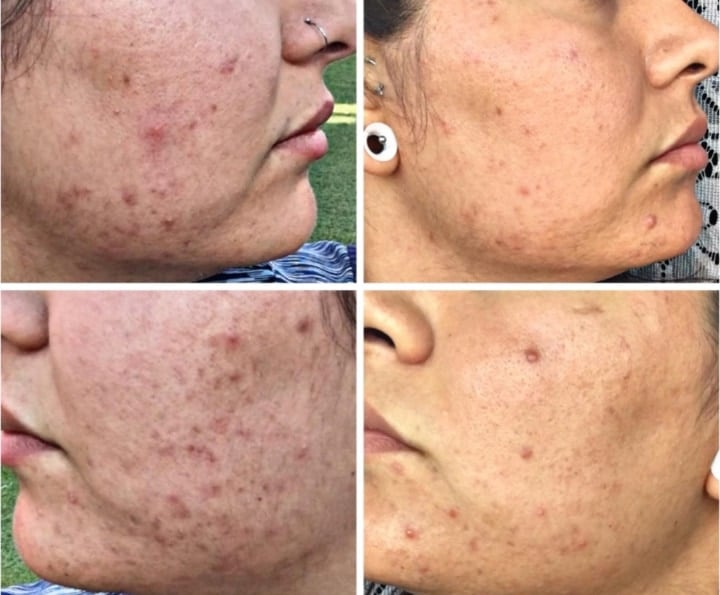 Vitamin E for Nails
With its healing properties, Vitamin E Oil helps repair rough, cracked nails and cuticles. It acts as a natural moisturizer that rehydrates and prevents them from future cracks, leaving you with smoother, shinier, and stronger nails.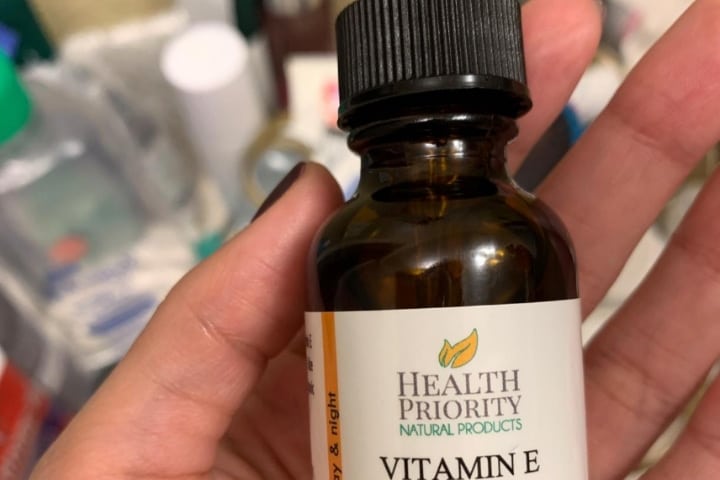 Not convinced? Just ask your nail tech and they'll surely tell you the wonders of Vitamin E for your nails.
Vitamin E for Hair
Tangled hair is best treated with a mixed solution of Vitamin E Oil and a regular shampoo.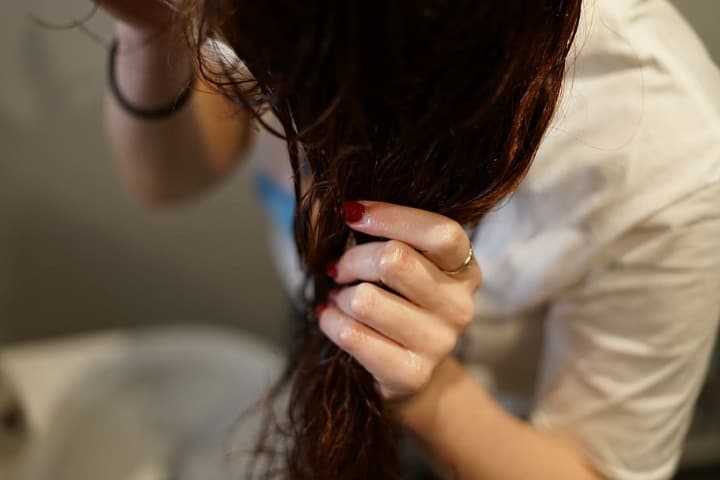 This mixture creates a 2-1 anti-tangle solution that conditions both hair and scalp and will leave you with soft, silky, strong hair and a dandruff-free scalp.
Commonly Asked Vitamin E Oil Questions
If you haven't been using Vitamin E oil in your garden, you need to start. This awesome oil has the capability to boost your garden in several different ways.
Here are a few commonly asked questions answered to help you get started.
Can Vitamin E oil help my plants grow?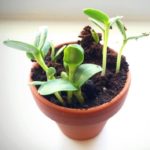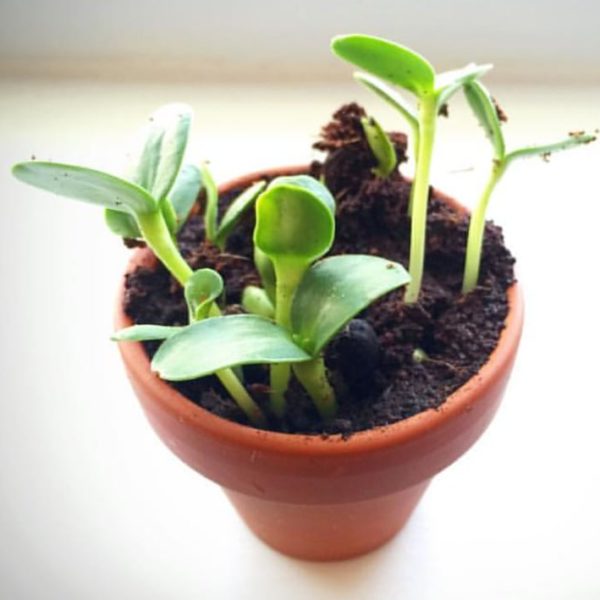 Yes! That is the whole point of using this type of oil in your garden. Not only can it help your plants grow faster, but it also can assist in making them stronger, as well. Brush up on all the benefits of Vitamin E oil in our guide.
Is Vitamin E oil expensive?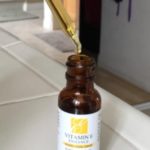 Vitamin E oil is a great option for any gardener, regardless of the budget they have. This is because the oil is relatively cheap and is super easy to access. We created a list of our favorite and most cost-effective Vitamin E oil options for you here.
How do you use Vitamin E oil in the garden?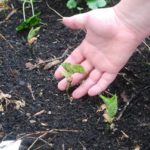 You can add the oil directly to the soil. Or, for better results, you can mix it in well with your water before watering your garden. Either way, you will be on your way to stronger and healthier plants!
Ready to E-up Your Life?
Vitamin E brings tons of health Investing in this vitamin will take you a long way in maintaining a healthy body and lifestyle.
The best sources of vitamin E include green leafy vegetables, vegetable oils, nuts and seeds, fruits, and seafood. But if you're a picky eater, you can also find it in various drug/grocery stores in the form of liquid and capsule.
As a reminder when purchasing a Vitamin E product, take note of the label "tocopherol" and check its ingredients to make sure it's combined with other antioxidants.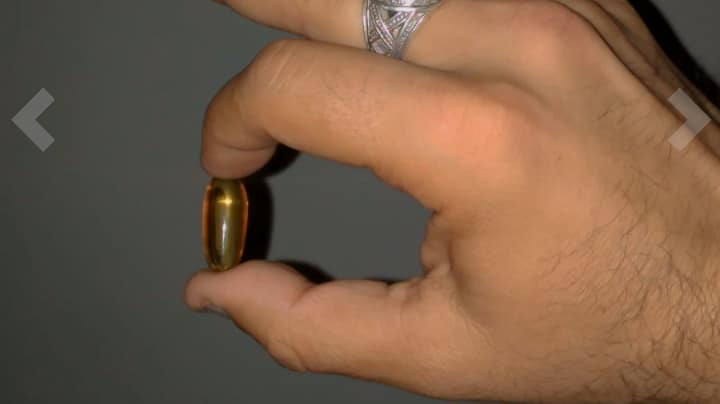 You can also find Vitamin E in oils. Get one of these now and you will surely live a happier and healthier life!
There are numerous other essential oils you can try like Bergamot and Eucalyptus. At the end of the day, the choice is up to you. Spin the wheel and try one. Or two. 🙂
Have you ever used essential oils? Which ones? Drop us a comment and let us know!