What's the point of cultivating a garden if something is not Planted Well?
This is the vision and inspiration for our blog. We, my cousin Nancy and I, are gardeners by heart, adore organic home-grown vegetables and herbs and can browse for hours through landscaping ideas or how-to's on how to grow the perfect plants at home.
The first seed blossom melts your heart, and we know it too. It is important for people to learn and know the right facts on what to grow and put in their bodies. This world full of chemicals, pesticides, and what not is bad for everyone's health. Through this community, we stand for organic & home-grown to help you and the world to blossom into a better place.
MEET THE AUTHORS OF PLANTED WELL
The journey of blogging started because of only one thing: my liking for flowers. Growing up, I noticed that I really have a thing for yellow flowers. No particular type though. For instance, when I went on a trip one time, I took a photo of a sunflower.
I'm a fan of taking portrait shots, whether on my phone or a professional camera, and I am always amazed at how objects can be so focused and the background is so blurred.
My fondness for yellow flowers turned to plants, trees, and nature in general. Furthermore, my interest grew more and more as my cousin Nancy who majored in Biology would always share her lab tests or activities in college. She talked about a color-changing flower experiment they did, which really fascinated me.
With her huge influence and acquired knowledge from school, and my love for nature turning me into an all-natural junkie in terms of food and soon in lifestyle, we started planting and maintaining the garden — and the rest is history.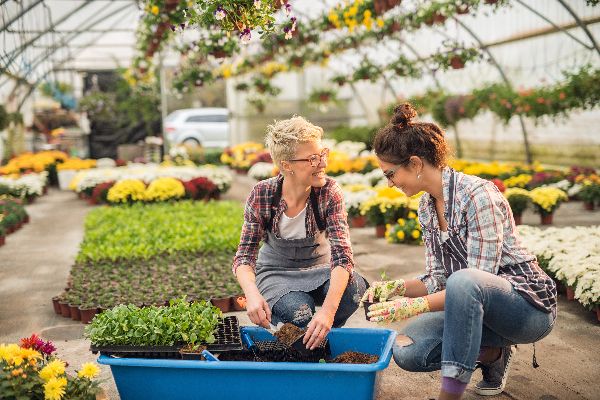 NANCY DREWS & JOYCE ADAMS
(full-time gardeners, writers and home-grown advocates)
Both of us love to share stuff on the Internet, thus, making it perfect for us to start our online platform. Because I'm the one who convinced my cousin Nancy to start planting all that stuff, I mostly research on general gardening ideas, growing veggies, herbs, flowers, and so on, while surprisingly, she is now into landscapes, tools, equipment, and the like.
We continue to water the minds of our readers and feed them with our in-depth studies, experience, and reading as much as how we take care of our plants well.
Planted Well aims to carry general and specific growing guide for a plethora of plants, flowers, herbs, vegetables, and fruits. We recommend and review the best organic insecticides, gardening tools, and landscaping companies.
We listen to our readers and widely discuss various requested topics like how to attract wildlife to your garden or the best indoor plants. Do you have suggestions? Send us an email to [email protected]. Grown on and share with the community.
Love,
Joyce & Nancy
Authors of Planted Well