Looking for the best mushroom growing kit to grow healthy, fat-free, low-in-calories, and most importantly, tasty mushrooms? You've come to the right place.
Mushrooms boom and gloom in the wild. But they are fun to grow at home, too. Part of the fun is that you can experiment with different ways to grow them, from bags to logs to grow tents.
So, are you ready to start learning how grow your own mushrooms?
Best Types of Mushrooms to Grow at Home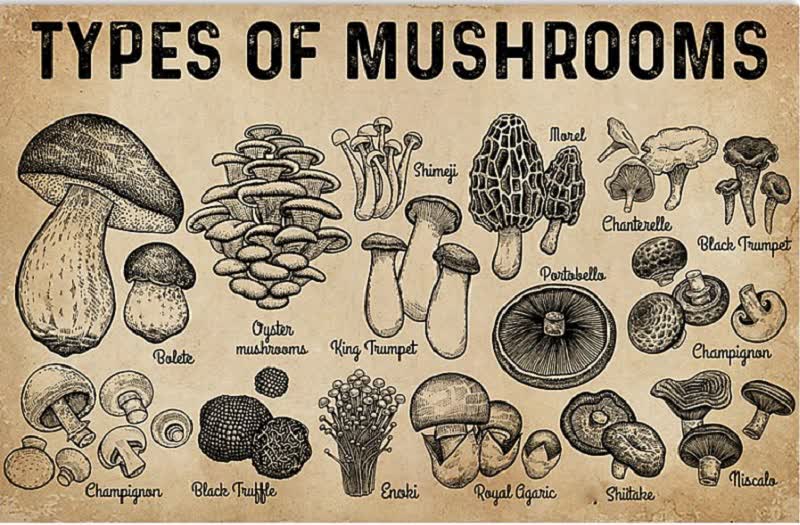 Growing your own edible mushrooms may seem difficult at first, even for an experienced gardener, but it's actually not very different than growing vegetables.
You can easily grow plenty of types of edible mushrooms at home, but if you are a beginner in mushroom farming, it's best to start with varieties that demand only a little attention and use a mushroom starter kit (more on those below).
Some of the easiest mushrooms to grow at home include:
White Button Mushrooms
(Pearl) Oyster Mushrooms
Shiitake Mushroom
Portobello
Chanterelles
As you can see, there are plenty of mushroom varieties readily available for beginners, whether with a growing kit or without. The first decision to be made is therefore to select the type of edible fungus that you'd like to grow.
Some people love the delicate but pungent flavor of black- or pearl oysters, while others love the meatiness of portobellos or shiitake mushrooms. The world's your oyster, especially when you combined with some fresh herbs and tasty garlic.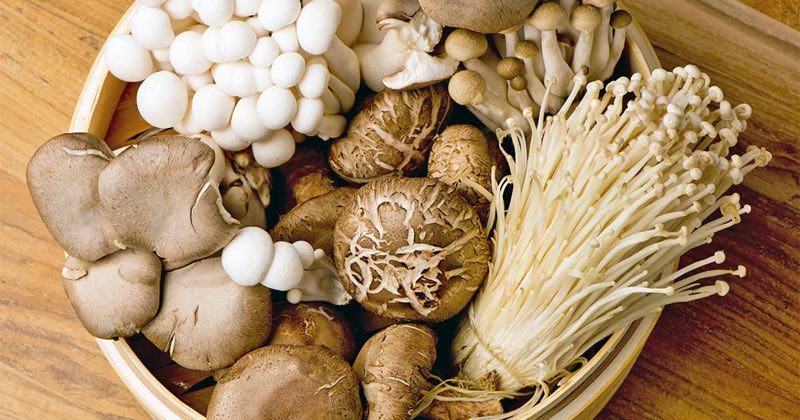 Regardless of which mushroom type you'll choose, all mushrooms are also incredibly good for you, especially if they are natural and home-grown. Besides the fact that mushrooms are chock-full of vitamins and minerals, they are also fat-and calorie-free.
Note: Only certain varieties of mushrooms will grow hydroponically in an enclosed space like a grow tent. If you are thinking about growing your mushrooms in a grow tent, you can use any of the varieties above.
How to Grow Mushrooms at Home
Unlike most plants, whose seeds germinate, mushrooms grow through spores. Spores are so tiny you can't see them with the naked eye.
Spores don't get their nourishment from the soil but from sawdust, straw, wood chips, grain, or a similar growth medium.
Important: For a mushroom to grow, spores combine with the growth medium and form a spawn. The spawn acts as a starter, similar to the one needed for making sourdough bread.
Spawn is essential for the growth of the small, threadlike bodies of the mushroom, known as mycelium. Mycelium grows before the mushroom thrusts out of the soil.
The Best Places to Grow Mushrooms
You can grow mushrooms in the garden as well as indoors. But the problem is that garden-grown mushrooms take around 6 months to 3 years to grow in the presence of light.
This is much longer compared to the time it takes them to grow indoors in the dark. You probably don't want to wait for them to grow that long, do you?
Mushrooms usually grow well in places that are dark, cool, and humid. The best places for growing mushrooms at home are the basement and the cellar. If you live in a flat, the spot under your kitchen sink should do.
Important: If you decide to grow mushrooms in the basement, place them in a closet. They will grow better that way.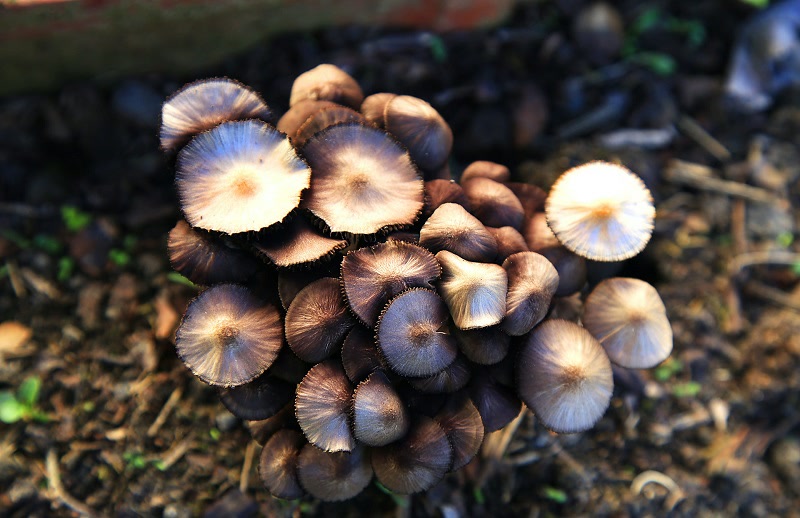 One more thing to keep in mind—before selecting the spot, you should test it.
Usually, mushrooms grow best in temperatures that range between 55- to 60-degrees Fahrenheit. But mushrooms like Enoki grow better in cold temperatures of about 45-degrees.
Tip: Often, the best time to grow mushrooms at home in the basement is during the winter. In the summer, the basement can get very hot.
Step by Step Instructions for Growing Mushrooms at Home
Below our in-depth instructions for the easy growing of your favourite mushrooms at home.
1. Fill the Tray with Compost Material
To get started, you have to take a tray similar to the ones for germinating seeds. The tray should measure at least 14×16" and be around 6" deep.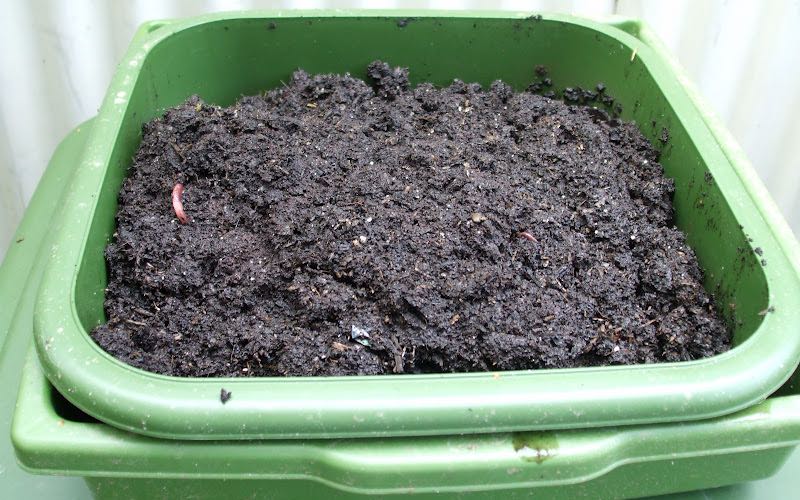 Fill this tray with compost and add the mushroom spawn into it.
2. Use a Heat Pad
The temperature of the soil should be around 70-degrees Fahrenheit until you see the mycelium growing. To raise the temperature of the soil, you can use a heating pad.
After the mycelium has grown, you want to reduce the soil temperature to 55- or 60-degrees and cover the spawn with potting soil.
3. Keep the Soil Moist
Next, you want to make sure that the soil stays moist. You can do this by either spritzing it with water or covering it up with a damp cloth. Make sure that the cloth doesn't dry. The soil shouldn't become soggy either!
4. Harvest the Mushrooms
The right time for the harvesting mushrooms is after the caps open. Button mushrooms, for example, grow in as little as 3–4 weeks.
Important: When harvesting the mushrooms, never pull them out or you may damage the developing mushrooms. Instead of pulling them out, you can use a sharp knife to cut the stalk from the stem.
Here's a video that illustrates the main steps.
Best Mushroom Growing Kits Reviewed
Growing mushrooms at home is a fun and exciting hobby—or serious occupation, depending on how many mushrooms you decide to grow.
It all becomes even more fun if you use a mushroom growing kit.
Here are the 10 best mushroom kits that you can use right now for mushroom farming. We've highlighted the benefits of each to make your choice easier.
1. Oyster Mushroom Grow Kit by Forest Origins
The Oyster Mushroom Kit by Forest Origins is a natural product that allows you to grow organic mushrooms. It's suitable for all ages and experience levels.
It can also serve as a great way to learn to grow your first mushrooms as it includes everything you need to get started. You can also give this kit to others as a gift, including kids. They won't have any trouble figuring out how to use it!
The best part is that if you're not happy with the results, you can claim a refund. For all these reasons, this kit is an inspired choice for mushrooms noobs—ahem, beginners!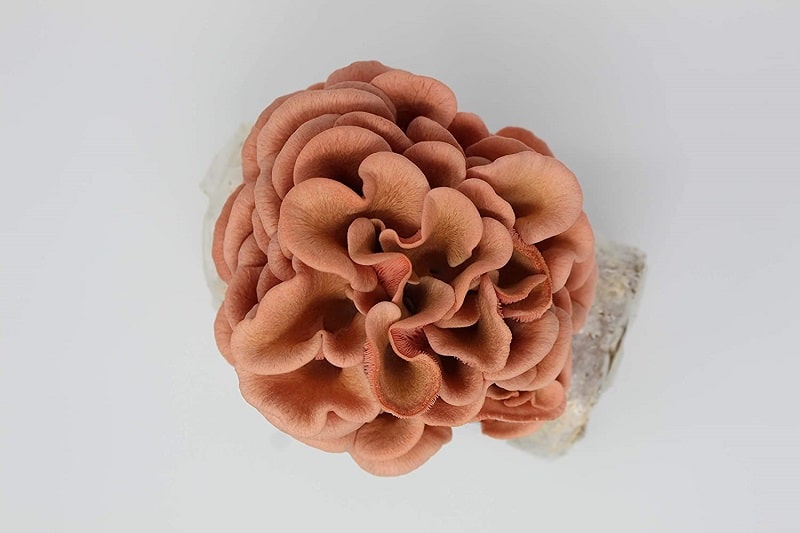 Key Features
All-natural
Nice packaging
Great learning tool
Pros
Fast growth compared to other kits
Suitable for all ages
Perfect gift for mushroom lovers
2. Large Kit Morel Mushroom Spores in Sawdust
This basic mushroom growing kit consists of fresh and organic spores of the delicious morel mushroom. The kit consists of around 200 grams of spores and sawdust.
With these spores you can easily start growing morels at any time of the year. And here's the interesting part—with it you can grow mushrooms in your garden. It's not the fastest grower around, but still, it's an interesting choice.
This kit is a perfect option if you want something a bit different from most of the mushroom growing kits around.
Key Features
Perfect for outdoor use
200 grams spores and sawdust
Pros
You can use it at any time of the year
Cons
3. Oyster Mushroom DIY Log
A great DIY mushroom growing kit, this one includes hand-cut logs inoculated with the spores of the oyster mushroom. The mushroom spores grow in the drill holes covered with cheese wax.
The log has a length of around 12" and a diameter of about 4-6", so you shouldn't have much trouble finding a place for it at home.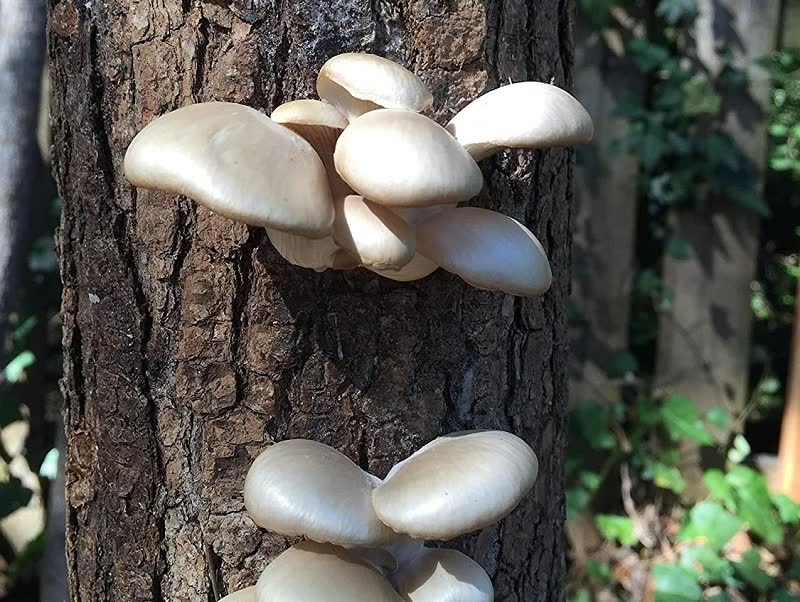 You can either lay it down horizontally or stand it vertically. It looks pretty cool, so you can easily give it to someone as a gift.
Key Features
Hand-cut log
Convenient size
Inoculated with the spores of Oyster mushroom
Pros
Easy to use
Undemanding compared to other kits
Cons
4. VIVOSUN Mylar Hydroponic Grow Tent with Floor Tray
While not a typical mushroom growing kit, the Mylar Hydroponic Grow Tent is a perfect tool for growing mushrooms. This grow tent is made of 600D canvas and is tear-proof. It has the right mix of features for cultivating mushrooms without any fuss.
It comes with a lining of 98% reflective Mylar that blocks the light from entering. Unlike the grow tents with low-quality zipper, it features a sturdy and high-quality metal-zipper.
It also comes with an easy-to-access door and an observation window that will allow you to keep an eye on your crop. This grow tent has a thickness of 0.8mm. The strong metal poles keep the tent sturdy and allow easy installation.
Key Features
98% reflective Mylar lining for blocking the light
High-quality metal zippers
Easy-to-access door and observation window
Pros
Easy to install
Blocks the light completely
Cons
Corner frame plugs can fall out in time
5. Mylar Hydroponic Grow Tent with Observation Window
Made of 600D PVC and featuring a sturdy metal pole, this grow tent is stable and long-lasting—you won't have to worry about replacing it anytime soon. It's a versatile grow tent that can handle white button, oyster, and shiitake mushrooms.
It comes with high-quality metal zippers and double stitching that prevents the light from entering. As we've seen, mushrooms don't really like light!
You can easily unzip its easy-to-access door and observation window. The instruction manual also comes along the grow tent for easy installation.
Key Features
95% reflective Mylar lining
Made from environmentally material
Easy-to-access door and observation window
Pros
Stable
Durable
Easy to install and use
Cons:
The instruction manual is a bit confusing
6. Amazing-us 100 Mushroom Grow Bags
These heavy-duty mushroom bags are ideal for the growing mushrooms in bulk without making a mess in your house.
Each bag is made up of polypropylene and features a filter patch. The grow bags are sterilized and work well with the colonized spawn.
These bags are suitable for growing different edible mushrooms like Ganoderma. The bags include all the vitamins and minerals needed for mushroom growth. They're also breathable, which promotes healthy growth.
Key Features
Filter patch
Suitable for different types of mushroom
Made up of durable polypropylene
Pros
Cons
Filter patch is not essential
B079ZTHNW3
7. Root Mushroom Farm Mushroom Growing Kit for Cordyceps Militaris
This mushroom growing kit is a perfect way of learning how to grow Cordyceps militaris.
It includes a detailed guide to make the growing process much easier. It can also be used as a perfect tool for your child's school project.
Moreover, you can gift it to a loved one—whether they're serious about growing mushrooms or not.
With this kit, you won't be needing to buy any extras separately. All you need is in there, including the essential instructions to succeed.
Key Features:
Easy to grow
Quick growth
Includes a detailed guide
Pros
Cons
Requires more patients than other kits
8. White Button Mushroom Growing Kit
This White Button Mushroom Growing Kit measures 12×12" and weighs around 14lbs. This kit can produce around 4lbs of White Button Mushrooms within 6-8 weeks.
Once the mushrooms have come out, they keep on increasing in size every 24 hours. As you may imagine, that process is pretty fun to watch.
This kit is suited for people of all ages. This is a great kit for beginners as it features all you need, including a guide, casing layer, and colonized growing medium. So, all you will have to do is to mix it with water and then apply it.
Key Features
Can grow around 4lbs of Mushroom
Everything included
Pros
Simple to use
Suited for people of all ages
Makes growing mushrooms fun
Cons
Sometimes black mold may start growing
9. Simple Mushroom Growing Kit
This mushroom growing kit features 6 premium substrate jars. Other than that, it comes with a growing chamber, a thermometer, and a 1-gallon premium ultra-fine perlite. That's more than most kits offer.
Overall, it remains a simple to use mushroom growing kit despite all the extras. Growing mushroom with it is really fun!
Extras include hospital-grade latex gloves and alcohol prep swabs—something you don't get with other kits.
Key Features
Multiple instruments
Detailed and picturized instruction guide
Pros
High-quality instruments
The guide is easy to understand
Cons
Mycelium packaging is very tight and you may struggle to open it
10. Ancient Path Naturals Simplified Mushroom Grow Kit
This mushroom growing includes everything you need for growing mushrooms. It enhances growth and lets you harvest larger mushrooms. As compared to more expensive mushroom growing kits, this is an affordable option.
It also includes a guide that makes it easy to get started with it. As far as quality is concerned, it is a well-researched and tested product.
If you want to grow a large quantity of tasty and delicious mushrooms at home, this kit can be a dependable choice.
Key Features
Boom Blocks for faster growth
Packed with all accessories needed for growing mushrooms
Includes a guide
Pros
Easy to use
Simplifies the process of growing mushrooms
Cons
Did Anyone Say Shrooms?
Growing mushrooms at home can be very easy if you follow the tips we shared with you and use the right equipment. You don't need all that much space, though if you have a basement or cellar, that will make things easier.
But even if you don't have a mini-dungeon under your house, the mushroom growing kits we shared with you can help you grow mushrooms in an apartment or other small place. Fast and without any mess.
You've probably already eyed one or two kits. Now you can take a better look at them to make the right choice.
Don't forget that you can also choose multiple different mushroom growing kits and experiment with different ways to grow mushrooms, and different types of mushrooms to grow. That way you can up the fun—and grow more shrooms, too!