Not all plants like to bask in the sun. Shade plants enable you to grow a beautiful outdoor or indoor garden even in a shaded spot and do it without stress.
In this article, we will talk you through everything there is to know about shade plants–from their definition to various growing tips, even to what the best shade plants are.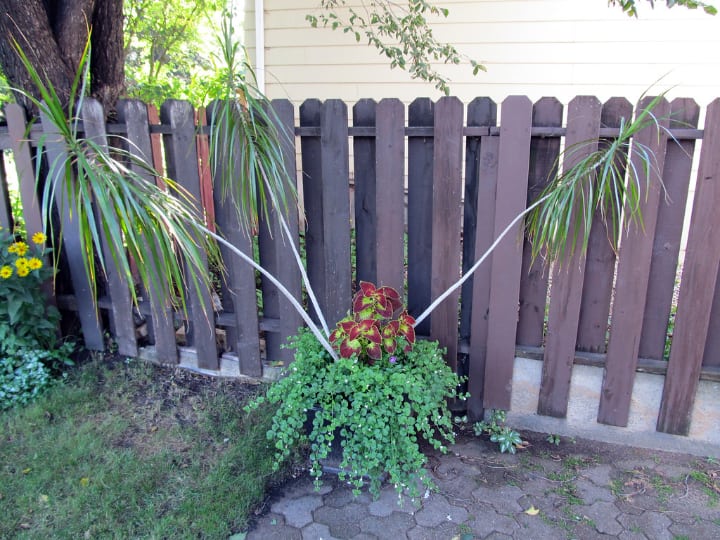 Shade plants are making more and more of an impression on the gardening world in recent years, so we thought it only made sense to dedicate an article to them.
Whether you have some shade plants in your home already or are just getting started with them, you'll finds lots of inspiration and tips in this article. Let's get right on to it!
What Are Shade Plants?
The term "shade plants" can be a mite confusing, especially if you're new to gardening. Traditionally, shade plants fall into two categories: shade growing plants and shade-loving plants.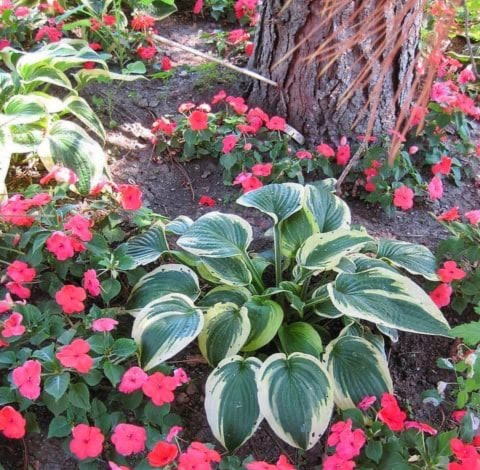 Many so-called experts draw a distinction between the two, when in fact, they are much the same thing. Pretty much, a shade plant refers to any plant that grows in shady conditions, without being exposed to a lot of sunlight.
That's what we will be talking about in this article.
Now, some also refer to shade plants when talking about large plants that are cultivated above various plantations, such as a coffee plantation for example, with the specific purpose of providing shade to the crops that need it.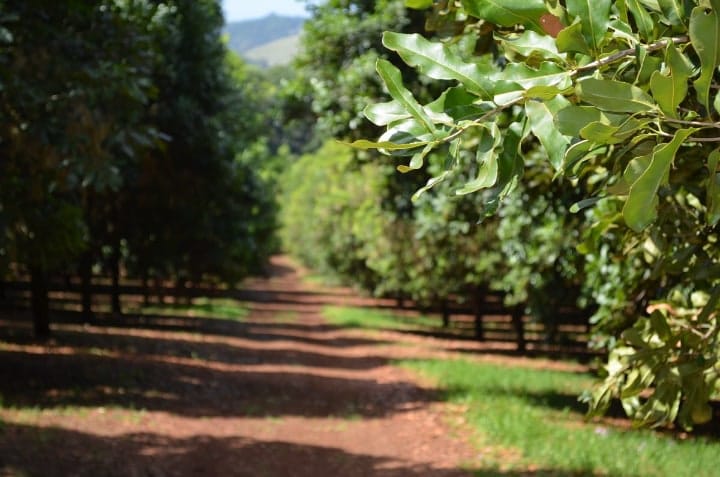 That's not what we will be talking about.
Part Shade Plants
The part shade plant, as its name suggests, is a plant that can survive in a mostly shady area, but will need a considerable amount of sunlight exposure in order to thrive.
Whereas "normal", sun-loving plants often require up to 8 hours of sun exposure or even the whole day, part shade plants will thrive on something much more modest than that–3 to 6 hours of sunlight.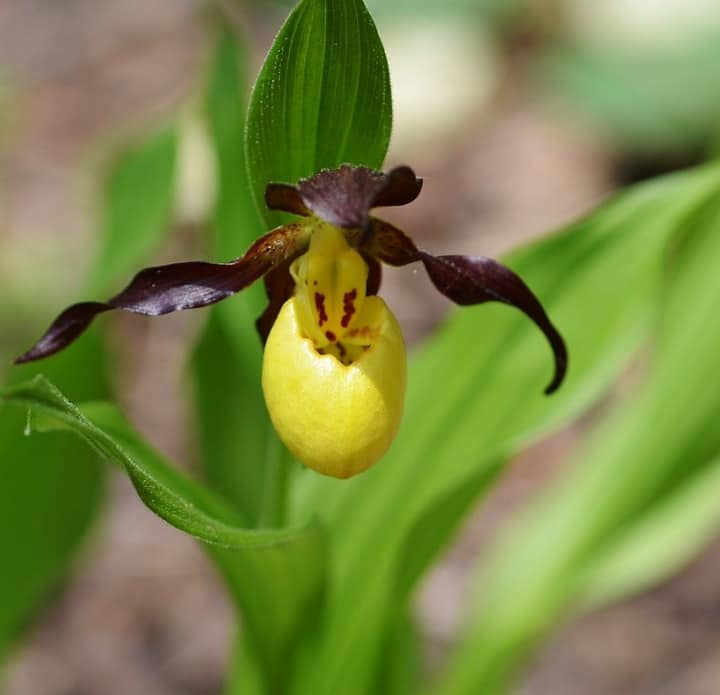 The rest of the day they can spend in the shadows.
Often, part shade plants will need to be protected from direct sun exposure in the afternoon, as that is when the sun is at its hottest.
This is great news if you've got a bit of a tricky garden with areas you'd like to plant in, but that get only get a few hours of sun each day.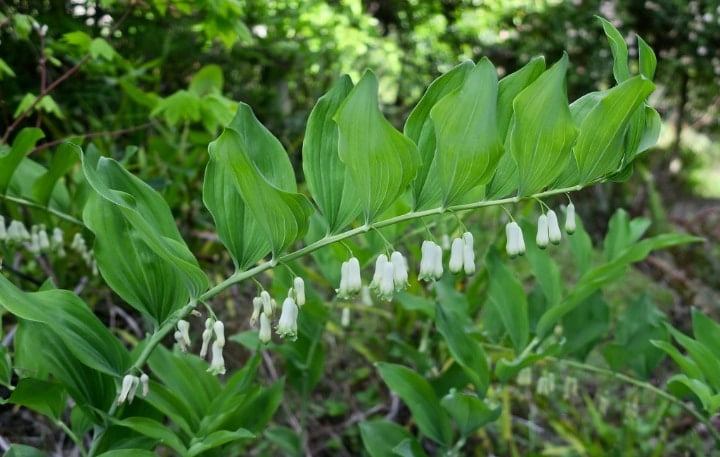 Some common types of part shade plants include the Lady's Slipper Orchid (Cypripedium kentuckiense), Solomon's Seal (Polygonatum x hybridum),and the Fragrant Winter Hazel (Corylopsis glabrescens).
Full Shade Plants
As the name suggests, a full shade plant is one that thrives in a spot that usually receives three hours or less of direct sunlight per day.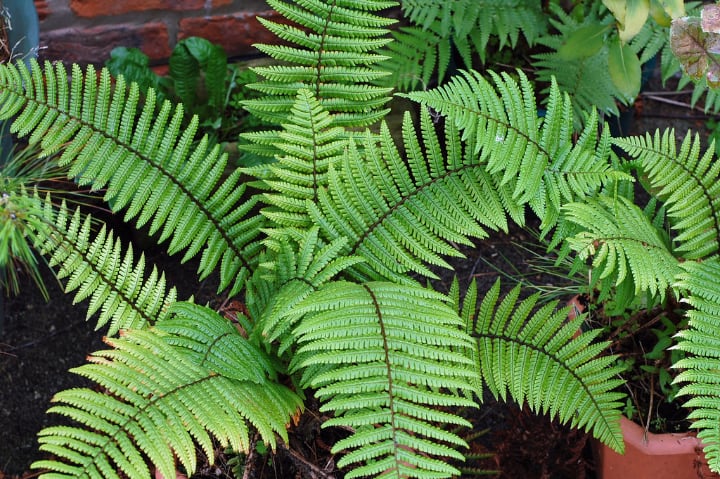 Obviously, this category doesn't refer to plants that grow solely in shade, but rather ones that are exposed to sunlight very little and aren't usually heat resistant (e.g. these plants will die if left in sunlight for too long).
Some common types of full shade plants include ferns (Dryopteris wallichiana), wood spurges (Euphorbia amygdaloides var. robbiae), and beesias (Beesia calthifolia), as well as various types of shrubs, which we will discuss below.
Deep Shade Plants
Some gardeners don't make a distinction between full and deep shade, but we feel it's necessary, as not all deep shade plants thrive in full shade and vice versa.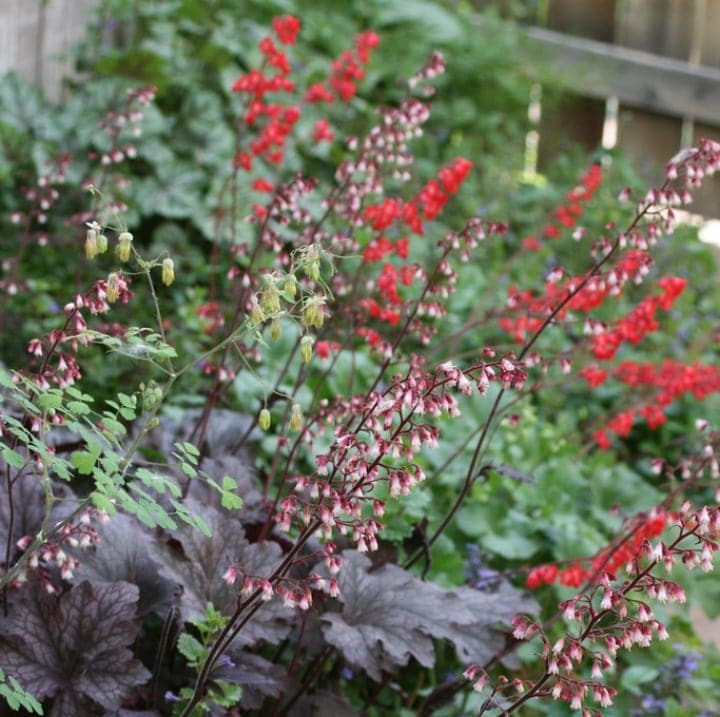 First of all, deep shade is quite obviously darker than full shade. There is less reflected sunlight and less direct sun as well.
Whereas full shade plants can stomach some sun exposure, deep shade plants prefer spending their entire day in the shadows, without any sunlight.
Some plants that fare well in deep shade are the coral bells (Heuchera), dead nettle (Lamium maculatum), and the lungwort (Pulmonaria).
Top Shade Plants to Grow
In this section, we'll be sharing with you what the best shade plants are if you're looking to plant in the shade.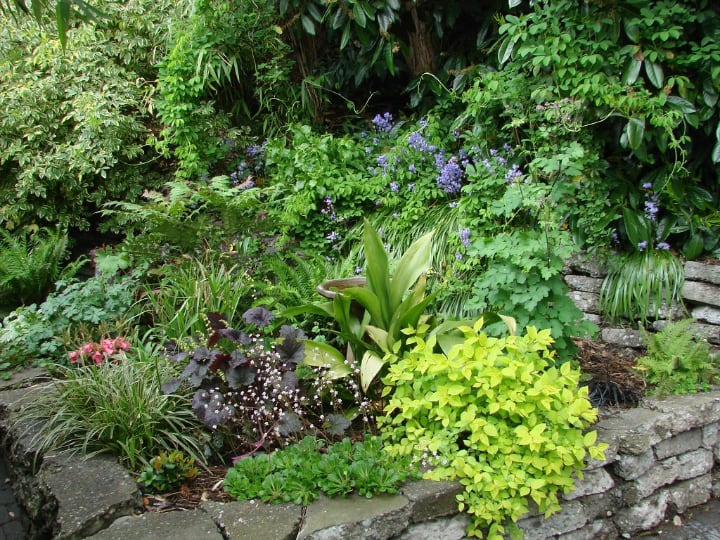 A quick word before we go any further: when we talk about putting plants in the shade, we're not merely looking at the types that can survive without much sunlight.
Shade plants are more about thriving than surviving, so we want plants that actually like being in the shadows.
Shade Perennials
First of all, what is a perennial, at least in gardening terms? Well, since perennial means endless, you would expect these plants to go on living forever.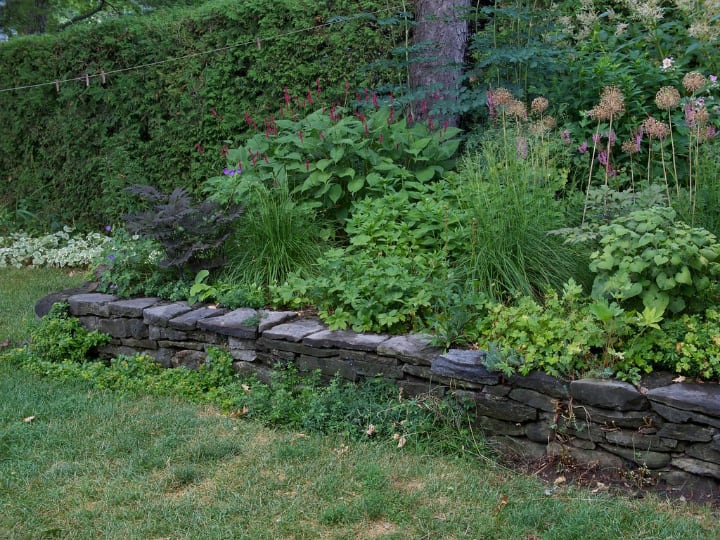 And while that's not exactly true, the term perennial does refer to plants that tend to survive more than seasonal plants. In general, perennials are plants that live for at least two years (as opposed to annuals or biennials).
Below, you'll find the best perennials to grow in the shady areas of your garden.
Hostas
Hostas are some of the best-loved shade plants across the country–they are appealing and easy to care for, and they add a spot of color to practically any garden. What's particularly exciting about hostas is their versatility.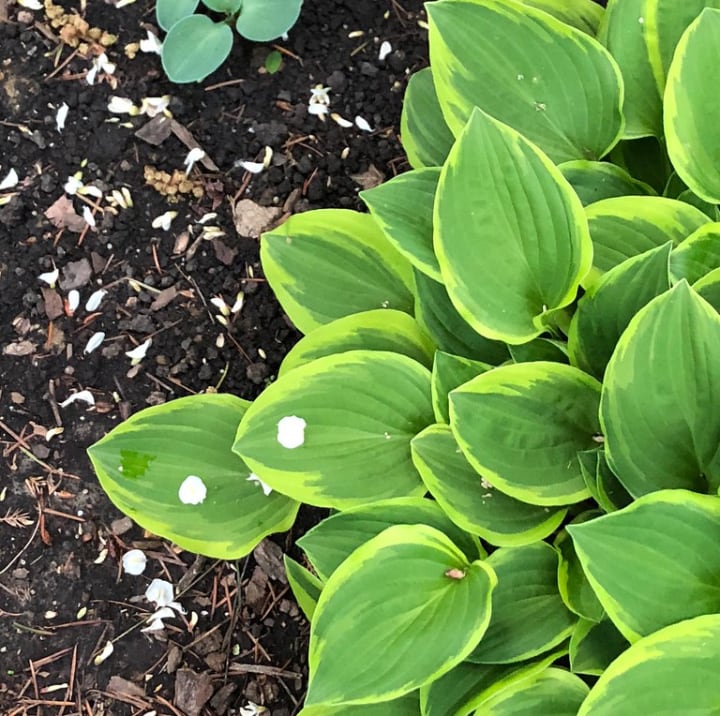 You can opt for a larger than life variety that will grow through much of your garden, such as Sum and Substance.
Or you can go for a tiny variety, such as Mouse Ears, which makes for a cute (and bite-sized) addition to your garden.
Ligularia
Also referred to as the "leopard plant", Ligularia will definitely make for an… interesting addition to your garden.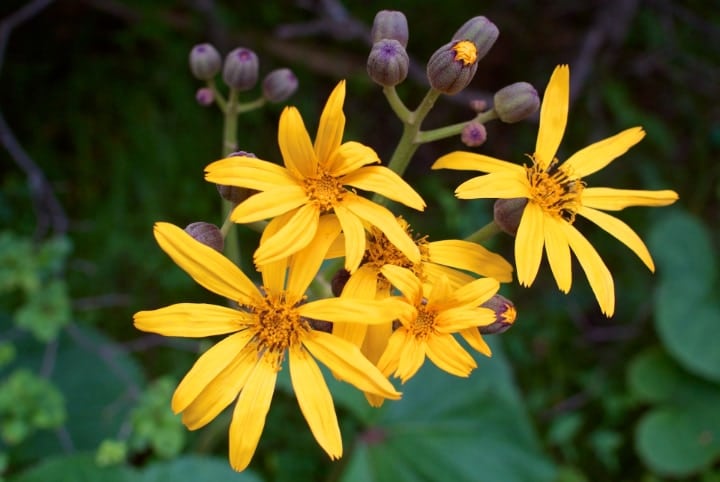 The fascinating color pattern of its leaves (green at the middle, and then a purplish-red toward the frayed edges) will give your garden a more tropical feel.
Tip: Ligularia is also great if you're struggling with deer issues in your area, as it's a well-known fact deer avoid this particular shade plant.
Aconitum
The deep blue color of this flower is enough to win just about anyone over.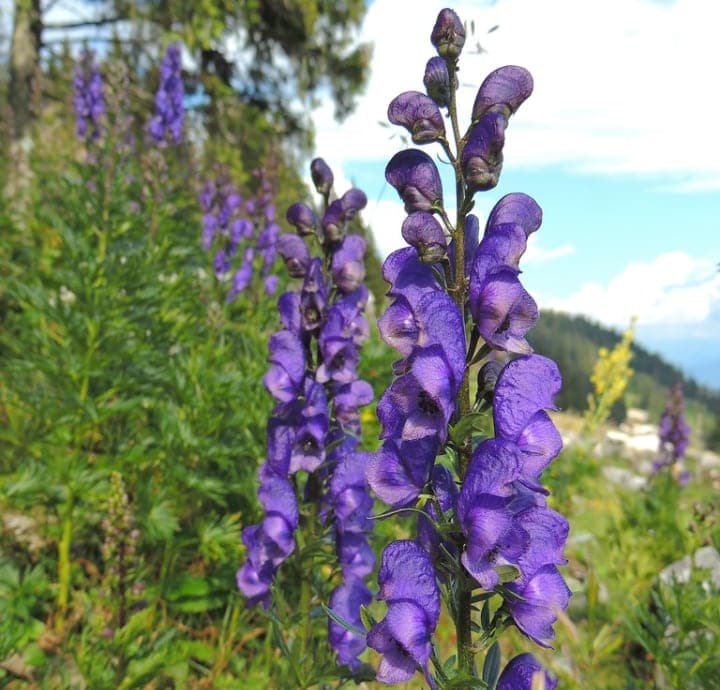 Aconitum grows quite tall–up to 3 feet–and unlike most tall plants, it's got a pretty sturdy stem, meaning you may not have to stake it or worry about it toppling over.
Spiderwort
Despite its slightly off-putting name, there is nothing spider-y about this beautiful, delicate plant. Its small, purple flowers will make your garden pop out.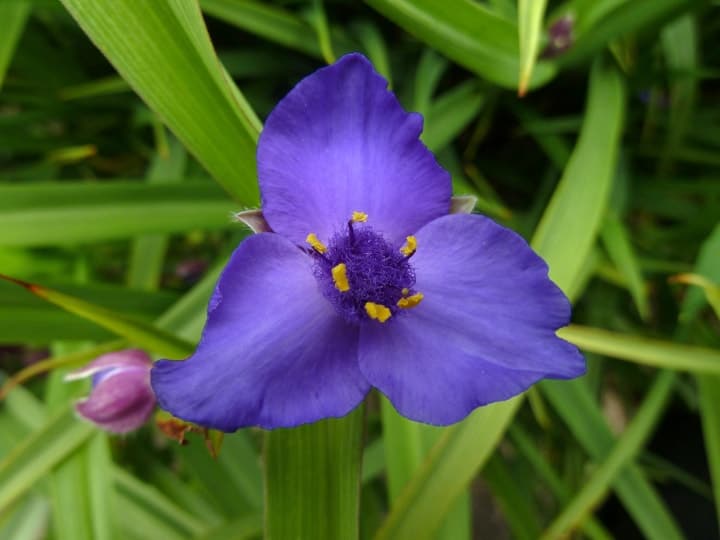 Note that the spiderwort is only a part shade plant, so it will need consistent sun exposure to thrive.
Ground Orchid
Speaking of gorgeous, purple-ish flowers, we can't not include the ground orchid, also sometimes referred to as the Bletilla.
First blossoming in early spring, it also comes in white or light pink and is a highly delicate and just plain pretty plant.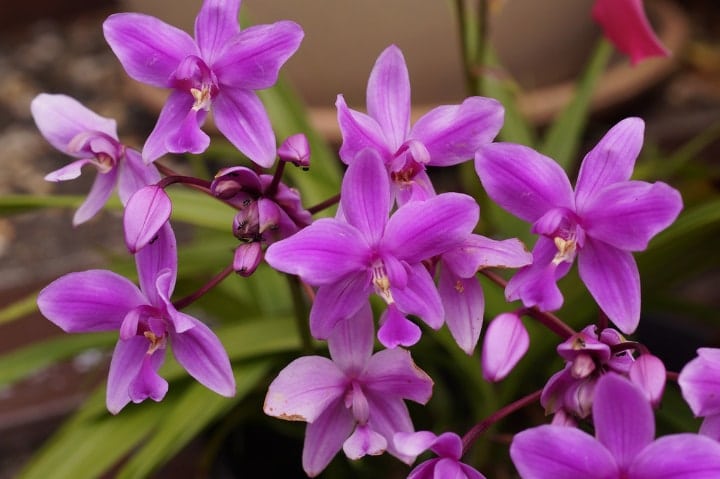 Tip: Depending on the subspecies you've planted, orchids may or may not tolerate sunlight well. Most orchids prefer morning sun (which is less intense) with afternoon shade.
Corydalis
The Corydalis flowers are thin and shaped like tubes, and hang like bells above the ground.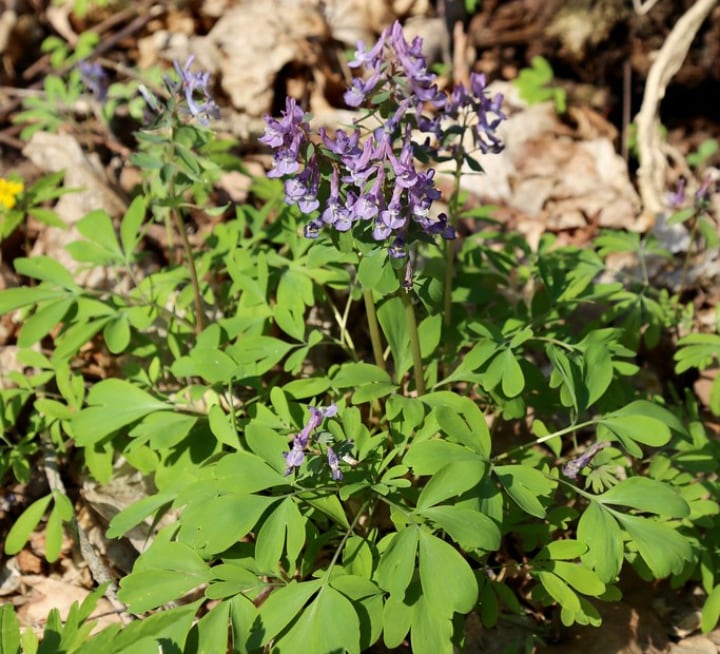 They bloom in spring (but also come back in the fall sometimes, after dying in summer), and only tolerate partial shade, requiring a fair amount of sun.
Hellebore
Also referred to as the Lenten Rose, the Hellebore is a perfect flower for those of you who don't really like bright colors.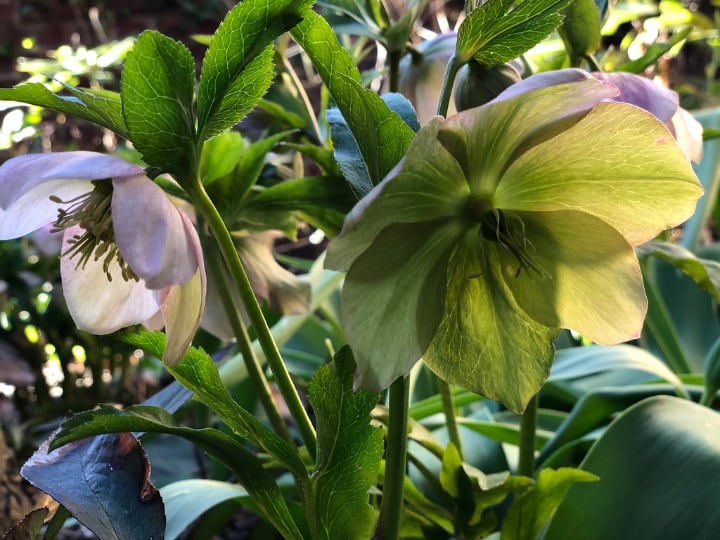 Its long-lasting flowers are tinged with dark shades of purple at the edges and bloom either in early winter or spring.
Viola
The good news about violas is that they can add a wonderful, delicate scent to your garden (well, some of them will, at least). They're also a spot of color, combining bright yellow with purple hues.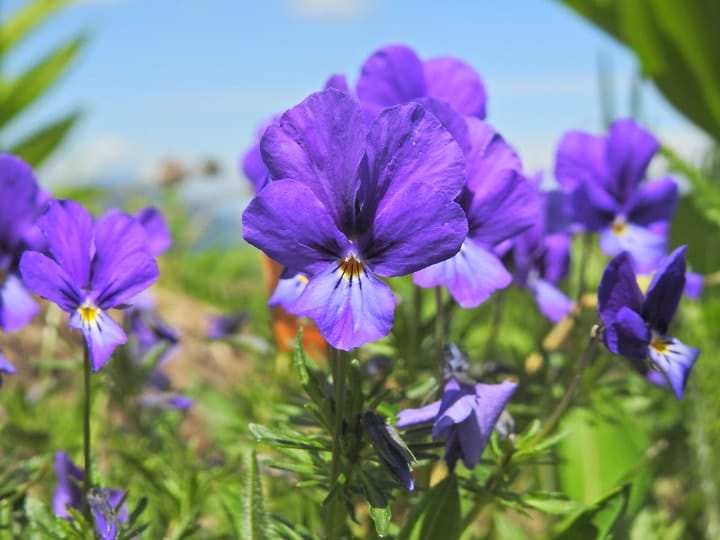 These particular perennials are shady creatures and prefer part to even full shade, as opposed to a lot of sunlight.
Toad Lily
The toad lily is no doubt a fascinating perennial. It gets its name because the flowers, when they bloom, come out all spotted, just like a toad.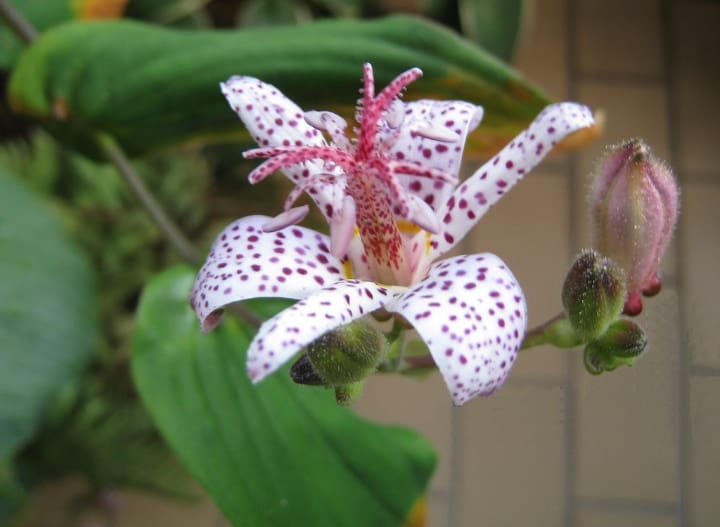 They vary in shades from white to lavender purple and usually appear in late summer.
Tip: Toad lilies can grow up to 2 or even 3 feet in height and will become entangled, if grown too close together, so keep an eye on that.
Flowering Shade Plants
These flowering shade plants are the way to go if you want to grow plants in the shade, but still want to look out at a colorful, wild-hued garden.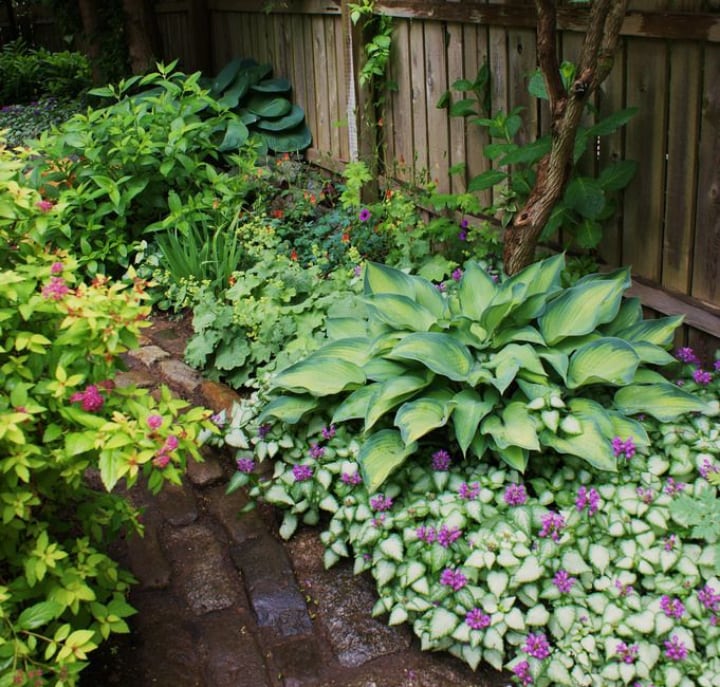 Deadnettle
Also referred to as Lamium, the dead nettle is a very easy to care for plant. Its appearance is quite interesting–the leaves are usually deep green, but the foliage can vary from purple to pink and even to white.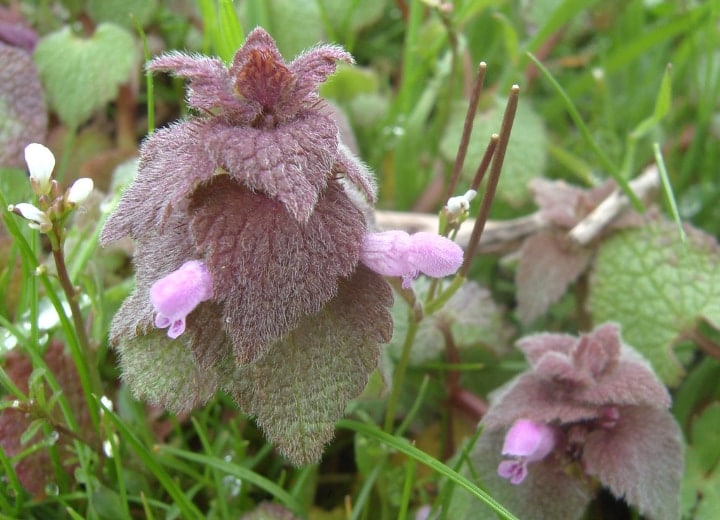 Don't let the name fool you–this pretty and discreet shade plant will last you a long time and can provide the perfect adage to your garden. Deadnettles most certainly do notlook dead!
Astilbe
Astilbe, like deadnettle before it, is a flowering plant, but also a perennial, meaning it's a double win–it will adorn your garden for two years before you have to replace it.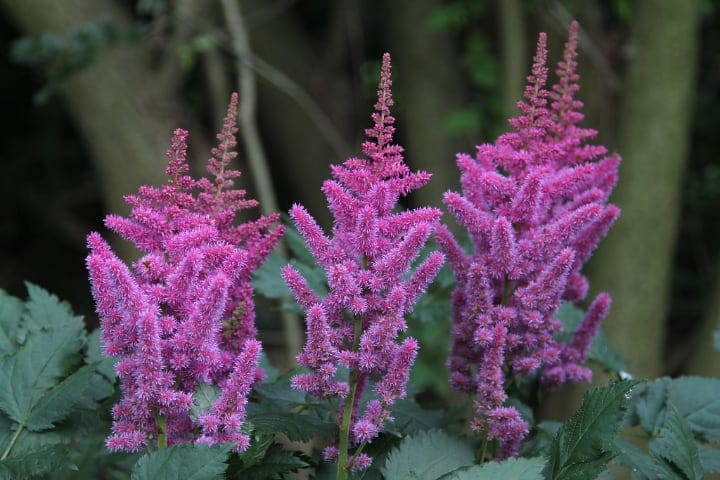 Astilbe grows delicate, pinkish flowers that need a lot of shade, otherwise they risk frying in the sun.
Pulmonaria
This is a small flower with the rather unsightly common name of lungwort. Its blossoms come in bright blue, delicate deep pink and even white, so that even a garden of pulmonarias alone can create a wonderful symphony of color.
Tip: Pulmonaria plants prefer partial and even full shade, so it's best grown in areas where it won't be exposed to strong sun.
Hydrangea
The hydrangea is generally considered a shrub, even though it looks more like a bouquet in and of itself. Blooming in spring and summer, it comes in various shades of blue, purple, and pink.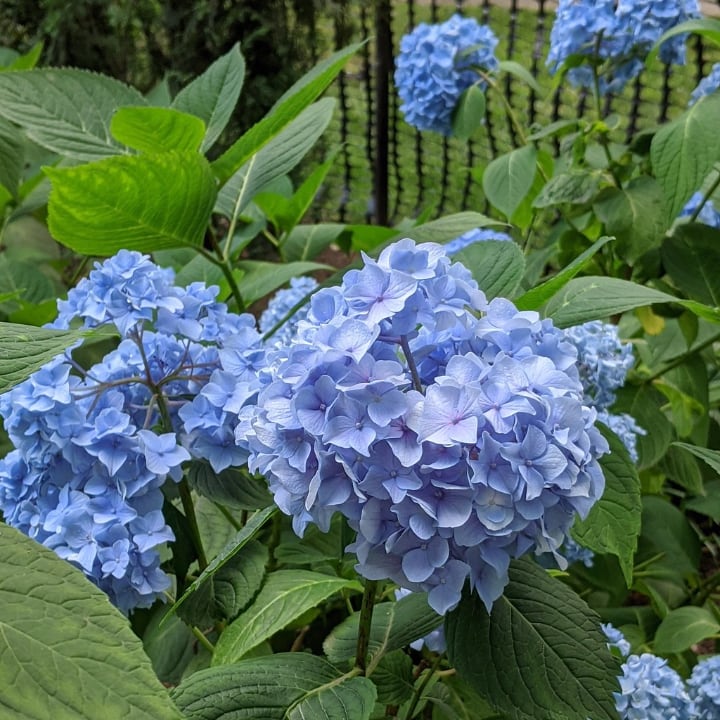 They're tricky plants–they don't like too much shadow, but they don't like strong sunlight either, so you'll have to be careful with them.
Foxglove
Foxglove is one of the most well-loved shade plants in America, with its tubular clusters of flowers, and its wide variety of colors (it can go from a dull white, through dusty pink and even to lavender).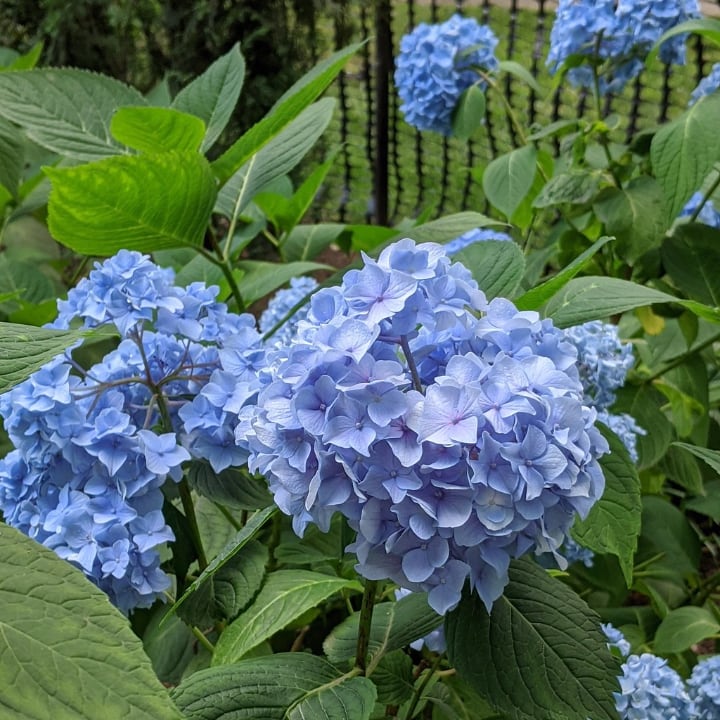 Warning: Foxglove is one of the most poisonous plants known to man–even .5 grams of dried or fresh foxglove is enough to kill a grown man when ingested.
Foamflower
The foamflower is a beautiful, delicate plant whose flowers usually come in either light shades of pink or even white. They create a wonderful contrast against other green shade plants.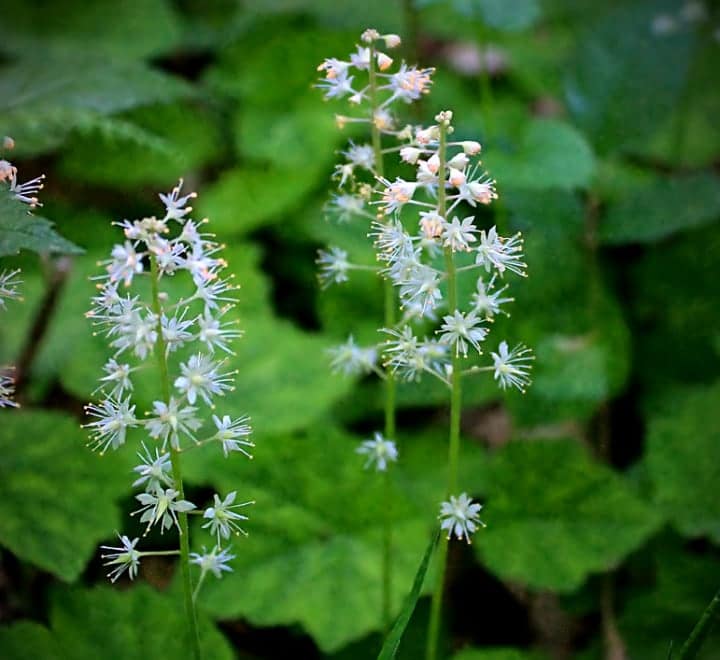 Tip: The foamflower can grow in full shade, but it's ideal to expose it to some sun.
English Primrose
Primroses are, again, some of the most well-loved flowers cross-country. Blossoming in a variety of colors, they definitely add a spot of color to an otherwise leafy garden.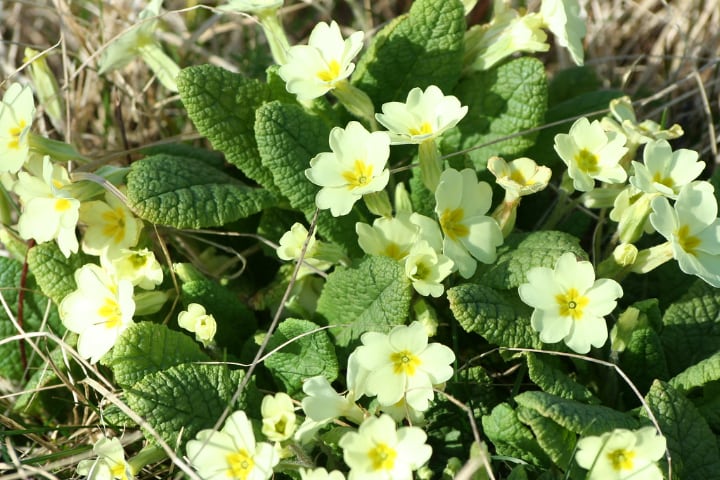 The appeal of the English primrose lies primarily in its clustered nature which gives the impression of a bouquet.
Indian Pink
The Indian Pink is a great shade plant for woodland gardens that flowers in June and brings flowers colored in various shades of red, ironically. They tolerate sunlight well and prefer only partly shady ground.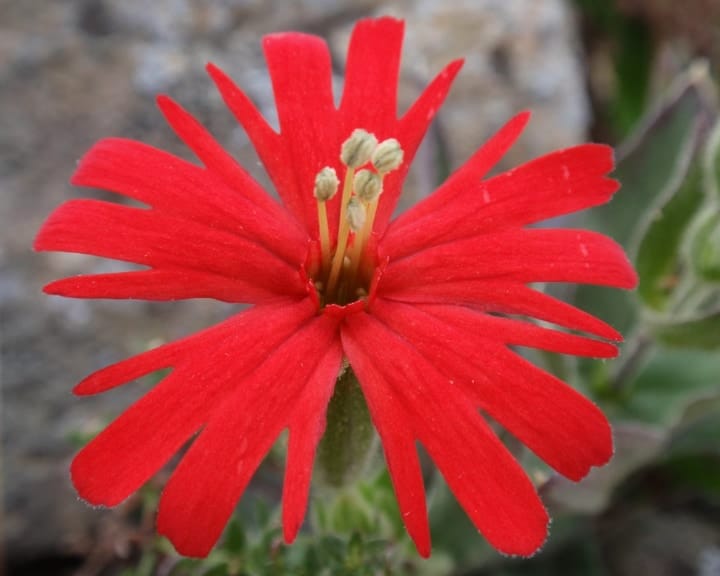 The Indian Pink is a great, bushy sort of plant that isn't too "bright", but rather has a discreet, calm sort of beauty.
Dry Shade Plants
In gardening terms, dry shade usually refers to the areas in your garden where the plants will be planted in the shade of a nearby tree.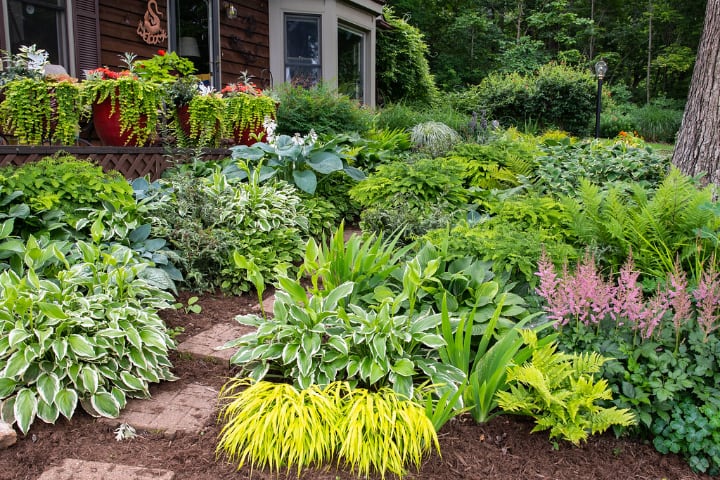 Here, they will have to compete for moisture, as they will share the same soil, hence "dry".
Astrantia
Also commonly referred to as Masterworts, Astrantia loves a good, moist soil and partly shady areas (it still needs some sun).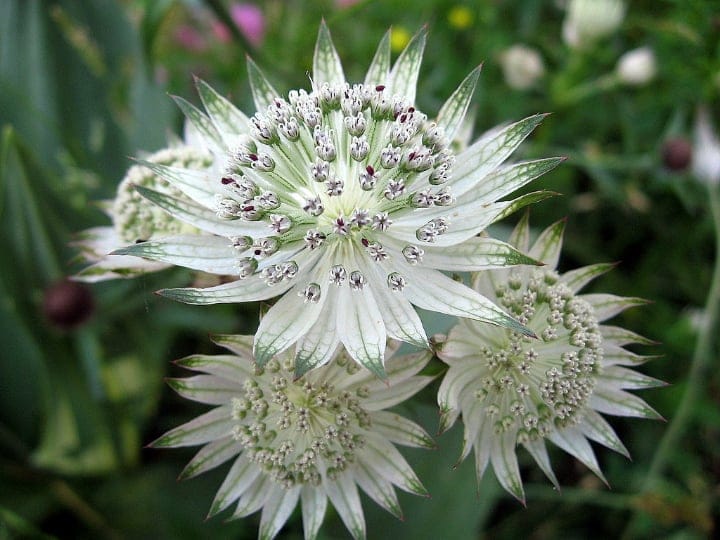 The flowers of this plant are a particularly interesting sort–coming in red, pink, purple, and white, their blossoms look a little like a sun.
Astrantia flowers come in about 8 or 9 different species and give off a potent aroma, making them ideal for decorative purposes.
Lily of the Valley
We don't need to tell you what this flower looks like–everyone knows the bell-like shape of the beautiful lily of the valley. And everyone knows the light scent these lilies give off.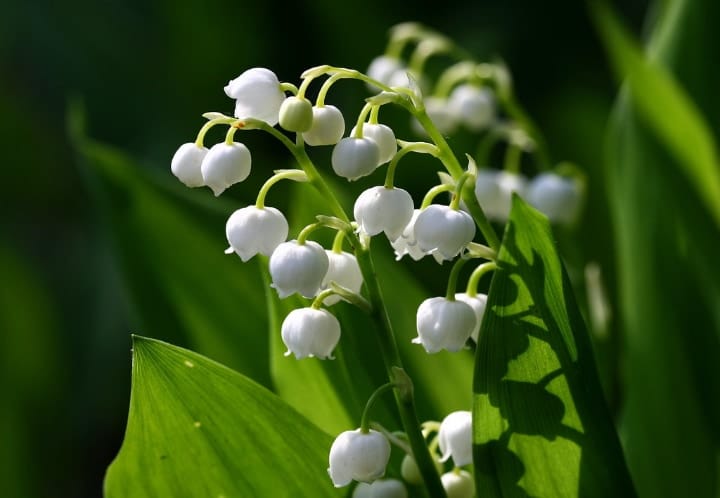 What everyone doesn't know is that the lily of the valley grows best in partial shade and well-moistened soil.
Fact: Albeit gorgeous, the lily of the valley, like the foxglove before it, is a highly poisonous plant. You should not put your hand to your mouth after handling it, nor should you ever ingest the lily.
Japanese Anemones
Japanese anemones are small, delicate flowers that usually have a pink or purple-ish hue. They do well in partial shade and don't really like a lot of sun.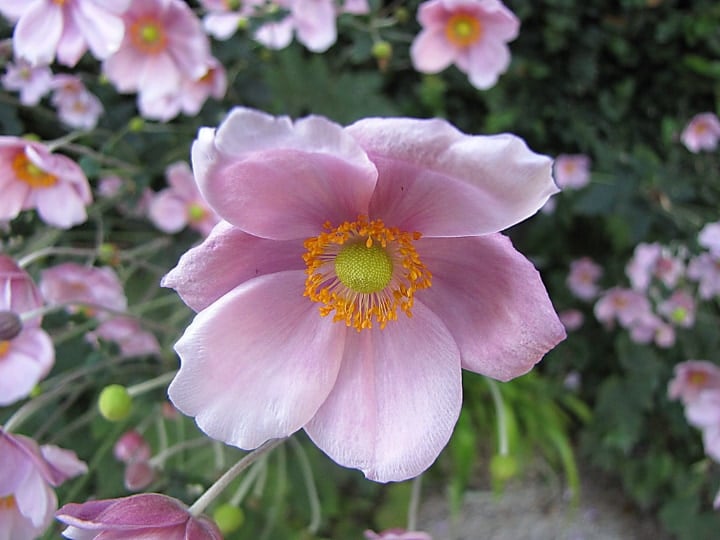 Tip: When growing Japanese anemones, bear in mind they may take some time to root and become established.
Wood Anemone
Wood anemones are remarkably similar in appearance to the Japanese kind, only much whiter. This type of shade plant is quite common in woodland areas, so it's accustomed to growing around trees.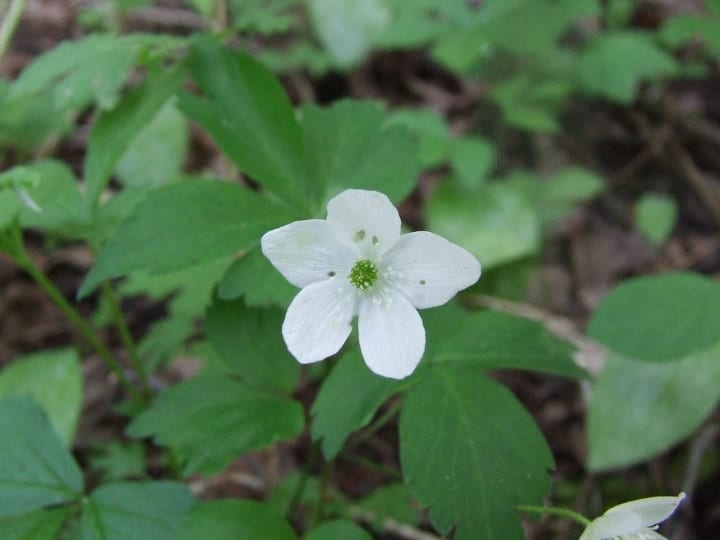 Like their Japanese cousins, they can tolerate full sun if well moistened but prefer shade. As they're quite wild plants, they grow well without requiring too much upkeep.
Dryopteris
Also referred to as male ferns, the Dryopteris plant is a popular evergreen, mainly because it grows a lot (thus giving the impression of a full garden) and is fairly easy to keep, only needing a little maintenance in the spring.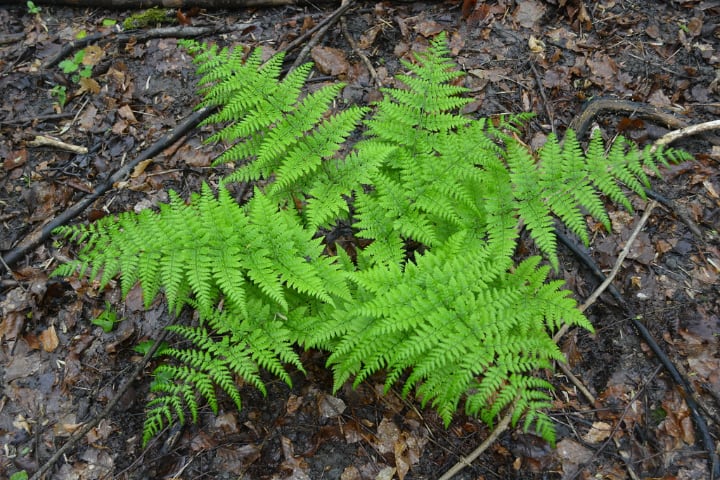 Depending on the variety, you can get solely green ones; or ferns tinged with other hues, if you're looking to build a more colorful garden.
Pheasant Grass
Pheasant grass is pretty much what it sounds like–a type of tall, bushy grass, usually tinged with yellow or red colors. It grows really well in dry shade, but can also survive in dry, sunny areas.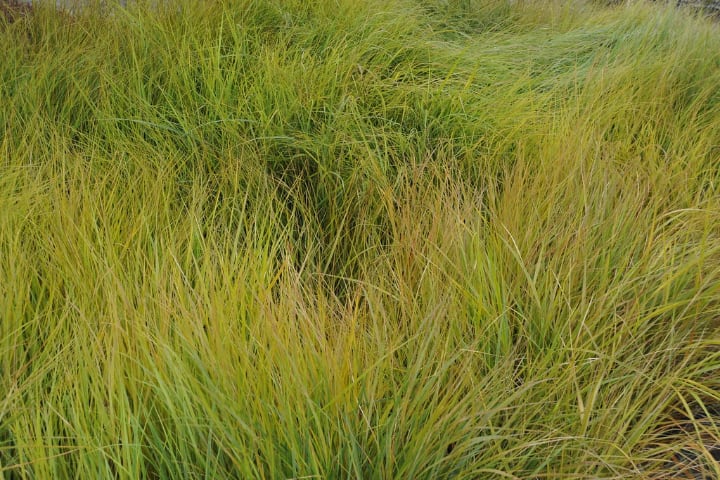 Pheasant grass tends to topple over during the summer, creating a beautiful view. Though bear in mind, it might be overbearing for other plants grown nearby.
Thalictrums
Often referred to as meadow rues, Thalictrums are a beautiful, pink/purple growth that will definitely make your back garden look wilder (much like a meadow).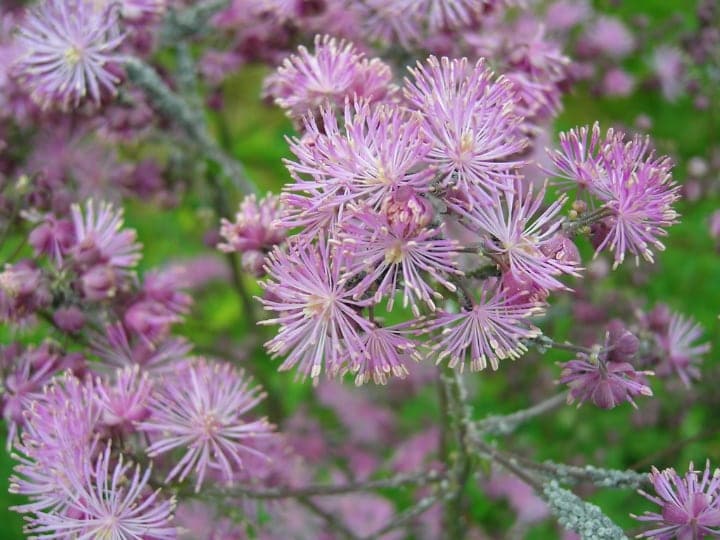 While they don't mind the sun, (and tolerate it better than most dry shade plants), they need a good amount of shade to truly blossom.
Shade Loving Shrubs
Much like the other categories discussed in this article, shade-loving shrubs are heavily dependent on the shady growing conditions we discussed earlier.
While some gardeners prefer focusing solely on shrubs, others opt for a mix of dense, pretty shrubs (like the ones below) and delicate, lower flowers.
Japanese Rose
The Japanese rose is a very interesting type of shrub. It's an old plant, and most people know it by this given name, even though the flower of this shrub is not technically a rose.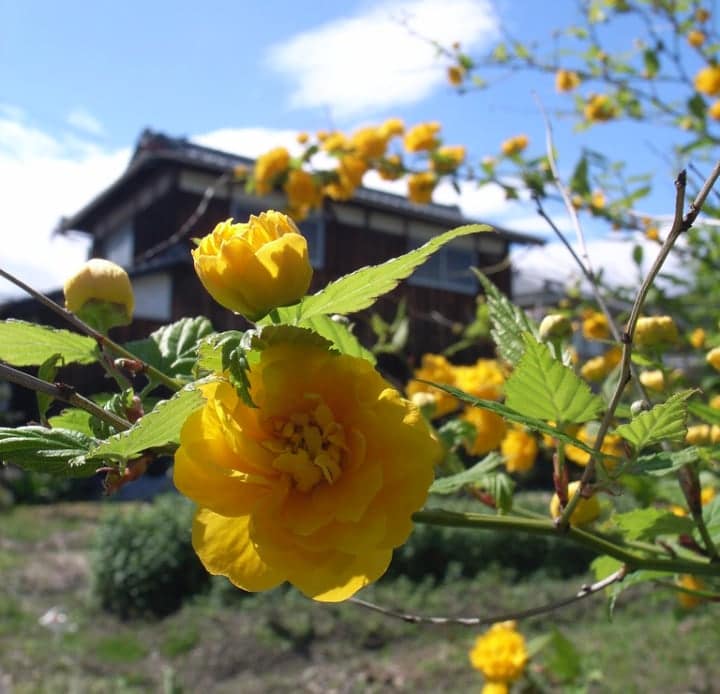 The scientific name of the flower is Kerria japonica, and while it's a big, round blossom that resembles a rose, it's something else entirely.
Tip: The Japanese rose can tolerate exposure to direct sunlight but the truth is, it'll bloom heavily if kept in partial or even full shade. Also, bear in mind that the soil needs to be well-drained.
African Scurf Pea
Usually blossoming toward late spring, the African scurf pea creates a beautiful bed of flowers in your garden, but only for a brief time. The flower is white, small, and delicate.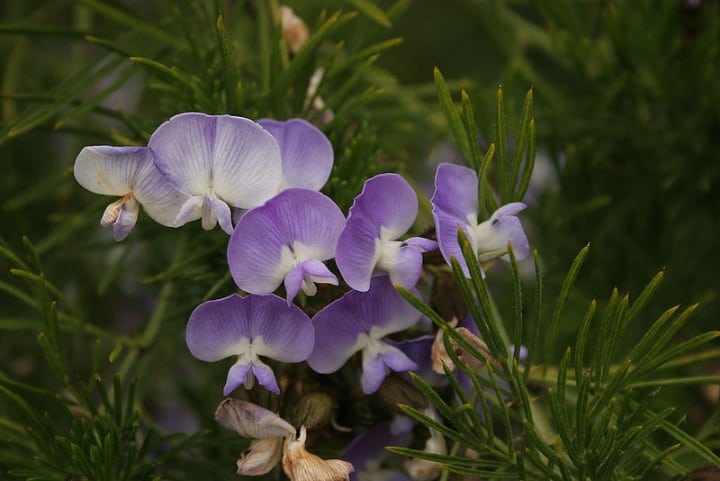 The African scurf pea does well in partial shade and only prefers a medium amount of moisture. If properly tended, it can grow up to ten feet.
Aucuba
The Aucuba is a dense, fat little shrub that usually gives green-ish leaves, tinged in shades of yellow or lighter greens.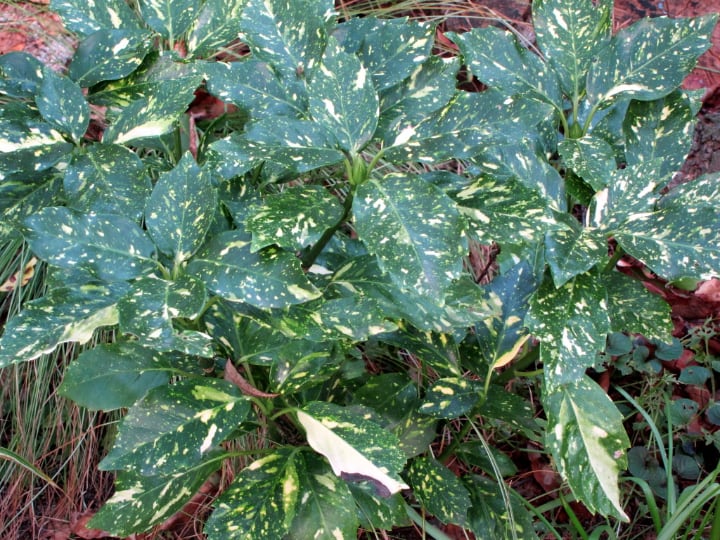 Aucuba is one of those plants that love deep shade, which will give its leaves a deeper shade of green. It tolerates partial shade, but doesn't prefer it.
Witch Hazel
The flower of the Witch Hazel isn't a particularly attractive one, with its yellow-y strands, but it's remarkably potent.
Over the centuries, witch hazel has been used to treat a wide array of ailments, from various wounds to acne.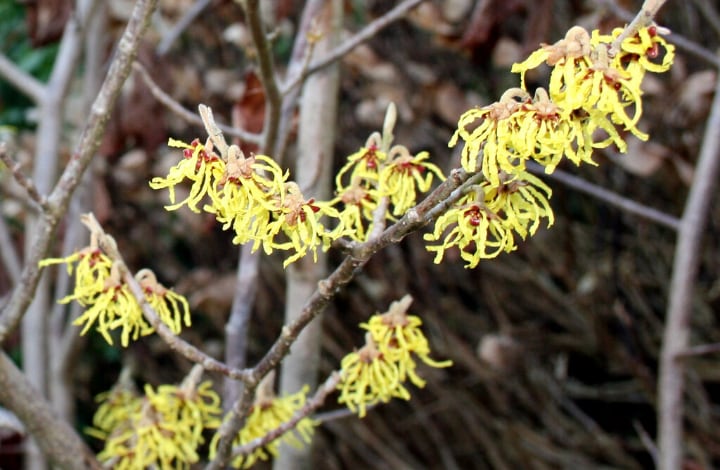 Tip: Witch hazel shrubs prefer partial or full shade. They can live in deep shade, but not thrive there.
Azalea
Azaleas are known for their deep, rich color–they often make wonderful decorative plants. They are majestic and surprisingly easy to care for.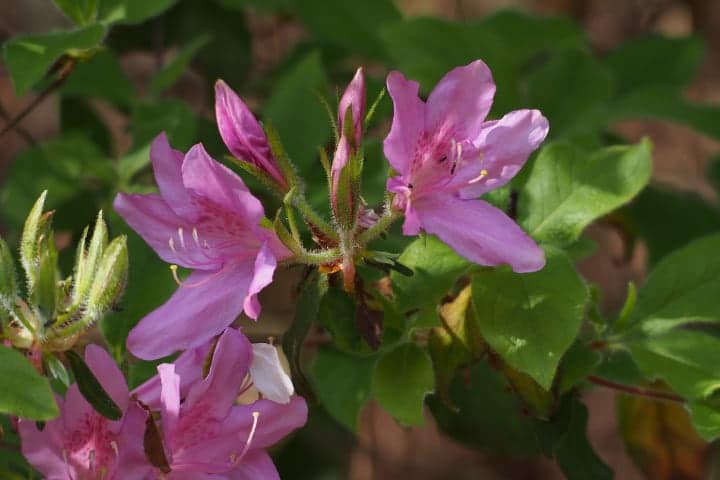 Azaleas don't really like shade, but the thing is, they don't like sun either. You need to keep them in somewhat shaded areas, though make sure they also get plenty of sun.
California Holly
The California holly, also known as toyon, gives these tiny, red fruits. It's a pretty addition to any garden, one that does not do well in extreme heat (ideally go for partial shade here as well).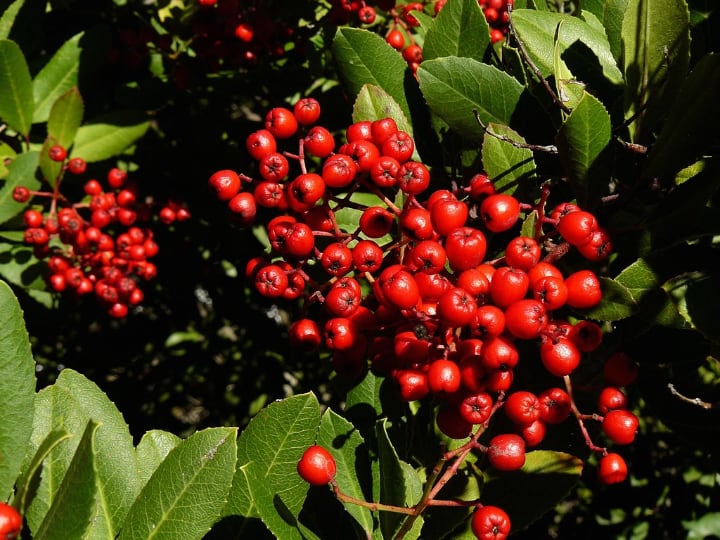 Interesting fact: Depending on who you ask, the abundance of California Holly near L.A. may or may not be what gave Hollywood its name!
Japanese Skimmia
These beautiful flowering shrubs, much like the azaleas, give the impression of a rich bouquet of flowers.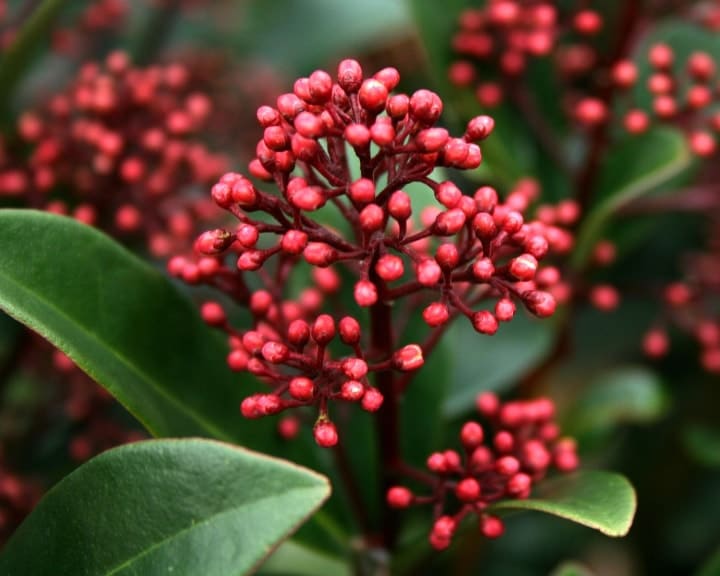 They are usually pinkish in color, which, set against the deep green stem, creates quite the contrast.
Tip: Don't ingest them as these too are quite poisonous!
Canadian Hemlock
The Canadian hemlock is a member of the pine family, often a good source of tannins (used for tanning leather in the 19th century). It is not poisonous.
Even though many people immediately think of the poison hemlock, they are not the same thing. This plant doesn't tolerate the hot sun well. It prefers partial shade.
Hetz Japanese Holly
The Hetz holly leaves are usually small, green, and round, with a remarkably fine texture. This particular shrub grows to be quite tall (up to 6 feet at maturity).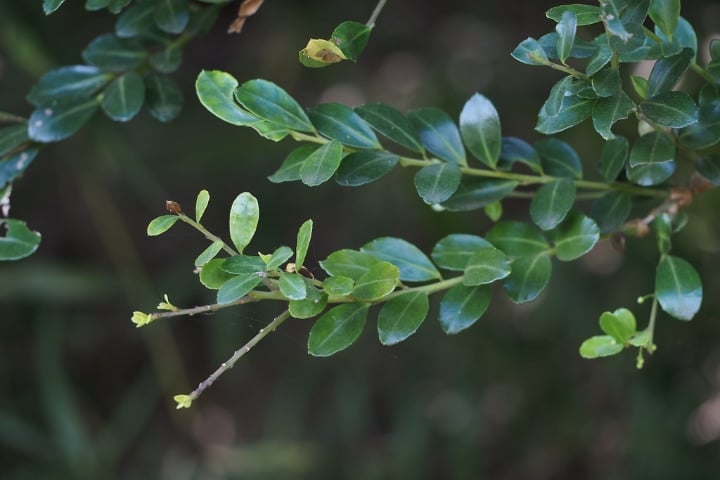 Interestingly enough, it can grow both in shade andin full sunlight and is generally a pretty low-maintenance plant.
Climbing Shade Plants
Famously, climbing plants are appealing precisely because of their intrusive habit of climbing on other plants to reach sunlight. Though some of them, as we'll see, do just fine in shade.
Climbing Hydrangea
The Climbing Hydrangea features leaves of a deep green shade, filled with clusters of pretty, white flowers–which makes a great contrast.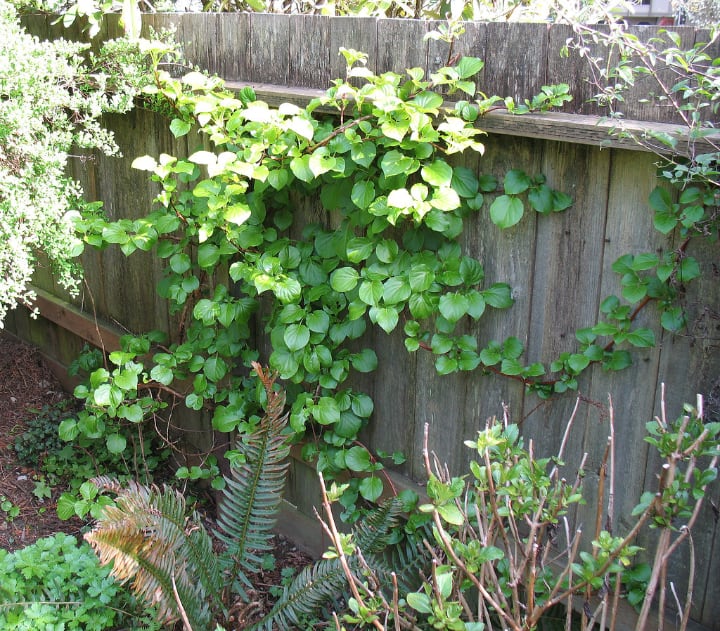 These climbing hydrangea flowers are highly tolerant and do remarkably well in the shade.
Ivy
Also referred to as hedera, ivy is one of the most well-known climbing plants. It will unapologetically grab unto nearby plants–in fact, it's known for its aggressive, invasive growing habit.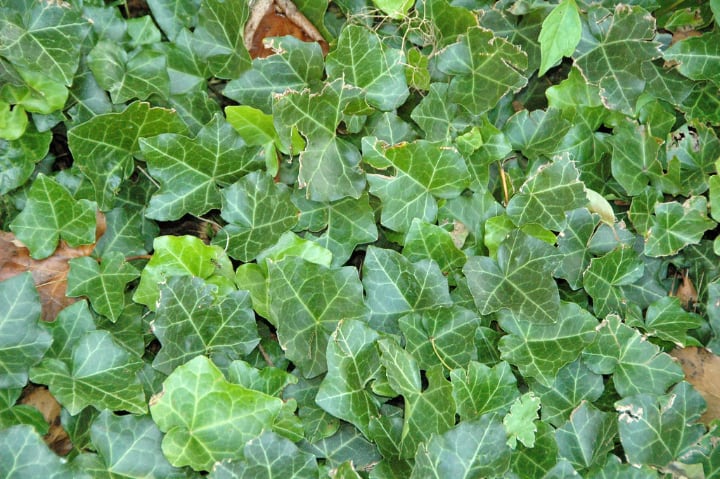 Tip: It prefers well-drained, all-purpose soil, and thrives in the shade.
Virginia Creeper
Also referred to as the five-leafed Virginia or the five-finger, the Virginia creeper is in truth just another type of ivy.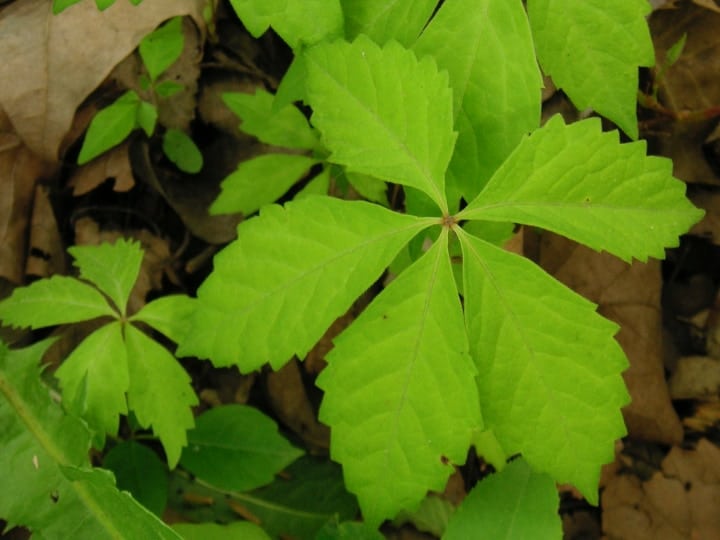 Warning: Its leaves and berries are poisonous and should not be ingested.
Boston Ivy
Yet another ivy in our midst, the Boston variety is quite impressive. It can grow up to 50 feet if left to its own devices, and its shades range from green to a charming deep red.
Tip: While it does not mind the sun, it prefers living in partial shade.
Clematis
These fascinating plants are also great if you want a powerful contrast–the light green leaves go wonderfully with the large pink/purple flowers.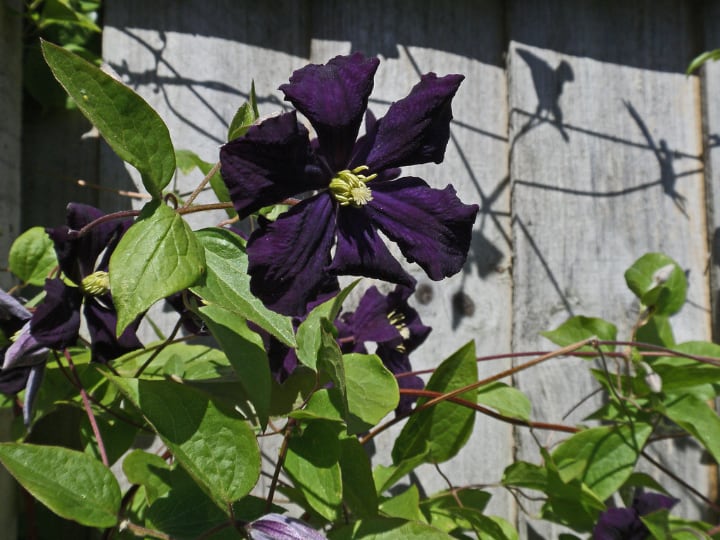 Tip: Do not leave Clematis facing the south (ever) as it does not tolerate that. Other than that, it grows well both in shade and partial sun.
Fortune's Spindle
This winter creeper, native to Asia, has vivid green foliage that will add a tinge of excitement to your garden, especially in the cold months.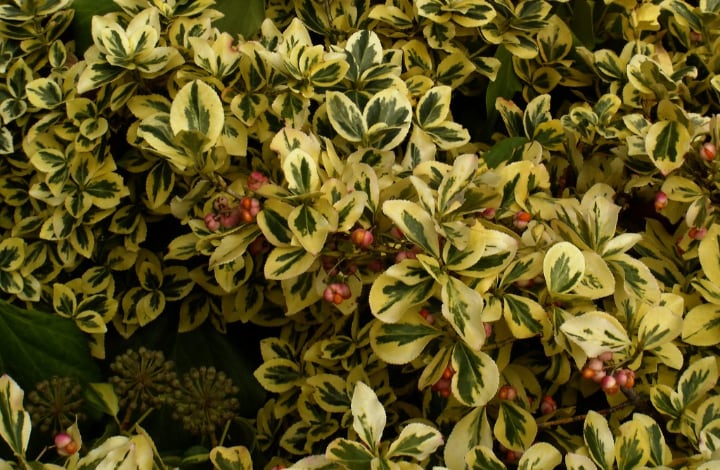 Its bright green triangular leaves will grow up to 20" and can live both in full sun and full shade, though they prefer the common ground.
Shade Plants in Pots (Indoor Plants That Don't Need Sunlight)
In this section, we'll be looking at some indoor plants that don't require any direct sunlight. So, if you've only got a small garden or don't yet have one at all, this section is definitely for you!
Fuchsias
This beautiful, exotic flower is known for its versatile coloring and easy elegance. It grows all through the summer, provided you water it properly.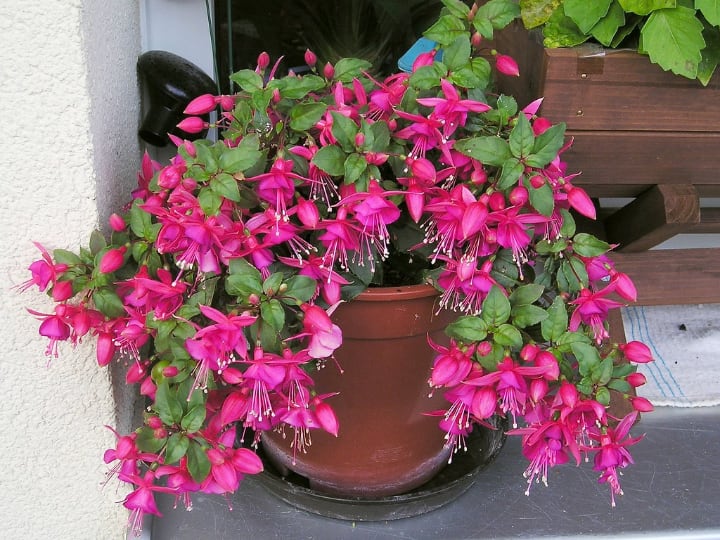 Fuchsias prefer cool temperatures and if they can get some sunlight, they'll be alright!
Coleus
These gorgeous plants are a must for any bright color enthusiast. Coleus plants are known for their interestingly tinted leaves–with the very edges being green, and the center varying from red to black to violet.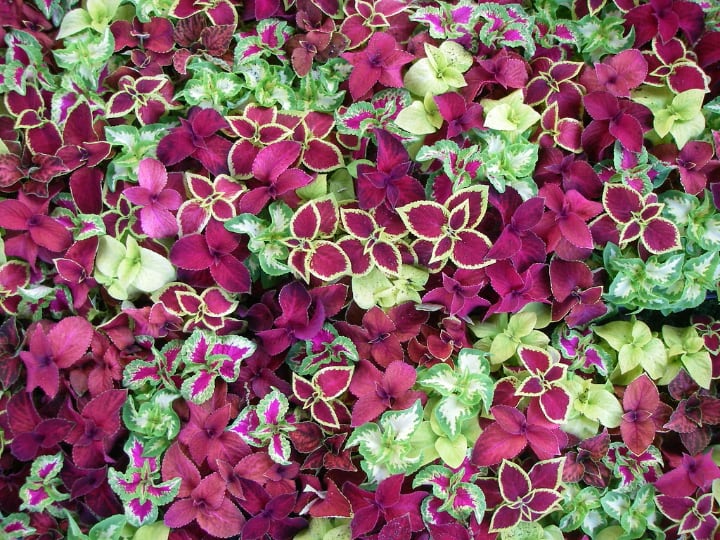 Tip: They take morning sunlight, but other than that, prefer shade.
Begonias
These small, delicate flowers vary both in care specifics and color, depending on variety.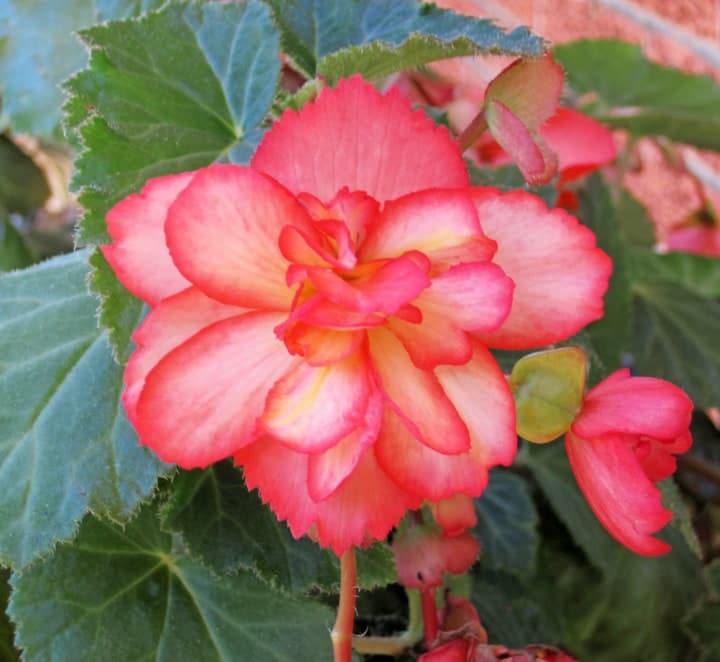 Their flowers are mostly a pink or reddish hue, while their leaves can go from bright green to even a dark red.
Impatiens
The Impatiens flowers are small, cheerful annuals that will put a spot of color in any setting.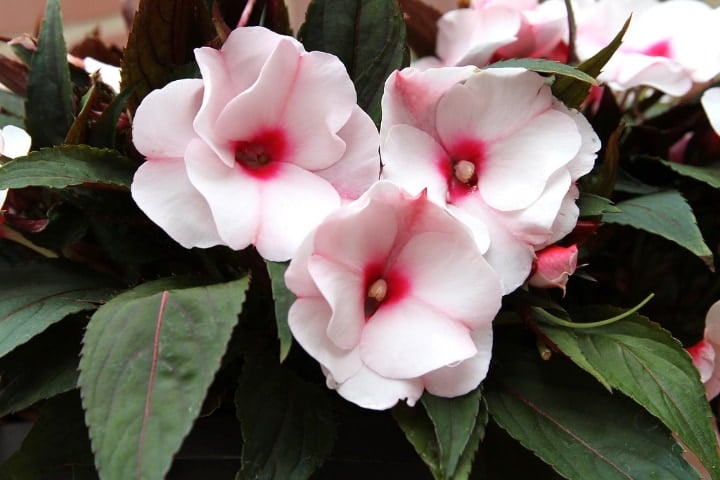 Tip: They are very sensitive and will dry really quickly if you forget to water them, so be careful. Also, they prefer full and even deep shade.
Bleeding Heart
Getting its name from the shape of its flowers (which actually look like a heart with a drop forming underneath), bleeding hearts are sensitive to heat and will usually die in the summer.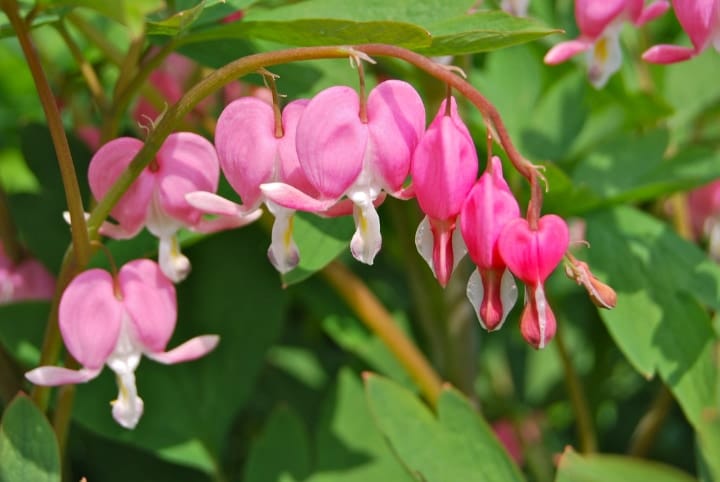 They prefer cool, partly or even fully shaded areas.
Ferns
Ferns are pretty versatile, brightly green plants. While they like sun, they can also do well in mostly shady areas (depending largely on the variety you use).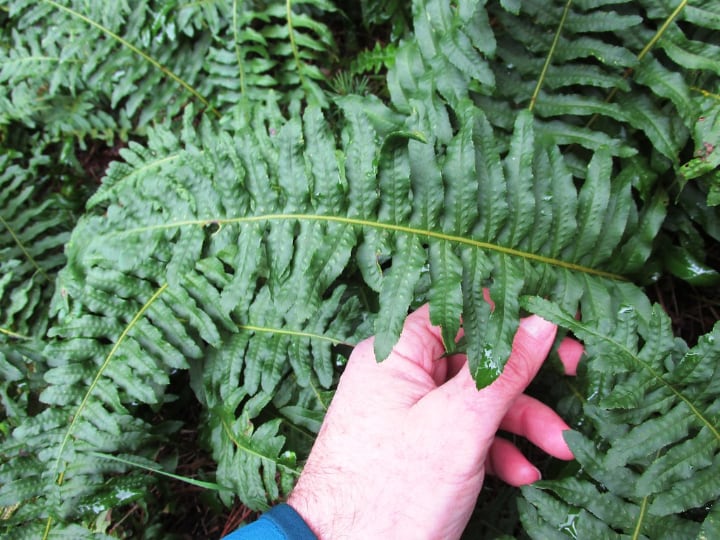 The big thing for ferns is that you give them plenty of water, though, so don't skimp.
Hardy Geraniums
These brightly colored perennials make a beautiful adage to any home, with their tiny, saucer-shaped flowers.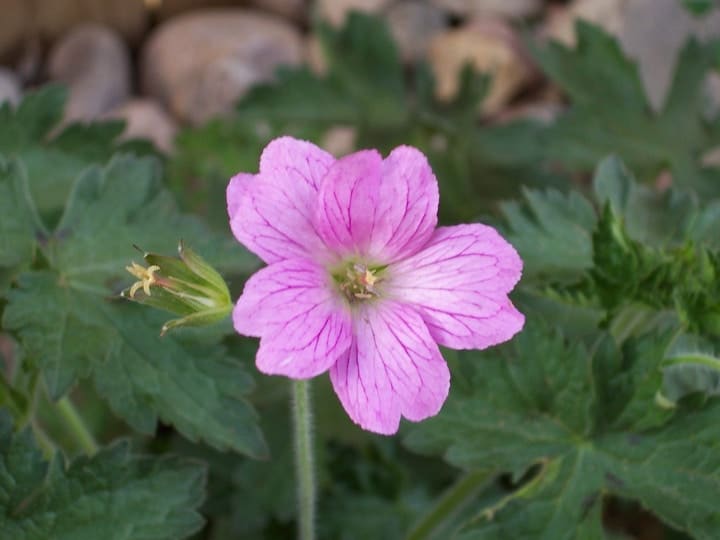 They come in blue, pink and purple, and can live for a long time in the shade, making them great for growing indoors.
Forget-me-not
These small, pretty flowers are deceptive–they are quite aggressive toward other flowers and will take over their ground if you're not careful.
That being said, these delicate, bluish pink flowers look great in pretty much any flower combo.
Low Light Indoor Trees
Once again, looking at you, apartment dwellers! In this section, we try to identify the best trees to grow indoors–those that don't require a lot of sunlight.
Chinese Evergreen
The Chinese Evergreen is a big favorite among gardening novices as it requires little to no care.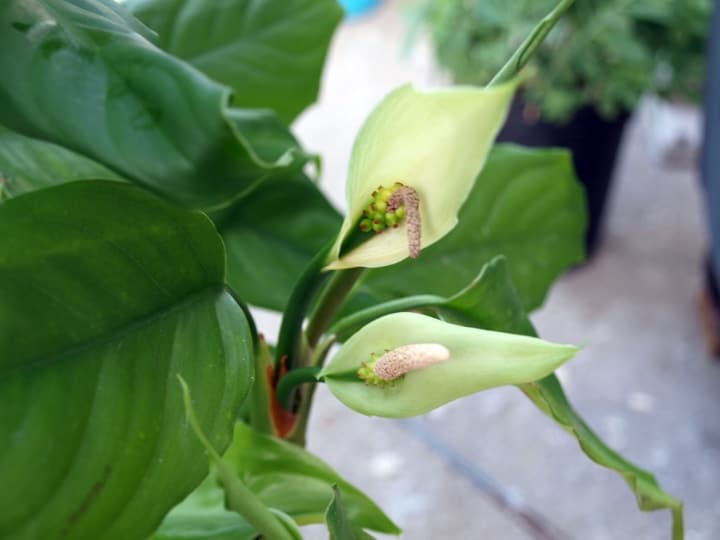 It lives well in indirect sunlight and partial shade, provided the humidity is moderate to high, and its large leaves make for a beautiful piece of decorum.
Areca Palm
The Areca palm is now one of the most popular indoor (and outdoor) trees, thanks to its pretty palm leaves and its relatively low maintenance profile.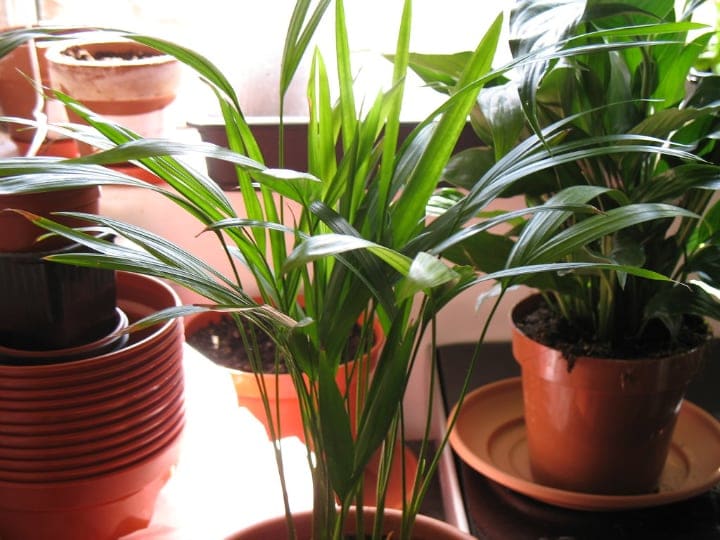 Tip: If growing indoors, place it near a window facing the south or east. If growing outdoors, keep in partial shade.
Parlor Palm
Similar to the Areca palm, this parlor variety usually thrives on indirect sunlight and rather shady areas (hence its name).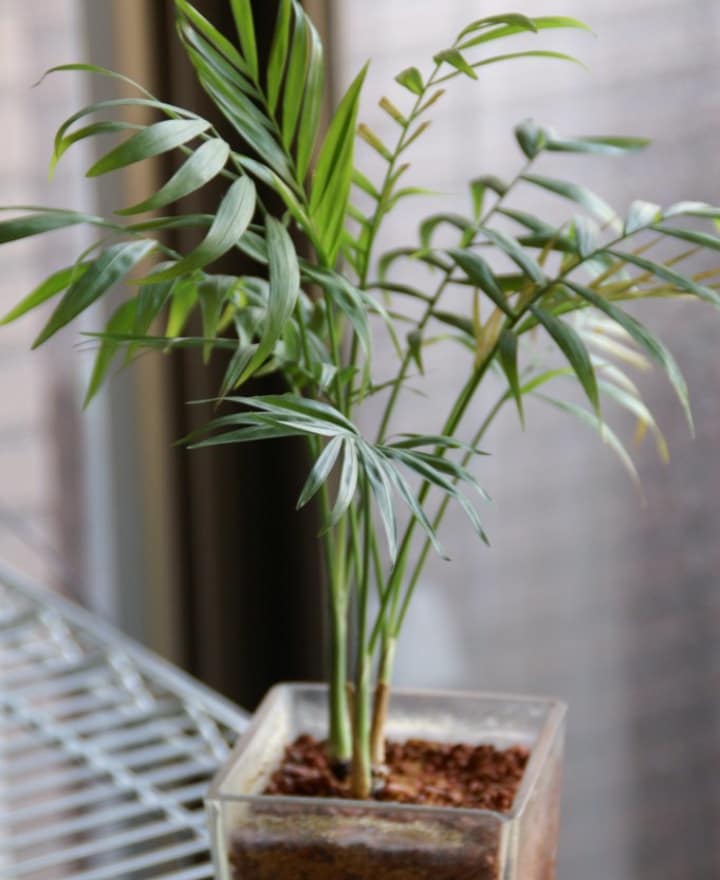 It usually blooms in spring and its leaves are elongated and bright green.
Bird of Paradise
This tree owes its interesting name to its leaves that certainly have some similarities to a bird.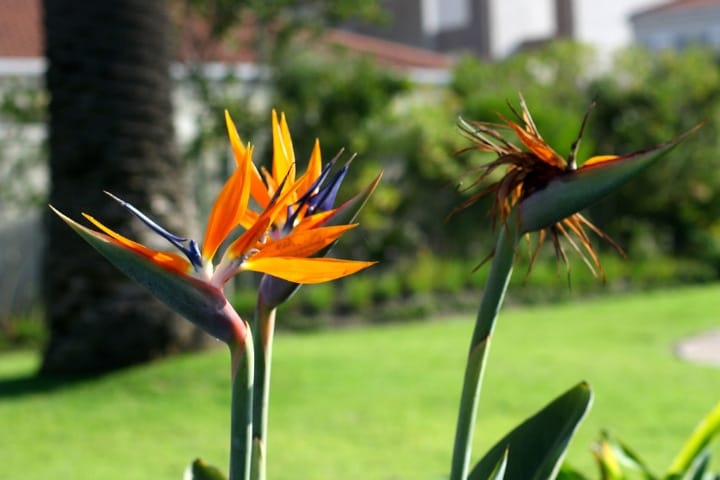 The Bird of Paradise is a tropical evergreen that–interestingly enough–requires quite a bit of direct sunlight.
Dragon Tree
The dragon tree has these fascinating leaves that look a bit like swords, tinged with blood around the edges.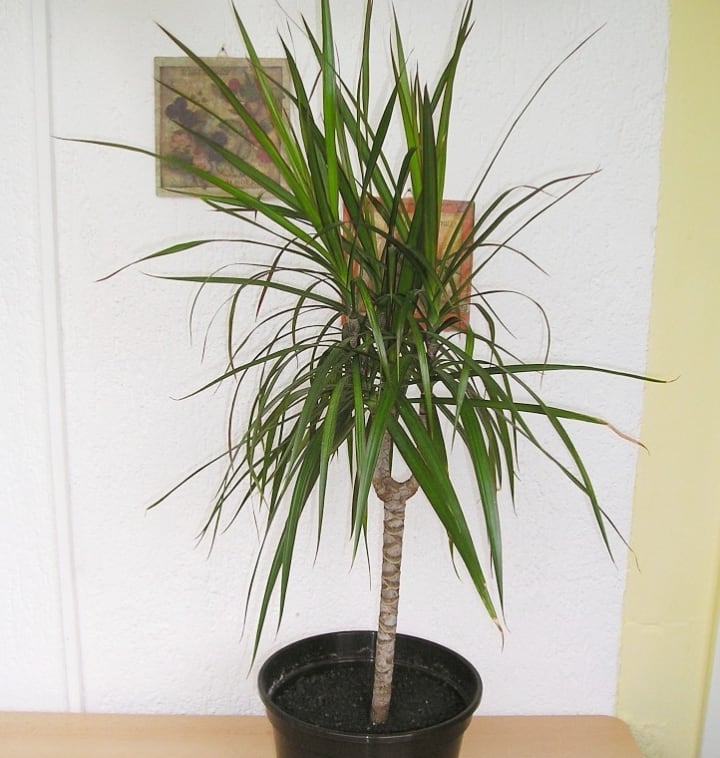 It can grow to up to 20 feet and prefers indirect sunlight, making it ideal for indoor growth.
Rubber Plant
Also known as the rubber fig, the rubber plant is another really common indoor option, with its beautiful, bright green leaves. While it requires a lot of light, it does not like direct sunlight.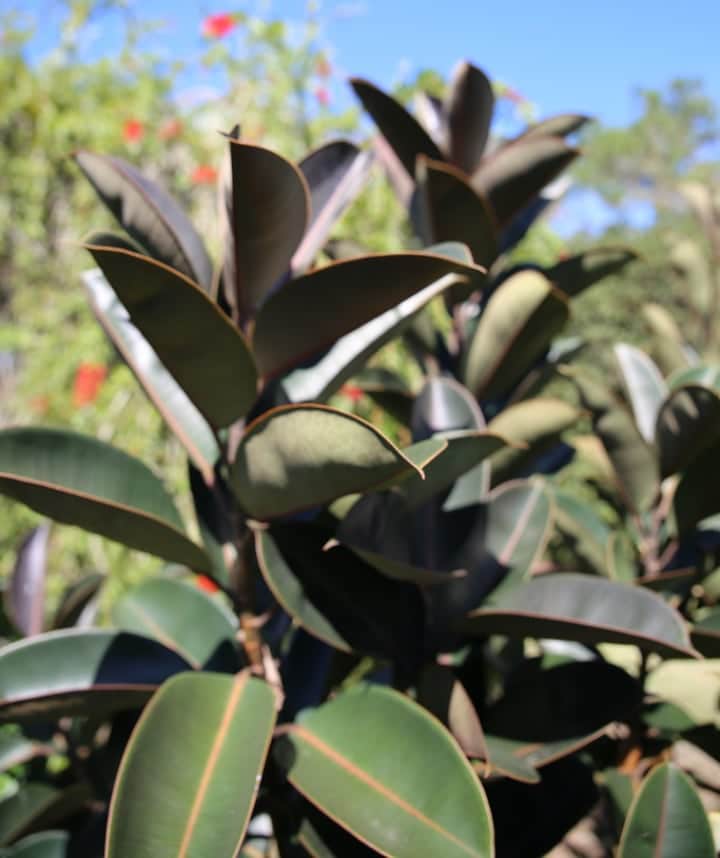 Tip: This plant can grow quite a lot, so keep it in smaller pots to control growth.
How to Grow Shade Plants Easily: Essential Care Tips
In this section, we'll give you some pointers on how to grow your own shade plants.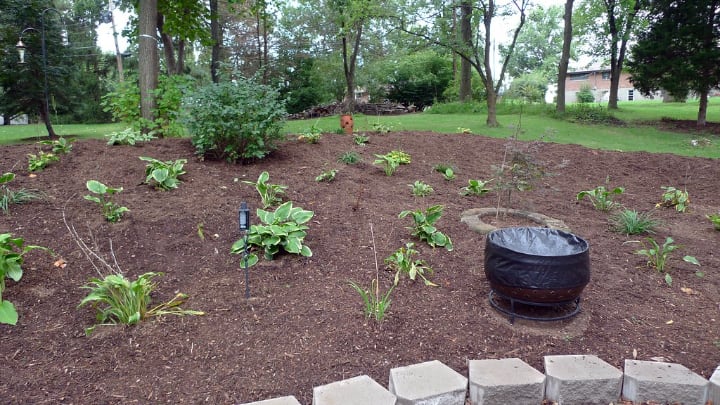 Make sure you enrich the soil with some organic matter before planting your shade plants. Read more about soil types.
Some partial shade plants will be able to tolerate sunlight if well-moistened.
Use a fertilizer that is rich in potassium, to improve the plants' tolerance to shade.
Make sure you fork the base of each planting spot so that the roots have access to cool, moist soil.
Mulch regularly!
For a more complete growing guide, check individual requirements and directions for each plant.
Also, check out the tips in this video on shade gardening.
Shade Plants Frequently Asked Questions Answered
In this section, we'll be answering some of the most common questions about growing shade plants that we hear. Explore them now.
Throw Some Shade on Your Neighbor's Garden
Seriously, with the above tips and ideas, you've got no reason not to grow the perfect garden, regardless of how much (or how little) direct sunlight you're getting.
In our big list of shade plants, you're bound to find more than a few varieties you want in your shady spot of paradise, so what are you waiting for? Get planting!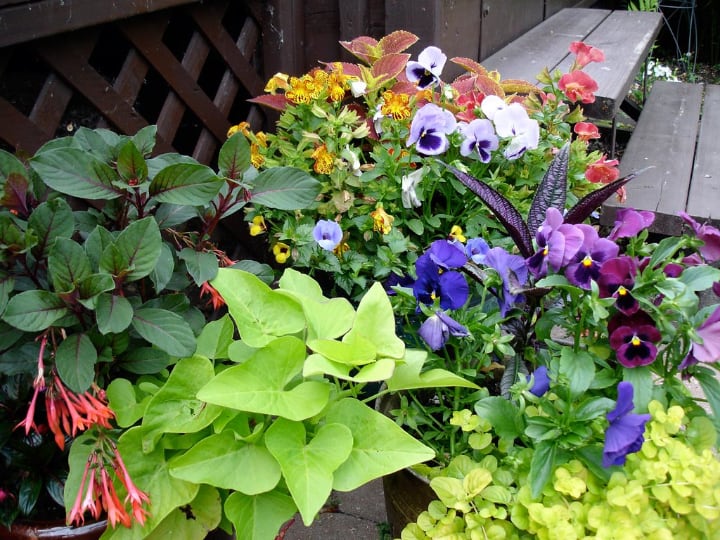 Just make sure to keep in mind the individual care tips for each plant. After all, most shade plants still need some sun, to say nothing of water!
Do you have any experience with any of these shade plants? We'd love to hear from you!
Drop us a comment or reach out to us on social media. You know where to find us!