With these Chicken Coop plans, you'll help build a safe and accessible shelter for your chicks and chickens. They offer a great way to start raising hens in a clean and orderly way.
Maybe you want to grow 3-4 chickens. Or maybe you want to grow 25. Either way, chicken coop plans enable you to create a protective enclosure for your flock. You don't have to be a DIY superhero to build one.
Not sure where to start? Explore now some awesome chicken coop ideas for your backyard. Whether you want to go big or keep things small, we have you covered.
Chicken Coop Ideas
Chicken coops come in many shapes, styles, and sizes, just like all the different types of chicken breeds. Some take just a few hours to put together, others require a bit more work.
Before you start looking at chicken coop plans, it's good to know what you want. Jot down a few ideas that will help you filter your options. You'll save time and make the right choice.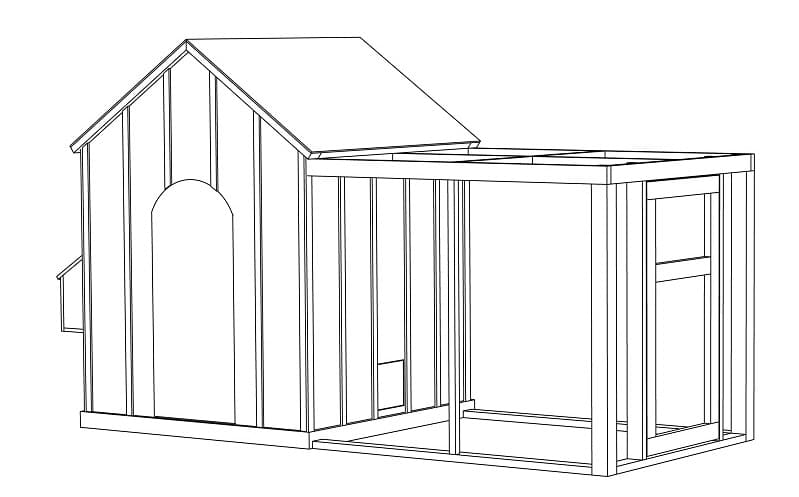 Here are a few essential things you want to factor in. Don't skip them!
Location of the Coop
Backyard chicken coops are popular these days. But whether you will place the chicken coop in the backyard or not, consider how exposed the location is to the elements.
Does the location provide any natural shelter? Will the sun beat down on it most of the day? Will it be close to a noisy road?
Answering these questions will help you decide what design to choose and how much insulation your chicken house needs.
chicken coop Sizes
Each chicken needs at least 2-4 square feet of space. Growing lots of chickens will considerably increase the size of your chicken coop.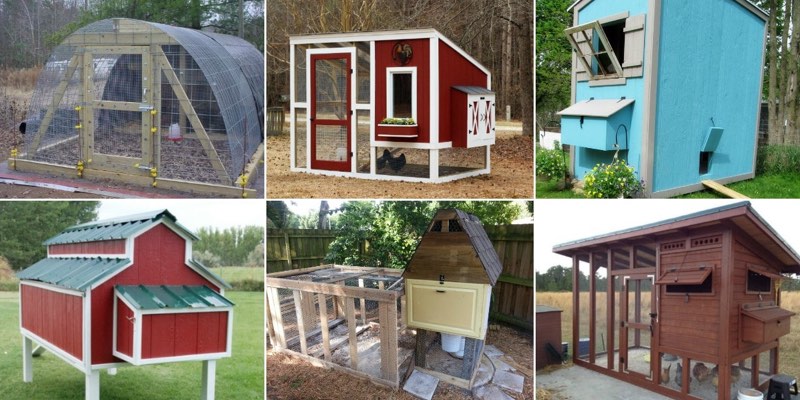 As a rule, it's best to provide some extra space, especially if your flock won't get to roam the environs all that often.
Materials for your coop
Do you have any spare materials you can use to build a chicken coop? Or do you plan to buy all the materials?
Take a good look at what spare materials you have in your garage or shed. By reusing existing materials, you can reduce building costs.
Time
The easiest homemade chicken coops take only a few hours to build. But more sophisticated models require at least a few days.
Don't rush things as the build quality is important for your chicken coop to last. Give yourself an extra day or two to complete the project. It's better than repenting of your haste later!
Difficulty
You don't have to be a master crafter to build DIY chicken coop plans.
But you'll need essential carpenter's DIY tools and utensils. At the same time, some designs require more polish.
Bear in mind that some projects are more advanced than others. If you're not sure about a specific plan, better choose an easier one. Remember, it's important to enjoy the process!
Now let's look get to work. Here are some plans to inspire you to get started.
Small Chicken Coop Plans
Ideal for beginners, small chicken coop plans are budget-friendly and fit into most locations.
But just because they're small doesn't mean you have to sacrifice looks for convenience. On the contrary, small chicken coops are among the most stylish around.
1. Backyard Chicken Coop
Looking for a small and simple chicken coop plan? This 4×8 feet backyard chicken coop is easy to build, cheap for your budget, and with simple and minimal maintenance. It doesn't come with a run, but you can add that to it later on.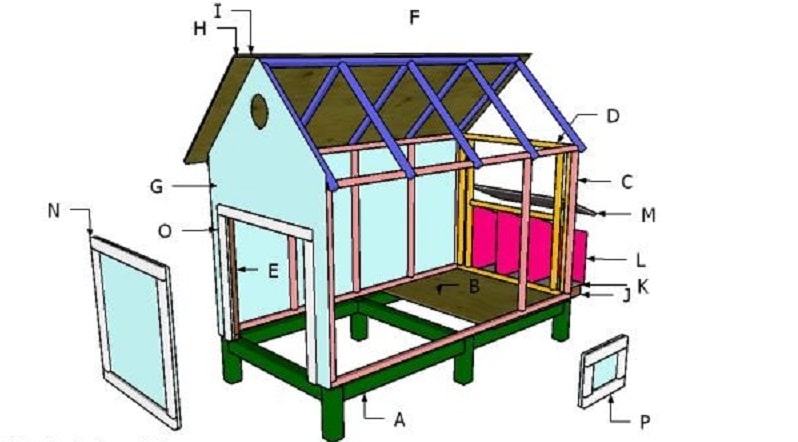 Why build it:
Inexpensive compared to other chicken coops
Great for beginners
Space-efficient
You'll be needing lumber, plywood, tar paper, and asphalt shingles. Check out the video instructions below to build it the right way.
2. Small Cheap Chicken Coop
With room for five chickens, this cool-looking shed chicken coop doesn't take much space. You can fit it to the back of your house. It has plenty of windows for ventilation and convenient design that makes it easy to maintain.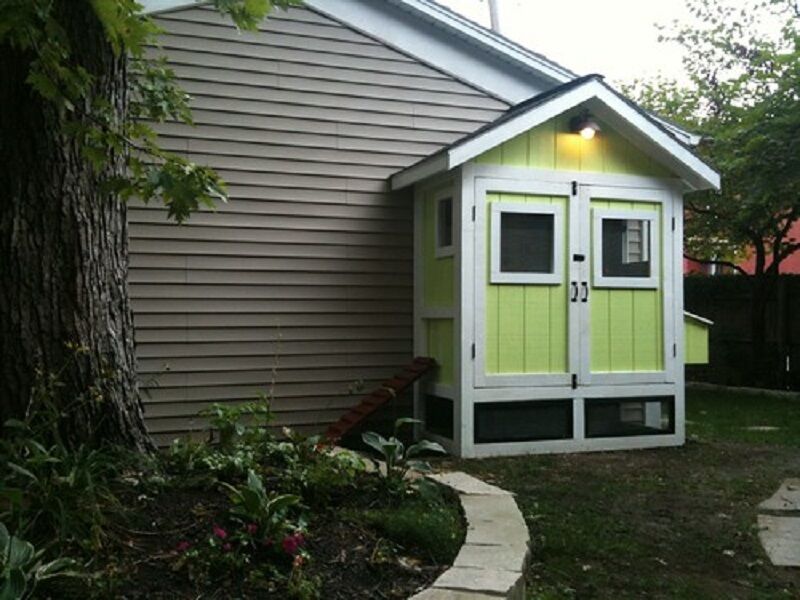 Why build it:
Takes little space
Great ventilation
Doesn't require additional lightning
3. Above Ground DIY Chicken Coop
Small chicken coop plans don't get cuter than this! With this DIY chicken coop plan, you can build a tiny coop for 3-4 hens above the ground. Cute window and easy access door make it a hassle-free choice for beginners.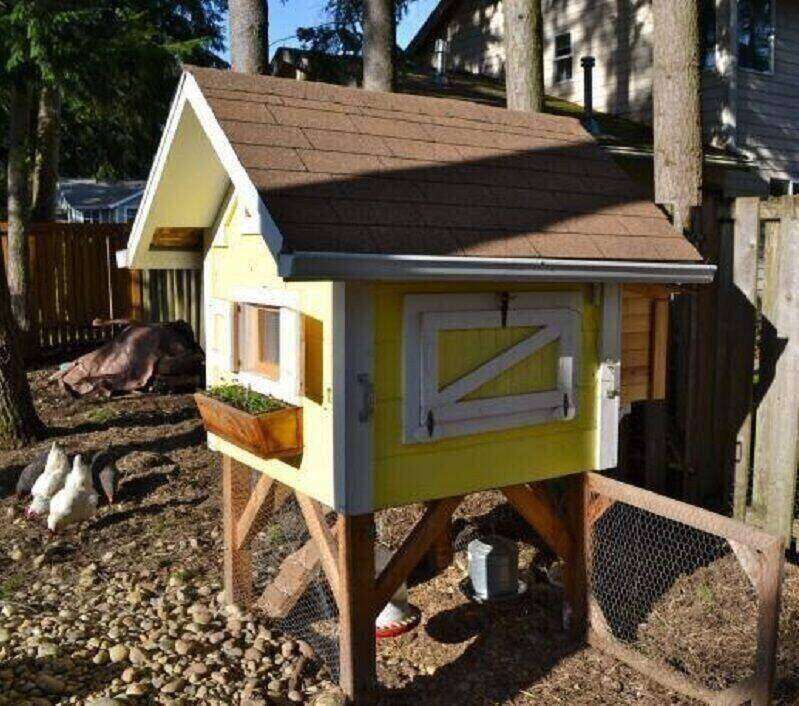 Why build it:
Raised design provides extra protection
Cool in summer
Doesn't require a chicken coop heater in winter
4. Farmhouse DIY Chicken Coop
Small and sweet, this 5×5 feet farmhouse chicken coop will probably make your neighbors envious. There's room enough in it for 12 chickens and 4 nesting boxes. That means plenty of eggs for the entire family.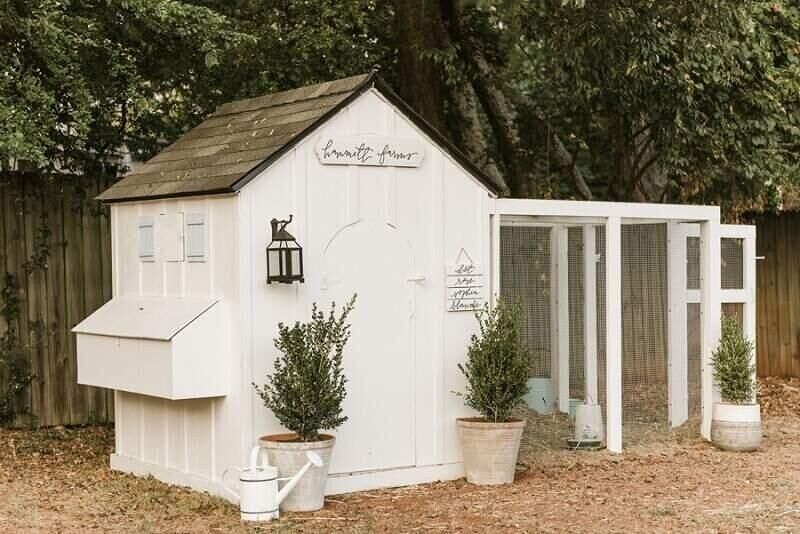 Why build it:
Looks awesome
Doesn't take much space
Relatively affordable
Watch the video below to learn how to build it.
5. Maine Chicken Coop
This solid and reliable chicken coop provides shelter at a good cost. It's taller than wider, giving you plenty of placement options. The large door makes gathering eggs and cleaning the coop pretty easy.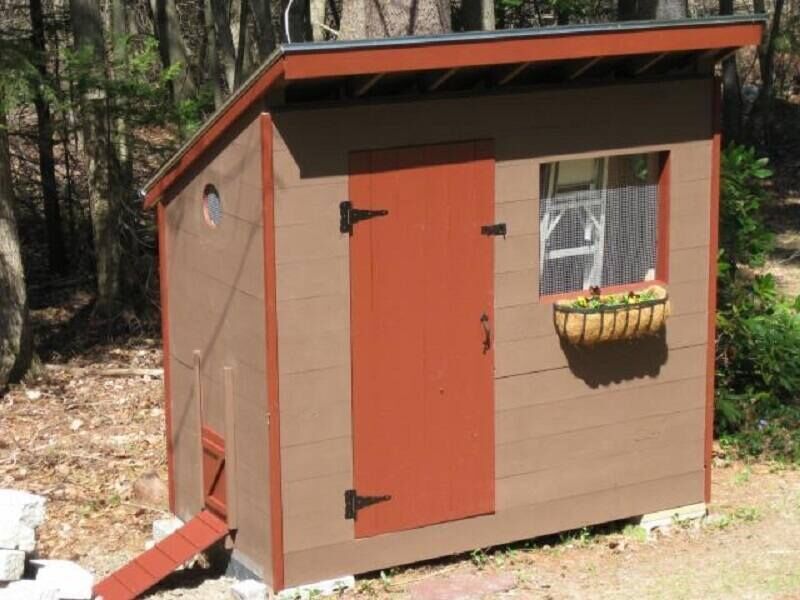 Why build it:
Easy to clean
Good ventilation
Affordable to build
Large Chicken Coop Plans
Large chicken coop plans are great for big flocks with plenty of layer hens among them. But there can be big cost differences between different plans. So, it's important to consider the design carefully.
For chickens grown mostly indoors, large chicken coops provide the space they need to stay active and stress-free. Hemming in too many chickens in a small coop is just not a good idea!
Explore now some large chicken coop ideas and designs.
6. Off-the-Ground Chicken Coop
This off-the-ground chicken coop can hold up to a dozen or so chickens. That makes it an inspired choice if you want to grow hens for eggs. The friendly design makes it a worthy addition to most backyards.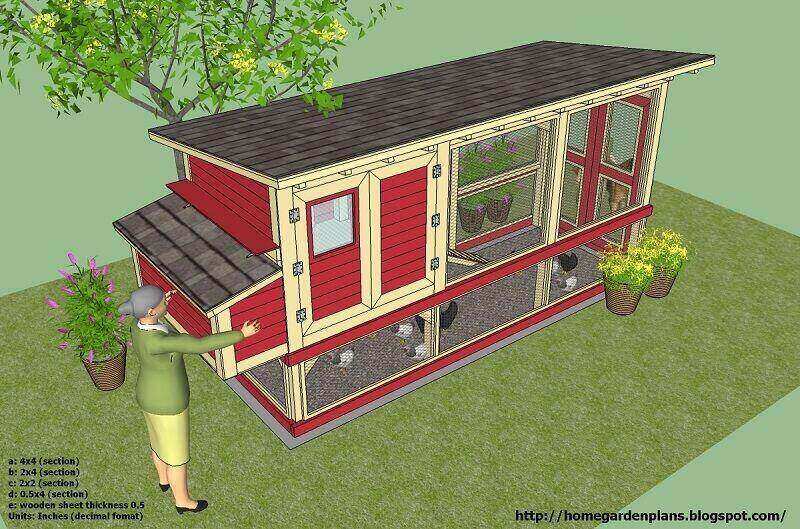 Why build it:
Provides protection again predators
Good ventilation
Easy access to the egg nests
7. Big Red Hen House
If you want to make your chicken coop bigger than most, this big red hen house is right for you. But bear in mind that it requires a bit more work than most entries on this list.
You'll need to build it on a strong foundation. You'll also need a very large backyard for this one.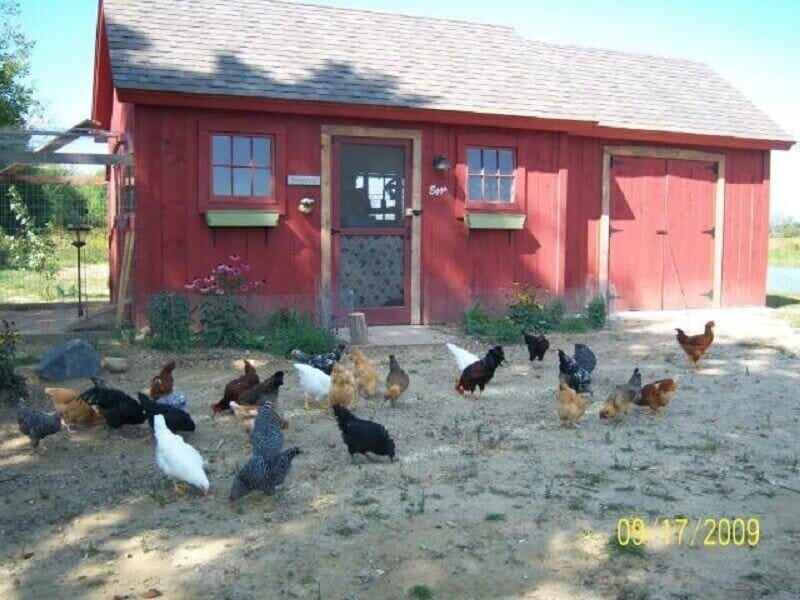 Why build it:
Almost 200 square feet of space
Lets you grow hens permanently indoors
Good protection in all seasons
8. Big Shed Chicken Coop
Large chicken coop plans don't have to be overcomplicated or labor-intensive. While it does require some work, this big shed chicken coop comes with straightforward plans.
But the hens will love the sheltered space it creates and the all-round excellent protection from the elements. Looks pretty cool, too!
Why build it:
Insulated design is great in winter
Easy to access
Durable design can last for years
9. Country Chicken Coop
If you plan to grow 20 hens or more, a spacious country chicken coop like this one can be just right. More than shelter and a nest space, it leaves plenty of room for perches and other accessories. Also, you can easily add a run to it.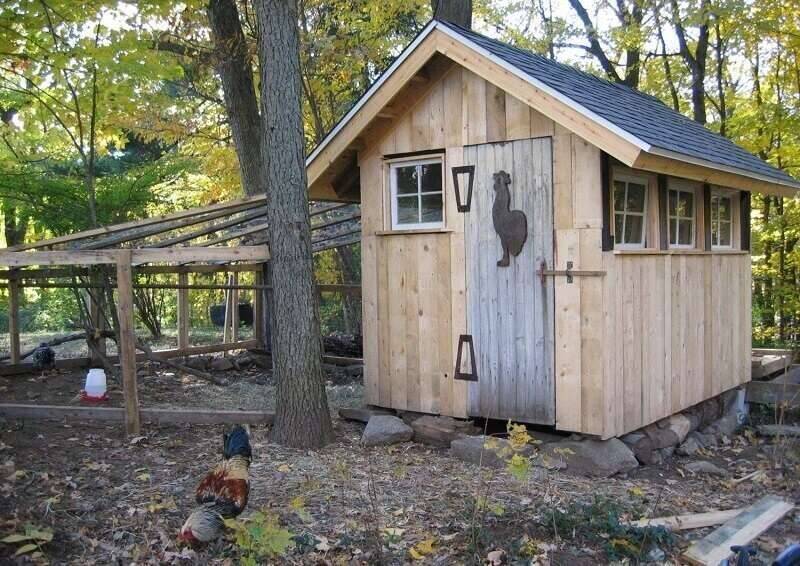 Why build it:
Very spacious
Good protection in winter
Sturdy design
10. Basic Large Chicken Coop
You can build a big chicken coop at less than $500. This basic large chicken coop design can fit in up to 20 chickens. It takes up to 4 days to build and incorporates a nesting box. Overall, it's a hassle-free design that works for most people.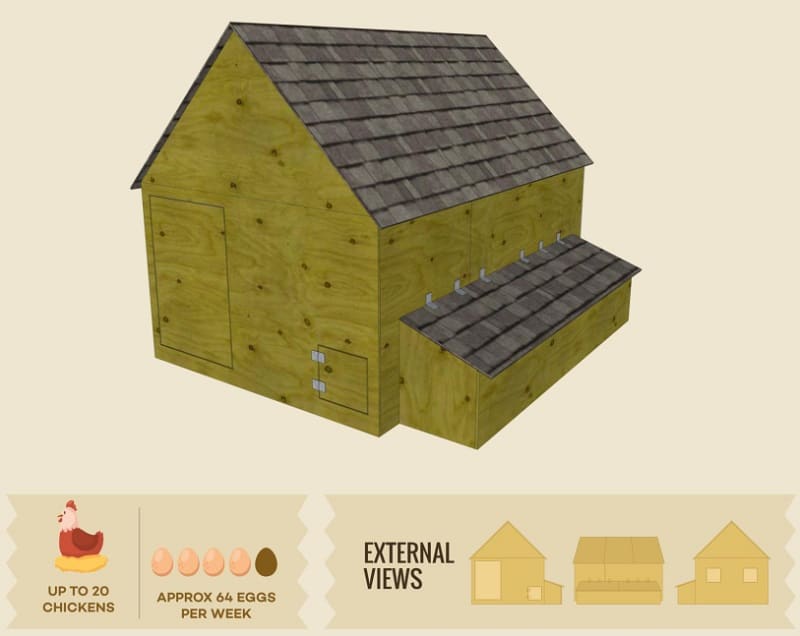 Why build it:
Affordable for its size
Simple and sturdy design
Provides adequate protection in all weathers
Walk-in Chicken Coop Plans
You need to access the chicken coop at least once or twice a day to feed the birds, leave mealworms for them to forage, gather the eggs, and clean the chicken house. You also need to check on the birds to make sure they're doing okay.
Walk in chicken coop plans make it easy for you to access the coop. They are great if you need a spacious hen house for layer hens.
Here are some great walk in chicken coop ideas for you.
11. Garden Loft Chicken Coop
Spacious and secure, the garden loft is a basic walk-in coop with a hen house and run. It has a full-sized door that makes gathering eggs quick and easy. It accommodates up to 16 chickens.
Why build it:
Good ventilation and light
Quick and easy access
Plenty of space for roosting
12. Small and Friendly Chicken Coop
Walk-in chicken coops don't have to take up too much space. This neat little chicken coop is a case in point. Made from a combination of easily available materials and old stuff, it's cool without being in the least bit pretentious.
Note: there are no specific plans for this one. But since it's so easy, you should be able to build it with the basic instructions provided without much trouble.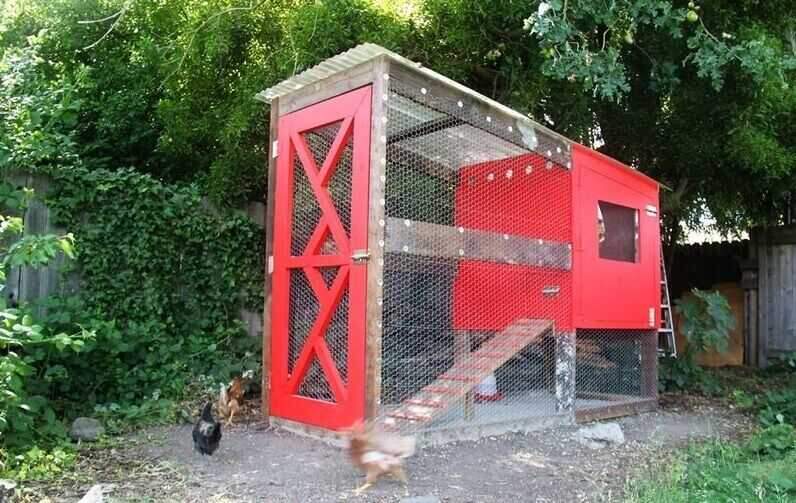 Why build it:
Easy to set up
Very affordable
Off-the-ground hen house design
13. Cheerful Chicken Coop
Bright colors, lots of windows, a ramp, and, of course, a walk-in—this cheerful chicken coop has got it all. You can grow up to 12 chickens in it.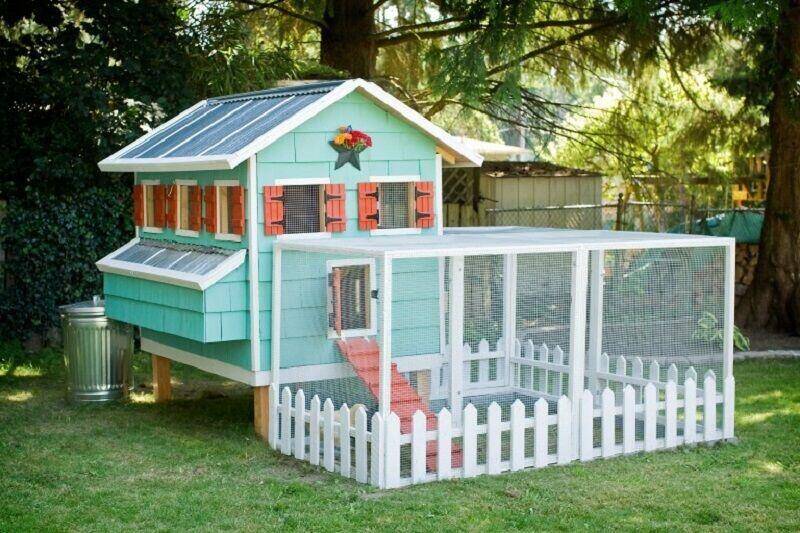 Why build it:
Appealing design
Interesting features
Makes your backyard look cooler
14. Basic DIY Chicken Coop
Want a stripped-down, no-hassle chicken coop? This basic DIY chicken coop could be just right for you. Things don't get simpler than this. Depending on how many chickens you want to grow, you can scale the design up or down.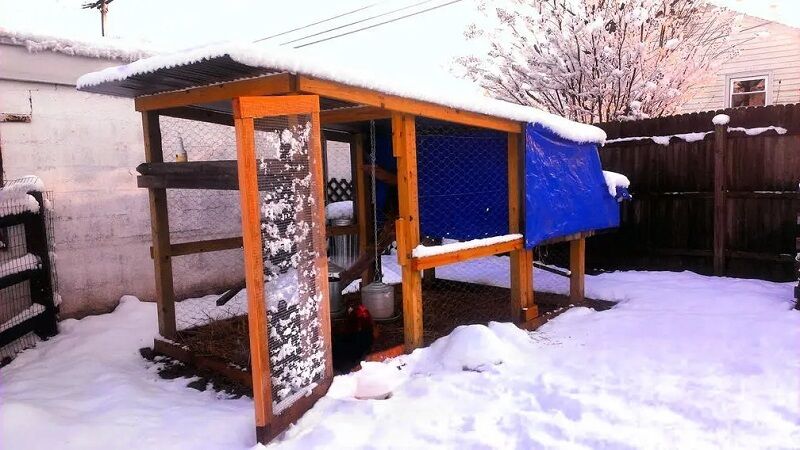 Why build it:
Sturdy and durable
Convenient access
Easily adaptable to your needs
15. Greenhouse Chicken Coop
A greenhouse with a walk-in chicken coop two in one? Why not? It's not the easiest or the cheapest chicken coop to build, but the spectacular result is worth the effort.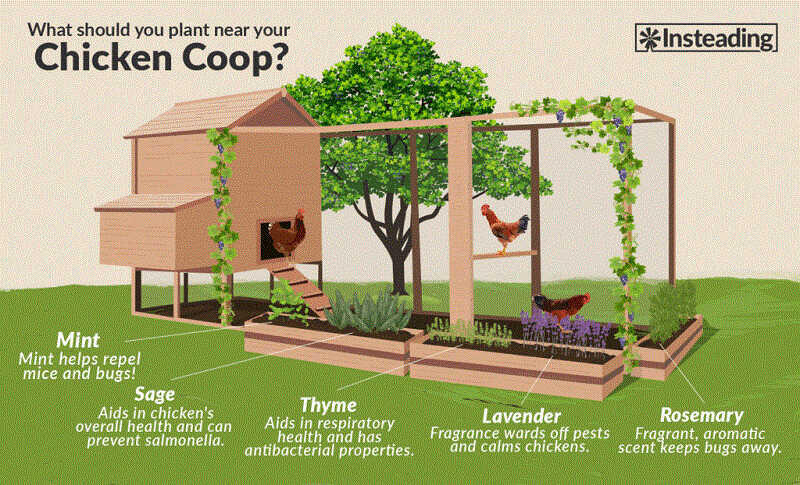 Why build it:
Facilitates plant growth
Looks and smells better than most
Stands out
Here are some greenhouse chicken coop plan ideas to get you started. But don't forget that you have to adapt these to your needs.
Chicken Coop with Run Plans
A run is an enclosed or fenced outdoor space that gives your chickens space to move. Think of it as the equivalent of a human gym?
Chickens shouldn't stay all day in the hen house. They need to move. A run creates this activity space for them.
Chicken coops with a run take more space and cost extra. But they can help you keep a flock happy. They're great if you don't want to let chickens roam about your entire yard.
16. Simple Chicken Coop with Run
You can add a run to your coop and keep the whole plans simple and affordable. Here's a simple and practical chicken coop with a run idea than proves just that. You can build this one for half the price of other coops. You can use spare materials, too!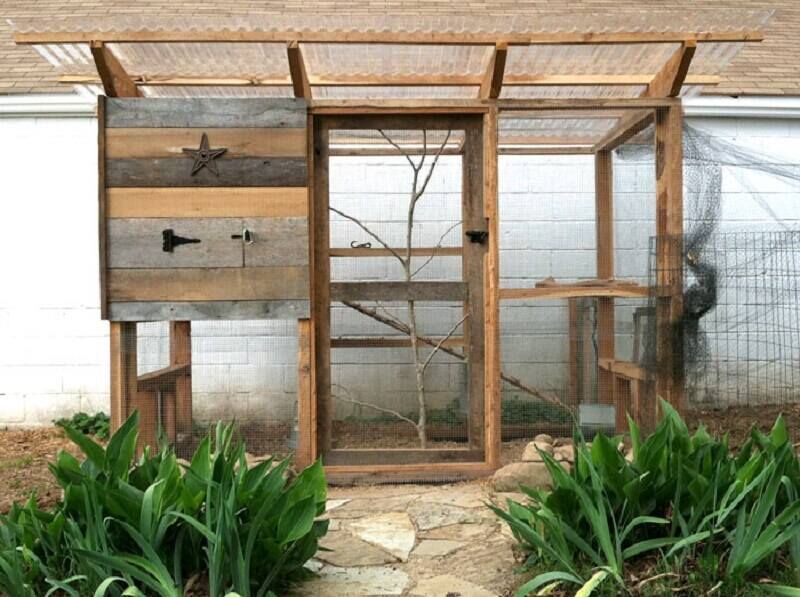 Why build it:
Easy to build
Incorporates existing materials
Inexpensive compared to other options
17. Large Chicken Coop with Run
A covered run shelters your chickens from harsh sunlight, rains, and snows. You have to spend a bit extra on the roofing, but it's a worthwhile investment. Here's a good example of a compact and durable large chicken coop plan with run.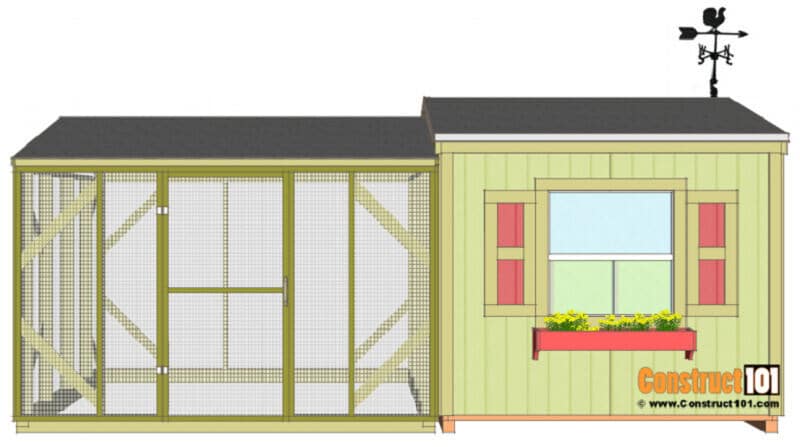 Why build it:
Covered run provides great protection in all seasons
Excellent ventilation
Easy to build despite its size
18. Gable Roof Chicken Coop Plan
One of the best ideas for a chicken coop with a run is to enclose the shed within the run to save space. With this gable roof chicken coop plan, you can put that concept into use. And you don't have to sacrifice looks, either.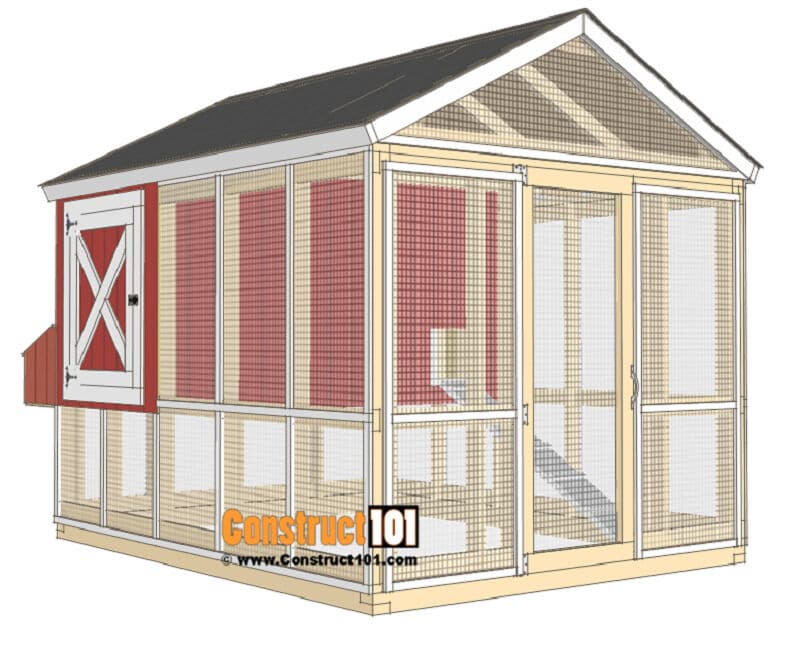 Why build it:
Uses space effectively
Raised design is great for hot/cold climes
Good air circulation
19. Stylish Coop with Viewing Window
Built with modern materials, this stylish chicken coop is fancy to look at. Brightly colored doors and windows cheer it up. What's more, the viewing window offers an easy way to check on the flock without having to use the door all the time.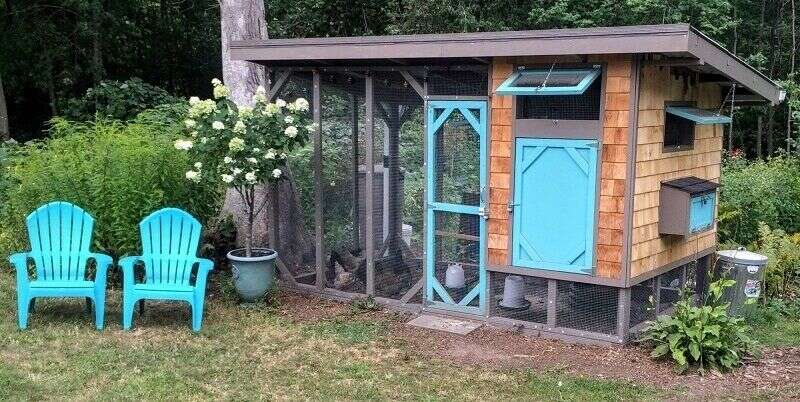 Why build it:
Compact off-the-ground design
Spacious chicken run
Viewing window
20. Cabin-Style Coop with Open Air Run
Chickens love open-air runs. What's more, an open-air run tends to be more affordable than enclosed runs. This cabin-style coop design has a rustic feel to it and plenty of character! The run is 20×40 feet, making it one of the biggest on our list.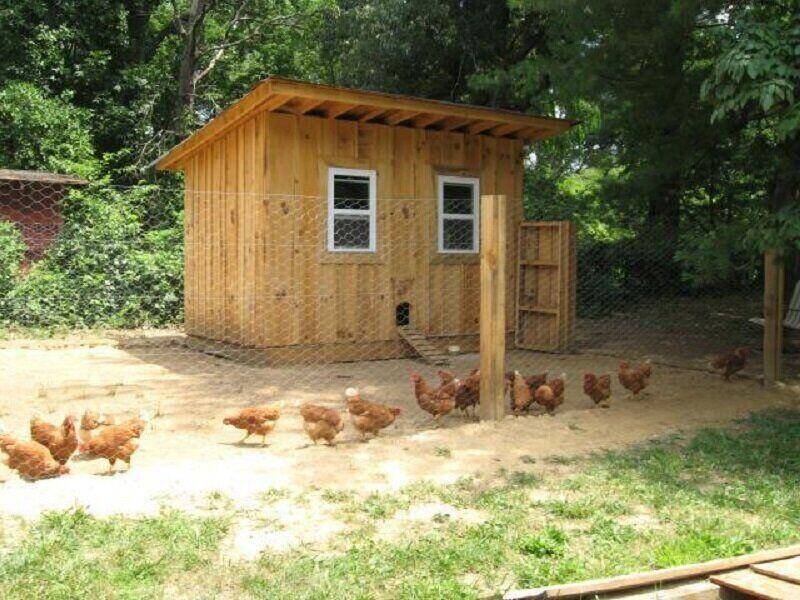 Why build it:
Great ratio between size and cost
Big chicken run
Timeless look
The last snoop of the coop
A chicken coop isn't just for keeping the chickens cooped up. It's can become one of the highlights of your property, to say nothing of the organic eggs. But to get the best results, you want to take things one step at a time.
Compare different chicken coop plans and make all the measurements you need. Factor in the amount of cleaning and maintenance you'll have to do. And don't forget that you can always adapt the plans to your needs.
Oh, and get your tools ready! You'll have to do a bit of sawing and some hammering before hearing those rewarding cluck cluck sounds! Waste no time. Get started now!
Got more pets at home? Learn how to create other types of animal enclosure like cages for rabbits today!