Sitting down, relaxing on your Garden Bench, and enjoying the ambiance of your garden and nature is such an unwinding experience. The tranquility and the calmness it gives are very rewarding; you should do it every time you can: have a snack in your garden with your friends or family, enjoy nature while you have such a great time, or have a picnic for two with your special someone.
You can freely enjoy a book, knit, crochet, write poems, craft novels, draw images, or paint; this can really get your creative juices going. If you are looking to just hang loose and get away from the noise of your everyday work, simply take a nap or maybe just sit back and watch the birds, your chicken coop, or how butterflies flutter around the flowers. You can admire the plants and just breathe in the fresh clean air they produce just for you. Just sit back and enjoy the awesome view. Enjoy outdoor furniture with an indoor sensibility!
Some people think that having a garden bench means that you will need a whole lot of space or it will ruin the natural look of your garden. In any case, having something good to sit on in your garden is important. Not only because you need to sit somewhere, but having a garden bench can also add to the style, design and ultimately, enhance the overall feel of your garden.
Best Garden Bench for Sale this Summer
Benches can be made of different materials. This means you can pick whatever color fits your tastes. You have total control of everything. You can also have them painted so they can suit whatever your goal is for the overall look of your garden. In the end, a well-placed bench can do wonders. You and your family can enjoy it all year round. Throw in some colorful pillows during cold times and leave it bare to feel cool during summer.
1. Traditional Garden Bench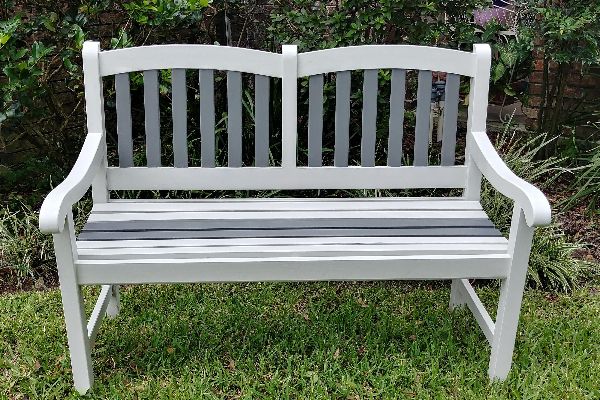 The classic park bench look will blend and be perfect in any setting. Because of its park bench feel, you can put it in a place in your garden where you can see the whole view of it from there. Perfect for those slow relaxing afternoons. It is handmade to ensure custom fit long-lasting durability.
2. Teak Slat Bench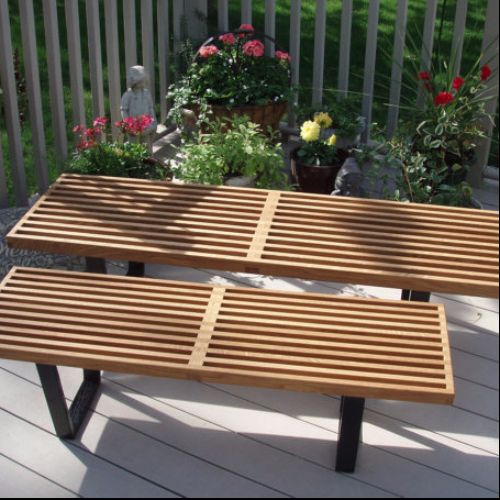 This George Nelson inspired bench is made from White Oak finished with teak oil with a mid-century modern design that will surely be a great addition to your garden or patio. The slats are individually handcrafted and are sure to be around for a long time. The legs are epoxy coated finished with black enamel.
3. Garden Bench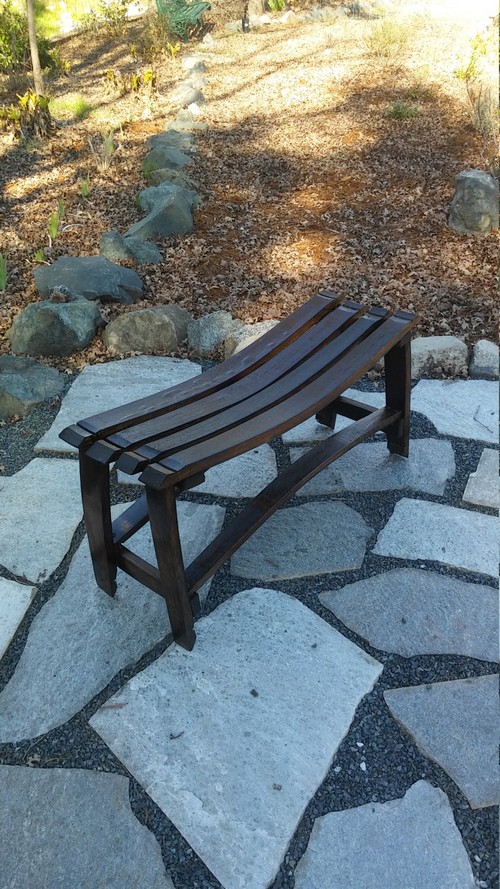 This very artistic and is handcrafted and hand-finished. It will surely give your garden a classic "Romeo and Juliet" look. This will be a great addition to a fountain or a small pond and will look fabulous in the evening if you add some lanterns for a romantic look.
4. Rustic Wooden Bench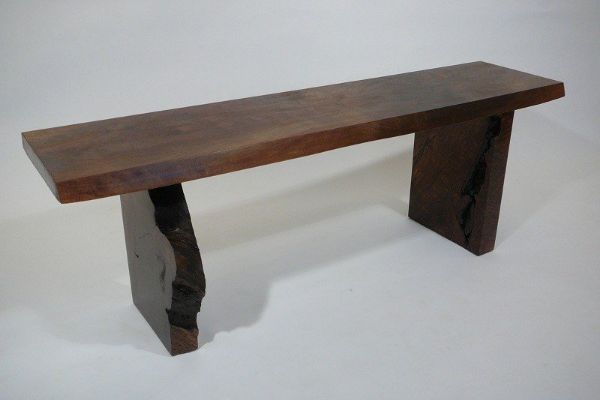 The simplistic design of this garden bench will be perfect for a small garden or patio. It is built from harvested walnut individually chosen by the artist. When ordering this product, you can request from the seller to apply a weather-resistant finish.
5. English Garden Wooden Bench with Table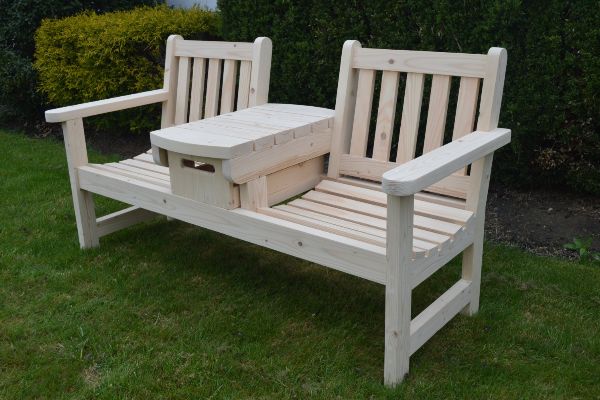 A classic English garden wood bench with graceful curves and elegant touch that is made of pine is our next pick. Perfect for your morning coffee or afternoon tea while reading a newspaper or your favorite book. It likewise has a built-in drawer where you can keep your knick-knacks.
6. Cedar Wooden Bench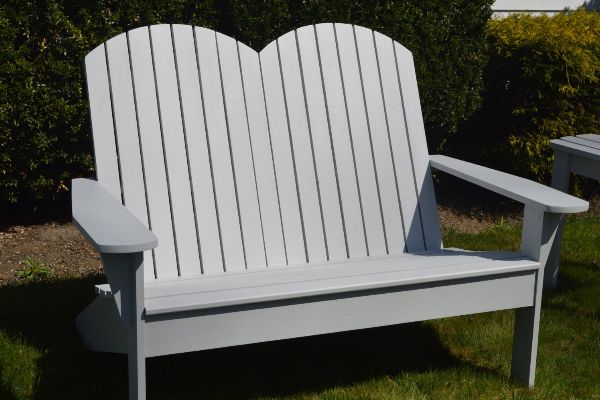 This classic looking bench is made to last. If you prefer to have a long-lasting bench that is low maintenance and does not need to be oiled or repainted every season, this is the one for you. It is made of recycled plastic and is made to look like wood.
7. Newcastle Teak Garden Bench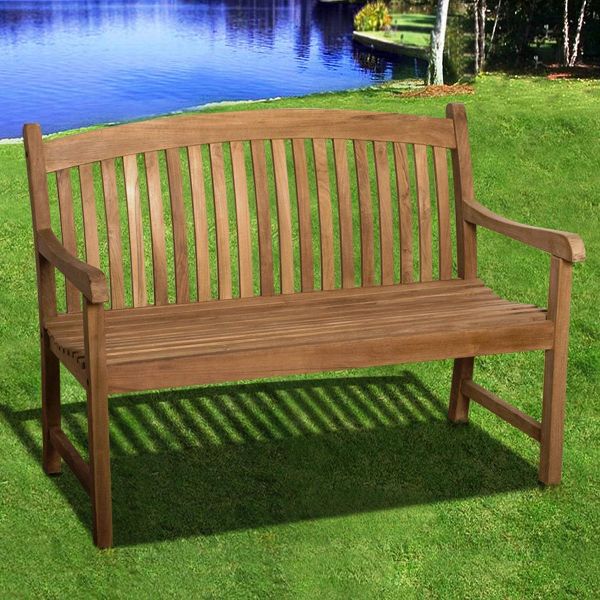 In detail, this Newcastle Teak Garden bench is made from quality teak wood that is most suited for indoor and outdoor furniture due to its weather-resistant nature. The signature woodsy styling will surely be an awesome accent to your garden.
8. Outdoor Recycled Highwood Bench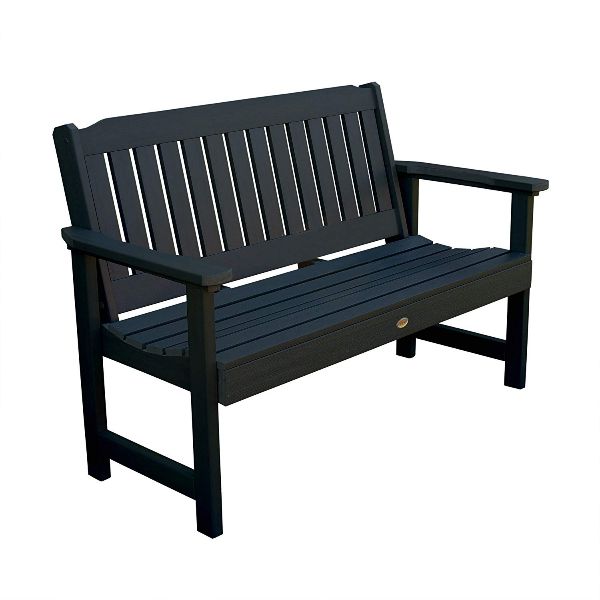 Environment enthusiasts will surely appreciate this Outdoor Recycled Highwood Bench. Aside from being built from a recycled poly material, it has a contoured back for optimal relaxation. Moreover, it is low maintenance and available in seven colors so you can select which one beautifully suits your garden.
9. Hand Made Teak Old Pine Beam Solid Wood Bench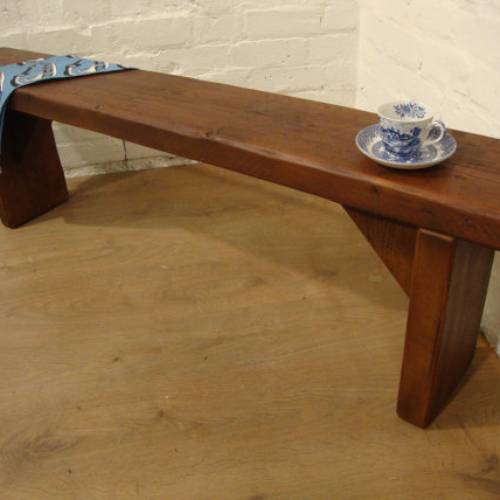 This very simple garden bench that is hand finished with Teak is perfect for gardens where you want to emphasize on the beauty and colors of the plants and flowers, this blends perfectly and gives that very "country-like" feel.
10. Rustic handmade Oak Garden Bench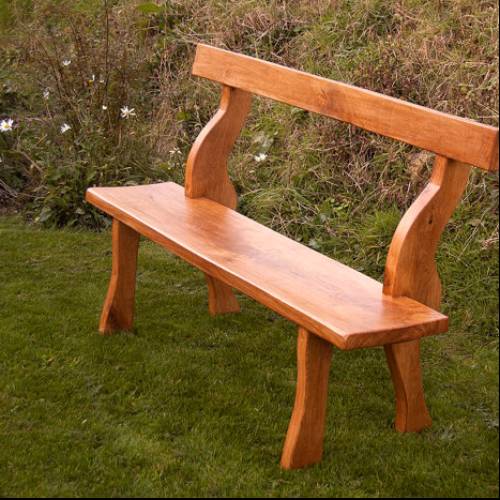 The rustic hand-made bench is made from European aid dried oak that is well suited to an outside environment. This sturdy bench is really made to weather time and nature for a long time.
11. 48″ Garden Bench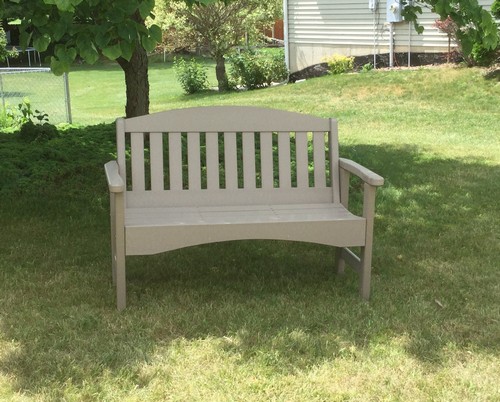 The vintage Victorian design with firebirds on both sides of the chair will sure to add style to your beautiful garden. The design itself will surely make everyone marvel at the beauty of the craftsmanship of this bench.
12. Footprints Concrete Bench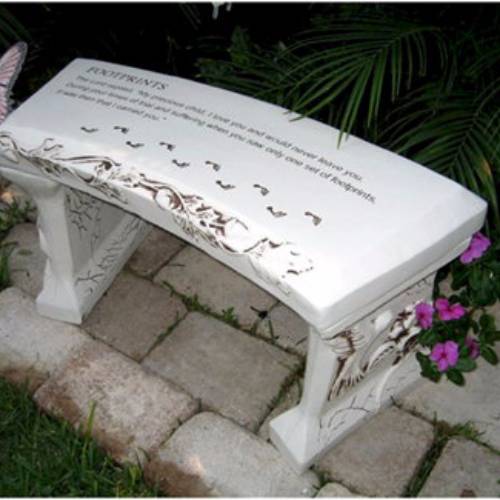 The hand-crafted design on this Cat stone garden bench is sure to be a great addition to your garden and is hand-rubbed with an antique brown to get that "aged" look and finish. The text is customizable and comes with the ivy leaf design on the bench side and front to the hummingbirds on the bench legs to the 'footprints' on the benchtop.
13. Wood Bench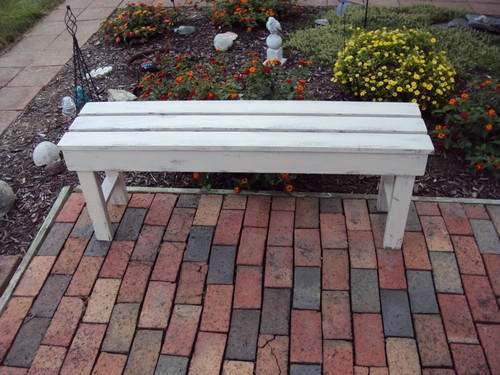 This high-quality stone garden bench is made to last for a long long time. Great for large spacious gardens and best for gardens and the large curved plain top is expertly hand-crafted as well as the Squirrel Design bench bases. It will totally be an awesome piece in your garden.
14. Natural Sandstone Garden Bench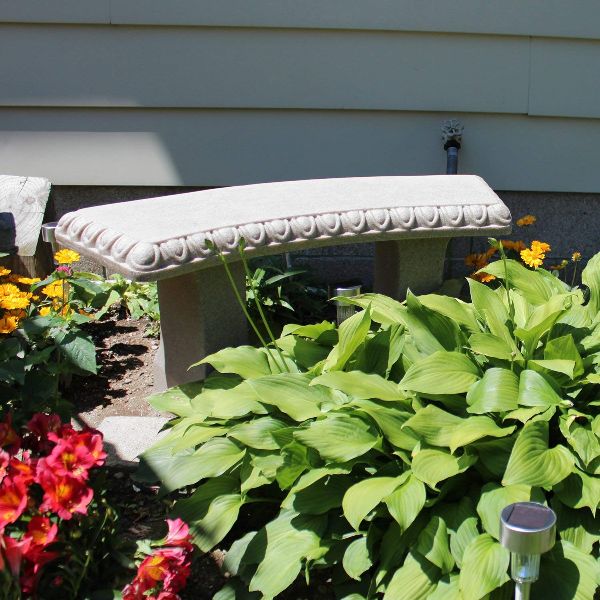 An interesting addition to any garden. This is a resin made a garden bench that is lightweight and durable to withstand time. Thus, a perfect material for a bench for your landscape needs since it can withstand the sun and various weather conditions.
15. White Wood Garden Bench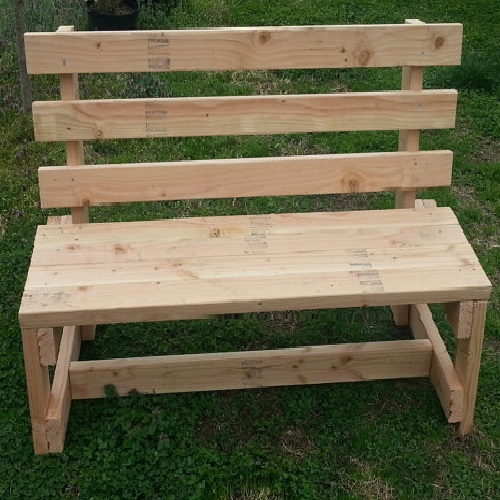 Looking for that authentic plain-looking bench for your garden on a budget? This is the one just for you. Made to be sturdy and long-lasting, this bench looks very plain that is great for those who are aiming for a shabby chic look. You can have this painted of your choice of color before the delivery or paint it by yourself
DIY: How to Make a Garden Bench
If you think you can't quite find the perfect garden bench, you can consider making one for yourself and it's not as hard as it sounds. Most woodworkers really invest in their power tools, you may not have it as of the moment, though it's a really good investment for DIYers, you can totally create one without these tools and can make the perfect bench the old school way: With a hand saw, a hammer, and some nails.
If you are worried about the pocket holes, you may use a drill to bolt the screws in, or you may just use a longer type of nails. Cool things that you can consider in making it are the following: you can be in complete control over the design of the bench, its color, and its additional details like paint.
You can even add some other designs like letters for names or a drawing. You can even go crazy with the colors, we won't judge you. You can even turn it into a work of art that will either stand out or blend in the colors of your garden.
But before thinking about the look, first think about making a sturdy bench that can hold the weight of people who will sit on it, the video is a bench for two people if you ever feel the need of making it longer to fit in more people, consider creating multiple benches for multiple fun.
This way, you'll know that the measurements fit exactly and it's going to be easier to find a place to fit them in especially in a small area. But if you prefer, you can also get twice the length of the wood of the 45 and 34-inch ones because that is where people will sit on and the rails at the back of the bench.
The actual frame and the armrest stay the same size, just add more 13 inches wood for the brace, remember that it will support most of the weight on the bench.
It may seem like a daunting task at first but you'll have so much fun doing it! And remember, if a sixteen-year-old kid can do it, so can you!
Whatever it is that you decide on, be it buying a garden bench or building one; remember to just have fun and enjoy it. After all, that garden bench will be an addition to your garden and should help you relax. You should have all the essentials for your garden like garden benches, garden sheds, gazebo and garden storages!