Picking the right plant pots isn't just a question of style. The right pot can improve drainage and prevent the plant from becoming root-bound by creating room for the roots to expand. Don't let chance choose your plant pots for you.
In this post, we'll share with you an awesome selection of the best pots for your houseplants and potted garden. Ready when you are!
The American dream is changing. In the past, most people set their sights on a ranch-style home with a white picket fence and a garden in the back. These days, renting an apartment or condominium is increasingly common.
Mortgage restrictions are tight and interest is costly. As a result, not everyone can afford ownership.
Having said that, we all know that living in an apartment or condominium, or in a small home, usually means limited space. Still, that doesn't mean you have to give up on your green thumb.
Or maybe you have space but just don't like gardening in beds. Regardless, the solution to these dilemmas is gardening with plant pots.
Benefits of a Potted Garden
A lot of gardeners have already shifted to potted gardening. That's because many of us are confined to their driveway, porch, veranda, or narrow backyard as our garden. It's up to us to use that space effectively.
Here are some of the benefits of turning to a potted garden instead:
Accessibility – Gardening with pots instead of beds is so convenient that even kids or those with back problems can do.
Portability – If you are renting the space you are living in, you can take the pots with you when the time comes to move.
Versatility – When you work with plant pots, you're allowed to grow many types of flowers, herbs, or vegetables within your limited area.
Flexibility – With a potted garden, you can instantly reassemble your pots depending on your individual taste, climate, and season.
Last but not least, having a potted garden is healthy for you. Watching all those plants grow before your eyes is wonderful. Trust us on that.
Best Plant Pots for a Potted Garden
When you hear the word "potted plant', what comes to mind? In the past, almost all potted plants were set in brown and dull-looking containers.
But you don't need to stick to the regular brown pots for your garden. You lack creativity if you do!
If you have jars, cups, buckets, cans, or containers (and a bit of creativity) these can become handy plant pots, too. To give you an idea of how you can carry this out, here is our list of top plant pots for your potted garden.
1. Mini Cactus Plant Pot
This mini cactus plant pot includes drainage holes and a fancy walk-up design. Drainage holes are essential since not all plants will need considerable moisture.
The bottom holes also ensure that air can openly flow throughout the pot.
2. Mini Ceramic Succulent Plant Pots
One of the benefits of ceramic plant pots is that they allow water and airflow at the sides. This will result in root development bringing you better and healthier garden plants.
Any collection of succulent plants will feel at home with this set of ceramic pots. Just look at those colors!
3. White Ceramic Indoor Planters with Gold and Grey Detailing
In this case, your potted garden will look elegant with these gold and grey indoor planters. These decorative pots do not have holes. Thus, be careful not to overwater.
In situations that you feel you over-watered, tilt the pot gently and let the extra water flow. Just not on the carpet or windowsill!
4. Macrame Plant Hanger Indoor
Limited garden space is not an issue when you use these plant hangers. The material is 100% cotton, making it biodegradable and environmentally friendly.
With this kind of set-up, remember that plants quickly dry out so don't forget to routinely water them.
5. Glass Hanging Terrariums
Again, a modest space should not prevent you from having a garden. To solve the problem of space, try a hanging terrarium.
These hanging planters for terrariums will display your plants beautifully. Like the previous sample, don't forget to water your plants regularly to prevent drying.
Tip: These hanging terrariums are specially nice for spaces that have limited area to sit pots. You can simply hang them from other things.
6. Designer Hanging Orchid Pots
This handmade hanging pot will look fabulous both inside or outside your home.
Although it looks like wood, it is built from plastic which does not soak up water–a feature that is a huge benefit for those who can't water their plants regularly!
It isn't easily weathered either which is another plus. Other designs are available if you don't particularly like the color red.
7. Hand-Painted Terracotta Geometric Pattern Plant Pot
Apart from applying a fresh coat of paint, you can also decorate pots with your favorite design. This clay pot with a geometric pattern is a good example.
The pot's material is terracotta, which allows air and water circulation within. With it, you can avoid root rot.
Idea: If you prefer, you could always buy a plain terracotta pot and paint it yourself. This is a great family craft for those with children and can serve as a gift idea as well.
8. Wooden Indoor Wall Planter for Hanging Garden
Not every suspended pot has to hang from the rafters. Take this wall planter for example. It's incredibly crafty, right?
With this setup, you can prevent your plants from getting damaged even if you have mischievous pets or rowdy kids. Just put 3 to 4 of them beside each other and you instantly have a vertical green wall!
Not sure how to hang potted plants on the wall? Most come with instructions, but there are lots of Youtube videos on the subject. It's really no more difficult than hanging a heavy mirror on the wall.
9. Hanging Handmade Macrame Plant Hanger
Searching for something eco-friendly and rustic to hold your plants? Take a look at this Macrame plant hanger.
Choosing something like this enables you to help the environment by using safe and friendly materials.
10. Modern Face Planter
A lot of times we assume that plant pots need to be old-fashioned to have an authentic look, but that's far from the truth. You just have to find the right set.
We love the vertical planter above for contemporary spaces. Not only will it help your indoor plants sprout, but it can spark conversation at the dinner table.
11. Geometric Storage Basket Plant Pot
A lot of people are surprised to learn that baskets can be used to hold indoor plants. This storage basket is both clever and stylish with its geometric design.
Tip: When using baskets, you'll need to take out your plant to water it or put-in a drip tray.
12. Terra-cotta Hand Painted Pot
If you adore art deco items, then by all means fill your potted garden with a hand-painted terracotta plant pot.
There are plenty of designs to choose from in this style, all of them the complete opposite of boring!
13. Extra Large Cylinder Pot Mid Century Modern Planter
Another classic entry in our list of plant pots is the mid-century modern planter. The size of this pot is extra-large, meaning you don't need to water frequently. Besides this, with a larger pot, your plant can develop a better root system.
We love this one for two reasons: its shape and color. You can use it in just about any space or setting.
14. Colorful Indoor Plant Pot
Artistic gardeners will certainly adore these colorfully creative plant pots. Instead of the usual neutral paint colors, these brightly-hued pieces make for fun options. If you're into coastal decor, they'll be an even better fit.
They only real choice with this one is which design you'll choose. We love the marigold!
15. Family Vase Plant Holders
One of the most unique finds on Etsy, we adore this set of human face potted plant holders. They're so interesting that it's hard to take your eyes off of them. When buying, you can choose one, two, or the whole crew.
Although these do ship from China, most buyers have found that they come quickly and are of great quality.
Remember, you can buy them individually or as a family set. So you can start small and then add to your collection.
16. Brass Large Indoor Planter
Let's face it, some people just aren't into bright colors. If you're more of a metal person or prefer to decorate with metals, here's a planter for you.
You could buy several of these and position them around the room. That way you can cheer up your living room or kitchen with greenery.
17. Matte Black Ceramic Plant Pot with Stand
With this type of pot, you can place your plant anywhere without clashing with other shades in your home. It specifically stands out when placed on an individual stand. Black plant pots look great with snake plants inside.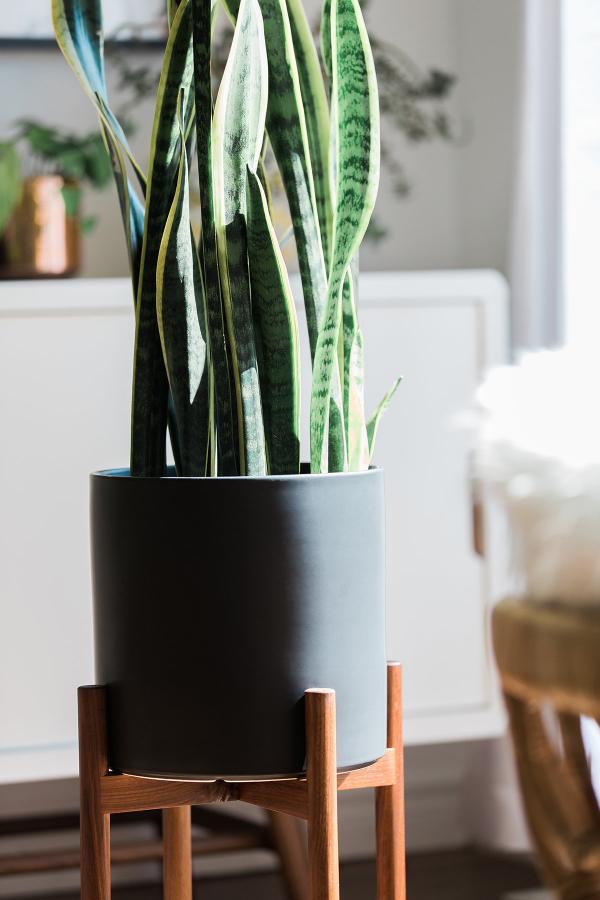 If you like the shape but not the hue, don't be afraid to try out other colors.
18. Wooden Orchid Baskets
On the contrary, gardeners who prefer a woodsy vibe for their potted garden can either build their own or purchase wooden baskets like these.
You'll be happy to know the materials used in this basket are recycled. Likewise, you can either hang your plants in this wooden basket or just position it on your porch.
One of the best things about these planters is that the water will be able to run and you won't have to worry about the soil becoming too soaked, which is perfect for vegetables or potato plants.
Plus, the wood look gives it a real rustic feel.
19. Plastic Geometric Planter Feng Shui Decor
Plant enthusiasts who are searching for mini pots they can safely place on their work table at home or beside the window can pick these round plastic pots.
As mentioned earlier, plastics do not absorb water. Hence, the soil will not quickly dry out.
The shape of these makes them a super contemporary pick, but you won't have to worry about them being broken like with clay or ceramic pots.
20. Handmade Succulent Concrete Planter Pots
These solid concrete plant pots are for sure worth to hold your precious succulent set. As seen in the picture, the design is minimalist–perfect in highlighting your lovely plants.
What's more, these plant pots have anti-pads on the bottom, preventing them from sliding anywhere you place them.
The shop that makes the plant pots above is top-notch and has over 4,000 sales, so you don't have to worry about quality.
21. Recycled Wine Bottle Planter
According to research, a glass of wine is good for your health. If you have a collection of wine bottles, why not recycle them and put them to good use like these wine planters?
With this arrangement, the plant is self-watering, making its upkeep very simple.
22. Large Chicken Succulent Planters
Cluck, cluck. Setting up your potted garden should not be boring work. Indeed, gardening can be fun most especially when you own these succulent chicken planters.
The material used in this planter is sturdy porcelain. What's more, when you purchase this product, it comes with a card with tips on how to care for your plant.
And they're just super cute, right? Farmhouse style is super "in" right now and these are the perfect plant pot additions.
23. Caramel Cecilia Planter
On the other hand, if your work table at home can't handle the weight of solid containers, choose this cute ceramic pot.
The perfect pick for you if you're a "selfie' lover!
24. Large Splatter Ceramic Plant Pots
While most people choose cute little ceramic pots, you can opt for a large ceramic pot to include in your potted garden. This particular pot is handmade so you can be sure each design is unique.
With ceramic's tendency to absorb moisture, this plant pot is a safe defense against mild overwatering.
25. Concrete Windowsill Planter
Last in our list is this concrete planter box. It's perfect if you're hunting for a solid and dependable container you can place in a veranda or deck.
It has drainage holes at the bottom ensuring your plants will flourish.
Plant Pots Inspiration and Ideas
You've probably come across at least one or two interesting plant pots by now. But take a look also at some DIY plant pot ideas.
26. 5-Gallon Plant Pot
If you are aiming for symmetry in your potted garden, you can use the traditional brown or black pots.
Although it might look a little plain at first, throw a little rope around it and, voila!
27. Piano Plant Pot
Do you love classical music? Show your artistic side by transforming an old pot into a piano pot. You just need paint!
If you're not into music, there are tons of other designs you could paint instead.
28. Ceramic Plant Pots
Planning on positioning your potted garden indoors? Try ceramic pots.
The designs are so simple and straightforward, there's no doubt you could paint these yourself.
29. Plastic Plant Pots
Although plastic pots can easily deteriorate, you can spray paint them to give them a new life.
Choose bring colors and add some dots for effect!
30. Mason Jar Plant Pots
While you prepare to paint some pots, you can put your mason jars to good use as decorative pots.
Almost any jars will do, so make sure to recycle as many as you can!
31. Tall Plant Pots
You never have to worry about those back problems with these sturdy and tall plant pots.
If you're handy with wood, you can make your own and adapt the design to your taste.
32. Clustered Plant Pots with Support
Specifically, pots can come in various colors, shapes, and materials. You can place a variety of flowers and plants in it and it will always look invigorating.
Of course, adding a plant support to the pots can make your outdoor area pop even more.
33. Modern Large Plant Pots
Have oversized plants in your backyard? Make the greens standout with these large white plant pots.
The only thing to consider with large pots is whether you have enough plants to fill them. Often, it's better to buy larger than too small!
34. Rice Basket Indoor Plant Pots
As mentioned earlier, you don't need to stick to the usual pots for your garden. See how this rice basket works as a plant pot?
You can find cheap versions of these at Walmart or dollar stores. You might even find them used at a thrift store.
35. Cheap Plant Pots Made from Collanders
You can likewise use your extra colanders in the kitchen as your plant container. This is one of our favorite ideas.
But of course, the dripping water could be a problem if these are stored indoors.
36. Garden Pots
Not wanting to buy something new? If you have old pots lying around, you can spruce them up with a fresh coat of paint.
You can find paint suitable for just about any type of plant pot material, including plastic or clay. Just make sure to read about the paint properties or ask the seller.
37. Mixed Size Gardening Pots
For those with ample space, you can for sure mix and match various plant pot sizes and shapes. We love the design below because it includes lots of different elements.
Adding bricks and stones into the mix makes it even more interesting.
38. Durable Small Plant Pot
If you want a container that is not too bulky, look for one like this.
Although it looks small, it can hold a large plant or even a small tree.
39. Disney Inspired
When kids catch a glimpse of this red and black pot with white polka dots, it'll definitely remind them of Minnie Mouse.
Disney inspired pots make for great pieces because everyone loves a good story. These can be used in both kids' rooms and living room.
40. Texture Clay Plant Pot
A texture clay pot adds a nice rustic feel to your potted garden.
Its neutral color makes it perfect for any space, especially the bedroom. Mix with a few other neutrals for a great look.
41. Orchid Flower Plant Pot
If none of the other pots sparked your interest, we have one last idea for you in the form of a silver pot.
Or you can try other shiny metal pots. Your call, really!
Gardening in Plant Pots: A Few Tips
By this time, you must have an idea of the type of plant pots you want to purchase for your garden. Nonetheless, here are a few tips on how to select your pot.
Size of Pot
First of all, note that it's better to cultivate your plants with sizable pots rather than with small ones unless you're choosing succulents.
With large pots, you can place more soil and, as a result, your plants or flowers will retain moisture much longer. Also, large plant pots can better withstand drastic temperature changes.
Remember this if you decide to use little hanging baskets as pots and make sure to water them at least two times a day to prevent them from drying.
Type of Plant
Another key point to weigh in is to determine what kind of plant you want to cultivate in each of your pots.
Different plants require different containers. Check out our guides on growing flowers to learn more.
Position
Another important thing is where you will position your potted garden. Will it get enough sun? Is it shielded from the wind?
Depending on the answers, some types of pots may be better than others. For example, large, heavy pots won't be disturbed by the wind.
Plastic ones, by contrast, may become damaged by UV exposure,
Plant Pots Frequently Asked Questions
Plant pots are small things that you can find just about anywhere. And yet we often hear lots of questions about them.
We put together a list of the most frequent questions we hear about them. Discover the answers below.
Start Growing Your Potted Garden
A nice plant in a nice pot? It's a match made–if not in heaven–then at least in your potted garden!
The right pots are more than a question of style: they can help keep the plant healthy and fan your passion for gardening.
That said, don't forget that your plants and flowers, whether they are in a typical garden or in plant pots, need proper care, and that requires time and a committment on your part.
Don't forget to water your potted garden on a regular basis and remove weeds and dried leaves.
To ensure your potted garden looks at its best, separate and rearrange plants or pots that clash or don't blend well.
Now over to you.
Has any of the pots we shared with you caught your fancy? Drop us a comment and let us know.
And if you enjoyed this post, don't forget to share it on social media.
Until next post!