Plants, trees, vegetables, fertilizers, gardening tools, outdoor furniture, landscaping services – garden centers offer all of these and more, all in one place so you can get them when you need them.
Where you get your gardening supplies matters. Some garden centers offer a lot more choices than others and can help you get creative without spending a fortune. What's more, they can provide valuable advice and professional services that come in handy.
Having a garden center you can trust will make your life as a gardener not only easier but also more pleasant.
We value garden centers, so we thought it useful to put together a list of the ones you must know. Read on to discover them!
Best Garden Centers for Gardening Supplies and Tools
What makes the difference between average garden centers and great ones? Usually it's a mix of factors including years in business, range of products and services provided, value, and of course, the human element.
The best garden centers are places you can go to not just for plants and garden supplies but for valuable advice you can trust.
Explore now some of the best garden centers across states. Many of these have complex facilities and grow their own plants which are acclimatized to your region.
One of the best garden centers for gardening supplies and tools in Texas is Calloway's Nursery. With over 22 stores that currently operate in Texas, they provide convenient access to high-quality plants and useful garden services.
They are more than just a nursery. Through 30 years of deep-rooted experience, they have become a resource for both installation and landscaping design projects.
Home of the largest enclosed garden center in both Washington, Baltimore D.C., and Davidson, Maryland.
If you are looking for the largest selection of shrubs, trees, annuals, and perennials, look no further as this garden center amazes you with its collection. You can also find garden accessories, furniture, gifts, and decor.
Open since 1982 with greenhouse gardens built in the 1960s, Tagawa Gardens not only offers garden products but also shares gardening education.
Check them out today and join their dedicated community of gardeners.
The founders of Oakland Nursery opened the business in 1940 in Maize Pike, Columbus, Ohio, followed by retail complexes in Delaware in 1990, Dublin in 2005, and New Albany in 2011.
If you are looking for a nearby garden store center that not only offers horticultural products, but also designs and installs landscapes, irrigation, interior-scapes, and plants, be sure to check them out!
You can find eight Mahoney Garden retail locations in Winchester, Concord, Tewksbury, Falmouth, Brighton, Chelmsford, Osterville, and Woburn.
Offering the largest locally-grown high quality garden plants, products, and services, they are surely going to satisfy your home gardening and professional landscaping needs.
In 2014, the Garden Center Magazine has rated Meadows Farms number 1. They have over 20 retail locations in operation in the Washington Metro area.
Currently, they are the only local design and build company who offers free landscape planning. Not only that, they also place lifetime warranty on all plants they install.
With over 80 years in the business, Stauffers of Kissel Hill continues to prosper in Central Pennsylvania.
Their Home and Garden stores offer shrubs, trees, pond products including water plants, lawn and garden products, and home and gift boutique goods. They also have landscaping design tools and supplies.
The founders of ALS Garden Center opened doors in Woodburn, Oregon, in 1948. Today, it is an independent garden center in Willamette Valley offering an extensive selection of plants, garden accessories, plant care essentials, home decor, and outdoor furniture.
Al's Garden & Home is a third generation owned-and-operated local business. Established in Woodburn, Oregon in 1948, Al's is now the largest full-service independent garden center in the Willamette Valley.
Through its four retail stores, Al's provides an extensive selection of plants, plant care essentials, garden accessories, outdoor furniture, and home décor.
With over 140 years of experience to back it, Russel's Garden Center offers house plants, succulents, fresh-cut flowers, flower bouquets, vegetable and flower seeds, garden supplies, bird feeders and houses, and decorative pots and planters.
Finding all of these in one place can save you serious time and make DIY garden project a lot easier.
You can find the Petitti Garden Centers in nine locations around Northeast Ohio, in Akron-Canton, Cleveland, and Younstown. While they are not as big as other competitors in town, they outperform them through excellent customer service and always exceeding expectations.
The garden center offers high-quality climatized annuals, perennials, shrubs, trees, and indoor plants, perfect for the weather in Ohio. They also have a curated collection of patio furniture, home decor, and more.
A family-run garden center, Harold Watters founded the business in 1962 in an old bowling alley, and has moved to Iron Springs Road in 1983.
Today, the garden center is run by his daughter Lisa Lain. With over 50 years in the business, the shop now provides gardening needs to aspiring gardeners in Arizona. The shop offers garden consultations, personal garden shoppers, and a digital nursery shop!
In 1990, the founders of RSC Landscaping finally launched the innovative garden center for people to easily find unique local plat selections.
They knew the needs of the landscaping industry and made sure their garden center was able to fill the needs of landscapers, wholesalers, and homeowners. Today they also provide gardening classes.
From a small garden center in 1986 to the destination garden center in Harbor Country, Sawyer Home Garden Center has become an integral part of the local community.
More than fulfilling your essential gardening needs, this garden center provides some of the best locally-grown fresh produce.
Its wide selection of goods ranging from high-quality trees, houseplants, and perennials to fertilizers, tools, and outdoor furniture makes Hicks Nurseries indisputably the largest nursery in Long Island.
Founded in 1853, Hicks Nurseries is constantly upgrading itself—with new ways of imagining the plants in your home to designing or building your landscape.
Breeze Wood Gardens is not just a floral shop—it is also your go-to nifty boutique and a gift and home décor store. A family-owned community business since 1976, it is located in Bainbridge.
It offers you a bountiful garden along with landscape designing and building services and lawn maintenance.
Walk into this store in Metro Detroit to bedeck your garden and your patio with the choicest flowering and tropical plants and furniture. Providing you with gardening supplies and landscape design and installation so you can garden with ease.
English Gardens can also be your ideal place to shop for Christmas trees and decorations.
One of America's largest independent retail nursery companies, SummerWinds Nurseries is located in Boise, Idaho.
Here you'll find a huge variety of high-quality plants, garden décor, environment-friendly fertilizers and outdoor living merchandise.
Countryside Flower Shop dates back to 1960 in McHenry County, Illinois. Based in Crystal Lake, it houses plants and vegetables, gardening tools, fertilizers, greenhouses, pond supplies and bird feeders.
Its versatile landscaping team can help you transform your basic garden into a beautiful landscape.
Started in 1980, TLC Garden Centers has now grown to expand into a second store in Northwest Expressway in Northwest Oklahoma City.
It includes a nursery, greenhouse, landscape retailers and horticulture production. Known for supplying high-quality plants at reasonable prices.
Its roots run forty years down the lane in Chicago. Located at the border of Edgewater and Andersonville, Gethsemane is community-centered.
This family-owned garden center supports local farms and greenhouses. It provides a varied collection of plants and caters to the needs of the community.
Shelmerdine Nursery has been Winnipeg's most reliable nursery and landscaping firm, ever since it was founded in 1937 in Charleswood. It was shifted to its current location in Headingley.
It provides high-quality plants, gardening products, and landscaping services.
Since its inception in the 1860's, Wiegand's Nursery has been a family-owned and operated nursery.
Now situated in Lenox Township, it has scaled up to a 700-acre area with more than 500 varieties of trees and shrubs and more than 600 varieties of perennials.
This family-owned and operated agri-business started in 1973 is a choice local nursery destination in Florida.
It also branched out into a corporate office, the Butterfly Encounter in 2004, and a modern greenhouse in 2014.
Set up in 1954, by Robert Sullivan and his wife, Rita the store is currently located in 71st and Keystone.
As a member of the Do It Best Corp, Sullivan Hardware and Garden enters into the competition with the bigger stores by offering attractive prices.
Valley View Farms began as a small roadside operation in 1962. Located in the mid-Atlantic region, its produce varies with every season.
From a huge selection of trees, annual flowering plants, and vegetables in spring to being a Christmas wonderland for shoppers and a water garden—it offers all!
Established in 1967, Northern Nevada's Moana Nursery has flourished in two locations in Reno, in Moana Lane, Virginia Street, and Pyramid Way.
Each location tries to fulfill unique needs by offering a rich selection of trees, "rock" products and flowering and ornamental plants according to Northern Nevada's climate.
Since 1959, family-owned Echter's Nursery and Garden Center in Colorado offers you a novel shopping experience.
Its 2500 unique varieties of flowers, trees, shrubs, houseplants and an admirable choice of patio furniture make it a worthwhile destination.
In 1960, Rockledge Garden was launched as a roadside stand by Harry White and his wife Mary.
In sixty years, it has developed into an immensely substantial garden center, in fact, the largest in Brevard County.
Above a hundred years old, the Hertler family's Downtown Home and Garden has been around since 1906.
Located in Ann Arbor, it encompasses just about everything. Seasonal and weekly plants, apparel, enduring dog gear, fine collection of housewares, exquisite kitchenware—you name it!
Initially known as Tollgate Nursery, William Wannemaker's business in Ogden Avenue, Downers Grove, was launched in 1967.
Wannemaker's went from being a home center supplying lumber and hardware to being a store for outdoor gardening, patio furniture, and gifts and decor.
Smith's Gardentown Farms of Wichita Falls, Texas is a family-owned and operated business. Its roots as well as its reputation can be traced to over 70 years in time.
Founded by C.O. Smith, Sr., it has continued to be a reliable garden center since the 1940s.
Dickman Farms was founded in 1903 and continues to bloom both as a wholesale and retail business in Auburn, New York.
Being both wholesale and retail, it provides a large variety of selected plants to its customers.
In 1982, John and Helen Martin Martin's Home & Garden in Tennessee expanded quickly to branch into the retail garden center and nursery on Broad Street.
With its wide range of plants, it has you covered for any occasion—be it a wedding or even Christmas.
Michael Ruibal laid the foundation of Ruibal's back in 1984 which now produces the best quality bedding plants in Dallas.
It has now opened up in White Rock Lake and Lemon Avenue as well. It also serves pottery, perennials, planting services and deliveries.
This garden center was founded in the 1950s as Mulhall's Landscaping & Lawn Service by John Mulhall and his wife Maureen.
A family-owned business, it's dedicated to beautifying Omaha with horticulture and also embellishing its landscape.
For over 20 years, Patuxent Nursery has been a landmark in Maryland for both experienced gardeners and beginners.
It offers you a blooming variety of flowers, grasses, trees and shrubs.
Since its birth in 1932, Bayport Flower Houses in Bayport have been nurtured by the Auwaerter family.
It started by selling carnations, but over 89 years, it has prospered into a retail flower shop and garden center.
Since its establishment in 1951, by Don Hillermann, Hillermann Nursery has only been growing.
It offers a wide range of services like a gift shop, landscape design, grading and seeding to maintain your landscape, aquatic weed control and snow removal.
Set up in 1925 by Lynn Jay, Wasco Nursery & Garden Center has now grown from its specialization in hardy trees to incorporating more departments.
With a state of the art greenhouse, a retail garden center, and a gift store, it's a must check for Wasco locals. Also offers landscape design and installation services.
Started 15 years ago, Scott Endres and Dean Engelmann's Tangletown Gardens is not a typical garden center. It is Minneapolis' trailblazer of the new garden center.
With its creative leap of thought, it may change the way you see retail stores, landscape designing, nurseries and garden centers.
A family legacy that goes back 95 years, D.C.'s American Plant has provided a touch of newness in landscape design, build and maintenance, and as an organic garden center.
More recently, this garden center has also evolved into Tinge—a lifestyle boutique.
Set up in 1991, DeWayne Lee's pumpkin patch gradually developed into "DeWayne's Country Garden" by increasing its production of pumpkins.
It has something for every season—pumpkins and mums in fall, fresh produce in spring and summer. Plus, a wide range of plants and garden decorations.
Tallahassee Nurseries has been Tallahassee's central focus since 1938.
As a garden center, flower and gift shop, and greenhouse, Ruth and Eugene Ellis' nursery has certainly been a boon to Tallahassee.
Located in Georgetown and now also in West Newbury, Nunan Florist & Greenhouses offer plants that are grown in their greenhouses, making them hardier and more adaptable than others.
From a small florist shop in 1917, it has grown into a landscaping business, plant rental, and interior plantscaping service.
The Cornell Farm in the West Hills of Portland has established itself as the finest provisioner of beauty since 1987.
With 800 varieties of annuals and perennials, gardening equipment, fountains and statuary, this garden center sure offers a lot.
Launched in 1980, Madison County's Plow and Hearth is not just limited to the garden but makes its way into your home and hearth too.
Be it gardens or gifts, Plow and Home is the solution for everything—adorning indoor and outdoor rooms, weather instruments, and even pets.
You don't always need to till your land to make it better. Alleviate your garden with the latest hydroponic supplies from the very best, Monster Gardens.
This online company located in Sonoma County, California, makes gardening not just more innovative but also easier.
California's Plant Express delivers your future garden right at your doorstep.
With over 2,400 varieties of plants and trees, you can fill your garden with the choicest perennials, shrubs, and succulents.
Wayside Gardens was founded by the joint efforts of Jan Jacob Grullemans and Elmer Schultz in 1920.
It is South Carolina's top provider of garden ornamentals, container and bare-root plants and quality plants and bulbs.
Bringing innovation and exciting plants to the seed market since 1881, Burpee continues to provide a rich catalog of products.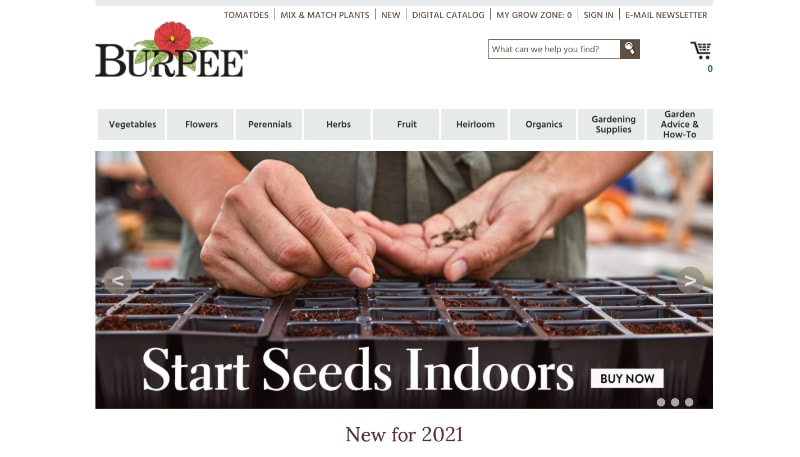 You'll looking at one of the most comprehensive and well stocked garden centers around.
Not your average gardening center supply store, Aero Garden is the ultra-modern garden that you can grow right on your kitchen table.
Get fresh produce all the time with this in-home garden. With no need of herbicides, pesticides or sunlight—gardening is now a piece of cake!
Bring some Garden Beauty Home
Whether you are just starting out or already an experienced gardener, with our list of the best garden centers, gardening will be an easier and more enjoyable experience.
Just make sure to check the opening hours and have a look at the product catalog before you head to your garden center of choice. That will make it easier for you to pick the right items for you.
Of course, that doesn't mean you shouldn't allow yourself to be surprised. Garden centers can have a bit of a magical feel to them, and wandering through one is a great way to spend a few hours.