Succulents are a modern gardener's best friends. And rightly so. They come in a fascinating assortment of shapes, sizes, and colors. Oh, and just about anyone can grow them!
Succulents store water in their fleshy leaves and stems, so they will hang in there even if you fail to water them on time.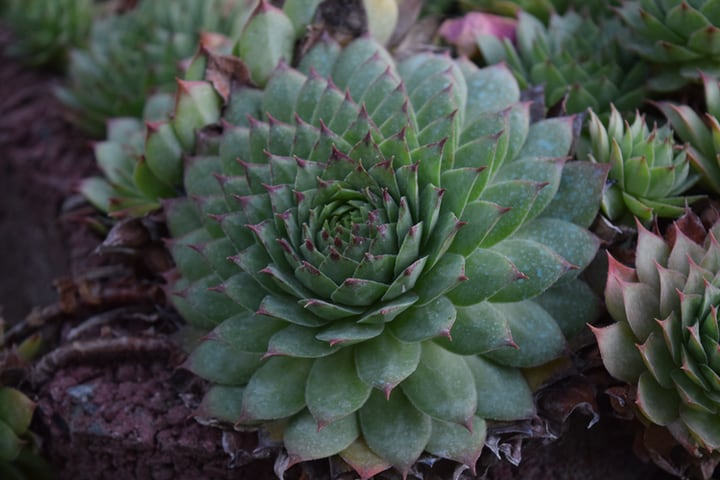 You can add a bit of tropical greenery to your living room with succulents, or plant them in the garden to create an exotic desert landscape. You can also easily grow them in a terrarium and jarrarium too.
Whether you're a gardening rookie or a master flower grower, read on to learn more about the various types of succulents and discover which one's for you.
How Many Types of Succulents Are There?
There are over 10,000 types of succulents worldwide. They come in many exotic shapes and diverse forms. So, you have loads of options to choose from!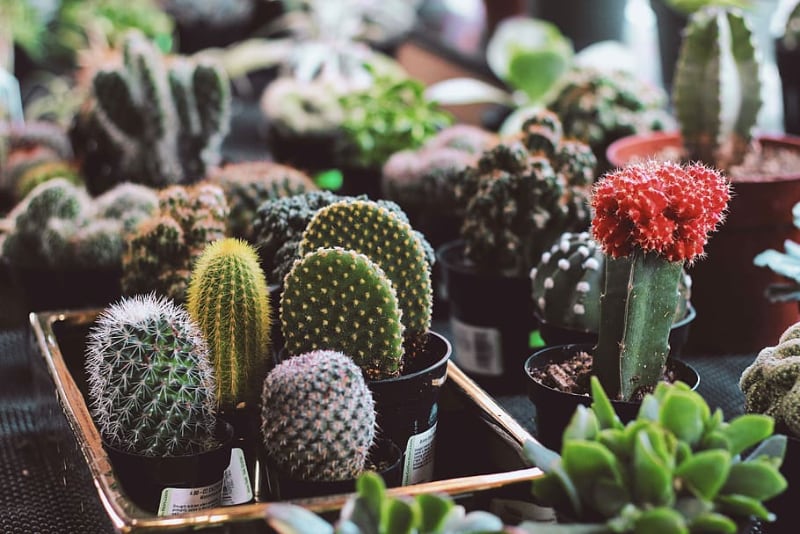 Succulents have a low-maintenance, hardy nature. Whether you plant them in your garden, indoor pots, or terrariums, you don't have to worry too much about their care. They can instantly add more vibrance to any space. Plus, they last for a very long time, with some varieties living for over a hundred years.
But because there are just so many types of succulents, choosing the right ones for your needs can seem like a challenge. Which ones to plant in terrariums? How to plant them indoors? How much water do they need? Will they flower in the summer?
Popular Types of Succulents
Many succulents are popular among gardening lovers. Because of their ever-growing demand, nurseries and online stores are putting on display a wide array of plants to choose from.
You can find everything from long and fleshy to barrel-shaped succulents. There are also some edible options, like the common glasswort.
Take a look at these popular types of succulents to find the right ones for you.
Indoor Succulents
Indoor succulents thrive in dry, warm air. Show them plenty of sunlight, water them once a week, and you are good to go.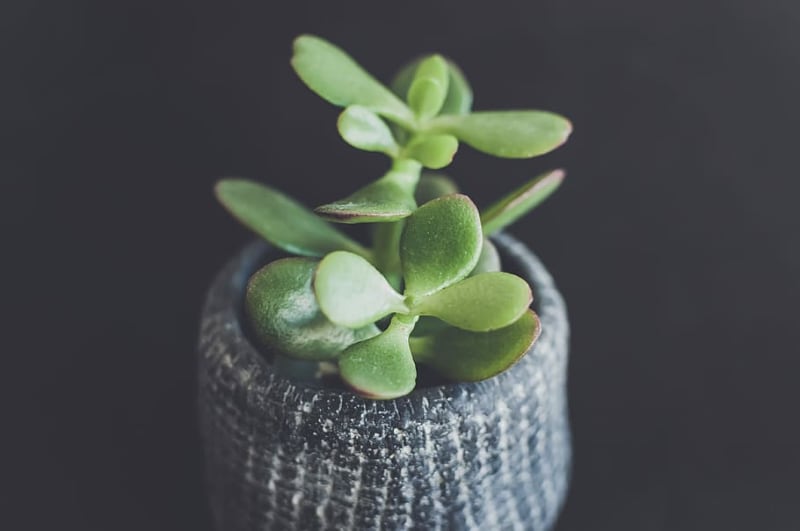 Popular indoor succulents include Jade Plant (Crassula Ovata), Aloe Vera (Aloe Barbadensis Miller), Common Glasswort (Salicornia Europaea), and the Zebra Plant (Haworthia Fasciata).
Outdoor Succulents
You can plant outdoor succulents directly in the ground or grow them in a stone or terracotta container.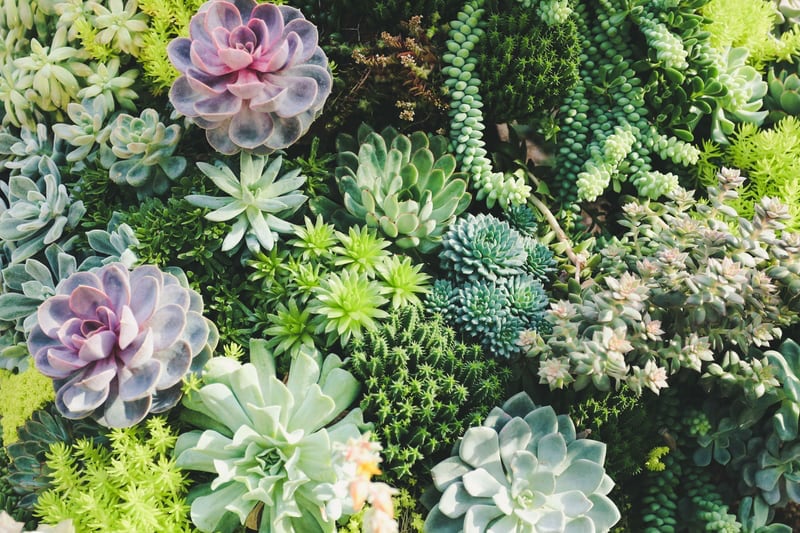 Popular outdoor succulents you can easily grow your garden include Hens-and-Chicks (Sempervivum Tectorum), Stonecrop (Sedum Spp.), Whale's Tongue Agave (Agave Ovatifolia), and the Torch Plant (Aristaloe Aristata)
Cacti
Cacti are fleshy plants that store water, so they are quite often grouped with succulents. But not all succulents with thorns or spines are cacti. For a succulent plant to be considered a cactus, it must have areoles, or small bumps out of which grow spine clusters.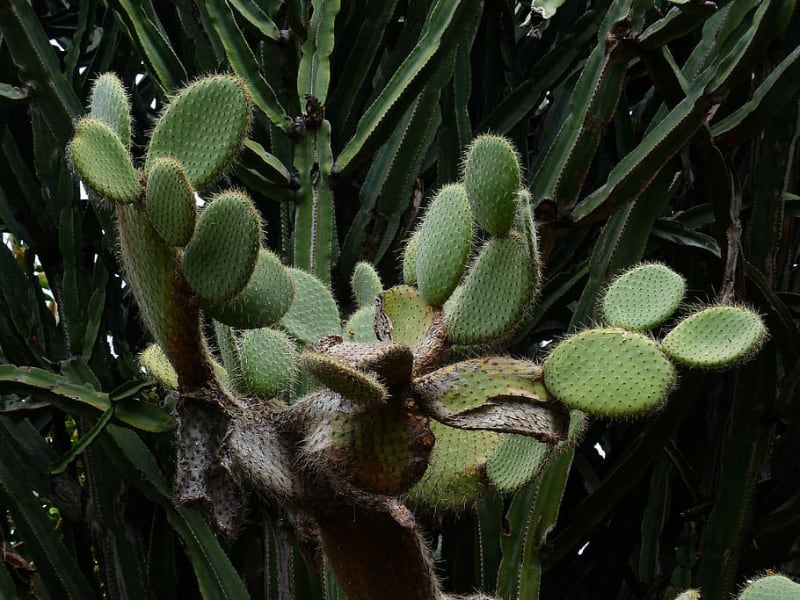 Popular cacti you may want to plant at home include Bunny Ears Cactus (Opuntia Microdasys), Star Cactus (Astrophytum asteria), Saguaro Cactus (Carnegiea Gigantea), and the Rat Tail Cactus (Disocactus Flagelliformis).
Plants
Succulent plants have distinctly swollen leaves and stems. You can also identify them from their wide roots that help them absorb water in areas of infrequent rainfall. Succulent plants thrive in warm and dry regions with well-draining soil. But some can also withstand cooler or even downright cold temperatures.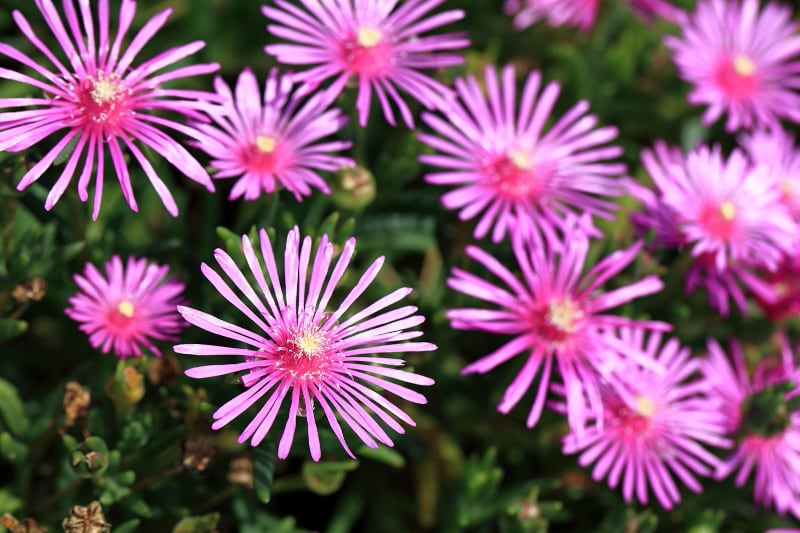 Popular succulent plant varieties include the Ice Plant (Aizoaceae), Moss Rose (Portulaca Grandiflora), Roseum (Sedum Spurium), and Zwartkop (Aeonium Arboreum).
Mini Succulents
Some mini succulents are baby plants while some are naturally small in size. They are perfect for little gifts and favors. Or you can plant them indoors for minimalistic decor.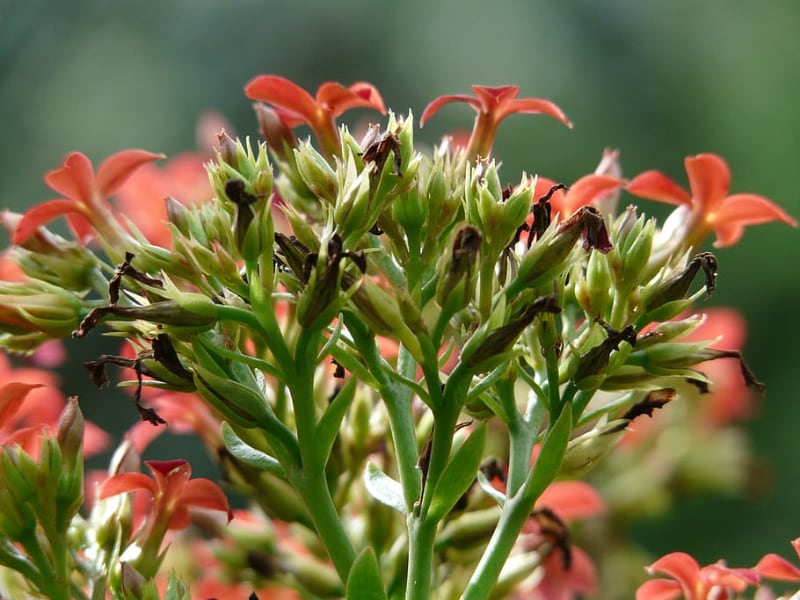 Succulents that are just perfect for mini containers include Flaming Katy (Kalanchoe Blossfeldiana), Pincushion Cactus (Mammillaria Crinita), Panda Plant (Kalanchoe Tomentosa), and Living Stone (Lithops Marmorata).
Tall Succulents
Some succulents, like the snake plant and firesticks, can grow very tall. They can lend a bold statement to your garden, and also make any corner of your house stand out.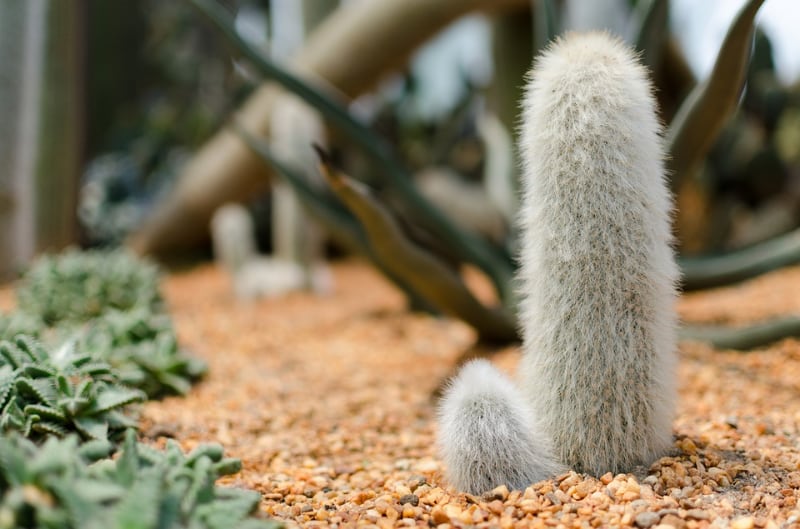 Popular tall succulents include Crown of Thorns (Euphorbia Milii), the Snake Plant (Sansevieria Trifasciata), the African Milk Tree (Euphorbia Trigona), and Old Man Cactus (Cephalocereus Senilis).
Best Types of Succulents for Indoors
Give your indoor space a green makeover by planting some easy-to-grow succulents. These plants adapt well to the cozy confines of the indoors.
They can add life to any dull corner without extensive maintenance. Plus, these plants purify the air and create a healthier living space.
Tip: Water your succulents sparingly, provide them good drainage, and show them enough sunlight. They will do wonderfully indoors.
Now let's look at some of the best types of succulents to grow inside.
1. Burro's Tail (Sedum Morganianum)
Burro's tail is a heat and drought tolerant plant. It has plump, burrito-shaped leaves that can grow up to 2 feet long. The succulent makes for an excellent hanging plant.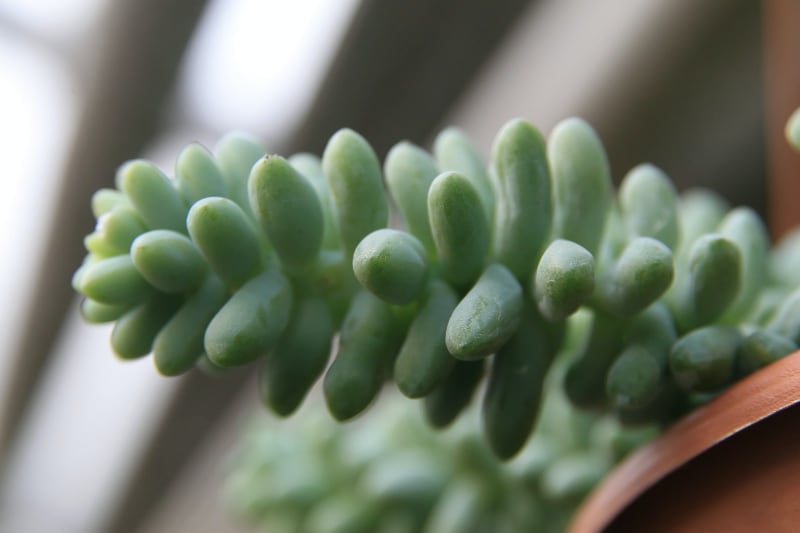 Tip: Burro's tail has delicate leaves that fall off at the slightest touch. Place your plant where there will be minimal disturbance.
2. Zebra Plant (Haworthia fasciata)
The Zebra plant features striking stripes of white on dark, evergreen leaves.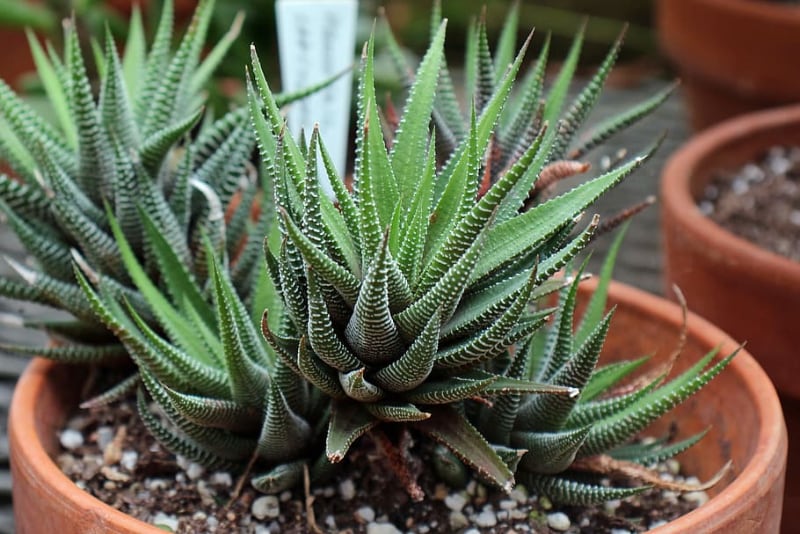 The plant stays small, making it a great choice for terrariums.
3. Aloe Vera (Aloe Barbadensis Miller)
When it comes to indoor succulents, aloe vera is easily one of the most popular choices. It has fleshy, pointed leaves that are usually gray-green.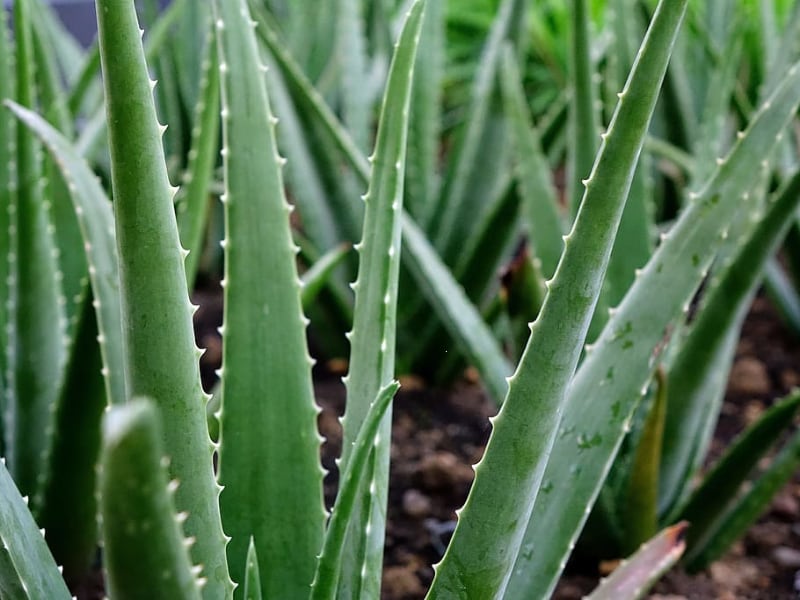 Tip: You can use the sap of aloe vera as a medicinal gel for your skin.
4. Jade Plant (Crassula Ovata)
The Jade plant is one of the most care-free succulents to grow indoors. It has thick, shiny, dark green leaves. The plant makes small pink or white flowers in summer.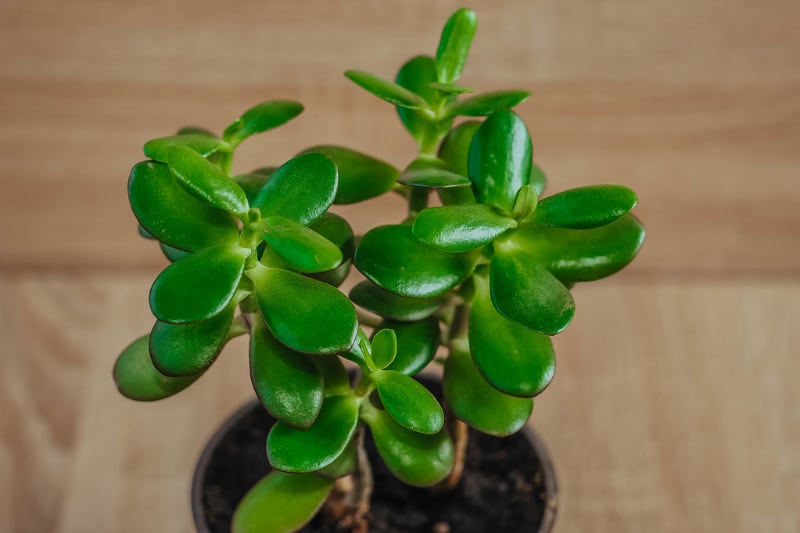 Fun fact: The plant is also called "money plant" or "lucky plant." Many grow it in their homes as a symbol of luck and good fortune.
5. Common Glasswort (Salicornia Europaea)
Common glasswort has long, fleshy, branching stems that can sometimes form a big, green carpet. The plant is also known as "marsh samphire." You can find it growing in salt marshes and beaches.
Tip: You can eat this plant like any other veggie. You can also make tasty pickles using the stems.
6. String-of-Pearls (Senecio Rowleyanus)
This trailing houseplant resembles green pearls threaded along a string. Get the aesthetics right by growing it in hanging vases. It blooms tiny white flowers with a scent like cinnamon.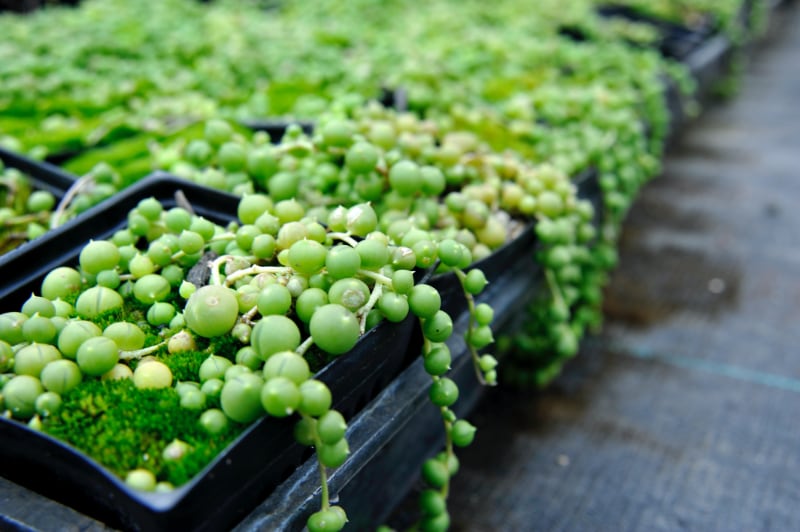 Note: This plant grows during winter and is dormant in summer.
Indoor Succulents to Buy
This assorted collection of a dozen types of succulents includes aloe vera, jade plants, common glasswort, and many other indoor succulents. It will add greenery to your home without the labor that most other plants require to thrive. It can also be a great gift.
Best Types of Succulents for Outdoors
Want to make your garden stand out? You can design a succulent garden if you live in a warm and dry region. But before you add that desert vibe to your green space, it is important to know which succulents do well in the open.
Take a look at these easy-to-grow, drought-tolerant plants for the outdoors:
7. Hens-and-Chicks (Sempervivum Tectorum)
This is a low growing, evergreen succulent that looks like a rubbery rose. It is an easy-to-care-for plant that's perfect for novice gardeners.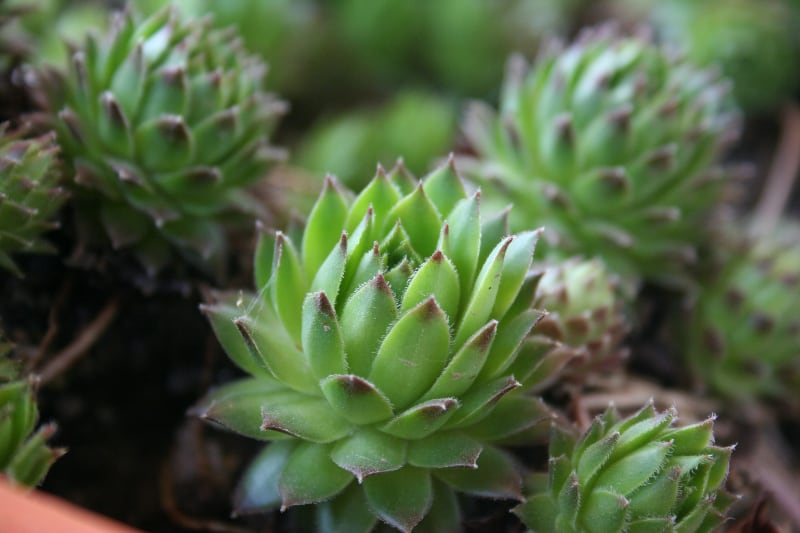 Fun fact: Mature plants can produce star-shaped mauve, pink, or red flowers.
8. Stonecrop (Sedum Spp.)
Stonecrop has fleshy, cylindrical, or flattened foliage. It comes in a variety of colors—bright green, pink, silver, and blue.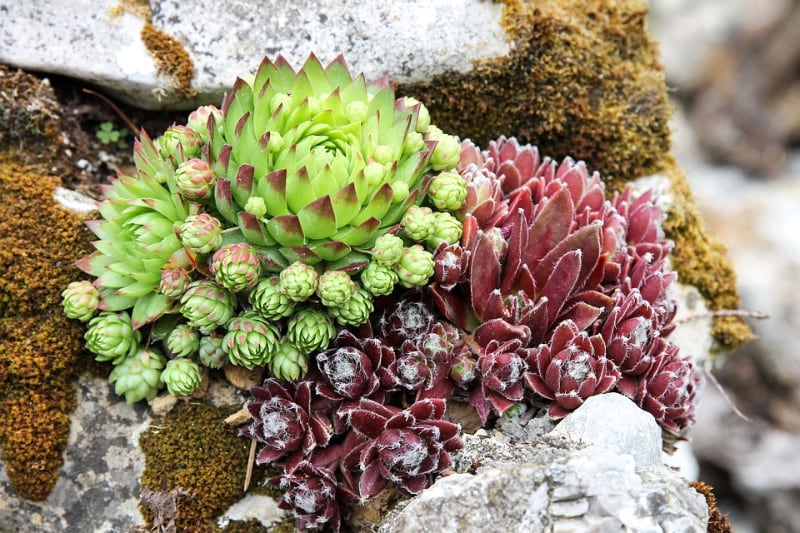 Warning: Sedum is toxic if ingested and it can irritate the skin.
9. Plush Plant (Echeveria Pulvinata)
The plush plant has velvety foliage densely covered in silvery-white hair. It grows only about a foot high and sprawls to several feet in width.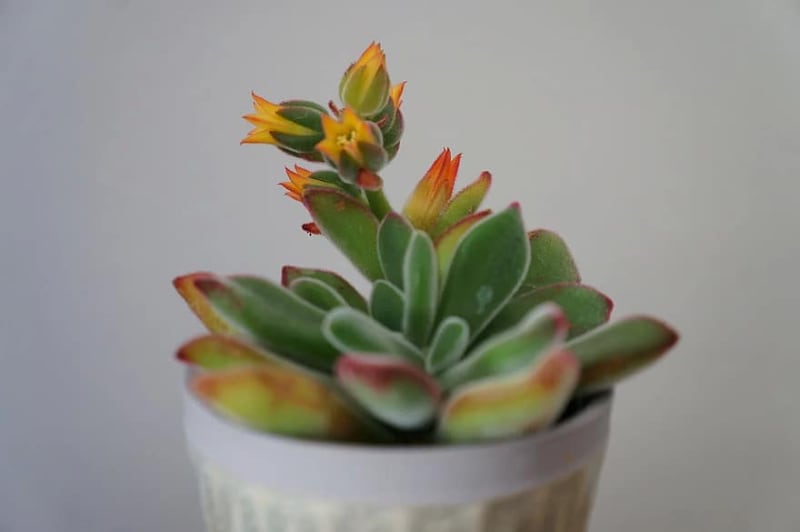 Fun fact: The plant blooms gorgeous orange-red flowers late in winter.
10. Whale's Tongue Agave (Agave Ovatifolia)
Whale's tongue is an evergreen plant known for its super-thick rosette.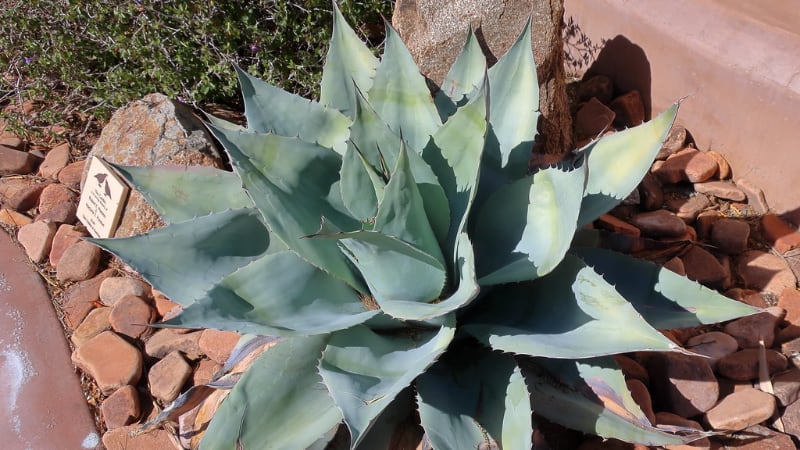 The plant features blue and gray, flat, wide leaves that look like the tongue of a whale.
11. Pig's Ear (Cotyledon Orbiculata)
This succulent has thick, oval, red-rimmed leaves that resemble a pig's ear. During late summer, the plant grows bell-shaped orange, yellow, or red flowers.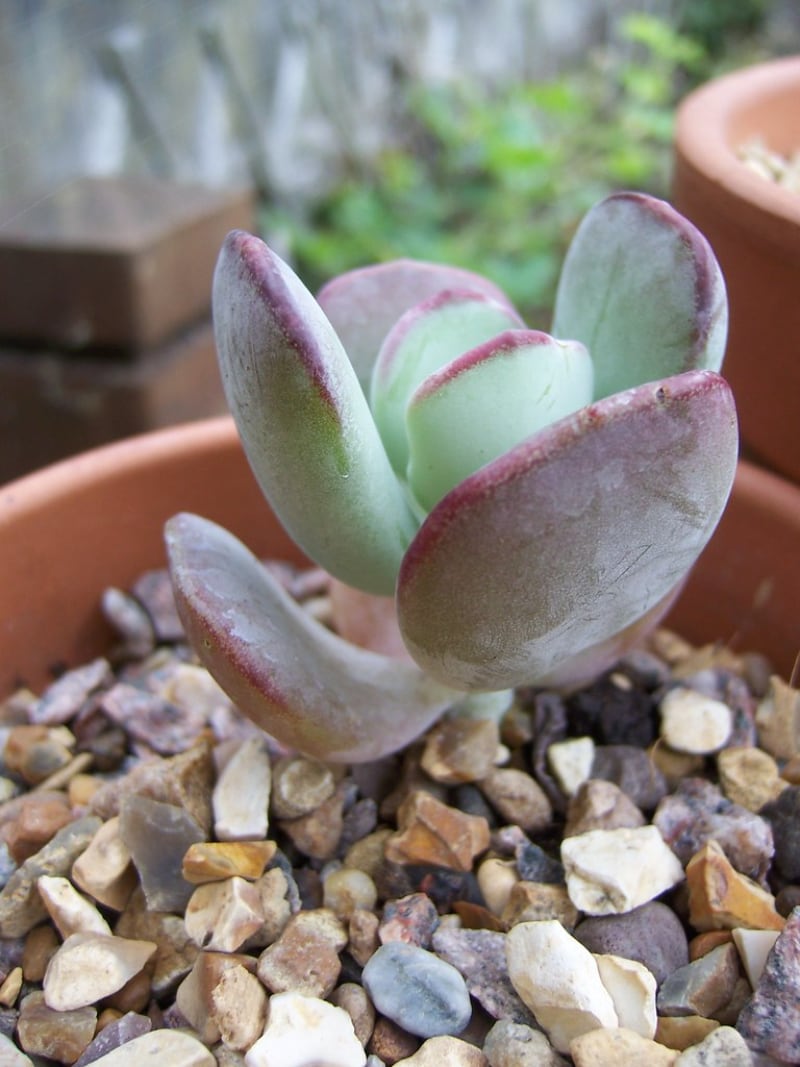 Tip: The plant can take up a lot of space. So make sure to clear some room in your garden before planting this one.
12. Lace aloe Plant (Aristaloe Aristata)
Torch plant has bristly, light green leaves that turn darker in the sun.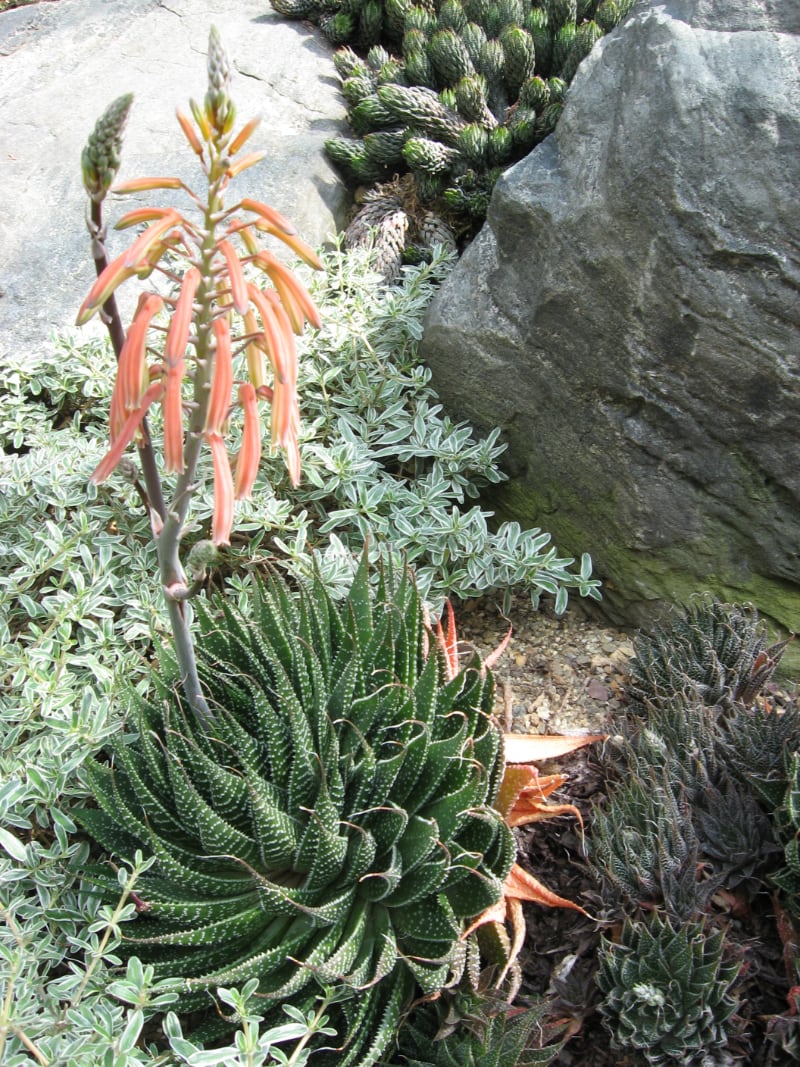 In mid-summer, it blooms with showy torch-shaped spikes of orange flowers.
Outdoor Succulents to Buy
Rosettes are one of the most widely bought types of succulents for the outdoors. They are easy to care for and they come in different colors. This assorted pack contains six flowers with soil and pots.
Best Types of Succulents: Cactus
Cacti are often thought of as desert plants. They require little care and can tolerate a bit of neglect. From tall and thin to short and round, cacti come in all shapes and sizes.
Some even boast brightly colored flowers which are a joy to see. You can give cacti a space in your garden, or easily grow them in your living space for some unique decor.
Take a look at these popular types of cacti:
13. Christmas Cactus (Schlumbergera Truncata)
This holiday cactus is named for the season it typically blooms in: November to January. Unlike other cacti, it does not have sharp spines.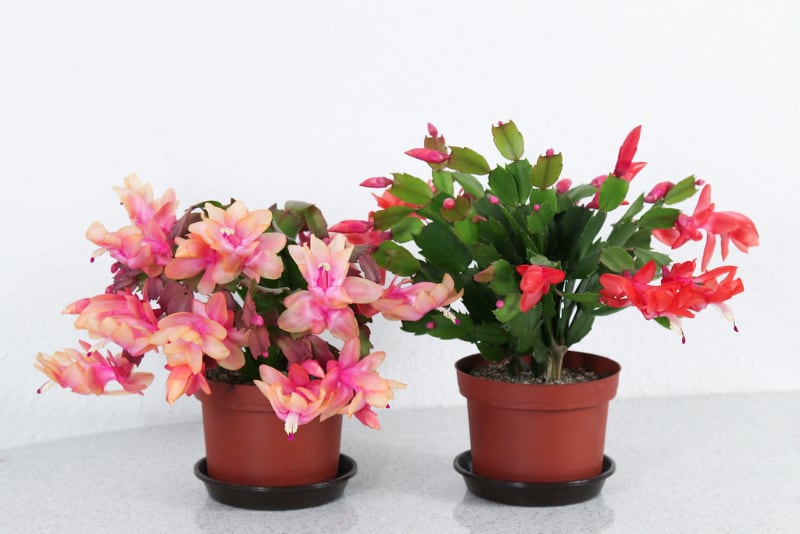 It has instead "teeth" along the edges. The plant grows pink, orange, white, and yellow-colored flowers.
14. Saguaro Cactus (Carnegiea Gigantea)
The saguaro cactus, with its green barrel-shaped body, is a classic desert cactus. It's native only to the Sonoran Desert in Arizona.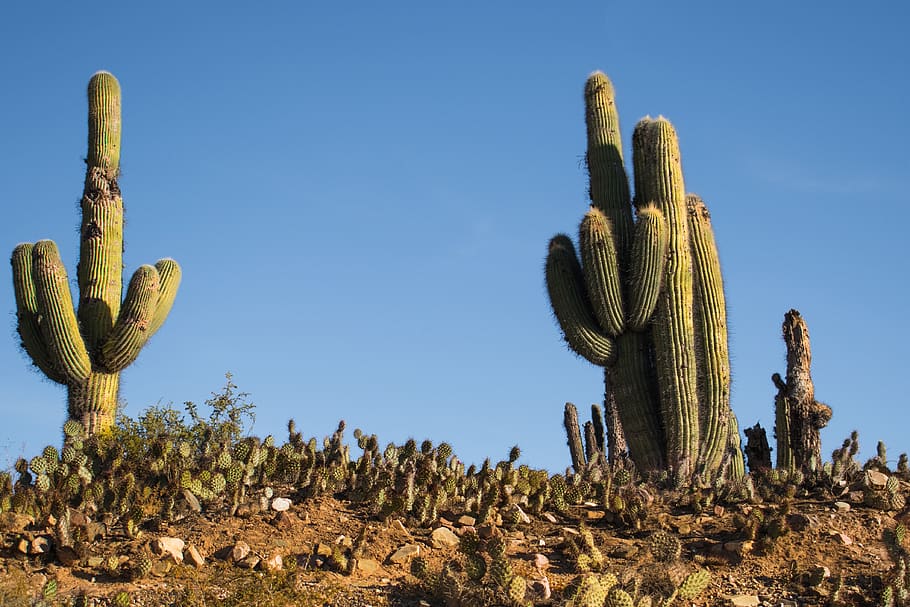 Fun fact: The saguaro cactus grows very slowly and can live for 200 years. It's one of the most resilient types of succulents around.
15. Bunny Ears Cactus (Opuntia Microdasys)
It's enough to see this one to figure out where the name comes from. It's fairly easy to grow and it produces white flowers and purple fruits in the summer.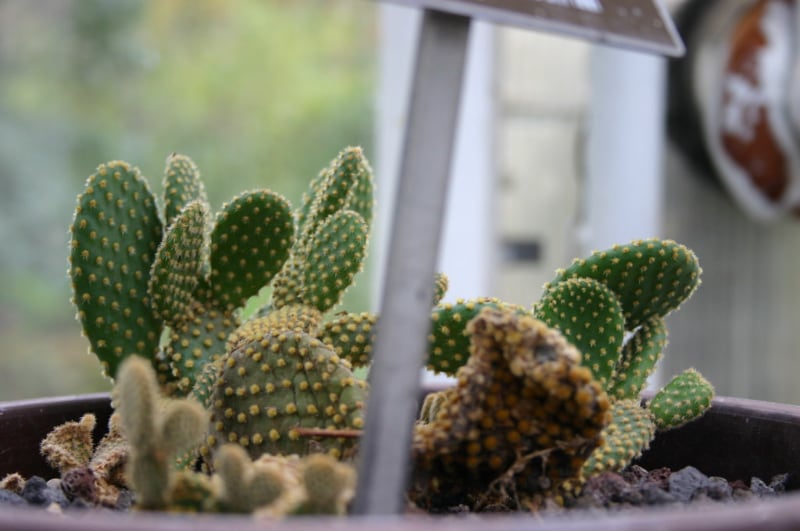 The plant does not feature spines like traditional cacti, but that doesn't mean that you can cuddle with it!
16. Star Cactus (Astrophytum Asteria)
Cactus collectors adore this showy variety because it does very well when planted indoors. You can identify it by its chubby, round body that has eight slices.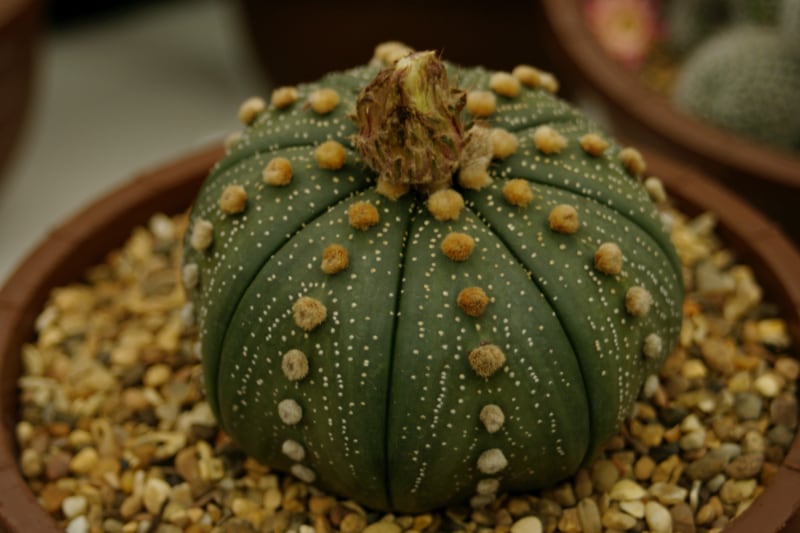 Important: Watch out for tiny white and yellow blooms in spring!
17. Barrel Cactus (Ferocactus)
This barrel or circular-shaped cactus is fiercely armed with heavy spines. The plant needs plenty of sun and only a bit of water. Showy red or yellow-colored flowers grow at the top of the plant.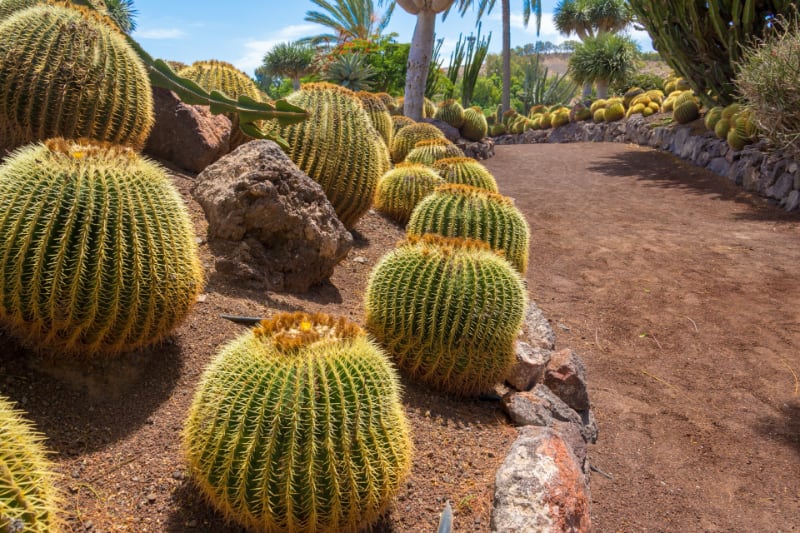 Fun fact: This succulent is nicknamed "mother-in-law cushion." Ouch!
18. Rat Tail Cactus (Disocactus Flagelliformis)
Don't have enough space to get a cactus growing indoors? Consider hanging a basket with the striking rat tail cactus.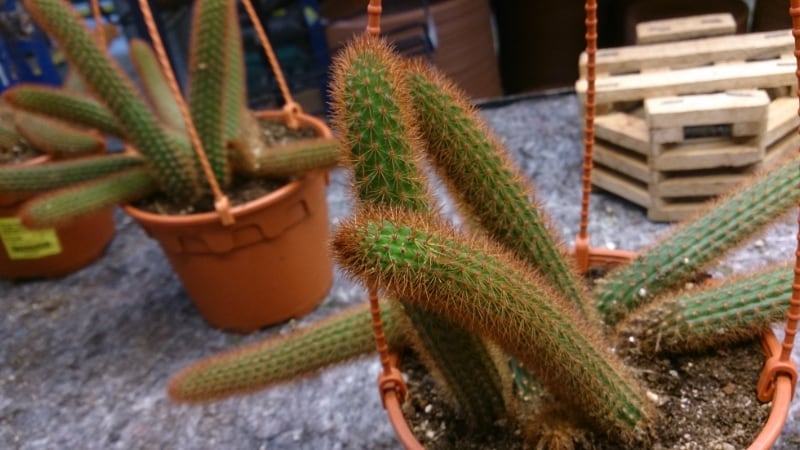 The plant has distinct hairy, trailing stems, which grow to about four feet at maturity and give the plant its nickname.
Fun fact: This plant is native to Mexico, where its vibrant violet-red blooms are used in traditional medicines for treating heart problems.
Succulents Cacti to Buy
Though most cacti have a thorny exterior, they are super easy going. Plant them in soil with good drainage, give them lots of sunlight, and a little water. And you can simply sit back to enjoy their spring and summer blooms. Get started with this collection of cacti for a mixed succulents arrangement.
Best Types of Succulents: Plants
There is something about these fleshy-leaved plants that have captured the heart of many gardeners. Succulent plants are well adapted to deserts. But several varieties grow in forest settings, coasts, high alpine regions, and dry tropical areas.
If you are planning to grow them in your home, make sure your plants get generous amounts of daily sunlight. Give these succulent plants a go:
19. Ice Plant (Aizoaceae)
If you are looking for vibrant flowers to fill in those dull areas in your garden, the ice plant is for you. It's a cold-hardy succulent and grows daisy-like flowers.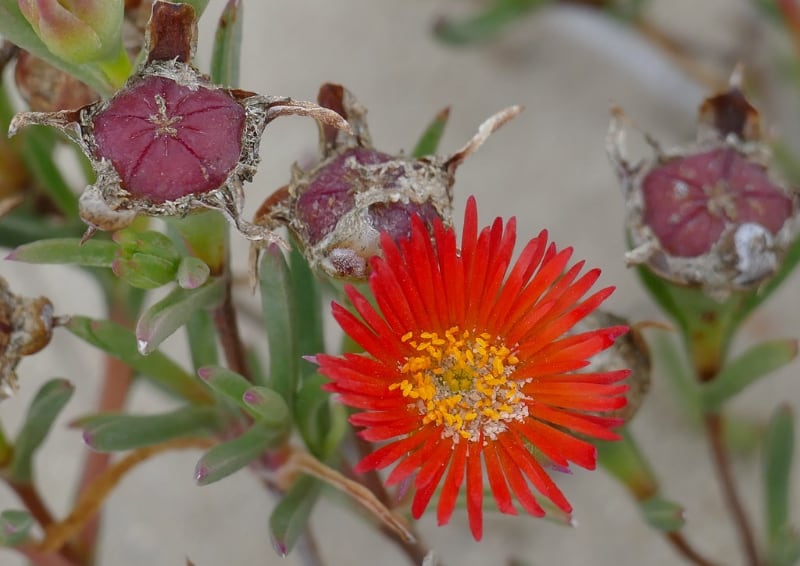 The flowers and leaves of this plant seem to shimmer, as though covered in ice crystals. Hence the name.
20. Moss Rose (Portulaca Grandiflora)
This is a small, slow-growing succulent with fleshy and narrow leaves. It flowers brilliantly all summer, with blooms opening only in full sun. Plant it as border edging, in rock gardens, as bedding plants or ground cover.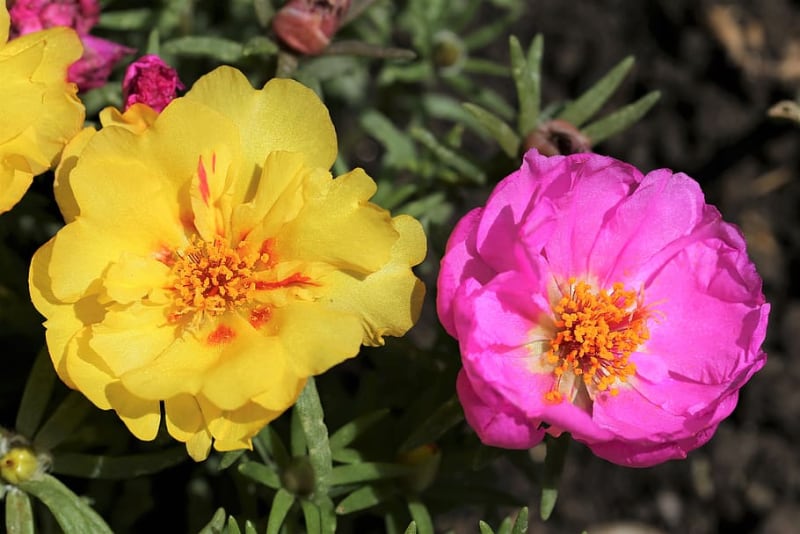 Tip: The plant is perfect to add a pop of color to your home decor.
21. Roseum (Sedum Spurium)
The roseum plant is a beautiful addition to any garden. It's a bushy, mat-forming, low-growing succulent with bright green foliage. Its vibrant clusters of pink, star-shaped flowers bloom in late summer.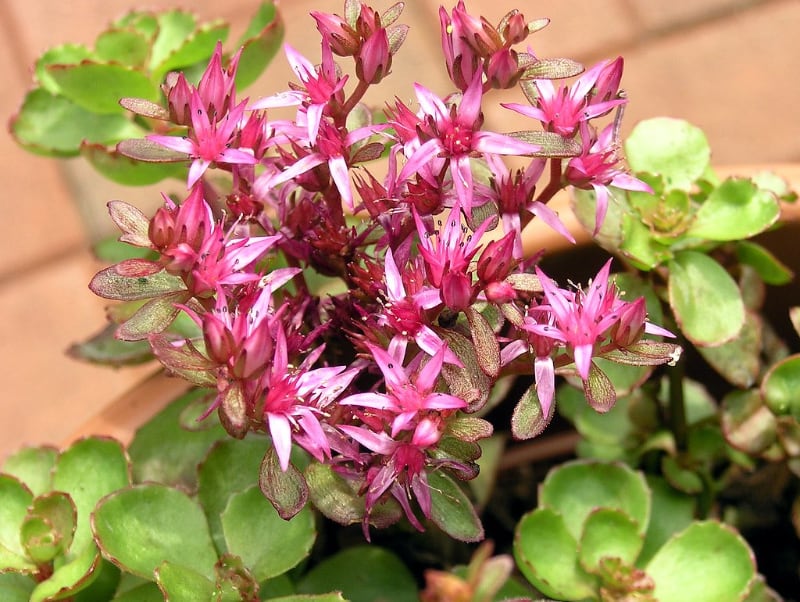 Tip: This is a sun-loving succulent. When planting indoors, place it on a windowsill that gets plenty of light.
22. Zwartkop (Aeonium Arboreum)
Also called the "black rose", this plant has burgundy-black rosette-forming leaves. In winters, it makes bright yellow flowers that contrast beautifully to its dark foliage.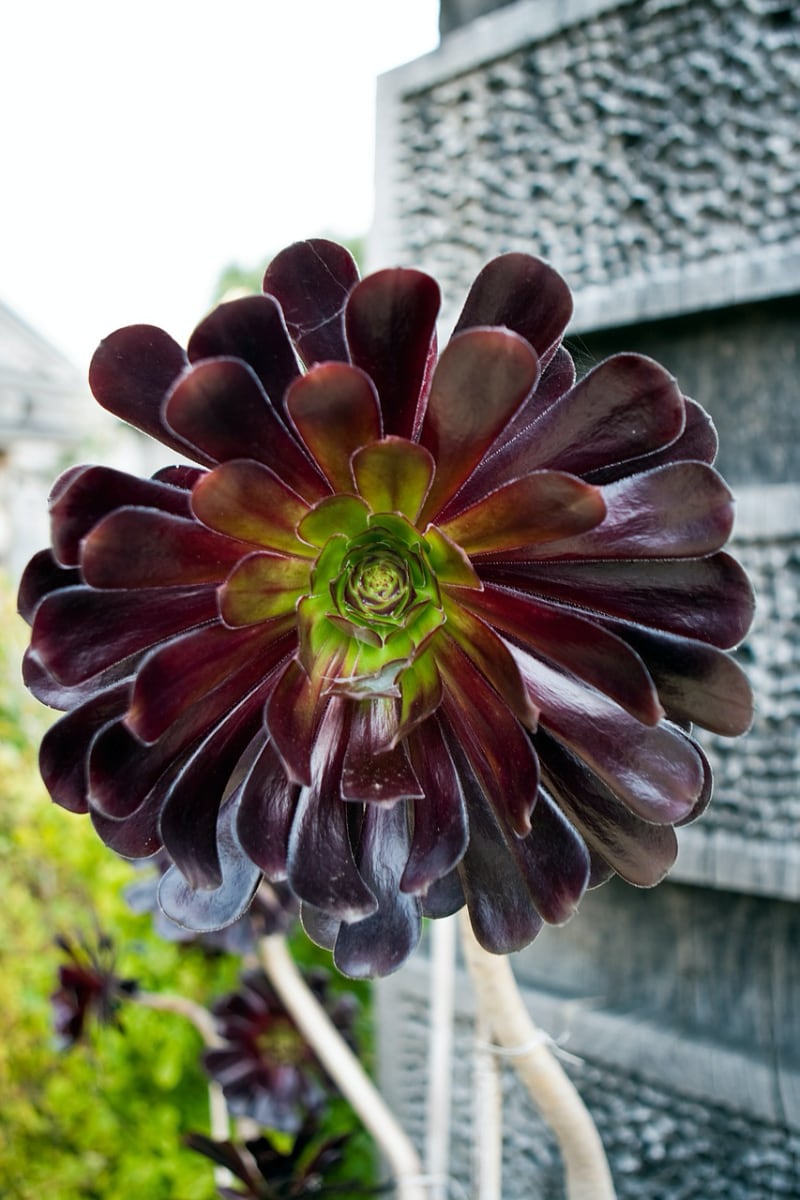 Tip: Plant it in a succulent arrangement. It provides an excellent contrast to lighter colored succulents.
23. Paddle Plant (Kalanchoe Thyrsiflora)
The paddle plant is a popular succulent due to its whimsical form and intense color.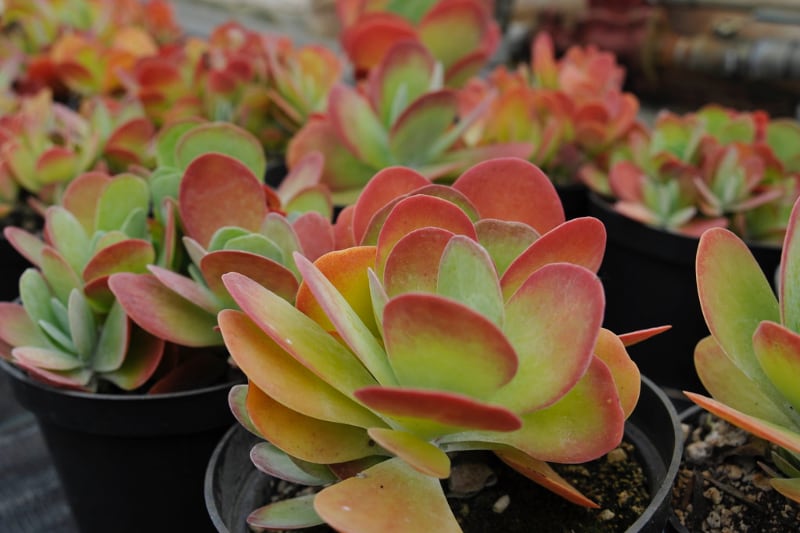 It has thick, rounded, paddle-shaped leaves that take on a reddish tint during the winter.
24. Blue Chalk Sticks (Senecio Mandraliscae)
This is a dainty, slow-growing, visually appealing plant.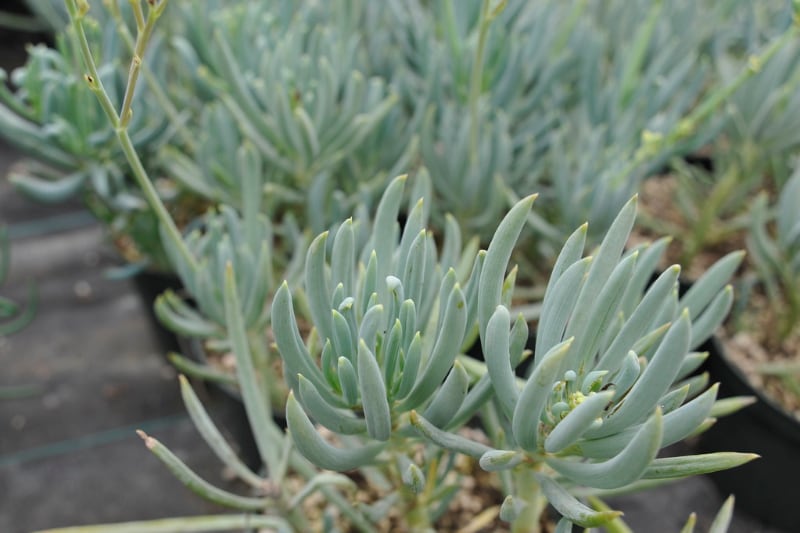 With powdery blue foliage, the plant stands out among the typical green-colored succulents. It also produces white summer blooms.
Succulents Plants to Buy
Buy a collection of succulent plants to make your home or garden look more colorful and exotic. These plants come in an endless variety of shapes, colors, textures, and sizes. And if you have a penchant for flowering plants but can't seem to keep them alive, look no further than succulent plants!
Best Types of Mini Succulents
Teeny-tiny indoor succulents are all the rage over Instagram. They fit in every nook and corner while providing an eye-catching display. Some mini succulents are trimmed in size while others are just naturally petite.
Take a look at these mini succulent varieties:
25. Pincushion Cactus (Mammillaria Crinita)
If you are looking for a desk plant, the pincushion cactus is for you. The plant is a miniature cactus that generally does not grow more than six inches.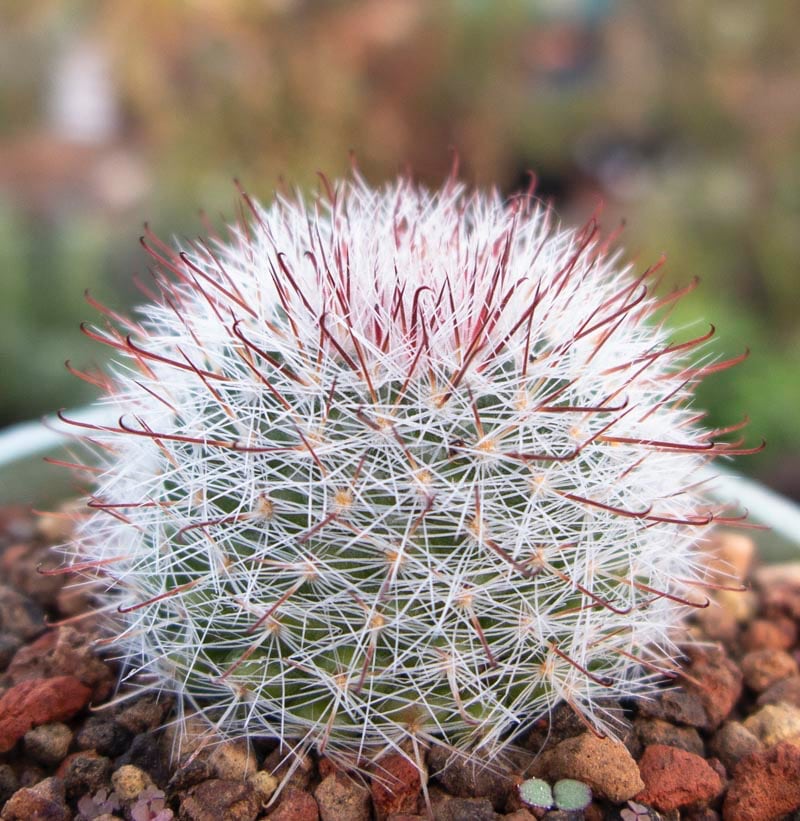 Most varieties are cylindrical or round in shape and produce vibrant blooms in spring.
26. Flaming Katy (Kalanchoe Blossfeldiana)
The flaming katy is one of the few succulents grown just for its blooms. It was originally grown as a gift plant. In early winter, this succulent produces clusters of tiny red, orange, yellow, white, purple, or pink flowers that bloom for several weeks.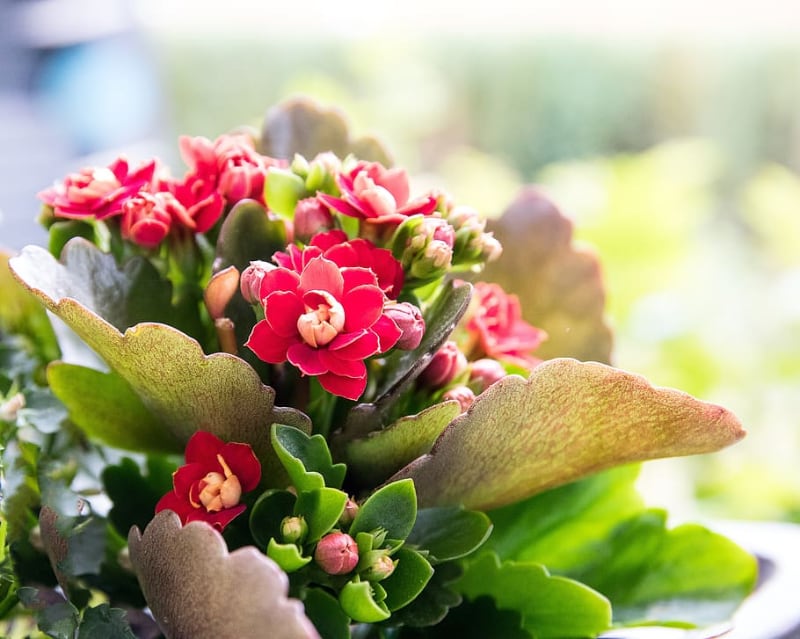 Tip: This plant makes for a great table plant or desk centerpiece.
27. Panda Plant (Kalanchoe Tomentosa)
Panda plant has small and fuzzy leaves with brownish-red edges. It does very well indoors and is a good specimen to place in the living area as part of the décor.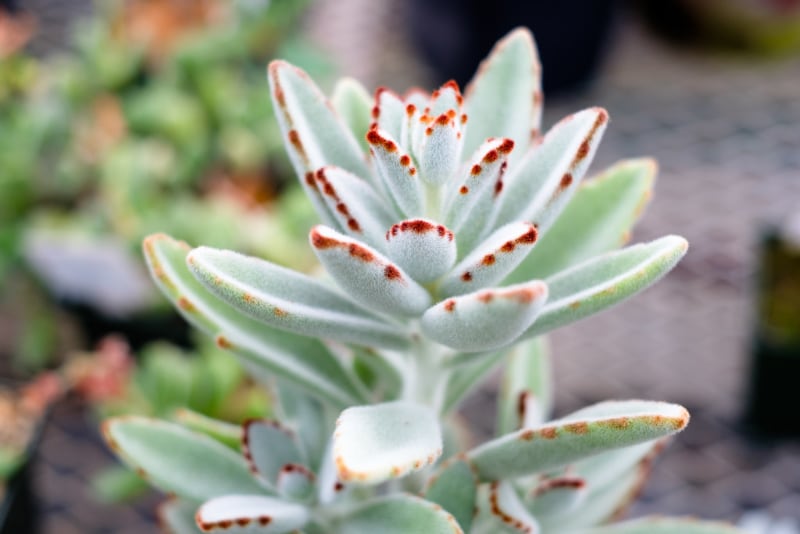 Tip: While watering the plant, make sure to not wet the leaves or they may rot.
28. Living Stone (Lithops Marmorata)
Lithops, often called living stone, are one of the most unusual succulents. They look like stones or pebbles and grow very slowly.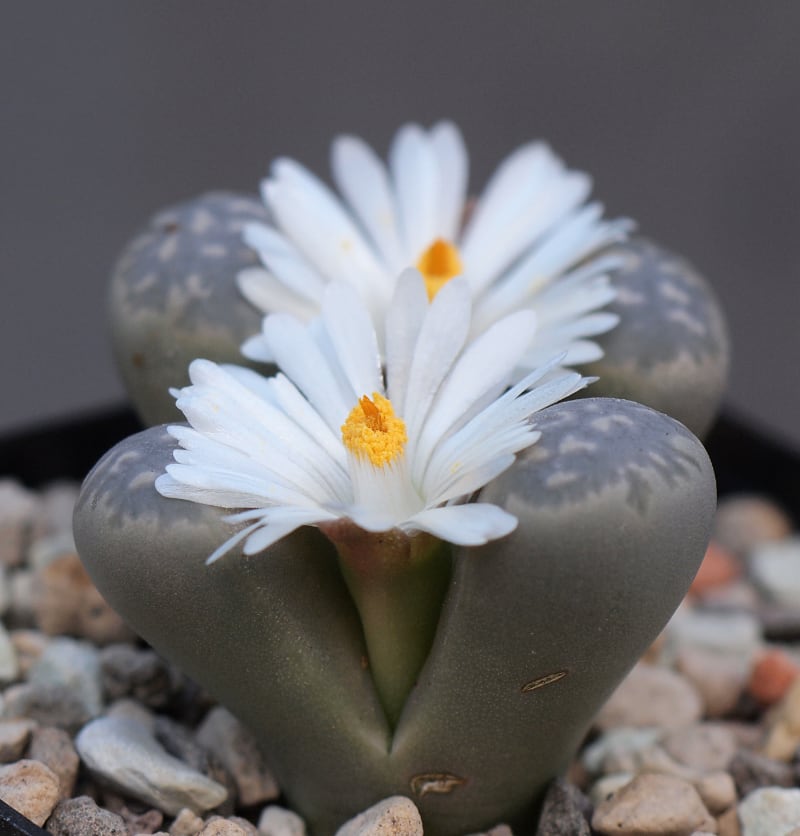 Fun fact: Lithops grow daisy-like flowers in shades of white, yellow, and orange.
29. Sweetheart Hoya (Hoya Kerrii)
This cute succulent comes with a tiny heart-shaped leaf. It's slow-growing and may take some years to develop into vining plants. Mature hoyas start blooming in the summer season.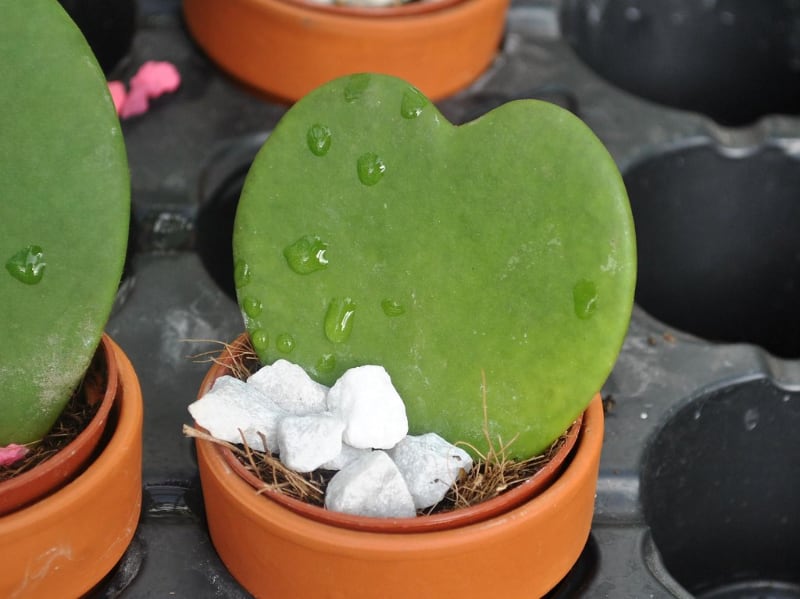 Tip: A sweetheart hoya is a fitting Valentine's Day or anniversary gift. Offer it to your sweetheart as a symbol of your evergreen love.
30. Moonstones (Pachyphytum Oviferum)
Meet this adorable succulent with leaves that look like polished stones. The plant can thrive in full or partial sunlight and can appear strikingly lovely in small terra-cotta pots.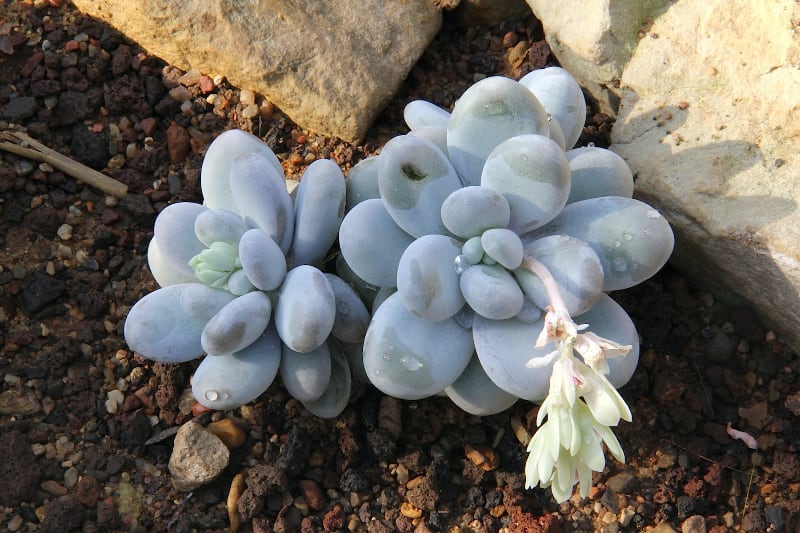 In early spring, flowers appear on tall stems with bell-shaped blooms.
Mini Succulents to Buy
Garden spaces are quickly shrinking, but there is always room for a small pot on the windowsill or end table. Check out this collection of mini succulents, including Aeonium, Aloe, Crassula, Echeveria, Kalanchoe, and Sedum, which are both low-maintenance and eye-catching.
Best Types of Tall Succulents
While most succulents are rather small, tall succulents can really make your garden or home decor stand out. In their natural environment, most tall succulents grow over 10 feet in height. But in a home landscape, you can restrict their height to under six feet—or until they hit the ceiling!
Here are some tall types of succulents that can effortlessly anchor your landscape.
31. Crown of Thorns (Euphorbia Milii)
This ornamental houseplant can bloom all year round, if given enough light. It features green, spoon-shaped leaves densely packed along thorny stems. Outdoors, the plant will grow into a shrub reaching three to six feet tall.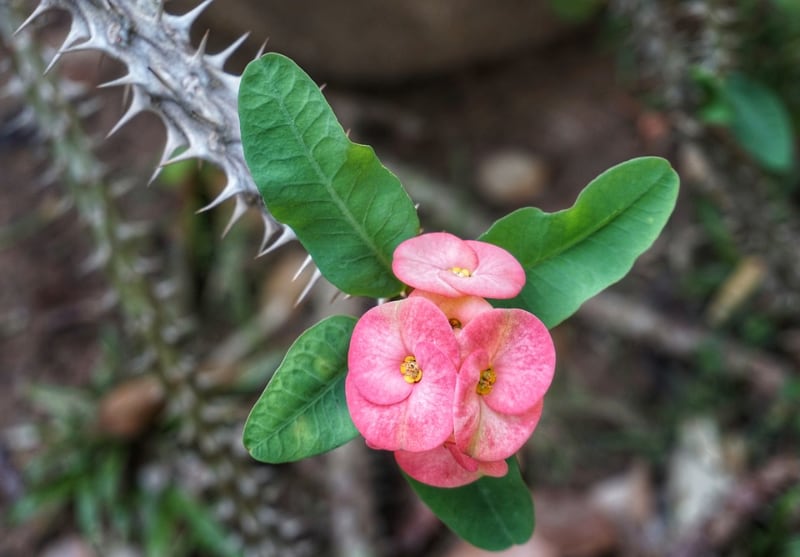 Warning: The plant has a milky sap that is toxic to humans and animals.
32. Snake Plant (Sansevieria Trifasciata)
Snake plants have bold, upright leaves in different shades of green. They can survive for weeks without light and water, while still maintaining their fresh look.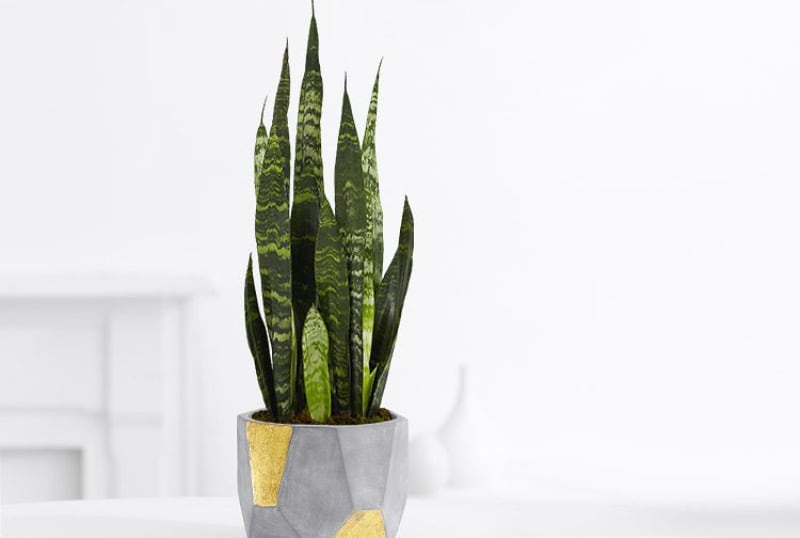 Tip: This is a great air-filtering plant. Grow it in your room to improve the air quality, which leads to a more restful sleep!
33. African Milk Tree (Euphorbia Trigona)
This is a tall, rugged, easy-care succulent with thorns. The succulent can tower up to 9 feet tall, though it's not actually a tree.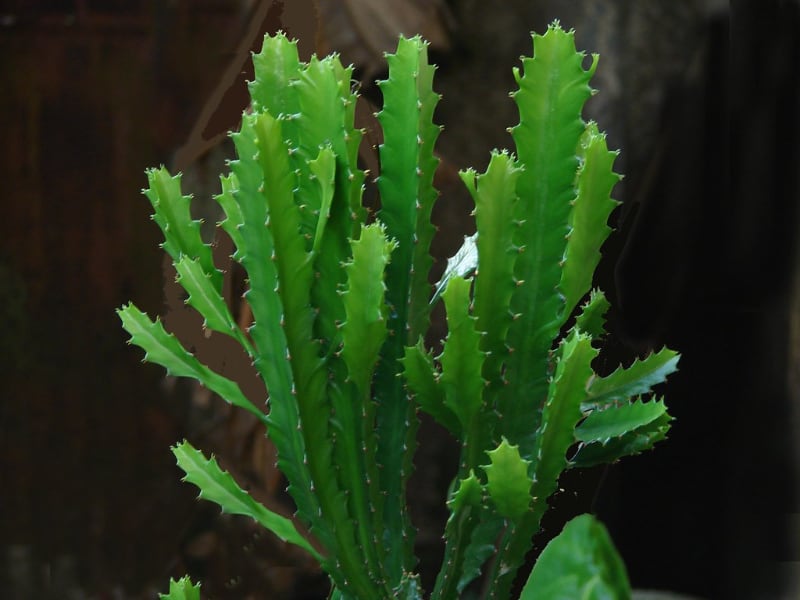 Warning: The plant produces a sticky, white, latex sap that is a skin irritant and poisonous. Wash it off immediately if in contact with skin.
34. Ocotillo (Fouquieria Splendens)
The ocotillo is a tall desert plant. The stems can grow anywhere from 9 to 30 feet tall. Beautiful bright pink flowers on whip-like canes bloom every summer.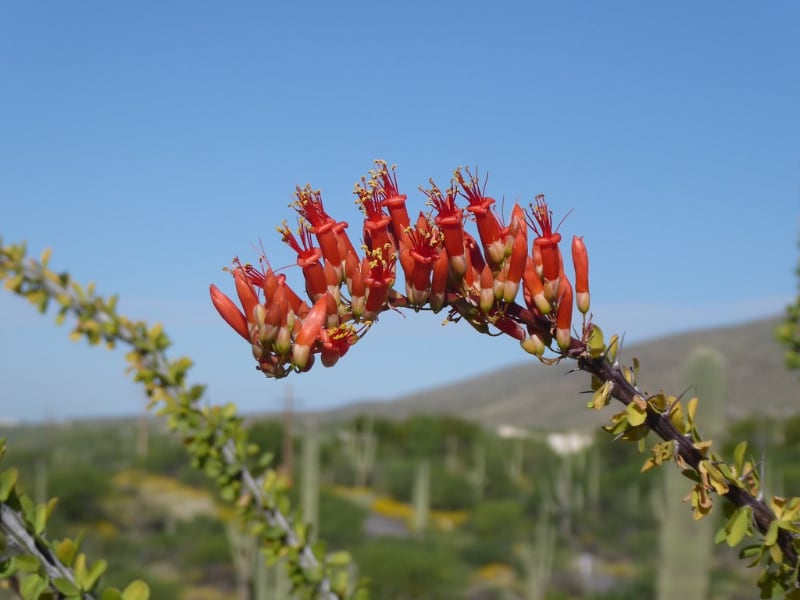 35. Old Man Cactus (Cephalocereus Senilis)
Add more character to your indoors by growing old man cactus. As the name implies, the cactus has fluffy white tufts of hair over the surface which are reminiscent of an old man's pate. It usually reaches 20 feet before producing pretty pink, fragrant, night-blooming flowers.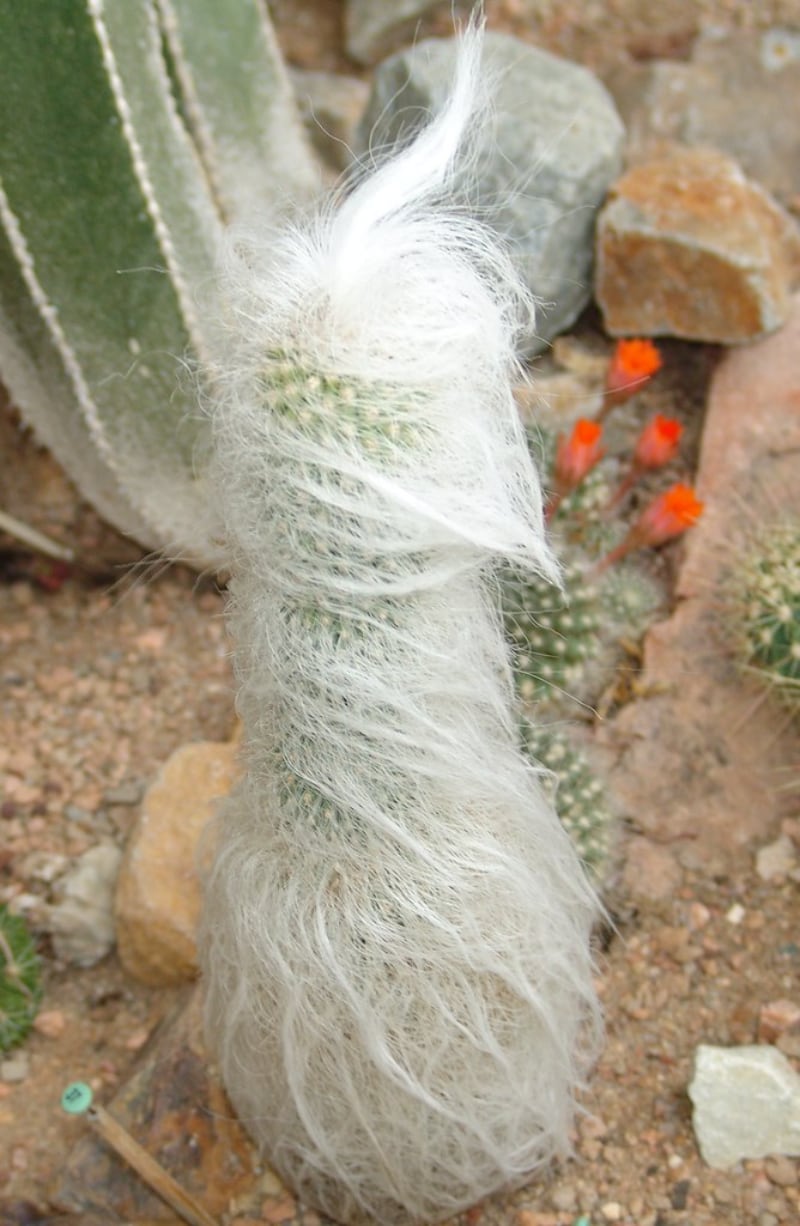 Tip: Once potted, this plant doesn't like to be disturbed. Only repot once every three to five years.
36. Firesticks (Euphorbia Tirucalli 'Rosea')
This shrubby succulent has bright red, orange, or pink stems that lend it its name. It's a slow grower but can reach a height of 4 to 5 feet.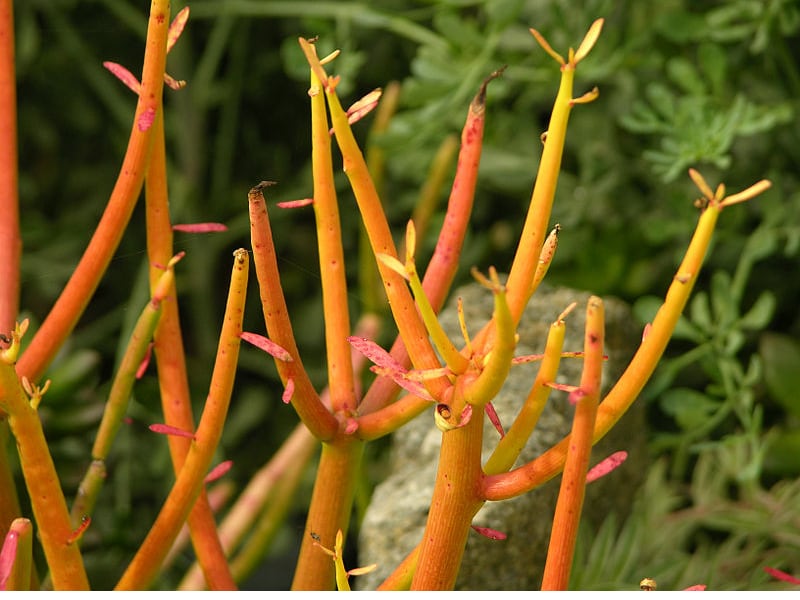 Warning: Firesticks is toxic, so take precautions when handling it.
Tall Succulents to Buy
If you really want to grow a showstopper plant, consider buying a tall succulent. Euphorbia plants are usually a good choice. Not only are they a perfect addition to any rock garden but cultivating and taking care of them is a breeze.
Frequently Asked Questions on Succulents
Below our readers most emailed and commented questions on the different types of succulents and other succulent related questions.
A Gift That Doesn't Die…
…Unless of course if you forget to water your succulent. In the language of flowers, succulents symbolize enduring and timeless love.
In Feng shui, succulents symbolize money and gold. Some believe that they ward off evils and negative vibes. In Japanese culture, people gift succulents to reveal their love.
And if that's not enough, succulents also purify the air and make for a sustainable, eco-friendly gift!
So, it's about time you started growing your own, right? There are so many types of succulents out there that finding one for you won't be at all hard.