You don't miss it until you need it! Can you guess what we're talking about here? A step ladder!
Whether you're into vertical gardening, planted walls, or DIY home projects, or just need to fix things about the house now and then, a step ladder is useful to have.
Most step ladders only have steps or rungs on a single side but you can also find twin-ladders that have two sides. Most of the time, though, a simple A-frame design will be more than enough.
In this easy step ladder buyer's guide, we'll share with you some of the best step ladders you can buy online for use at home. Think simple, safe, easy to use ladders.
Uses of a Step Ladder
Need to change a bulb? Install a fan? Paint a molding? A step ladder is what you need.
But the possible uses of a step ladder don't stop there. If you live in a small apartment and have limited storage options, you can use a step ladder in more creative ways too.
For example, you can use a step ladder in the bedroom as a bedside table.
Or you can use a 3 step ladder as a plant stand on your patio.
A 4 step ladder can double up as a bookshelf.
A 2 step ladder can become a seat or footrest.
Step ladders are also great side tables for your bedroom.
Best Step Ladder for Indoor Gardens and DIY Projects
We've put together a list of the best step ladders available so you can find the right one for you. Explore now our recommendations.
1. Rubbermaid RM-2W Folding 2-Step Steel Frame
The Rubbermaid RM-2W 2-Step Steel Stool is a small but practical step ladder that's handy to have around the house. It doesn't require much storage space.
Features
Compact foldable design
Measures only 19.1″
Easy to store
Has a 200-pound weight limit
The Rubbermaid Folding 2-Step Steel Frame Stool has non-damaging feet and comes with a comfortable handgrip.
It can reach a height of 8 feet and you can easily fold it for storage. It has a 200-pound weight limit which should be more than enough for most uses.
This is a simple and effective step ladder you can use for a long time without running into any issues
2. charaHOME Folding Portable Step Ladder with Safety Handrails
You're looking at a lightweight, compact, and dependable step ladder perfect for handling DIY projects and putting up holiday decorations or draping stringed garden lights around a patio.
Features
Withstands up to 500 pounds
Foldable design saves space
Safety lock improves stability
Nice design all-round
Side hand grip improves safety
Includes a attachable tool bag
It's practical to use anytime and has 4 wide extensive steps with extra grip to avert slippage. You'll like the powder-coated finish and can hold up to 500 pounds.
This safety ladder with long, padded handrails on both sides provides a soft and comfortable grip you can rely on.
Its non-slip feet offer extensive security. It's stable on all types of flooring and is easy to store and transport since it can be folded.
3. Delxo Folding 4 Step Ladder With Plastic Cushion
Delxo 4-Step Steel Stool is completely assembled and ready to use. It's heavy-duty and has a maximum weight capacity of 330 lbs.
Features
Maximum load capacity of 330 pounds
The distance between each step is 10″
Handgrip lets you climb it easily
Easy to store and transport
The back cross brace adds to its stability
This ladder is a bit higher compared to other common stepping stools. It has the appropriate tallness for pruning, installing light bulbs, cleaning ceiling fixtures, and other "airy" activities.
4. Best Choice Products 4-Step Folding Ladder with Padded Handrails
If you're looking for a 3-step ladder that looks different from the average aluminum ladders, you may like this one. It has padded handrails and comes with an attachable hand tools bag that can make your life easier.
Features
Elegant black and white design stands out
Can bear up to 330 pounds
Nonslip feet provide good stability
You can use it outdoors as well
Foldable design saves space
Large, anti-slip platforms make it easy to use
Comes with attachable tool bag
Another feature we really like is the large, non-slip feet which provide very good stability. The foldable design is a good space saver, too.
5. Rubbermaid RM-3W Folding 3-Step Steel Frame
The Rubbermaid RM-3W 3-Step Steel Stool is a very comfortable three-step stool. If you need help in reaching out for items in tall places, this is a safe and dependable ladder.
Features
Foldable, so you can store and carry it easily
Maximum load capacity is 200 pounds
Good hand grip makes climbing it easier
Solidly made plastic steps prevent slips
Nice silver finish
Wide plastic steps can make a ladder easier to use, and that's one of the strong points of this product.
6. Cosco Three Step Max Steel Work Platform
The Cosco Three Step Max Steel Work Platform is an adaptable step ladder you can use for a wide range of DIY projects around the house and garden.
Features
Anti-slip step treads
Fold and lock release
Utility tray for placing tools, paints, or pails
Huge leg tips and glides that can resist skids
The top step is vast and the grasp handle is broad. The utility tray can help you in accomplishing your tasks properly.
Regardless of what tasks you have such as cleaning, painting, or repairing, this can prove a reliable, durable step ladder your neighbors will want to borrow.
7. Best Choice Products Shade 3 Step Ladder
Best Choice Products Shade 3 Step Ladder is a heavy-duty product with a convenient tool tray and wide plastic steps.
Features
Convenient design
Includes a tray
Can be folded, so it won't need extra space for storage
Made of high-quality HD steel
Easy to transport
Its rubber feet can resist skids
330 pounds maximum load capacity
We like the tray attached to it–you can place on it watering cans, shears, fertilizer bottlers, and other gardening or DIY tools and items.
Also, it doesn't take up too much space of storage since it can be folded.
8. Steel Folding Portable 4 Step Ladder
This portable 4 Step Ladder is lightweight, convenient, and solid. If you need a tall but stable ladder for common gardening or DIY tasks, it can be an affordable choice.
Features
With a maximum load capacity of 300 pounds
Non-slip feet
Can be reduced to its compact size when folded
Easy to store and transport
Wide steps provide good stability
Overall it's a safe and practical step ladder with grasped step treads to avoid any slippage. The steel coated powder finish is not bad either.
9. Delxo 3 Step Ladder Folding Step Stool
The Delxo 3-Step Steel Stool is already assembled so you can use it right away. It is a heavy-duty ladder that can withstand a 330-pound load.
Features
Broad steps ensure good support
The handgrip is very convenient, making it easy to climb up to the last step
Made of a solid metal frame with anti-slip steps
It won't scratch your floors
Another dependable 3-stepper, this ladder is a good choice if you have thin flooring that's easy to scratch.
10. Delxo Lightweight Woodgrain 3 Step Ladder Ladder
Delxo Lightweight Woodgrain 3 Step Ladder Ladder comes with a simple locking mechanism and is easy to use and carry around as needed.
Features
Maximum load capacity of 330 pounds
Can be folded easily for quick storage and transport
With non-slip rubber feet that won't scratch your floor
Has a nice design
We like that it's made of lightweight woodgrain aluminum and includes expansive non-slip elastic feet. The top platform is wide and locked securely so you can place both feet safely on it.
11. Louisville Ladder 4-Feet Fiberglass Stepladder
Our list ends with this red 4-feet Louisville fiberglass ladder which is lightweight and has a safe and convenient design that makes it easy to use in cramped or uncomfortable corners.
Features
Can support up to 300 pounds
Nice vibrant design catches the eye (looks like a firefighter's tool)
Very stable
Pro top system enables you to keep various tools within range
Slip-resistant
Heavy-duty braces
We like the top with paint bucket holder and other nifty features as well as the very good build quality. This is a handy ladder you can count on.
You can count on it indoors as well as outdoors, though make sure to store it in a dry place away from the sun and rain and other elements.
How to Choose the Best Step Ladder for You
Step ladders may all look alike, but small features can make a big difference. Imagine that you've just installed new floor tiles on your patio as well as a moss wall (assume you're into moss gardening).
If the ladder will scratch your flooring, that's going to be an issue. And what if it's not stable enough and there's nobody at home to hold it?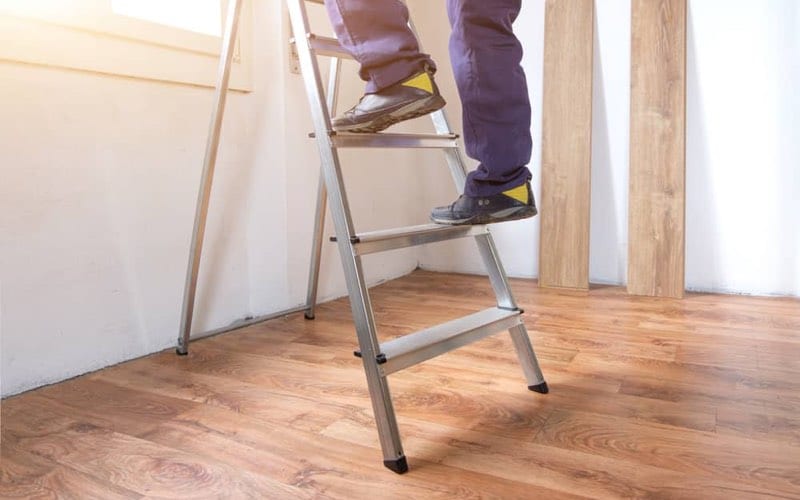 The bottom line is that you need the right step ladder for your needs. And that means taking a few things into account.
How to choose a Step Ladder
Follow these steps to choose the right step ladder for you and avoid headaches.
Total Time: 30 minutes
Step 1 – Measure the Height of the Ceiling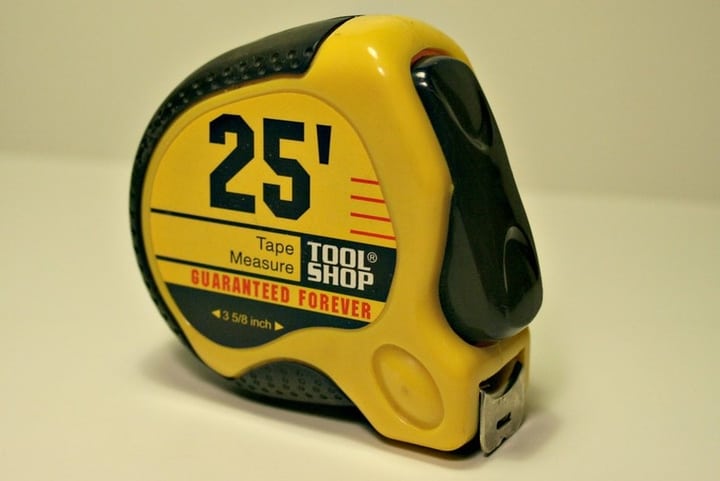 If you plan to use the ladder indoors, your a rule or a phone app to measure the height of your ceiling.
Celling height can vary widely between different buildings and the most stable step ladders are not necessarily adjustable.
Three step ladders can be too tall for some houses.
PS: Don't forget to factor in your own height!
Step 2 – Consider the Height of the Ladder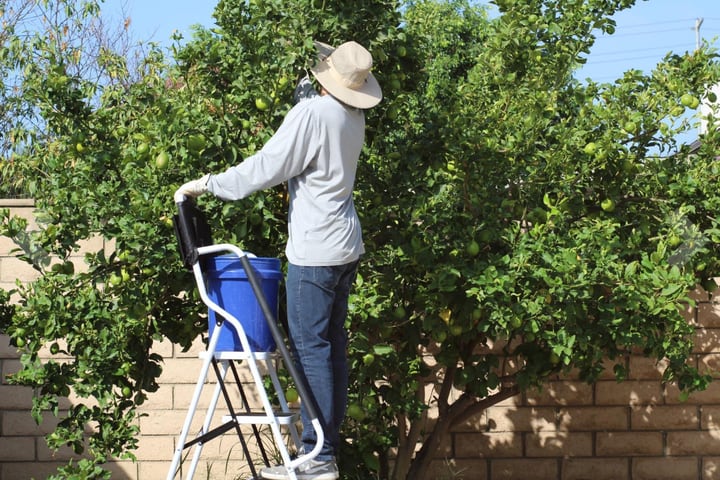 For home and garden use, step ladders between 2 to 4 steps should be sufficient. Make sure to check whether the height can be extended or not.
The most appropriate ladder for the job should have the right height. When using a stepladder, the maximum allowable standing level should be two steps starting from the top.
If you stand beyond this step then you might lose your balance and you'll fall down.
Step 3 – Choose the Ladder Style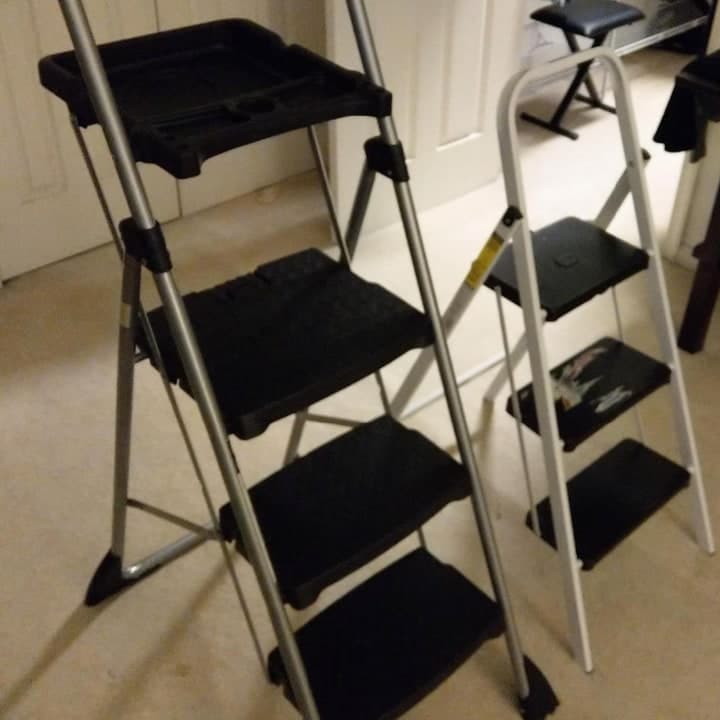 Some ladders are made just to provide you with a bit of extra height.
Others come with top trays and other types of tool support–in other words, they make it easier for you to work atop them.
Other features like hand grip, width of steps, and type of legs are also important.
Manufacturers of ladders for indoor use optimize these to simplify use, improve stability, and prevent damage to flooring.
Step 4 – Consider the Material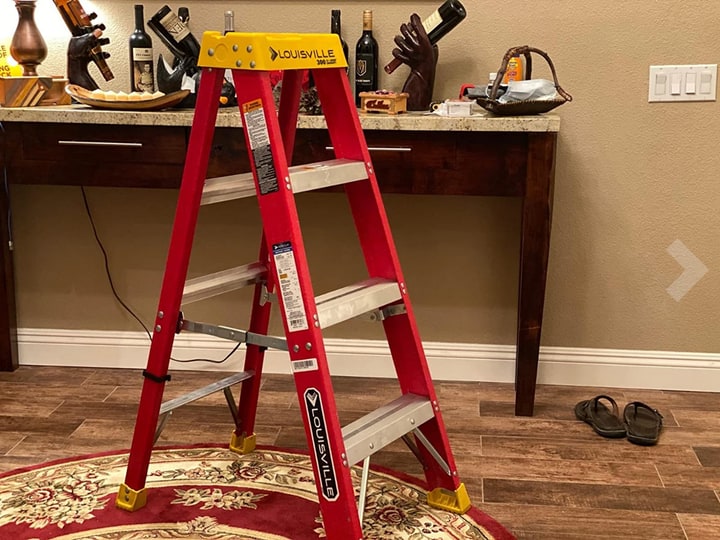 Another important consideration is the material for your step ladder. Wooden ladders may look great, but often they are too heavy too be practical and can't be stored outdoors.
Fiberglass and aluminum have become the standard materials in the industry. But their quality can differ widely. If you think you'll be using your ladder a lot, choose a heavy-duty ladder.
Step 5 – Don't Forget Load Capacity
Most home ladders handle between 200 and 500 pounds with smaller ladders typically handling less.
Are you a heavy person? Will you be moving up and down heavy pots or wielding bulky watering cans?
Tip: Make sure your step ladder can handle at least 50 pounds more than the total weight of you in action. (Did anyone say weight loss tea?)
Step Ladder Commonly Asked Questions
Now here are some of the most frequent questions we've been hearing about step ladders. We hope that you find the answers useful and that they will help you make an inspired choice.
Get Practical… Ladder Up!
Step ladders are one of those practical DIY items you don't think about until you actually need them.
But if you're a DIY sort of person or enjoy indoor gardening, having a step ladder is a good idea. Otherwise, you may have to borrow one from your neighbors–or risk a fall climbing on chairs, couches, or other furniture.
But don't settle for just any step ladder. Choose one of the top-rated ones above to get a durable and easy to use product you can trust.
Do you already have a step ladder? Or are you planning to get your first one?
Let us know in the comments section below.
Either way, we're happy to hear you got the DIY spirit!