A flourishing garden is even more beautiful when surrounded by butterflies! Imagine using your garden space to support your ecosystem and encourage insect life. In other words, why not plant some butterfly flowers?
Butterfly gardens are made of purposely planted flowers and bushes that benefit the ecosystem as a food and life source for butterflies.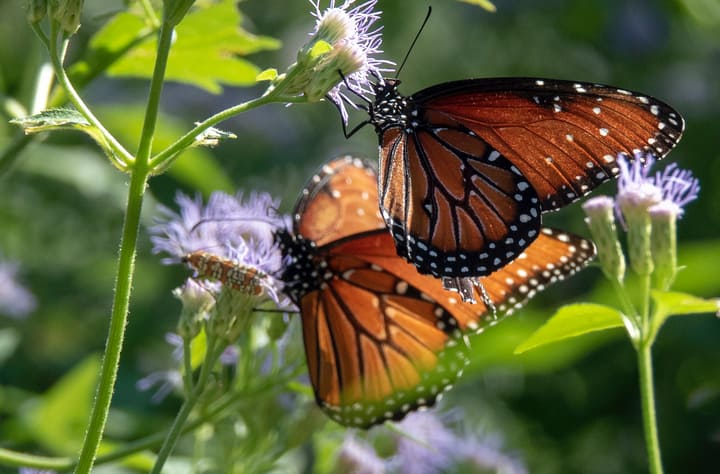 Butterfly gardens are often recognized by the North American Butterfly Association by having three different plant species for caterpillar food, and three different plant species as a nectar source for butterflies.
Thankfully, you only need a few butterfly flowers to start attracting butterflies to your garden.
What Are Butterfly Flowers?
You may think that just any flower would bring in flying friends, but there are specific types that will feed and sustain butterflies. Butterfly flowers do so much more than attract butterflies with delicious nectar.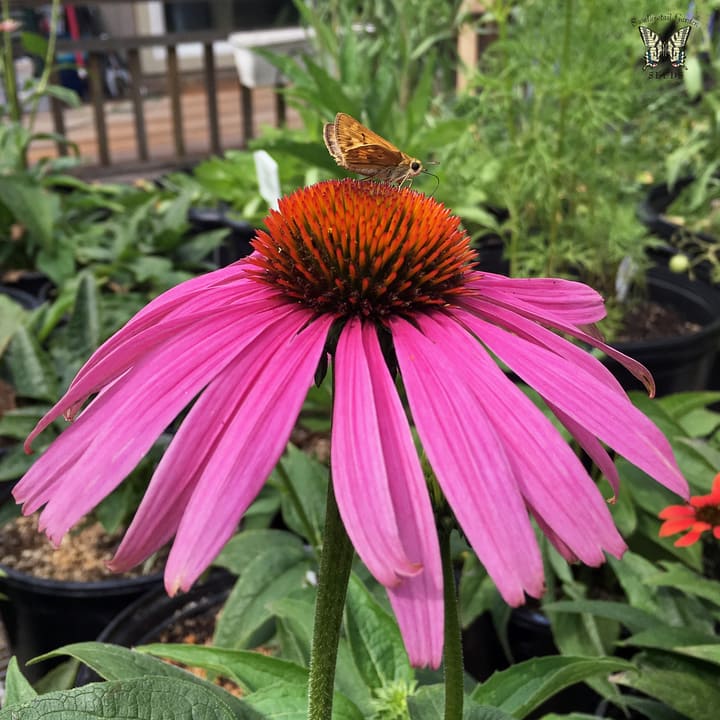 Butterflies use flowers as a source of food in all stages of life as well as use them as a place to lay eggs.
According to the National Wildlife Foundation, adult butterflies are attracted to good sources of nectar typically from flowers with bold colors, flat-topped or clustered.
Best Butterfly Flowers for Your Garden
When planting your garden you have to be thoughtful about your flowers if you want to attract butterflies. The best butterfly flowers will be able to sustain all life cycles of the butterfly.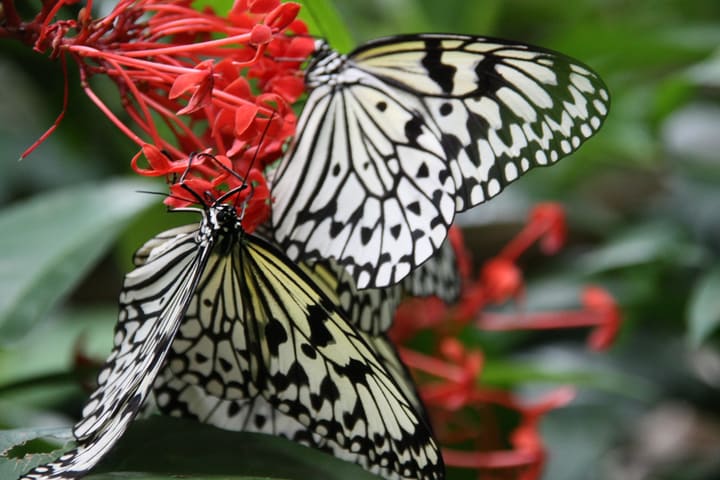 Use your butterfly flowers to create a habitat where they can grow and eat for generations.
Get inspired by our list of butterfly flowers to create a fluttering ecosystem in your garden.
Best Perennial Butterfly Flowers
These flowers offer a regular source of food for your butterflies. You can plant these perennials once and watch them flourish each season.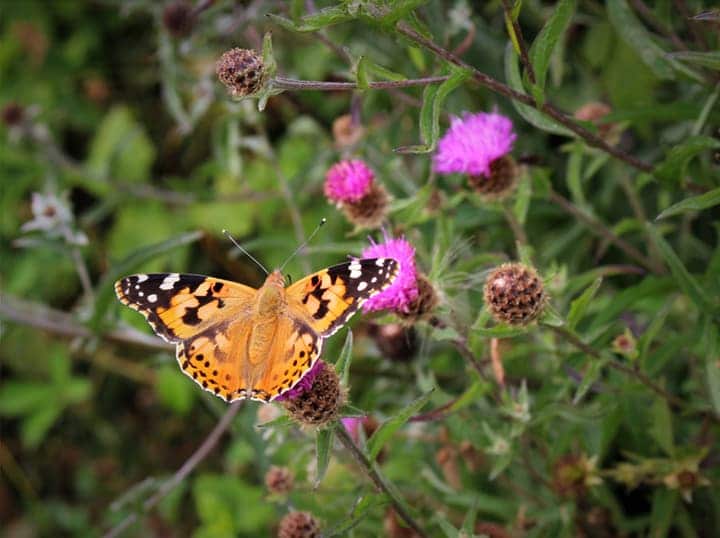 Picking perennial butterfly flowers that are native to your area is very important as the local butterflies are already feeding on those!
1. Aster
A popular pick among butterfly gardeners, aster is an eye-popping flower that is easy to grow in a variety of colors. This flower is full of nectar and blooms in the fall, making up for the plants no longer offering food.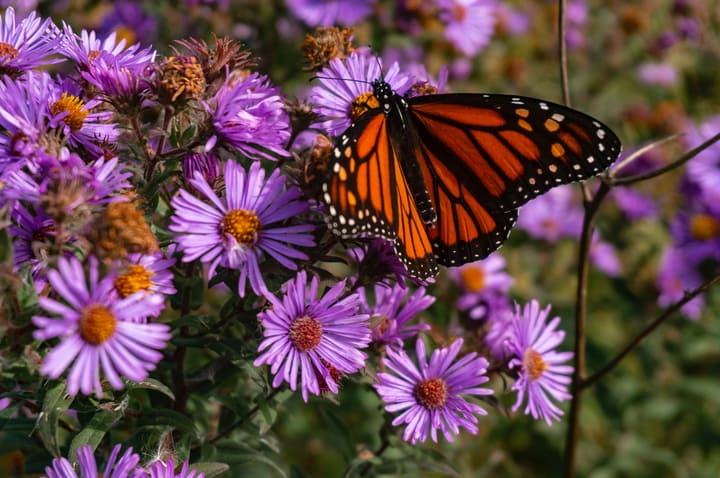 Tip: Aster is also a common host flower for caterpillars and will support the full life cycle of butterflies
2. Black-Eyed Susan
These almost-sunflowers are a great perennial substitute and a great source for nectar. Black-eyed Susan coneflowers grow easily in the sun, spreading wild in many Midwestern meadows.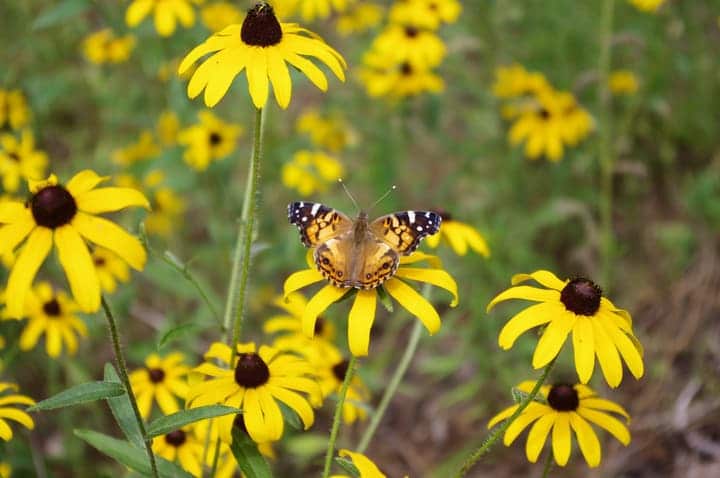 This daisy blooms through summer and will be a bright addition to your flowerbed.
3. Purple Coneflowers
Coneflower is a broad classification of plants that grow their petals in the shape of a cone, most of the time downward with their nectar head being easily accessible.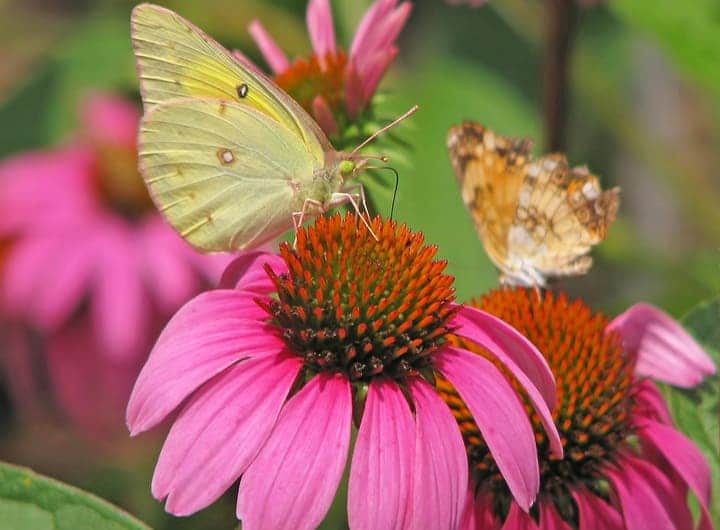 Purple coneflowers grow thick purple petals that will bring interesting color and lots of nectar to your butterfly garden.
4. Yarrow
Another very popular pick for butterfly gardens, yarrow is bright, bushy, and perfect for butterflies. It loves the sun and grows best in dry environments.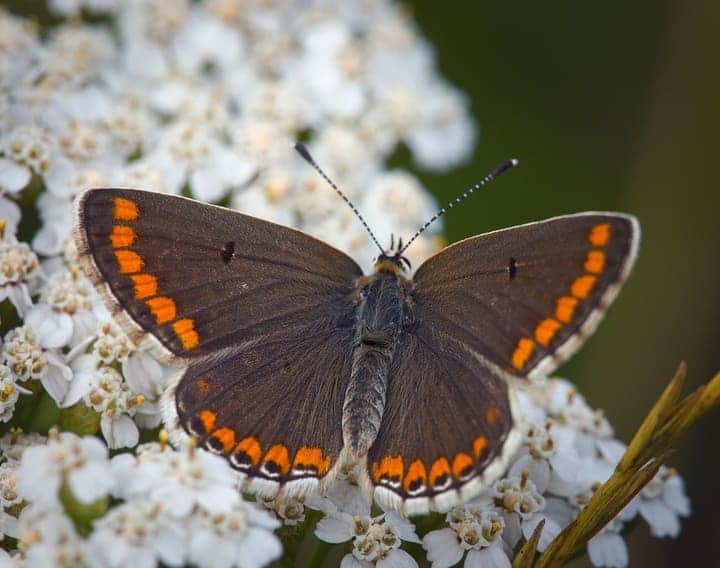 Yarrow is a low-maintenance flower that will create large gorgeous bushels. Though these butterfly flowers most commonly grow in yellow, there are a variety of colors you can plant in your garden.
5. Joe-Pye Weed
The Joe-Pye weed will bloom beautiful unique flowers that butterflies will love. The stems and stalks that Joe-Pye weed grows are strong and support the large flowers that bloom on them.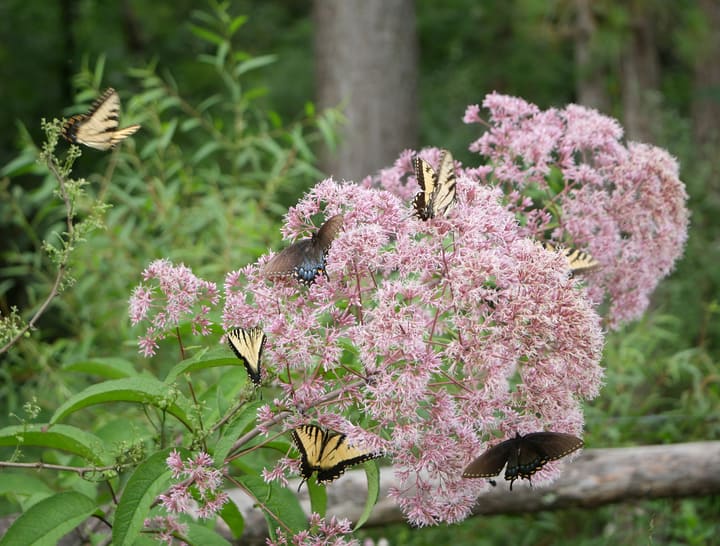 Typically purple or pink, these wild plants grow naturally along the East coast and in central North America.
6. Milkweed
This natural growing plant has a toxic layer around its stem, preventing many insects from touching it—however, butterflies love its nectar.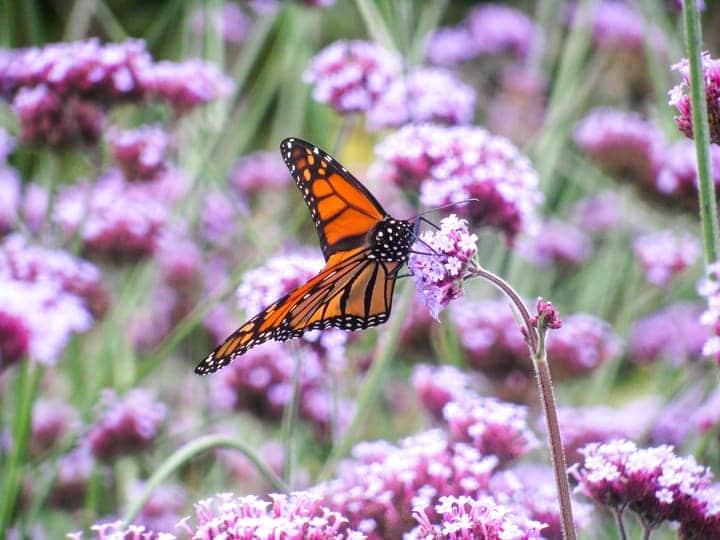 The flowers that bloom from milkweed grow as large bushes made from many small petalled flowers.
Tip: Use caution when planting or managing Milkweed as it can irritate your skin.
7. Garden Phlox
Traditional garden phlox grows into bountiful blooms of small colorful flowers. This species of phlox is a perennial and will continue to fill your garden as often as you let it.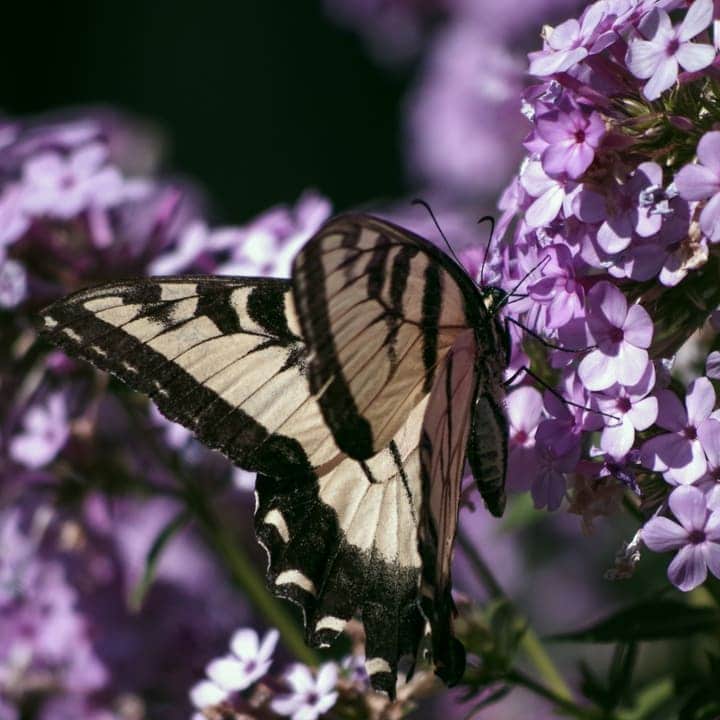 A colorful pile of flowers, garden phlox blooms in the summer and adds surprising accents to your garden.
8. Liatris
A wild-looking, floss-like flower, Liatris grow as straight stalks that bloom into dense spikey flowers at the top.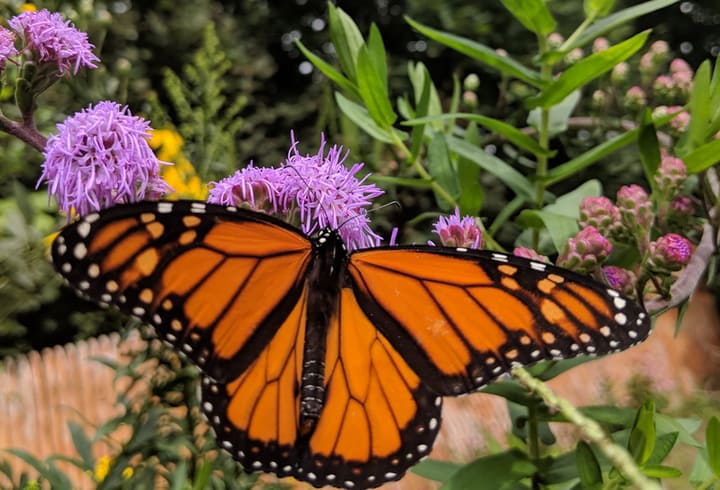 This odd-looking plant will create texture in your garden while also being an easy access to nectar for butterflies.
9. Shasta Daisy
The Shasta daisy is one of the most common flowers you can find. Their large petals bloom through the spring and summer, requiring little maintenance to keep returning in full flush.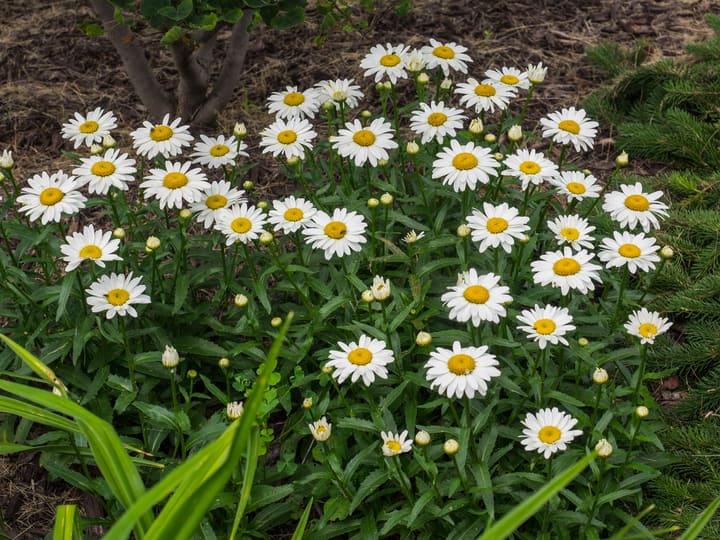 Tip: Be sure to cut the deadheads from the stems after the blooming season to promote healthy growth of future flowers.
10. Blanket Flower
A stunning bloom that often resembles a sunrise, the blanket flower is sure to bring in the butterflies. These flowing flowers have strong colors like red, yellow, and orange that are most attractive to flying eyes.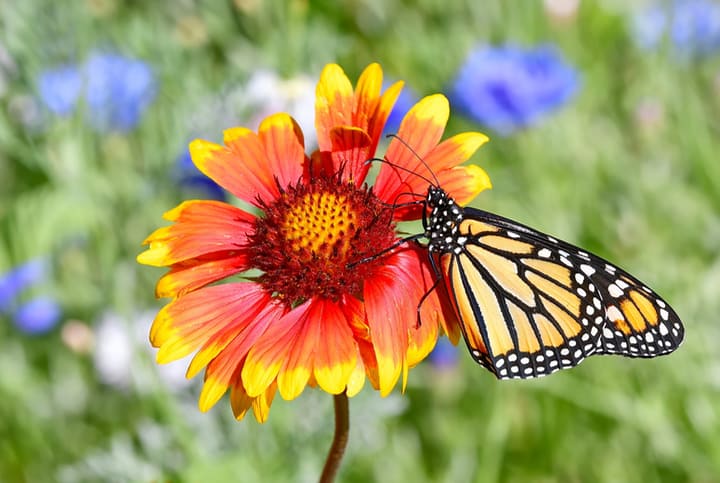 Blanket flowers, or gaillardias, grow as a flourishing bush of flowers, perfect for a base of your garden or border plant.
11. Bee Balm
Most butterfly flowers will also attract bees, given their strong nectar and pollen properties. Bee Balm is an example of a gorgeous plant that will bring you a variety of flying friends.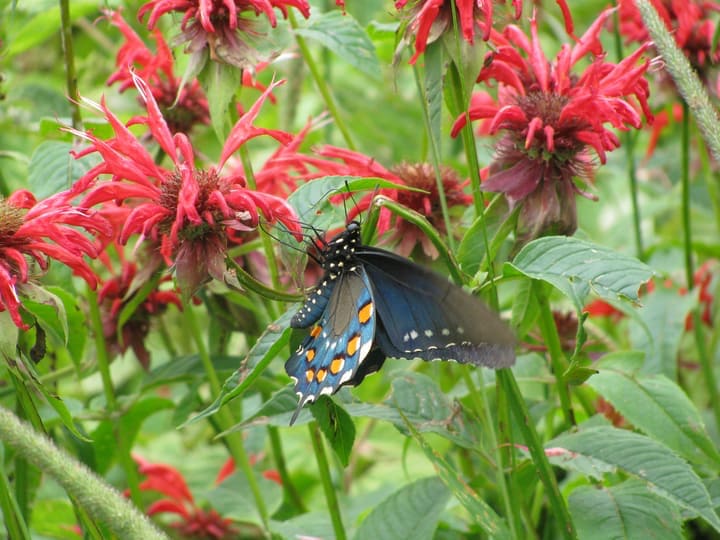 There are a variety of bee balm species to choose from, but they all have long tubular flowers that attract butterflies, bees, and even hummingbirds.
12. Bachelor Buttons
A striking spiky flower, Bachelor buttons (or cornflowers) explode with long bright petals that will perk up any garden.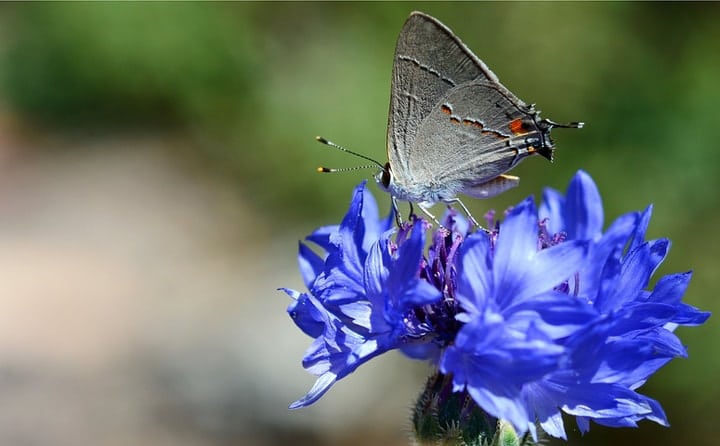 These flowers are full of strong nectar that will draw in many different butterflies and other pollinators.
13. Coreopsis/Tickseed
Voluminous bright blooms grow into piled flowers. Coreopsis typically comes in yellow varieties but can blossom into pinks and multicolored petals.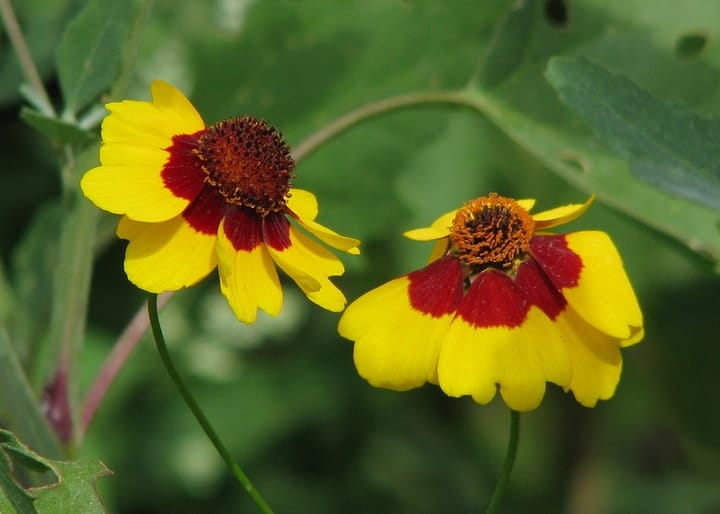 Tickseed plants are effective butterfly flowers. They are easy to manage in hot dry climates and will add color to your garden.
14. Sedum
An interesting bush, Sedum has an extended blooming period in which it turns colors with the seasons.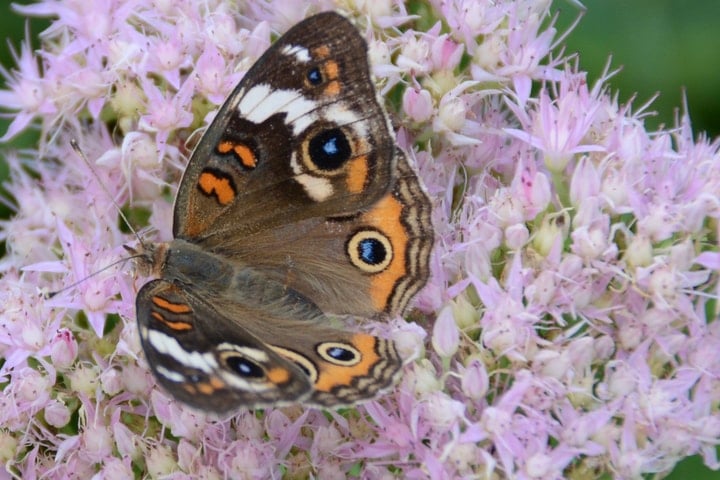 Tip: Don't use rich soil when planting sedum—it can overgrow, causing the flowers to break their stems.
15. Butterfly Bush
As you could guess by its name, this is one of the most popular flowers for attracting butterflies. This plant is aptly named due to its sweet nectar and ease of access for the butterfly.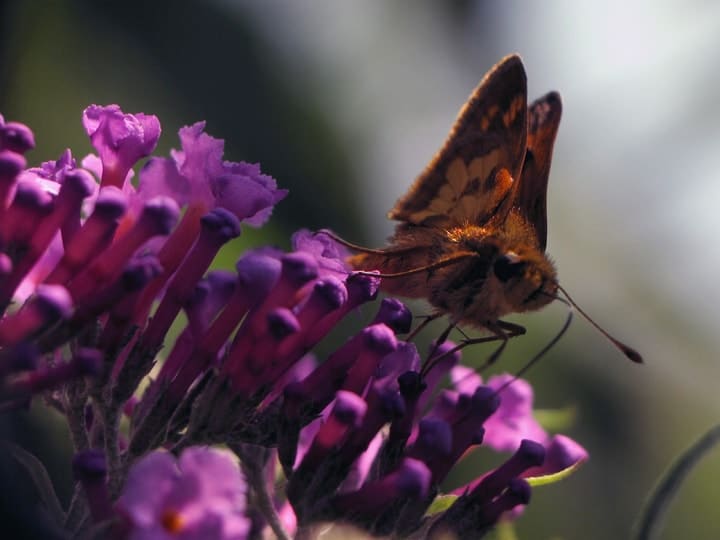 Be sure to plant species of butterfly bush that are native to your country.
16. Vervain
A wide classification or flower, each species has small, tubular flowers that butterflies love to eat from.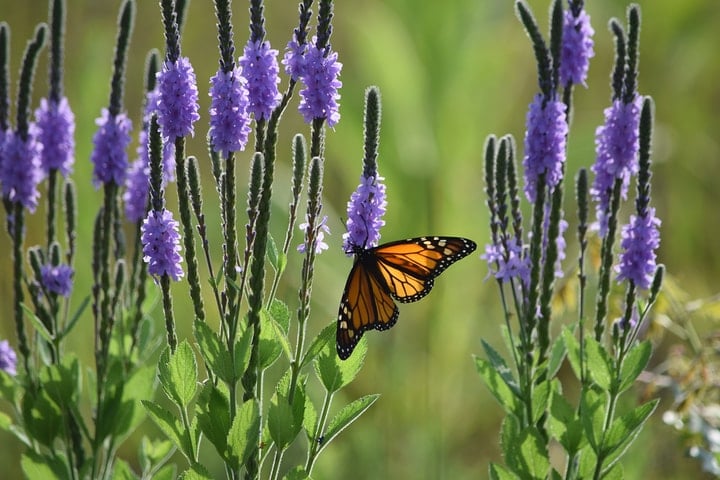 They grow most commonly in the North American South and love the sun. Verbenas have a sweet smell that will bring in the butterflies.
Best Annual Butterfly Flowers
When planting flowers that bloom annually try to plan their blooms opposite of each other. When one flower dies, another set should be blooming to constantly be feeding butterflies.
Annual butterfly flowers have an added benefit of bringing a change of color into your garden as well as new sources of nectar!
17. Lantana
Lantana's are small but pack a lot of color. They bloom best in the summer and will add strong reds and yellows to your garden.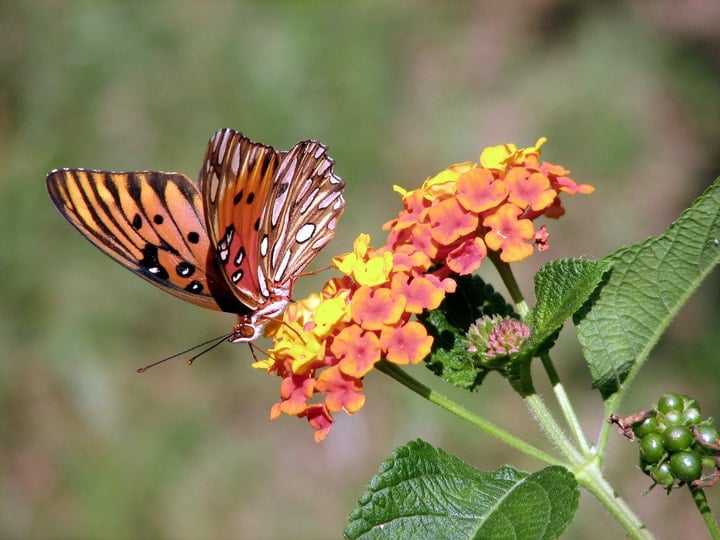 These sunrise flowers are perfect for dry climates and love the sun.
18. Zinnias
These flowers grow in a unique shape, typically forming layers of petals that surround the pollen head. There are pollen sprouts that stem from the bloom, making them perfect for butterflies to sip from.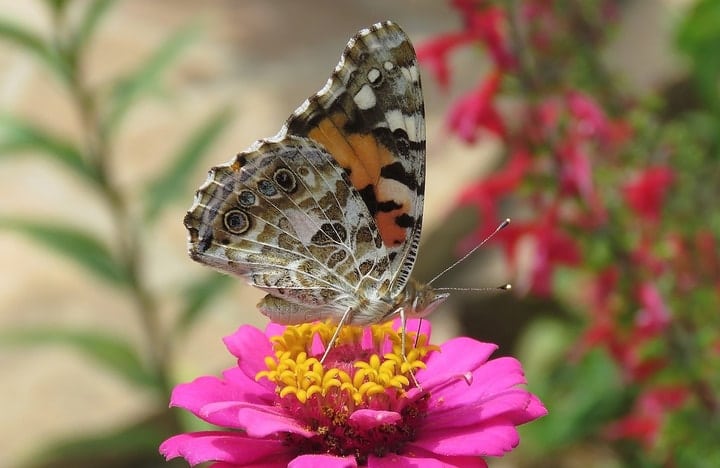 Zinnias are bright nectar filled flowers native to the southern parts of North America.
19. Cosmos
Cosmos are full-fleshed flowers that open up for flying insects to feast upon. Some cosmos species are perennial, but most will only bloom annually.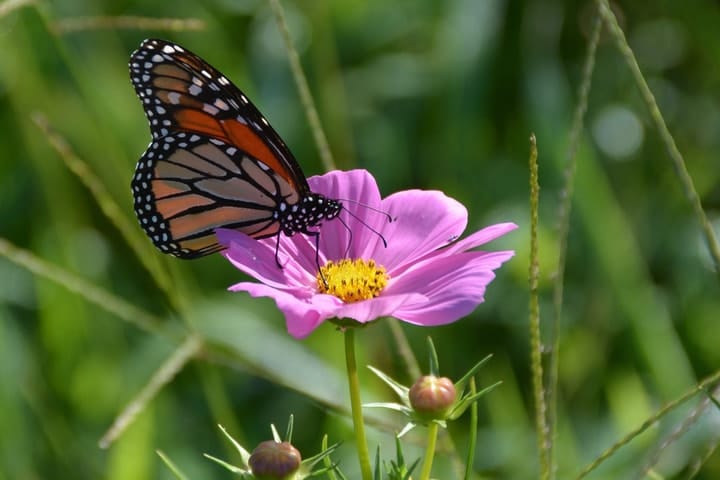 Good to know: This daisy species grows in dry soil and hot climates.
20. Sunflower
Everyone's favorite bright flower, sunflowers are huge pollinators that will bring life to your butterfly garden.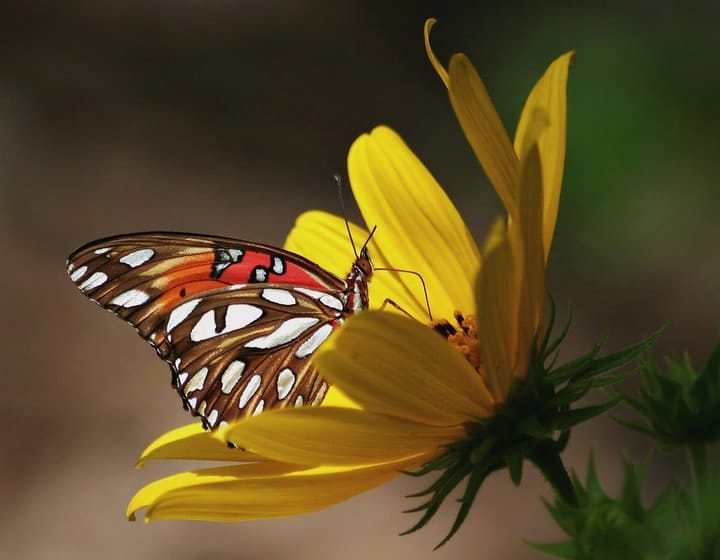 This butterfly attractor will be in full bloom late summer and wave down the flyer like a flag.
Bonus: Sunflower seeds will attract other wildlife—a variety of birds!
21. Alyssum
Unlike some of our other flowers, alyssum flowers grow low to the ground. Their bunches of white blooms only need a little sun to flourish.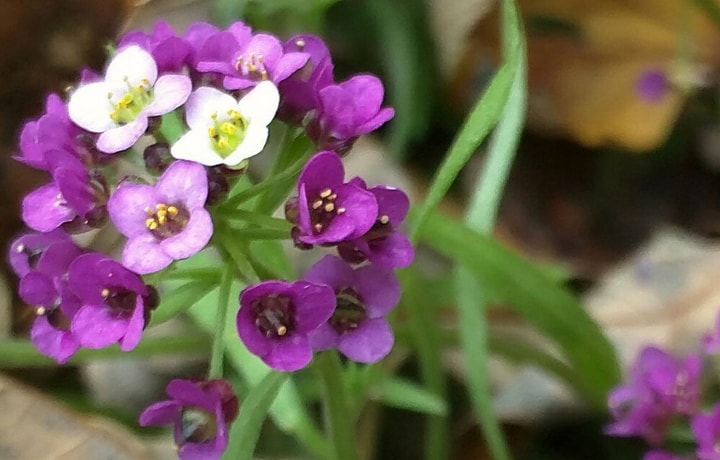 Alyssum typically grows in white or purple, and always offers a tempting honey scent.
22. Marigolds
The various species of marigolds all offer bold color, heavy blooms, and lots of nectar. They are a daisy flower and grow mostly in yellow and red, often multicolored.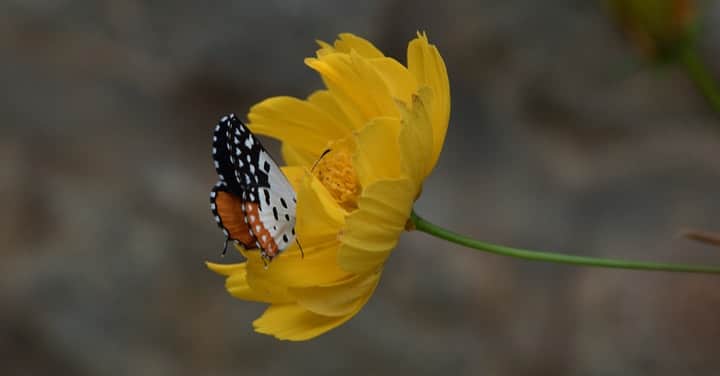 Though the pom-pom marigolds are gorgeous, it is harder for butterflies to reach their nectar.
23. Gazanias
Bursting with color, gazanias have large flat petals surrounding its large pollen head. Butterflies love when it opens from a day of sun.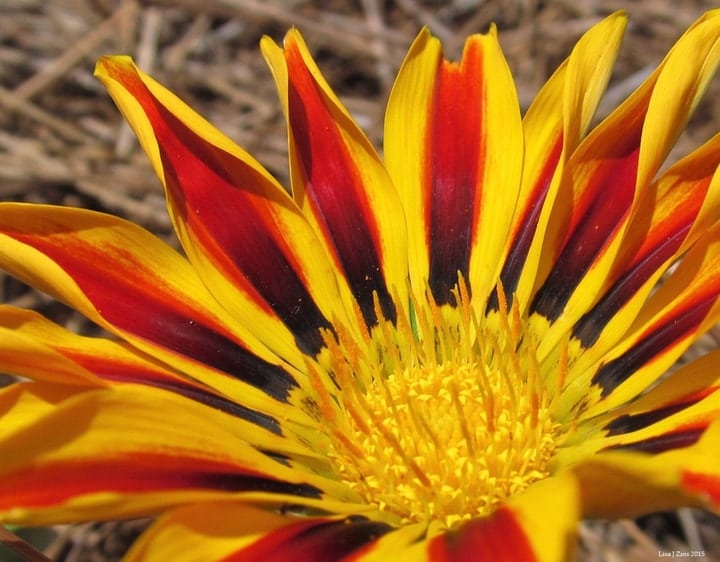 The stunning shape and hues of the gazanias will only show if they see lots of sunlight but will be rewarding to your garden.
24. Gerber Daisies
You're looking at the most common daisy species in home and garden stores. The Gerber daisy comes in many vibrant colors.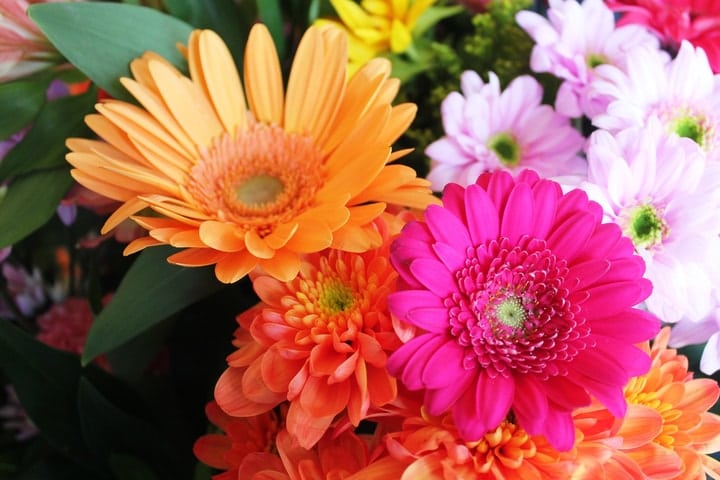 These flowers grow best in the sun with dry soil. They are easy to maintain and will make a wonderful addition to your summer bloom.
25. Cape Daisies
A wonderful change of color, cape daisies often burst with purple hues and bloom in cooler climates. Planting these daisies will make up for your summer bloomers and feed butterflies in the fall.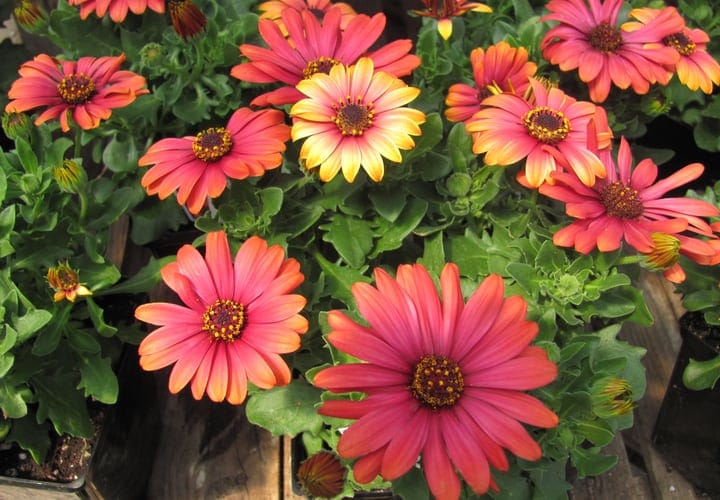 Cape daisies grow in white, blue, and other multicolored varieties.
26. Petunia
An extremely common house flower, petunias are wonderful sources of nectar and color to attract butterflies.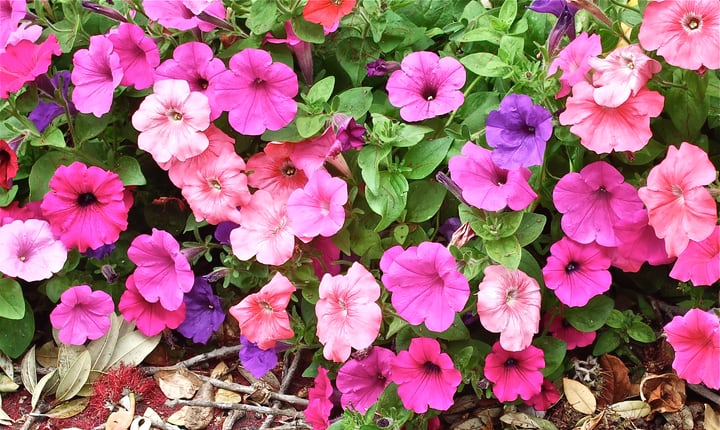 These colorful bell-shaped flowers have easy accessible nectar your butterflies will enjoy through the summer and fall—as long as you maintain the bloomage!
27. Pansies
An annual treat you can add to your garden, pansies will bloom early to welcome butterflies out of hibernation.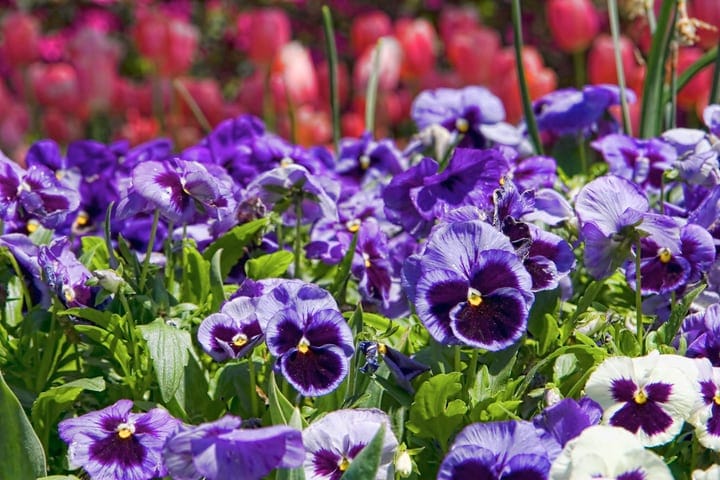 Pansy petals are nearly uniform in shape and always offer multi tones to attract more butterflies.
How to Choose Flowers for a Butterfly Garden
Choosing flowers for a butterfly garden starts with understanding your climate and knowing a bit about butterflies and their needs. Not all the flowers we mentioned above will do well in any climate.
Here's a simple step by step approach to help you choose the right flowers for your butterfly garden. It's easy, so you shouldn't have any problems following it through. Don't skip any step!
Step 1 – Know Your Local Weather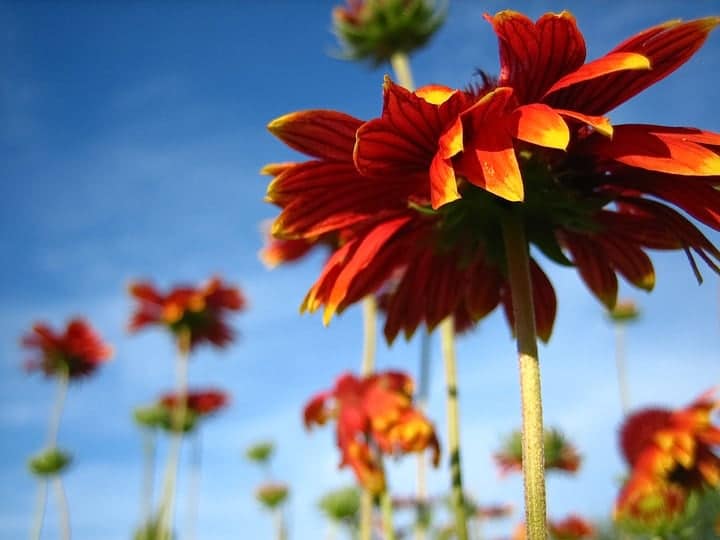 Check out the USDA Plant Hardiness Zone Map to know the average high and low temperatures in your region. Equipped with this knowledge, you'll be able to choose butterfly flowers adapted to your region.
Step 2 – Learn More About Butterflies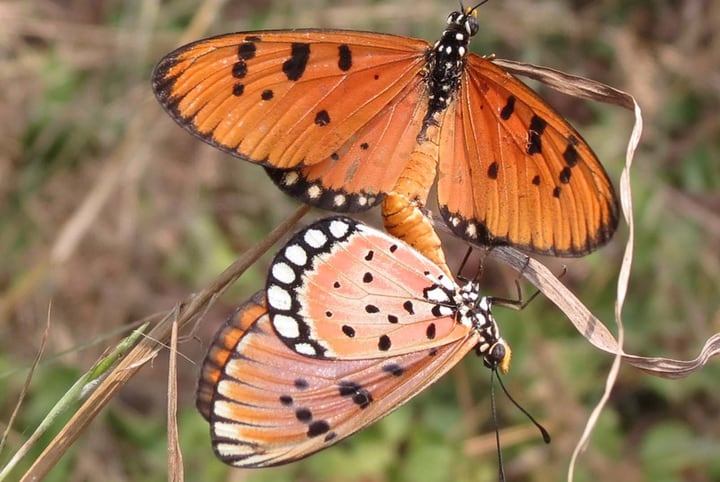 Knowing about the butterfly life cycle and the habits of butterflies will help you choose the flowers that they most love. For example, Monarch butterflies are often drawn to Zinnias or Milkweed.
Step 3 – Choose Brightly Colored Plants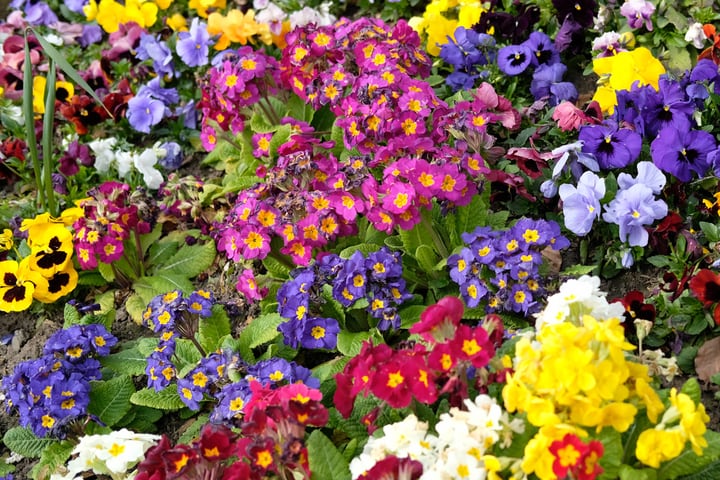 Similarly to bees, butterflies are drawn to brightly colored plants. You want plenty of these in your garden. Plants with long blooms are often the best.
Step 4 – Opt for Plants You Can Plant Together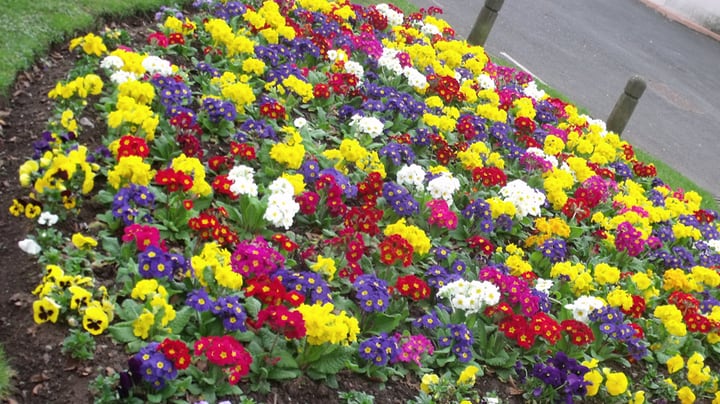 This approach will make it easier for you to attract butterflies–and keep them returning to your garden. At the same time, it can make your garden look great by creating harmony and balance.
Step 5 – Look for Pest-Resistant Plants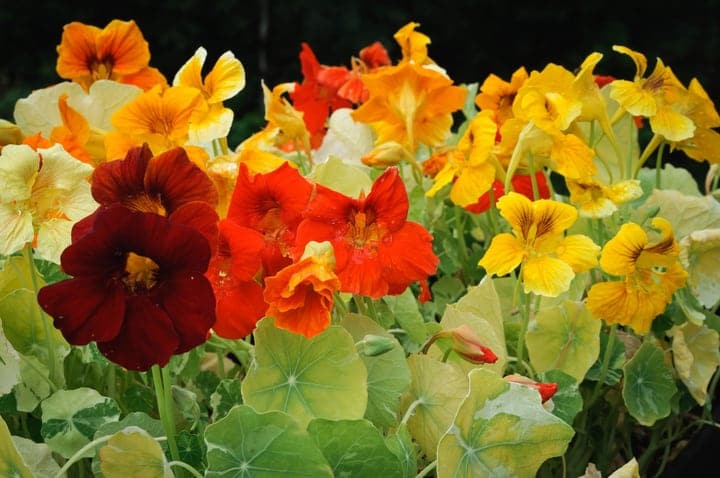 Dealing with pests can be difficult when it comes to a butterfly garden because chemical substances may affect the butterflies.
That's why the best approach is to try to prevent pests in the first place by choosing pest-resistant plants.
Commonly Asked Questions About Butterfly Attracting Flowers
Many gardeners have butterfly flowers in their gardens without even realizing it. Others are keen to add more of these flowers to their green haven.
No wonder then that we hear lots of questions about butterfly flowers these days. We've put together some of these questions are we are going to answer them below.
What are the best butterfly flowers?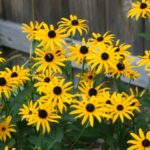 The best butterfly flowers are brightly colored and have plenty of nectar to offer. They include perennials like Black-Eyed Susan, Aster, Yarrow, Purple Coneflowers, and Milkweed as well as annuals such as Zinnias, Lantanas, Marigolds, Alyssum, and Cosmos.
How to attract butterflies to your garden?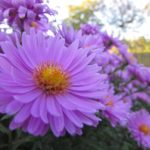 To attract butterflies to your garden, plant butterfly flowers adapted to your region. Plant them in blocks or clusters to make it easier for the butterflies to spot them crowd around them.
You want to plant all these flowers in a sunny location as butterflies like warmth. You also want to avoid pesticides and keep weeds under control.
What colors do butterflies like in flowers?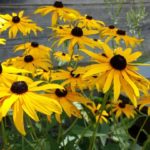 Butterflies like brightly colored flowers that are yellow, orange, purple, pink, or red. Many of the plants that come in these colors are strong sources of nectar–which is what butterflies want.
Time to Grow Some Butterfly Food?
Planting flowers that attract butterflies is not only rewarding for your garden space, but also helps feed and maintain the ecosystem! Plus, gardening is healthy regardless of what you're planting.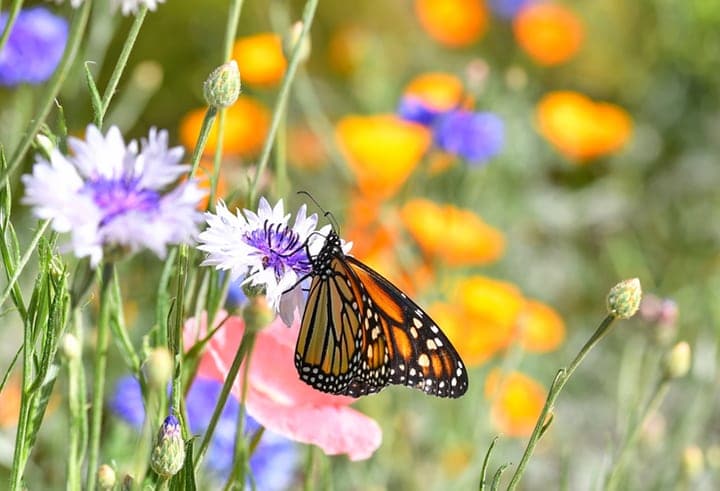 Use the examples we've given you for inspiration but don't forget to research what flowers and plants are common in your area to choose the right butterfly flowers to plant.
Have you had any success in creating a butterfly garden so far? Let us and your fellow gardeners know–drop us a comment now!
Until next post!