How much time do you spend on your patio every week? A few minutes? A few hours? Whether you hang out all the time on your patio or use it only now and then, the right garden furniture can make it a nicer and more comfortable place.
Deciding on the right garden furniture for your patio isn't a breeze. That's because you have lots of options. Too many, perhaps. Choosing a style can be hard, especially if you've not decorated all that many patios before.
If you are working on transforming your outdoor space into a place where you can have parties and intimate dinners with friends, or just unwind and relax, having the right furniture can make a big difference.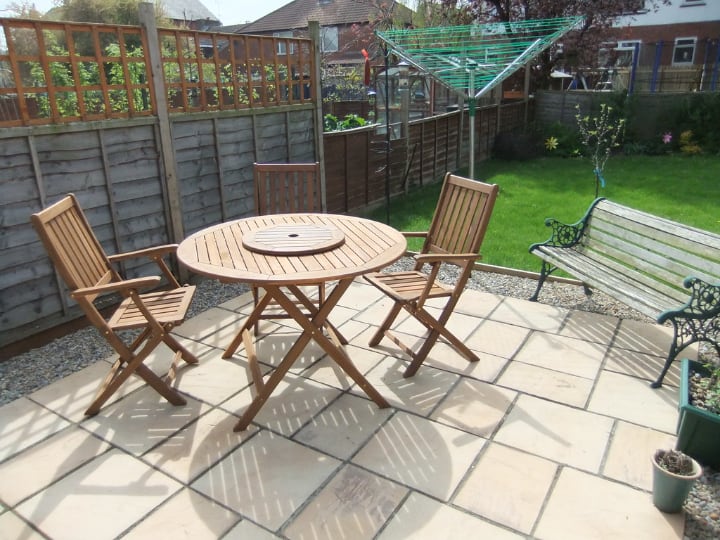 We've put together a list of garden furniture ideas to save you time. Also in this post you'll find a buying guide, advice on choosing the right accessories, and quick tips on how to maintain your outdoor furniture in mint condition.
Read on and discover how designing an outdoor patio can be hassle-free and rewarding!
Best Garden Furniture Ideas
What's the difference between buying outdoor furniture and buying indoor furniture?
While your decor should be consistent, you want to opt for sturdy materials that can last. Garden furniture can get quite expensive, and you don't want it to let you down. Or to have to replace it every other year.
1. Rattan Backyard Garden Furniture with Black Cushions
Rattan doesn't have to be yellowish. This example highlights how rattan can add texture to your space. The black-colored cushions are fitting for families with kids or pets as it is simple to clean.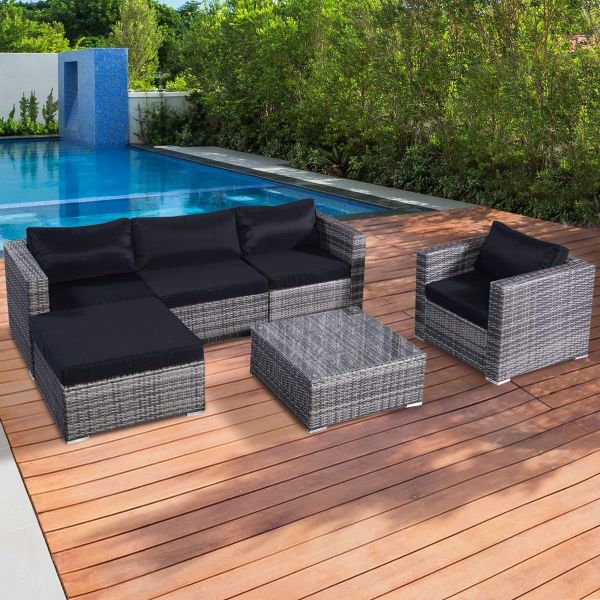 2. Dark Rattan Garden Patio Furniture with Umbrella
An even darker hued option, this arrangement is more compact and no less comfortable. It's excellent for entertaining your friends. It has a convenient center table and you can easily add to it an umbrella for shade.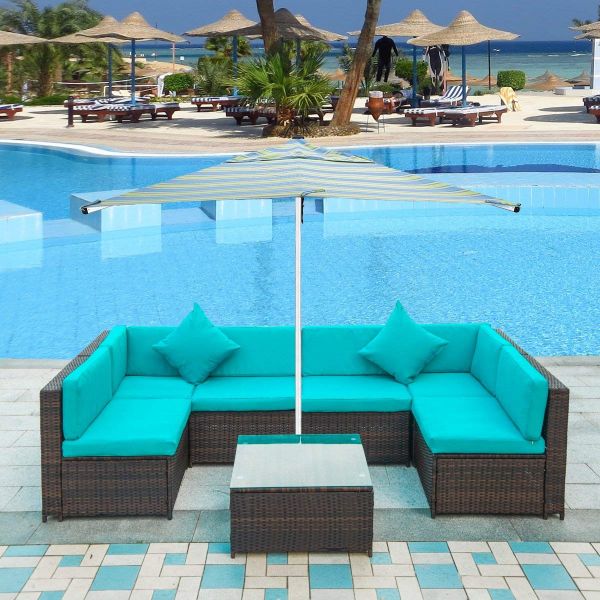 3. Classic Rattan Garden Lawn Furniture with Glass Table
But if all you wish is to sit down with your family, breathe, and savor your favorite tea, you may want to go for a more classic garden lawn furniture option. This one's udea for a small family.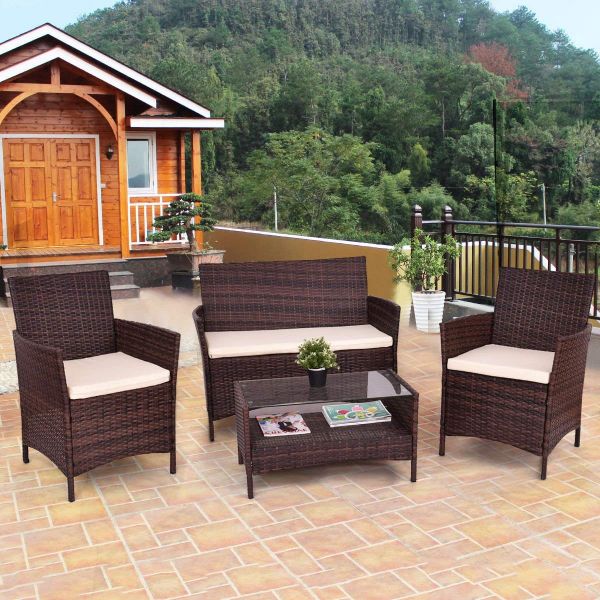 4. Elegant Rattan Garden Furniture with White Cushions
If you're looking for a more sizeable and elegant choice, here's an idea for you. This set looks great and gives sitters plenty of space to snuggle into each other. We love the minimalist design.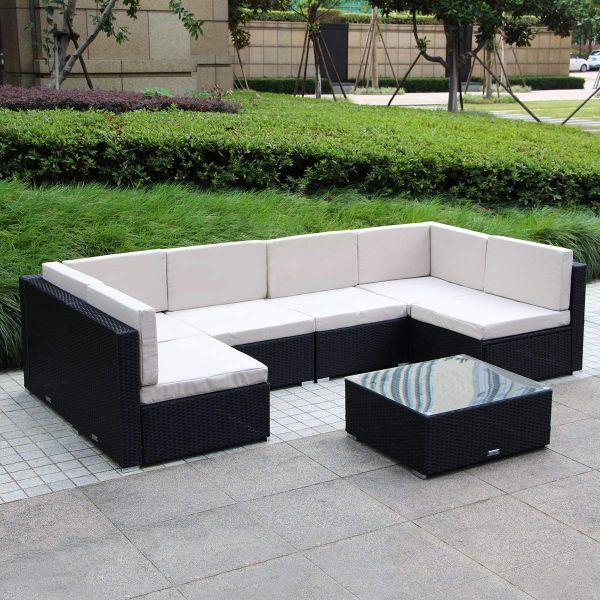 5. Creative Outdoor Garden Reading Chair
This creative Kettler outdoor garden chair makes a strong statement–your garden furniture doesn't always have to be conventional.
Look for something similar to create an amazing reading corner for you during sunny days.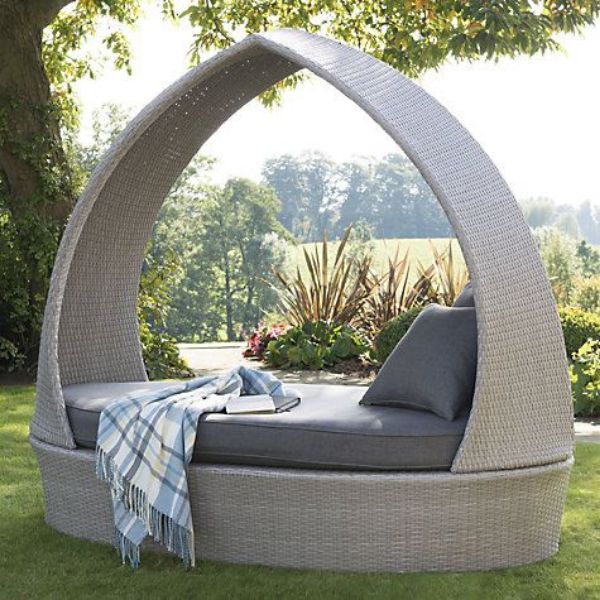 6. Kettler Six-Seater Outdoor Metal Furniture
Looking forward to meaningful conversations with friends in your patio or garden? Try this classic metal garden furniture with a parasol. It's easy to move around and rearrange.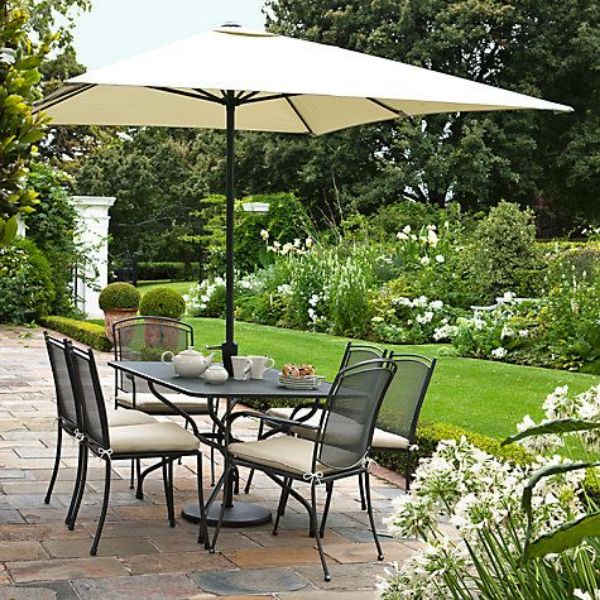 7. Kettler Madrid Garden Corner Furniture
Corner furniture like this is awesome for catching some rays in the morning or just appreciating the stars at night. Either way, with its sleek sophisticated look it is surely a fabulous addition to your patio.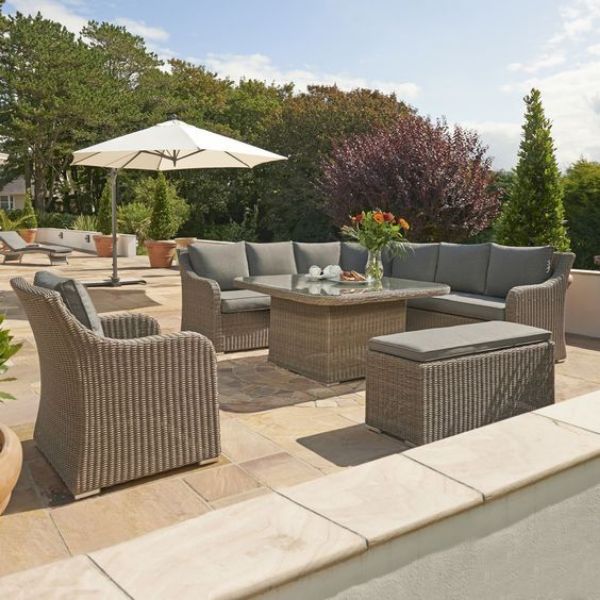 8. Teak Garden Furniture
Teakwood is an elegant material for garden furniture that makes you patio feel homely and inviting. You can combine it with brightly colored pillows like in this example to create a nice place.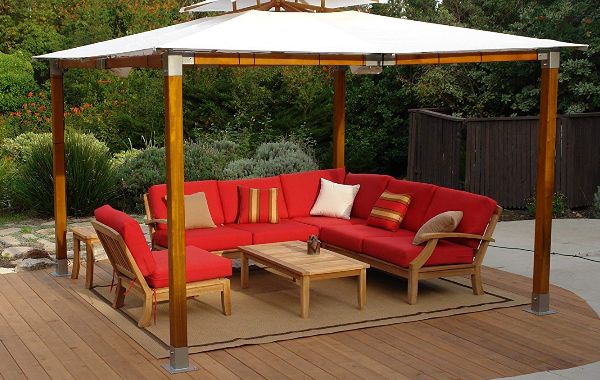 9. Beckley Hardwood Garden Furniture
We love wooden outdoor furniture, and this example proves just why–it looks fantastic and adds a natural, organic feel to any space that's worth the money and the occasional maintenance it requires.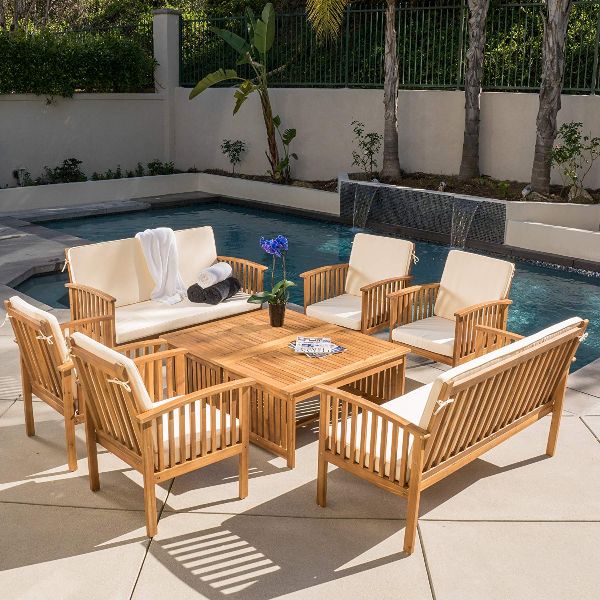 10. Wicker Garden Furniture
Wicker garden furniture is a cost-effective option that's durable and easy to maintain. Here's an example of a set made up from multiple pieces which you can easily combine and rearrange for optimal use in your space.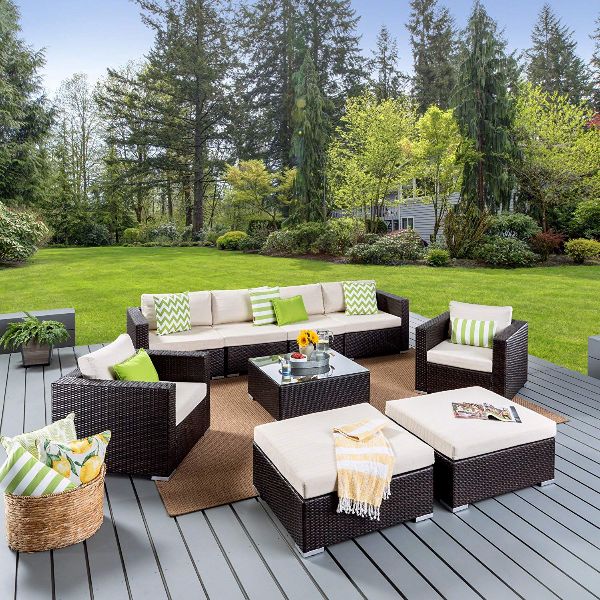 11. Steel Frame Garden Furniture
Simple, durable, and reliable–that's steel frame garden furniture in a nutshell. It's rust-resistant and solid enough to last for years. We like this simple set for small patios and gardens.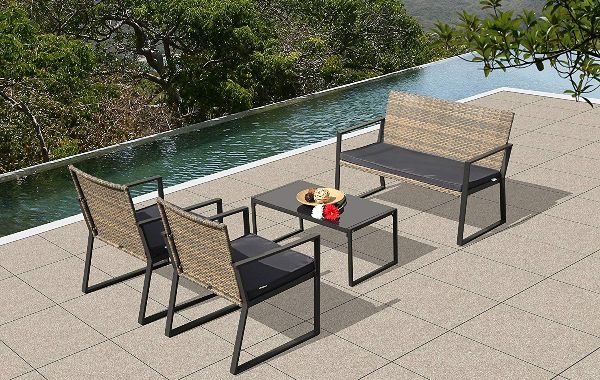 12. Acacia Garden Furniture Set
Elegant in an understated way, this beautiful acacia garden furniture set is one of our favorites from this list. You can use this type of furniture both indoors and outdoors. It's got a timeless design.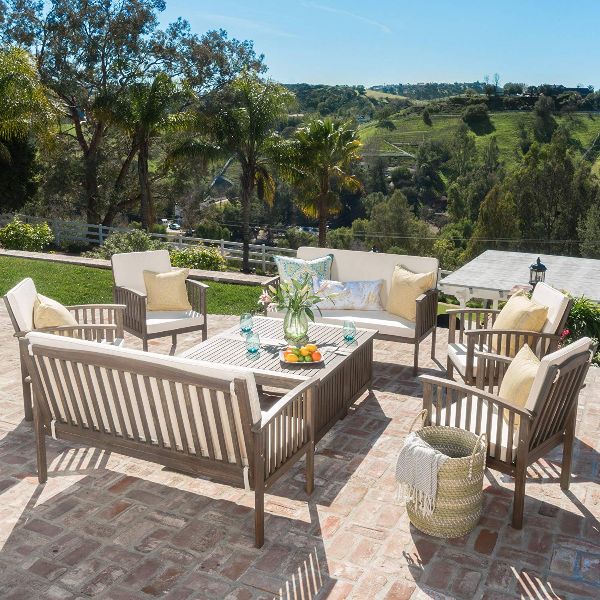 13. Simple Outdoor Garden Furniture
Looking for something small and affordable? Here's an example to inspire you. This set is simple and to the point. It's not going to turn heads, but it will provide the easy comfort you need to breathe some fresh air outside,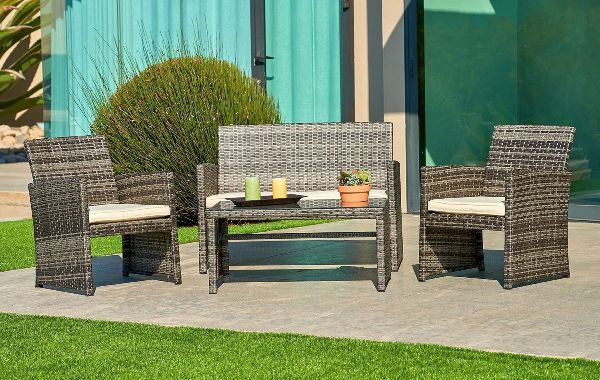 Essential Accessories for Your Garden Patio
Accessories can make all the difference between an average garden patio and a great one that your family and friends enjoy returning to.
By accessories we mean cushions, parasols, and heaters–each of which are very important for creating a comfortable space in different seasons. Let's look at each of these by turns.
Cushions
Bring in color and texture to your outdoor design by adding cushions.
Opt for water-resistant materials that are quick to dry whenever possible if there's any risk that these pieces will be left out in the rain.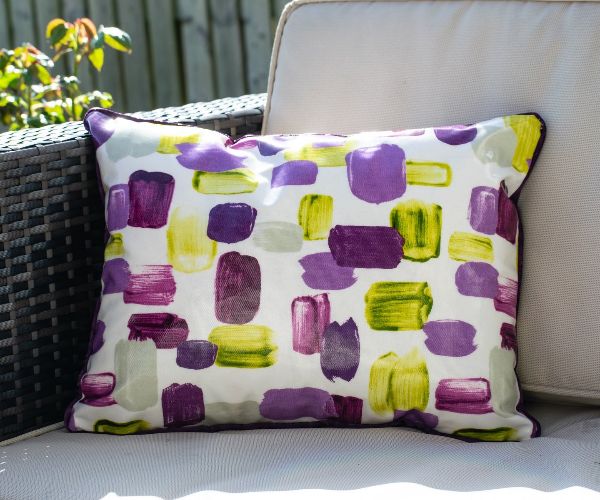 Here are some of the bestselling garden furniture cushions you can add to your space.
Parasols
Does your outdoor space get plenty of sun? You probably need a parasol. Don't shy away from brilliant colors and patterns–they are in vogue.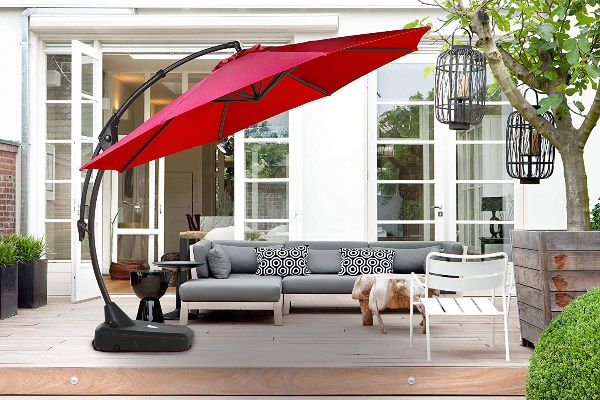 Tip: A parasol doesn't just provide shade and protect you from harmful UV rays but can also add a touch of color to your outdoor structure.
Check out these top selling garden parasols for your outdoor space.
Patio Heaters
For you to continue to enjoy your outdoor patio even when it's chilly, consider getting some patio heaters. If you have a narrow garden space, you can install wall-mounted heaters.
Electrical patio heaters are cost-efficient compared to gas-powered ones and they are usually noiseless. As an alternative, use a fire pit or chiminea.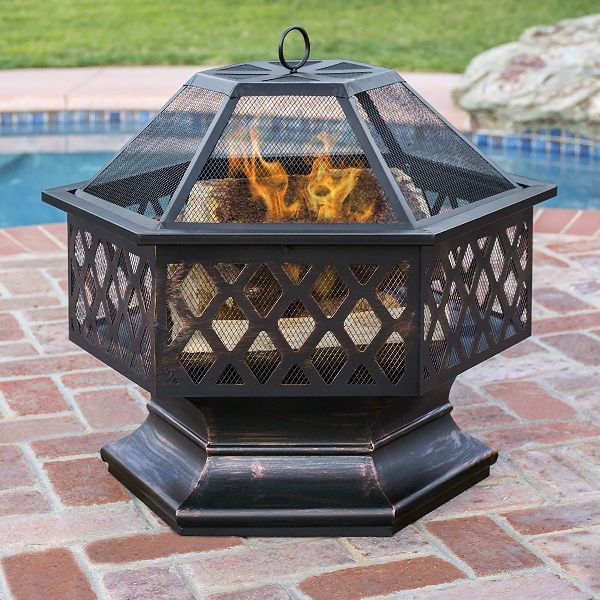 Here are some other patio heaters you may want to consider.
Garden Furniture Buying Guide
If you've made up your mind to buy garden furniture, there are a couple of things you want to consider before making a choice.
Take the time to consider the following points. You'll make a better decision, save time, and possibly save money also.
Space
Take note of the dimensions of your space and ensure that your furniture will fit well while allowing you enough space to move around freely.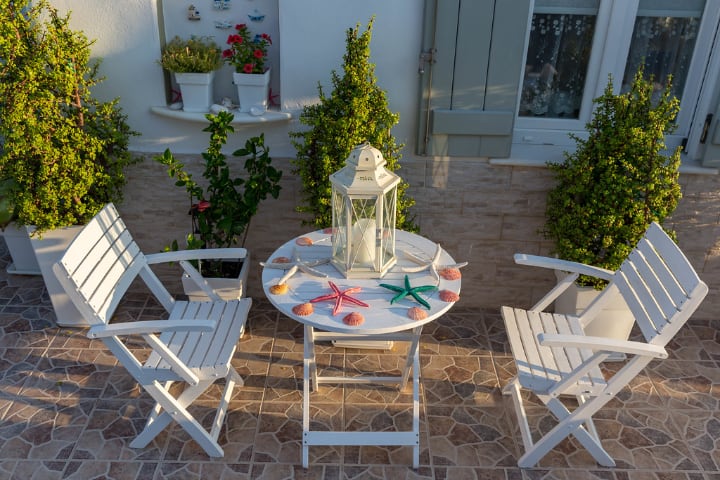 Tip: To avoid a very narrow fit, it's better to downscale. You can usually do this without sacrificing comfort.
Storage Space
It's usually best to you store your outdoor furniture safely during the winter season. Even if you keep it on the patio, it may still get damaged during the winter.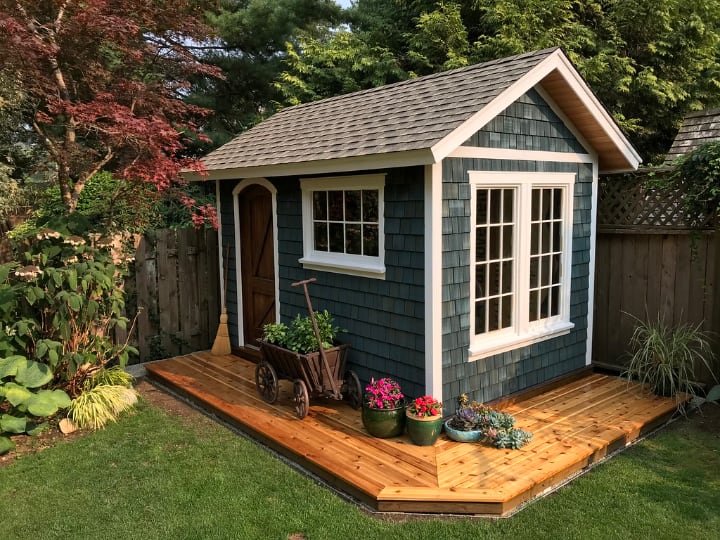 If you don't have a garden shed or another garden storage solution, consider pieces that can be easily folded or save on quality tarpaulin to cover your garden furniture.
Furniture Materials
The material you choose for your garden furniture must be durable to weather out the elements and resist the wear and tear that comes with frequent use.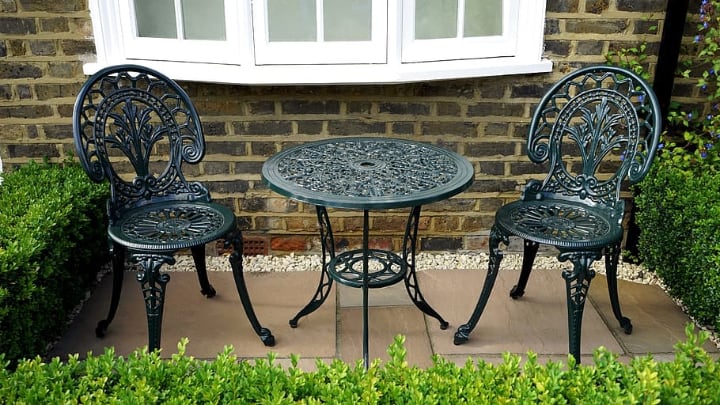 At the same time, however, you don't want to sacrifice style for durability–you can get both. Let's look at some of the most popular garden furniture materials.
Rattan
Rattan is a strong fibrous plant not unlike bamboo. It's a liana rather than wood, and it's sourced from hundreds of species of climbing plants growing in Southeast Asia.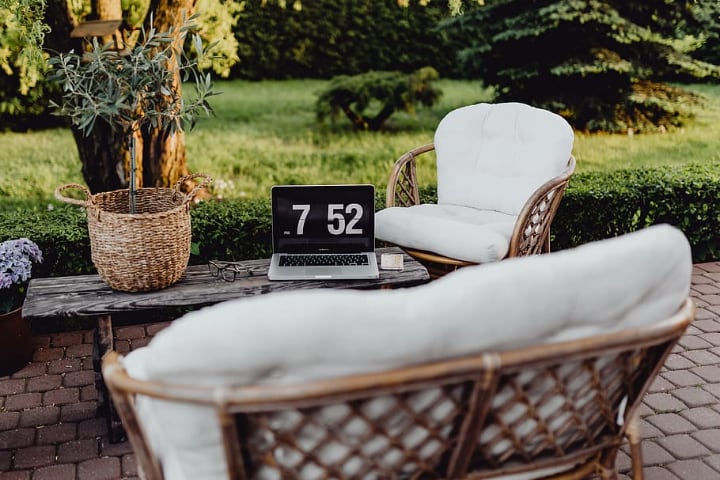 You can rely on rattan furniture to withstand even the toughest of elements. That is why this material is a prominent choice when it comes to garden and patio furniture.
As you may have noticed in our list of ideas above, rattan is now available in several colors that will easily match your personal style.
Wicker
Wicker garden furniture is another natural choice. It's durable, weatherproof, and for the most part affordable, making it a popular choice.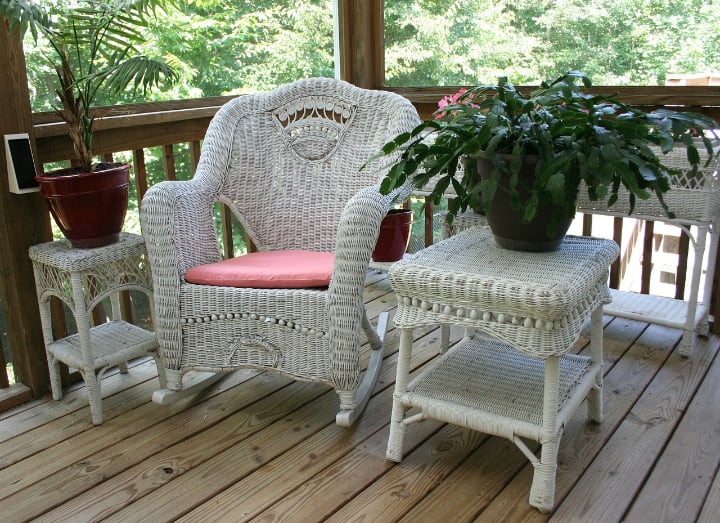 Keep in mind though that wicker can also be synthetic. We recommend going for the natural material for a more organic look and a nicer feel.
Wooden
Wooden garden furniture adds charm to your patio or garden and is immediately inviting. It can help you create a cozy place in any corner of your property.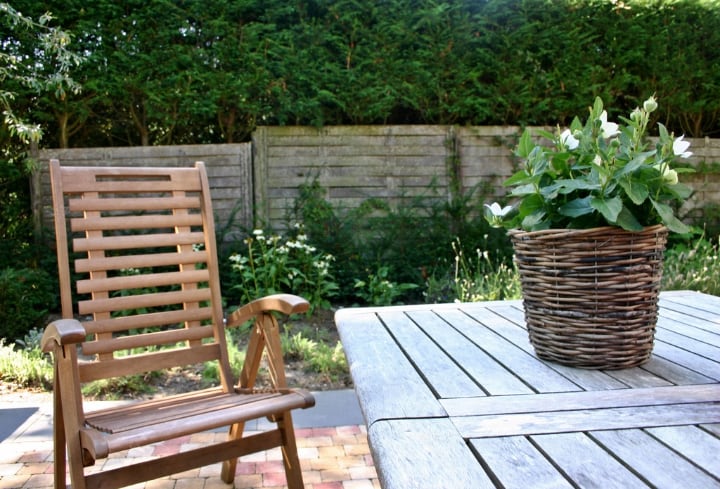 But keep in mind that wood is prone to damage from the elements and requires more maintenance. In other words, you may have to move it indoors in winter and paint it now and then.
Metal
Metal garden furniture is an elegant and durable choice that fits most styles and budgets. It's maintenance free and you can fit it into most decors without worrying that it may jar on the eye.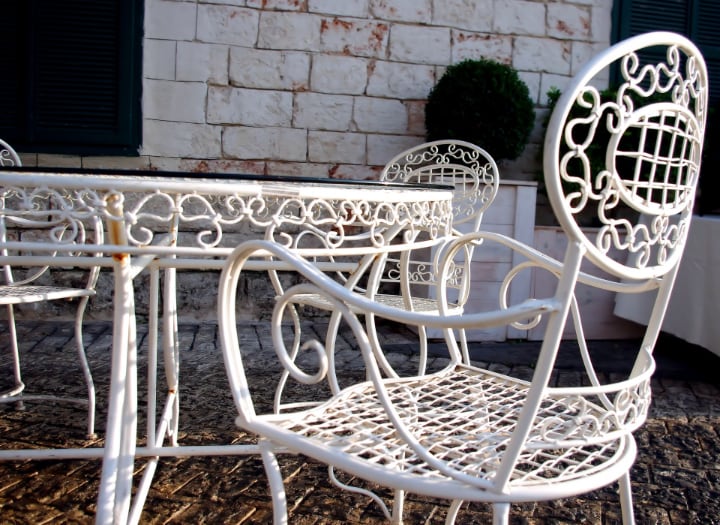 Tip: If you're not sure whether the right types are right for you, go with metal garden furniture. It's a safe choice for most patios and gardens.
Climate
Consider also the climate conditions in your area. Is it normally dry or does it rain regularly? Even if you keep your garden furniture and accessories on the patio, water or wet winds may get to it.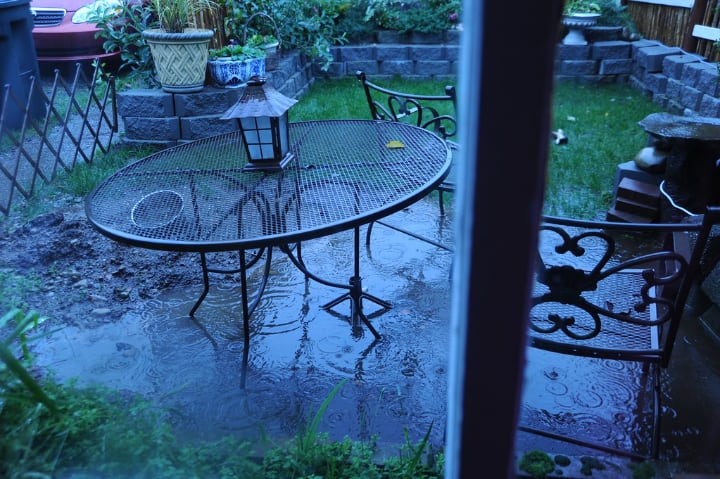 Hot and dry conditions can result in wood cracking and strong winds can bring light aluminum furniture flying, which may not only damage the furniture but injure anyone around.
Budget
Last but not least, let's talk budget. We don't think you should overspend on your garden furniture. At the same time, however, you don't want to buy low-quality furniture just because it's cheap.
Garden furniture has to be well made, durable, and keep its colors and shape in time. Settling for low quality could mean having to replace your outdoor furniture in a year or two, and so you're usually better off buying quality to begin with.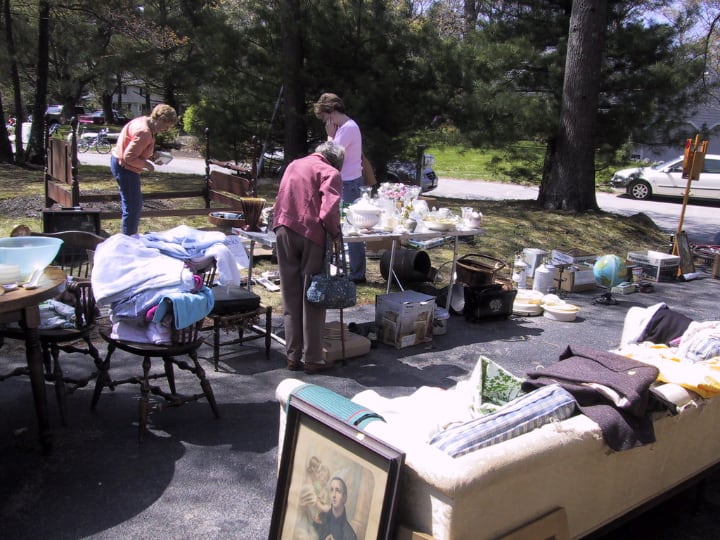 That said, don't forget that you can check out local yard sales or thrift stores for smart buys. For the same reason, you can also opt for low-cost aluminum or inexpensive wood.
Likewise, look into refurbished pieces. To brighten the look of your old pieces, give them a new coat of paint and add new pillows and cushions.
How to Care for Your Garden Furniture
So far we've talked furniture ideas and buying tips, but we also want to share with you some advice on keeping your outdoor furniture in good condition. Don't worry, there's not much work involved.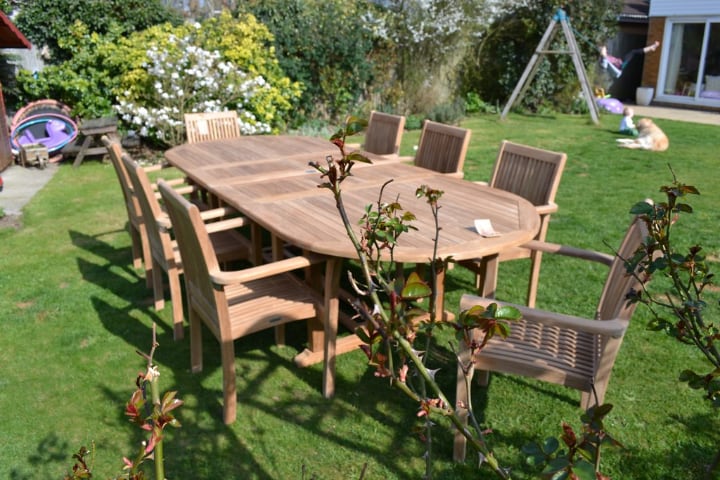 Wash teak furniture regularly with soapy water to avoid staining and to keep its natural finish. During cold or wet conditions, use a teak sealer or simply put covers over your furniture to protect it.
If you select rattan, know that it must be stored during the winter. Also, to prevent the color from fading, keep it away from sunlight.
For powder-coated aluminum garden furniture, make sure to give it a fresh coat of paint to rejuvenate it every few years. If you don't want the piece from forming a patina, make sure to store it indoors during winter.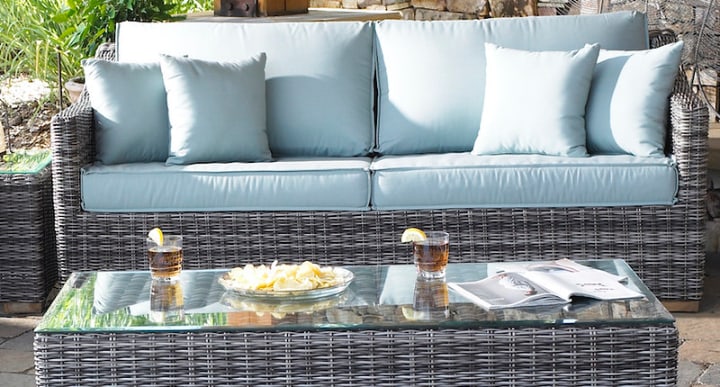 To clean woven furniture, it's usually best to simply wipe it down with a wet cloth. Never use soap in cleaning this type of garden furniture because it tends to get trapped in between and cause discoloring.
Garden Furniture Frequently Asked Questions
We hear quite a few questions about gardening furniture, so we thought to put them together in this section and answer them all in one place.
Sit Down and Relax, Will You?
The flower garden has been planted, the lawn has been mown, the magnolia trees have been pruned and they're looking great.
You know that wonderful feeling of having finished all your gardening work, right?
Well, that's when garden furniture comes in. It helps you create a place of quiet and relaxation from where you can admire all your hard work. Or hang out with your family and friends.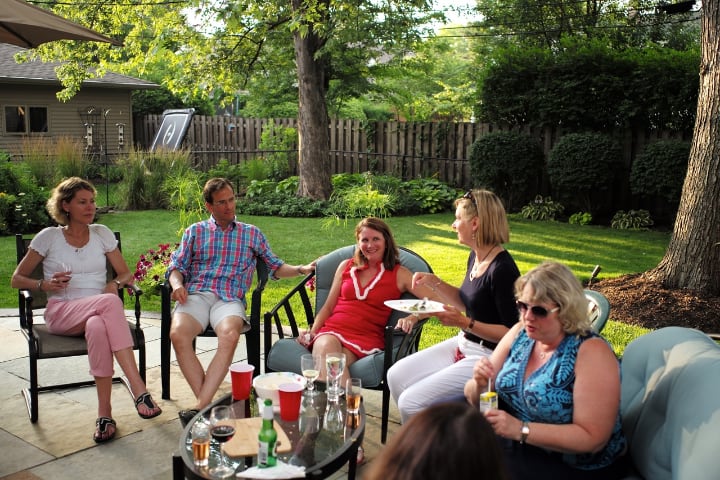 We hope the garden furniture ideas we shared will you will help you create that space sooner than later.
What garden furniture are you opting for? Share with us your ideas in the comments section below. We're curious!
And make sure you check our growing and planting guides for lots of practical advice.