Got a garden? Then you need a shed. And not just any, but the right garden shed for your space and needs. That's what this post is all about, really–helping you find the right storage option for your outdoor space.
Gardening is a wonderful way to spend time outdoors. At the same time, it can give you a real sense of pride and accomplishment and you can really see how your work pays off in such beautiful and delicate ways.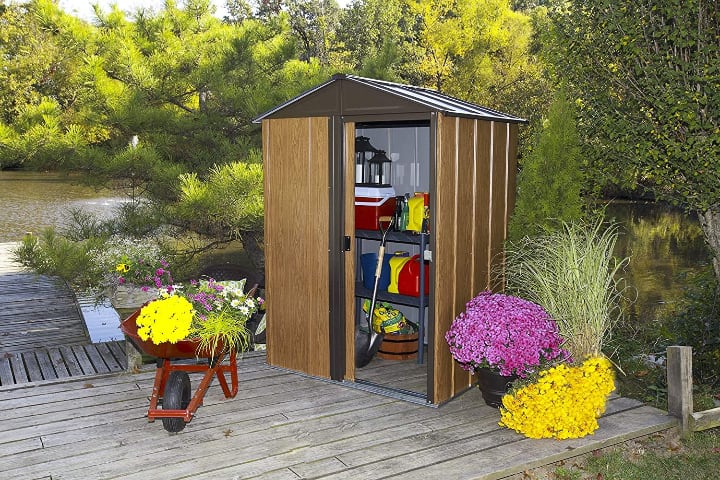 However, as all gardeners know, it can be easy to accumulate a lot of tools and equipment as the years go by. So, picking out the perfect shed for your backyard is important.
Garden Shed: Things to Consider
There are quite a few things to consider when looking for a garden shed, apart from price. Most sheds you can buy may look more or less the same, but that's just the looks.
The first thing you need to think about is how much space you need to adequately store everything.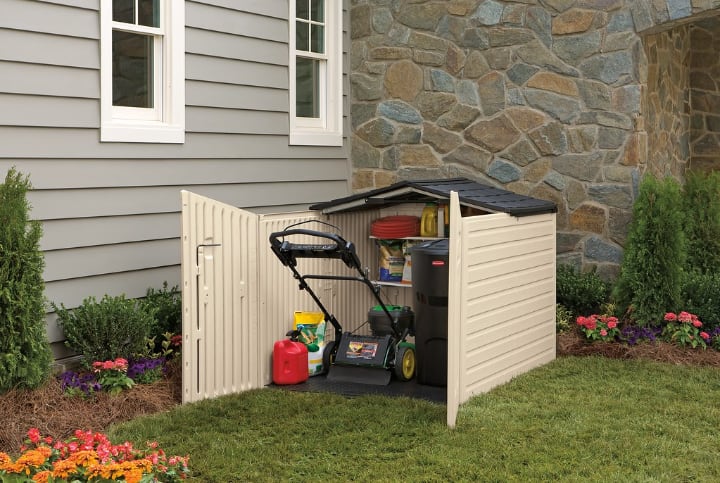 In other words, when looking for your perfect shed, you need to think about the things you will be putting in and how you would like it organized. Already got another garden storage solution? Factor that in.
Important: Consider both the space the shed itself occupies and the storage space it provides. They are not one and the same!
Another consideration is to make sure whether or not you need a permit for your new shed. Sometimes there are regulations on sizes and height, so check out with your local authorities.
Last but not least, consider the materials from which the shed is made and how durable they are. Wooden sheds look wonderful but if the wood is not well treated, you may have to replace it in just a few years.
Best Small Garden Sheds Reviewed
To help you save time and make an informed decision, we've selected some of the best sheds you can buy right now. These are popular, high-rated products that won't let you down. Discover them now.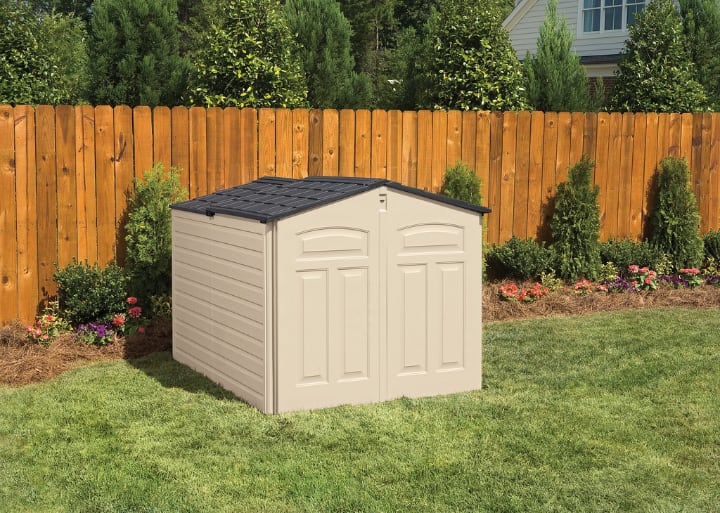 1.
Rubbermaid Big Max Junior Storage Garden Shed
Are you looking for a lot of storage space that won't take a lot of room? Well, it's possible with the Rubbermaid Big Max Junior Storage Shed. This is our top-notch choice since it is very easy to assemble.
It has a double-walled durable construction in order to protect the items stored inside. It's made of all-weather resin so you won't have to worry about rust or rot and other issues.
It features the latest wall anchor system for easy installation on your shelves, pegboard, and other accessories.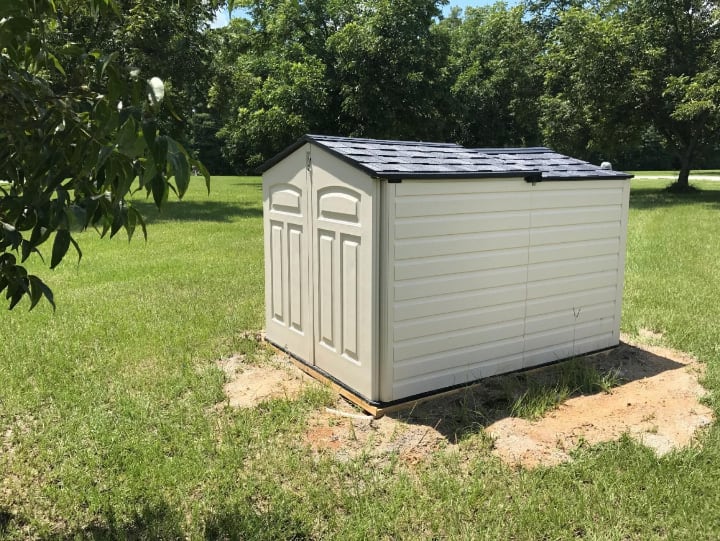 Pros:
Includes a heavy-duty and impact resistant floor.
The doors are lockable to further secure your precious belongings.
It is attractive and durable (weather-resistant, dent-resistant, leak-resistant).
No need for maintenance. It has double doors to provide a wide entry.
Cons:
Can be a bit difficult to put together by yourself.
2.
Lifetime 6402 Storage Garden Shed
Lifetime 6402 Outdoor Storage Shed is our second pick for garden sheds based on its appearance, size, durability, price, and other features. Lifetime offers various sizes and styles of sheds.
However, we find this one the most convenient without the need for expansion later on. Since it has a 620 cubic feet space inside, you can easily store your 4-wheeler lawn mower with abundant space for other accessories.
Keep in mind that based on the manual, this shed should be built on a raised platform so that it can be level with the ground.
Overall, if you're looking for an attractive and durable garden shed which includes full accessories and warranty, you won't go wrong with this one.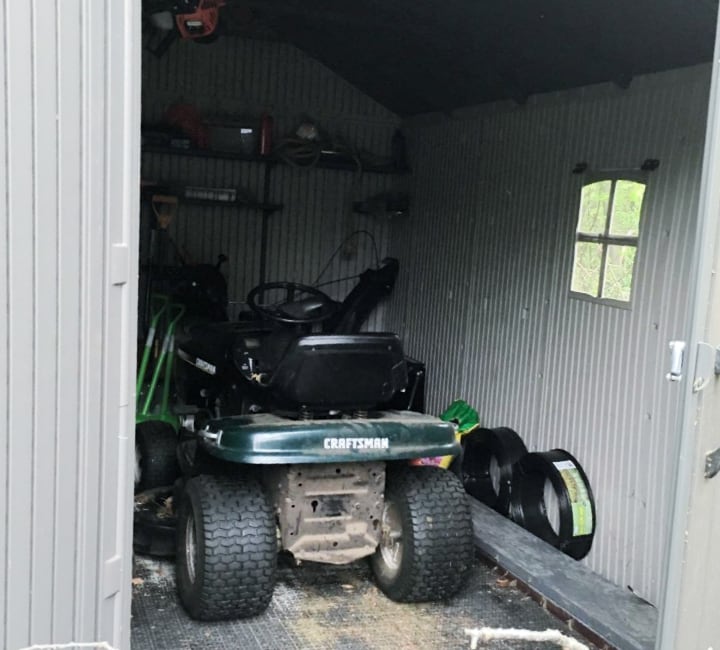 Pros:
Strong shed with double walling made from high-density polyethylene.
Includes a slip-resistant floor that does not stain, chip, or scratch.
Attractive appearance.
Comes with a complete kit of accessories.
Covered by a 10-year warranty.
More durable compared to vinyl sheds.
Cons:
Numerous parts for assembly.
Should be constructed on the ground level.
3.
Rubbermaid Plastic Large Outdoor Storage Garden Shed
Rubbermaid sheds are well-known for their easy installation, durability, and strong construction. This large outdoor shed is our third pick since it is perfect for a house with a big backyard.
You can store a lot of tools in it, too. It has wide double doors that allow easy access when storing mowers, wheelbarrows, and other big tools.
Indoor shelving is not included but its wall anchor system lets you easily install a customized shelf, pegboards, and hangers depending on your storage requirements.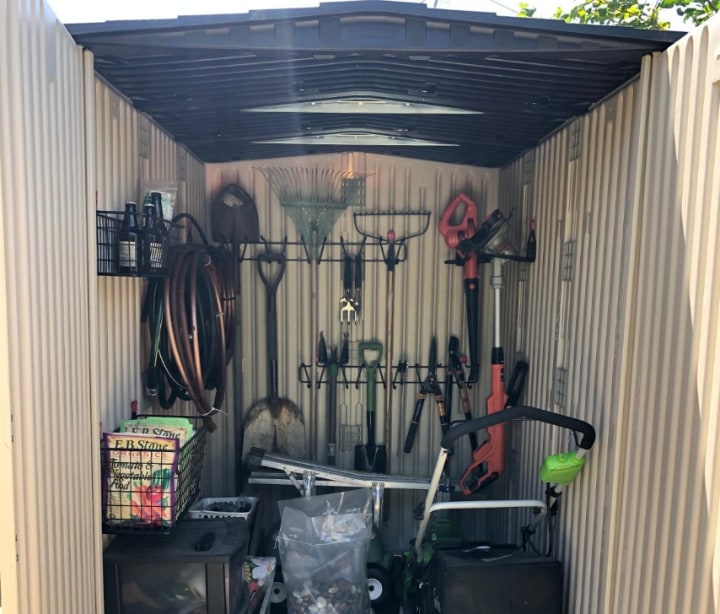 Pros:
Wide double doors for storing bicycles, ladders, snowblowers, and large tools.
Rubbermaid is best known for its durability and double-wall construction.
This shed is weather-resistant, leak-resistant, and dent-resistant.
No need for maintenance since it will not rust nor rot at all.
Cons:
Quite expensive.
Not so stylish since it's made of plastic.
Does not include shelving.
4.
Lifetime 6405 Outdoor Garden Shed
The Lifetime 6405 Outdoor Storage Shed is our fourth choice since it is made of high-quality materials and has plenty of storage for all your backyard equipment.
It's largely maintenance-free because it is rot resistant and weatherproof. This shed has a high roof with an inside dimension of 6'8″.
It includes a slip-resistant flooring that does not peel, chip, or crack as it's made of high-density polyethylene. It's likewise stain and oil proof.
It has steel-reinforced doors with a high arch for more strength. It provides natural lighting inside through its skylights, screened vents, and shatter-proof windows. This shed can last longer and you won't have to worry about any problems at all.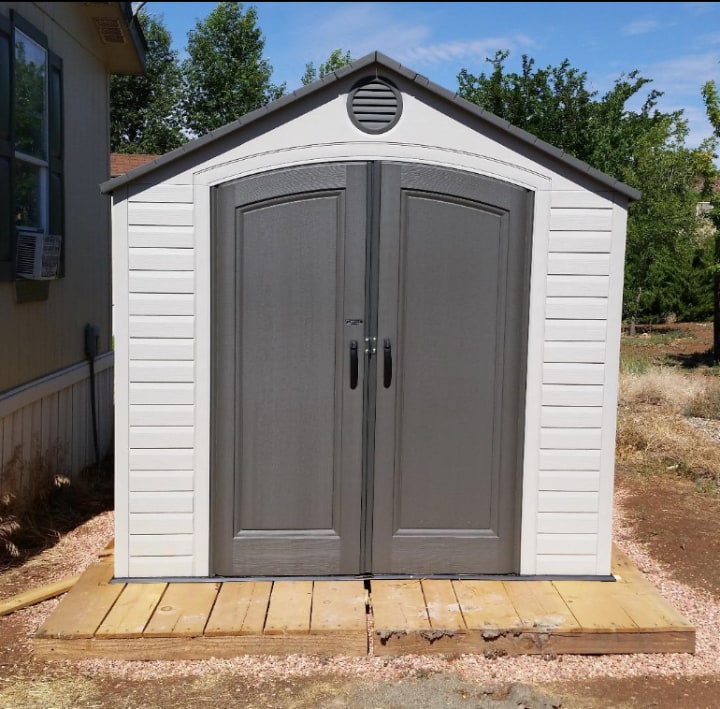 Pros:
Includes internal locking mechanism and indoor customizable shelving.
This shed has high performance with durable construction.
It comes with 4 big skylights, 2 screened vents and 1 shatter-proof window.
It has a high door opening of 4'W X 6′ H.
The steep roof permits fast drainage for rain and snow.
Cons:
Not the cheapest around.
It needs some assembly.
Additional shelving is also costly.
Tip: Here's a quick look at how to assemble Lifetime Sheds:
5.
Lifetime 6446 Outdoor Storage Garden Shed
If you are looking for a high-end option with lots of storage then the Lifetime 6446 Garden Shed is an inspired choice. It has a high A-Frame roof which provides a 6'8″ headroom.
This shed is fabricated from high-density polyethylene along with steel wall supports. It comes with two shatterproof windows which can be opened for more ventilation.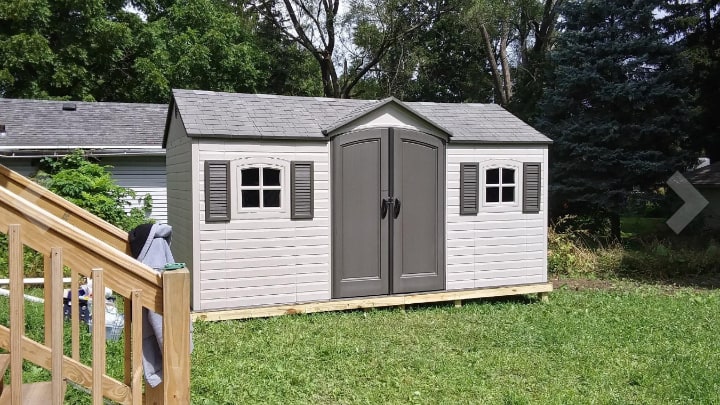 Pros:
Made of weather-proof plastic that is resistant to rot and rust.
Includes 6 skylights, 2 shatterproof windows, 2 vents, and 2 shutters, among others, for more ventilation.
It has a dual-wall UV-protected construction.
This shed has low maintenance.
It comes with heavy-duty steel trusses to provide more roof strength.
This product is covered by a 10-year limited manufacturer warranty.
It has an attractive appearance and design.
The high pitched roof permits fast drainage for rain and snow.
Cons:
It may not be as attractive as wood.
This shed needs some assembly.
Needs a big and sturdy level ground for installation.
6.
Arrow Woodlake Steel Garden Shed
We choose Arrow Woodlake for our sixth option due to its attractive design and good price for what it offers. It's a midsize garden shed that is fabricated from pre-cut and pre-drilled metal. It has easy to open doors that are lockable outside.
This shed has a wood grain and forest green exterior which makes it ideal for any backyard that uses landscaping timber.
With this garden shed, you can enjoy having a convenient storage space where you need it in your yard. It is a great value shed for your garden tools, small patio furniture, and sports equipment.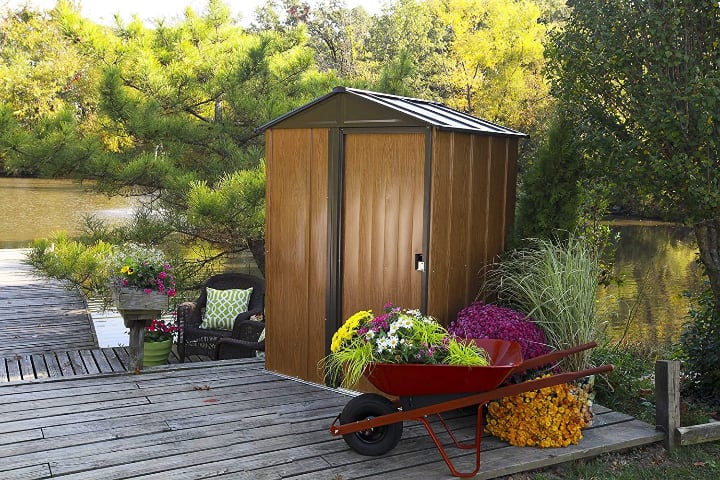 Pros:
This shed has attractive wood grain panels.
Easy assembly because it is made of pre-cut and pre-drilled materials.
It's durable and can last longer because it has galvanized steel parts.
12-year limited warranty.
The track door's glides are smooth and non-sticky.
Good value for the money.
Cons:
It does not include internal storage compartments or shelves.
Metal construction has a tendency to bend easily.
Needs an entire pad for the flooring.
7.
Lifetime 60057 Outdoor Storage Garden Shed
Lifetime 60057 Outdoor Storage Shed is our seventh pick. It's the right size for storing your mowers, wheelbarrow, or hoes.
You can hang hooks on its tough walls for storing long-handled garden equipment, hedge trimmers, as well as leaf blowers.
This is not the cheapest garden shed, but we like its quality build. It has thick walls reinforced with steel for more strength. It comes with a skylight for natural lighting.
Overall, this is a dependable plastic garden shed that is perfect on the back of your garage or porch.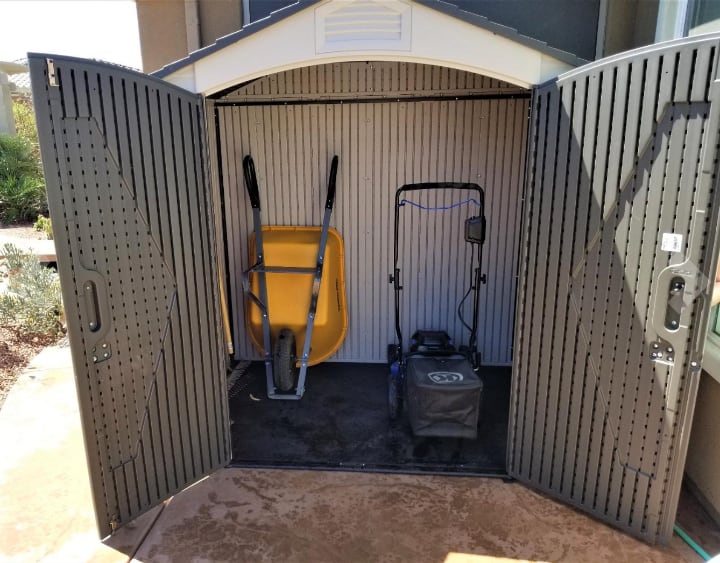 Pros:
Requires low maintenance.
This heavy-duty shed is UV-Protected.
It is covered by a 10-year limited manufacturer warranty.
The high pitched roof permits fast drainage for rain and snow.
Its roof is made of heavy-duty steel trusses for extra strength.
It comes with a latch and padlock loop.
Very easy to assemble.
Cons:
Needs a flat level base.
You won't be able to paint it.
8.
Rubbermaid Plastic Large Storage Garden Shed
This Rubbermaid Plastic Large Vertical Outdoor Storage Shed is our eight choice. It is the perfect storage structure for smaller garden equipment, long-handled tools, and other supplies and accessories.
This shed is made from double-walled heavy-duty plastic which is resistant to dents, leaks, and the weather.
In contrast to sheds made of wood or metal, this plastic shed will never rot or rust. It is very easy to assemble (you won't need any power tools).
It does not have any indoor shelving, but you can buy Rubbermaid wall anchors for installing shelves, hooks, and other storage accessories.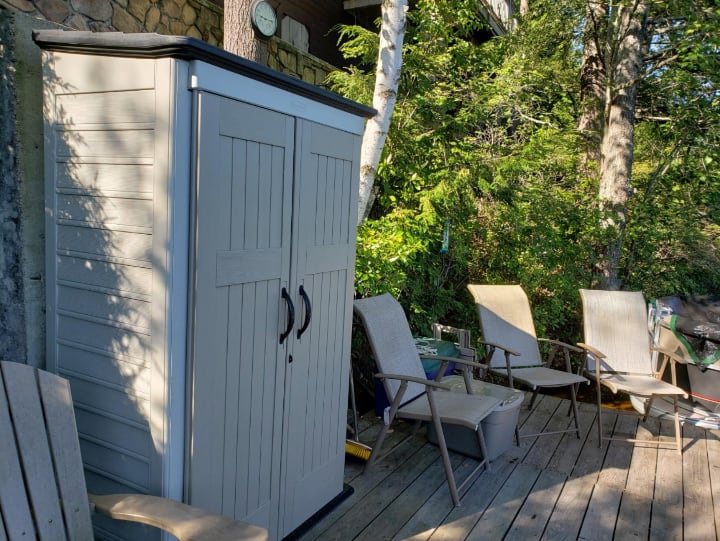 Pros:
It has an impact-resistant flooring to protect your items.
This shed can be assembled by two persons only using common household tools.
No maintenance required.
Comes with a lot of space for your lawn and garden tools such as push mowers.
You can easily organize your things by having customizable wood shelving (sold separately).
Cons:
It does not look stylish compared to wooden sheds.
It is not ideal for large equipment.
One-year only manufacturer's warranty.
This shed is costly.
9.
2X4 Basics 90192 Garden Shed
This 2×4 Basics Shed kit is our tenth choice. This is a Do-It-Yourself option which has a reasonable price. It's a durable kit that consists of 39 connector brackets made from 24 gauge galvanized steel.
You'll find inside the package a list of the materials required along with a lumber cutting list and instructions for assembly.
If you are planning to assemble a 7'x 8′ shed then one kit is already enough. For an 8'x 14′ shed, you need two kits while for a 10'x 22′ shed you need three. The construction is very simple, in fact, it only needs straight and 90 degree cuts.
There's no need for miter or complex measurements. Even if you are not a carpenter, you can easily assemble this shed kit.
Pros:
Lets you choose your own size of a shed.
It is very easy to assemble.
This shed is heavy duty and durable.
Good price.
Cons:
You have to purchase a lot of things such as woods, paints, and others.
Requires assembly.
Requires two persons to assemble.
Two-year warranty only.
How To Build A DIY Garden Shed
Would you rather build your own garden shed than buy one ready made? You could save money (provided you have easy access to the materials) and enjoy the entire process.
You don't need to be an expert at building things, but you do need to be good with basic DIY tools.
1. Clear and Level the Area
Before beginning the construction of your shed, you will need to clear and level the area. If you are building a wood floor, you will need to keep it away from the ground to prevent rot.
You can either set the foundation on cinder blocks or set it on top of gravel (3-4 inches thick). You want to make sure you prevent moisture from the ground, and the cinder blocks or gravel will help.
2. Construct the Foundation
The construction of a wood foundation is usually built using pressure-treated 2×6 lumbers. These parts are called the band on the ends and the joist in the middle of the band and are usually spaced out 16-24 inches apart.
The foundation frame will sit on top of pressure-treated 4×4 posts called skids. The skids will set on the cinder blocks or on top of the gravel to prevent rot.
Once the frame has been squared and leveled, you can install the floor deck and start nailing it all in.
3. Assemble the Walls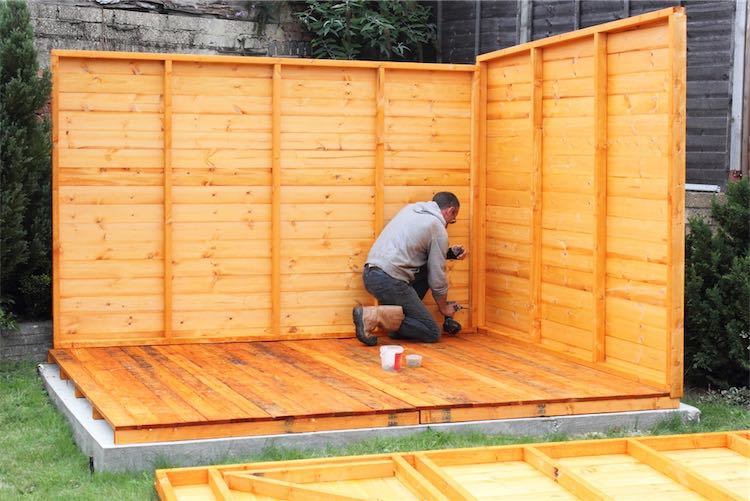 When the floor completed you can assemble the wall frame on the leveled floor. You can build the wall frames using 2×4 lumbers. The top and bottom 2×4's are called plates.
Place the 2×4 wall studs 16-24 inches apart and nail through the plates and into the wall studs. While the wall frame is still on the ground, you can install the siding to make it easier.
When the wall is completed, rise it up and nail it into the floor.
4. Assemble the Roof Truss
The roof truss can be built using 2×4 or 2×6 lumbers. There are different ways to build the truss.; the most common is cutting out the rafters and assembling them using gussets.
The easiest way to build the roof truss will be using plans. The other option will be to lay the 2×4's or 2×6's on the level floor set them how you want your roof and make a template.
Once you are satisfied with your plan and the look of your template, you can build the rest.
5. Install Siding and Windows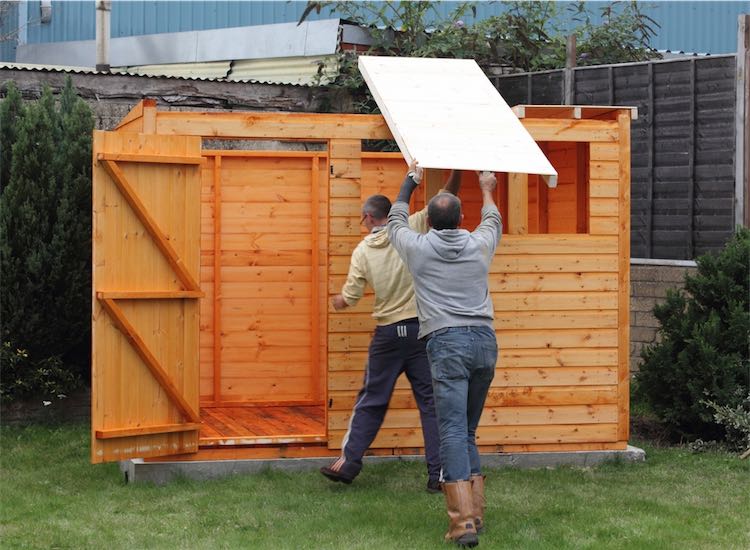 If you want to add a window, you need to cut out the wall and frame it for the size of the window. The siding will need to be installed following the manufactures instructions.
6. Build the Garden Shed Door
The shed door can be built using exterior plywood. Install 1×4 trim around the door and to the door opening. Add hinges to the trim on the door opening and secure it to the door.
You will also need to ensure that those who will be using the shed can get in without tripping over the doorway by checking the doorway is wide enough. The wider the opening, the wider the items you'll be able to bring inside.
7. Install Trim and Paint
When the shed is complete, you can make it look nicer by installing trim and painting it. Install 1×4 trim to the four corner walls and wherever the siding meets.
Once the shed is built, some kind of protective material should be applied. If you choose a metal or plastic shed, this isn't usually necessary.
But for wood, a good quality stain and water sealant or paint can make the shed last for years and years.
Garden Shed Frequently Asked Questions
Thinking of buying or building a garden shed? You may want to check out first the frequent questions about garden sheds we've put together and answered for you.
Garden Shed Of Reality; A Place Called Sanity
We hope you enjoy this collection of favorite sheds. Whether they are used to store yard tools or provide a quiet spot to get away, these structures are useful and good to have.
A garden is a place where you can go to relieve stress. And as we said, a garden needs a shed–without one it appears somewhat incomplete.
What's more, without a shed, storing all those tools can become stressful!
Don't want to buy a shed? Then don't make the mistake of not building your own shed because you have never done it before.
Remember: If a shed you like has poor access, not all your things will be able to fit inside and then the whole point is essentially defeated. You want to make sure you utilize this shed to its fullest extent and most importantly that you also love it and it is your place of organization and sanity.
Do you have a shed or plant to buy or build one soon? Drop us a comment and share your thoughts with us. We'll get back to you asap!