Tranquil, serene, balanced. These three simple words capture the essence of Japanese gardens, which are designed to replicate the beauty and textures of nature.
Rocks, stones, gravel, and sand in Japanese gardens form the structure of the landscape. Water represents nature's life-giving forces. And plants, as they change through the seasons, show the ephemeral nature of life.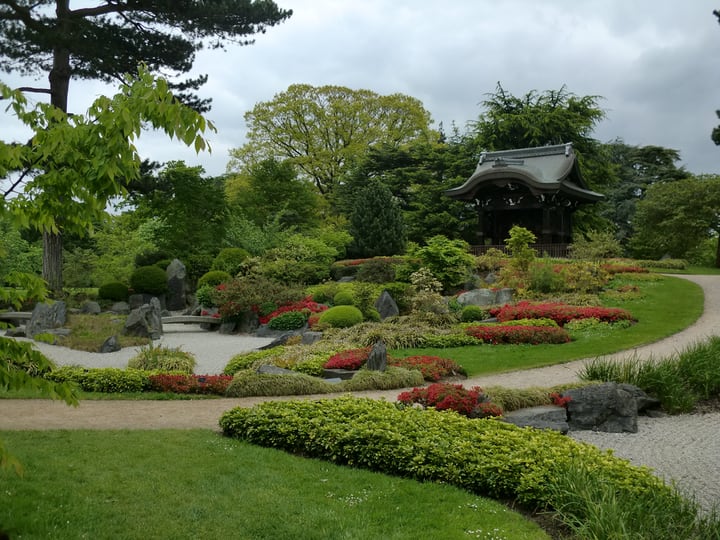 Simply looking at or strolling in a Japanese garden can help reduce stress, develop a sense of well-being, and improve focus. That's the power of these meditative gardens.
Yes, they're quite traditional, but you don't have to settle for old conventions–you can always reinterpret them creatively. In fact, Japanese gardens need less care than most floral and green gardens.
In this article, we bring you some wonderful Japanese garden ideas. There's also a step-by-step guide to help you introduce a bit of Zen to your space.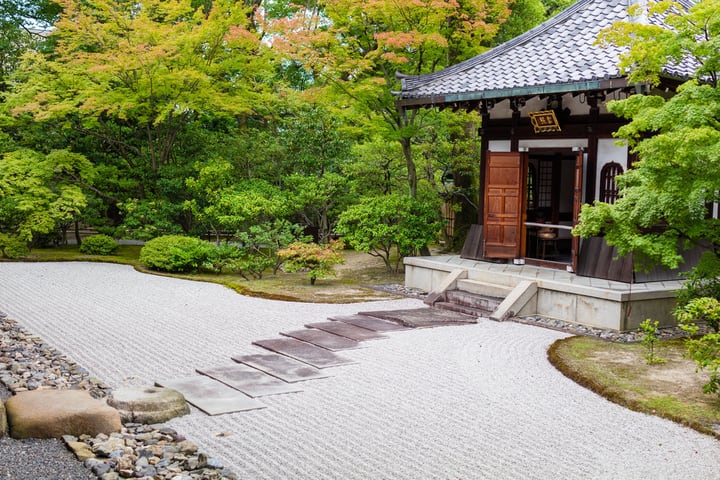 Read on to convert your green space into a Japanese-style garden.
What Makes Japanese Gardens Different?
Traditional Japanese gardens have their own style of beauty and aesthetics. With their oriental charm and cultural features, they stand apart from most Western gardens. Here's what makes them unique.
Purpose
Japanese gardens inspire a sense of oneness with nature. Simple elements like rock and sand can help people meditate and focus.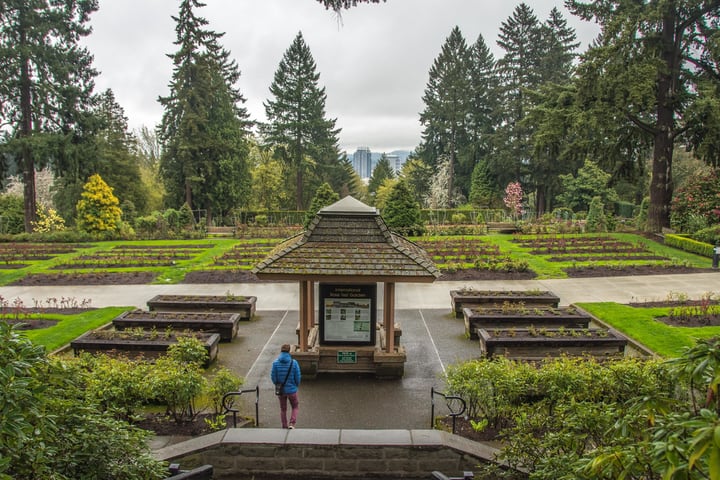 Stroll through a Japanese garden and you will feel calm, tranquil, and at peace.
Design
The simplicity in Japanese design reflects a sense of tranquility and peace. Unlike most gardens, Japanese gardens are not laid on straight axes.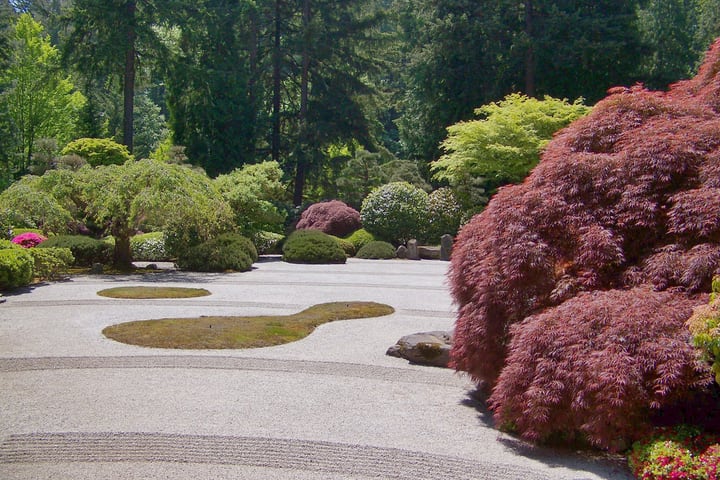 Instead, you'll notice a lot of asymmetry in them, as seen in nature.
Features
Japanese gardens are miniature landscapes of nature. They incorporate natural features like water, rocks, stones, sand, plants, moss, and fish.
Apart from these, you'll find stoneworks, teahouses, gates, bridges, and ponds in these gardens.
Ideas for Japanese Gardens to Inspire You
Although Japanese gardens are an age-old tradition in the East, they're picking up as the latest gardening fad around the globe.
From traditional tea and Zen gardens to the more modern versions like tabletop gardens, there's something for everyone.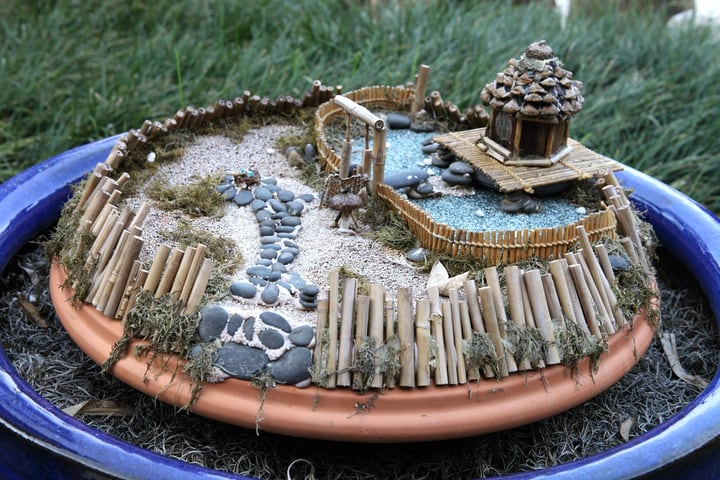 Take a look at these wonderful Japanese garden ideas to create your own work of natural art.
Japanese Zen Gardens
Zen gardens are dry landscapes that use sand, gravel, and rocks. The varied arrangements using just these elements can create different landscapes. This type of garden is perfect to relax and reconnect with your Zen.
1. Sand Ocean Zen Garden
Create a Zen garden representing a vast ocean–with rocks and sand instead of water. You'll need a rectangular plot of sand. Surround it with low walls and plant a few rocks in the arrangement.
Like in the example above, the sand will represent the ocean while the rocks will look like islands in its midst.
2. Dry River Landscape
Looking to add a bit of Zen to an enclosed area but not sure how? Well, you can create a dry river landscape. It's much simpler than it sounds.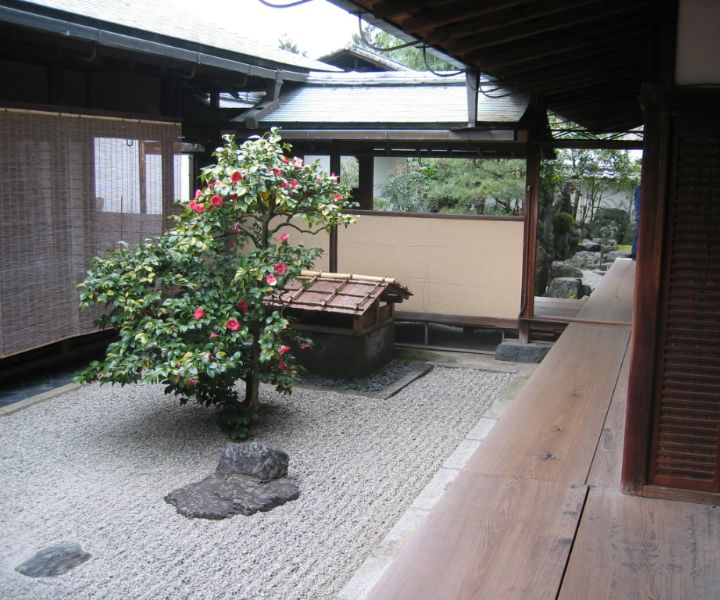 First, fill the enclosed space with gravel or sand. Then add a couple of large rocks to represent mountains and ravines. This arrangement is also a metaphor for the journey of life from the beginning to the end.
Tip: Plant a tree in your Japanese garden. It will not only add the right dose of greenery to the space but also represent the Bodhi Tree.
3. Bamboo Fence Zen Garden
Bamboo fences are a common feature in Japanese gardens. They have a tranquil, natural vibe that is undeniably linked to the East. You can use bamboo for fencing in your Japanese garden, too.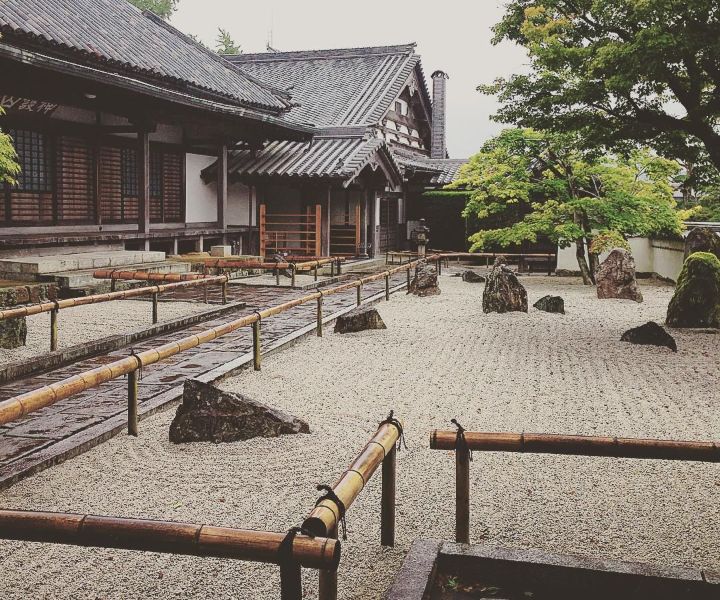 Bamboo fences are a rustic alternative to everyday garden fences. Plus, bamboo is eco-friendly, attractive to look at, and stronger than regular timber.
4. Wabi-Sabi Zen Garden
Take inspiration from Kyoto's Ginkaku-ji for your own garden. It embodies the Japanese aesthetic of wabi-sabi, which means the art of finding beauty in imperfection.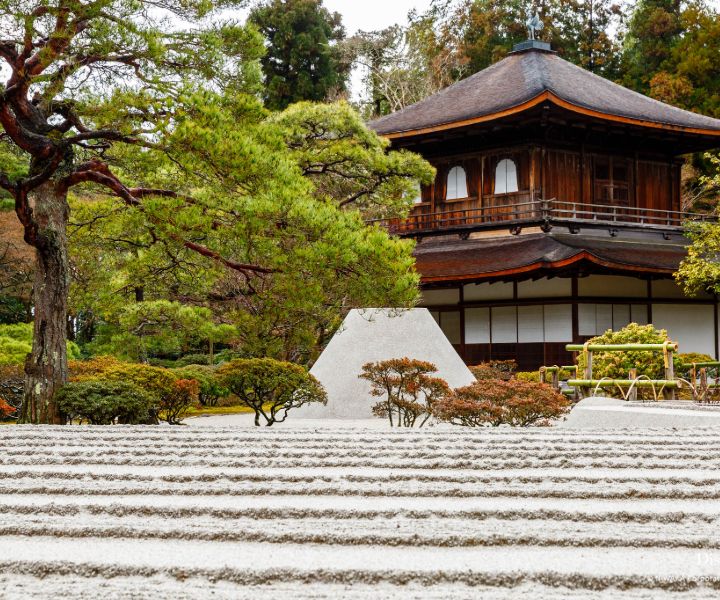 Of course, we don't mean to say you create an unpleasant-looking garden. Instead, incorporate humble, imperfect, and incomplete elements in your garden.
Tip: Don't rake dry leaves from your garden. Leave them be under a small tree for the sake of wabi-sabi.
5. White Raked Sand Garden
Even if you're a newbie, you can create an attractive Japanese garden by simply using white sand. Rake it into patterns to imitate flowing elements such as a waterfall, river, or sea.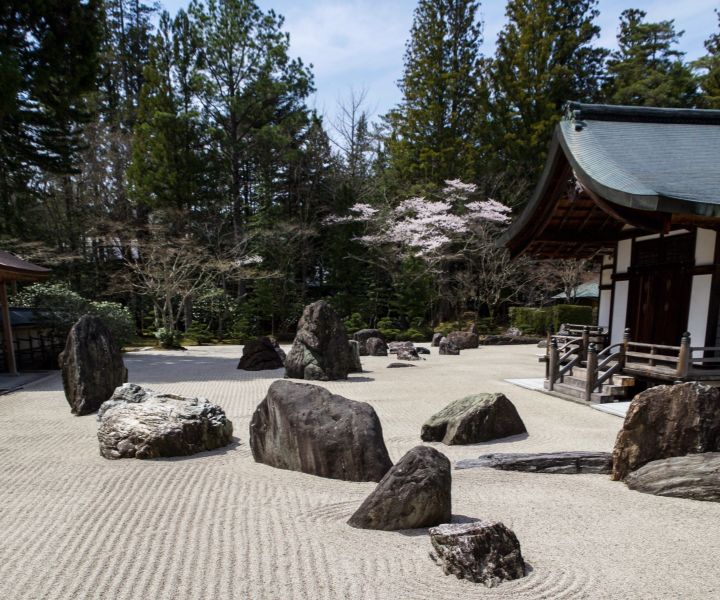 You can also add other elements like rocks, trees, and plants to the arrangement if you please.
Good to know: In Japanese gardens, white sand symbolizes purity, and is generally used around shrines and temples.
Japanese Friendship Gardens
Japanese friendship gardens are a fresh take on the traditional Japanese gardens. They incorporate the simplicity and quiet beauty of the Japanese culture blended with elements of other regions.
Take inspiration from these Japanese friendship gardens for your own space.
6. Weeping Willow Friendship garden
Got a lone weeping willow in your backyard? Transform it into a beautiful and tranquil Japanese friendship garden. How? Build a simplistic and natural space around it. Use gravel, stone, and sand. Then plant your shrubs.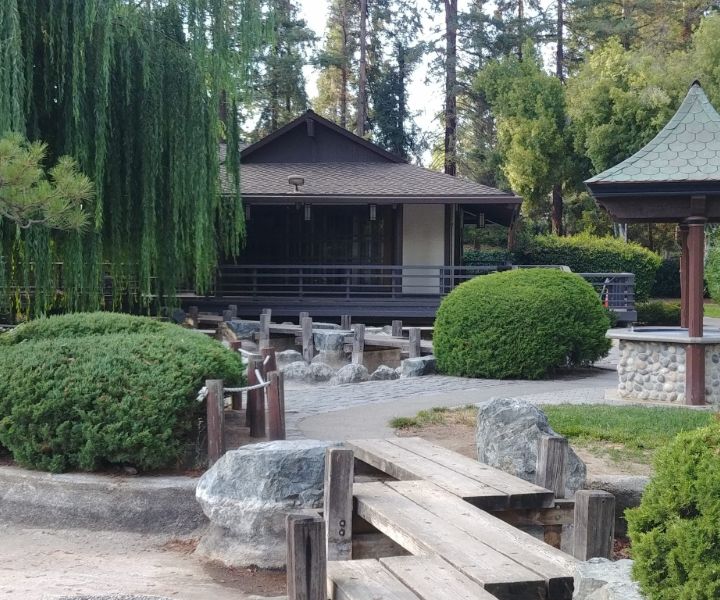 Willows, which are often present in Japanese folklore, can make your backyard stand out. You can install a bench, too, for meditation and reflection.
Good to know: Willows are significant in Japanese culture. They frequently appear in ink paintings. Earlier, people made everything—from chopsticks to medicine—using willow wood.
7. Koi Pond Friendship Garden
Koi is an ornamental fish, originally bread in Japan. It symbolizes good fortune and strength of purpose. You can feature a koi pond in your Japanese garden, too.
You don't have to go big, though. Simply line the edge of your small pond with boulders, some rocks, pebbles, and shrubs. Make it a clean and comfortable home for koi, and you're good.
8. Green Strolling Friendship Garden
Here's a perfect friendship garden for the green-lover in you. Convert the space outside your house into a minimalistic lawn. Then create a gravel path in its midst for strolling.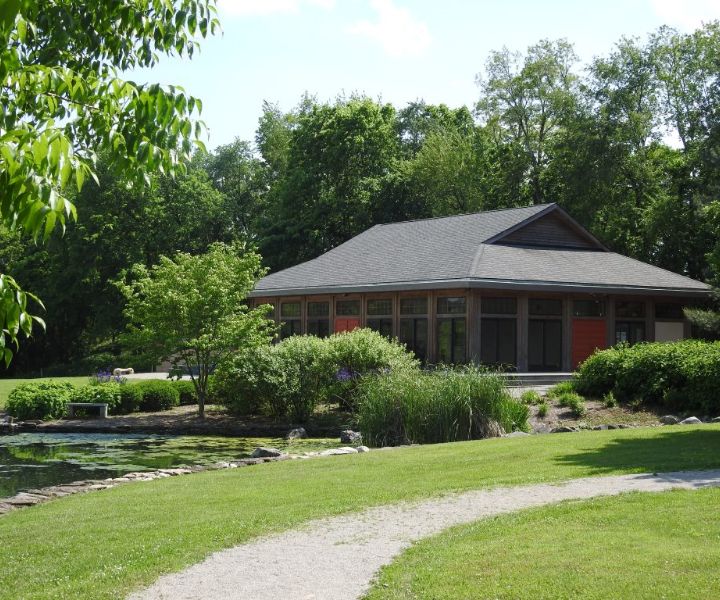 You can also make use of the existing trees and shrubs. How? By simply creating accents along the outer edge of the garden with them.
Tip: Design a tiny pond if you have the space. Grow on it lotus, the flower of Buddha.
9. Large Japanese Friendship Garden
Japanese gardeners pay much attention to details. The minute details, as in the image below, may appear difficult to pull off at home.
But you can still tailor the many elements of a Japanese garden according to your taste and space.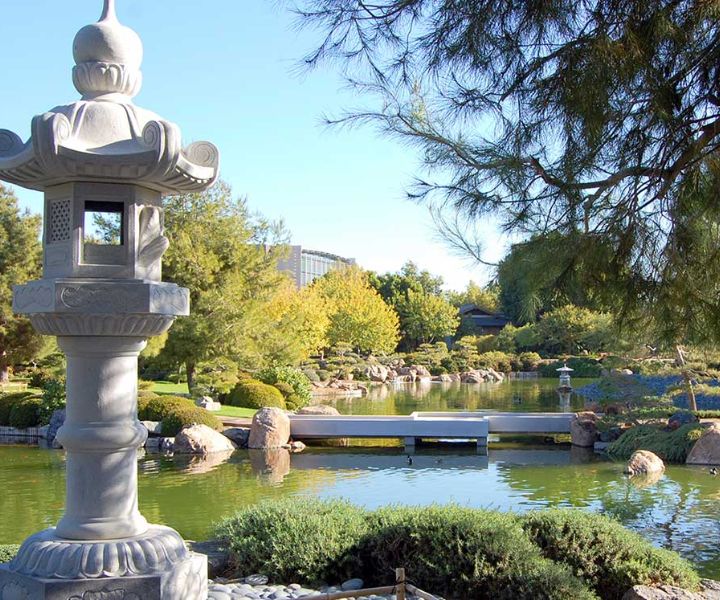 Highlight your garden with some Japanese stonework. You may include lanterns and pagodas. Next, pay attention to how and where you arrange rocks, sand, water features, and bridges if you have the space.
10. Japanese Rock Oasis
If you have a pond in your landscape, transform it into a rock oasis. Install a small stone lantern in the pond, as shown in the image below.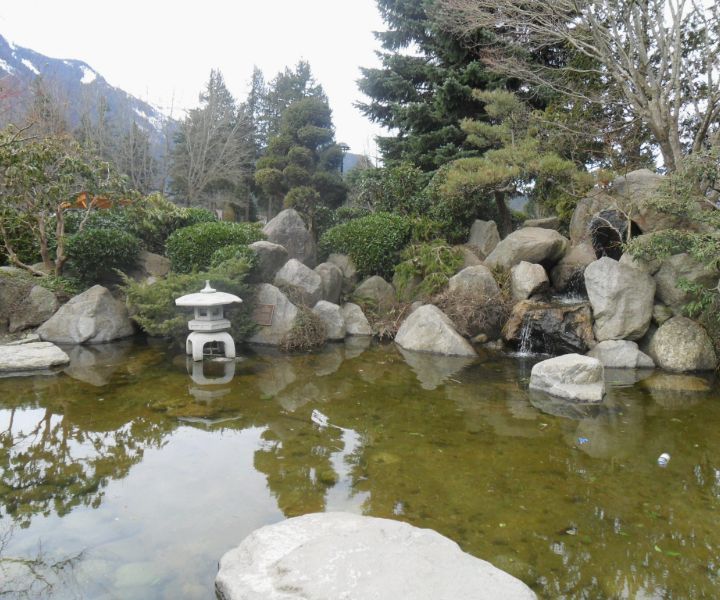 Surround it with rocks of different shapes and sizes. Then create another layer and surround the rocks with shrubs. Your design is ready. It will look like a beautiful oasis emerging amid the rocks.
Japanese Tea Gardens
Still searching for the right design for you? How about a lovely Japanese tea garden? In Japanese culture, these gardens are connected to a tea house. They form an integral part of the tea ceremony.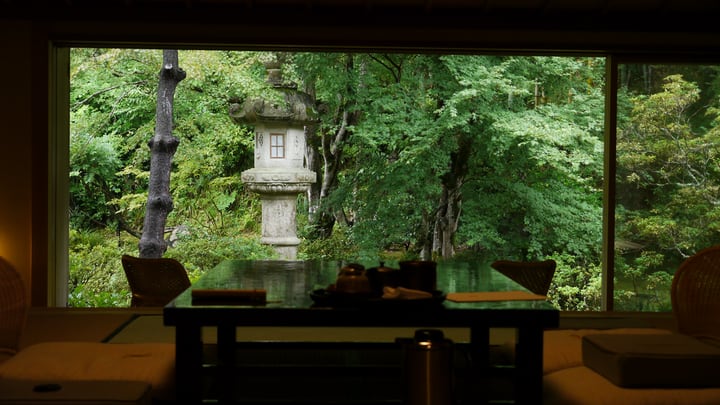 For your modern tea garden, you'll have to find the right spot and bring in the aesthetics of a tea room. Take a look at the following tea gardens for inspiration.
11. Japanese Maple Tea Garden
This beautiful flaming tree in your tea garden is all you need to make it look absolutely outstanding. You can plant it directly in the soil or grow it as an impressive bonsai specimen.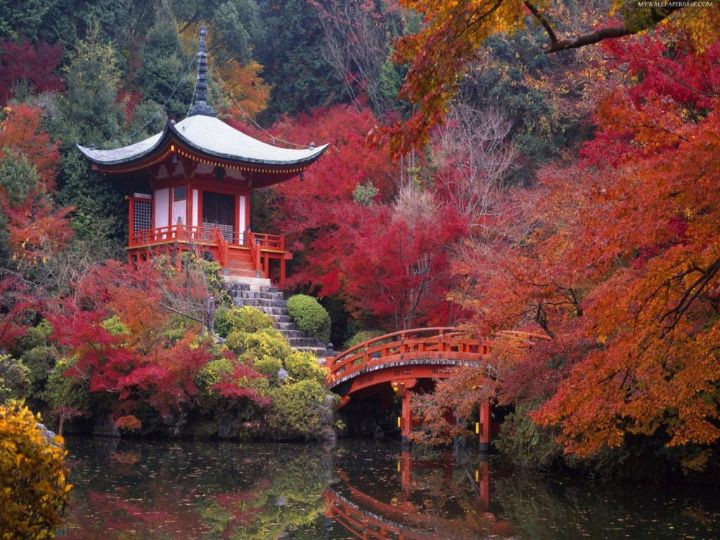 If you have enough space, you can also feature a tiny pagoda in your tea garden. A bridge leading to the pagoda would complete the look.
Tip: Paint the bridge and the pagoda the same crimson color as the Japanese maple tree.
12. Teahouse Garden
Build a traditional Japanese teahouse in your tea garden. It will be ideal for informal tea ceremonies with family and friends.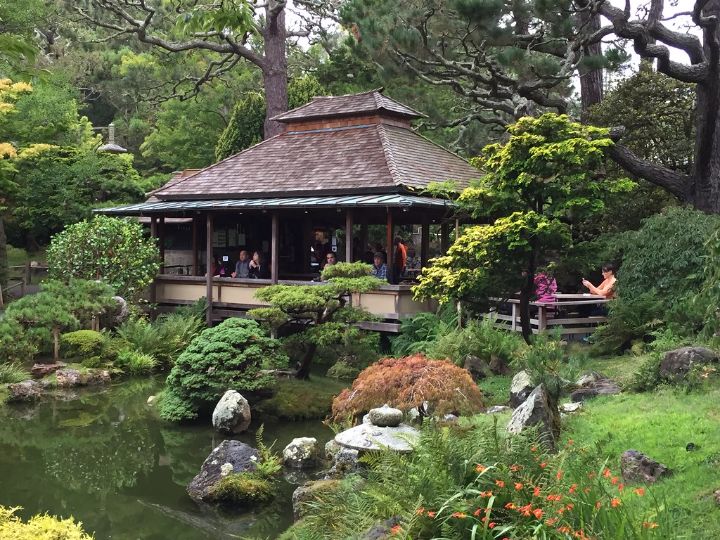 Around the teahouse, create a deep and tranquil environment using a water feature, rocks, and trees. Your harmony-inspired teahouse can also be a place for deep discussions, reflections, or simple garden viewing.
13. Pavilion Tea Garden
Feature a grand pavilion in your tea garden. Pavilions are a common feature in Japanese gardens. They were traditionally used as outdoor temples.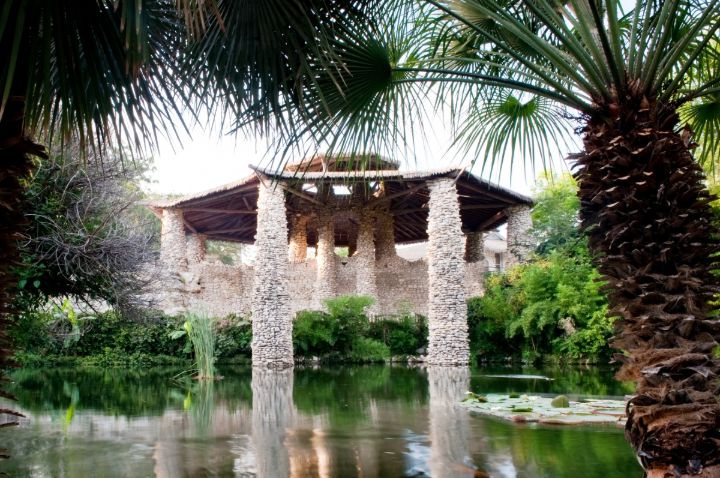 You can use your grand pavilion to host parties, intimate ceremonies, and fancy galas. But if you're short on space, a stone statue of a pagoda is an excellent nod to the tradition.
Tip: For something offbeat, build columns using white stone, as shown above. A shady thatched roof will complete your beautiful pavilion.
14. Whimsical Tea Garden
Looking to add a bit of whimsy to your traditional Japanese tea garden? Feature winding paths, wooden bridges, stepping stones, koi ponds, and pagodas in your space. But make these features colorful.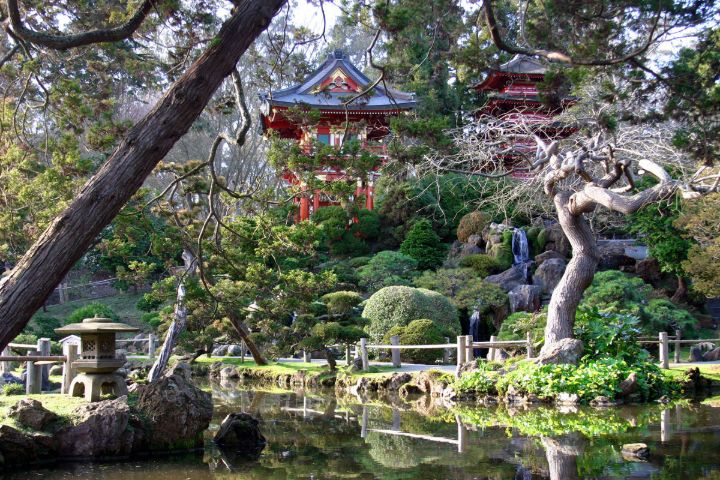 The natural setting of the tea garden will call you outdoors more often.
15. Tea Garden with Gazebo
A tiny gazebo is not out of place in a Japanese tea garden. Use it as a highlight in your own space. The rest of your garden can strike a balance between natural and asymmetric elements.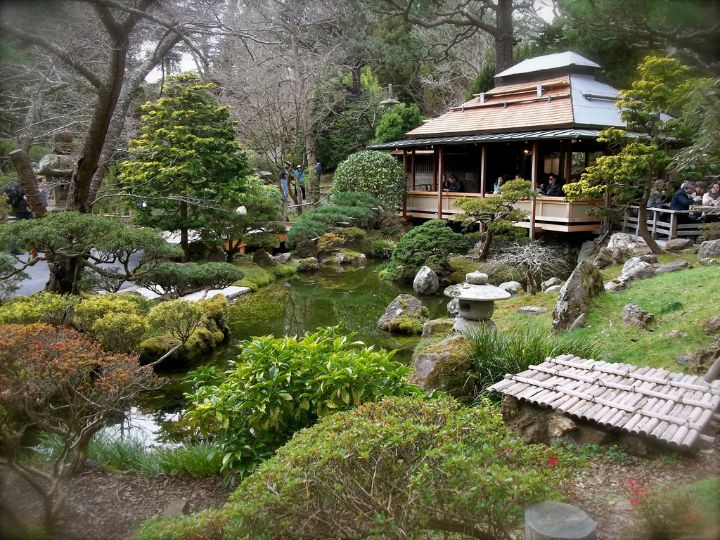 How about a bamboo bridge? Or bonsai? Or stone lantern, perhaps? All these features, mingled with nature, will add a strong Japanese flavor to your space.
Japanese Flower Gardens
Flowers in Japanese gardens have a different role than they do in ordinary gardens. They are used as an expression of both joy and sorrow.
You will see a kaleidoscope of yellow, pink, white, red, and lilac in Japanese flower gardens, creating a fragrant display.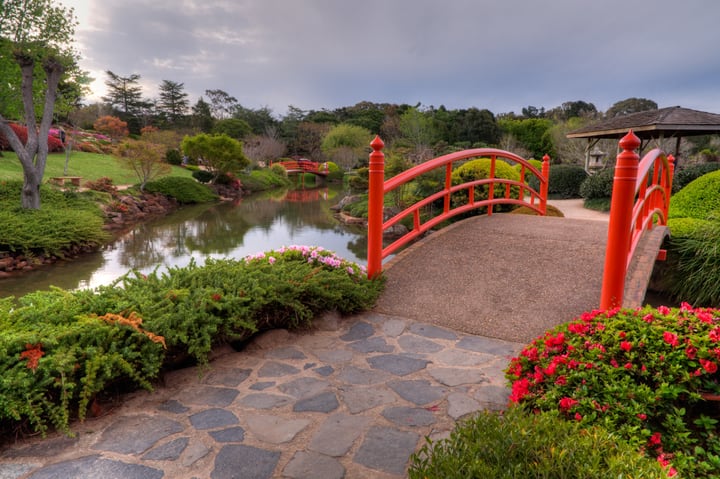 Take a look at these bright and colorful Japanese flower garden ideas.
16. Pink Moss Flower Garden
How about a carpet of pink in your garden? Replace your ordinary law grass with shibazakura, or pink moss. The plant grows thickly, covering the ground like a bright-pink carpet.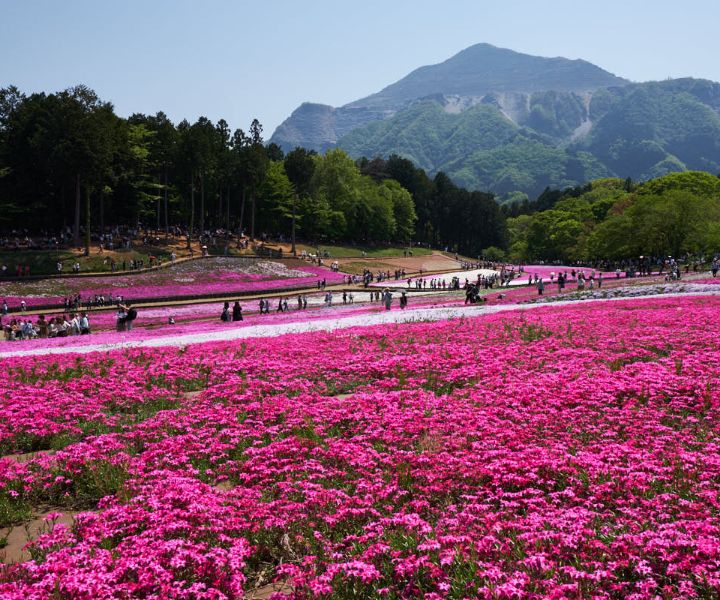 It flowers every spring and makes beautiful flowers in all shades of pink. So you can use them to create a scenic display covering your entire home landscape.
17. Colorful Tulip Garden
Instead of growing a variety of flowers, some Japanese gardens tend to stay with different colors of the same species. Take this colorful tulip garden, for example.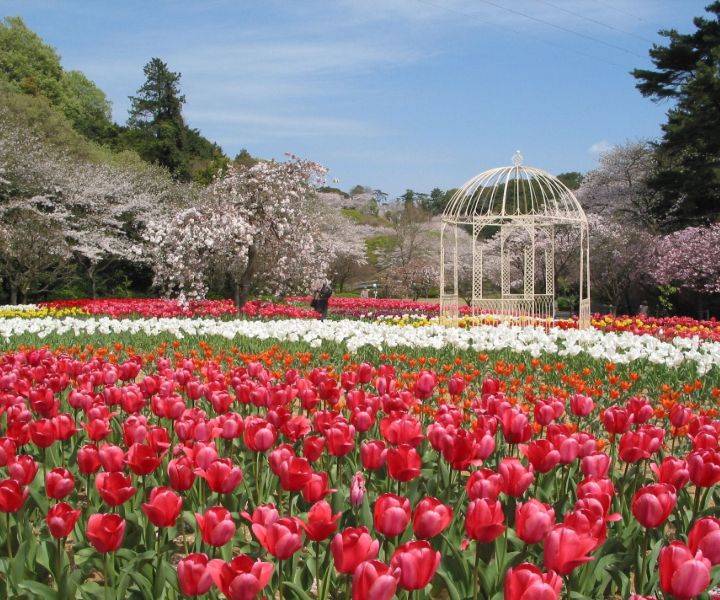 You can create a breathtaking field of tulips in red, white, and yellow hues. It will add bold colors to an otherwise subtle Japanese garden.
18. Cherry Blossom Garden
Blossoming cherry trees, whether a thousand of just a couple, can truly make your garden stand out. In Japanese culture, cherry blossoms are a symbol of the arrival of spring.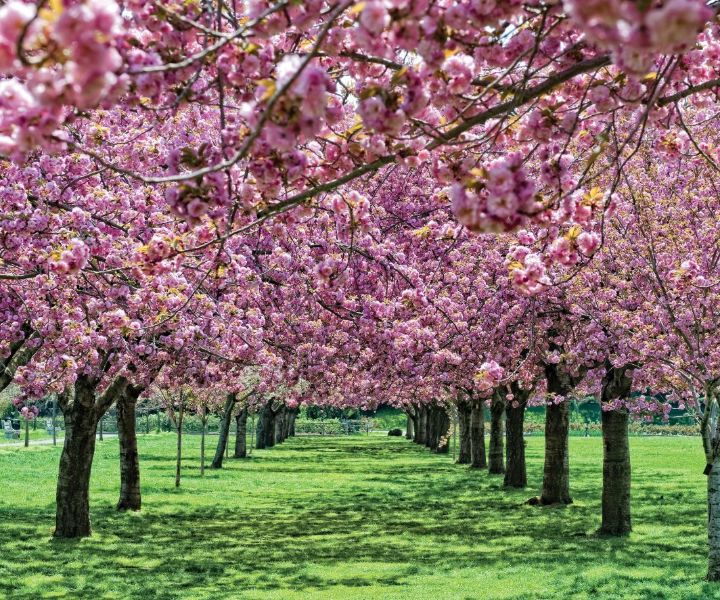 Ornamental cherry trees are a great choice for home gardens—they require minimal care and can create a striking focal point.
Tip: You can also plant cherry trees to accent either side of a gateway.
19. Multi-Color Flower Garden
Japanese flower gardens can be appreciated in every season of the year. So they typically don't highlight just a specific flower. Instead, they feature a variety of colorful flowers with different blooming seasons.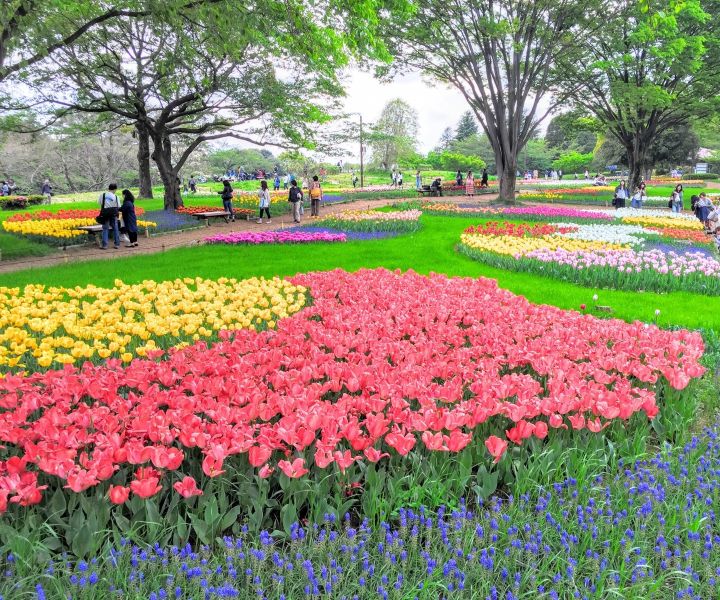 You can create one such garden in your space, too. Plant different flowers, shrubs, and trees that bloom at different points. Create harmony with the different foliage and textures instead of focusing on a particular flower.
20. Japanese Sunflower Garden
Sunflowers are popular in Japanese gardens. A vast sea of bright yellow in Japanese culture is symbolic of hope and recovery. Just looking at tons of sunflowers cheerfully greeting the sun can fill you with happiness.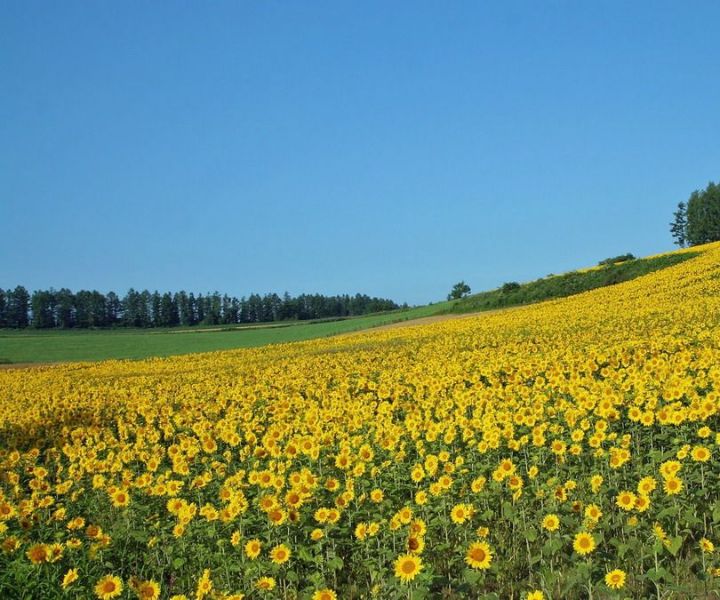 So create your own happy sea by giving space to sunflowers in your garden. They are one of the easiest flowers to grow. They aren't even picky about soil. Only, make sure your flowers receive plenty of sunlight.
Japanese Rock Gardens
You must have seen Japanese gardens built around rocks of different shapes and sizes.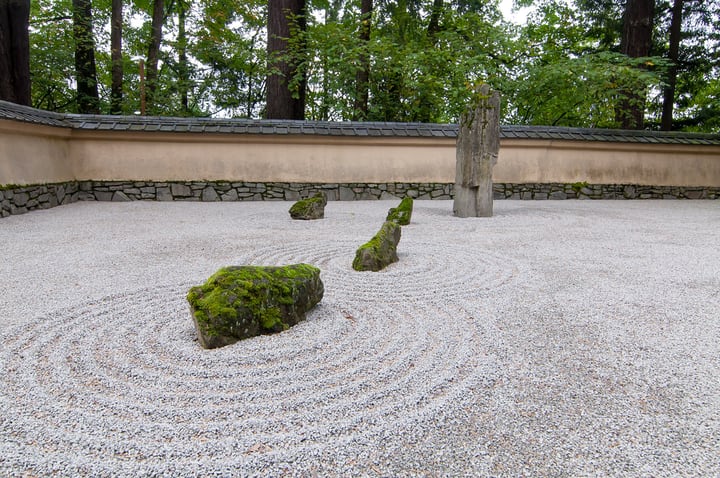 That's because garden rocks are one of the most important features of Japanese design. They symbolize islands, shores, or bridges and provide a sense of calm.
Take a look at these tranquil Japanese rock garden ideas.
21. Large Rocks Garden
In Japanese gardens, rocks represent the enduring elements in nature. So create a serene garden with lots of large rocks. Vary them in shape.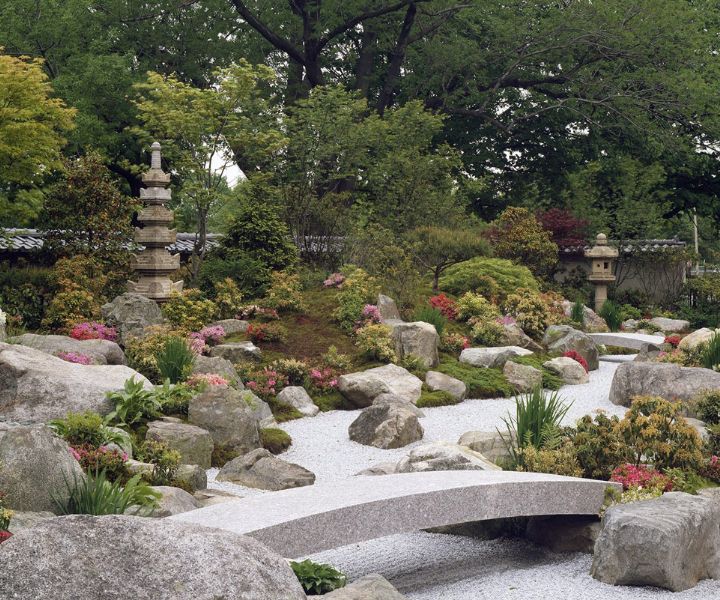 Next, cover the ground with sand, raked or otherwise. Add shrubs to create a sense of contrast, like in the example above.
Tip: Don't just place the rocks on the ground. Set them deeply in the soil, sand, or gravel.
22. Rock Garden with Lantern
How about a rock garden featuring a stone lantern? Perfect for smaller areas, this garden can be made using rocks with sharp edges. Create an encasement, as pictured below, and fill the area with sand.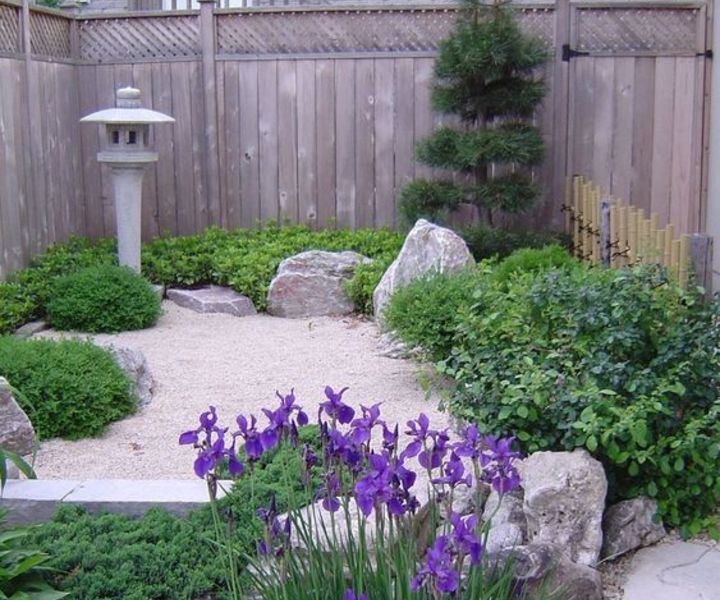 Add low-growing shrubs and conifers that can be found in several Asian-inspired gardens. You can also grow Japanese irises for a touch of gentle purple.
23. Minimalist Rock Garden
Most Japanese gardens teach the art of minimalism. So instead of going overboard with your creation, keep things simple. Feature a single rock and surround it with rippled sand. That will be enough.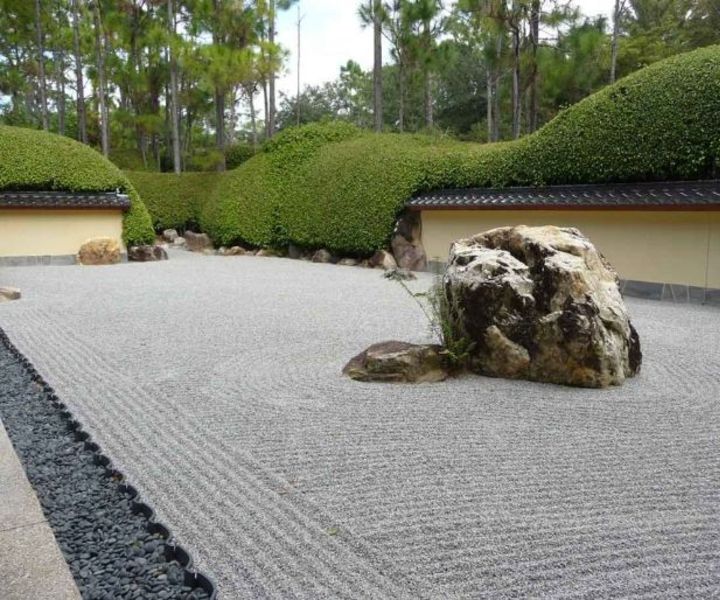 You could make a minimalistic border, too. Use black or gray river rocks for a nice effect.
24. Asymmetrical Rock Garden
Japanese gardens don't pay much heed to symmetry. So, when you're using landscaping rocks, you can choose to scatter them in your garden as you please.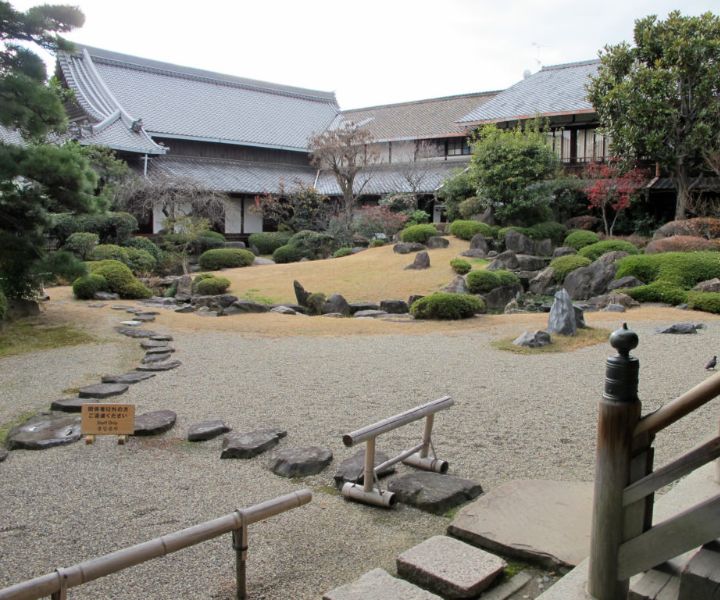 Use them to create garden features, pathways, and borders. Similarly, don't be too particular about pruning the greenery in your garden.
Tip: If you're landscaping with sand, build a thick border to separate it from other parts of the garden. Else, you'll find sand all around the house.
25. Bamboo Screen Rock Garden
Make a privacy screen for your rock garden using bamboo sticks. It will add the much-needed Eastern touch to your garden. A bamboo screen is hardy, inexpensive, and has an oriental charm.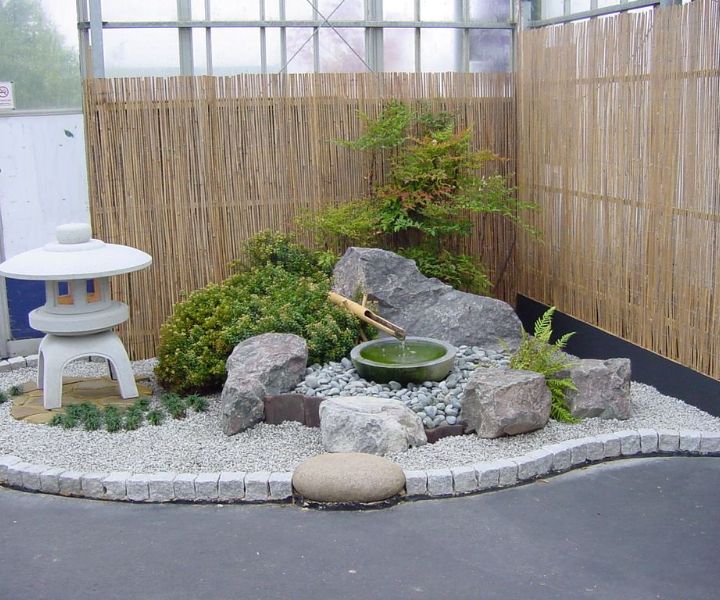 Adding a tiny bamboo washbasin and stone lantern is also a great idea. It will give positive energy to your rock garden.
Japanese Stone Gardens
Stones of different shapes and sizes are at the heart of most Japanese gardens. The subdued hues of stone allow the eye to rest, giving the space a peaceful atmosphere.
Create your Japanese stone garden taking inspiration from the following examples.
26. Natural Stone Garden
Most Japanese gardens have a naturalistic vibe to them. When you create your own, remember to stay away from an artificial-looking placement of stones.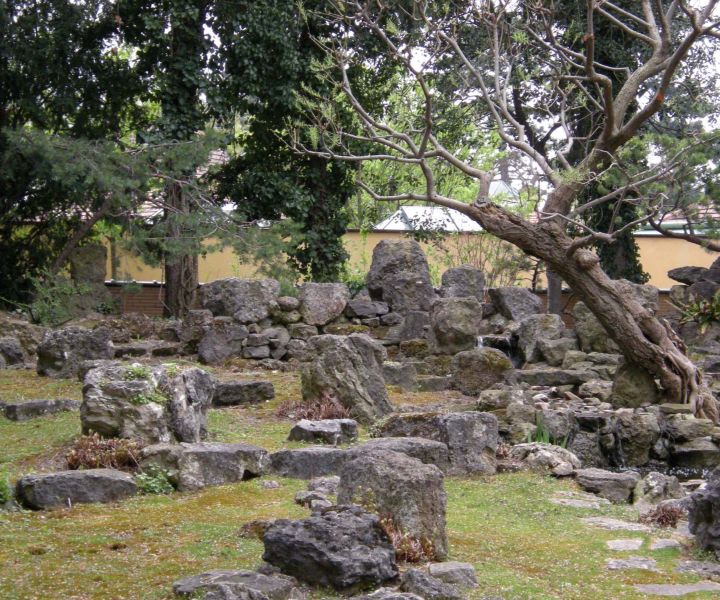 Don't worry if your stones look old and withered. Your garden should create the impression that the stones have been lying on their spots for centuries. Leave them at the mercy of nature and watch them change.
27. Stone and Sand Garden
Stones and sand together are a crucial part of Japanese gardens. Stones represent islands while sand is symbolic of the ocean. The simple arrangement has a calming effect on the mind.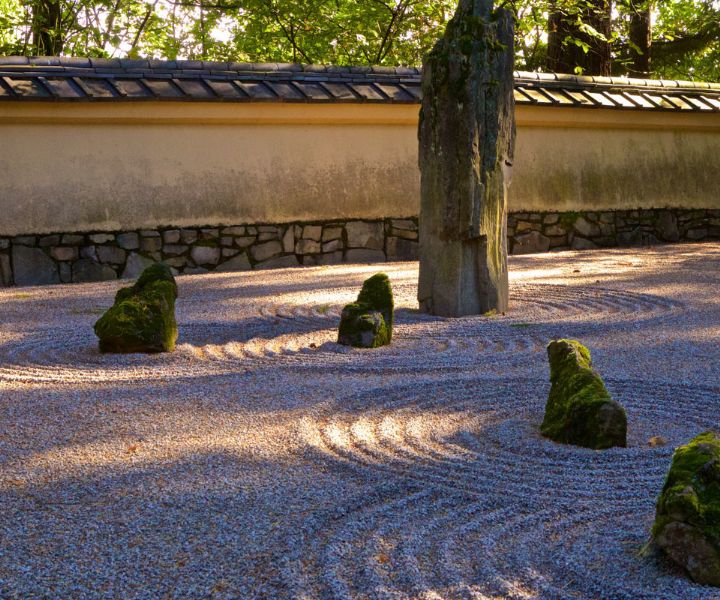 Create ripples around the stones by raking the sand. The cool part is that you can change the formation whatever you want.
28. Mysterious Stone Garden
Mystery is a key element in Japanese gardens. What we mean by that is that while arranging your stones, you want to create layers that can't be viewed all at once.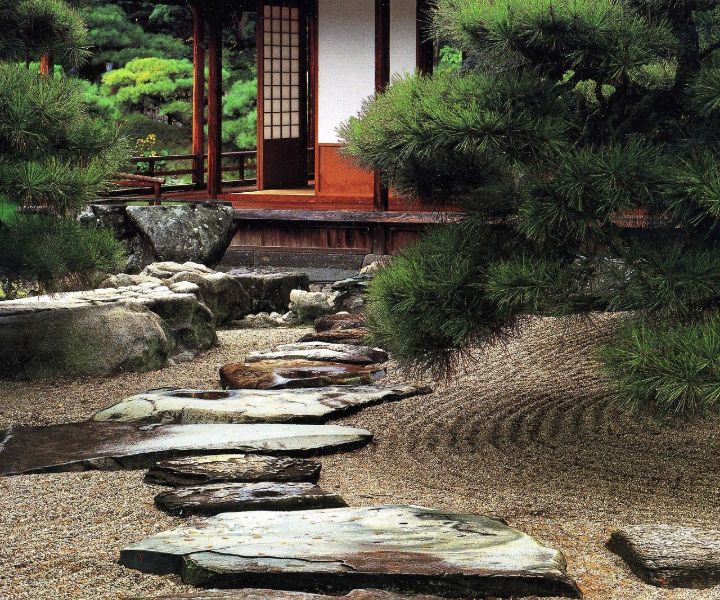 Don't leave all the stones in plain view. Creatively hide them, so a person looking at them has to move around to explore them one by one.
29. Stepping Stone Garden
Want something simple yet striking? Stepping stones will serve your purpose. Don't bother about being neat—asymmetry in Japanese gardens is not a bad thing.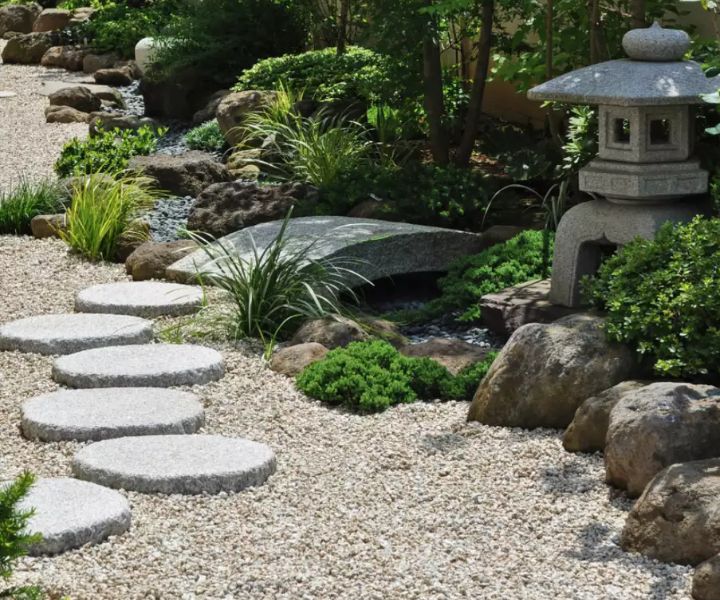 You can lead the stepping stones to a bridge or a lantern. But don't overload your arrangement with too many elements.
30. Pond Stone Garden
Ponds in Japanese gardens are very calming. You can create a pond in your own space and place stones around it. The arrangement will look natural and may even encourage the growth of moss.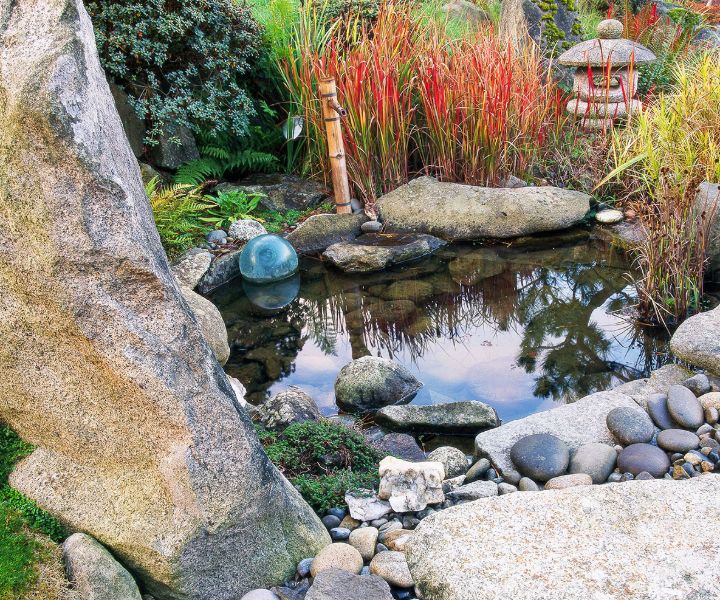 Add features like a bamboo fountain, a stone lantern, and plants for some greenery around the pond.
Small Japanese Gardens
Who says you have to go big with your Japanese gardens? Even if you have a backyard the size of a postage stamp, you can create a serene and tranquil space. Look at these lovely design ideas for your space.
31. Small Bamboo Garden
Bamboo is a popular element in Japanese gardens. It can easily be contained in a small patch. The plant will add depth to your garden with its lush foliage and vertical lines.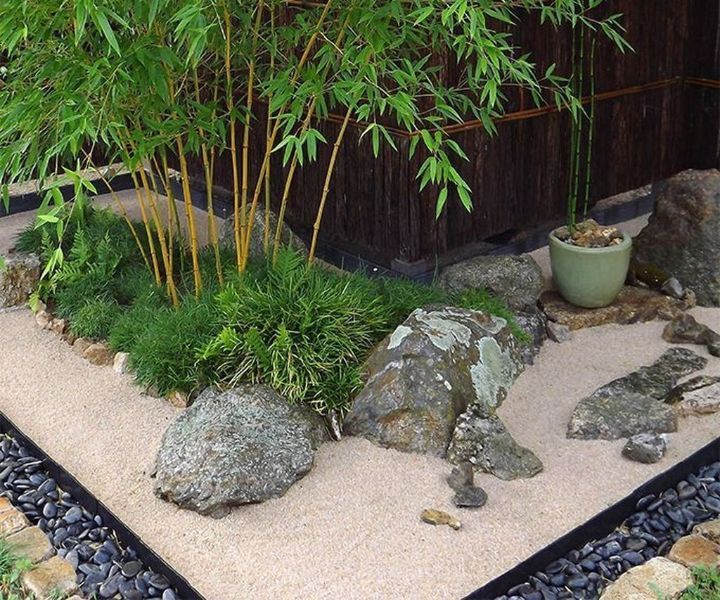 Use pebbles, rocks, and shrubs to complete the Zen space. You can also create a border using black river rocks.
32. Enclosed Japanese Garden
Showcase the different features of Japanese gardens in an enclosed space. Plant lots of greenery and bonsai trees. Create a gravel walkway and line it with rocks of varied shapes.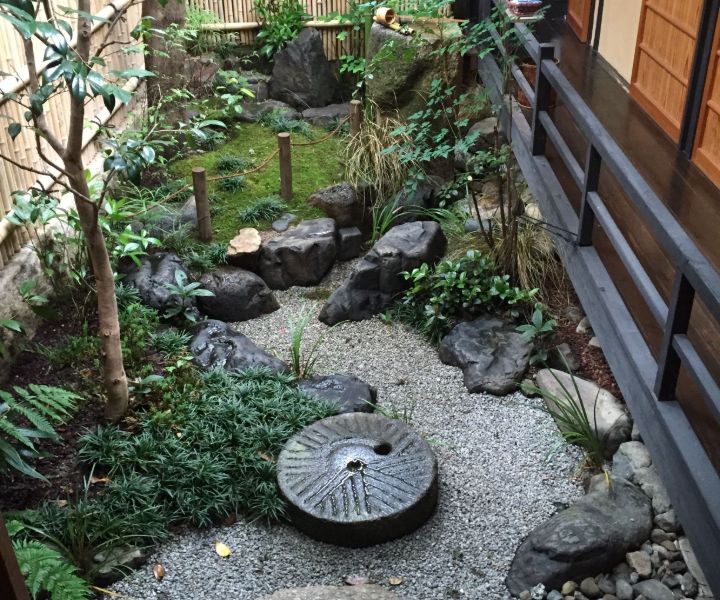 You can also make a smaller moss garden inside the garden and fence it using bamboo. Your enclosed garden will have a very serene, meditative, and relaxing atmosphere.
33. Japanese Bonsai Garden
Japanese gardens are popular for their bonsai—the art of creating miniature replicas trees. Boinsais symbolize peace, order, and all that is good in nature. Looking at them up close can also shape your perspective of the world.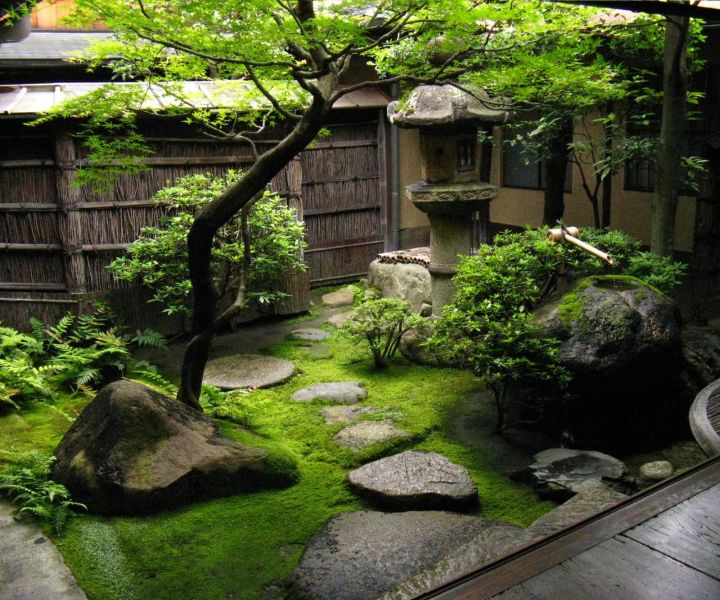 Along with the bonsais, create miniature versions of a cobbled path leading to a teahouse. Also, add a tiny washbasin and your design is ready.
34. Tabletop Japanese Garden
Try a beautiful tabletop version of a Japanese garden if you don't have space outdoors. You'll first need a plastic or wooden container to hold it. Next, create a landscape of your choice.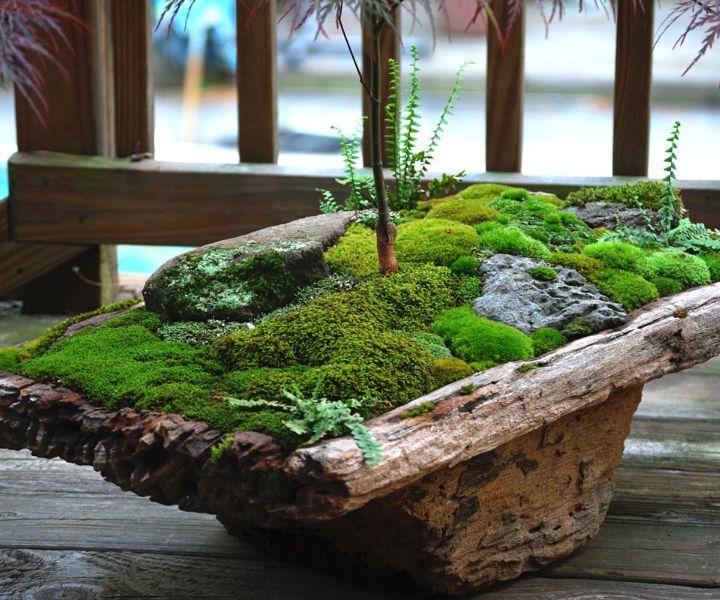 You can make a dry garden or a mossy one. Whatever you choose, remember to bring in the traditional features—rocks, some sand, shrubs, and perhaps a tiny lantern.
35. Tsukubai Garden
A tsukubai is an important element of the Japanese tea ceremony. It consists of a washbasin enclosed by stones. Introduce a tsukubai in your mini Japanese garden.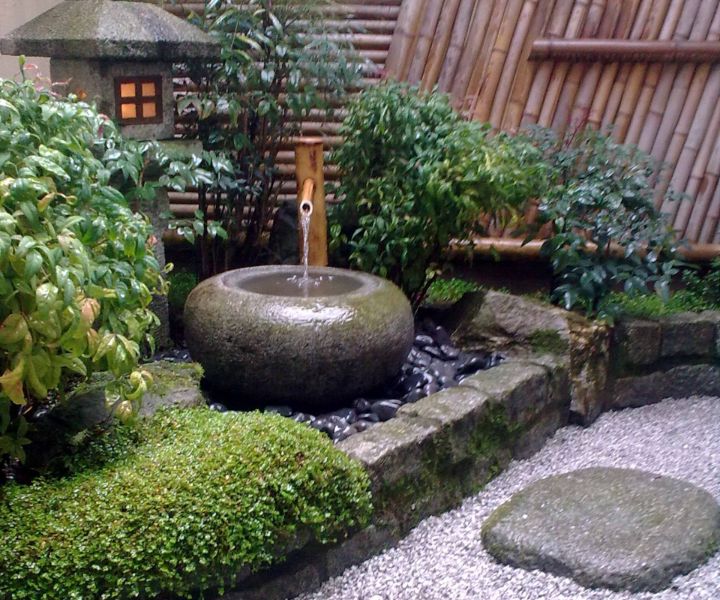 It will not only add a traditional vibe but also make a great focal point in your garden. Plus, it will serve a functional purpose. And let's not forget about the soothing sound of flowing water in your space.
Japanese Moss Gardens
Who even pays attention to mosses—the shy and shade-loving greens? Some gardeners might even cringe at the thought of letting moss take over their garden space.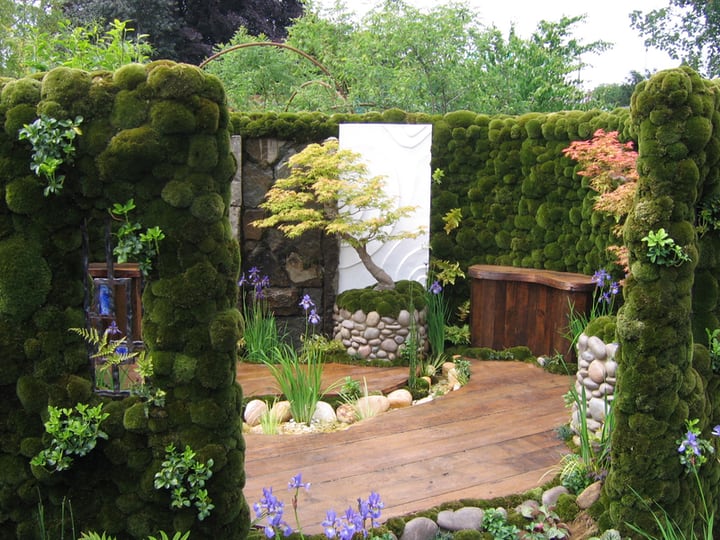 But moss is a signature part of Japanese gardens. The gardeners tend to it as it covers rocks, stones structures, trees. It lends a calm vibe and looks beautiful in the right place.
Take a look at these serene Japanese moss garden ideas.
36. Fall Moss Garden
Create a moss garden during the fall, like in the image below. The green of the moss will create a beautiful contrast with the fall colors. Moss will thrive in a misty climate, so make sure to keep the garden well watered.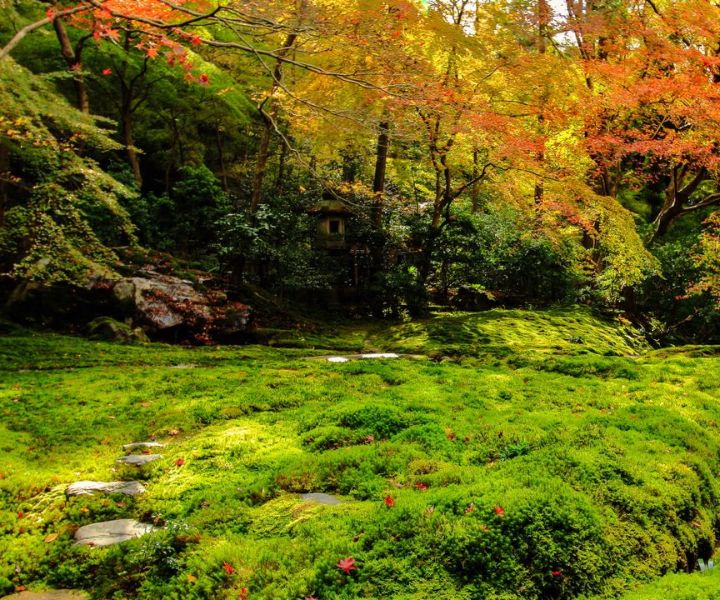 Tip: Moss doesn't tolerate any foot traffic. Better make a path of stepping stones crossing through your garden.
37. Moss Oasis
If you have a pond—big or small—in your Japanese garden, you can turn it into a beautiful moss oasis. Allow the moss to take over the paving stones, curbsides, lanterns, and fences.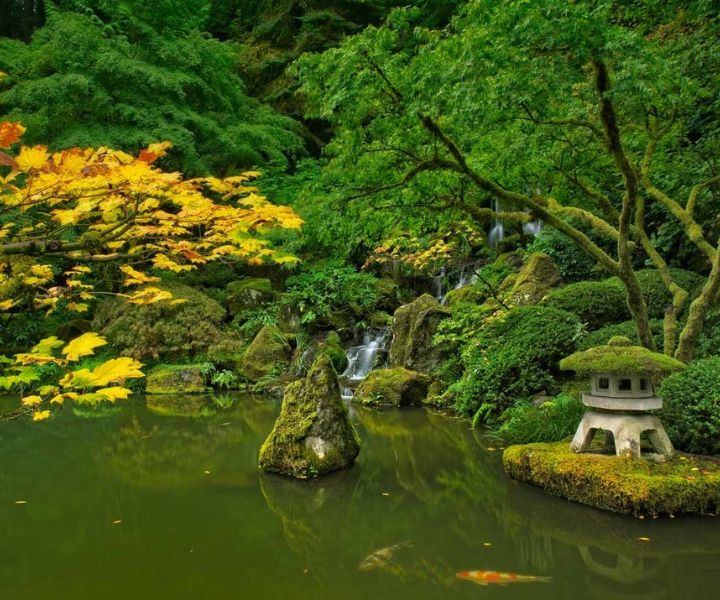 An oasis of moss will look soothing without many startling colors. And growing moss will also make your gardening life a lot easier.
38. Moss Bridge
Do you have a wooden bridge in your Japanese garden? Enliven it by making it mossy. You'll have to first expose the bridge to moisture for moss to grow on it.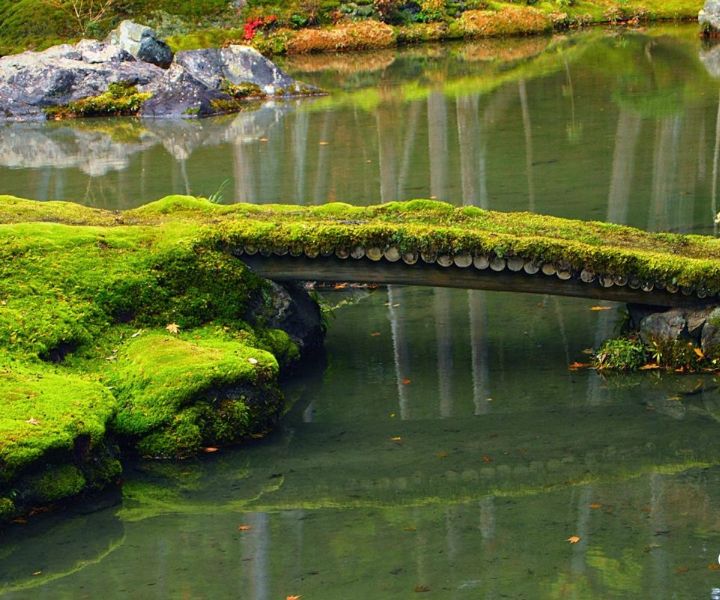 Slowly but surely, it will turn into a green piece of art. The moss bridge will create a sense of calm and age, ideal for your Japanese garden.
39. Natural Moss Garden
Even if you make a moss garden, it should look like a creation of nature. But don't worry. Your space, featuring rocks and bonsais, can be made into a natural-looking moss garden.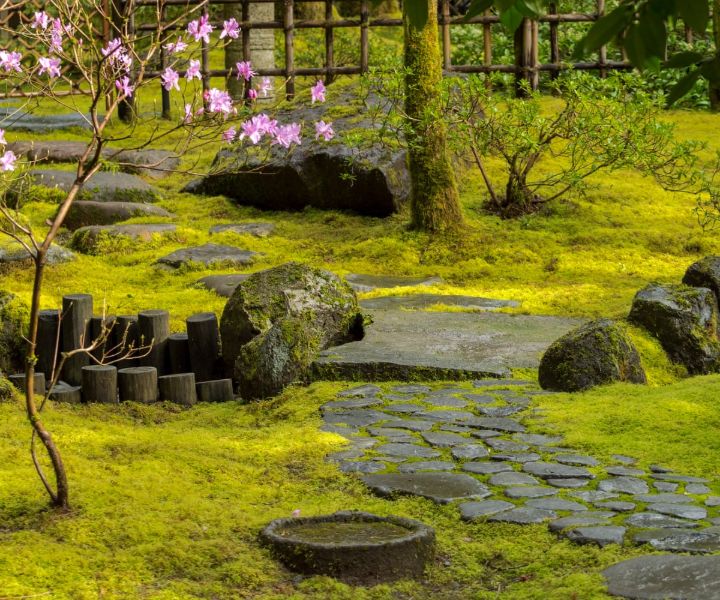 You'll only have to allow the moss to take its natural course and cover your garden. If you have a stone pathway in your garden, it will appear more natural when surrounded by moss.
40. Moss Carpet
Spread a carpet of moss in your Japanese garden. It's soft to walk on, requires no pruning, raking, fertilizing, and can do well without lawnmowers, too.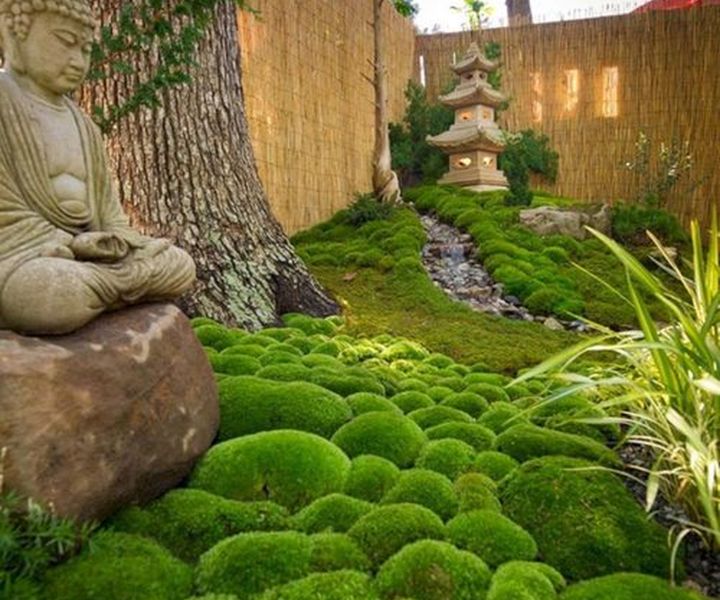 Add elements of authentic Japanese gardens to it—a Buddha statue, a stone pagoda, rocks, and bamboo fences. You are ready to stroll or meditate in your carpeted moss garden.
Japanese Wisteria Gardens
You wouldn't want to miss the chance to recreate a colorful wisteria garden in your backyard. These famous Japanese gardens start blooming in late April into May.
Wisterias sprout in all kinds of colors—blue, pink, purple, white. And they have a lovely fragrance. But that's not even the best part about them.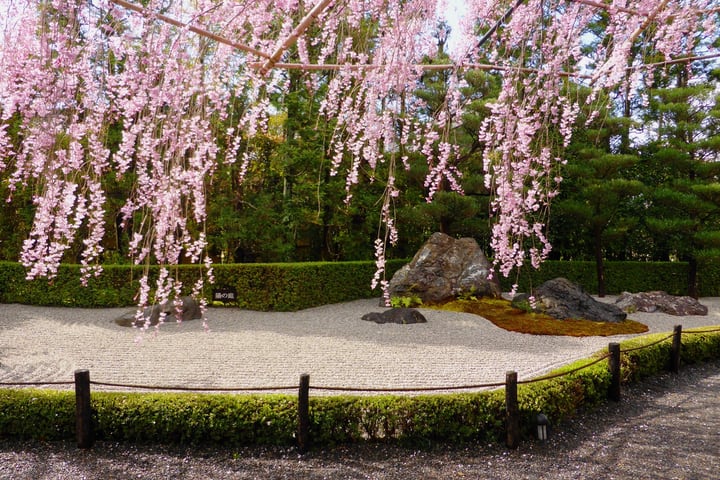 These plants are super flexible! So you can easily turn them into tunnels, curtains, chandeliers, bridges, and more.
Here are some beautiful Japanese wisteria gardens to inspire you.
41. Snow White Wisteria Garden
Create a patch of silky wisteria in your garden. This plant has highly scented, pea-like flowers that are as white as snow. They start blooming in late spring and will create a dramatic floral display in your garden.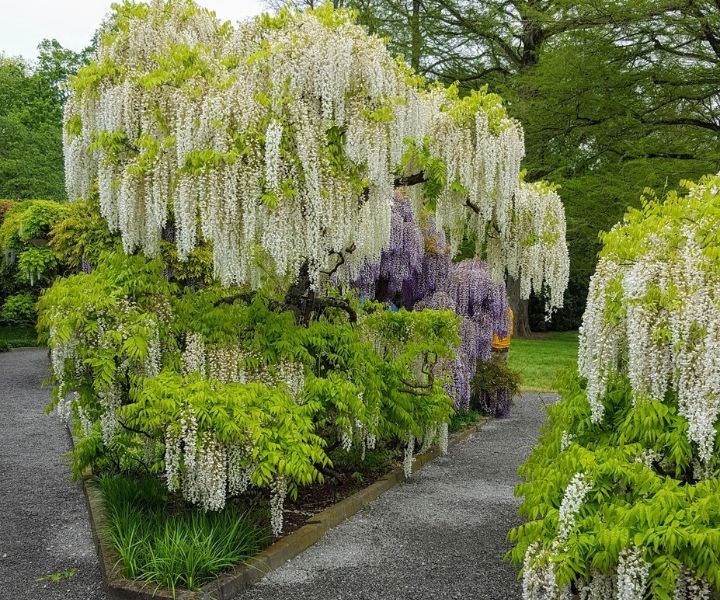 If you don't have enough space for wisteria but want to showcase it one way or the other, use it as a trailer to drape your garden fences and walls.
Good to know: Wisterias symbolize love, tenderness, and sensuality in the Japanese culture. The plant in full bloom has inspired poetry, art, and woodcuts for centuries.
42. Wisteria Bridge
Who can say no to a floral bridge that is sure to steal the show? And guess what? You can create one in your garden. Plant wisteria shrubs on either side of your arched bridge.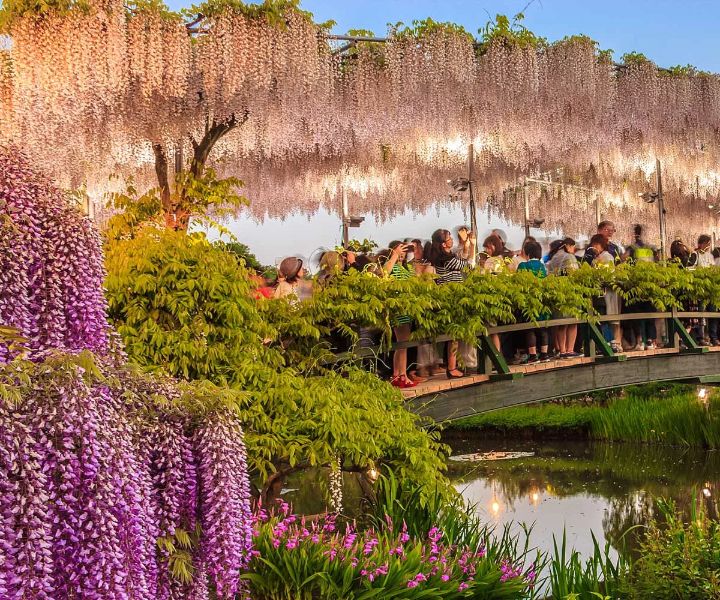 If you prune the blooms throughout their growing season, you can even turn them chandelier-like. See the image above for inspiration.
Idea: Wind garden lights in the branches and your chandelier will glow when the sun goes down.
43. Wisteria Shade Cover
Bored of regular patio umbrellas and canopies for shade in your garden? Go offbeat with wisteria! You can use the plant to create a breathtaking shade cover.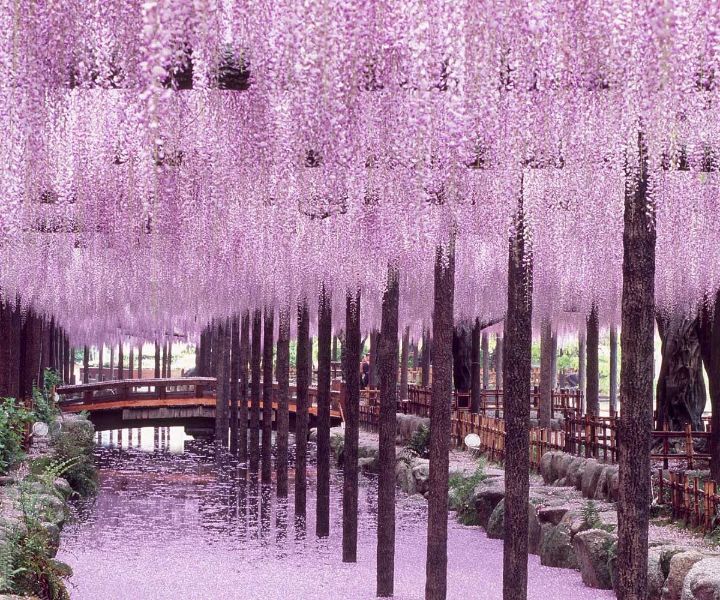 The plant in full bloom will transform your garden. And it will also make a fantabulous space to host parties.
44. Wisteria Tunnel
You must have come across photos of Japan's wisteria tunnels at some point. And maybe even found yourself willing to buy the next plane ticket to Japan. Here's the good news—you can create a floral tunnel in your garden, too.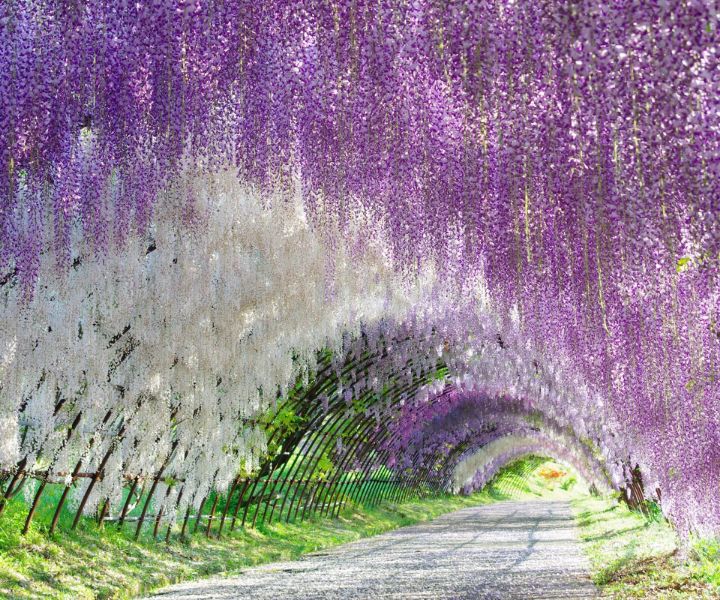 You'll first need to install tunnel-shaped trellises. Next, twist and train your wisteria branches into the trellises, like in the example above. Be patient as they take their time to grow.
45. Mystical Wisteria Garden
For a mystical garden, plant wisterias in shades of blue, pink, white, and purple. Create floral canopies with them or allow the plant to climb onto fences or stone walls, trellises, benches, and even arched entryways.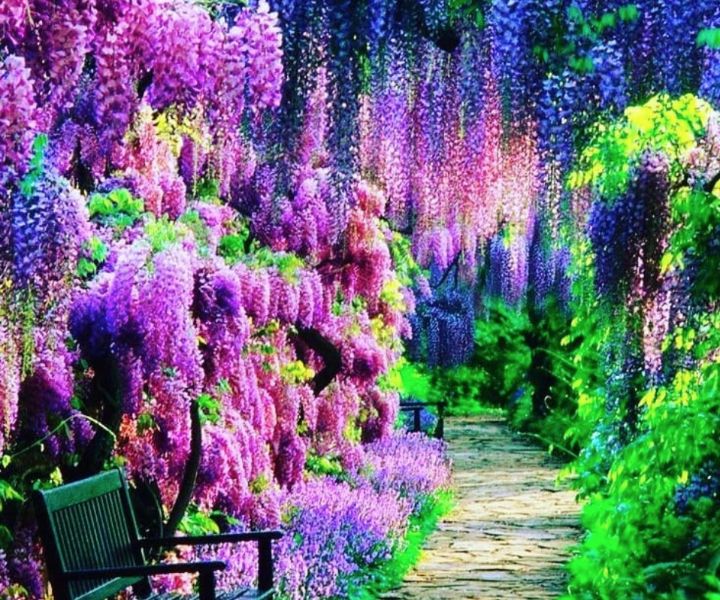 Imagine a garden brimming with clusters of scented flowers where you can walk anytime you please…
How to Create a Japanese Garden at Home
Wouldn't it be nice to have a calming and serene space in your own backyard? Something above the usual garden arrangements that you've seen over and over again? You can create your own Zen with a Japanese garden.
Follow this step-by-step guide to create a Japanese garden at home. Having a good budget is an advantage, but you can always scale down and adapt as needed. The important part is to get started.
Step 1 – Choose a Japanese Garden Style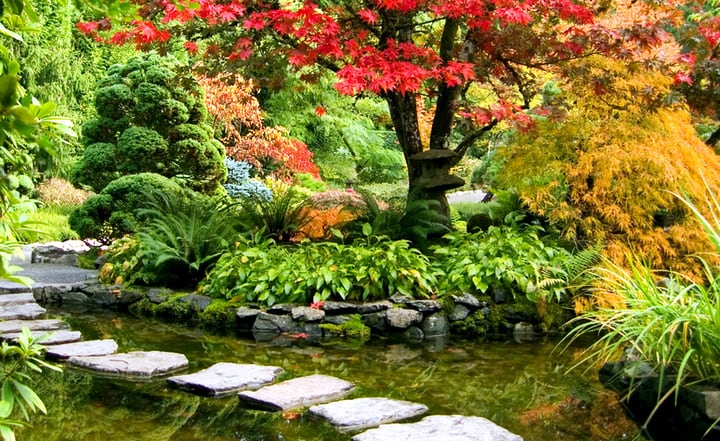 There are many styles to choose from—a Zen oasis, tea garden, floral or mossy landscape. We've given you lots of examples to choose from. First select the style you want and see how you can lay it out.
Tip: Whatever style you choose, make sure to include elements like rocks, pebbles, and sand to form miniature replications of natural scenery.
Step 2 – Pick a Site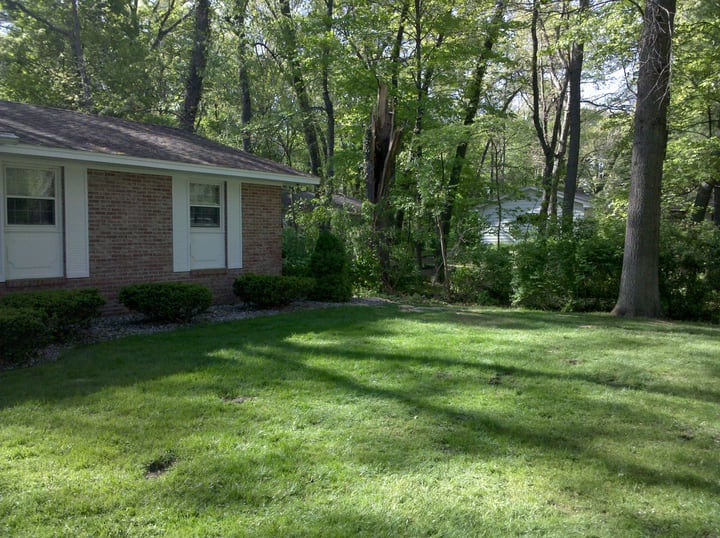 Now, think which part of the yard would be ideal to hold your Japanese garden. A flat, out-of-the-way landscape will be perfect. You can also choose a narrow side yard if you are short on space.
Step 3 – Draw a Design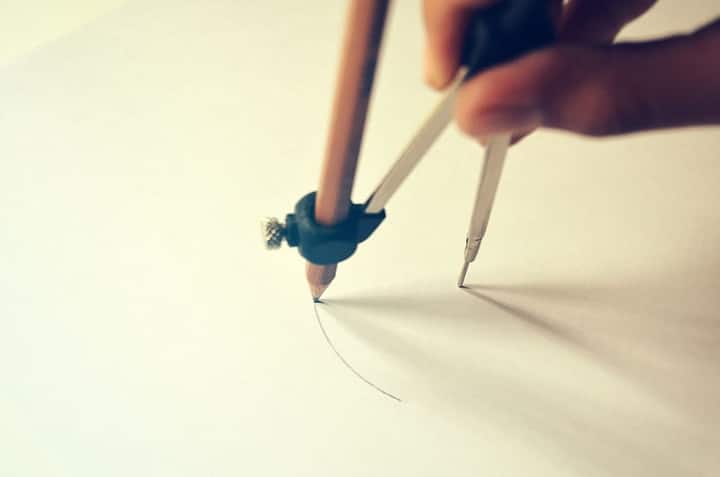 Once you've picked a site, draw a rough sketch of your arrangement. Think of which element would go where. Remember to make a simplistic, naturally asymmetric, and mysterious design.
Tip: There are no hard and fast rules for designing Japanese gardens. So don't fear experimenting with different looks and placements.
Step 4 – Pick the Right Rocks and Sand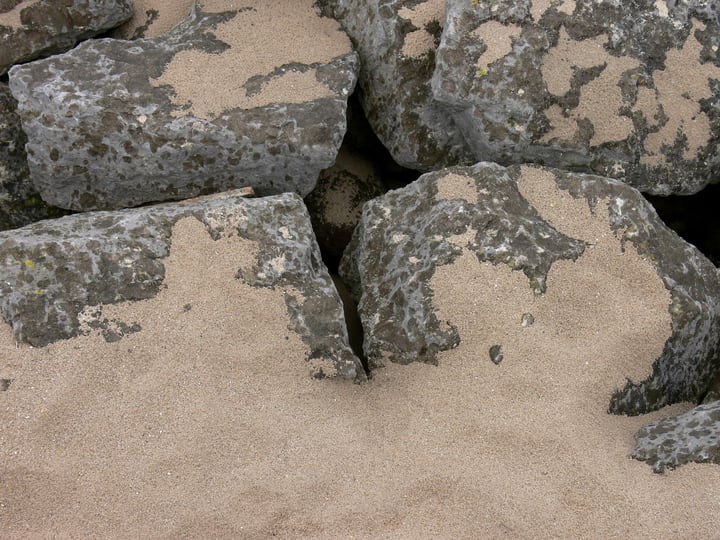 Now's the time to pick the rocks, pebbles, and sand for your garden. You don't have to follow symmetry—go for different shapes and sizes. Choose darker hues and avoid sharp edges.
The sand or gravel you pick must harmonize with the other components of your garden. Rake them into patterns as you please.
Step 5 – Choose Your Plants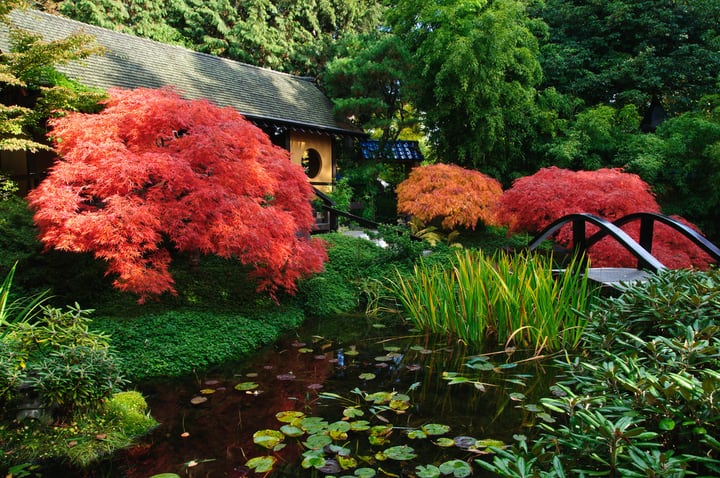 Japanese gardens aren't big on plants, but growing some in your garden can add a lovely contrast to the subdued hues of the rocks and gravel. Small trees, moss, shrubs, and bamboo plants are great additions to Japanese gardens.
Idea: Grow maples, wisterias, cherry trees, and so on for color.
Step 6 – Add Garden Ornaments
Add stone lanterns, statues, pagodas, teahouses, benches, bridges, water basins, etc. in your garden. Make sure you use these elements sparingly throughout the space.
Step 7 – Tend to Your Garden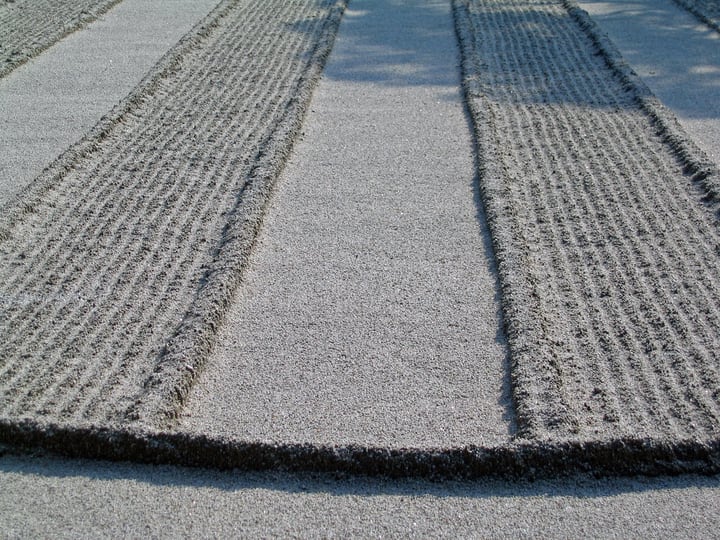 Japanese gardens are easy to maintain. They need only a bit of pruning and tidying up. Rake the sand to keep the patterns crisp, pick up stray leaves, and occasionally weed your garden. You're good.
Japanese Gardens Frequently Asked Questions
Japanese gardens are gaining popularity around the world. People want to create a bit of Zen in their gardens and experience the beautiful display of nature all year round.
If you want to dedicate a space to Japanese gardens, too, go quickly through these FAQs. They may answer some questions you have about these gardens.
A Little Pocket of Zen
Some gravel, sand, and rocks are enough to make your space more serene and peaceful. And they wouldn't even need a master green-thumb to maintain.
We say give Japanese gardens a try–and some space in your backyard! You can create a dry, rocky, and sandy landscape. Or you can create a greener and "lit" garden with flowers, moss, bonsais, and fairy-lights (they're equally Zen!).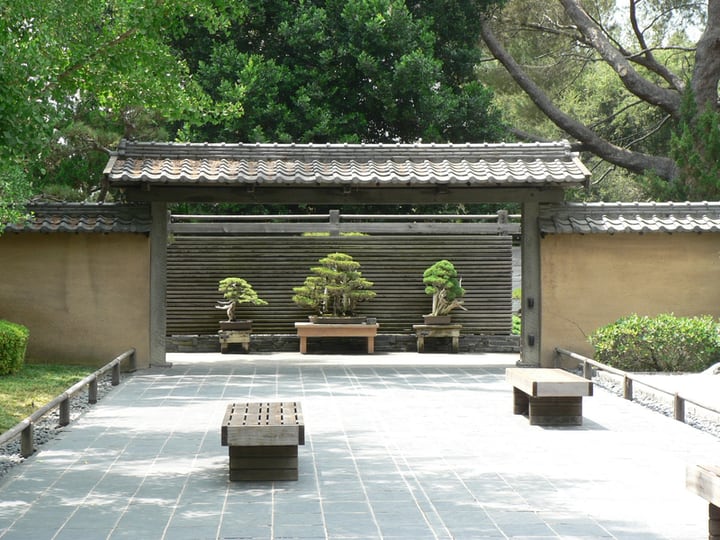 These Japanese gardens are beautiful works of art that can be appreciated from both outside and within. Stroll through them or simply observe them from afar—they'll have a calming effect on you.
Got more questions about Japanese gardens? Ask right away. And if you had the chance to create your own little pocket of Zen, drop a line to tell us how it felt!