Being the most consumed beverage next to the water and all the health benefits, it is not a surprise that tea is definitely a popular drink in the world. Generally, the word "tea" refers to an ancient beverage prepared by boiling/brewing/infusing the tea leaves of the tea plant Camellia sinensis over hot water.
Moreover, it has been around for many years. In this article, we aim to give you the best extensive guide on the most popular types of tea.
History of Tea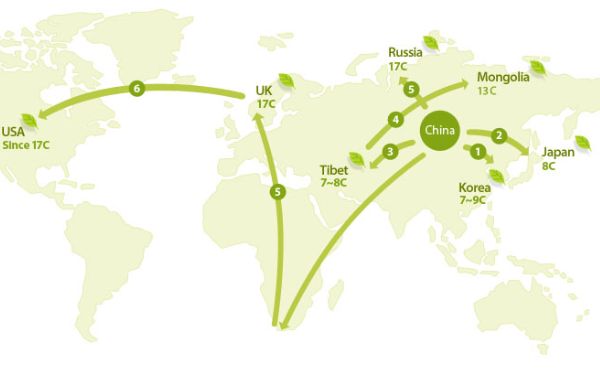 Originally Posted on Teasenz
A legend narrates the origin of tea. In 2737 BC, it was believed the Chinese Emperor Shen Nung heeded his attention to a green leaf that had blown into boiling water. Then, it colored the water and this where the concept of tea began. Since then, the emperor has loved to drink tea.
Some 4,700 years ago, tea was first mentioned in Chinese documents. Consequently, the tea spread throughout China.
At present, the evergreen shrub yields and distributed in various regions of the world.
Are There Different Types of Tea Plant?
The tea plant Camellia sinensis has two main varieties: Camellia sinensis sinensis (the Chinese variety) has a small leaf, can survive more on cold weather in higher areas and is used for lighter teas (green tea and white tea.) Meanwhile, Camellia sinensis assamica (the second variety) is innate in India, specifically in the Assam region. It blooms in hot areas and low areas and is used for stronger teas (oolong, black tea, and pu-erh.)
Types of Tea Processing
Whether you fancy an iced tea, hot tea, or even the famous bubble tea craze, all types of "true" teas (black, dark, oolong, yellow, green, pu erh & white) are made from the same and only one tea plant. There are still more classifications within each main type based on other aspects. In contrast, herbal teas (tisanes) are not considered as "true teas" as they are prepared from other plants or herbs, albeit it's termed as tea. Infusions usually use leaves or other parts of a fruit.
All types of tea come from the same plant but differences are made by the level of oxidation and processing they undergo.
Tea processing is a procedure that is crucial in making the final taste of tea. The leaves from the tea plant Camellia Sinensis are changed into the dried leaves for brewing tea.
First and foremost, the tea plant must start with growing and harvesting as the first step in making tea. They can have a huge factor in the flavor of the finished tea. Here are the basic steps of tea processing and it will help you understand what really happens in each procedure.
1. Plucking
All teas start with pulling fresh leaves. The young leaves of the tea bush are hand-plucked to select only fine tea leaves.
2. Withering/Wilting
After plucking, they start to proceed with withering through enzymatic oxidation. This means primary drying of bruised or torn leaves to disperse the leaf's water content. Wilting is a natural method but the leaves can be dried under the sun or in a place with a cool breeze to facilitate the process. Sometimes, the leaves are laid on holders and hot air is forced beneath.
3. Disruption/Bruising
Disruption is a process that is used to simplify oxidation. During this process, tea leaves are bruised in several places. This process is also known as leaf drenching. It is done through shuddering and tossing the leaves.
4. Oxidation
It is a vital step in the tea production that alters the appearance, flavor, and chemical content of the tea leaf. In this process, an enzymatic reaction turns the leaves brown, just like a cut apple, or like that of banana peel. This process is the main differentiating factor between different categories of tea.
5. Fixing
To put the oxidation process into a halt, the tea leaves are heated. This fixing act is sometimes called the kill green, but its actual role is to preserve whatever green color is still left in the leaf.
6. Sweltering/Yellowing
Happens only to yellow teas, moist and temperate tea leaves from after kill-green can be slightly heated in sealed storage, which causes the former green leaves to turn yellow. This results in making the leaves have a unique yellowish-green hue due to the changes in chlorophyll.
7. Rolling
Rolling is the process that gives the tea leaves the tightened shaped or form as we see them in its actual appearance. They are typically rolled tightly to maintain retain their freshness. This method is done by hands or through various equipment which causes the tea leaves to wrap or curl around themselves.
8. Drying
Drying or firing is an important step that is not skipped in order to make the final processed tea free of moisture. Hence, drying prolongs the shelf life and freshness of the tea. The duration of drying is significant as if it did too quickly, it may lead to bleak and rough-textured tea.
9. Aging
Also called curing, this type of processing is not always mandatory. There are only certain cases that tea might require a degree of fermentation and baking to reach their drinking potential. Chinese Pu-erh is an example of a tea that is aged and fermented like wine. It is often bitter and harsh in taste but becomes sweet and mellow through fermentation by age or dampness.
After all the steps, the finished tea leaves are set to cool until they are packaged either in tea bags or in different containers.
Loose Leaf vs. Tea Bags
Have you ever wondered and been confused about the differences between loose leaf tea and traditional tea bags? Well, there are actually a lot! The leaves in most tea bags are gotten from broken or bruised tea leaves. Thus, it compromises the quality of a full leaf tea. The ones that are intensely broken lose most of their essence in terms of aroma and oils. As they are brewed, they release more tannins than whole leaf tea, giving you a more bitter taste.
The size, shape, and quality all affect the overall tea quality when they are packaged in those tea bags. Not to mention, the tea leaves in those bags are hindered to maximize their full strength and benefits.
Indeed, a whole loose leaf tea is healthier compared to the packaged ones.
Now, as we live in a fast-paced world, it's not every day that we can afford to brew whole or full tea leaves with the right tools as well. Nevertheless, it does not mean that you need to compromise the experience for convenience. It's really up to you, though.
Tea Caffeine Content
Tea doesn't have as much caffeine as a cup of coffee, but it all depends on the tea variety.
Despite the benefits of drinking tea, you should know that caffeine is also present in this aromatic drink. It is recommended that you know its content and consider your age and health condition depending on each type of tea.
Types of Tea and Brands
There is a wide-ranging selection of tea for everyone. The following is a comprehensive guide we made for types of tea:
Main Types of Tea
1.
Black Tea

Black tea is the most common type of tea which undergoes full oxidation. The leaves become black or dark brown, thus, stronger. It has higher caffeine compared to others. To produce black tea, the leaves are wilted, bruised, rolled, and fully oxidized. Steeping time: 3 -5 minutes.
Black Tea Benefits
Although it has more caffeine content, it is less than that of coffee. This robust tea is packed with compounds and antioxidants that help reduce inflammation in the body. However, higher amounts of black tea can cause some undesirable side effects such as sleep problems, diarrhea, heartburn, and vomiting.
2.
Oolong Tea
With its polyphenol property, Oolong Tea qualifies as a stress-buster on its own. Its fruity scent and flavor are made possible via its semi-fermented preparation.
Oolong Tea Benefits
It's good for the body, bone, mind, and skin due to its antioxidant abundance. Nonetheless, taking only 1 cup a day is advisable especially pregnant women and children due to high caffeine. To attain a flavorful serving, steep for 3 minutes.
3.
Dark Tea
Dark tea or post-fermented tea is an anti-diabetic dietary supplement that is renowned for its strong yet refined floral aroma and flavor. This tea is branded "tea of life" due to its rich helpful nutritional elements. Normally, it undergoes secondary fermentation procedures to expose its alluring natural taste. Steeping time is 4-6 minutes and best served whether hot or cold.
4.
Green Tea
Considered as "anti-aging", "slimming tea", and the healthiest drink worldwide, green tea is actually another "true tea" preferred mostly by Eastern countries especially in China and Japan. Moreover, it has plenty of antioxidants and nutrients. Its simple preparation includes slight withering and immediately cooking of the plucked tea plant leaves. Steeping time: no longer than 2-3 minutes.
Benefits of Green Tea
Green tea benefits include improved brain function, fat loss, a lower risk of cancer and many others. Anyhow, be careful as drinking more than 2 cups of green tea regularly has been linked to an increased risk of miscarriage and other negative effects due to the high green tea caffeine content such as birth defects.
5.
White Tea
White Tea is the mildest of the true teas. Unlike other types, it has less stimulant elements like caffeine so its frequent intake is not that worrisome. The freshest leaves are gathered and minimally oxidized, so it has retained its genuine and delicate taste. It can be either brewed for 2-3 minutes or 3-5 minutes for some kind.
6.
Pu Erh Tea
Pu Erh Tea is a fermented true tea also dubbed as a "detox tea". It has properties good for slimming, cleansing and refreshing the body. It is processed through special microbial fermentation and features a moderately bitter taste. Brewing time usually takes 3-5 minutes.
7.

Yellow Tea

Rare and unique, yellow tea is slowly taking over the tea-loving population of the world. It has an amazing fruity aroma, is sweet, and provides a plethora of health benefits.

Yellow tea can help you shed those extra pounds and treat inflammatory bowel disease. In fact, yellow Chinese diet tea can cleanse your body of harmful toxins, improve your mental alertness, cure diabetes, and lower the risks of brain stroke.
8.

Herbal Tea

Herbal Tea (Tisane) is a caffeine-free beverage. It's actually not dubbed as a "true tea". A variety of flavors exist depending on the ingredients used which all come with their own health-related contributions. Thus, having a natural vegetal flavor note. It is brewed for 5-7 minutes.
Other Tea Varieties from Main Tea Types
9.

Matcha Tea

Being the main drink for Japanese tea parties, Matcha Tea varies from other kinds of tea since the shade-grown leaves are finely powdered to be consumed. This grassy and vegetal flavored tea has lots of beneficial properties. It is rather whisked into hot water than being steeped.

Learn more about matcha green tea by clicking the link.
10.

Rooibos Tea

Also African Red Tea, Rooibos is a pro-liver herb tea from South Africa. The leaves are oxidized and usually embarks a sweet tasty taste. It has zero caffeine, is rich in antioxidants and promotes good iron absorption. Steeping time is 4-5 minutes.
11.

Chamomile Tea

Chamomile Tea is a bedtime beverage extracted from the edible flowers of the Chamomile plant. It has various useful properties, making it popular as a body relaxant. It's also caffeine-free. This tea has a light and soothing flavor. Brewing time is about 5 minutes.
12.

Hibiscus Tea

Another herbal tea is Hibiscus Tea. It is a tart-tasting tea formulated from desiccated flower petals of the Roselle plant. It is stuffed with Vitamin C and antioxidants. However, people with acid-related issues should know that this tea has a notable acidic content. It is brewed hot at about 2-5 minutes.
13. Lemon Tea
Who doesn't love lemons? Lemon tea is simply the combination of green tea or black tea and lemon juice for a one-of-a-kind flavor. You can drink this hot or cold but more famous as a cold infused beverage. Also, it's a great source of hydration and detoxification. To make one, pour boiling water into the kettle and let it steep for 3 to 5 minutes.
14.

Ginger Tea

Bad day because of a cold? Worry not, like a hot cup of Ginger Tea helps fight it and keeps you healthy due to magnesium, Vitamin C, and other mineral contents good for healing, soothing and digestion. Treat yourself and make one at home by adding ginger in the teapot over boiling water. Steep for about 10 minutes.
15.

Chai Tea

"Chai" is actually the Hindi word for "tea". It's mostly warming and creamy in nature. The traditional version is rich in polyphenol so it is healthful. Moreover, the spiced one is often strongly brewed with milk and a sweetener. However, commercial variations tends to be too sugary so better watch out. Steeping requires 5 minutes.
16.

Earl Grey Tea

Another well-known flavored tea, Earl Grey Tea is a typical British tea. Many love this concoction of traditional black tea infused with oil from the rind of the bergamot orange. It boosts immunity and aids in weight loss. Usually, it is brewed for about 3-5 minutes.
17.
Raspberry Leaf Tea
Raspberry Leaf Tea is a refreshing non-caffeinated drink. It is high in potassium, iron, magnesium, and b vitamins. Furthermore, this drink is beneficial mainly for women as it helps them during pregnancy by thickening the uterus wall. Steep for at least 5 minutes.
18.
Dandelion Tea
For some, Dandelion Tea is a coffee alternative. It is produced by roasting dandelion roots. It tastes moderately floral and is believed to be helpful in food digestion. Steep for about 5 minutes.
19.

Peppermint Tea

Peppermint tea is accounted for as a stomach-calming beverage. The essential oil of peppermint has the ability to alter someone's mood positively. Steeping may vary from 3-12 minutes (also may vary.)
20.
Cinnamon Tea
Being one of the oldest spices, cinnamon is an aromatic spice to your tea. A study said that drinking Cinnamon Tea reduced inflammation and clinical symptoms in people with rheumatoid arthritis.
21.

Jasmine Tea

Undeniably a famed herbal Chinese tea or infusion, Jasmine tea is from combined Jasmine blossoms with either green, white or black tea. This low caffeinated tea has a mood-boosting aroma and has a relaxing moderate sweet taste. Daily intake assures an improved immune system and a lesser chance of suffering from a heart attack and diabetes. Brewing is 2-3 minutes.
22.

Nettle Tea

Having an anti-inflammatory ability, Nettle Tea is a herbal infusion or decoction drink, using the withered leaves or roots of the Nettle plant. Aside from the usual treatment package for almost all other teas, this type is known as a cure for urinary problems, allergies, hives, and gout. Steep for 10-12 minutes to bring out the natural flavor.
23. Darjeeling Tea
Referred to as the "Champagne of Teas", Darjeeling Tea is a popular export product of India, which can have its own variation of white, black, green and oolong tea. This light-colored and flowery scented tea has antioxidants that ensure lots of health-related benefits including weight loss, necessary hydration, and good oral and bone condition.
24. Rosehip Tea
Rosehip Tea is a Vitamin C-loaded herbal or fruit beverage, normally extracted from the parched fruit or flowers of a Rose plant. Its health-related contributions are obviously associated with Vitamin C insufficiencies. 3 to 5 minutes is the normal steeping duration.
25.
Assam Tea
Assam tea, commonly known as English or Irish Breakfast Tea, is grown in the widest tea producing area in the world, the Assam region of India. This dark reddish brown-colored caffeinated drink has a malty and sharp sour taste that boosts energy and promotes mental vigilance. However, frequent intake is not advisable. Preparation and brewing are just like any traditional tea.
26. Ceylon Tea

Also called Sri Lankan tea, Ceylon tea is served as an iced tea or milk tea. It is a hand-processed black tea that is brightly-colored yet strongly-flavored. It assists in regulating insulin and blood sugar levels thus, an anti-diabetes tea.
27

.

English Breakfast Tea

English Breakfast Tea is the most found tea on any English breakfast tabletop. Its archetypal black tea mixture of Assam, Ceylon and Kenyan teas leaves a unique pungent taste with a frail relaxing raisin aroma. Though it contains high caffeine content, it has flavonoids that promote arterial and dental health as well as cancer prevention.
28

.

Chinese Tea

Chinese tea is a low caffeinated drink that comes in many varieties depending on the kind of tea leaves being used. The antioxidants it has been good for the immune system. Moreover, this tea regulates blood pressure and cholesterol. Nevertheless, side effects may occur.
29

.

Ginseng Tea

Typically from the root of the Ginseng plant, Ginseng Tea is an anti-obesity herbal tea that has a Korean origin. It comes in three types namely American, Asian and Siberian ginseng. This has "ginsenosides" which are responsible for reducing menstrual, mental and even sexual issues.
30.
Echinacea Tea
Echinacea Tea has survived centuries of being an aid against numerous ailments. It is formulated from the leaves, flowers, and roots of the Echinacea plant. This tea is filled with antioxidant, anti-inflammatory and anti-virus compounds which made it a pro-immune system beverage. Brewing takes up 10-15 minutes.
31.

Yerba Mate Tea

Among ancient herbal teas, Yerba Mate has that classic glory you can indulge in a cup. It features an exciting grassy taste and is a great coffee substitute. Intensified energy, enhanced concentration, increased mental focus, and strengthened bones are just a few of the notable benefits of this tea. 3-4 minutes is the usual steeping time.
32.

Chrysanthemum Tea

Made from Chrysanthemum flowers, Chrysanthemum Tea is a bold-tasting infusion herbal drink famously consumed in East Asia. Also, common uses are treating hyperthyroidism, stabilizing blood pressure and aiding respiratory ailments. However, hypersensitive symptoms may exist to those who are originally allergic to ragweed and daisies. Brewing can take 3-5 minutes.
33.

Tulsi Tea

Tulsi Tea is a natural healing tea, made possible through the leaves of the Holy Basil or Tulsi plant. It is a zero caffeine drink that has a "eugenol" component that is good as a stress reliever, stimulant, anti-inflammatory, and digestive agent. This tea is brewed for 2 -3 minutes.
34. Spearmint Tea
Spearmint Tea is an anti-osteoarthritis drink that has a lesser minty flavor than peppermint. Like other kinds, it also shares its own therapeutic benefits. Steeping can be 5-15 minutes or more if wanting a stronger taste.
35.

Sencha Tea

Showcasing a noticeable green color, sencha tea is actually a famed variety of green tea, using the entire dried leaves for an infusion. This tea is filled with polyphenols, thus almost having the same medical uses as other types of tea. Required steeping needs a shorter duration of 45 seconds up to 1 minute and 30 seconds.
36.

Valerian Tea

Come from the stems and roots of the Valerian plant, Valerian Tea is another herbal tea to savor. Some benefits include stress relief, menstrual symptom relief, improved sleep. Note that not all Valerian tea benefits are proven scientifically.
37.

Rose Tea

Feeling a little fuzzy? Rose Tea, a.k.a. rosebud tea, is from the dried rose petals. Its natural aroma of rose taste is described to be sugary and moderately sour. This tea is high in Vitamin C and anthocyanin. Steeping can take 4-10 minutes.
List of Best Tea Brands [2019]
1. The Tea Spot (Colorado, USA)
Known for shedding hope to cancer patients, The Tea Spot, Inc. is one full of empathy and devotion to more than hundreds of organizations for its 10% unconditional pledge. It's instituted in 2004 through the desire of Maria Uspenski, a cancer survivor herself. This company at Colorado, USA has been giving its very best on producing quality hand-made loose leaf teas and commendable loose tea houseware tools, Steepware. It has been striving to provide the healthiest, most-eco-friendly, and freshest tea products.
2. Traditional Medicinals (CA, USA)
If searching for a reliable herbal tea producing company, The Traditional Medicinals will be a premium pick. It's a solar-powered facility that continuously thrives as a leading manufacturer of more than 50 sorts of irresistible teas. Until it finally added herbal teas among its tea production in 1974 and eventually prospered, the company placed the 6th largest bagged tea producer in the US. Its tea products are traded nationwide by both major and minor retailers.
3. TWG Tea (Singapore)
Need we say more? TWG is one of the most popular and finest teas ever. In 2008, Singapore had finally etched its name among well-established tea brands when The Wellbeing Group(TWG) tea started to be known internationally. Every season, it aims to formulate new versions of teas that can be best enjoyed by everyone through its partnership with many popular tea estates. Tea tasters are sent year by year to different areas of the world to discover more best-tasting teas for consumers. This tea producer aims to satisfy the taste of every modern tea consumer.
4. Vahdam (New Delhi, India)
Vahdam Teas, founded last 2015 in New Delhi, is one of the world's initiators of online tea purchasing. Over 150 tea estates contribute to being its fresh tea sources. Top shipping markets include USA, Russia, and Europe along with other 76 countries. Until these days, the company envisions to promulgate a home-grown modernized international tea brand in India.
5. Yogi Tea (Oregon, US)
Yogi Tea aligns its brand along with beneficial herbal teas. This tea brand promotes a variety of helpful green teas with amazing healing properties. The University of Maryland Medical Center claims that this tea is quite helpful in many health-related issues and assures total well-being.
6. Bigelow (Connecticut, US)
Bigelow Tea has been leaving remarkable pleasing taste among consumers while no extra spices are added on production. Thus, it stood as one of the top ten tea labels globally. Its privately owned company is American-natured which existed first as a family business and at the moment, it proceeds as a major tea-producing entity.
7. Tazo (Washington, US)
Another spectacular tea manufacturer and provider are the Portland-based Tazo Tea Company. Their undeniable flavorful teas are made with the best tea leaves craftily combined with necessary amounts of herbs, spices, and botanicals.
8. The Republic Of Tea (CA, US)
The Republic of Tea in California is known for having its teas inside long cylindrical tins. Additionally, it is a private food and beverages company which produces and trades over 300 kinds of teas in North America.
9. Dilmah (Peliyagoda, Sri Lanka)
Like Bigelow, Dilmah, a Sri Lankan brand is also among the world's top tea names. It was founded in 1974 and its brand name was the combined names of the owner's son. More than 92 countries continue to be served and sold the finest of this kind of tea. This brand is highly known for its delightful flavor and great quality.
10. Lipton (Hoboken, New Jersey)
Who is not familiar with Lipton? It is one of the brands that many people resort to for over a century. As a product of the famous Unilever company, Lipton never draws off along the queue of top-rated quality products. In terms of taste, Lipton is also certified rich in flavor since its company founder, Thomas Lipton would never gamble the quality of this cherished item.
To sum up, there are many types of tea across the world and it can be overwhelming. Indeed, it's crucial to understand each variety and which tea suits best for your liking and needs.