Why garden rocks? Well, why not? They may be heavy, but they have a lot of personality and can help you add weight and texture to your garden and anchor all that flower beauty into a striking sight. Or just create a calming, Zen rock garden. Your choice, really.
Discover now the best garden rocks for your garden with design ideas and tips on how to choose the right rocks for you.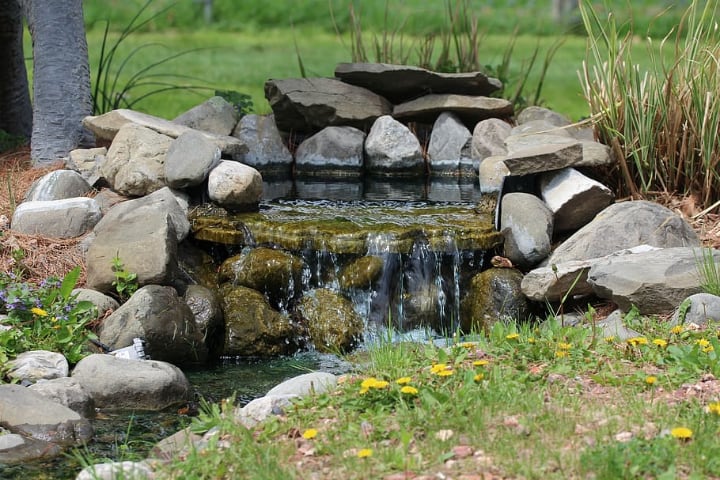 Garden rocks are not just for rock gardens or rockeries. Quite often, they make it into most garden designs. And you know why?
Because they create striking contrasts with the other design elements. They are also durable and don't require much maintenance.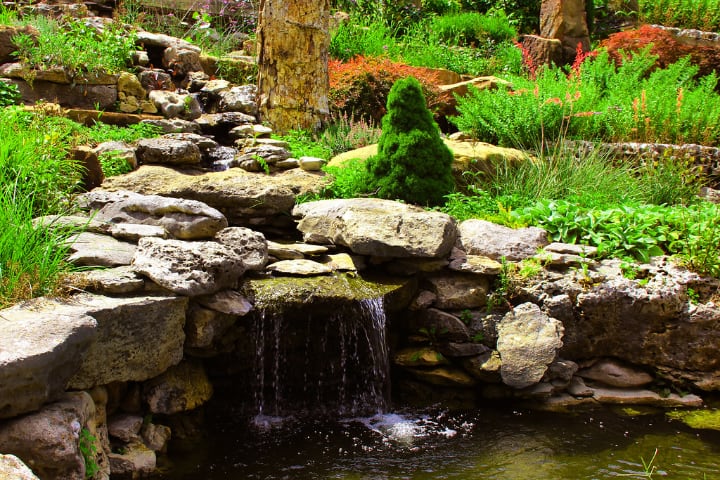 Also, keep in mind that unlike other garden elements, garden rocks are usually not manufactured but rather sourced from quarries. Anyway you use them, garden rocks add a natural feel to your garden.
Each rock is natural and unique. It may look like other rocks you've seen, but nobody has one that's quite like it.
Popular Garden Rocks Types
Small and large stones, river rocks, white and black stones, Japanese rocks, stacked rocks—these are just some of the garden rocks you can find. The point here is that you really have lots of options to choose from.
So many in fact that you may not know where to start your search. That's why we thought to put together a list of some of the most popular garden rocks types around.
Use them for inspiration to rock that garden of yours!
1. Garden Stones
Let's start with the basics. Garden stones are what most people think about when they hear "garden rocks."
Available in a wide range of shapes and sizes, these stones are versatile. You can use them in the image below or in countless other ways.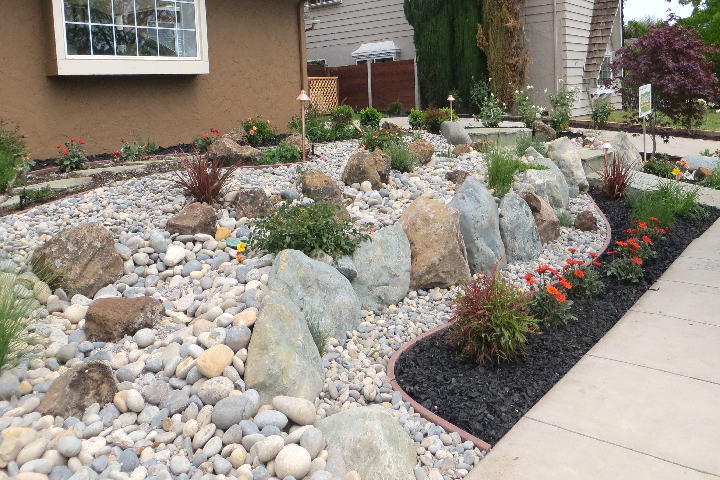 Garden stones can add a pleasantly rough texture to your garden. They don't always have to be centerpieces, though. In the image above, they are used for edging alongside pebbles and flowers.
Tip: Combine garden stones of different colors, shapes, and textures to add variety and additional texture to your garden. These stones may look simple but you can always get creative with them.
2. Garden Pebbles
Garden pebbles are currently in vogue—they're easy to maintain, look great, and improve plant longevity. How's that?
Well, they help restore water in the soil during scorching summer days and prevent soil erosion caused by heavy rains. This is to say that garden pebbles can safeguard your plants against bad weather conditions.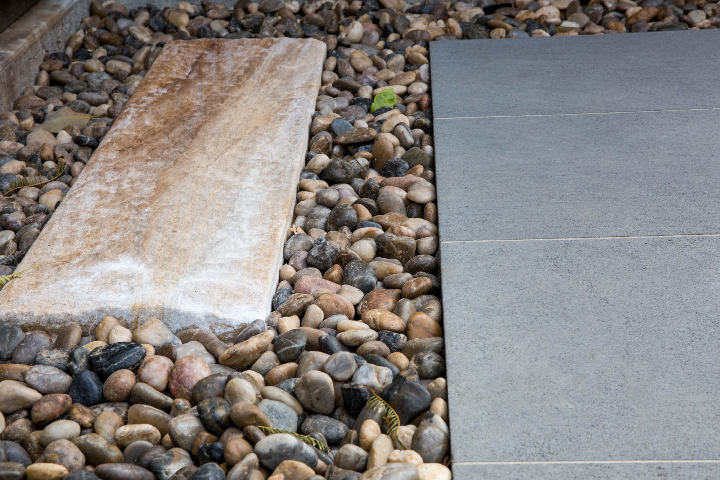 You can use garden pebbles to create mosaics, arrange them at the base of a pond, or to pave an area alongside a pathway for contrasting textures and colors, as in the image above.
Whether you use them for contrast or not, garden pebbles are some of the most versatile garden rocks around.
3. Garden Gravel
Gravels can be used in both modern and traditional style gardens. Use them around the edges of your yard, on a driveway, or to create paths. Here's one example.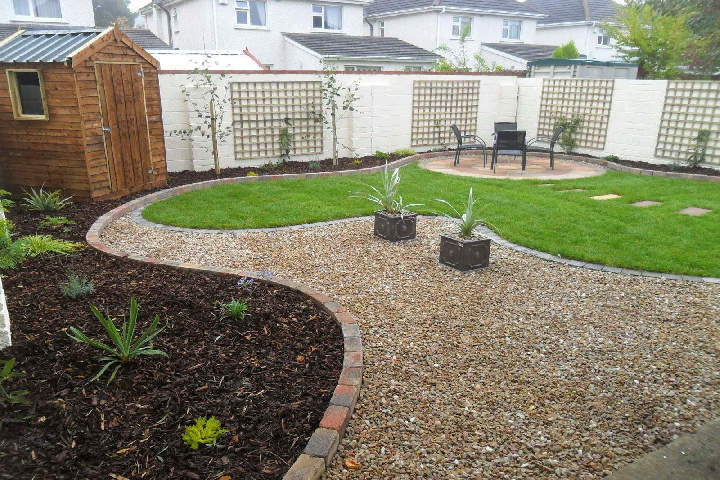 But because garden gravels come in diverse colors, which to choose? Ideally, the color of your gravel should complement the other features installed in the garden.
See the above image for inspiration. The warm hue of the gravel accentuates the color of the classic wooden storehouse.
At the same time, it goes great with the green grass and the earthly patch to the left.
4. Garden Boulders
Large and stately garden boulders can add a spotlight to any landscape setting. They come in various sizes, textures, and colors.
So, breathe creativity into your garden and build stunning features using their design versatility.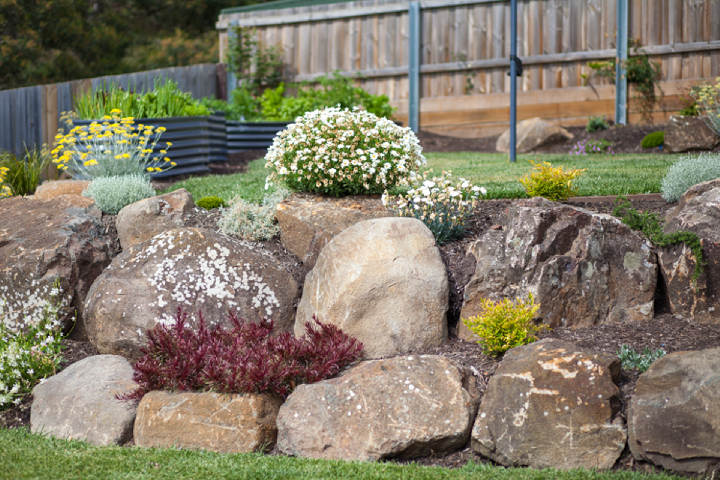 Tip: Group lively gold and yellow-hued boulders in one corner of your garden and tuck in some colorful alpines around them. The arrangement is sure to get anyone's attention. But make sure you position those rocks firmly!
5. Large Garden Rocks
You know what they say? Go big or go home! The same is true when it comes to using garden rocks. If you have a spacious garden, mix in large rocks to make a statement in the landscape.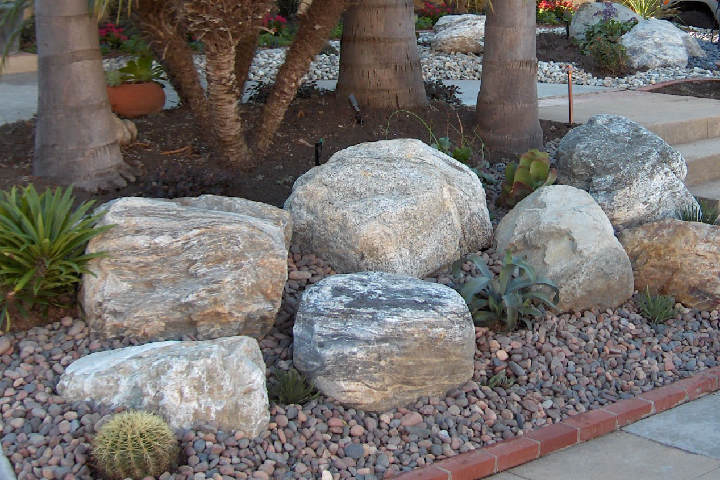 And if cats frequent your garden, large garden rocks will prove to be virtually unshakable, saving you the time and effort to reposition them every now and then.
Tip: Use large rocks to enhance a flower bed or mix them with tropical trees and shrubs for a more natural appeal. They usually look best in the background, but you can also position them in the midground.
6. Small Garden Rocks
Small garden rocks, as the name suggests, are teeny-weeny in size and can fit neatly into any nook and corner of your garden.
Since they come in so many different colors, it's possible to make some incredible arrangements mixing them with plants.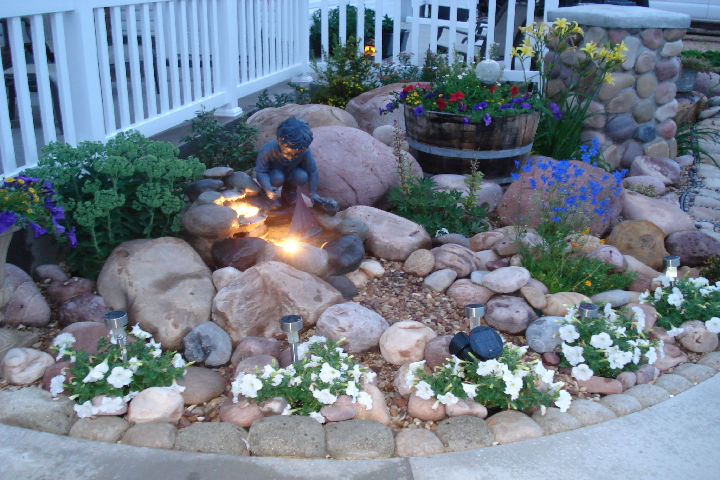 Even if you have a really small space outdoors, you can showcase your love for a rock garden with small garden rocks. Choose a bare, overlooked corner of your yard and turn it into a shining focal point using small rocks.
Tip: Plant colorful petunias and lilies in the rock pockets, place an antique sculpture or an old bucket with small flowers for some drama, and add outdoor lighting to highlight your arrangement.
7. Japanese Garden Rocks
If you're looking to create a space for mindful meditation, you might want to consider laying some Japanese garden rocks to design a traditional Japanese Zen garden in your outdoors. It's not all that hard!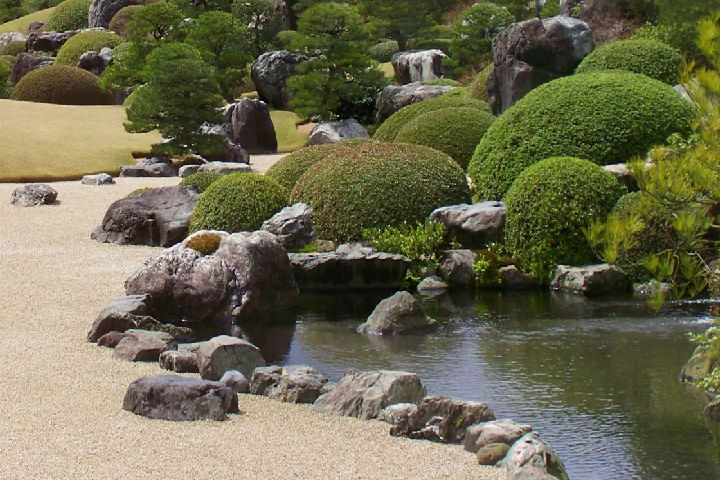 You'll need some very large rocks to represent a mountain or island and fill the remaining space with tiny pebbles, gravel, and white sand to represent water and waves. The design above is one way to go about it.
Tip: Plant some evergreen trees and shrubs to complement the arrangement. You may also add a bench where one can sit, relax, and meditate. Because remember: meditation is amazingly healthy.
Here are some popular elements you can add to your Japanese garden.
8. Large River Rocks
Large, asymmetrical-shaped river rocks in different colors can give your landscape a stylish look. Plus, they can be seamlessly combined with the other elements of your lawn like shrubs, trees, and grass.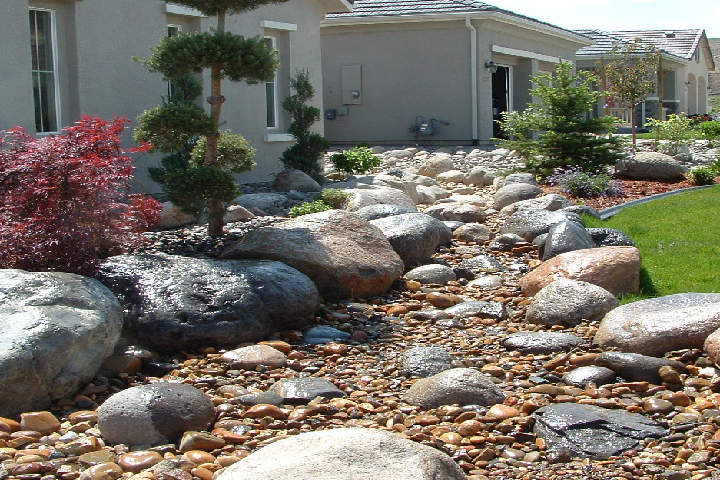 Tip: Create a dry creek bed using river rocks of different sizes and adding some gravel for a natural and realistic look.
9. River Stone Rocks
Impossibly smooth river stones are highly versatile—you can use them to make rock beds, stone fountains, and pathways, and they even have a certain mulch appeal.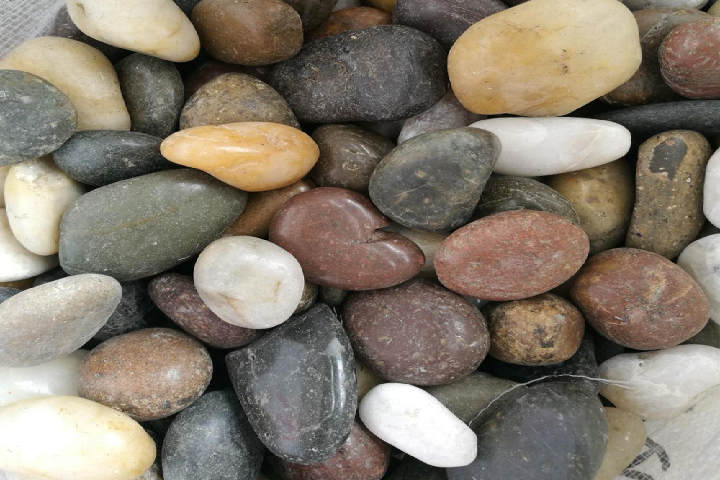 You really cannot go wrong with river stones no matter where you place them. They have that natural look to them that complements just about any other garden feature close to them.
Tip: Consider creating a flower bed using multi-colored river stones to spice things up.
10. Garden Rocks for Edging and Borders
Garden rocks are great to outline and separate different parts of your yard, like your garden beds and walkways.
But you can't just lay random rocks for edging and call it a day. Flagstone, cobblestones, and river rock are ideal for edging.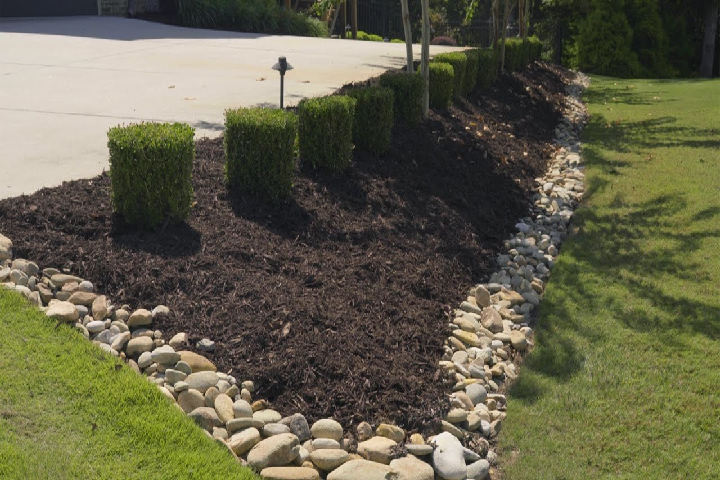 Tip: Mix large and small rounded rocks to line the edges of your garden beds. The landscape will blend beautifully with the surroundings without it looking too manicured.
11. Decorative Garden Rocks
Say goodbye to dull, plain garden spaces you're not quite sure how to jazz up. Use decorative garden rocks to add texture and a nicer feel to your outdoor space. Check out the example below for inspiration.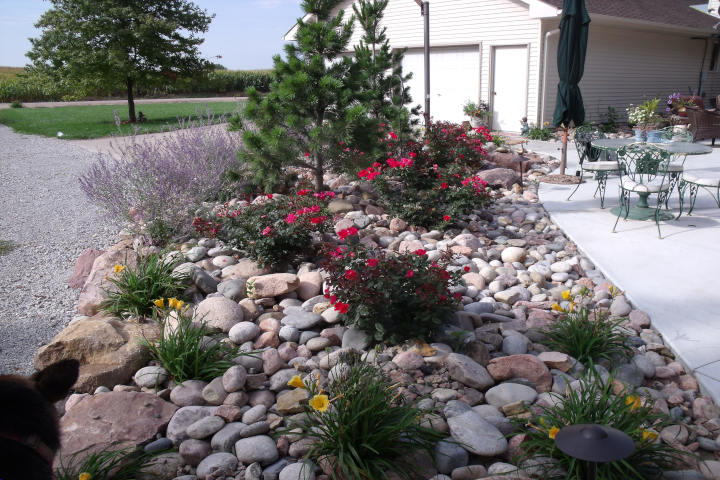 A mixture of decorative rocks, pebbles, stone slabs, alpines, and ornamental grasses lining a small patio or archway is eye-pleasing, don't you think?
12. White Garden Rocks
If you're looking to add a modern twist to your outdoors, consider using white garden rocks.
These aesthetically appealing rocks are good for all garden projects—you can use them to create different patterns like circles, swirls, and squares.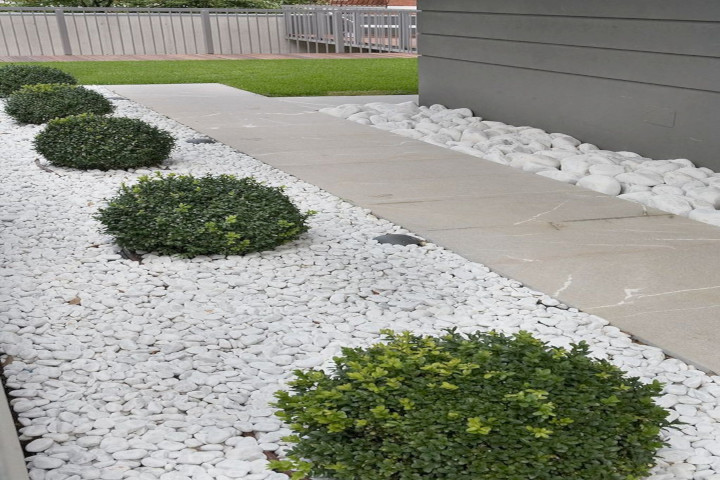 Draw inspiration from the image above. Lay a good layer of white rocks alongside your pathway and add perennials with lush green foliage for a pop of color.
You can also plant your favorite flowers for some red and yellow and orange.
13. Black Garden Rocks
Looking to create a chic and bold landscape? Black garden rocks are for you!
They can build layers of texture and color and are also perfect to add to your succulent garden. The black will make the green appear fresher and more alive.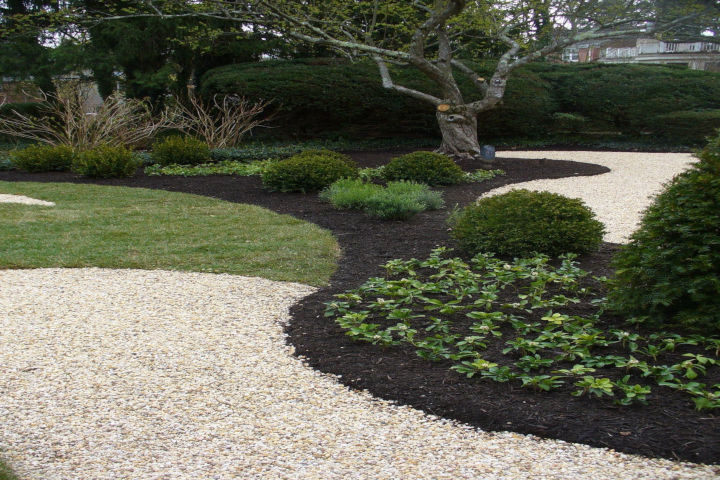 Use black garden rocks as a filler for spaces between smooth, light-colored rocks for a beautiful, eye-catching contrast.
Tip: Don't go overboard with these dark-colored rocks. They may make your garden look monotonous and uninspired.
14. Personalized Garden Rocks
Call attention to your lawn, garden patch, or backyard with a personalized rock feature that is unique to you. Get it custom-made or use the leftover rock from your garden bed and, with some paint, personalize it yourself!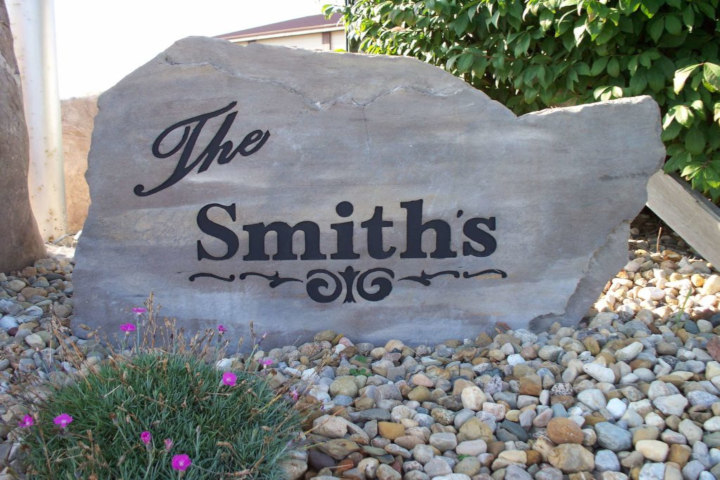 Use one or more personalized garden rocks to add a creative flair to your garden. This sort of rock can become the envy of your friends and neighbors. Not that they'll be able to steal it!
15. Garden Rocks with Faces
Turn your ordinary garden into a whimsical space by featuring rocks with painted faces. Whether you buy them or create your own, these "expressive" rocks can uplift your spirits when you see them.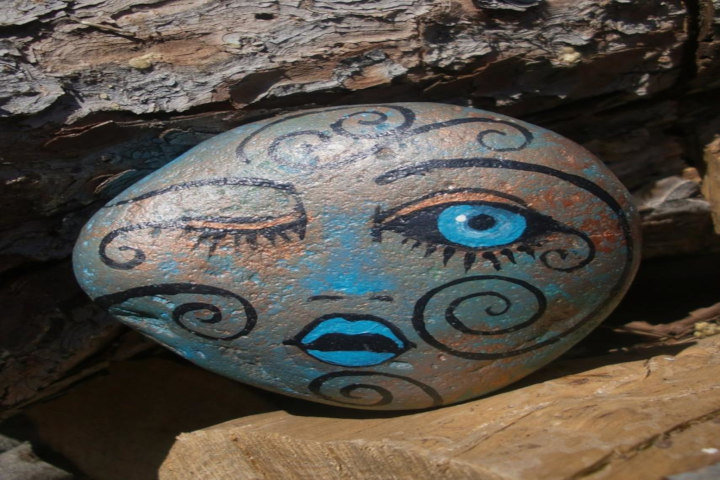 Tip: Scatter them in your bare garden area for a bit of cheer or "grow" these rock faces in a planter or basket.
16. Garden Rocks with Sayings
It can be nice to stumble upon a brightly colored rock that has an uplifting message written on it. And the good news is that you can create them yourself using smooth, flat rocks, and acrylic paints. Here's some inspiration.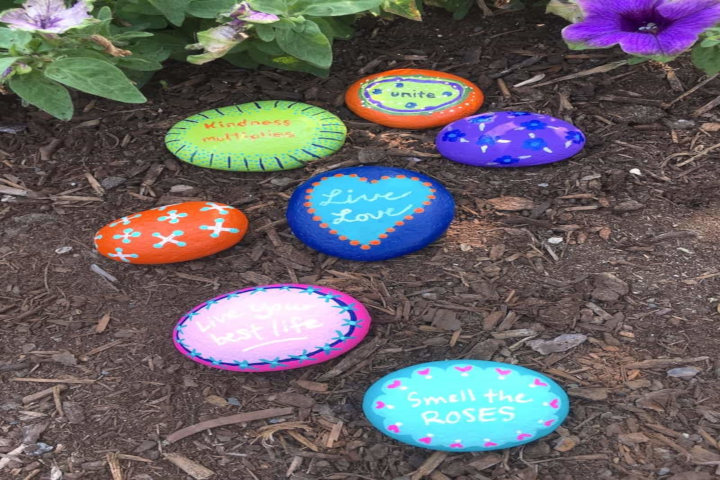 These rocks are also a fun and creative way to decorate your flower beds or mark your herbs, succulents, and veggies. You can choose bright, uplifting colors, or stick to more quiet hues. Your call!
17. Engraved Garden Rocks
Large or small, engraved garden rocks can add a personal touch to any landscape. They are attractive to look at, inexpensive, and come in a variety of colors, sizes, and finishes.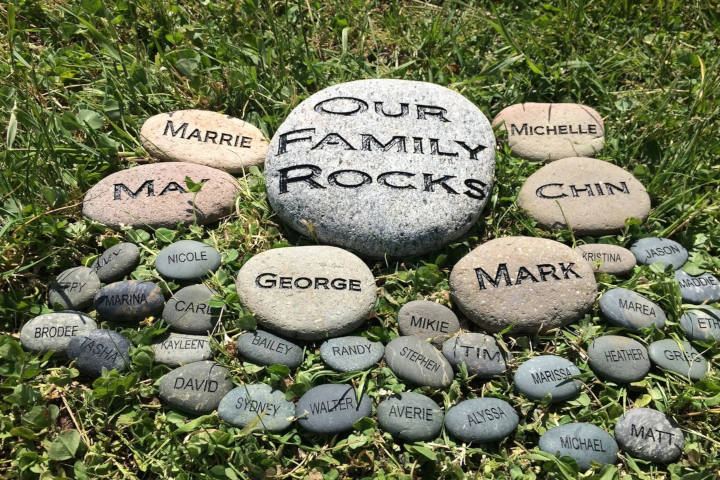 Now the example above is for a pretty big family. You don't need to go that far, though you can definitely add grandpa and grandma into the mix!
Tip: You can engrave anything from the names of loved ones to favorite quotes and messages on these rocks. The ideas are truly endless!
18. Painted Garden Rocks
If you don't want to spend money on colorful garden rocks, you can paint some yourself. Grab some rocks, get some paints or markers, and get started by making creative and attractive designs on them.
What's more, painting faces on rocks can double as a fun activity for your kids. There are worse ways to spend a Saturday afternoon!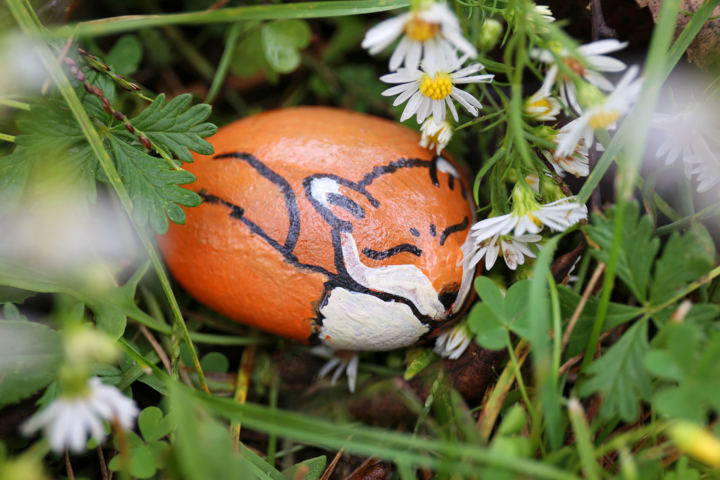 Tip: Paint anything from colorful bugs and pet cactuses to minions and Pokémon on your garden rocks. Or just let the kids choose what to paint.
19. DIY Garden Rocks
Do you have lots of huge, boulder-sized rocks in your garden that you're looking to get rid of? Well, instead of trying to erase them from your landscape, start a DIY garden around them.
Use the largest rock as the centerpiece and create an organic landscape around it that blends beautifully with nature.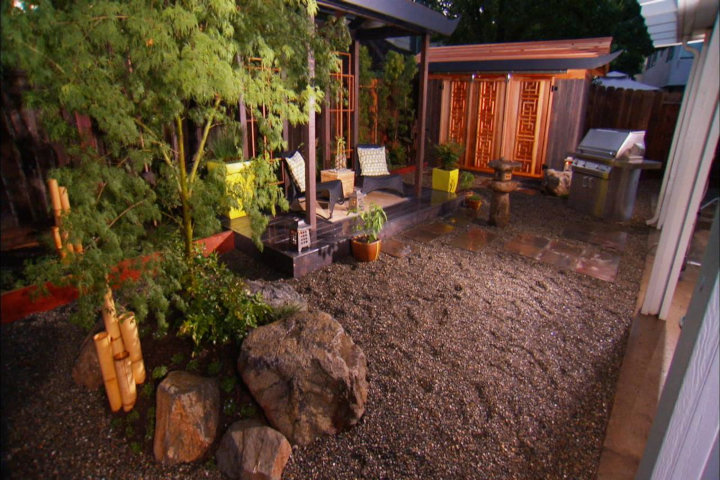 Tip: You can also layer your garden with small pebbles, install a water feature, and create a nice outdoor seating area with benches and chairs. Despite all of this, you can keep the design simple and not too crowded, like in the example above.
20. Garden Rocks for Plants
Garden rocks can instantly add an exotic feel to low-lying plants in your yard. And the good news is that you don't need many garden rocks to create wonderful textures and contrasts.
A few, well-chosen rocks placed correctly can perfectly do the trick.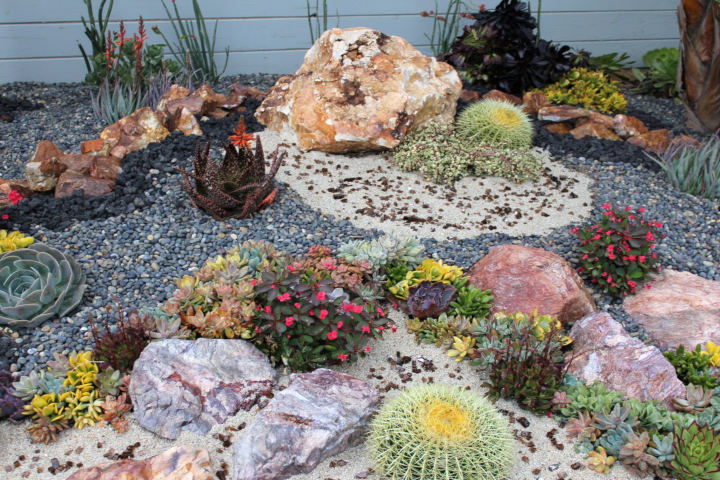 Tip: You may want to use rocks in rich red and gold tones around plants like button begonia, hens and chicks, and pincushion cactus to draw attention to your garden.
21. Garden Rocks for Ponds
Who doesn't love the idea of a small garden pond? If you plan to bring one to your home landscape, then take a cue from nature and place some rounded rocks around it.
Make them look right by exposing just the surface of deeply buried rocks.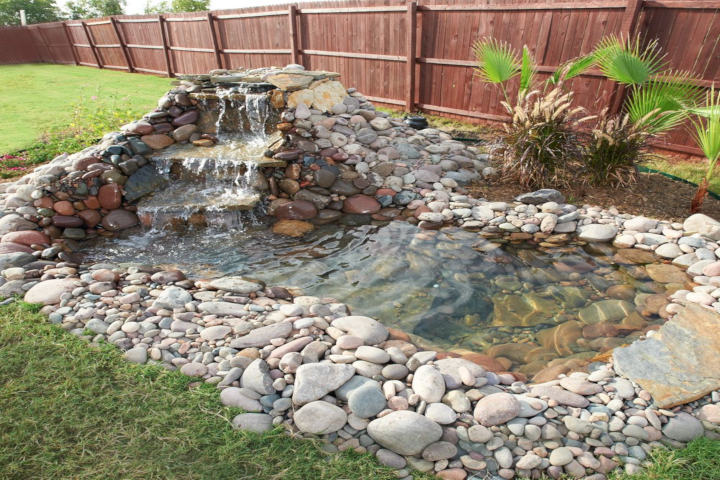 You may need to pump the water back to its source, plant some tropical grass, and add rocks, lots of rocks, to surround your own tiny pond.
Fact: Why use a pump? Well, the sound of running water is sure to mesmerize you, plus flowing water doesn't attract mosquitoes.
22. Garden Rocks for Tiny Spaces
You don't have to go big to draw attention to your garden. Small garden rocks mixed with stones and pebbles can beautifully accentuate a smaller yard.
Add a nice little focal point such as a stone sculpture or some perennials for added effect.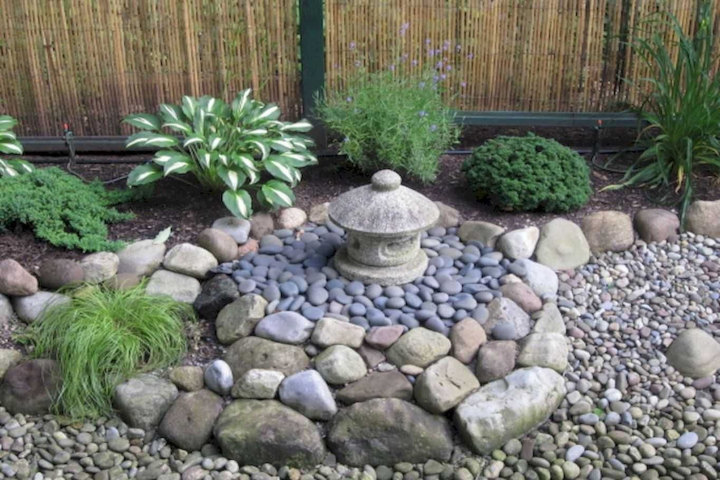 Tip: Go for spirals in your garden, especially if you want to add a playful feel to it. That's because spirals look appealing without taking up much space.
23. Garden Rocks for Indoor Gardens
Don't have a huge yard to display stones and rocks? Fret not. You can bring rocks to your living room to create an offbeat indoor garden.
Smooth and shiny river rocks of different sizes and colors are best suited for indoor gardens.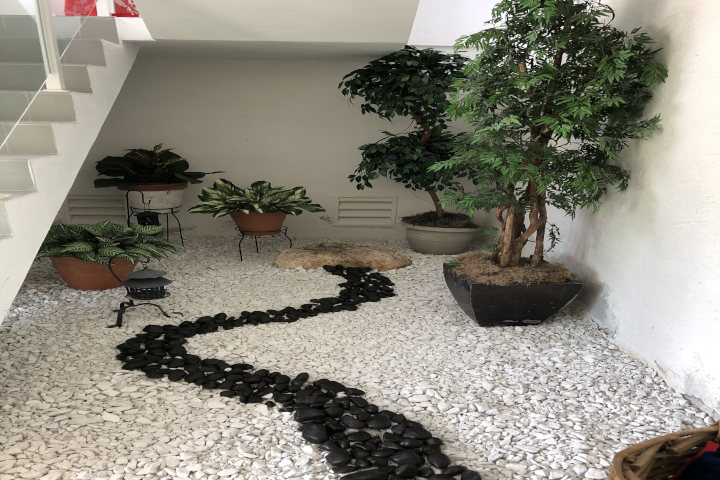 Tip: Create a visually striking path using contrasting stones in an unused corner of your house. Add features like garden lights, ornamental sculptures, and small plants to the arrangement.
24. Round Garden Rocks
Lining your flower bed with large, round rocks is one excellent way of giving your garden a fairytale look. While choosing rocks, go for ones that are similar in size but different in color.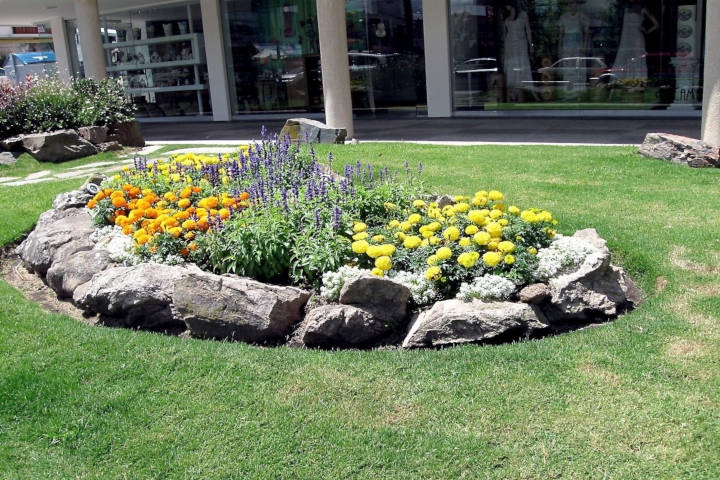 Tip: You could even create such spaces to make your own herb garden. Plant basil, lavender, lemon balm, and mint for the fragrance and their uses as culinary herbs.
25. Zen Garden Rocks
Zen garden rocks give off a very serene vibe and help bring calm to your life, even after a hectic day at work. Use flattened river rocks for a classic Zen garden look and add crushed gravel or sand that's easy to rake into patterns.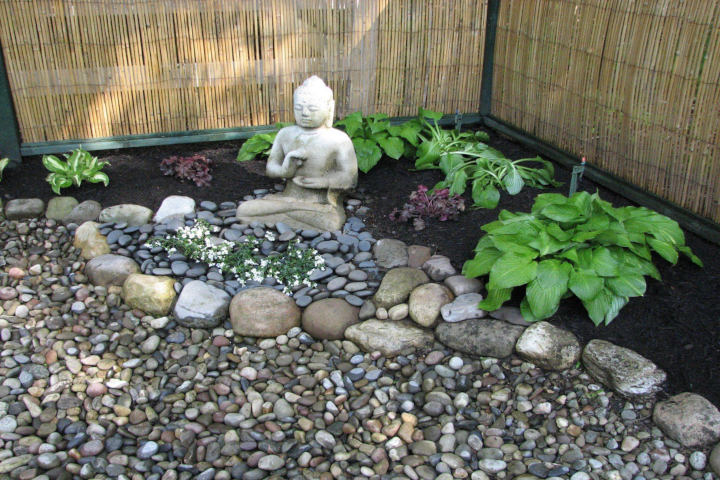 In Zen gardens, the rocks are set upright with their best sides showing. Choose rocks of different colors, shapes, and sizes.
Tip: Avoid using bright colored rocks that might distract the viewers. A Zen garden is all about harmony and balance!
26. Stacked Rocks for Garden
Stacked rocks can bring a visual appeal and depth to your garden. They can be the center of attention in your garden, or they can be placed in a manner to accentuate your plants.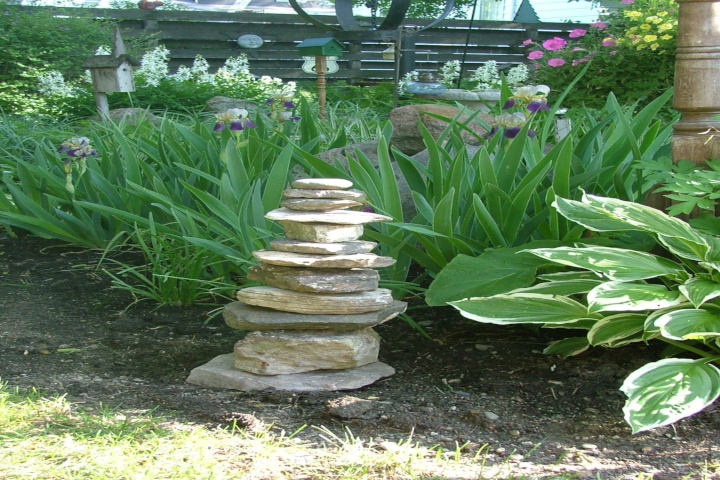 Tip: Stack rocks atop each with the widest at the base and the narrowest at the top to create a focal point in your garden bed. Make sure you place them on level ground so that they have a solid base.
27. Mandala Rocks for Garden
The Sanskrit word "mandala" literally means "circle." It is symbolic of the profound connection with the self and the universe. Bring these beautiful, symbolic rocks to your garden to represent your connection with the natural world around you.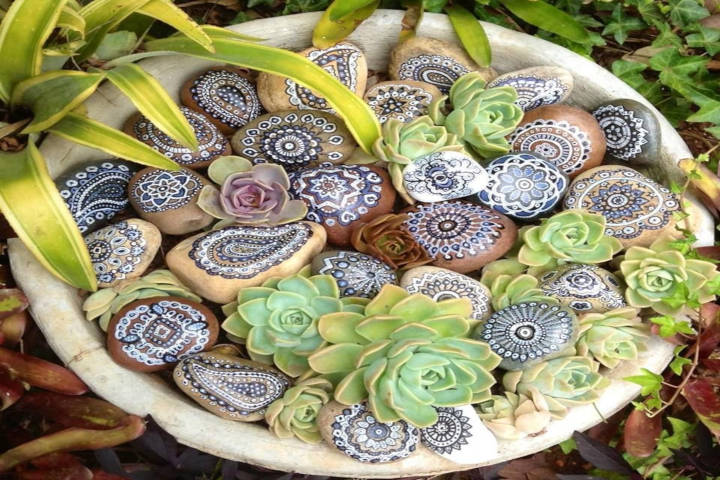 These mandala rocks are ideal to display in decorative succulent bowls, potted plants, flower beds, or herb gardens.
28. Fairy Garden Rocks
Turn a boring outdoor space into a cute and whimsical fairy garden. You'll need some rocks, preferably tiny and smooth ones, pebbles, and gravels.
Surround them with low-lying ornamental flowers and vines to complete the look.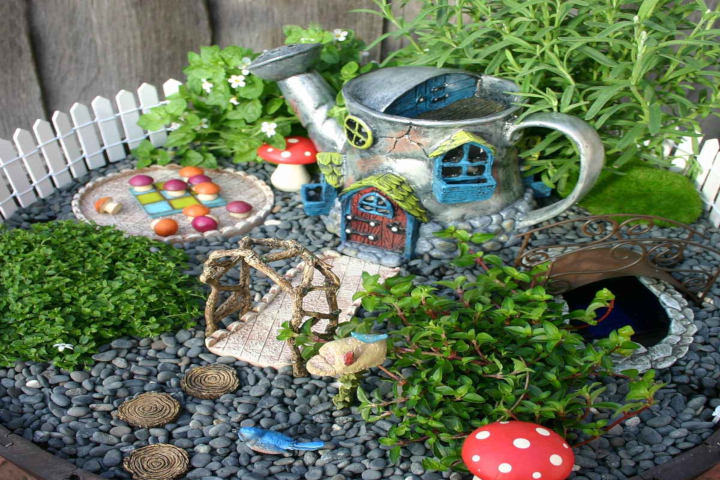 Tip: Color your own little rocks, add an enchanting fairy house, some painted mushrooms, and a whimsical bridge for a garden straight out of a fairytale. Fairy gardens are great to build with kids, so make sure to involve the little ones into the project.
While you're at it, here are some popular fairy garden accessories you can add to your space.
29. Secret Garden Rocks
So, what kind of rocks will you need to make a secret garden? Well, you can use anything from garden boulders to stones, river rocks, and gravels, so long as they are old.
As the rocks age, they are overtaken by moss and ferns. This can help you design your own secret garden to have a pleasant wild look.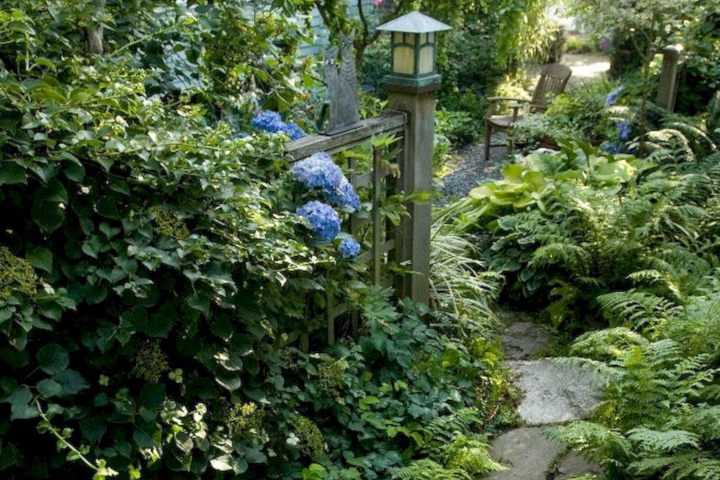 Once you've layered your garden with rocks and grown plants and trees to create a soothing environment, add fairy lights, and hang some lamps in there.
And don't forget to place an old wooden chair or a bench in your little den.
30. After Dark Garden Rocks
Glow-in-the-dark rocks look beautiful and unique and are a great replacement for garden lamps or solar lights for your pathways or garden areas.
You can also pain rocks of different shapes with glow-in-the-dark paint and add a little magical ambiance to your yard.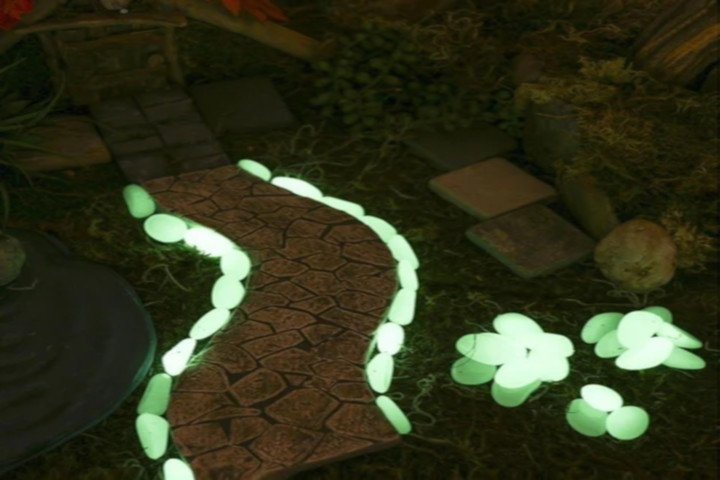 Tip: Line your pathways and driveways with these after dark garden rocks and let the (country) roads literally take you home. Choose good quality glow in the dark rocks to make sure they keep on glowing for years to come.
31. Creative Garden Rocks
Looking for a creative decor idea using garden rocks? Surround a water feature in your garden with river rocks of different shapes, sizes, and colors to make the space look like it has been there for ages.
Enrich the design by growing some water plants, wild moss, and vines in the nooks.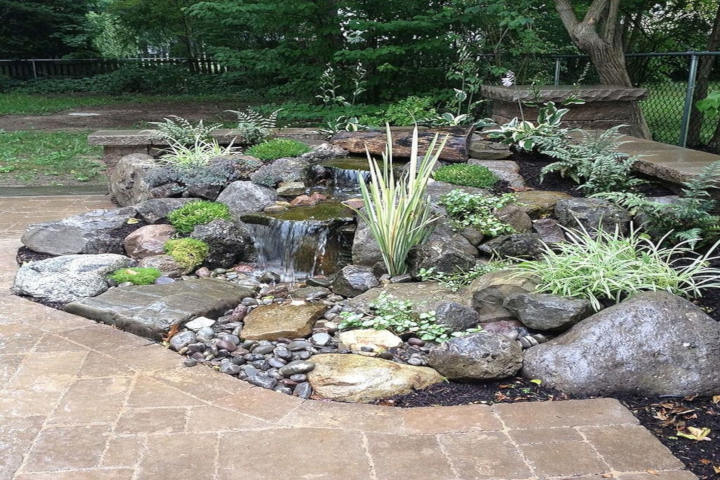 Randomly placed river rocks mixed with pebbles in contrasting colors look picturesque.
They are just what you need to bring some charm to a yard and garden without breaking the bank (and hopefully without breaking your back either).
Tip: Avoid using square or rectangular rocks if you are looking to create a naturalistic arrangement.
How to Choose Rocks for Your Garden: Tips & Advice
Garden rocks can inspire many different designs based on their colors, shapes and sizes, textures, and arrangements.
Now that you've learned about the popular types of garden rocks, it's time to see how best to choose the right ones for your outdoor space.
Use
Are you going to use them as centerpieces, for edging and borders, as part of the decoration? As support for air plants to grow on?
As pond elements? Do you plan to integrate them into an existing flower garden design or use them on their own?
Rocks for gardens can be purely decorative or serve a functional purpose, like Japanese or cat steps that create a footbath or gravel borders that separate different areas of the garden.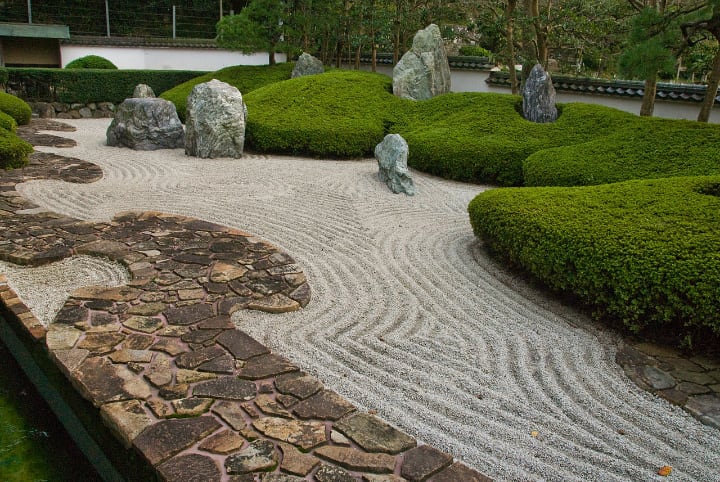 Try to visualize how you'll use garden rocks before you buy them. That way you can filter your search and reduce your expenses.
The rock types and ideas we shared with you above should be a good starting point. But remember that you can always adapt them to your space and needs!
Size
As we've seen, rocks for gardens can range from pebbles to hefty boulders. Their size is obviously going to make a difference not only to your garden design but also to how easy it will be to get them.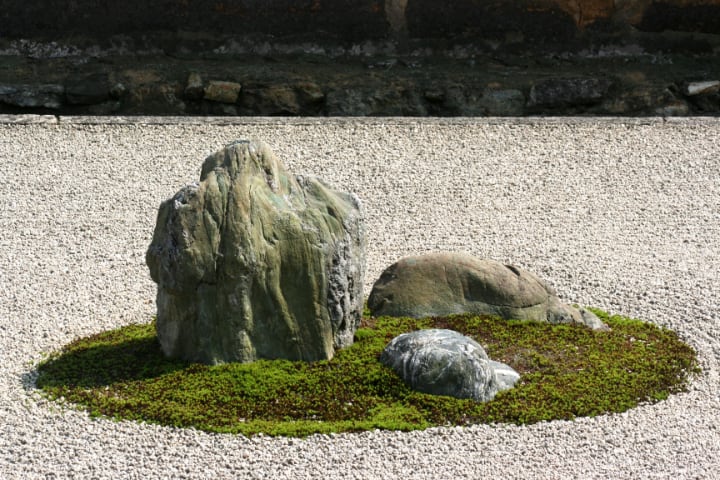 The simple rule is not to use very big rocks in a small garden as that can create an imbalance between the rocks and the other elements and draw more attention to them than needed.
Of course, there are exceptions, but most of the time, it's best to adapt rocks sizes to your garden size.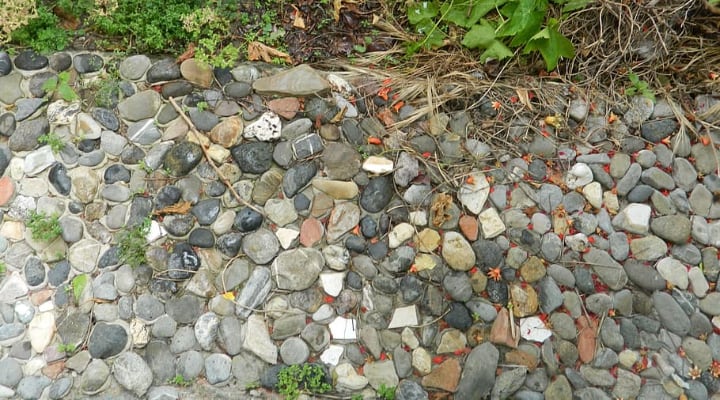 Tip: Small rocks are suitable for all gardens, but large ones work best in spacious gardens. It's not just a question of space, but of the sense of emptiness your garden needs to feel welcoming and relaxing.
Color
Consider not only the colors of the rocks in themselves but also of the flowers and other elements around them.
For example, white or dark rocks can be striking in the contrast they create with brightly colored flowers, but they also call attention to themselves, which is not always desirable.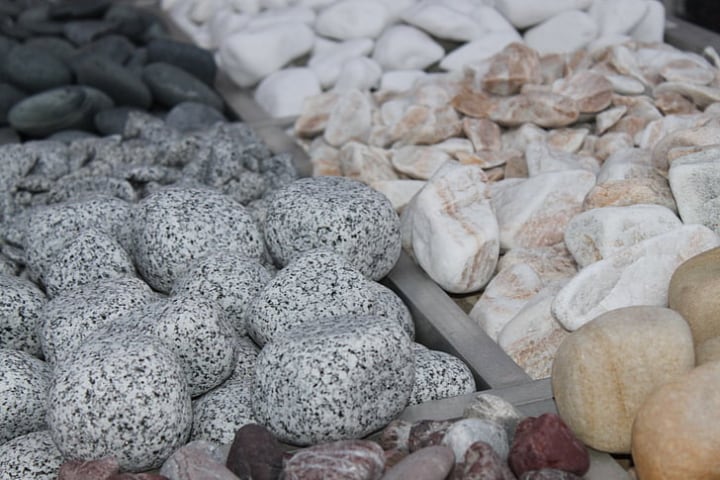 What's more, black rocks can darken your darken, which is not always desirable, especially if you got trees that shades it to begin with.
Tip: Natural, neutral rock colors are a safe bet in most gardens as they blend in naturally with surrounding elements. If you opt for a specific color, you better have a reason for it.
Cost
Despite being widely available and usually sourced from nature, rocks for gardens are not necessarily cheap. Their weight adds up to the shipping costs.
And depending on where you live, you may not be able to pick up rocks from nearby forests and other green spaces, and certainly not from parks–without running the risk of theft.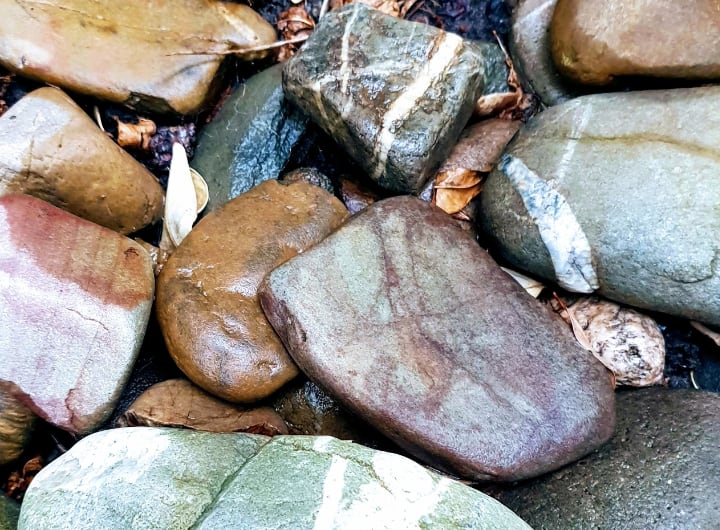 That's why it's usually best to explore local stores and quarries that sell gardening rocks and landscaping rocks and make your choice there.
Transportation
Following from the point above, garden rocks are heavy, which is why you want to buy them close to home. The fact is you can end up paying more in shipping costs than for the rocks themselves.
An alternative is to arrange transportation yourself rather than count on the one provided by the seller or retailer. Borrow or hire a van before you set out for the store.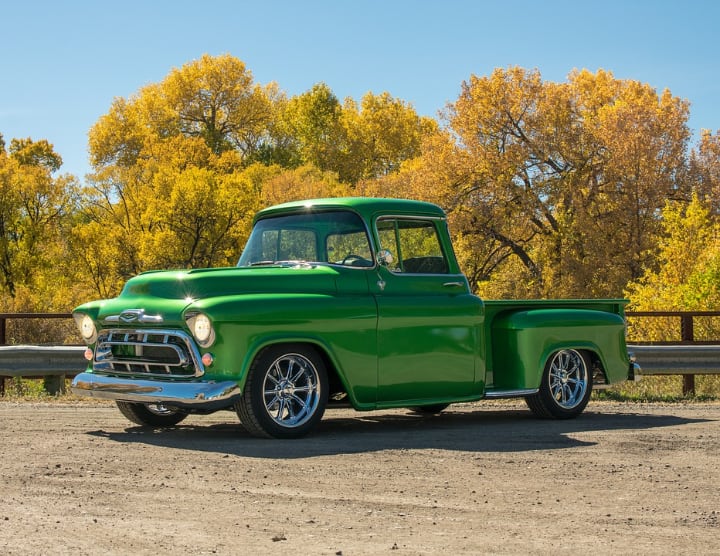 Tip: If you want to add a lot of rocks to your garden, don't count on your sedan car as the best way to transport them. Not even an SUV may handle them, not without damage. Get them delivered to you or borrow a van.
Compatibility with Plants
When it comes to matching garden rocks with plants, consider both the size of the two as well as the nature of the plants.
Some plants like air plants or water plants go great with rocks for the simple reason that the two coexist in nature.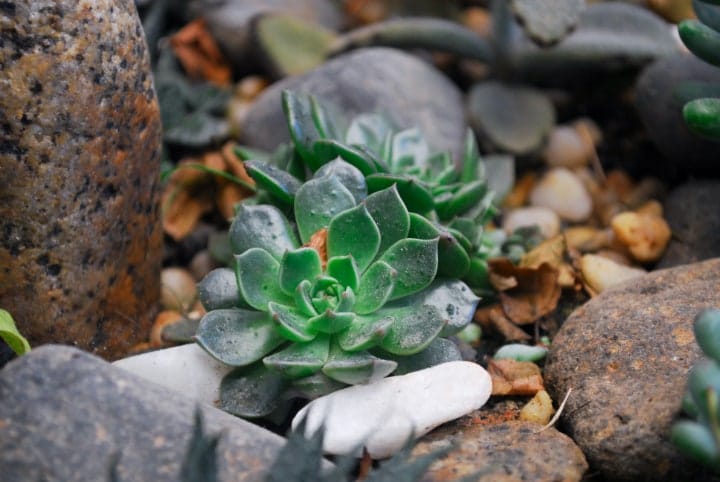 Air plants, for example, which grow without soil, can use rocks for support. Same is true for certain hanging plants.
Here are some of the best plants you can add to your garden:
Tip: Pebbles and small stones work in most gardens regardless of the plants you have there. But if you choose large rocks for gardens, you may need tall or rock-friendly plants.
Other Things to Keep in Mind
Maintenance is not something you may think about all that much but remember that not all rocks for gardens are indestructible. Running water can wear out rocks or alter their surface or shape.
Very cold weather may crack stones. Also, certain stones may chip or crack when knocked against each other. Rocks are damn tough but read about the type you buy to know just how tough they are and what to avoid.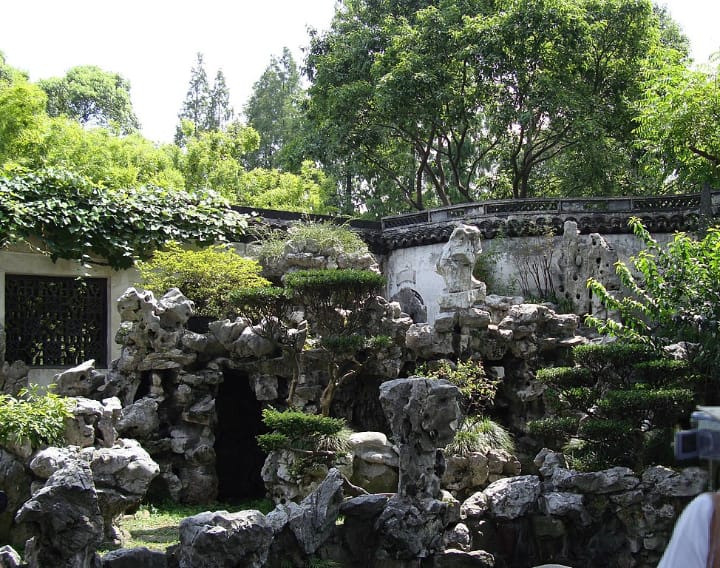 Another thing you need to do is handle rocks with care, big ones especially. Whether you're creating rock arrangements alone or with someone, use protective gloves and watch out for your legs.
Important: Be extra careful when positioning or stacking rocks that don't have a level surface.
Rocks for Gardens Commonly Asked Questions
You can always count on garden rocks to enhance the look of your green patch.
But before you rush to get hold of some fancy rocks for your garden, pause and check out these answers to the most commonly asked questions about rocks for gardens.
They may help you make wiser decisions while choosing your own garden rocks.
Make Sure Your Garden Rocks, Okay?
There you have it—the most popular rocks for gardens explained with lots of ideas you can incorporate into your own garden design.
Even if you're not aiming to create a rock garden per se, garden rocks can still add a nice touch to your green oasis, whether you use them for decoration or functional purposes.
And since there are so many garden rocks out there, you don't have to settle for anything ordinary. You can even get creative and paint your rocks or inscribe things on them.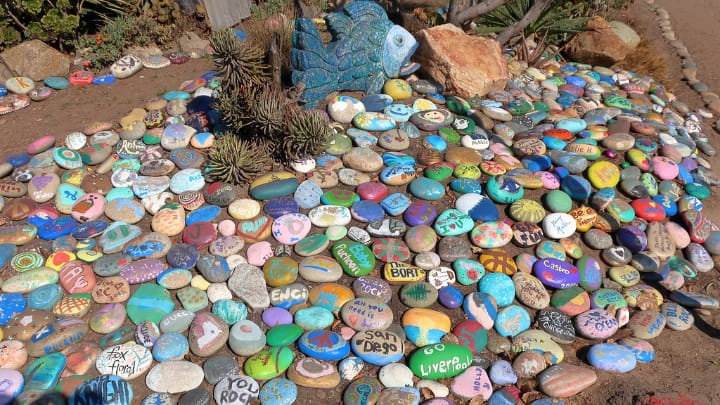 At the end of the day, we hope this post inspires you to rethink how you use rocks in your garden and start using them in new and interesting ways. Don't be afraid to explore and experiment!
You can find lots of tips and advice in our article on rock gardening.
Has any of the rocks for gardens we shared with you caught your imagination? Or maybe you already have some garden rocks and were just looking for ideas to rearrange them?
We'd love to hear from you. Drop us a comment here or reach out to us on social media. And most of all, keep on rocking that garden of yours!