Come warm weather, and who is not tempted to wine and dine under the open sky? You can spread a nice floral blanket in your backyard or arrange a couple of armchairs and ottomans around a table. Or how about a garden picnic bench that will bring your entire family together?
Well, a picnic bench is more than just a cool barbecue spot. It's where bonds are formed, chit-chats shared, romances spring, and memories are made. On certain days, it can also double as a sunny workspace or a reader's retreat.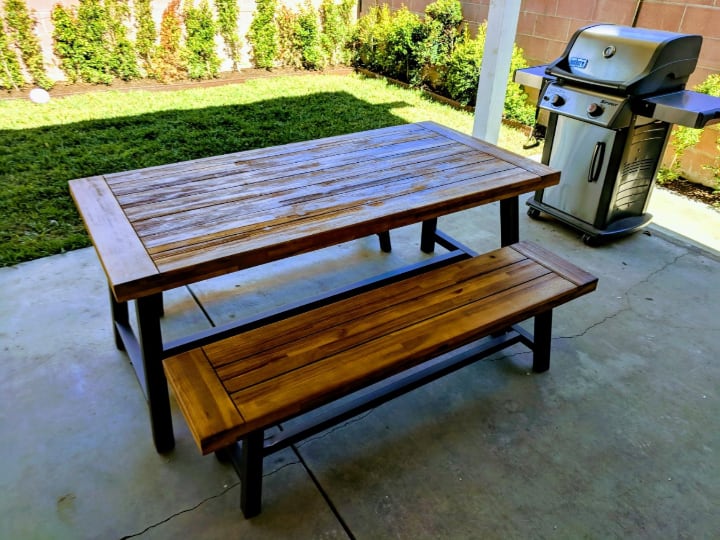 Without further ado, let's run through this list of beautiful garden picnic bench ideas you can take inspiration from for your own backyard.
Beautiful Garden Picnic Bench Tables
Spending time outdoors can do wonders for your physical and mental health. So why not get a picnic bench that would encourage you to connect more with nature?
There's no dearth of options when it comes to finding a suitable picnic bench for your backyard.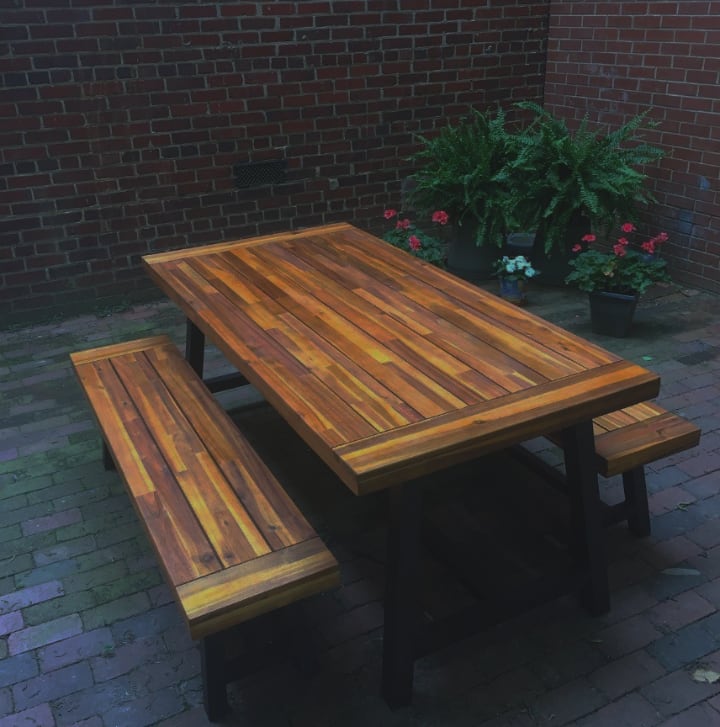 From big to small, classic to modern, attached to removable, and rectangular to round, there's a picnic bench to cater to your style (and space).
So, do you fancy the idea of a beautiful picnic set for your backyard? Take a look at these picnic benches with tables and see which ones would suit your space the best.
1. Rustic Wooden Picnic Bench
Looking for something rustic and sturdy? Opt for a cedar garden picnic bench set that has a classic appeal to it. You can place it by your flower beds or set it on your front porch—the benches are sure to call you outdoors.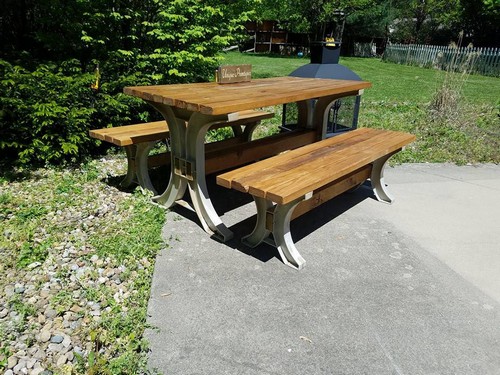 Ideal to host a get-together, these benches are also highly durable. Leave them at the mercy of nature and the benches will age beautifully.
Tip: When it comes to picking wooden furniture for your outdoors, go for western red cedar. The wood is resistant to insects and decay. And if left untreated, it will turn a beautiful silvery gray.
2. Wooden Picnic Bench with Cooler
If you find yourself partying outdoors with friends day in and day out, get a picnic table with a built-in cooler and you'll be set for life.
The table features a cooling trough for ice and drinks and a couple of wooden benches where you can unwind after work.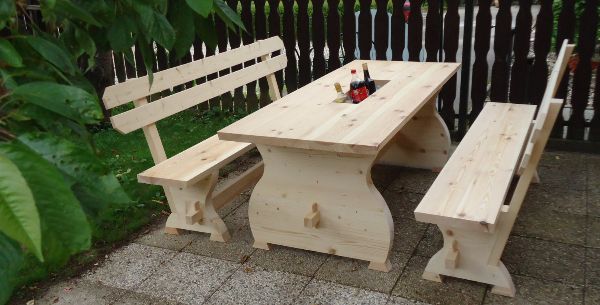 But where to find one such dream picnic table? Well, you can either buy it off Etsy, Amazon, and other online shops, or if you're feeling particularly adventurous, you can revamp an old table by adding a drinking trough to it.
3. Classic Deep Brown Picnic Set
A classic dark wood picnic set is perfect for those cozy outdoor luncheons with friends and family. Place it by a pool or overlooking a nice view and you wouldn't want to get back indoors.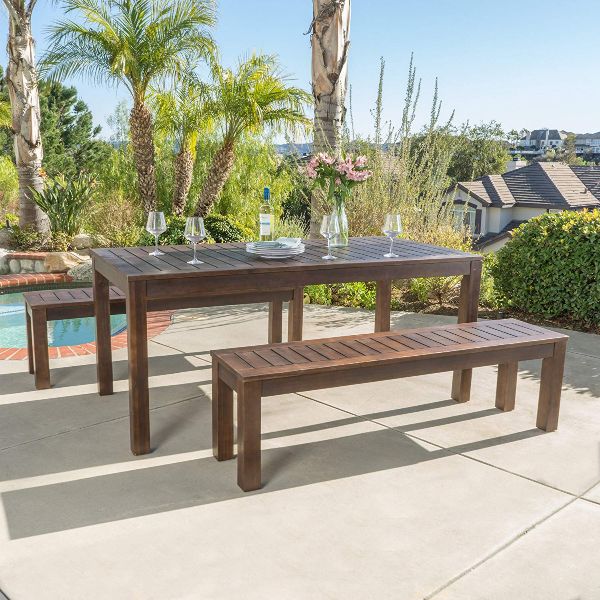 Whether you opt for a sit-down or buffet-style dining, this picnic set is sure to make you a fan of outdoor dining.
Tip: Go for a dark brown finish for a simple, classy, and neat style.
4. Casual Picnic Bench and Table
Add a spotlight to your yard or porch with a casual picnic table set. The polished wooden tops and iron legs make this set sturdy for the harsh outdoors.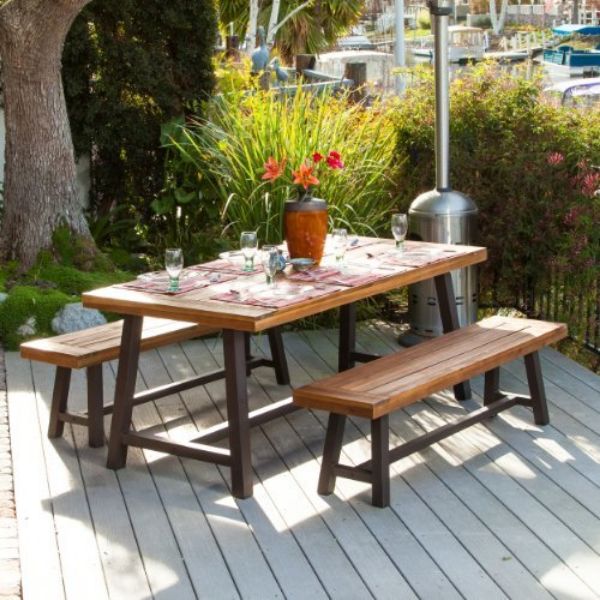 Go for a set that is lightweight and compact so you can move it about. Place it on your patio, deck, or yard, depending on your mood.
Idea: What is a summer-ready picnic table without a vase of flowers? Gather some seasonal blooms for color and fragrance!
5. Walker Edison Contemporary 3 Piece Acacia Wood Outdoor Dining Table
Looking for a minimalist addition for your outdoor space? Go for a picnic set that features clean, straight lines. It can highlight almost any space and make for an ideal dining spot.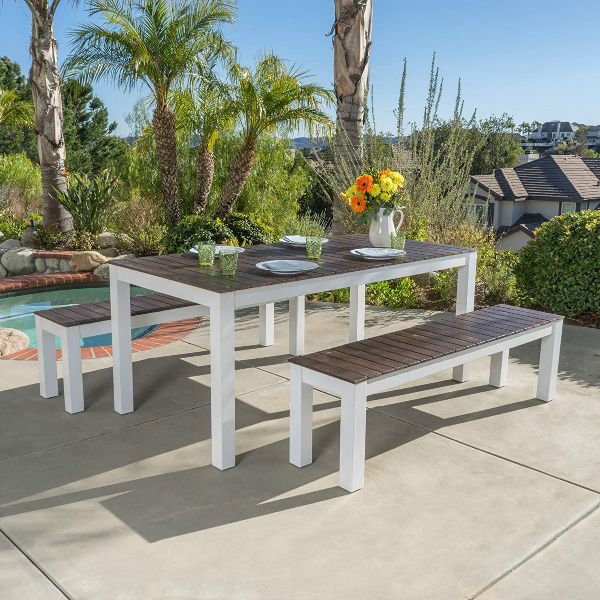 Tip: Keep things sleek and don't go overboard with the arrangement for a truly minimalist look.
If you fancy a two-toned picnic table, deep brown and white can be your shades. Brown looks elegant while white is humble and welcoming.
Idea: What is a summer-ready picnic table without a vase of flowers? Gather some seasonal blooms for color and fragrance!
6. Children's Picnic Bench and Table Set
Let your kids in on some backyard fun with a colorful children's picnic table set. It can make for a cute little addition to your outdoor play area and a perfect place for your kids to work, eat, and play.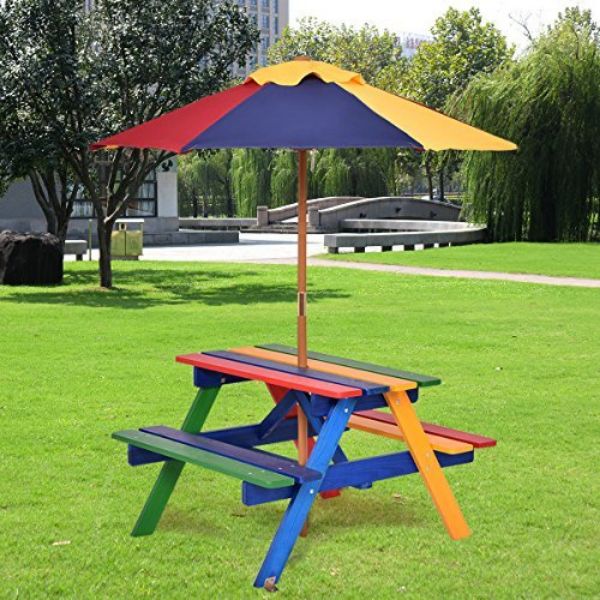 Building a children's picnic table set can also be a fun summer project for you and your kids. Paint it in bright colors and finish it off with a rainbow patio umbrella on top.
Good to know: You little ones are sure to have a great time playing or eating their snacks here. Plus, with the built-in benches, you wouldn't have to worry about the chairs tipping over.
7. Interchangeable Picnic Bench
Do you love the idea of a picnic bench but are somewhat space-modest? Bring home an interchangeable picnic bench!
The good part about this set is that you can readily transform it from a garden bench to a picnic set and vice-versa.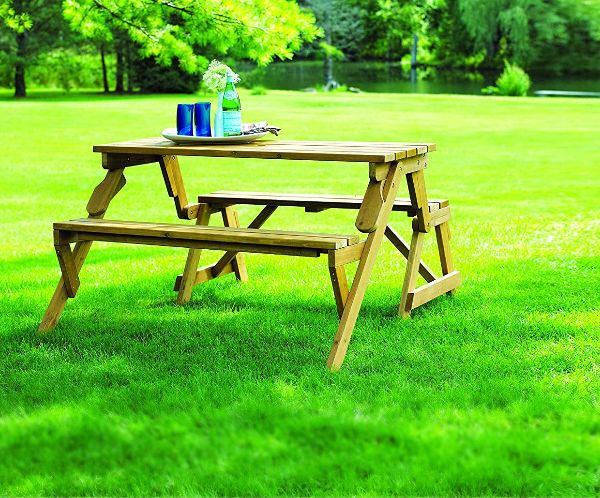 A 2-in-1 set like in the example is perfect for a small yard or patio. What's more, these sets generally come with an umbrella hole for any common-sized patio umbrella.
8. Round Wooden 6 Seater Picnic Set
Upgrade from the traditional rectangular picnic bench for four to a modern six-seater. The set features a round wooden table, curved benches, and an umbrella hole.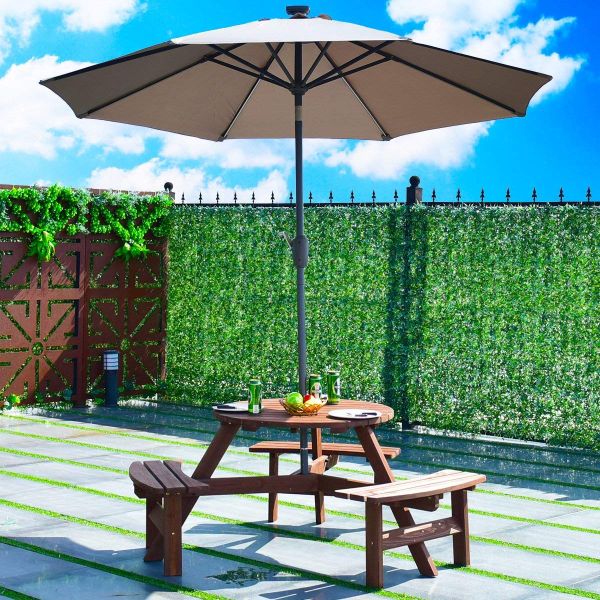 Round picnic table sets are compact and comfortable. Plus, they offer plenty of legroom. These are ideal for those who love small social gatherings in the open air.
These sets come partially assembled and are perfect for wooden patios and rustic gardens! You can use them as an alternative to garden furniture.
9. Octagon Walk-In Picnic Table
An octagon picnic bench is another unique option for your garden. Ideal for bigger gatherings, the set features four benches that can comfortably seat a total of eight people.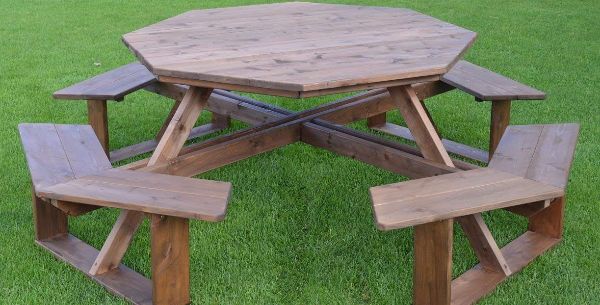 The best part about this picnic set is its walk-in accessibility. What we mean by this is that a newcomer will not have to slide in or step over those already seated.
Idea: If your table doesn't come with a parasol hole, carefully drill one yourself. Add some shade for those hot days of summer when you are enticed to lunch outdoors.
10. Portable Folding Picnic Table Set
Take your picnics and get-togethers anywhere with a portable folding picnic table set. It generally comes in an easy-to-fold design featuring wooden tops and iron legs.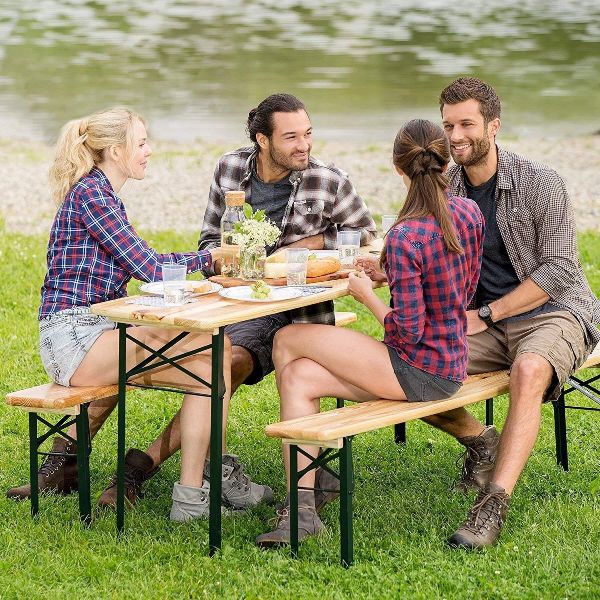 Note that these picnic benches are somewhat narrower than the usual wooden benches to make them portable. Plus, they do not require any assembly and only have a basic set-up and take-down system.
Tip: Opt for a pine, fir, or spruce set. These softwoods are lighter, making it easy for you to readily store or carry your benches around.
11. White Cedar Log Picnic Table with Detached Bench
A white cedar log-style picnic table can make for a charming addition to your garden or backyard. Cedar is perfect for the outdoors since it is tolerant to rot, insects, and weather. Plus, it's splinter-free.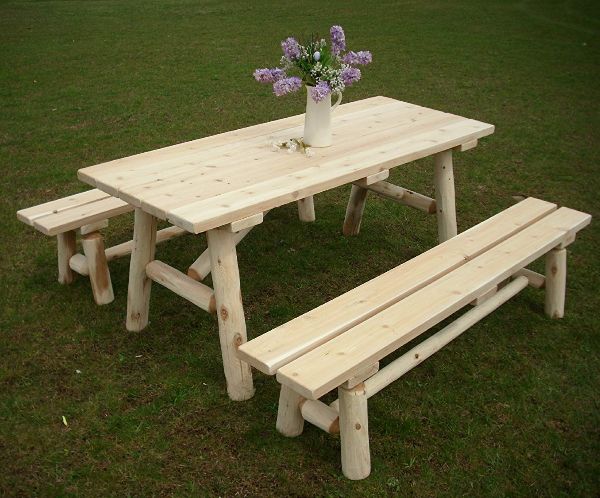 Another attraction is that cedar is lightweight. This means that you can move your picnic table set around without complaining of a backache later on.
Tip: White cedar will require staining if you want the wood to keep looking beautiful over time.
How to Choose a Garden Picnic Bench
Sure, you love the idea of al fresco dining, and perhaps you have also begun your hunt for a nice little picnic table set for your backyard. But with so many options available, it may be hard to choose the right one for you.
What you basically need to consider while getting a picnic set is its material, shape, size, color, weight, and portability. Take a look at this buyer's guide below.
Material
Outdoorsy furniture is generally "weather-proof" so you wouldn't have to drag those heavy benches to a sheltered area on dreary, overcast days. Still, that does not mean you can overlook this important aspect.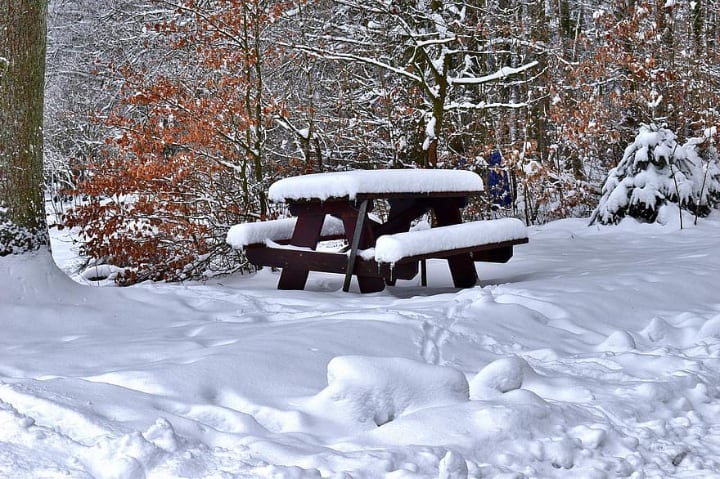 Picnic benches come in all types of materials—from wood and aluminum to plastic and concrete. Each material comes with its own pros and cons and factors such as durability, maintenance, comfort, etc.
Softwood, though cheap and easily available, is not very durable. It does not fare well outdoors. On the other hand, hardwood is wear-resistant but has to be varnished regularly.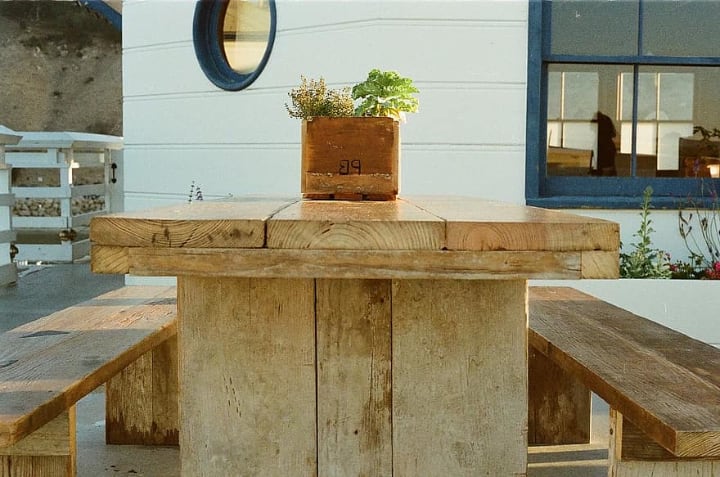 Tip: Opt for a teak picnic bench set for your backyard. The wood is highly durable and can be left outdoors throughout the year.
Many people also go for plastic and aluminum sets as they are long-lasting. But unfortunately, they are not as nice to look at as wooden picnic benches.
Shape and Size
Another important point to keep in mind while buying a picnic set is its shape and size. These would depend on two factors. One, how much space you have available. And two, the number of people you want to accommodate.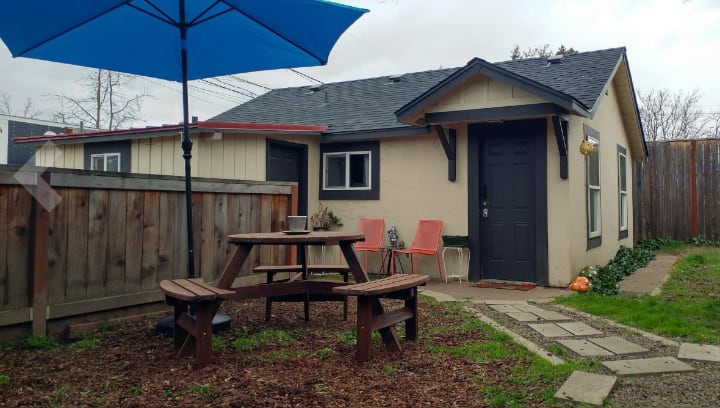 Your picnic set can take up a fair space in your yard. Measuring your space beforehand can help you make a better choice.
Tip: Make sure you have some extra space left around the table for ease of movement.
When it comes to choosing the shape, you have quite a few options. Rectangular sets are the most common, and they can give a classic touch to your outdoors. You can also go offbeat and opt for round, octagonal, or hexagonal picnic sets.
Color
The color of your picnic bench can truly make or break your backyard aesthetics. If you have kids around and want a fun vibe, opt for bright and bold shades.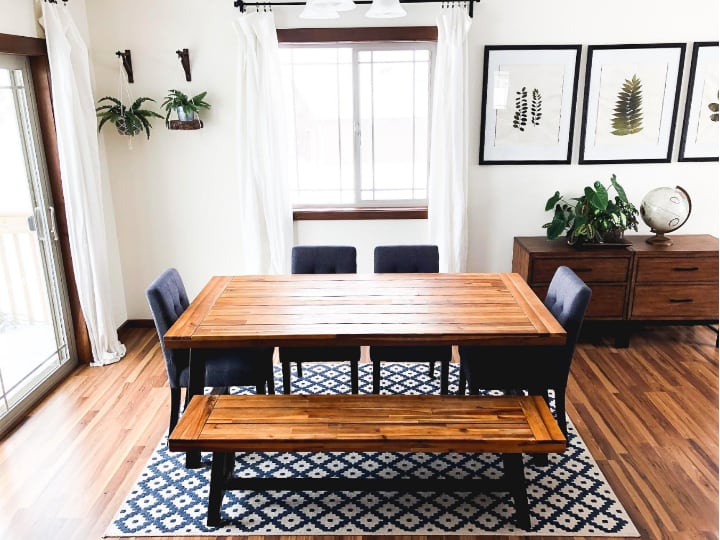 What you need is a bit of yellow, red, and blue. For a classic feel, go for neutral shades of browns and greys.
Tip: You may want to go for two-toned sets in white and black for a minimalist and modern appeal.
Weight and Portability
While buying a picnic bench, consider how portable your set is and whether you can move it about or not.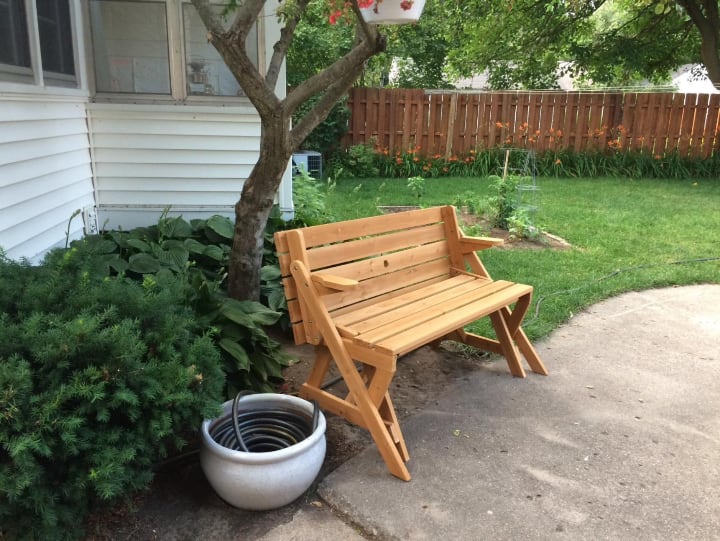 If you plan to leave your furniture outdoors all year round, you may go for a heavy, hardwood bench. Not only will it prove to be durable, but also require low maintenance.
On the other hand, if you are looking for something more portable, the best choice is a light, softwood bench. You can take it to a picnic spot or a public garden to enjoy a meal with friends.
Garden Picnic Bench Frequently Asked Questions
A picnic bench, whether classic or modern, is a piece of almost quintessential garden furniture. But before you invest in or begin making one, you may want to read through these FAQs to make more informed decisions.
Picnic Time!
You know what they say? A family that eats together, stays together. So get that picnic bench for your backyard to strengthen your relationships over tea and sandwiches.
Host get-togethers with friends, family lunches, and spend quality time with kids.
You can also use a picnic bench as a spot to unwind and meditate. Take it as an opportunity to spend more time in nature. If your garden has a water feature, all the better!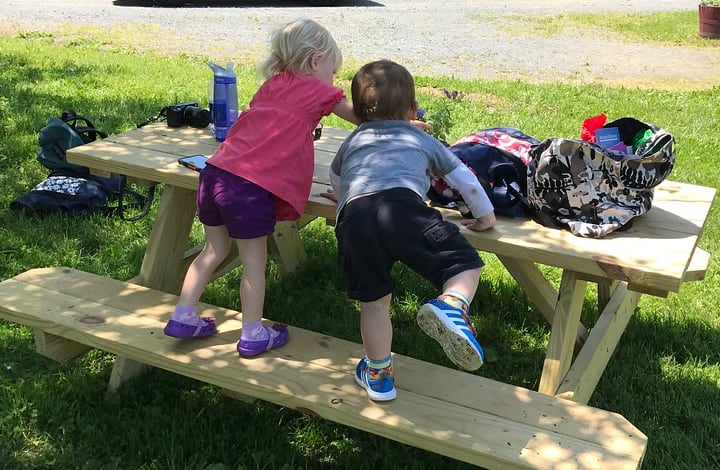 However you choose to use your bench, you sure do not want to miss this great way to connect with others and with nature. So take a break from your gardening chores and get a garden picnic bench.
Which one did you like the best? The classic or the modern? Do let us know in the comment section below!