Think you need a lot of space for a greenhouse? Think again. Small greenhouses are cost-efficient and easier to build, too. Having one in your backyard means you don't have to wait until spring to plant. You can start your seedlings and grow them anytime. You can even grow lush lettuce all year round. In this guide, we'll show you different types of small greenhouses as well as the practical steps you need to follow to build one.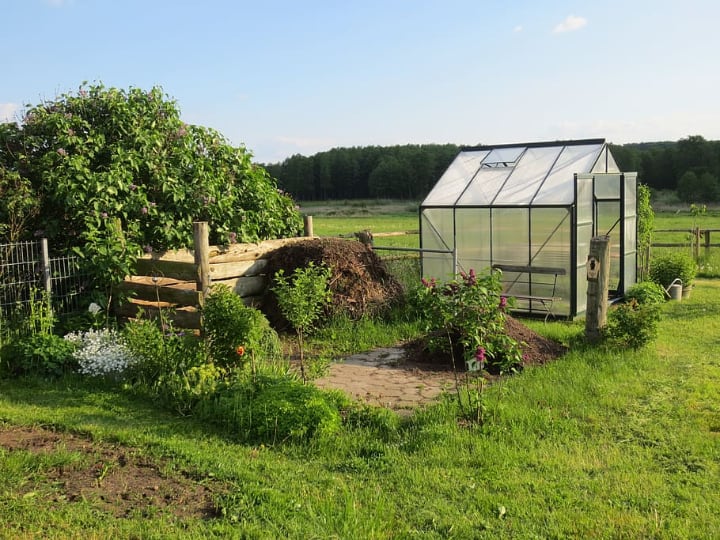 Whether you plan to spend a few hours a week or a few hours every day in your greenhouse, you want to make sure you're making the right choice.
That's why we will explore together different warehouse designs and materials. But before you get to work, let's start with the basics.
What Is a Greenhouse?
The term greenhouse refers to any type of building designed to protect plants against the weather, offering a warm environment where you can grow flowers, fruit, or vegetables without having to worry about rain or cold.
A small greenhouse works by trapping solar energy, basically converting sunlight into heat.
Sunlight penetrates the transparent walls of the greenhouse, warms the soil inside, and stays there.
It's a very straightforward process allowing you to indulge in your passion for gardening, no matter how cold it is outside.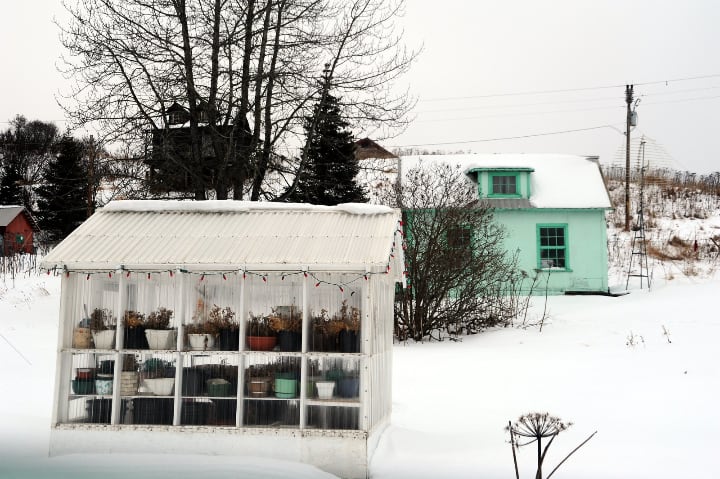 Since you're considering building a small greenhouse, you might be wondering if it's expensive, if you have enough space, or if you'll really make full use of it.
That's what the next section is all about.
Types of Small Greenhouses
There are several small greenhouse types to choose from. While they all work the same way, they differ in shape, materials used, and the type of temperature control they provide.
To enjoy all the greenhouse benefits you can get, it's important to choose the right type of greenhouse for your needs.
A-Framed Greenhouse
The most common type of greenhouse structure, it allows you to make the most of natural sunlight, especially during the colder seasons.
An A-framed small greenhouse can help you reduce condensation and can accommodate different ventilation systems.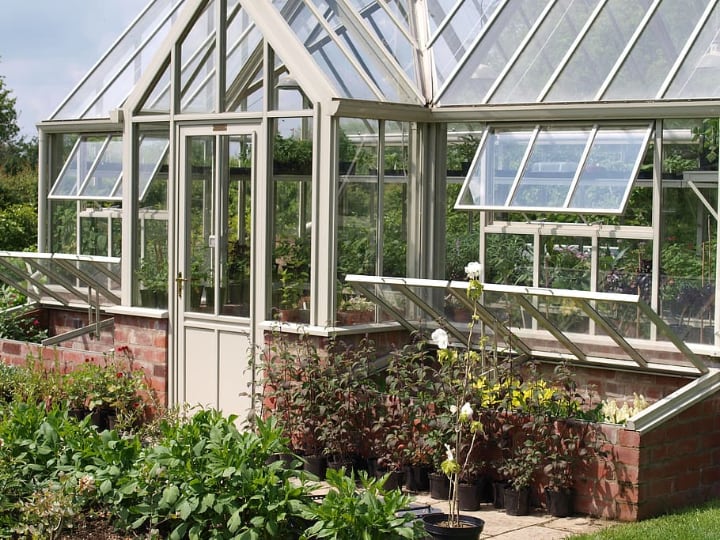 At the same time, it allows for snowfall and rain to glide off it so that these don't gather on top of it and put extra pressure on the roof.
Verdict: If you've never had a greenhouse before, an A-framed greenhouse can be a good starting point.
Domed (Arched) Greenhouse
The domed or arched small greenhouse is very similar to the A-framed model as it lets plenty of sunlight in.
The domed roof is preferable when you use PVC-pipes for your roof. But bear in mind that snowfall may accumulate on it. In other words, you need a sturdy structure.
This type of greenhouse has a modern look and you can incorporate it into most backyard designs.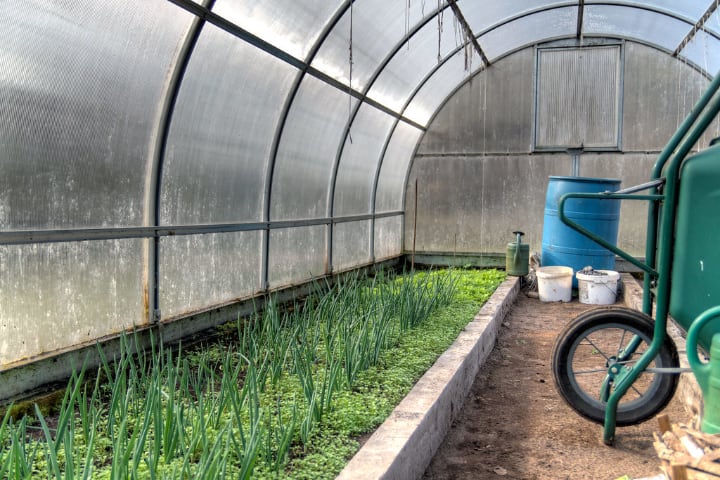 Verdict: Arched or domed small greenhouses can be more affordable to build than other types of greenhouses because they generally have a lighter internal structure.
Lean To Greenhouse
A lean-to small greenhouse is great when you don't have much space and want to build a greenhouse against a wall of your house or garage.
The angled roof ensures snow and rain don't accumulate, but you have to consider where all of those will fall, e.g. not over other flowers/veggies or into your neighbor's yard!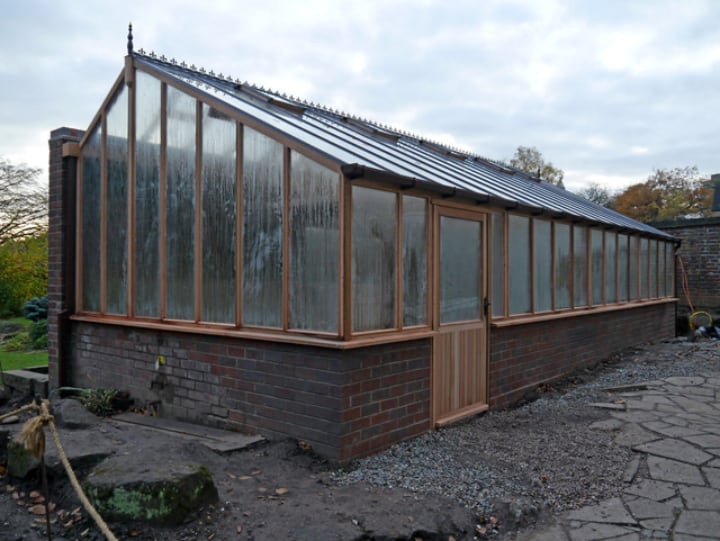 Verdict: Choose a lean-to design to make the best possible use of space. But bear in mind this design may not be as spacious as the others.
Materials for Small Greenhouses
You have a wide array of choices when it comes to choosing a material for your greenhouse.
Wooden greenhouses have a charm of their own, but they can be harder to maintain.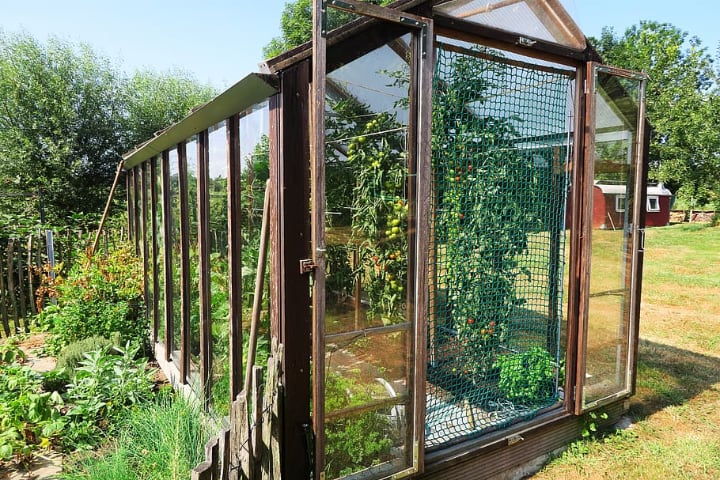 Plastic greenhouses are some of the most affordable to build, but they are not always the most durable.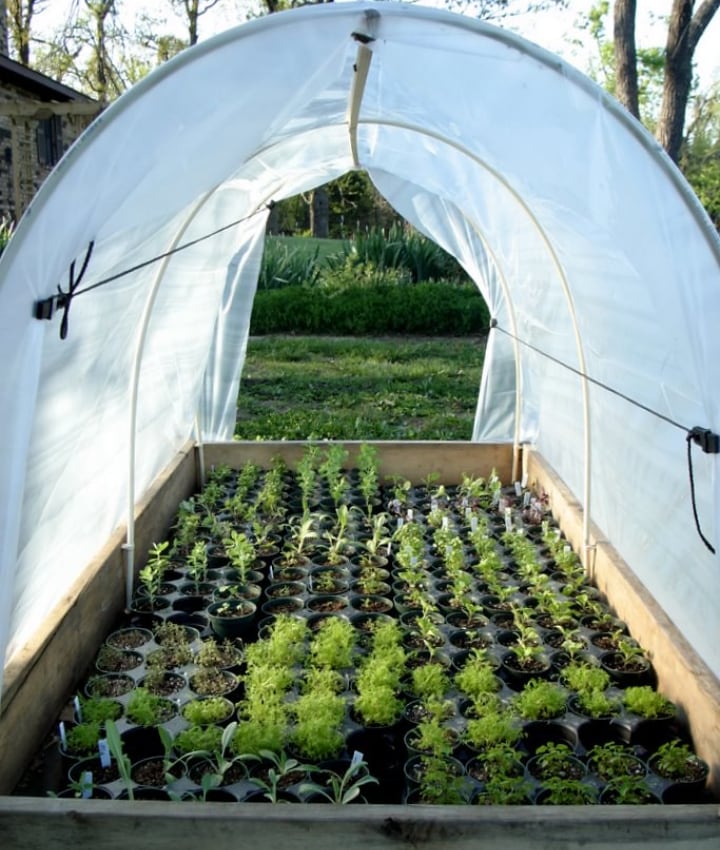 Metal greenhouses are long-lasting and reliable all-round, but they require a bigger initial investment.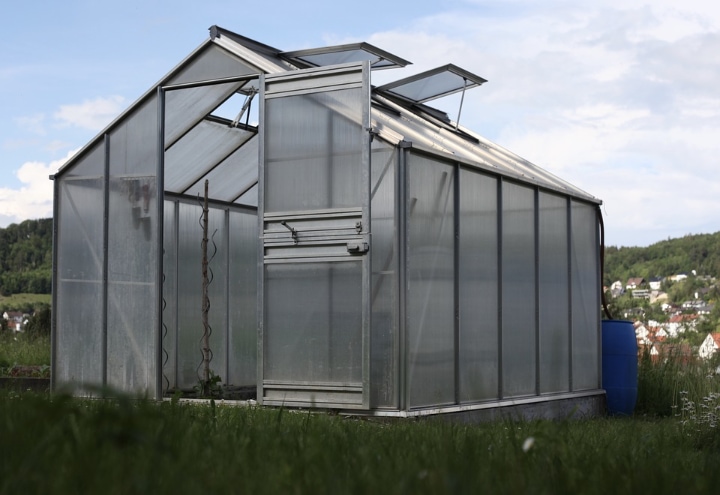 Let's take a closer look at the different components of a small greenhouse and the options you have in terms of materials.
Frame
You can build the structure of the greenhouse using wood, iron, aluminum, and plastic.
Tip: Wood tends to rot easily, plastic is not very resistant, iron can rust with the humidity, so your best choice is aluminum.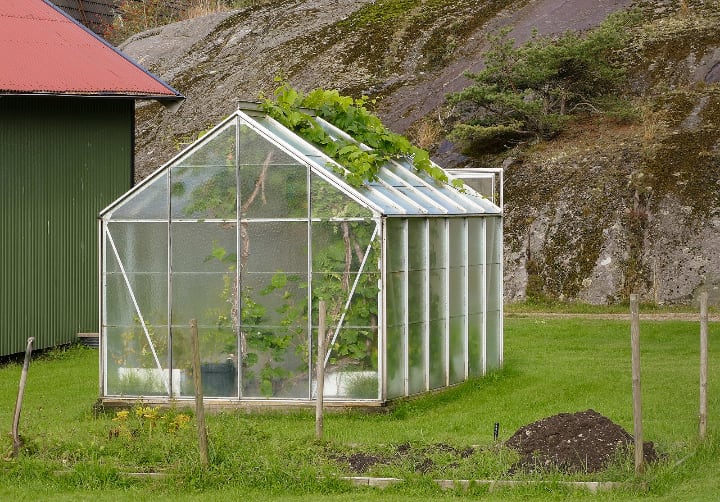 The frame is the skeleton of the glasshouse, the one bit that you can't easily replace in time.
That's why it's good to invest in a durable frame even if you may have to compromise on the other elements.
Covering
The walls and roof of your greenhouse can be made from plastic, double-layered polyethylene, fiberglass, acrylic or PVC, and, of course, glass. Each has its merits.
Plastic, for instance, is cheap, but quite good for your plants.
Glass is, however, the best as it is very resistant and looks great. But it's also the most expensive option.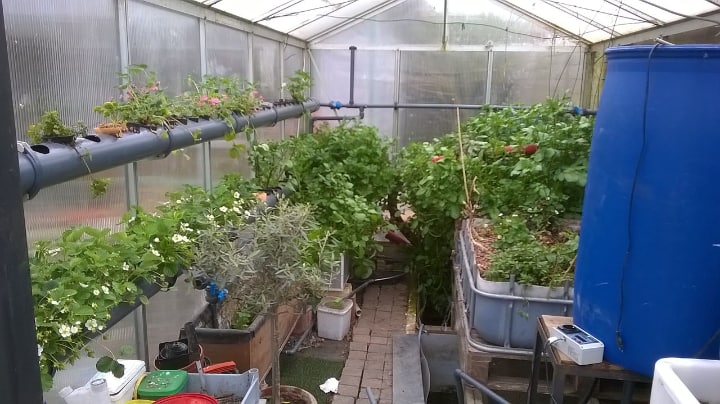 Important: If you opt for acrylic, PVC, or polyethylene keep in mind that quality can vary a lot from manufacturer to manufacturer. Don't settle for something cheap.
Temperature Control
Basic greenhouse models don't allow much control over the temperature inside.
Sophisticated models are equipped with climate control systems and you can use to grow even exotic plants in a cool region.
Cold Houses – This type of greenhouse has no heating system so temperatures can fall below freezing point.
Cool Houses – Will maintain temperatures over freezing point, to keep alive your most sensitive plants
Warm Houses – The temperature inside will remain over 55 degrees F, so many of your plants will stay safe during the cold season
Hot Houses – These require a heating system, but it's worth it as you can grow tropical plants inside if you want.
Tips on Building a Small Greenhouse Without Stress
Ready to get started? Once you have a basic idea of what you want to build, you can start thinking about the practicalities of building your small greenhouse.
If you're a DIY sort of person, you can save a lot of money by building your own greenhouse from cheap, easy to find materials.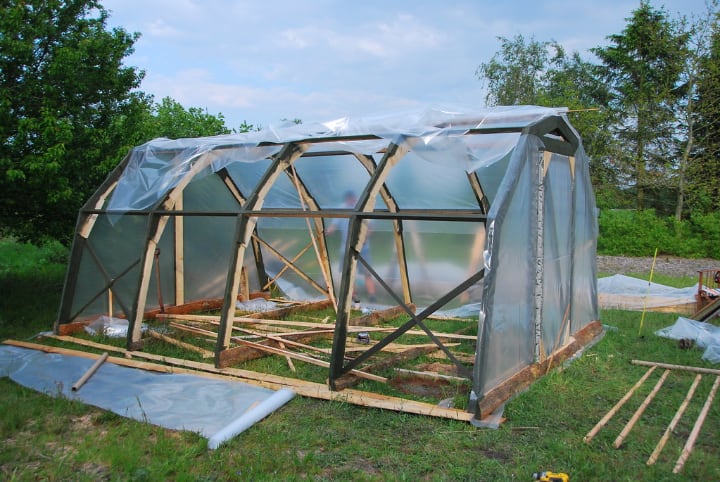 All you need are some wood beams, plastic material, or repurposed old window panes and a few free weekends.
Important: The good thing about building your own greenhouse is that you can do it yourself and customize the sections based on your planting needs.
You have the freedom to choose the number and size of doors, the materials to use, where the storage area goes, and how long and wide it has to be.
This video can help you get started:
While some find this easy to do by themselves, some may choose to hire professionals such as ASAP Restoration to install greenhouse systems such as plumbing.
If you're unsure of your construction skills, we highly recommend seeking help to make sure your greenhouse is set up to nurture your plants as it should.
But if you think you can do the work yourself (and we think you got what it takes), continue with the next steps.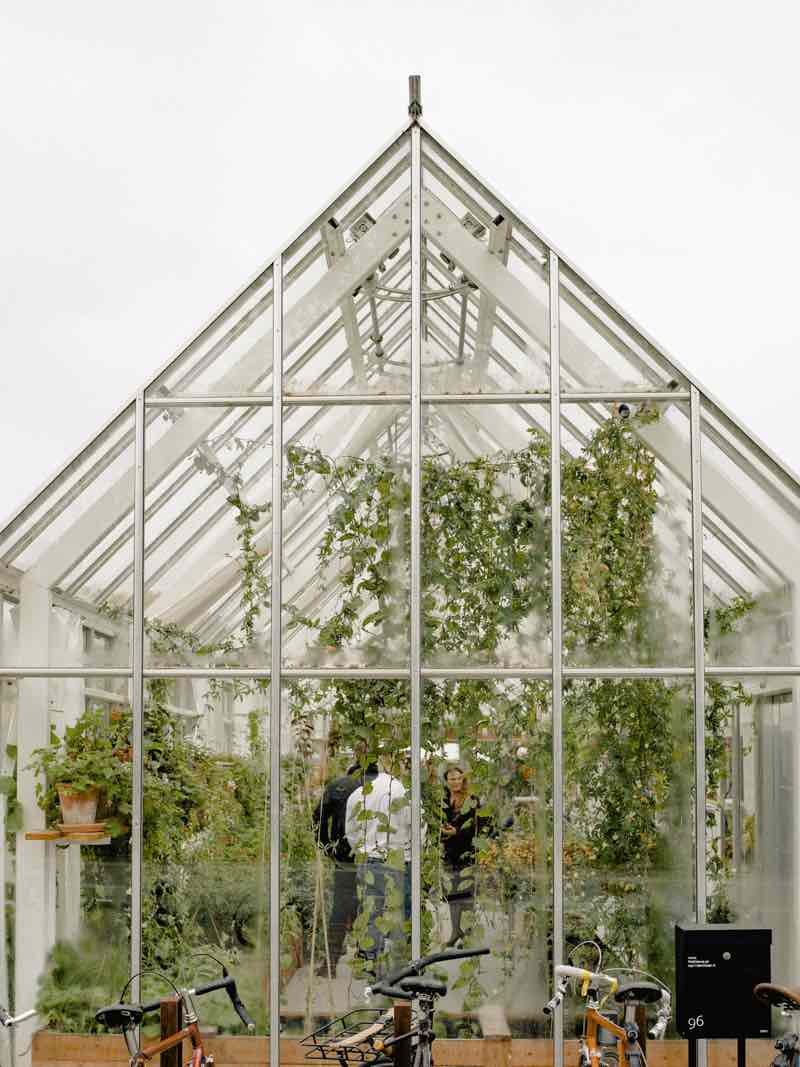 Step 1 – Think About Size and Space
If you have limited space, you can build a small greenhouse. But you will need to keep in mind that very small greenhouses are tougher to regulate temperature-wise.
The average size of a greenhouse is usually something around 12 feet long by six feet wide. See if these dimensions will work for your yard.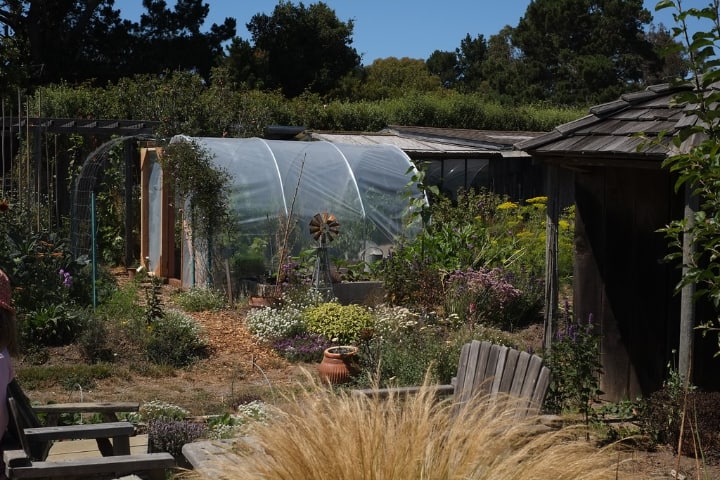 If you plan on having a "bigger" small greenhouse, it's best to insure your home with a home insurance policy from companies like Allstate home insurance.
Why take the trouble? So you don't have to worry about an unfortunate incident during the construction process.
Step 2 – Consider the Location
Having space in your yard is not enough for a successful greenhouse. You also have to think about sunlight.
Tip: The best location for a small greenhouse is one that has southern exposure.
If that's not possible, go for western exposure. It is also crucial to have your greenhouse in an area of your yard with good drainage.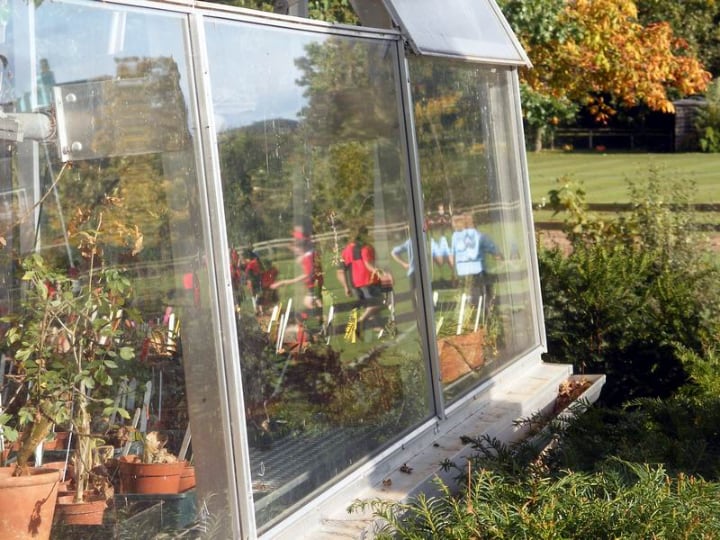 You don't want to deal with a muddy greenhouse. If you can, place your greenhouse near a fence to protect it from the wind.
Step 3 – Plan Your Heating System
To make your greenhouse do its job well, you have to plan your heating system before you start building it.
You can do this by ensuring that you have a vent to release the moisture.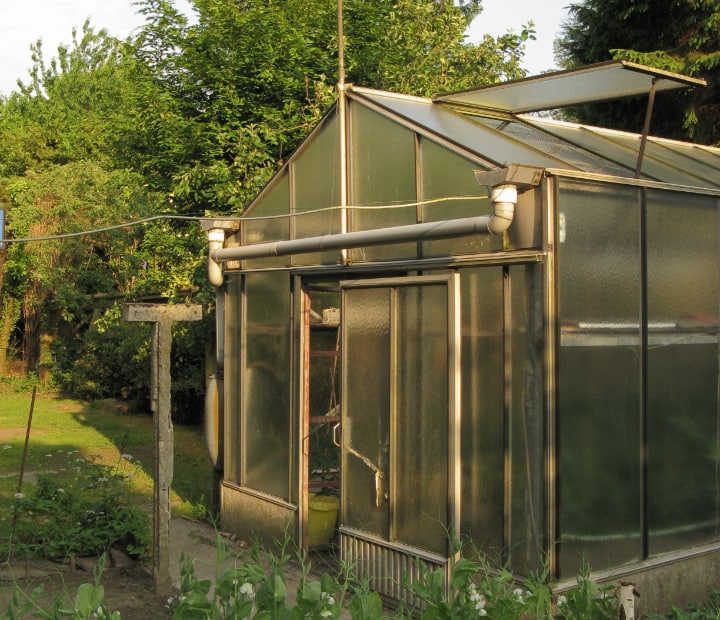 If you're planning on using the greenhouse year-round, consider using a generator for heating come winter.
Check out this heat loss calculator to have a better idea about the heating system you need.
Step 4 – Choose the Right Roofting
If you live in an area that gets heavy snowfall, the roof could collapse, so you should consider an A-framed or lean-to small greenhouse.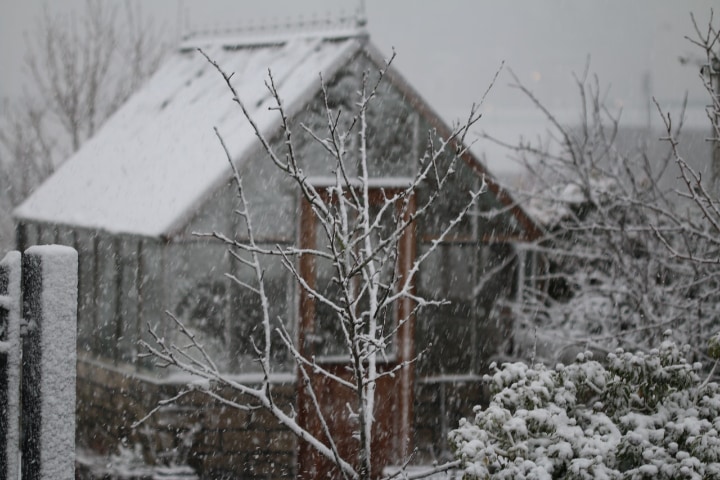 If you opt for an arched design, make sure to think about the roof before winter comes.
If the temperature inside the greenhouse is warm, the snow may melt before it has the chance to become a burden to the roof. Otherwise, you may have a problem.
If you're not sure about this, pitch your roof to avoid having to worry about the snow.
Step 5 – Create Optimal Light Conditions
Greenhouses need to have the best light possible. Use materials that allow natural light to come through.
You can use glass, plastic sheeting, or polycarbonate. Glass is heavy and expensive, while plastic sheeting can tear over time.
Of all the materials, greenhouse-grade polycarbonate may prove to be the most affordable.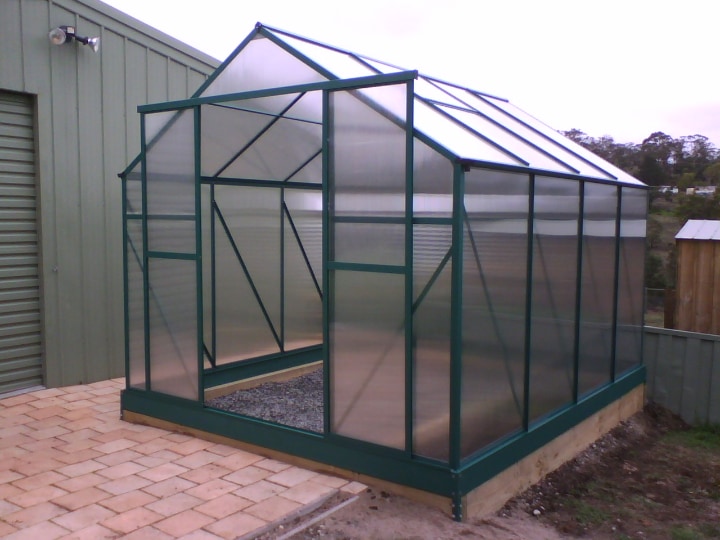 The material is similar to plexiglass and is made to be resistant to the harmful effects of UV light. If you're using double-inflated polycarbonate, you have to consider this when making the roof slope.
Important: Since the greenhouse is often warmer compared with outside air, a layer of snowmelt can form between the snow and the polycarbonate.
Snow sticks more to double-inflated poly, so you would want to adjust your roof slope accordingly.
Plastic sheeting is also okay to use for a small greenhouse but only if you can't afford better materials.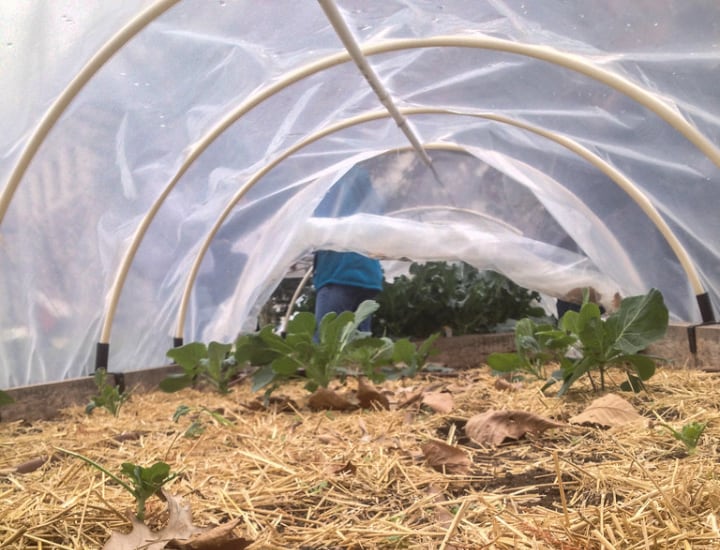 If you do use it, make sure to get plastic sheeting specifically made for greenhouses, so it comes with UV protection as well.
Plastic sheeting is available in different thicknesses. Keep in mind that thicker materials mean less light.
Step 6 – Don't Forget to Install Insulation
If your greenhouse does not have any glazing, it's a good idea to install insulation on the western and northern walls.
Insulation can create better conditions for the plants and reduce the costs of the heating system. It can help you grow more types of plants.
For example, you can grow air plants, sweet potatoes, and a wider range of herbs. You can also grow more ornamentals.
Greenhouses for Sale
If you don't have the time or the skills to build your own greenhouse, you can easily buy one that only requires little assembly.
Here are a few things you should keep in mind when buying a greenhouse.
Size
Obviously, this depends on the available space on your property, but we say you should use space efficiently.
You don't necessarily need a big glasshouse, though if you can afford one, that's great.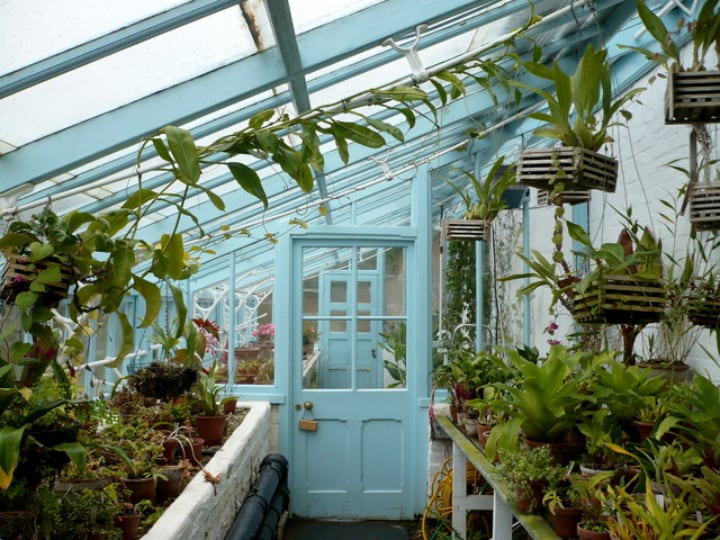 You can also consider having several smaller greenhouses in different locations on your property. That's a simple solution to the space problem.
Materials
A greenhouse with a wood frame looks great, but wood requires a lot of care if you don't want it to rot with all the humidity.
A better option is a construction with a metal structure, usually aluminum. It's low-maintenance and you can buy it in various colors to complement the color of your house.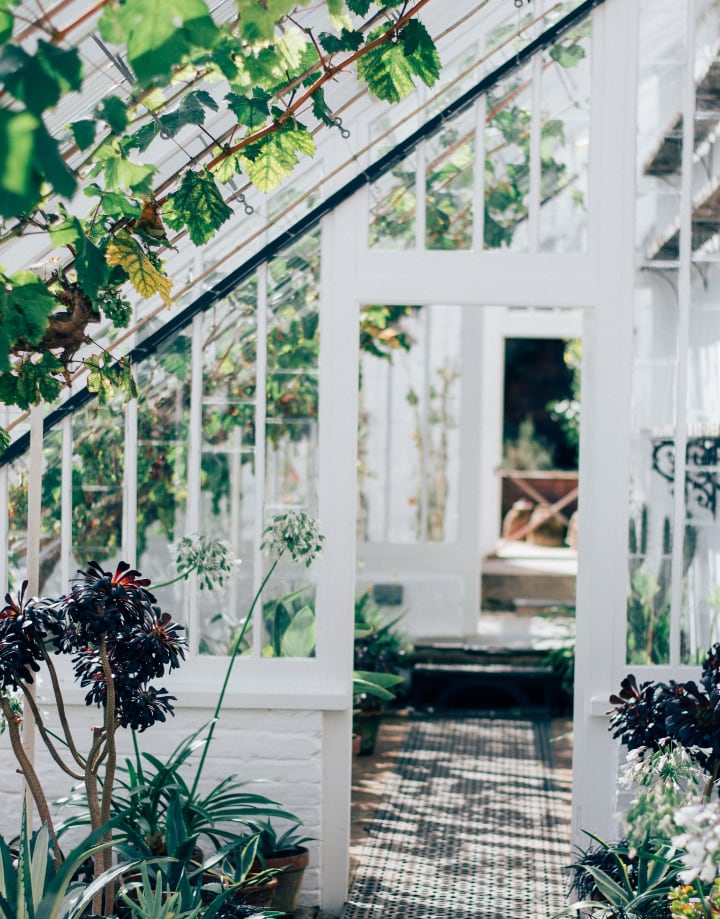 Tip: Look for materials that are scratch, mold, and mildew-resistant.
Light and UV protection
Direct sunlight is not the best for your plants. What you need for the walls and roof of your greenhouse is a material that allows diffused light in and reaches your plants from various angles.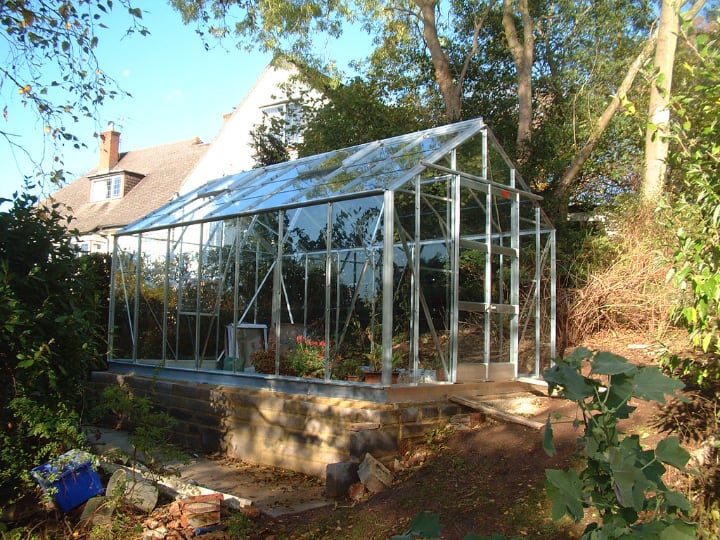 Direct sunlight can burn the plant's leaves, while diffused light bathes it with light, which increases the growth rate.
Tip: Ask if the frame and the glazing are UV-treated.
Shape and Versatility
You should look for a shape that allows you to make the most of your available space.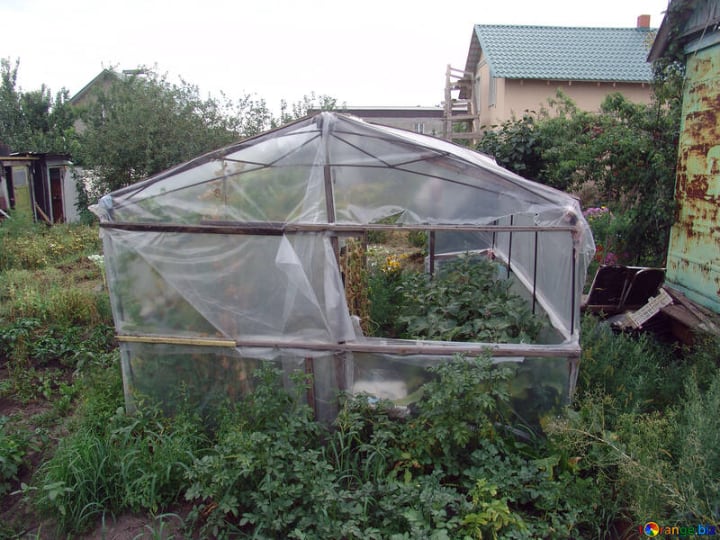 If you have a small, awkwardly-shaped space available, you should go for a dome or octagonal design.
Also, keep in mind you might want to expand or modify your greenhouse over time. Look for a model that allows expansion or the installation of climate control systems.
Small Greenhouse Frequently Asked Questions
We hear gardeners asking quite a lot of questions about small greenhouses. Here are the most common questions answered.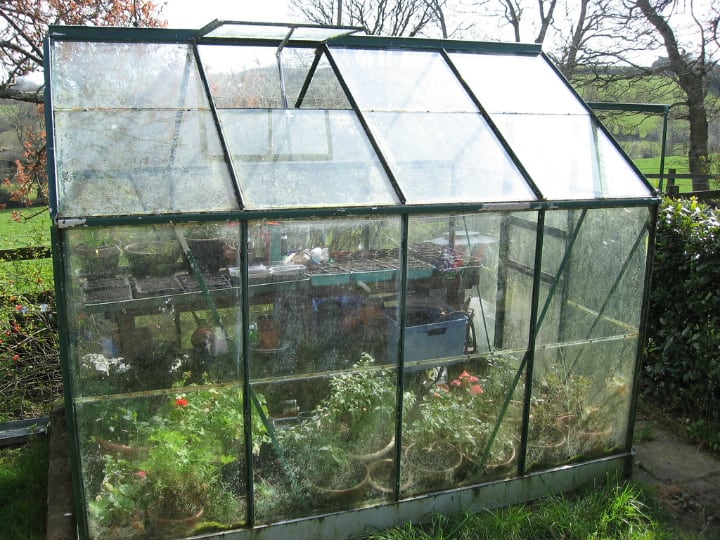 A House of Their Own: Your Plants Deserve It
Whether you decide to build your own small greenhouse or buy one ready-made, your plants will be grateful in their own silent, leafy way.
You'll not just protect them from the cold, but create better conditions for them to thrive.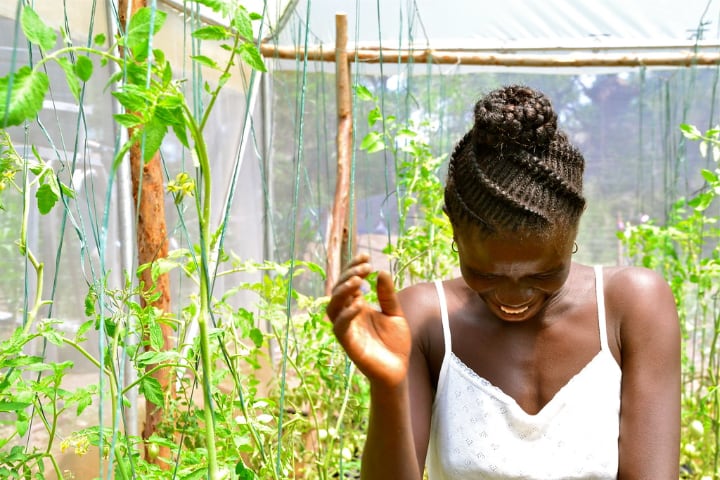 At the end of the day, a greenhouse will bring happiness not just to your plants but also to you. That's because greenhouses have many benefits for gardeners.
Let us know how it all goes, will you? We'd love to hear what design you choose and how big it ended up.
Drop us a comment with your thoughts. And good luck!