We all know that tea is a widely-known beverage in the world. However, do you know that the most suitable tea set or tea service set regardless of the types of tea you like can make your experience of drinking tea into a delightful one? Having the perfect teacup and teapot can be one of the ways to elevate your mood as you sip a hot tea.
As a matter of fact, a true tea maker has an entirely diverse practice of concocting tea. While there is a lot of effort invested in the tea preparation, the same amount of it is also put into selecting the right kind of teapot and teacup for every kind of tea. In this article, we featured our top picks to help you find the best sets of teapots and teacups.
What is in a Tea Set?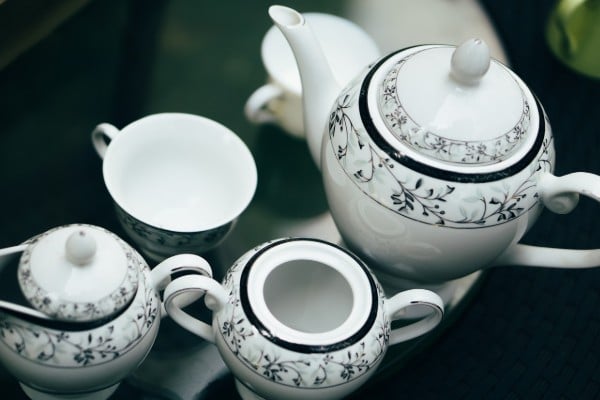 A tea set or tea service is a complete set of pieces essential for drinking tea. It is usually matching teaware and utensils used in the preparation and serving the said healthy concoction. Both traditional and modern components of a tea set may differ due to history, cultures, and societies. There are variations in the sets, including three fundamentals – the teapot, the milk or cream container, the bowl for sugar. Also, a tray, saucers, and plates may be included.

The tea service set that we all know today is very much different from the old traditions in the past. A modern tea set normally consists of a teapot with strainer or infuser and a teacup or tea mug, usually with the consumption of instant tea bags, or brewing loose tea leaves.
History of Tea Sets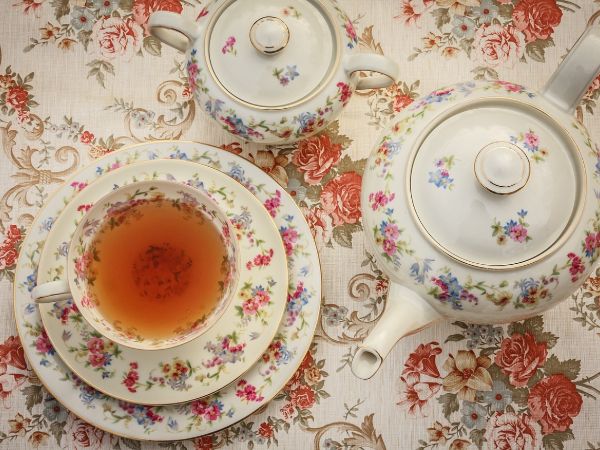 The recognized history started in China during the Han Dynasty Tea Dynasty (206–220 BC). The first sets of teaware were thought to have initiated during the 2nd century BC. Sooner, the great admiration for its aesthetics was reached around the 10th century A.D.
In the beginning, teapots were porcelain, but as time went by, silver teapots were valued. The old-fashioned teapots were primarily small. They were not as intricate as the tea sets we have nowadays.
By the 1750s, they were big enough to hold loads of cups of tea. In fact, after some time, they were so huge that they were hard to manage.
As time passed by, different countries adapted to the tea culture. Therefore, many variations of styles of sets have been invented and evolved.
10 Unique Tea Cup and Pot Sets to Gift
Choosing tea cup and pot sets can be quite overwhelming as there are many designs, sizes, shapes and material to consider. The following is a list we made for you to help you decide the tea sets we highly recommend to be given as presents:
1. Japanese Tea Caddy and Sweets Container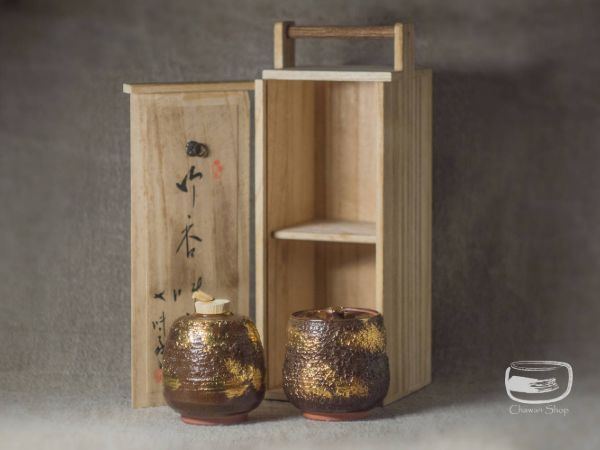 The first one that made on our list is this handmade tea set of a tea caddy and a sweets container. One can feel the country's traditional culture with its vintage and rustic design. What's more, it has a wonderfully-crafted wooden box with Japanese calligraphy. Elegantly boxed, this Japanese tea set is indeed a wonderful gift for your friends and relatives.
Highlights:
vintage and rustic design
comes with a tea caddy, sweets container, and a wooden box
Japanese calligraphy
2. Porcelain White Chinese Tea Set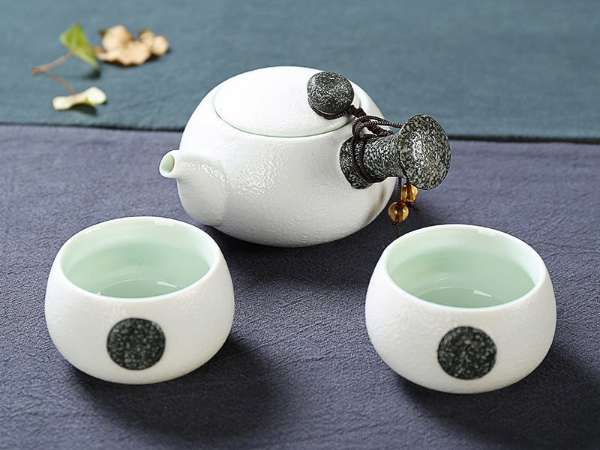 Who would not fall for this complete of teapot and cup set? The minimalist and classic white color is undoubtedly sophisticated. Not to mention, the black and white design adds to its beauty as well. This Chinese tea set is really worth buying for. Surely, it is one of the best tea sets for adults!
Highlights:
made of lovely porcelain
white Chinese tea cups and a teapot
good value for the price
3. Royal Albert Teacup and Plate Set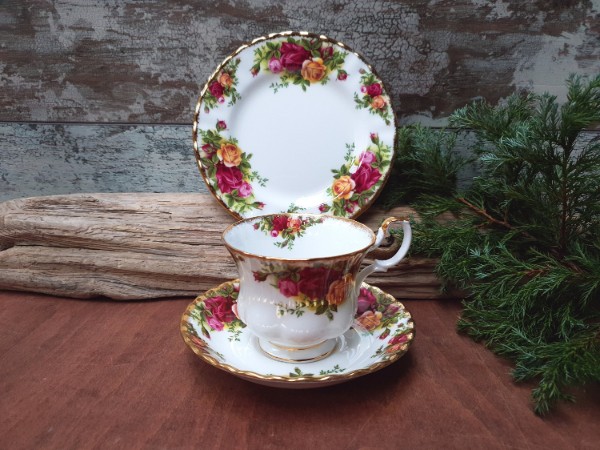 Have you ever dreamed of what is like to be in a garden in London? This exquisite Royal Albert old country roses tea set will make you feel like it and will surprise you with a set of a teacup and tea saucer. The design for each piece is inspired by English roses. It is never too late to gift this magnificent teapot set and make your loved ones fulfill their royalty dreams.
Highlights:
great tea set for one
top-selling Royal Albert old rose design pattern
4. Silver Plated Tea Set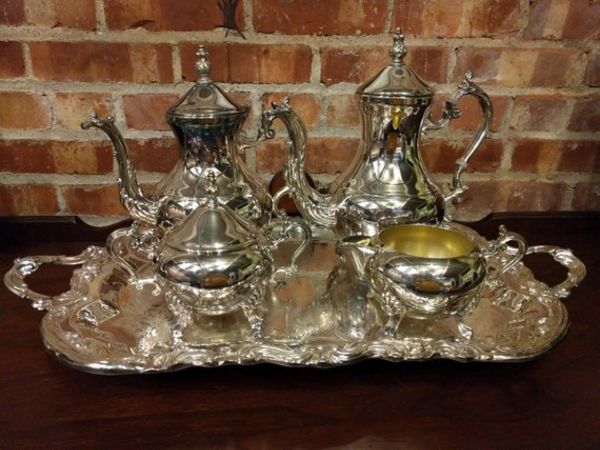 Quite possibly one of the high-end teapots we got on our list. This silver tea set is extremely classy, as the price suggests. This antique set from the 1910s is made by the F.B. Rogers Company in a Lady Margaret pattern. It comes with two teapots, sugar bowl, creamer, and a tray. The set can be used for coffee and tea. Not only it is functional, but also it is aesthetic. To say that this package is beautiful is an understatement; one who receives this will truly feel very valued too.
Highlights:
made of metal silver material
perfect tea gift set for special occasions
5. Vintage English Tea Set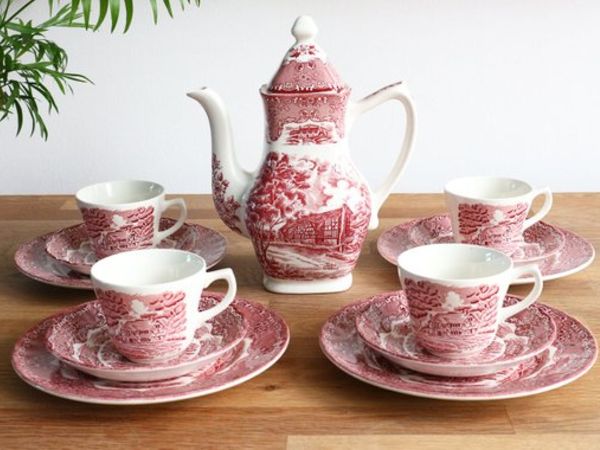 This nice-looking red transferware yet handy English tea set comes with a teapot and four teacups with saucers alike. Made of ceramic material, however, be careful as these alluring cups are neither dishwasher nor microwave safe for your everyday hustle. Lastly, a fabulous set for a high tea, bridal shower or beautifying your antique cabinet.
Highlights:
has a vintage red transferware design
ceramic-made
complete set of a teapot and four teacups with saucers alike
6. Golden Turkish Tea Glasses Set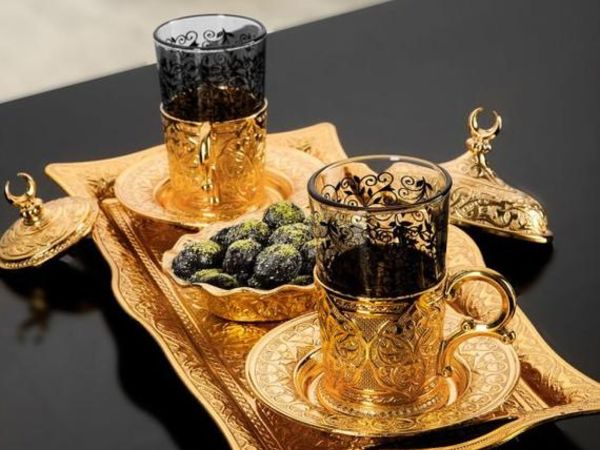 Are you looking for something super fancy and exceptional at its finest? This one is a sophisticated Turkish tea set of two glasses with coasters, a bowl, and a tray. What is more, it is handcrafted in Turkey. Plus, the golden accent is to die for! Truly, a unique tea set for adults that will leave an extravagant feeling when drinking.
Highlights:
exceptional gold design
a lavish tea set for two
7. Floral Porcelain Tea Service Set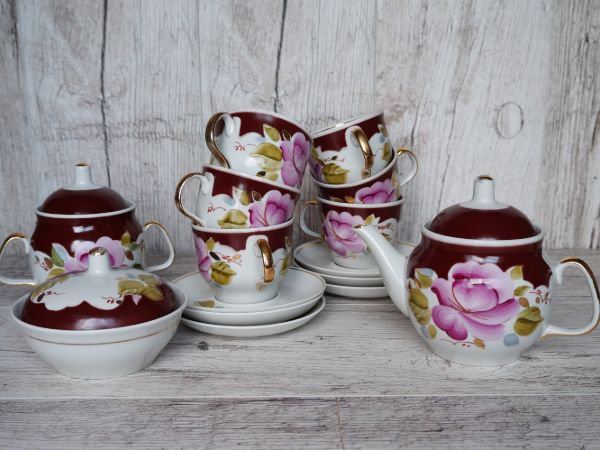 You can never go wrong with choosing this porcelain tea set with floral ornament. This gorgeous set has classy brown and gold accents that made us include on our list. Without a doubt, this teapot sets is one of the best ways to show your love and any person will want to have tea time in their cozy nook.
Highlights:
set of 6 teacups, saucers, a sugar bowl, and a side plate
elegantly packed perfect as a gift
food safe and lead-free
flower-patterned design
8. Zen White Ceramic Teapot Set
This timeless ceramic teapot with two teacups and coasters is one's of Amazon's top choices. What is more interesting about this ceramic tea set is that it has a matte finish so it is soft and smooth as you touch it. The teapot with infuser also has a bentwood handle for a tight grip while the teacups are made of double-wall ceramic for an enhanced lining. Certainly, this set is an ideal gift for weddings, birthdays, anniversaries and any other special occasions.
Highlights:
made of fine ceramic
teapot has stainless steel infuser
double wall teacups
FDA approved, lead-free, non-toxic
packaged in a well-designed safety gift box
9. 6-piece Cast Iron Japanese Tea Set
We instantly fell in love with this Amazon's top choice for Japanese tea sets. Aside from the fact that a cast iron teapot or a teacup can hold heat and retain natural tea taste better, this black heavy tea set comes with an iron teapot, four teacups, a trivet, and a removable infuser.
Not to mention, this is a seamless choice for heating over a flame or a modern method due to its coating preventing rust. One who has a thing for old-style designs will surely have a sweet spot for this gift set as the nail head of Japanese teapot "symbolizes strength and beauty in traditional Japanese culture."
Highlights:
made of cast iron
has a trivet
vintage Japanese design
10. Blue Rose Tea Glass Cup Set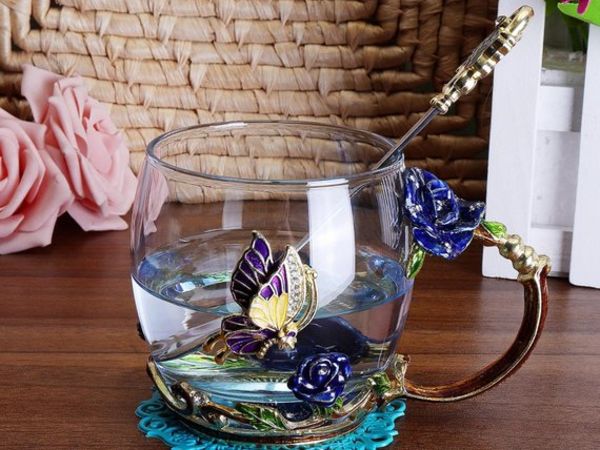 Last but not least, our last entry for this section is this sleek teacup made of glass with a spoon and a wipe cup cloth. Furthermore, this fancy tea set is best for green tea, flowering tea or herbal tea such as fresh chamomile tea. This is an impeccable pick for true tea enthusiasts who are always drinking tea every now and then.
Highlights:
blue rose design with a spoon
perfect pick for frequent tea drinkers
convenient and safe to use
5 Perfect Children's Tea Sets Toys for Toddlers and Kids
The time for drinking tea is also apt for children at almost any age. Here is a list we made for the perfect tea sets for toddlers and kids:
1. Beauty and The Beast Teapot Set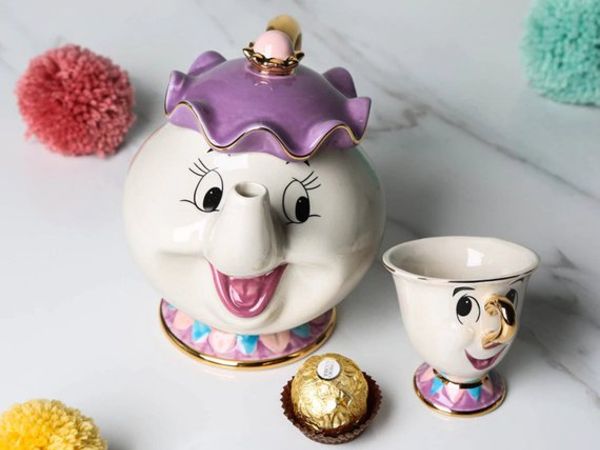 Is there any kid who does not love Beauty and The Beast? The first childrens tea set on our list is this cute and girly Mrs. Potts and chip teapot and teacup set. Tale as old as time, same as this lovely Disney set! Indeed, one never gets old for any classic and famous Disney potteries. Just take note that this not safe for dishwasher and microwave use.
Highlights:
famous Beauty and the Beast design
fine ceramic
the best pick for the little girls tea set or Disney collectors
2. Wooden Toy Dishes Set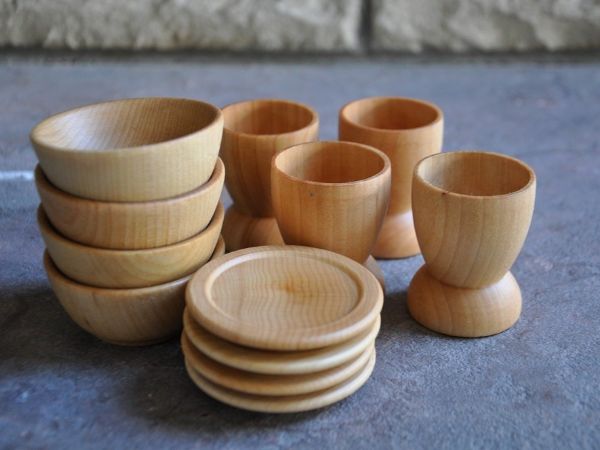 Planning to gift little boys and girls a play tea set? This set is an all-wooden toy dish set of 4 wooden bowls, 4 wooden plates and 4 wooden cups that are made with homemade organic olive oil and beeswax polish. It is remarkably good for children's health as it guaranteed eco-friendly. In addition, kids can develop their motor skills as they pretend to play and share with each other. Surely, children would love to play tea time with this present.
Highlights:
wooden toy dish set
made with eco-friendly materials
promotes skills such as motor skills and social skills
3. Alice in Wonderland Teapot Set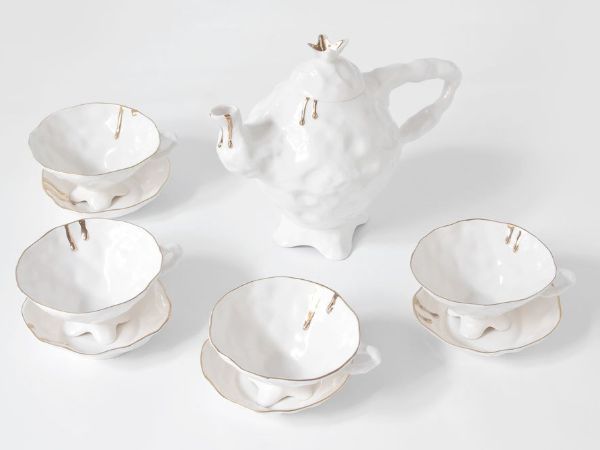 For any parties or celebrations, this enchanting Alice in Wonderland teacup and saucer set is the perfect kit to give as a gift. It comes with four cups and saucers with floriated gold accent design. Also, this can an afternoon tea set for your cute girls. These attractive cups too cute to be actually used. This is the picture-perfect tea party set for either a Mad Hatter party, an intimate and cozy party or just play time. Indeed, this is one of the fanciest tea sets for girls!
Highlights:
the most suitable choice for a tea party such as birthdays and other celebrations
dainty Alice in Wonderland tea gift set
includes four teacups and four saucers
4. White Porcelain Mini Tea Set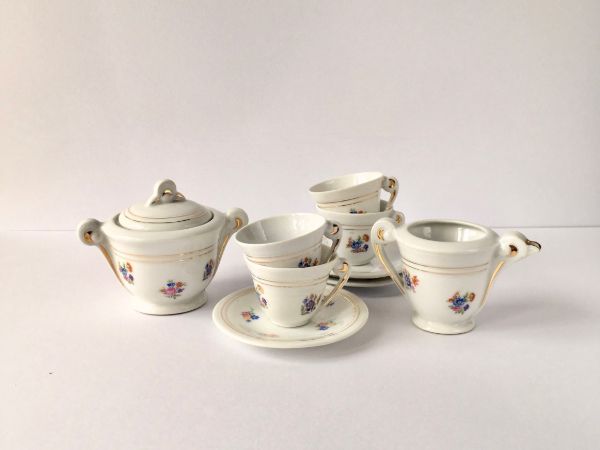 Who said little children can't have their own elegant tea set miniature for they play time? This bewitching white porcelain mini tea set is surely a great present for young girls. Undoubtedly, this is a perfect gift for little misses who want to have royal tea time in their own leisure time, or any special occasions will do.
Highlights:
set of 9 pieces including 1 creamer, 1 sugar bowl with lid, 4 cups, 3 saucers
cute set floral pattern with gold border
5. Pink Wooden Toddler Tea Set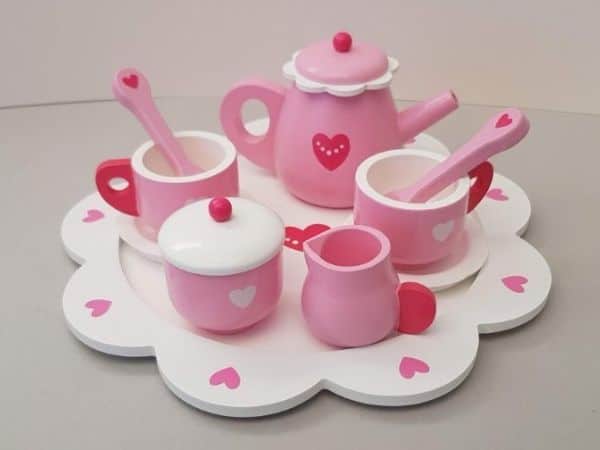 The one on our list for toddler tea set is this pink tea set. Girls can prepare tea for two with this gift. This set includes a tray, two cups and saucers, a teapot, sugar bowl, milk jug, and 2 teaspoons. What is most charming about it is that it comes with a cute pink heart design. It's a first tea set, with a charming wooden design that will make it a loved and cherished toy for years to come. Also, this is recommended for children ages 6 to 36 months.
Highlights:
best tea set gift for toddlers
full set of a pink wooden tea set with heart design
To sum up, be it a tea set for one, large teacups, a teapot for one, or white tea cups, there can be thousands of brands, styles, materials, shapes, and functionalities of each teapot and teacup all over the world. You just have to find the most suitable tea set you need and want based on your preferences.