Whether it's for carrying compost, gathering raked leaves and other cuttings, or moving around pebbles or rocks, wheelbarrows are indispensable in most gardens. Even if you don't do much manual work in your garden or yard, this clever vehicle can still save you time. To say nothing of back pains!
In this wheelbarrows buyer's guide, we'll look at some of the best wheelbarrows you can buy now and help you make the right choice.
We'll also help you understand the different types available. But first…
The Meaning of Wheelbarrow
A wheelbarrow is a small wagon with one wheel and two handles at the rear end. "Barrow" comes from an Old English word, "bearwe" which means a tool used for carrying loads.
Barrow has nothing to do with barrel, even though some people pronounce it that way. If you put a wheel on a barrel, you won't be getting a wheelbarrow, at least not a practical one!
Why Have a Wheelbarrow?
Do you have a small yard or garden? Then you may wonder whether you really need a wheelbarrow.
According to us at least, you're looking at an essential garden tool that can save you time and effort as well as prevent strain and injuries.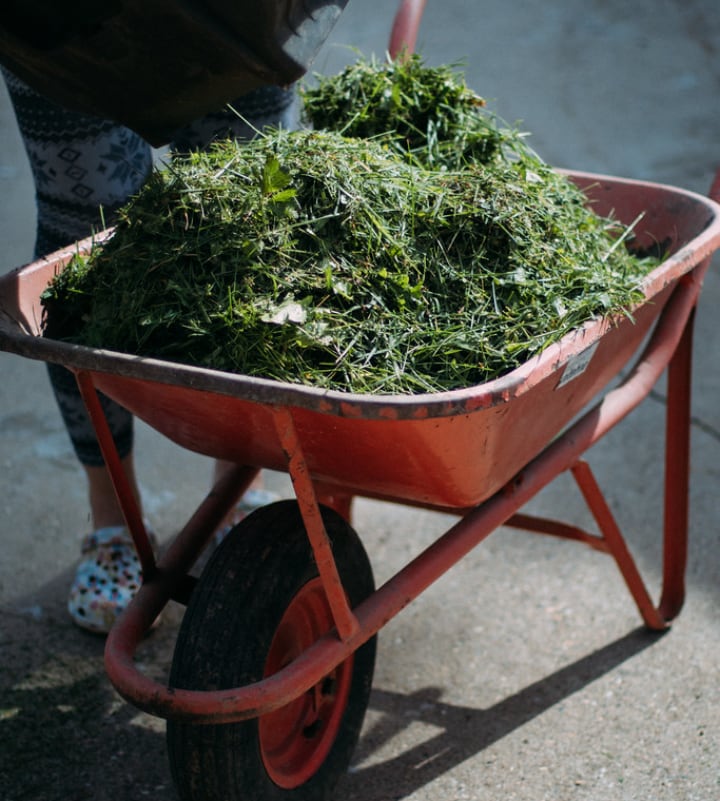 You don't have to think of the big and heavy ones that masons or builders use. Nowadays, there are a lot of small and lightweight models for all yards and gardens.
A standard wheelbarrow can be very useful in most gardens. However, if you have a big garden with an uneven surface or steep slopes, then you may require a versatile one.
Choosing the best wheelbarrow isn't rocket science, but you'll make a better choice if you learn a bit about all the available options.
What Are the Different Wheelbarrow Styles?
There are three main types of wheelbarrows. Depending on your needs, one of these may be better for you than the others. Let's look at the main differences between these.
Front Wheel Wheelbarrow
In the image below, you can see a front-wheel heavy-duty wheelbarrow with braces. It's a sturdier version than the standard wheelbarrow and can bear heavier loads.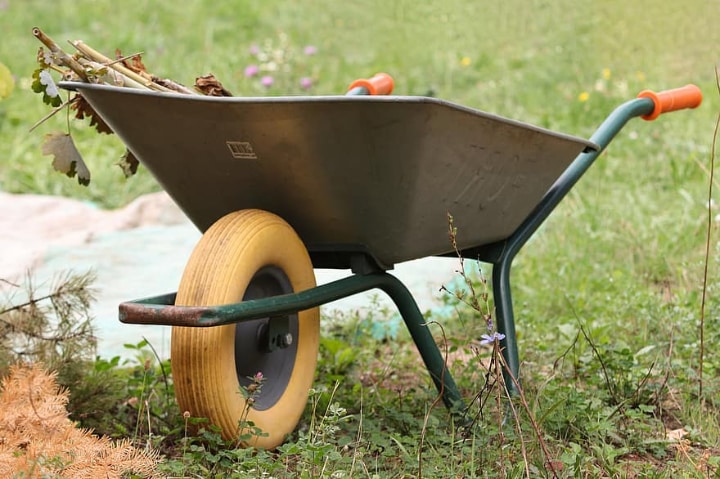 This type is perfect for the bulkiest and most laborious workloads. It's very durable so you can used it even for commercial and industrial tasks.
Different sizes are available depending on your particular workload.
Mid Wheel Wheelbarrow
Wheelbarrows have been invented by the ancient Chinese. The ones used by Europeans centuries later have the wheel out in front while the ones traditionally used in China has a wheel (or two) in the middle.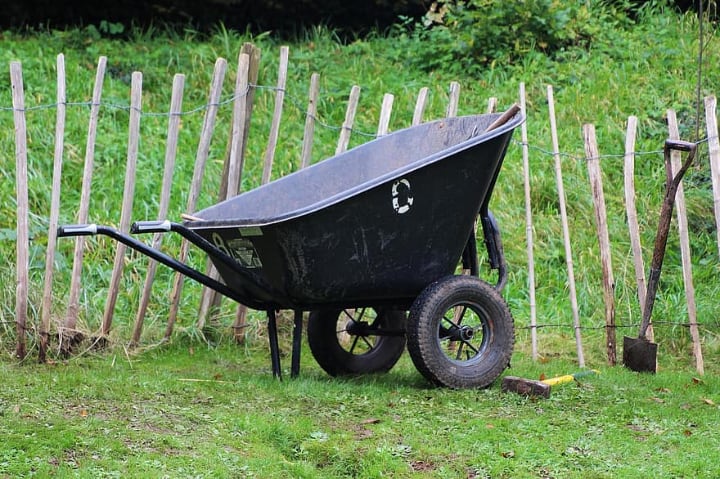 Since the wheel is placed in the middle, this model can carry more weight compared to the European variant.
But nowadays, most of the wheelbarrows in the Western world have one wheel in the front to be easy to maneuver and because they are not meant to carry very heavy loads.
Wheelbarrow Cart
This one looks like a downsized wheelbarrow and usually has two or four wheels for extra stability. It's easy to use and move around, especially in a smaller garden.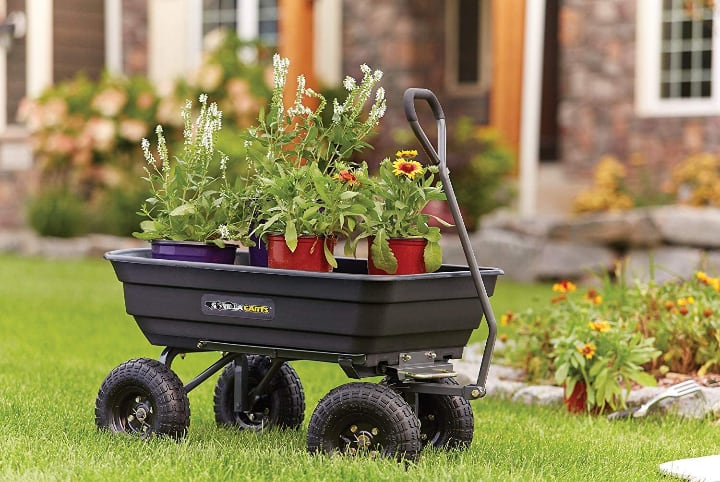 This is very useful when transporting materials around the garden. You can use it for carrying bags of compost or hauling ornamental plants or mulch.
Tip: Using a cart can minimize the stress on your lower back and shoulders.
Best Wheelbarrows Reviewed
Now let's look at some actual wheelbarrows you can use to get things done in your garden or yard. We'll focus on the features that matter to save you time.
Whether you're a green-thumbed novice or an ace landscape artist, having the right gear can make your work a lot easier!
1. Polar Trailer 8449 Heavy-Duty Wheelbarrow
The Polar Trailer 8449 can handle heavy loads since it's both sturdy and has a good load capacity. Even when you load it fully, it can still balance properly.
What's more, it uses wide rubber tires that can manage all types of terrains. The only drawback is that the handle has no padding.
Load capacity: 400 lbs
Pros:
Can handle rocks, logs, and other heavy items with a rough texture
It uses shielded ball bearings
Strong and dependable
2. Jackson M6T22 Contractor Wheelbarrow
The Jackson M6T22 is a high-quality tool that has a load size of 6 cubic feet. One of its notable features is the long solid wood handles that can let you maneuver it easily regardless of the load.
It has a heavy gauge steel tray that can last for a long time. On the downside, the instructions for assembling it are not the best around.
Load capacity: c. 370 lbs
Pros:
Uses a ribbed tire which you can push easily
High quality build
3. Ames True Temper Contractor Wheelbarrow
The Ames True Temper is dual-wheeled and has a load size of 8 cubic feet. It's rustproof and easy to push.
This is a heavy-duty wheelbarrow with hardwood handles and a strong overall build. It's safe for kids since it uses phthalate and BPA-free materials. You can count on it for heavy work in the garden.
Weight load: c. 500 lbs
Pros:
Robust pneumatic tires can handle different types of terrain
Very stable heavy-duty construction
Quick to assemble
4. Gorilla Carts Poly Garden Dump Cart
We feel this dump cart deserves a place on our list because it's well built and easy to use. With its four wheels, it's easy to push regardless of its load.

You can easily roll it over on uneven terrain and big bumps. You just need to push down the rear handle so that the front wheel can climb up.
Load capacity: up to 600 lbs
Pros:
Has a built-in braking system
Curved handle makes it easy to pull
Great balance to prevents spills
5. Aerocart Multifunction Wheelbarrow
The Worx Aerocart is a multipurpose tool with a solid build and easy-lift that some gardeners find easier to handle than a traditional wheelbarrow.
Although this may not be the absolute best wheelbarrow or the best dolly, yet it's very flexible and it can be used as both. It's an excellent tool that can also be used as a snowplow or wagon kit.
Load capacity: 300 lbs
Pros:
Well-balanced design
No maintenance needed since it uses flat-free tires
Easier to lift than other models
6. Marathon Yard Rover 70015
The Marathon Yard Rover 70015 can be assembled quickly and used with ease. It's made of a rustproof poly plastic tray that can endure any abuse.
The only fault of this tool is that it will likely flex whenever you will dump a hefty load. But for light gardening jobs like spreading compost, moving plants, or carrying some pebbles, it does the job well.
Load capacity: 300 lbs
Pros:
It has a padded loop-style handle that provides good grip
The frame is made of powder-coated steel
7. Bosmere W302 Folding Wheelbarrow
The Bosmere W302 Folding Wheelbarrow does not require too much space since it can be folded up.
This is a good choice if you only have a small yard since it can be used for gathering leaves, twigs, and other featherweight loads.
Load capacity: very light
Pros:
It includes pockets you can use for storing tools
When folded up, it only measures 13″ wide
Bonus: Wheelbarrow Replacement Wheel
Guess which part of your wheelbarrow is most likely to fail in time?
This universal flat-free tire suits most wheelbarrows. This tire has a ribbed thread making it easy to maneuver in any terrain.
It can handle a load capacity of 300 lbs and comes with an adapter kit. Whether you buy it for an old wheelbarrow or as a spare tire for a new one, it's a good investment.
How to Choose a Wheelbarrow
If you have a small yard, you probably won't be using a wheelbarrow every day. What's more, space is important for you. So you may want to avoid the bigger entries on our list and go for a foldable one.
But if you have a bigger yard, you got a lot more choices to consider, and you don't want to rush your decision. After all, the right wheelbarrow can last you for years, even a lifetime!
Don't get lost in the details. Focus on the right features. So, what important traits should you consider?
Material
Most wheelbarrow buckets that we see today are made of plastic, steel, or some other metal. If you are planning to use it for heavier loads, your best choice is steel.
Even if heavy-duty plastic can hold a heavy load, it may scratch and scrape with time, and your wheelbarrow may end up looking less than cute.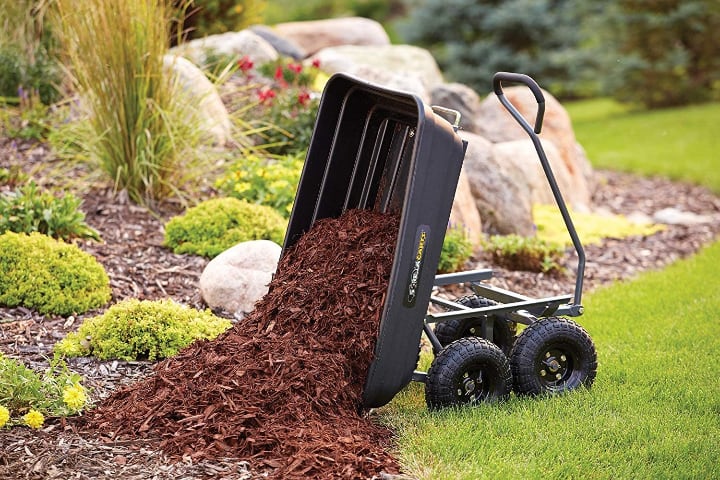 On the other hand, for light gardening, often the best choice is plastic. It's not only easy on your back, but it's also easy on your wallet.
But bear in mind that plastic, while not prone to rust, can crack when loaded with heavier objects or due to severe coldness.
Tip: Be sure to store your wheelbarrow properly since it can be prone to rust.
Some canvas models can be folded and easily stored in garden storage solutions. But as we've seen, they are not designed for any serious loads.
Wheels
Traditional models have one wheel that's placed in the center portion of the front. This way, it's easier to maneuver and dump.
The downside is that you need quite a bit of strength to control it when the load is heavy (think more than leaves and branches).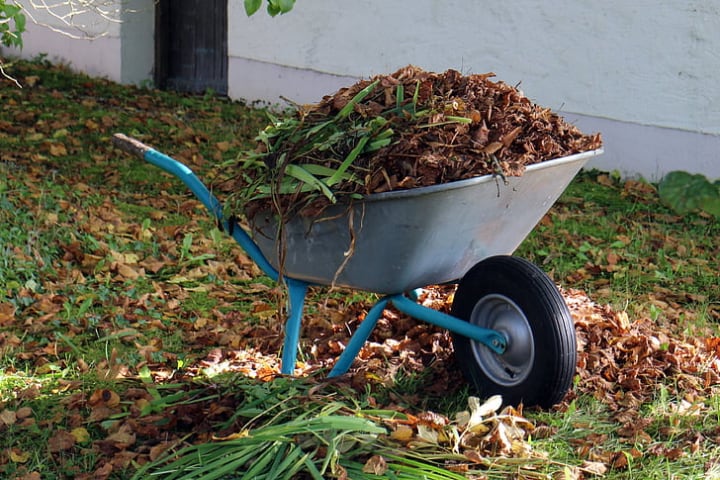 Models that have two wheels are appropriate for heavier loads and are more stable. However, you have to sacrifice maneuverability. Also, they are not the best on slopes or narrow paths.
Tip: More wheels means better stability, but they can damage that well-looked after lawn or grass patch.
Handles
Straight handles are standard and they provide good maneuverability. They make it easier to flip, tilt, or dump but require strength. Closed handles make pulling heavier loads easier.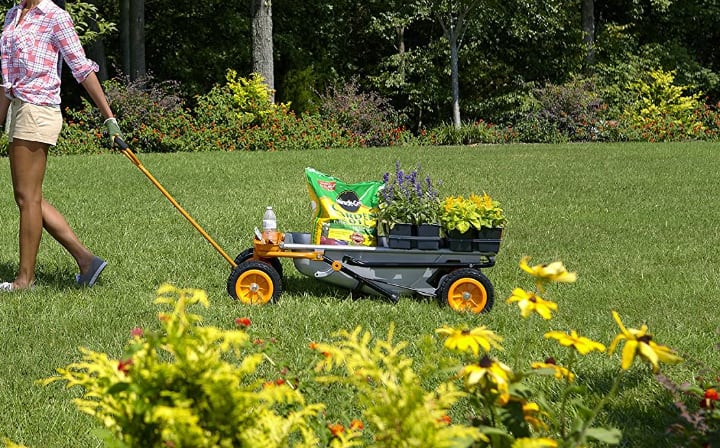 Tires
Pneumatic tires need to be pumped up just like bicycle tires. They can give you a smoother ride but they are also vulnerable to rough terrains.
Additionally, you have to pay attention to the air pressure. This type of tire may go flat, especially if left in the sun.
Tires made of solid rubber will never go flat but they can't give you a smooth ride. They can take a beating, though, and if you have rocks, pebbles, or thorny shrubs in your garden, they can save the day.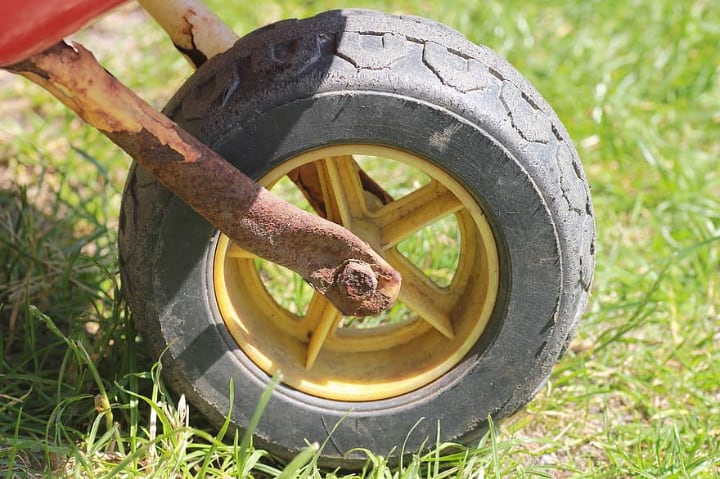 The in-between is a semi-pneumatic tire, essentially a rubber tire with built-in air pockets. It provides you with some shock absorption but it does not need inflation.
Tip: If you choose a model with a tire that can go flat, check out the wheel size and make sure it can be easily replaced. You may actually also want to get a spare tire. You'll eventually need it!
Wheelbarrow Commonly Asked Questions
Here are some questions we keep hearing about wheelbarrows, together with the answers.
How Heavy Is Your Load?
Wheelbarrows may look the same but they actually differ in a lot of things. When shopping for one, always consider the tasks that you are planning to do and the terrain.
Will you be planting easy flowers like yarrows or chrysanthemums? Will you be planting magnolia trees? Or will you be growing vegetables like sweet potatoes or cucumbers?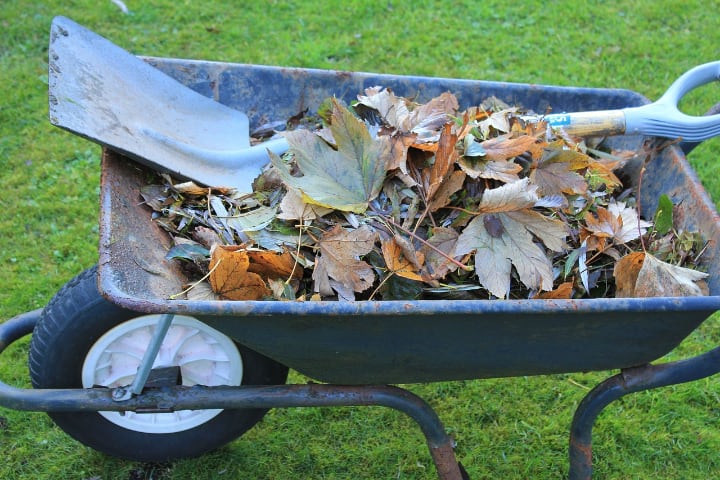 Also, consider the maintenance it requires and how much storage space it needs. At the end of the day, you want to choose one that's easy to handle and that won't get in the way.
We hope you found this post useful and that it answered your questions. Do you plan to buy a new wheelbarrow? Drop us a comment and let us know what model you will choose. We're curious!