If we think of a destination, it is often one that is Instagram-worthy! We want to go somewhere we can explore a little and shift our eyes toward a stunning place either for an escape from the daily grind or just a spontaneous trip. We will tell you one that will instantly change your mood as soon as you set foot in it.
What are THE Botanical Gardens?
Botanical gardens are a display that shows collections of cultivated plants and flowers. Moreover, it enriches your knowledge as they use it for conservation and research. They have luscious greenery, breathtaking views, spectacular colors of a wide variety of all those shrubs and bulbs, and the breezy air caressing your cheeks. These are just a few among the many reasons why they are worth checking off your bucket list.
Most Popular Botanical Gardens
There is a current estimate of 1,775 botanic gardens all over the world and many are still under construction. We want to help you decide on what's best for you. Hence, we made a list of 32 choices and why we think they are too beautiful not for you to visit.
Do you want to experience cherry blossoms in New York? If so, the 52-acre garden built-in 1910 in Brooklyn is the perfect one for you. This treats its 900,000 annual visitors with more than 200 cherry trees and various diversities of plant species during spring.
Of course, you should go to the Japanese Hill-and-Pond Garden resembling one of those oldest Japanese gardens as well as the Cranford Rose Garden that boasts an enchanting field of roses.
Indulge yourself in a realm of fantasy meets tranquility at the Atlanta Botanical Garden in Midtown. You will be amazed at the unique display of the biggest orchid collection in the country which nestled in the Fuqua Orchid Center. During the holiday season, kids and even young people at heart will love the wonderful garden lights that make the night so festive.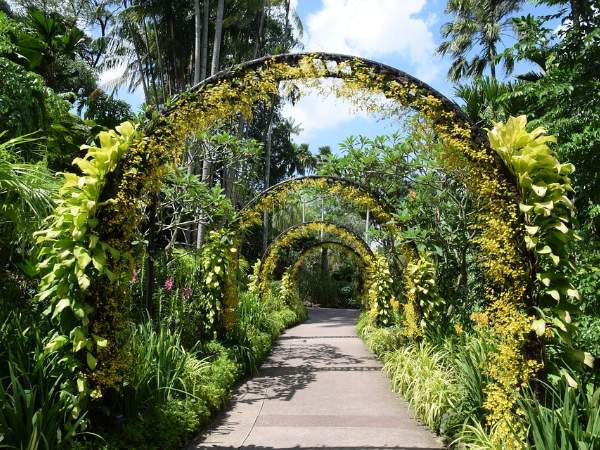 Is there a reason not to include the first and only tropical garden that is on the UNESCO World's Heritage list? Many reviews online say that the National Orchid Center made their trip fun.
Moreover, the pathway is surrounded by greenery and the sight of more than 1000 species of colorful orchids is truly captivating. The arches hugged by plants make it more magical.
This collection of 27 alluring gardens is placed on 385 acres with millions of flowers, trees, and plants in diversified ways. Many and different hues of pink, purple and yellow flowers will make you fall in love at first glance, but one of the things to adore about it is the Krasberg Rose Garden. It is a foolproof spot for a romantic walk, or even just for a dreamy unwind.
Are you a feeling a little adventurous and quirky? This one got a high rank in our hearts! The Corn Maze at Chatfield Farms garden is so unique. It allows you to play and feel like a kid in a 7-acre field of corn plants. You can immerse yourself in a little action as you navigate your way out.
The Montreal Botanical Garden (Jardin Botanique de Montréal) is a well-known haven of nature and considered one of the world's finest gardens. Additionally, it has more than 21,000 plant species, greenhouses, and some notable thematic gardens.
The Chinese Garden, Japanese Garden, and The First Nations Garden take their visitors on a cultural escapade without spending money on plane tickets.
We all know that New York City is situated in a top country in the world, so it is not a surprise that this 250-acre botanical garden in the Bronx will be on our list. This garden was built in 1891 and it is now a National Historic Landmark.
Hence, it is said to be one of the greatest and largest gardens in the world. Its fame is mainly because of its diverse landscape and extensive collections.
This garden is also known as the University of Ljubljana Botanical Garden. It has been existing for 200 years garden and it has 2 hectares of land of more than 4,500 plant species conserved and well-taken cared of. You can view more of its plants and forests native across the world in a huge elegant tropical glasshouse.
This greenery pleasing to the eyes is home to numerous types of plants from different countries. Besides, it just near the Golden Gate Park and it has 55 acres of lush gardens and spacious fields. The open spaces are good for leisure like yoga or even just walking.
The Olso Botanical Garden (Norwegian name: Botanisk Hage) is the oldest scientific garden in Norway and it is a feature of the Natural History Museum of the University of Oslo.
The Scent Garden is designed as a chance for everyone but mostly to the blind and wheelchair-bound. It gives them an easier opportunity to smell and touch the plants and flowers.
The Rio de Janeiro Botanical Garden or Jardim Botânico is considered one of the important gardens in the world. The tall trees surrounding the pathway are truly enchanting. To add, there are wooded trails to Corcovado Mountain, Christ the Redeemer statue and the tropical forest of Tijuca National Park. The area also has sleek bars and fine dining places.
It is not a revelation that Thailand is known for its engaging culture, traditions, and structures. This garden in Pattaya has 500 acres. In addition, people flock to this beauty for the integration of Thai landscape and European-style gardens.
You can find French and European gardens and a lot of tropical delights, especially a hill for ants and a valley of flowers.
The Royal Botanic Garden Sydney is a dwelling to the world's largest collection of plants. It has over 30,000 plants, a large herbarium and a library with more than 750,000 volumes, no to mention works by acclaimed botanists.
Its exclusive botanical collection of trees during spring with the lilacs is beyond fantastic. Also, the rock garden is one where you can truly unwind.
Kirstenbosch National Botanical Garden is one of the greatest botanic gardens around the world. There are only a few gardens that can attain the level of the landscape setting of Kirstenbosch. You can make the most out of your visit by getting a panoramic view of the whole area through a steel and wood canopy among the luscious jungle.
You will never run out of things to do at Kew Gardens (Royal Botanic Gardens, Kew.) Your dream of feeling like royalty is possible in the Victorian glasshouse. Moreover, the rainforest climate inside takes care of a collection of tropical plants from some of the most threatened environments around the world.
What about a botanical garden and beach at the same time? Our hearts are giddy from the fact that you can walk further from the Visitor Center all the way to the Wild Forest path. What will greet you there is a hidden gem of paradise called Kaluakai Beach.
How can we not include The Butchart Gardens? There are collections of floral gardens and located in Brentwood Bay, near Victoria on Vancouver Island. It gained the title of being a National Historic Site of Canada as it took 100 years to make. A pathway of arches with roses will leave you in awe for its vivid colors and aromatic scents. The Rose Garden shows what true romance is as it has 2,500 rose plant varieties and 30 rose arches.
Koishikawa-Kōrakuen is a garden in Koishikawa, Bunkyō, Tokyo built in the seventeenth century. Its existence is given credit to Zhu Shun Shui, a Chinese scholar, and integrates a taste of both Chinese and Japanese features. It has hills in the center surrounded by a pond.
Who does not love forms of water like lakes? This specific garden has numerous gardens, a mineral museum, peculiar ponds, flowers, and trees, as well as African sculptures.
Many of these highlights can still be enjoyed by people, but the large waterfall crafted by José Berardo is one of the beautiful reasons to visit there. An aqueduct serves as a border at the rear and is also used to supply water.
Today, it is a sanctuary to animals like ducks and swans but you can still go there and appreciate the serenity with them.
If you want to feel the history and the life of how a person lived, then this one in our list suits you well. Claude Monet, a French painter, lived for forty-three years in his cozy abode in northern France, Giverny. Visitors can do time travel as exploring his house and garden will take you on a tour to his daily life and roots of influence.
Get your dream come true of feeling like a royal family member by visiting 21.20-hectare garden in the suburb of Nymphenburg. The Munich Botanical Garden is definitely the finest option for your little fantasy. Moreover, it can be a hideaway for spending your time away from the crowd.
Berlin's Botanical Gardens is dubbed as one of the most important botanical gardens in the entire world. It has 43 hectares, being the largest botanical garden in Europe. It has an exquisite tropical house and fields with 20,000 plant species.
One cannot resist its lavish jungles and bizarre cacti. Among its gardens that is notable and PWD-friendly is the one with a focus on sniffing and caressing a variety of plants for visitors who are blind or in wheelchairs.
It is impossible to complete the list without mentioning the largest flower garden in the world. The Dubai Miracle Garden has located inward the humid deserts of Dubai, UAE. This garden is special as it blooms in an extremely arid climate of the country.
Additionally, it is vast as it stands on a seventy-two thousand-square-meter area. Lastly, many guests claim that it takes a lot of time to roam around the whole gardens.
This botanic garden is among the 10 top gardens in the world. In like manner, you will see plant species from the Arctic area with those from alpine and cold places across the world.
According to experts from different countries, plants from old gardens are especially remarkable. In other fields, you cannot find them.
This cute botanical garden in Mauritius is popular for its large water lilies and lotuses. The beauty is stunning! It is located within the Pamplemousses. Actually, to grow spices was the first purpose of the garden. Furthermore, it is named after Seewoosagur Ramgoolam, the independent country's first Prime Minister.
This Britain's oldest botanic garden is in the heart of the city. In addition, it has a classic walled garden and it is absolutely timeless. You can go for a walk as you sit on sturdy benches and relax under the shade of trees.
Meadows of wildflower and bluebell woods are some seasonal plants that are worth mentioning.
There is the U.S. Botanic Garden aside from America's New York Botanical Garden. The National Garden features a varied collection of American plants. You can allow yourself to inhale fresh air around their outdoor garden. According to its website, you can take a train ride this year across America as their holiday show displays train stations!
Perhaps you are a person who wants a dazzling show in the evening. You can enjoy yourself at this Arizona icon garden. Feed your eyes with a display of having the desert, lights, and sound like see you have never seen. As a matter of fact, the cactus and desert are part of the light parade like a canvas for painters.

The Missouri Botanical Garden is the country's earliest botanical garden that operates continuously. It has 79 acres of land. It is undoubtedly an oasis in St. Louis City and known for its bonsai display. Besides, it is a perfect place to pick up concepts for your own lawn, learn about sustainability, or just immerse yourself with nature's beauty.
There is a near botanical garden that is just 20 minutes from the city and the airport in Auckland. You can roam around this 64 hectares of gardens and natural forest. There are also plants for healing, food, ornament, perfume, and cosmetics.
Lalbagh or Lalbagh Botanical Gardens (The Red Garden) is a prominent botanical garden in the south of Bengaluru, India. The glasshouse hosts two flower shows yearly.
This is the most famous garden among the aesthetic constructions in Lalbagh. The garden is like a mesmerizing queen, sparks elegantly, and rules the whole kingdom.
The Mirabell Palace is a historical building in Salzburg, Austria. It is a relevant monument and part of the Historic Centre of the City of Salzburg UNESCO World Heritage Site. In addition, there is something about the Pegasus fountain in the middle of the hedge in the Grand Parterre.
Fräulein Maria and the Trapp children from "The Sound of Music" ran along the area in a scene from the classic movie.
Your Botanical Gardens Questions Answered
Botanical gardens have much to offer you and your brain. Since they are constructed for educational purposes, it makes them a fun trip for people of all ages and from all walks of life. Here are some questions many of our readers have about botanical gardens.
Botanical Gardens: Yah or Nah?
Now, we have given our picks for the most beautiful botanical gardens. Did you find any garden that really makes your feet want to wander again?
After this, we hope that you know more about them not just as someplace to visit but as a place to refresh your history and develop your love for nature.
These grand works of art are not only a place for us to stroll around but also serve as pathways. Therefore, it leads us to the world of many kinds of plants, flowers, and trees that we never know exist.