Wall planters are as classic as they are modern. You've certainly seen them adorning the walls of old country houses. But they're also becoming the modern gardener's best friend.
They can make your walls look like a piece of green art without taking up any floor space. So your house is not just a house, it's also an art gallery of sorts.
What's even better is that you don't need to be a professional green-thumb (or have a sweeping backyard) to get started on gardening in a wall planter.
These planters are versatile, come in different shapes and shades, and are here to entice you with their easy-to-use, affordable, and charming ways.
Resist them if you will, or read on.
Why Use a Wall Planter
A wall planter will save you a lot of floor space. They're perfect for the apartment-dwellers with a penchant for gardening.
Plus, you can plant anything and everything in them—from succulents to salad greens. Grow seasonal blooms and herbs in them and your space will smell (and look) like a meadow.
Also, a splash of color can jazz up an uninspired wall. There are also plenty of options to choose from, depending on the size of your wall and your style.
Last but not least, you can bring your green wall planters indoors and they will also improve the air quality and help with a peaceful night's sleep.
And lastly, we don't see any reason why you shouldn't give your time and wall to them. They're everything and more you've ever needed.
Our Favorite Wall Planter Ideas
Now here are some of our favorite wall planters. From wooden and metal pots to pallet planters and brackets, there are plenty of options you can take inspiration from for your walls.
And if you prefer to craft, we even have a simple DIY wall planter you can make in an hour or so. Take a look.
1. Outdoor Wall Planter
Outdoor wall planters are a great way to incorporate some greenery in your space, especially if you're an apartment-dweller.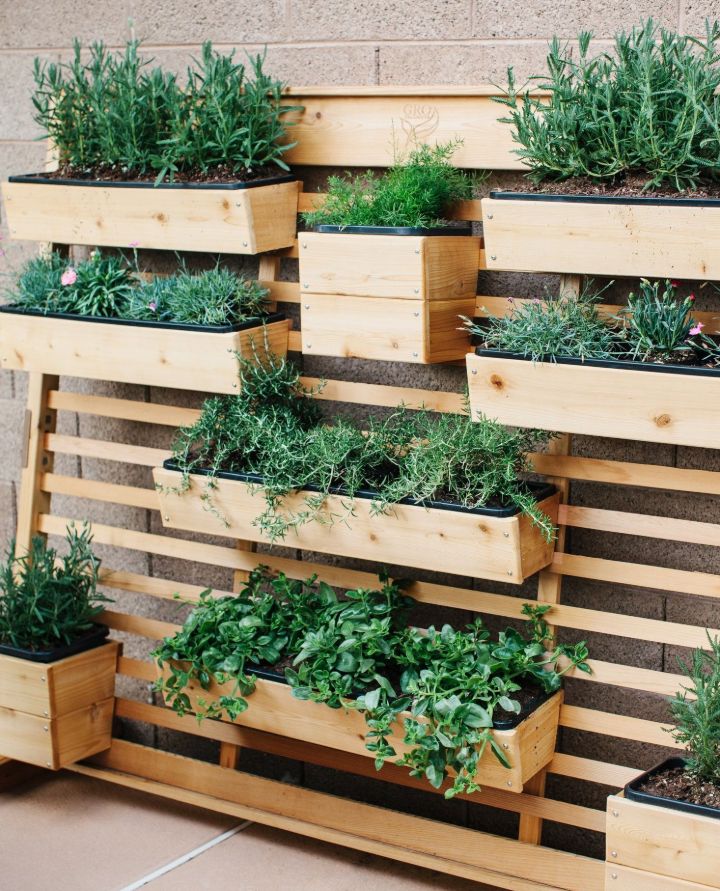 Hang your outdoor planters on an empty, unsightly wall to make it look colorful and blooming. You can use classic wooden planters like in the example above.
2. Indoor Wall Planter
An indoor wall planter can add just the right amount of greenery to your living room without taking up much space.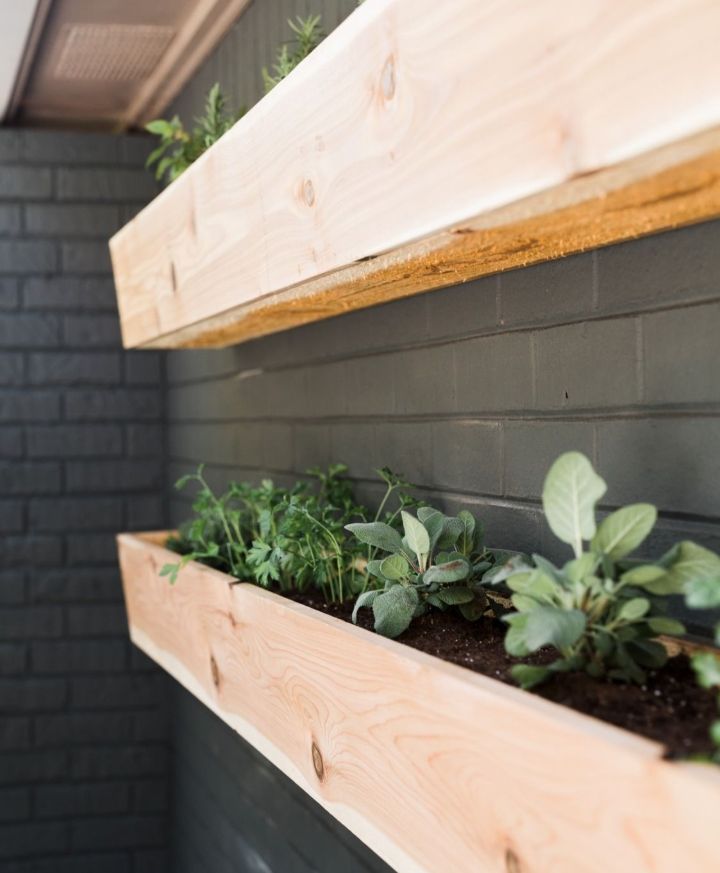 When selecting planters, wood is a classic choice. You can use a few plants of wood to create your own DIY wooden planters.
3. Wall Hanging Planters
Hanging planters are perfect to grow trailers like common ivy, golden pothos, burro's tail, and spider plant. These plants will look like a lovely green waterfall and are mostly low-maintenance.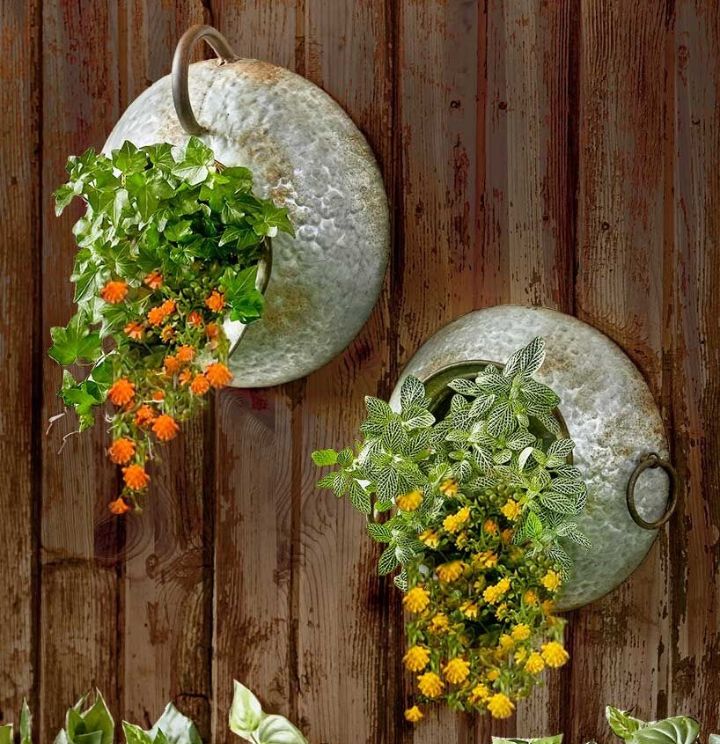 What's more, hanging planters can dress up almost any wall of your home, patio, or garden.
4. Vertical Planter
Vertical planters are space-saving, beautiful, and easy to get started with. What else do you need in a wall garden?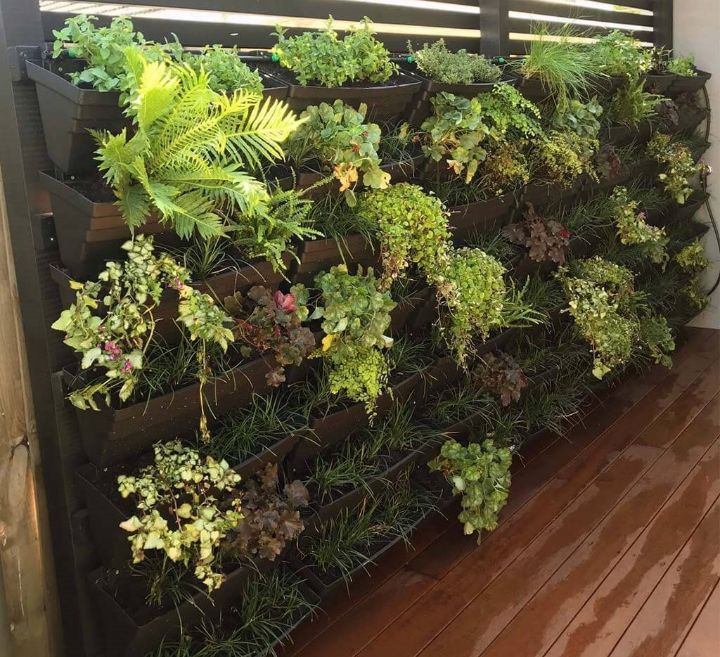 Maybe the right kind of planter? For a vertical space, it's ideal to go for a light-weight and durable plastic planter.
Idea: Opt for a self-watering vertical planter and forget worrying about your plants when you're out vacaying.
5. Wall Mounter Planter
Jazz up a bland wall by mounting cute little pots on it. You can go for pots of different pastel shades for just the right pop of color.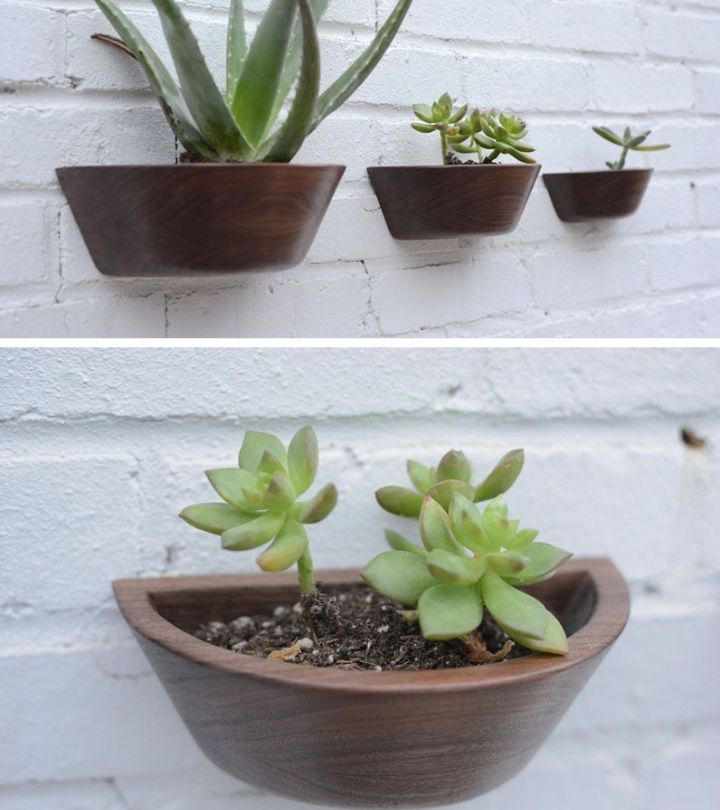 Grow plants of your choice and give them water and sunlight. Your wall will slowly turn into a beautiful, live work of art.
6. Living Wall Planter
A profusion of plants growing out of your walls will make for a striking display. But how to create such a wall?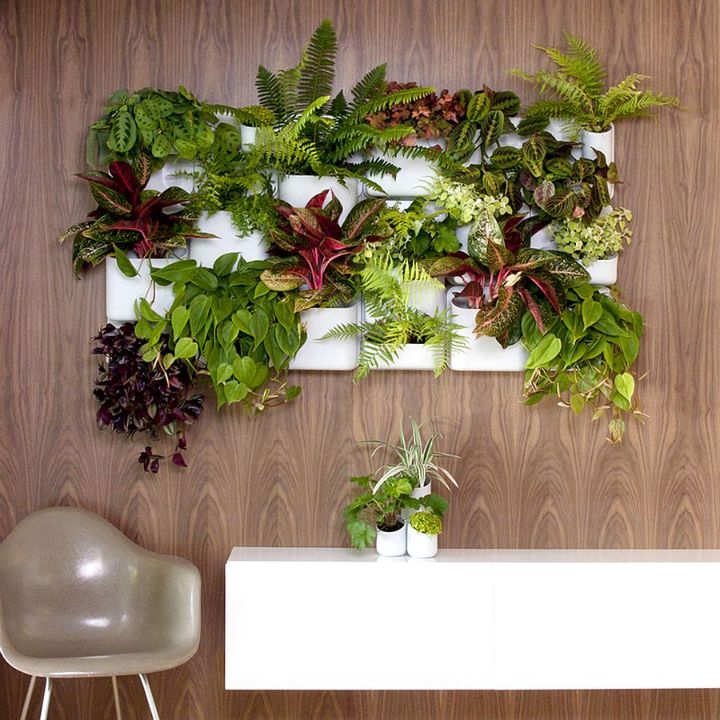 You can start by attaching a metal mount to your wall and hanging planters in it. Grow ornamental plants with leaves of different shades and shapes and you're good.
7. Succulent Wall Planter
Turn your wall into a living artwork with succulents. They look superb and are loved for their resilience.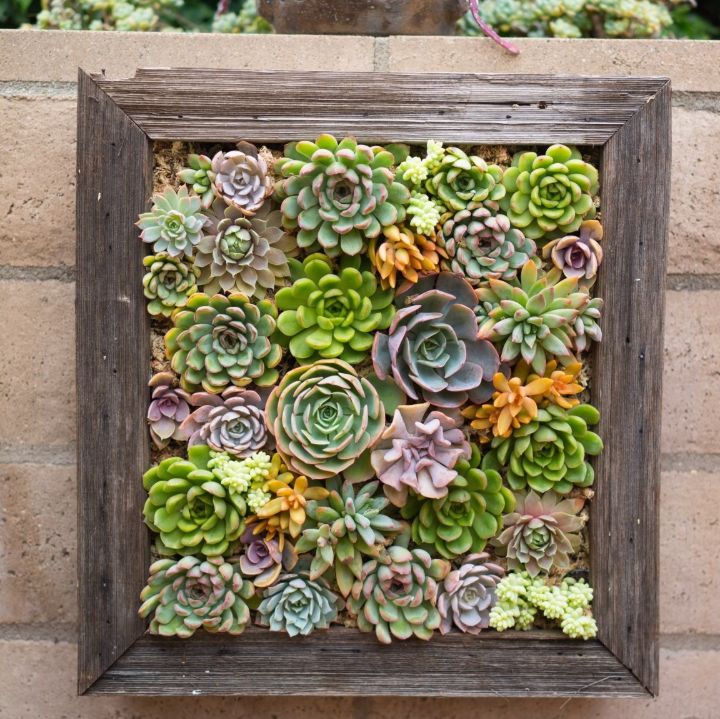 Grow succulents in colors ranging from deep green to rusty red. They will give a lovely texture and depth to your wall.
Tip: Succulents grow best in soil that drains well. So, regular potting soil, or dirt from your garden, won't do.
8. Wall Planter Shelf
Looking for something simple and space-saving for your plants? Well, a planter shelf fits both your needs into one design. Here's a beautiful example.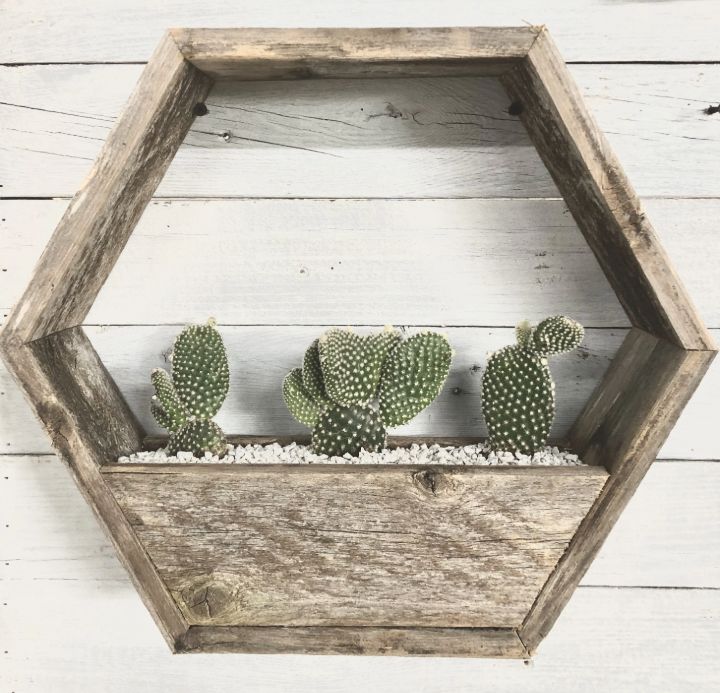 Add to it cacti or other ornamental plants of your choice and cover the soil with pebbles or light gravel for a nice finishing touch.
9. Wall Planter Pots
Whether you want to touch up a garden wall or make your balcony more green, wall planter pots are your ideal solution.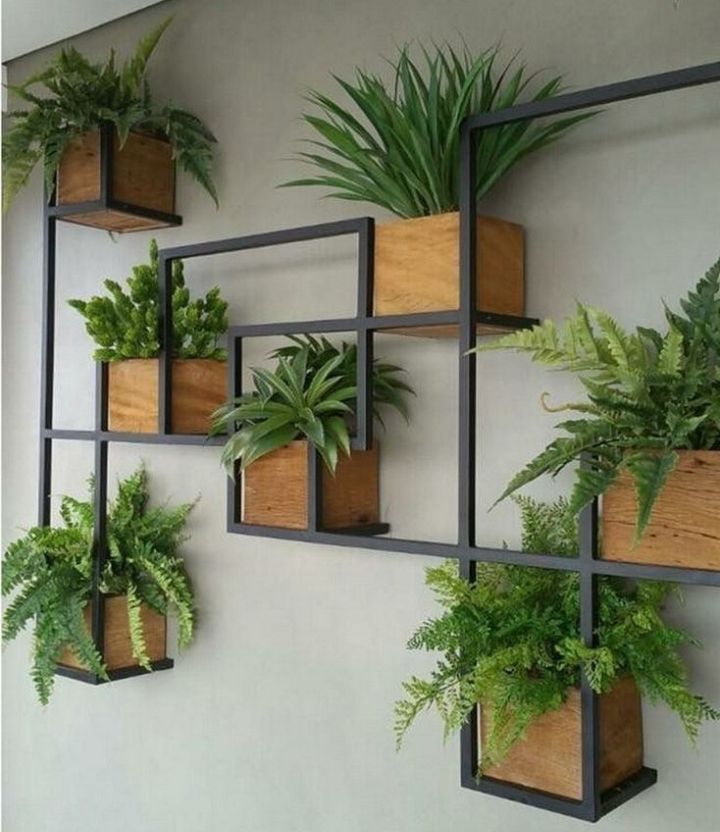 They come in varied shapes and sizes. Plus, you have the freedom to mount them wherever you want.
10. Wall Flower Planter
Imagine tiny pansies, daisies, geraniums, and petunias painting your walls with delicate summer shades. Lovely, isn't it?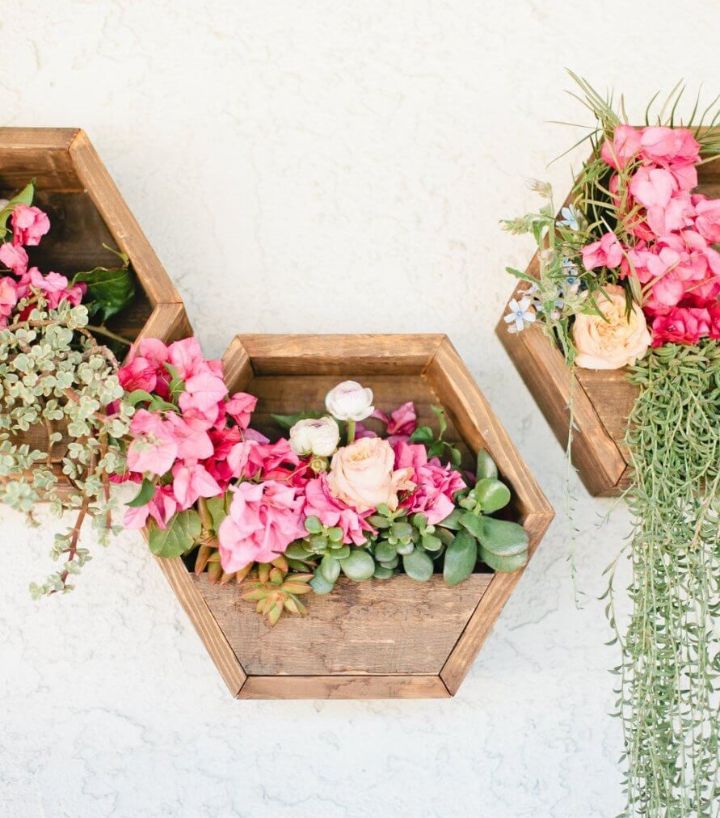 So why not give a wall flower planter or two some space in your house? They will make your house and mood brighter in an instance.
11. Wall Block Planter
Block planters, with their straight lines and geometric shapes, are perfect for modern indoors. You can plant an assortment of succulents, air plants, and leafy greens in them.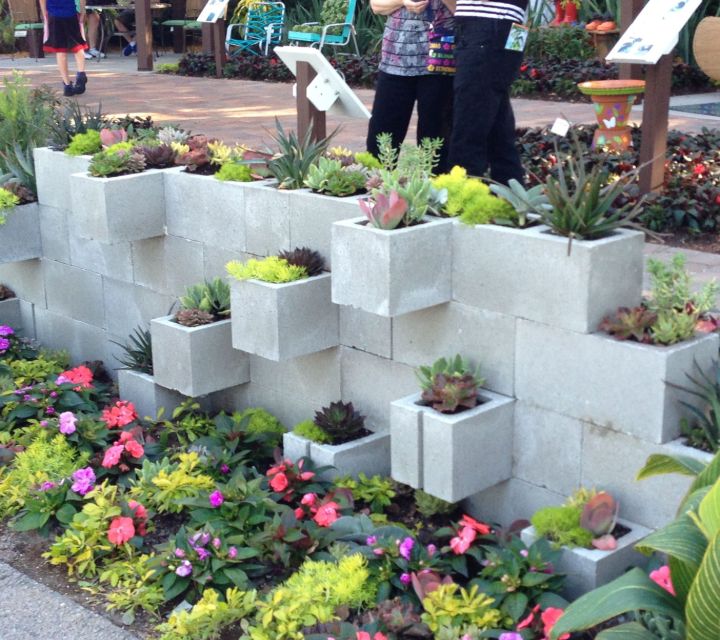 Wall planters will look lovely in an outdoor setting as well if you arrange them creatively.
12. Garden Wall Planters
Got a boring wall in your garden you're not sure how to spruce up? Make it floral to complement the other flowers in your garden.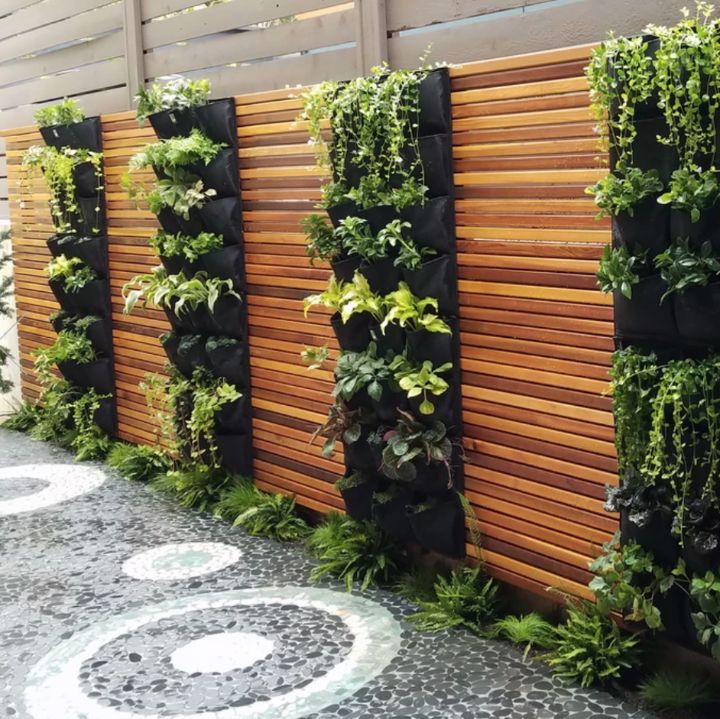 You may want to keep the wall of a muted shade to make sure the colorful plants you grow in the planters burst forth.
Find this one on Amazon:
13. Metal Wall Planters
Make your plants stand out by housing them in metal planters. These planters will also lend a vintage vibe to your space.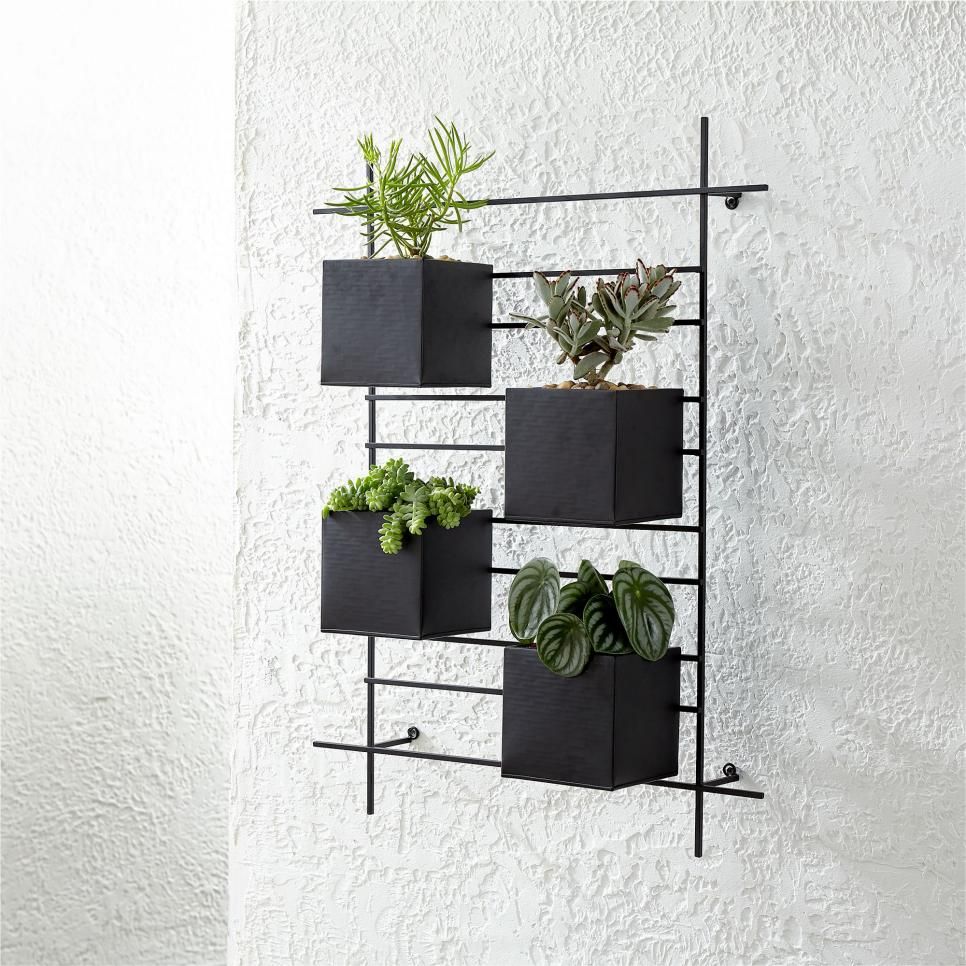 Plus, they're more durable and long-lasting compared to planters made of wood or plastic.
Tip: Grow shade-loving plants in metallic pots. Metal is heat-absorbent and could burn the roots of your plants if left in direct sunlight.
14. DIY Wall Planter
Fill the containers of your choice with potting soil, grow your plants, and mount them on the wall either by screwing them directly or suspending them using a rope.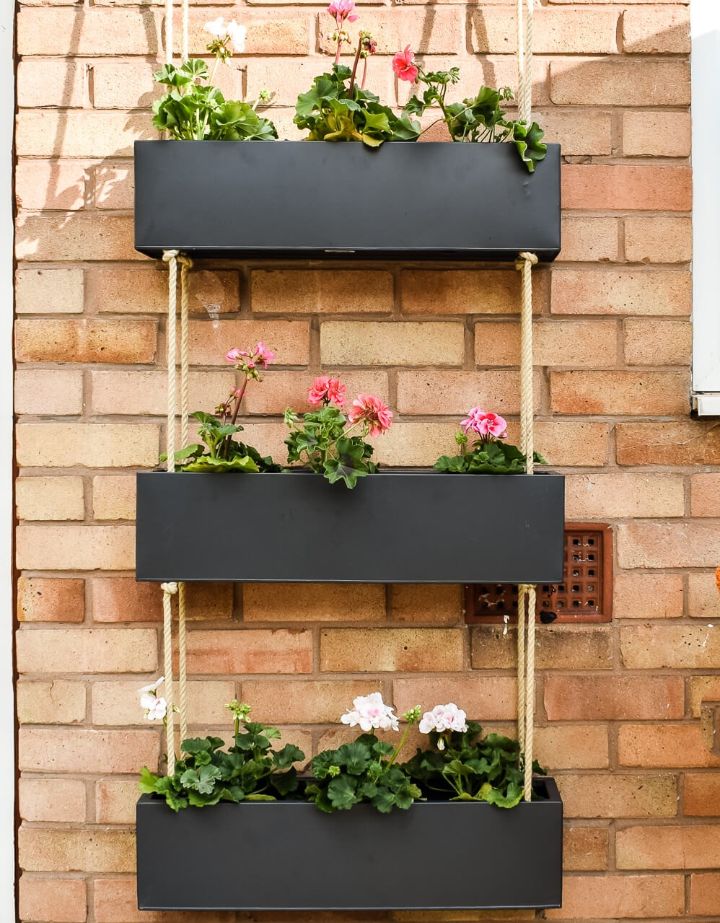 Tip: Don't toss out old fruit crates, coffee cans, and tin jars. Upcycle them to create attractive and inexpensive planters.
15. Wall Planter Hook
Take advantage of your vertical gardening space to grow petunias, pansies, and daisies. But instead of nailing regular planters to your walls, opt for planter hooks.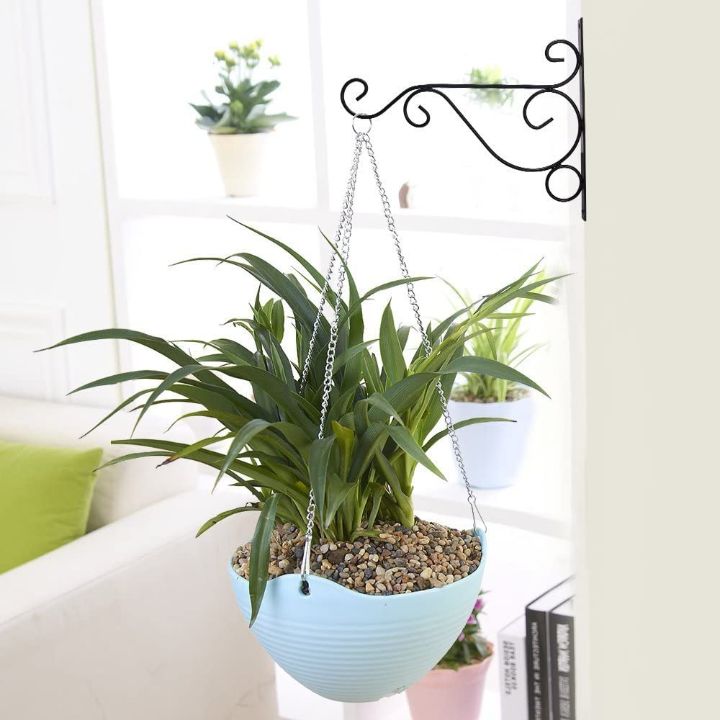 There are different types of hooks you can use—ring hooks, wall mount, basket bracket, etc. Choose whichever fits your space and style the best.
16. Ceramic Wall Planters
Perfect for both indoors and outdoors, a simple ceramic planter is a surefire way to spice up any room.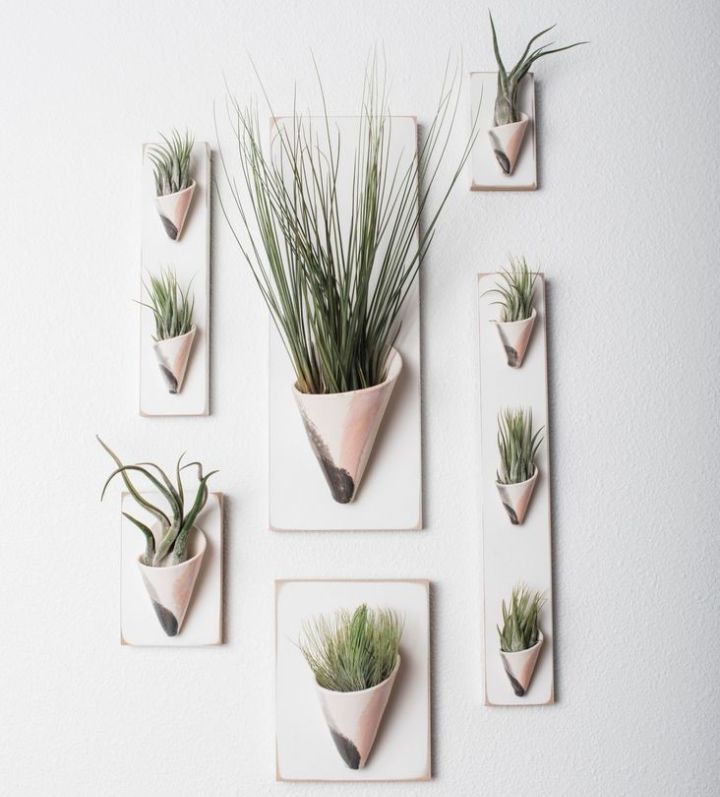 Go for a classic cream ceramic planter. Or opt for colorful ones that come in interesting designs. Hang them to your walls using a nail or string.
17. Wall Mounted Plant Holder
Wall mounted planters will bring elegance and beauty to your vertical space. Plus, they're perfect to use if you're looking for a pretty spot for your favorite plants.
Only, make sure the plant holders you choose go with the rest of your furniture and decor.
18. Green Wall Planter
Why adorn your walls with only paintings and photos? Display your plant babies like a piece of art using wall planters.
Rectangular wooden planters can fill up a lot of space without requiring a big investment.
Tip: For a tropical green wall, grow elephant's ear, umbrella plant, and dumb cane in your planters.
19. Herb Wall Planter
Don't have the greenest thumb? No problem! Grow low-maintenance herbs like thyme, basil, rosemary, and dill in your planters.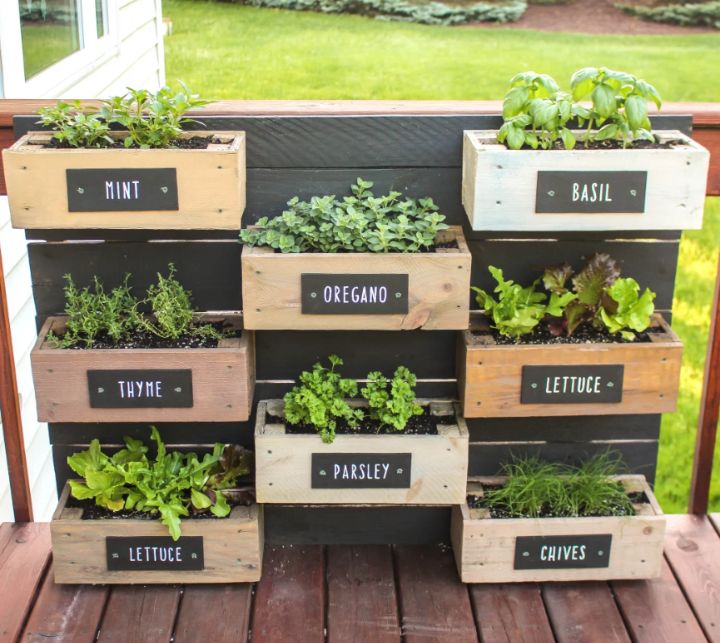 Water them on time and you will have a lovely assortment of herbs readily available for your kitchen. There's the added bonus of their refreshing fragrance.
20. Ikea Wall Planter
Looking to hang your plants on a windowpane, create a hanging garden on a wall, or go vertical with gardening using planters? You may find the right planter at your local Ikea store.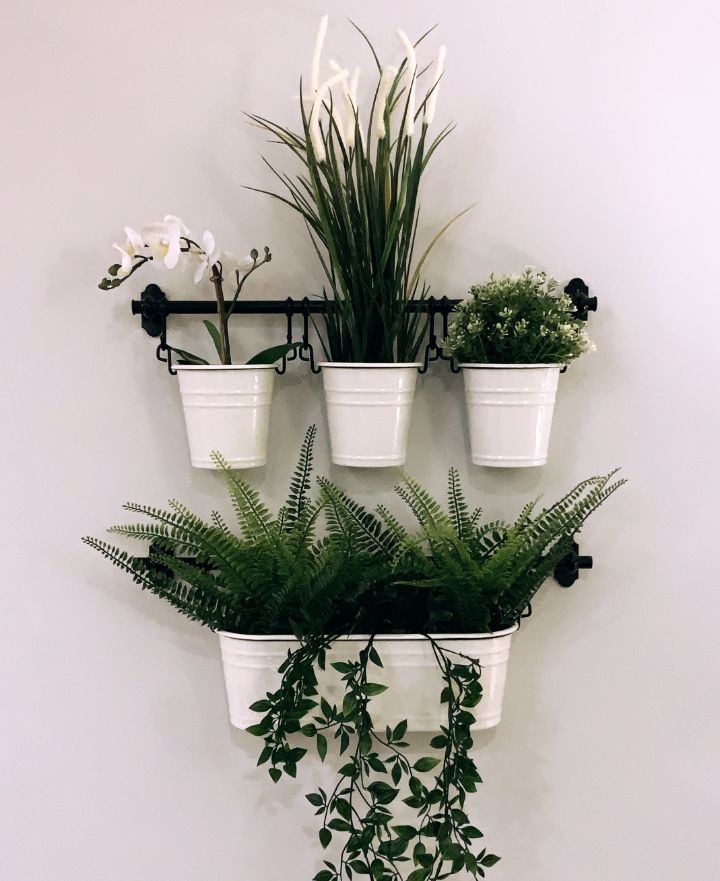 Grow seasonal blooms, herbs, and even veggies in Ikea wall planters that are ideal for use both indoors and out.
21. Wall Planter Basket
If you're after a timeless look for your wall, you will never go wrong with a basket planter.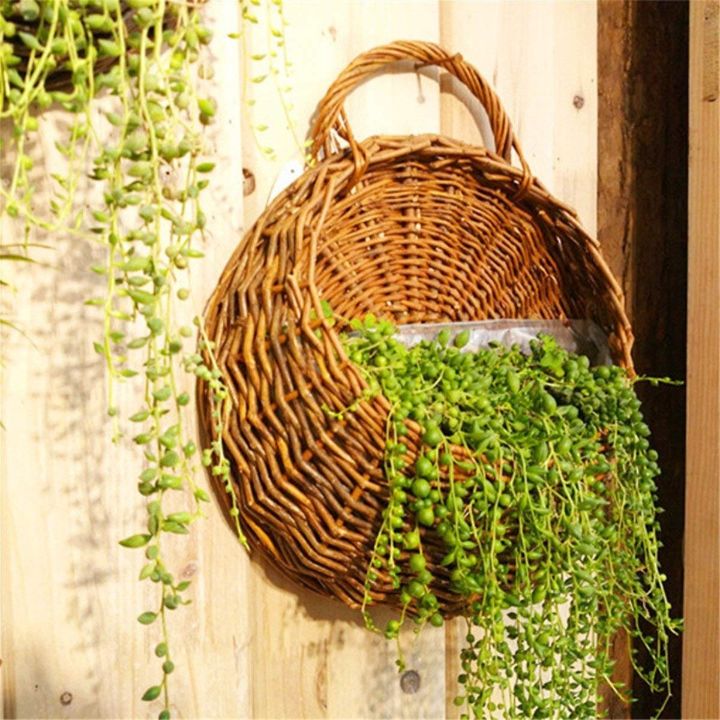 Dwarf lavender, moss rose, and trailing pansies are queens of wicker baskets. Create a massive flower show by planting them in your baskets and adorning your empty walls with them.
22. Wooden Wall Planter
Wooden planters are a great way to showcase your greenery. They look elegant and can fit almost any indoor setting. Plus, they're super sturdy.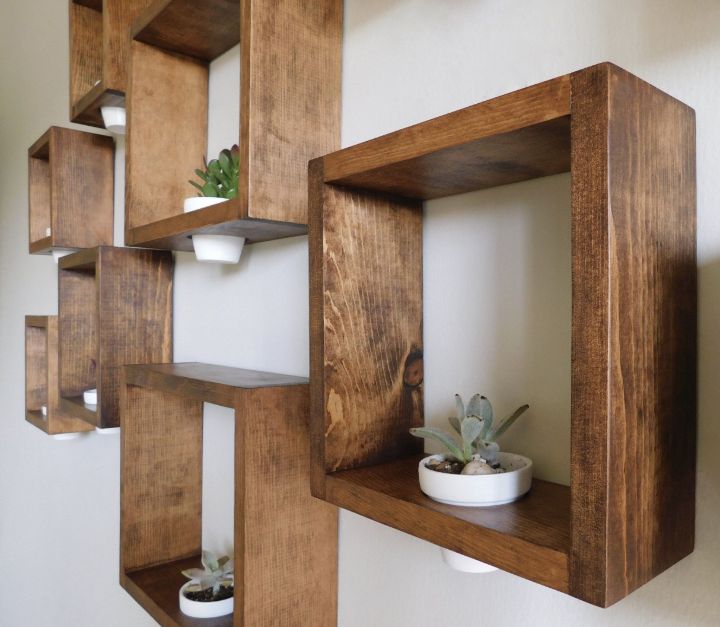 You can mount wooden planters on a bare wall to fill up space. You can also paint them a hue that goes well with your furniture and decor.
Tip: Line your wooden planters with a thin sheet of plastic so they do not rot from the inside.
23. Wall Pocket Planter
As the name suggests, pocket planters are planters with pockets in which to garden. But what all can you grow in them? Well, just about anything.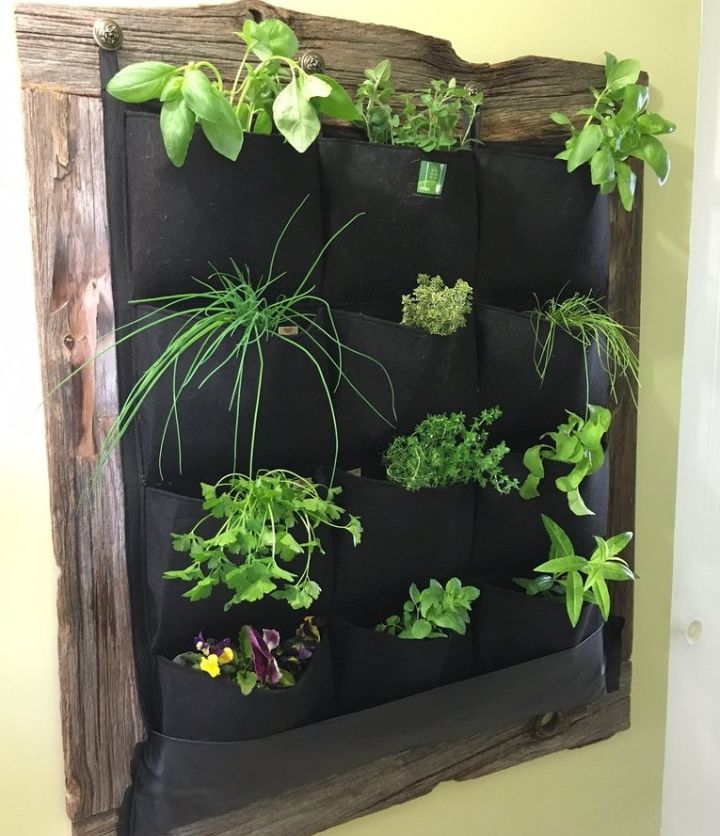 Start with some easy herbs, then move on to flowering plants like petunias and pansies.
And if you think you're ready, you can also grow lettuce, salad leaves, tomatoes, and strawberries in them.
24. Wall Planter Box
Planter boxes come in different sizes to fit all kinds of walls, whether large or narrow. Go for a rustic wooden box or a contemporary ceramic planter, the choice is yours.
With a planter box, you can create a hamper of trailers and ramblers, a succulent box, or a herb container.
Find this one on Amazon:
Tip: Don't hesitate to mix and match planter boxes of different sizes and colors.
25. Galvanized Wall Planter
Why use galvanized planters? One, they don't rust. Two, they look vintage. And three, they are perfect to add a dose of contrast to your space.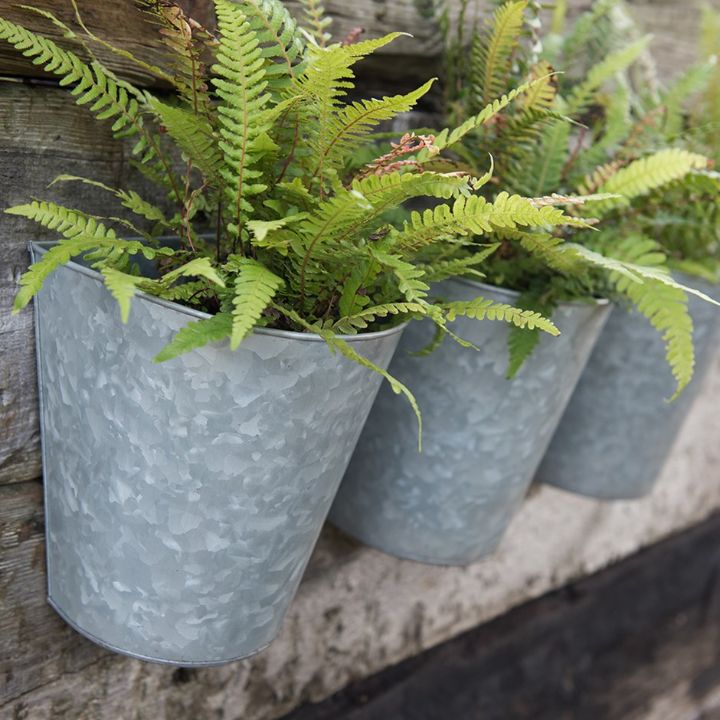 You can opt for the classic bucket-shaped planters that look almost like a wall bouquet. Or go chic with planters with straight, clean lines.
26. Pallet Wall Planter
On the hunt for something eco-friendly and inexpensive? Use old pallets as planters. While you can nail them directly on your wall, it's better to securely mount them using a metal chain.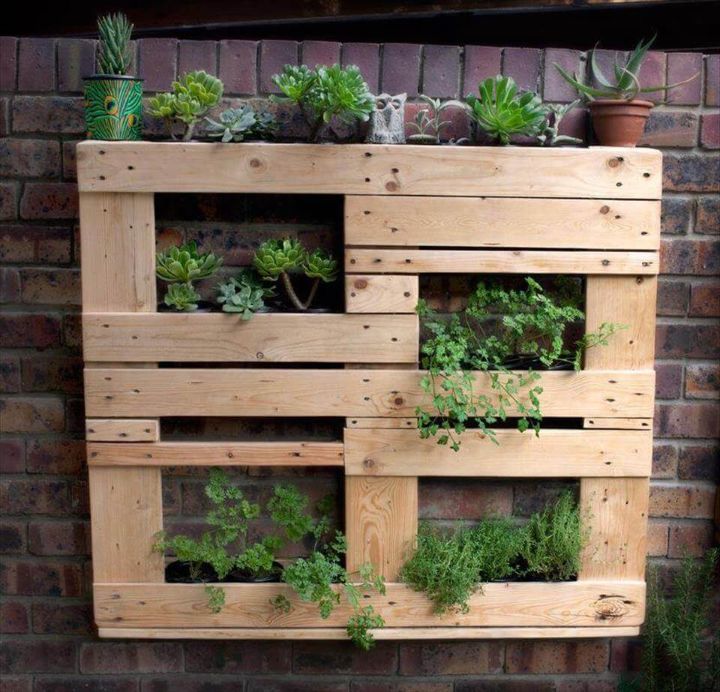 Flowers, vegetables, and herbs can all be grown in a pallet planter.
Idea: Leave your pallet planter rustic looking or paint it a shade you like.
27. Plastic Wall Planters
There are a myriad of options when it comes to choosing plastic planters for your walls. From simple buckets to tiered vases and designer pots, plastic planters are extremely versatile.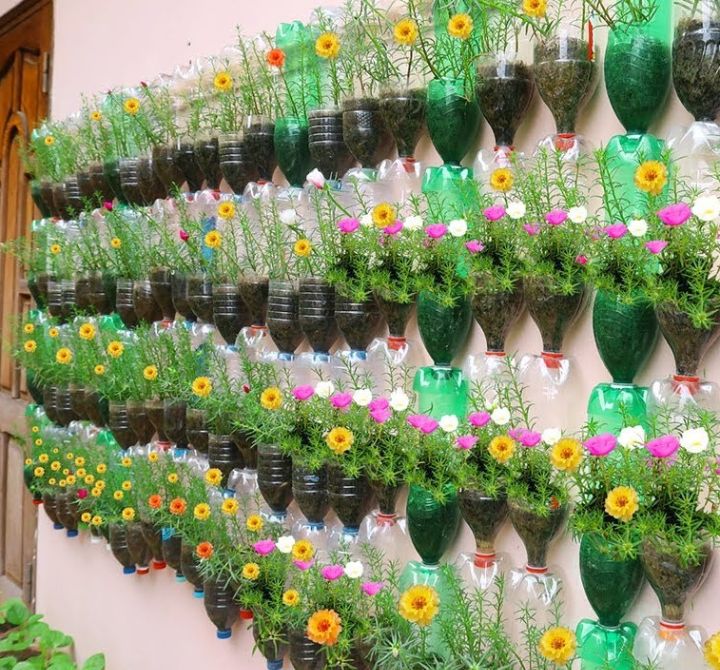 Or you can just use cut plastic bottles, like in the ingenious example above.
28. Modern Wall Planter
Create a modern wallscape using planters with a sleek, geometric look. They come in square, hexagonal, conical, and rectangular shapes.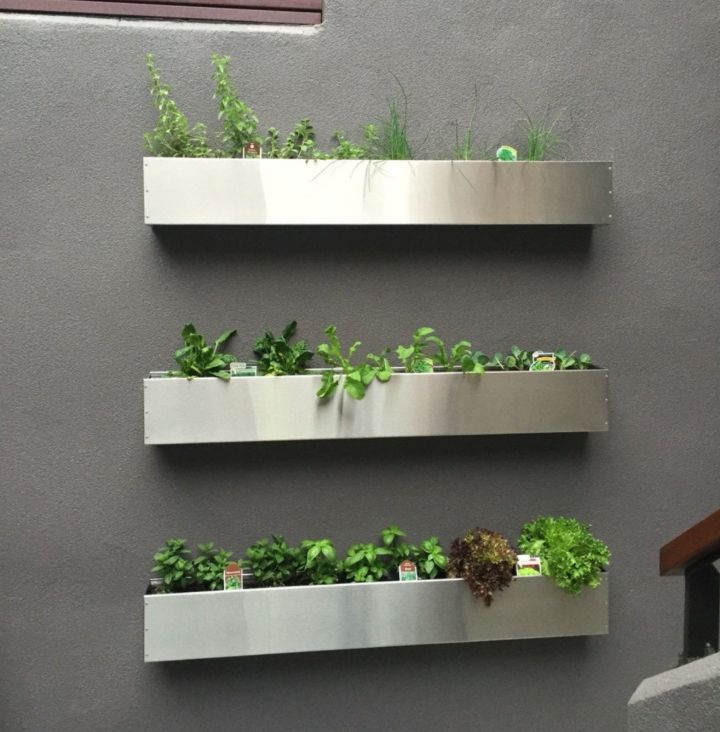 Plant leafy greens instead of flowers in them. Consider mounting your planters in sets of three or five for a complete modern look.
29. Terracotta Wall Planters
Cute and quirky terracotta planters can jazz up any wall of your room. Because terracotta absorbs water, your plants will remain well watered for a longer period in these planters.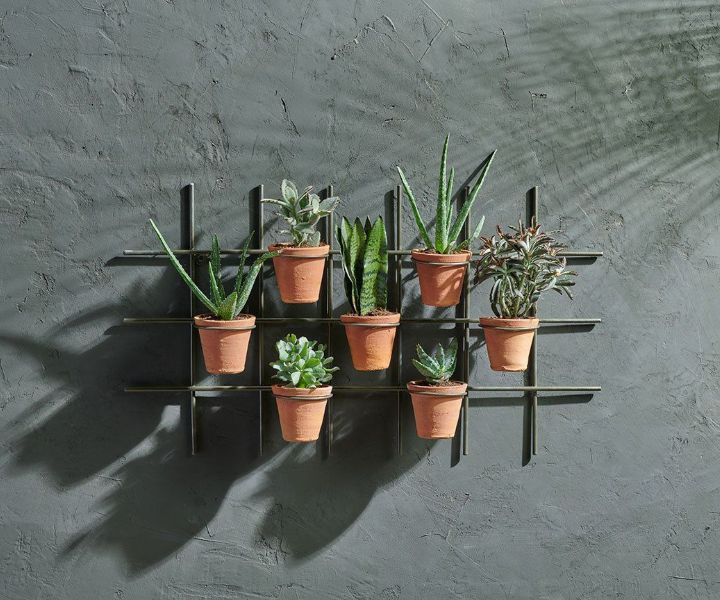 And if you don't get enough sunlight indoors, you can also grow faux trailing plants in them.
30. White Wall Planter
White is the new black when it comes to indoor furniture, decor, and planters. Plus, white doesn't clash with any interior or exterior decor.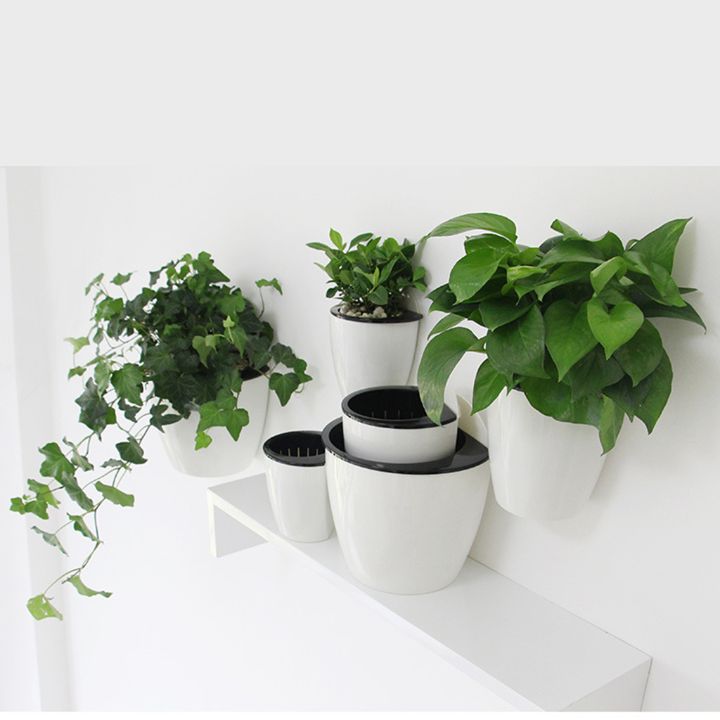 Seek plants like pothos, peace lily, and spider plant and your picture-perfect garden will also help purify the air.
31. Black Wall Planter
Hang black planters on a neutral-colored wall to make them stand out. These planters are perfect to grow small houseplants and create your own living wall.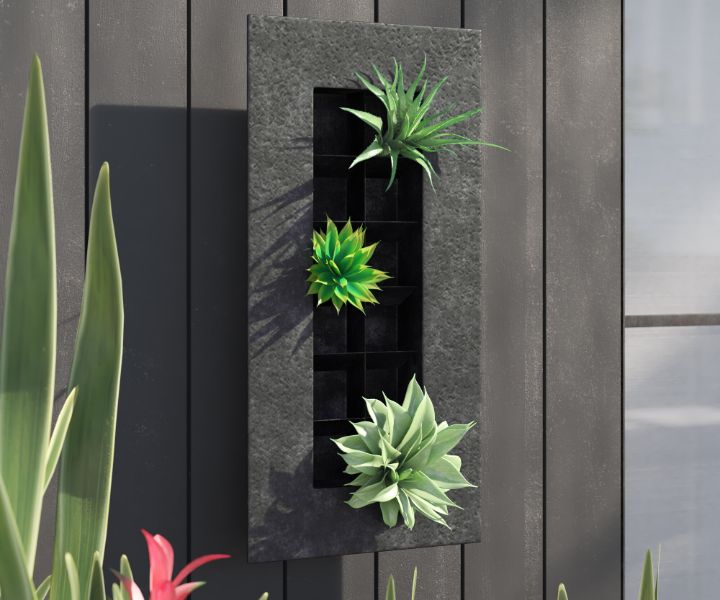 Place them side by side or staggered and they will give a modern vibe to your space.
32. Half Round Wall Planter
Add a little greenery to your walls with half round wall planters. They are lightweight, minimalist, and easy to hang.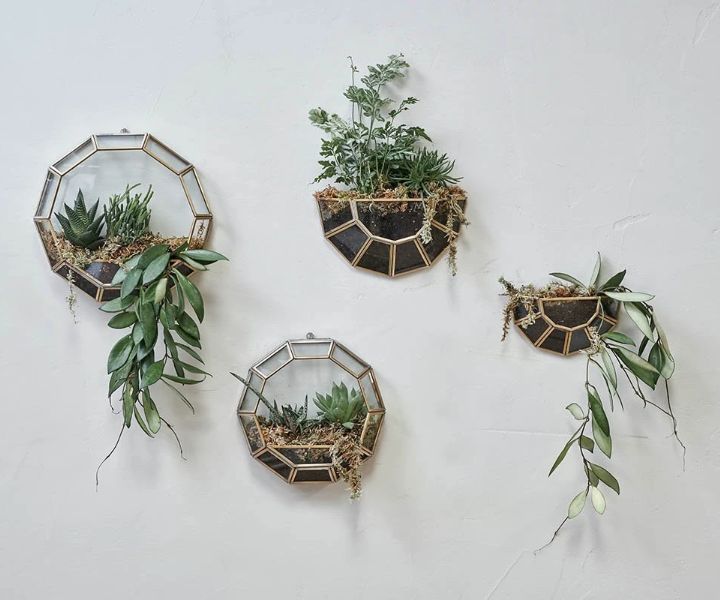 The planter frames feature a circular frame that can be filled with soil. Succulents will look great in them, with a bit of moss and a handful of pebbles.
33. Wall Sconce Planter
Handmade sconce planters can make for striking wall pockets in which to grow plants. Simply mount them on walls, fill them with soil, and begin planting.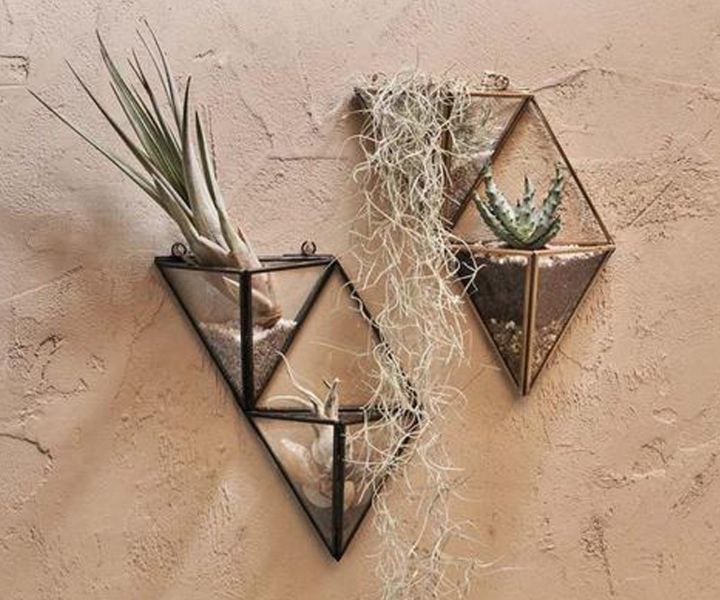 While you can plant whatever you like in your sconce planters, trailers and ramblers look the best in them.
34. Geometric Wall Planter
Geometric planters are an interesting choice that add a decidedly modern touch to your decorations.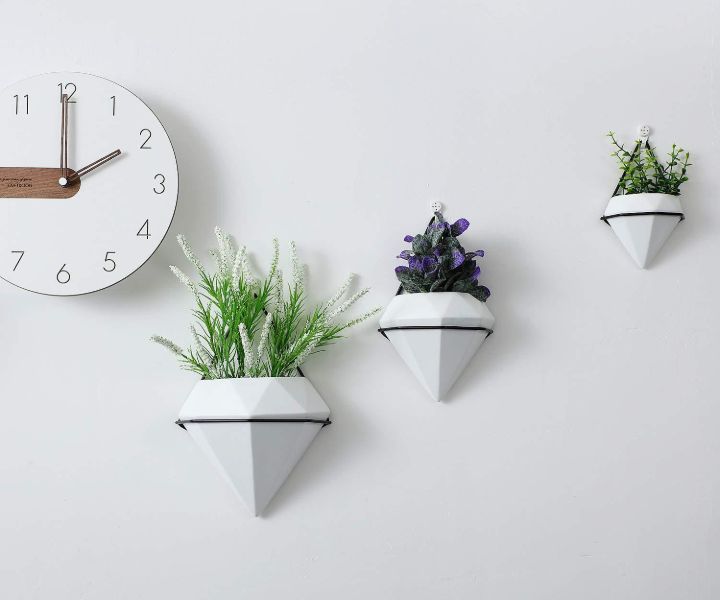 White geometric planters sure look elegant. But don't forget to consider neon-colored planters in different patterns for a bit of quirkiness.
35. Wall Planter Bracket
Use metal or wooden planter brackets to hang your pots, baskets, and containers. They come in different designs—from traditional to modern and sleek ones.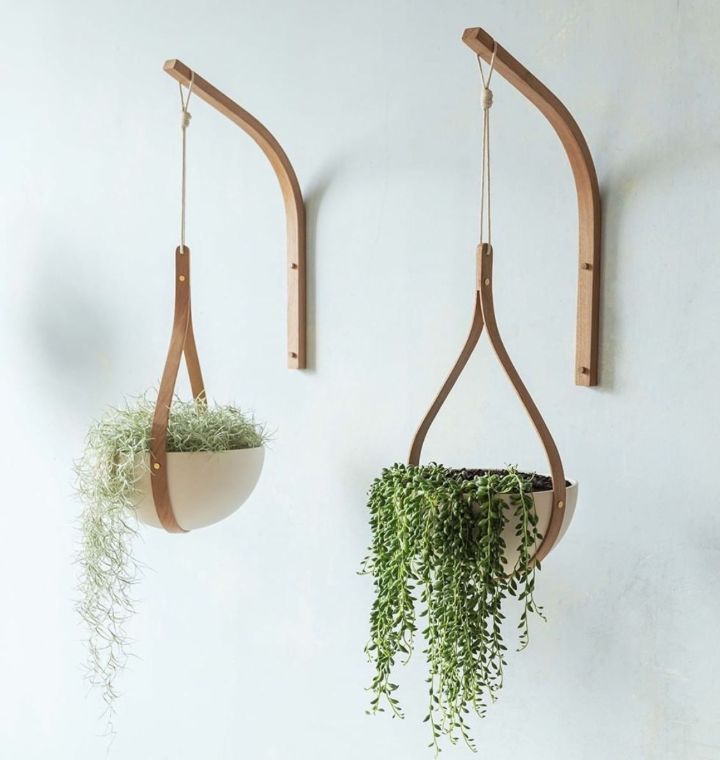 Brackets and hooks are great to save floor space and create attractive vertical horticulture.
36. Wall Trough Planter
Trough planters are creative, inexpensive, and durable. Here's an interesting example made from metal.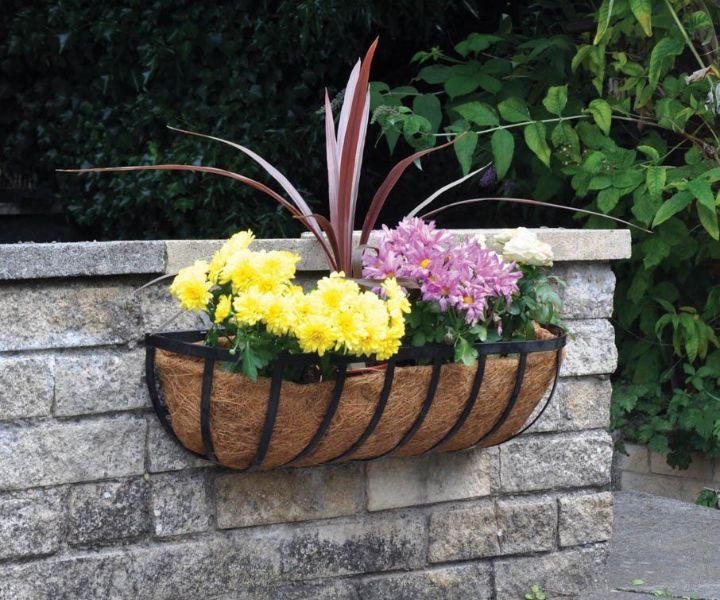 Fill yours with soil rich in compost, plant fresh vegetables and herbs, and your kitchen garden is ready.
37. Glass Wall Planters
Glass planters look delicate and classy. They are perfect to showcase air and water plants and their intricate root system.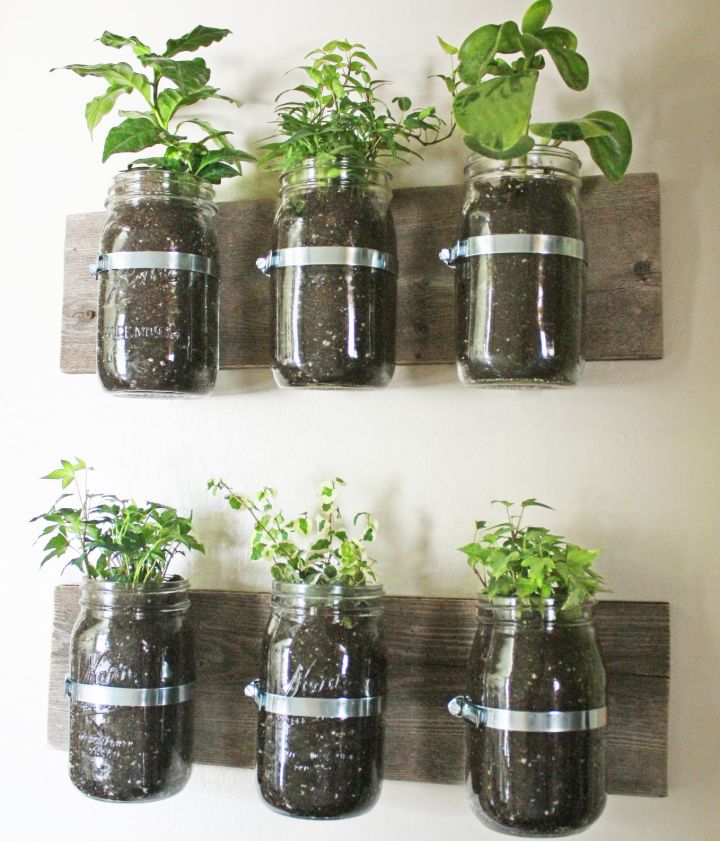 Glass pots can be a bit tricky to work with. So make sure your planters are tightly secured to the wall. You can also play safe and place them on the shelves.
38. Self Watering Wall Planters
Self watering planters are a boon for the forgetful gardener. You can dress up your walls with greenery and without having to worry about watering them.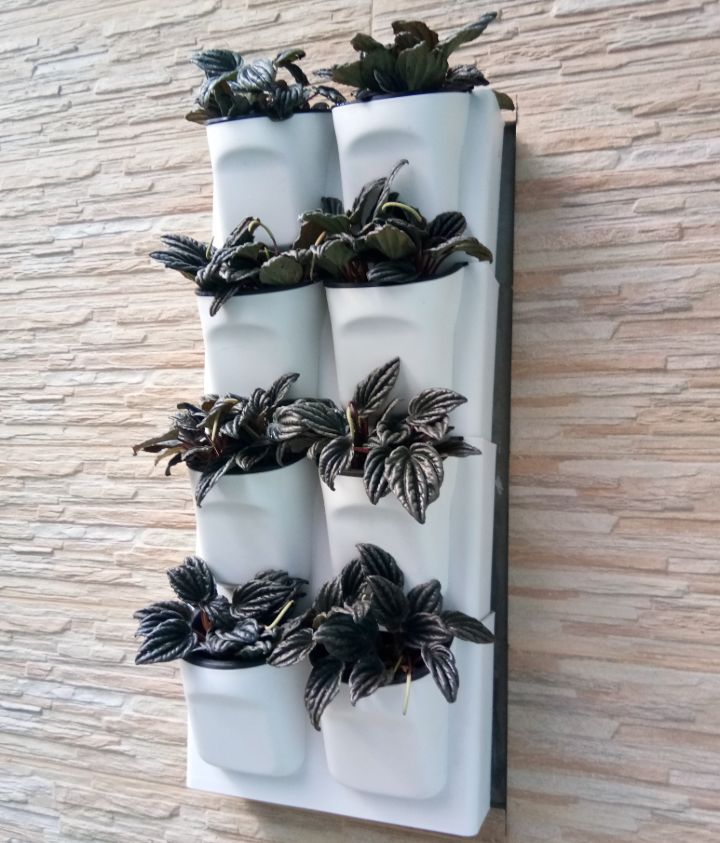 They come with a water reservoir at the bottom to keep the soil moist for weeks.
Idea: Looking for something inexpensive? Opt for watering globes that store water for five to six days.
39. Gold Wall Planter
You will not regret a piece of gold decor, and this gilded planter proves why. Gold is classy and evergreen. Plus, gold planters will make your plants stand out.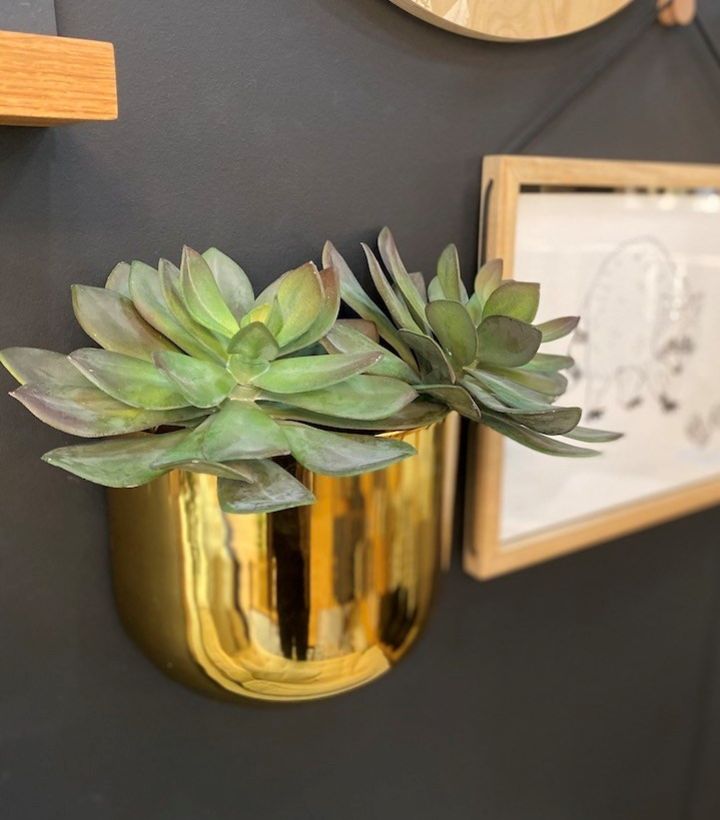 Get simple round or rectangular gold planters for your wall and they will give it that undeniable wow factor.
40. Hexagon Wall Planter
They are chic, modern, and offbeat. Hexagonal planters definitely deserve a wall in your office, kitchen, or living room.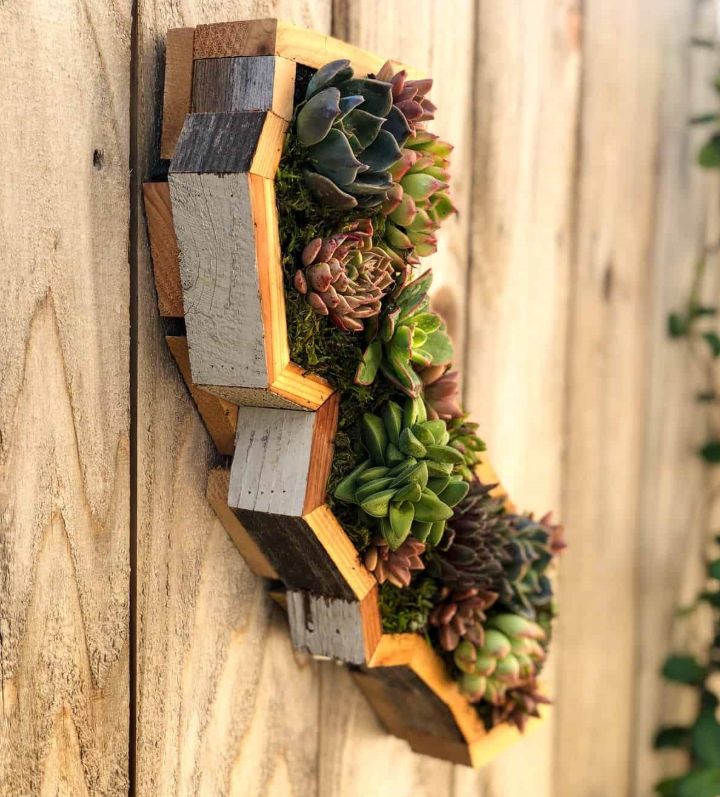 Plant succulents, air plants, or cacti in them, and your walls won't need any other decoration.
41. Rock Wall Planter
Ever considered attaching a rock planter to your walls? Well, if you haven't yet, check out this example.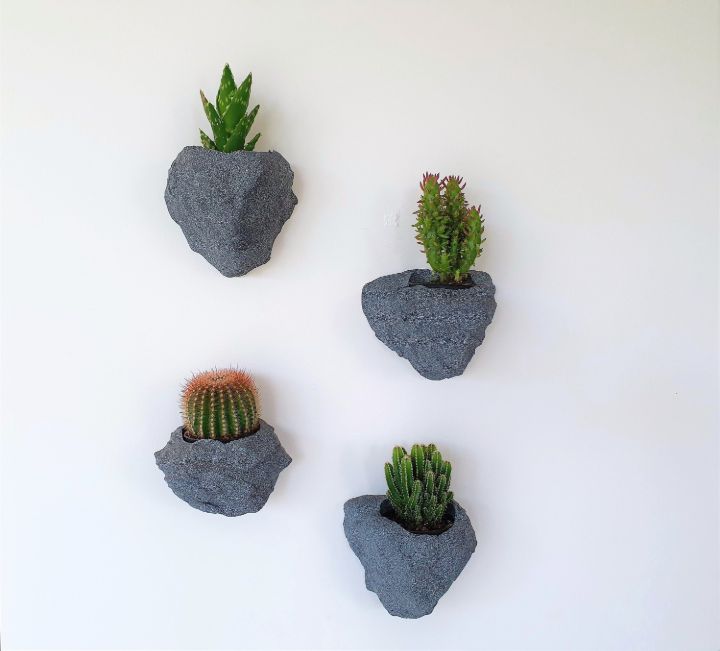 Rock planters are the new fad in the gardening world. They look both modern and natural, and generally come with a built-in hook that creates a floating flower pot feel.
42. Iron Wall Planter
Iron is durable, sturdy, and stylish to look at. And iron planters are a step ahead because they can turn any wall from blah to brilliant in seconds.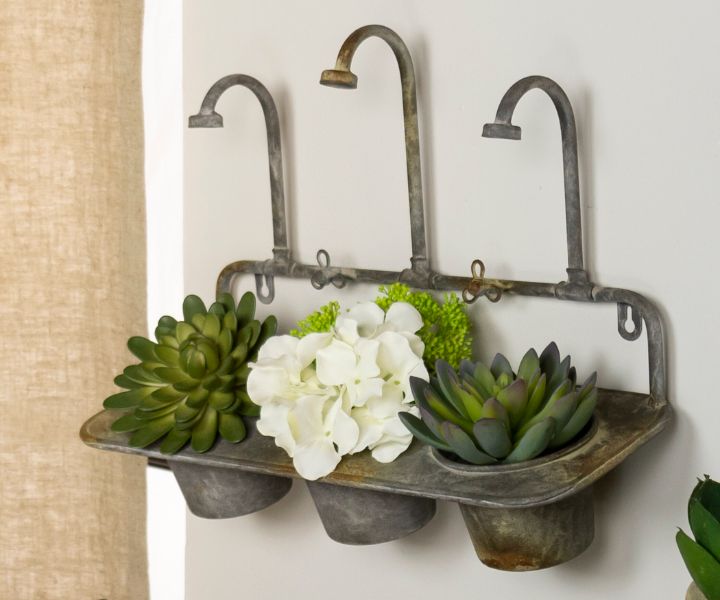 Use iron planters to accent an entranceway or create a tropical setting by mounting them on an exterior wall or fence.
43. Decorative Wall Planters
Add a subtle artistic flair to your space with classy planters shaped like birds, animals, and even Greek gods and goddess heads.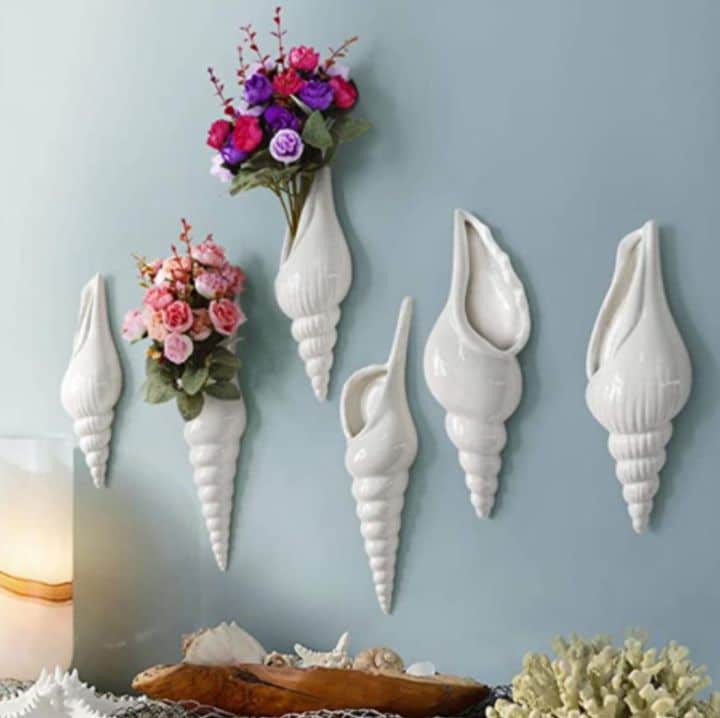 With these decorative planters gracing your space, you don't need anything else.
44. Wrought Iron Wall Planter
Wrought iron planters are a great alternative for everyday plastic and terracotta ones. They come in different patterns and designs, so you are thoroughly spoilt for choice.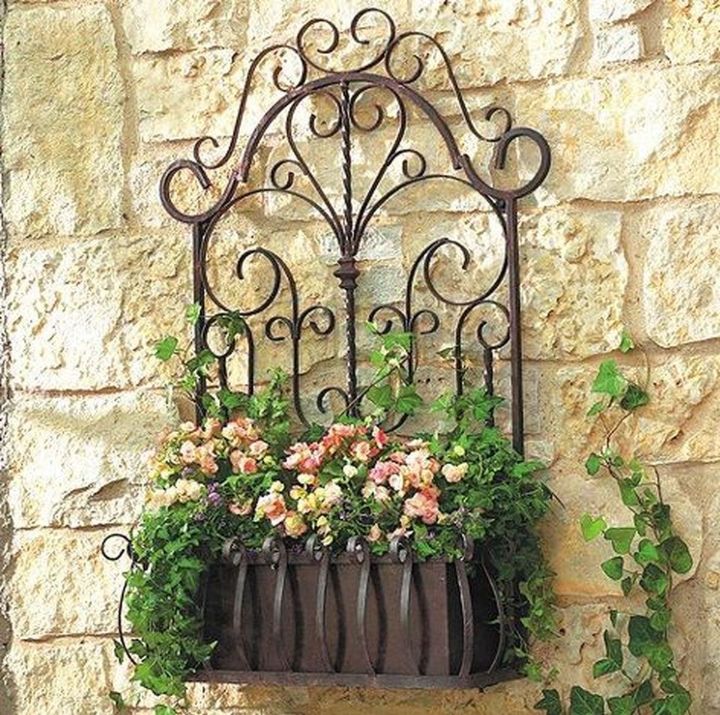 These planters are perfect for winding and trailing plants as well as classic succulents and seasonal flowers.
45. Large Wall Planter
Large planters work both indoors and outdoors. You can use them to grow multiple plants in just one planter. Or cover an entire facade with them.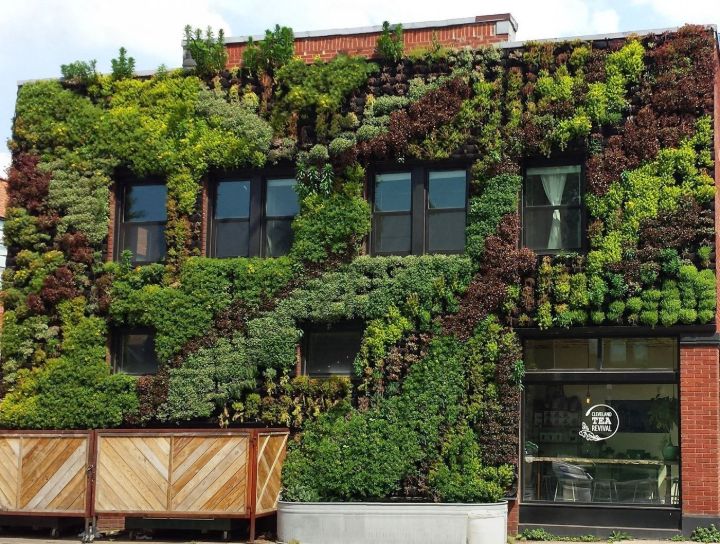 Which means you can now pick a few extra plants without worrying about where to plant them.
Large planters equals heavy planters. And that means a lot of weight on your wall. Make sure your wall is sturdy enough to hold them.
Wall Planter Frequently Asked Questions
A wall planter is a great way to add greenery to your space even if you have a tiny yard or no gardening space at all. And because they come in different shapes and styles, there's no dearth of options.
They are also super easy to use and maintain. But before you go about nailing planters to your walls, read these FAQs that may answer some of the questions you have.
Going Green: Wall Planter Edition
There are many ways to go green. While refusing to use single-use plastic is one, another is introducing plants to your walls.
Wall planters will help add the right amount of greenery to your space, uplift your spirits, purify the air around you, and also alleviate headaches and fatigue.
In return, you will only need to water and prune your plants now and then.
Planters are also the perfect solution for the space-modest gardeners and the apartment-dwellers. They don't take up much space and time. Plus, you can grow flowering plants, herbs, and even veggies in them.
To conclude, while paintings and photographs are cool, it's time to add plants to your walls.
Have you had the time to go green with wall planters? Do let us know which types you've featured on your walls.
And if you have any questions about planters, ask us in the comments section below and we'll get back to you right away.
Happy gardening in wall planters!