Self watering plants?! Have plants started fetching water for themselves now? (Imagine how much trouble that would save us.) Sadly, no.
Gardeners still have to take care of the water needs of their plants. But if your water-forgetfulness or vacay plans often get in the way, we have just the solution for you—self watering plants.
These are simply smart planters and pots doing the watering work for you. They don't just keep your plants topped up with the right amount of moisture but are also water-wise and easy to get started on.
This article lists the best self watering plants ideas for you. From fancy, modern planters to watering globes and wicks, you'll find something that fits your space and style.
For the DIYer in you, there's a step-by-step guide to building a self watering system for your plants.
Alright, let's begin!
Self Watering Plants Explained
You might wonder what exactly self watering plants are and how they work.
Well, they're planters and containers, but not the ordinary kind. They come with a reservoir that stores water for thirsty plants.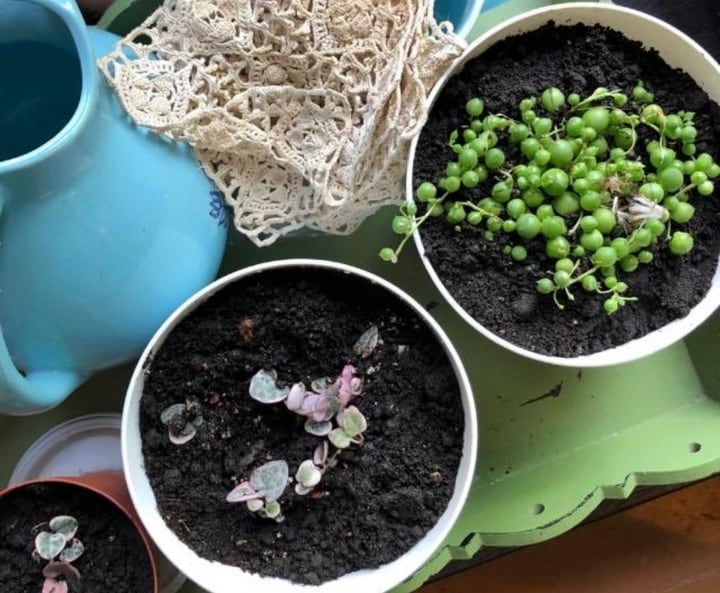 There are different types of planters that work on this system. Most come with double-layered pots, one to grow plants in, the other to store water.
You will also see some water globes that slowly drip water into the soil. And of course, the old-school wicking system that helps keep the soil moist.
There's truly no dearth of choice when it comes to self watering plants options.
Best Self Watering Plants Ideas
Whether you're cursed with an awfully black thumb, or your vacay plans are often a threat to your plants, fret not.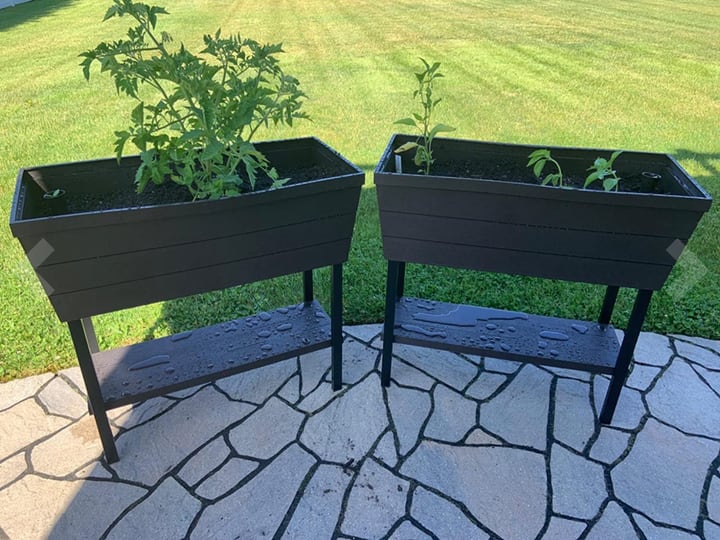 These self watering planters are here to wipe that worry off your brow. Take a look.
1. Simple Water Planter
A smart planter with a raised bed is all you need to make your gardening journey smooth like butter.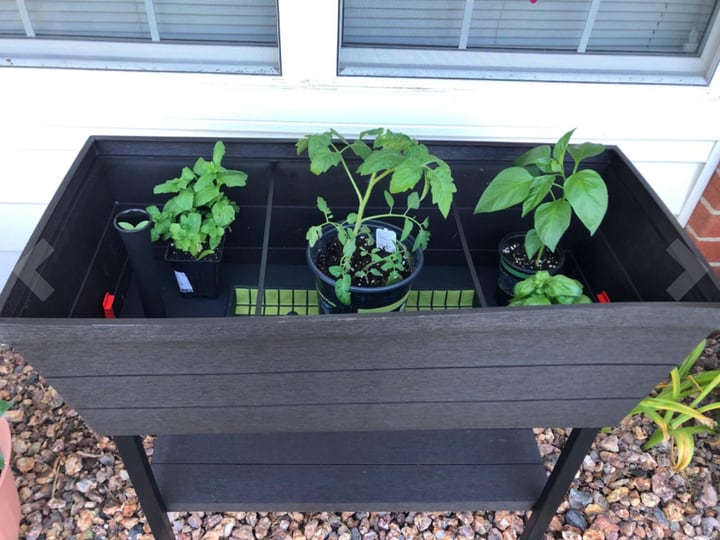 It's simple to use and assemble. It comes with a water reservoir to keep the soil moist and a water level indicator.
Not to forget that with the elevated bed, there's no need for crouching or kneeling.
2. Watering Container
Do you spend weekends with friends and family, far from home? Well then, a watering container is for you.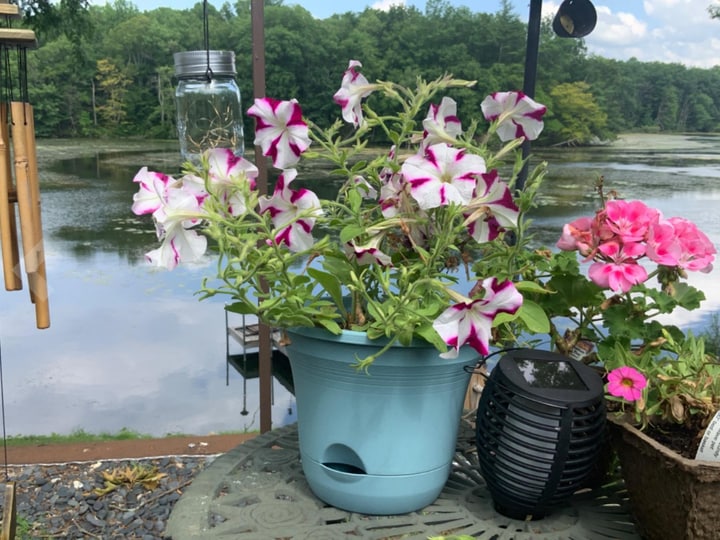 There's a water reservoir at the bottom of the container, allowing the soil to draw moisture naturally. You can go without watering your plants for a week.
Tip: The planter is compact. You can keep it indoors to add greenery to your living space.
3. Self Watering Pots
Here's another great way to save time and energy on watering your plants every day. These pots store enough water for as many as 10 days.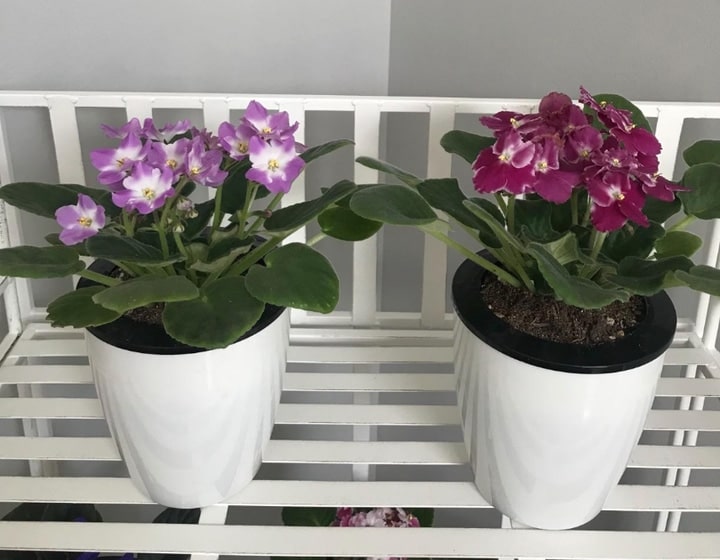 They are light, portable, and attractive to look at. Ornamental and flowering houseplants will look lovely in these pots.
4. Watering Globe for Pots
If you don't want to invest a lot in smart pots, watering globes can be the answer.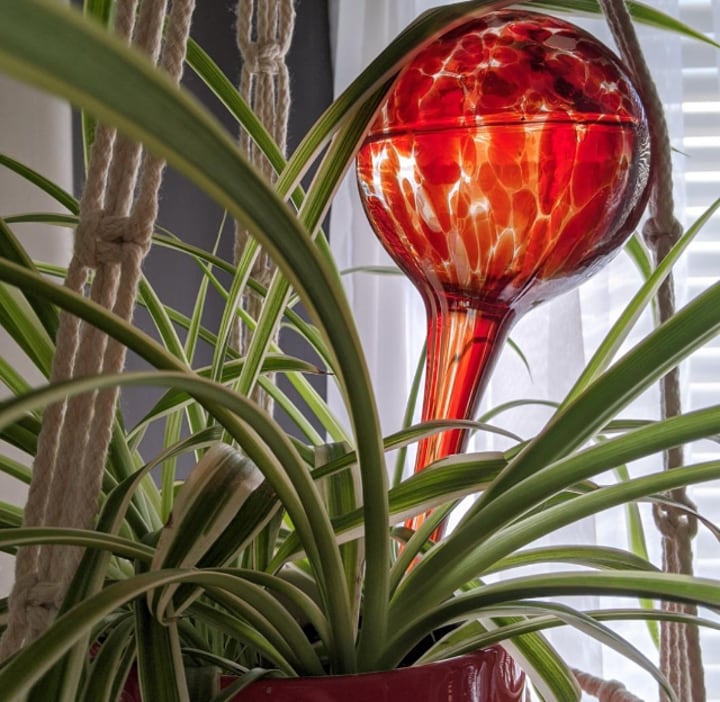 These globes are refillable, reusable, and quite fancy. They release water slowly into the soil so you don't even have to worry about overwatering your plants.
5. Auto Watering Planters
Another way to keep your plants from withering is by using auto-watering planters. They come with a reservoir at their base to keep the soil moist.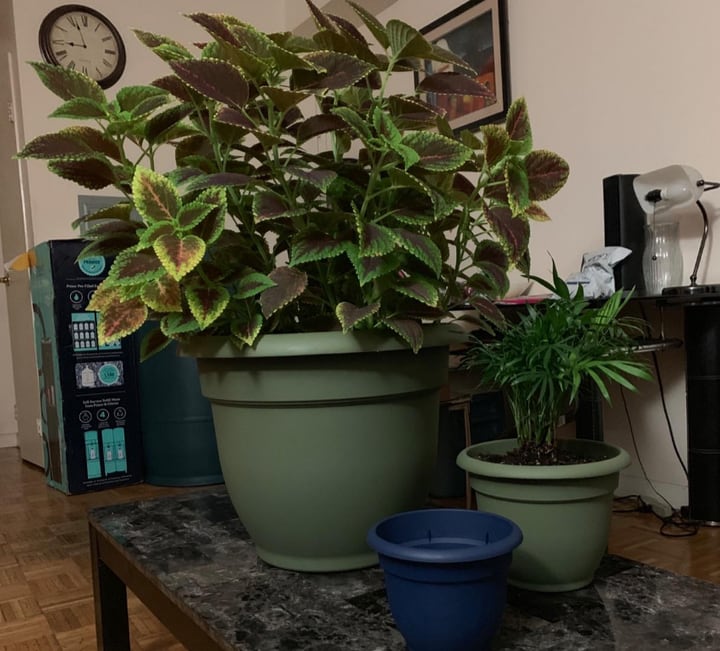 Tip: Go for varied pot sizes and colors for a quirky and eye-catching green corner.
6. Bottle Plant Waterer
As the name suggests, this self-watering solution looks like an upturned water bottle. It features a valve you can control to check the amount of water your plants get.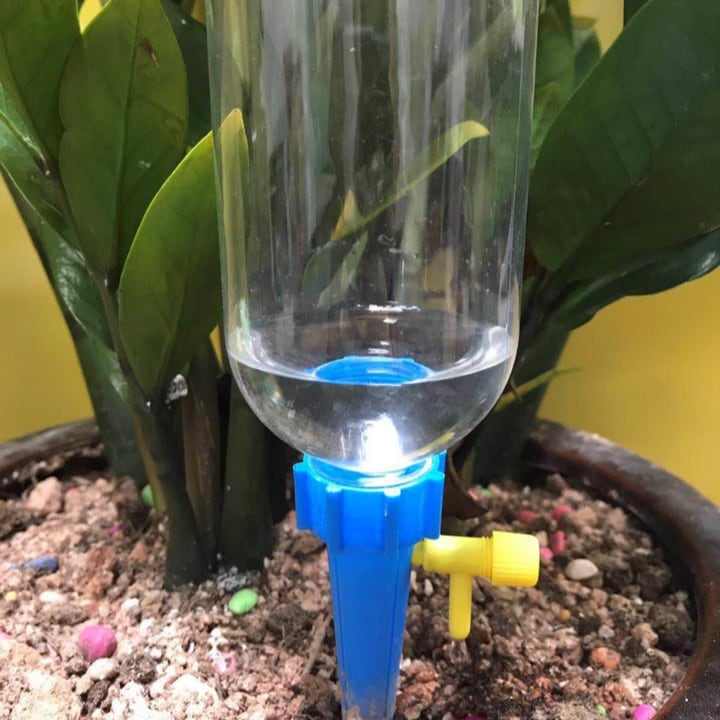 You can use it to water your houseplants, hanging baskets, railing planters, and more.
7. Self Watering Planter Boxes
Railing planters can add a punch of color to your patio or balcony. And now, you don't even have to worry about the upkeep of your plants. Your planter will take care of it.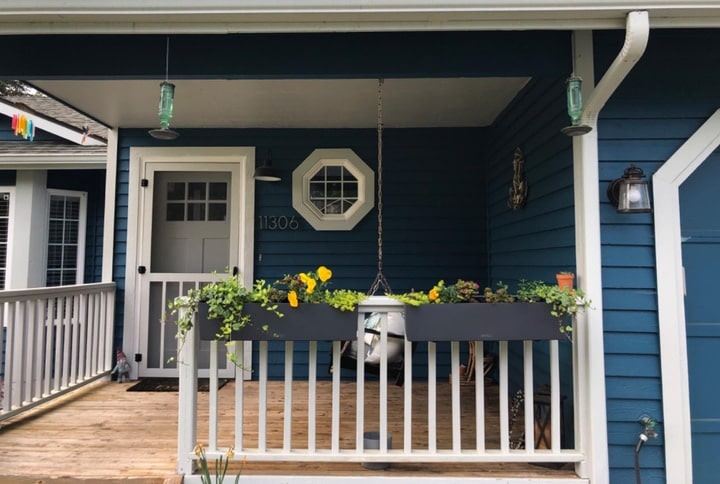 Simply mount your self watering planter over the railing and grow plants of your choice in it. You can make it ornamental with colorful blooms. Or you can grow herbs in it for your kitchen.
8. Self Watering Globes
Now here's an inexpensive, easy-to-use, and cute self-watering plant idea. The tiny bird-shaped watering globes can store water for two weeks.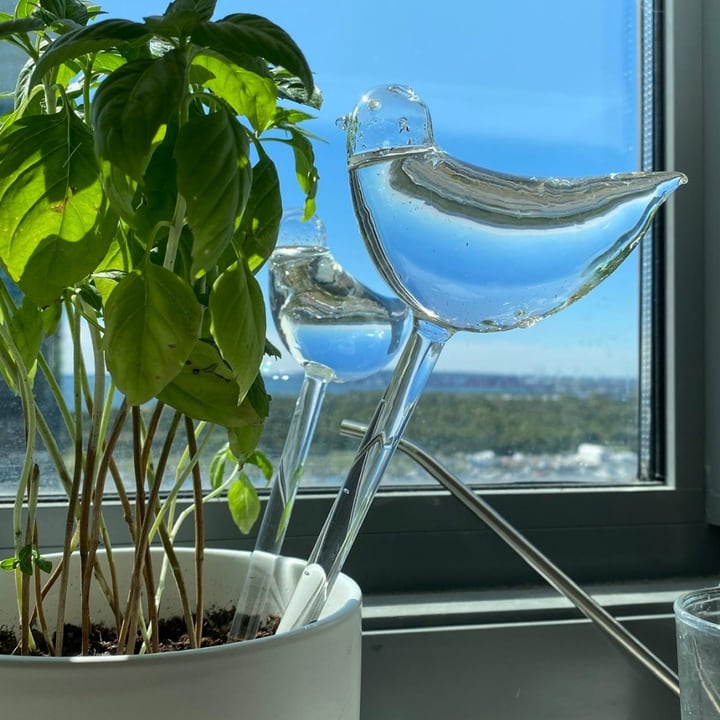 Simply fill the bulbs with water, insert them into the soil, and forget about your plants for weeks.
Tip: Wrap the spout of the bulb with a cotton cloth to prevent clogging or water from flowing too fast.
9. Plain Terracotta Watering Spikes
You can also turn your old and useless bottles into self-watering plants. How? With terracotta watering spikes. They are designed to securely hold long-necked bottles.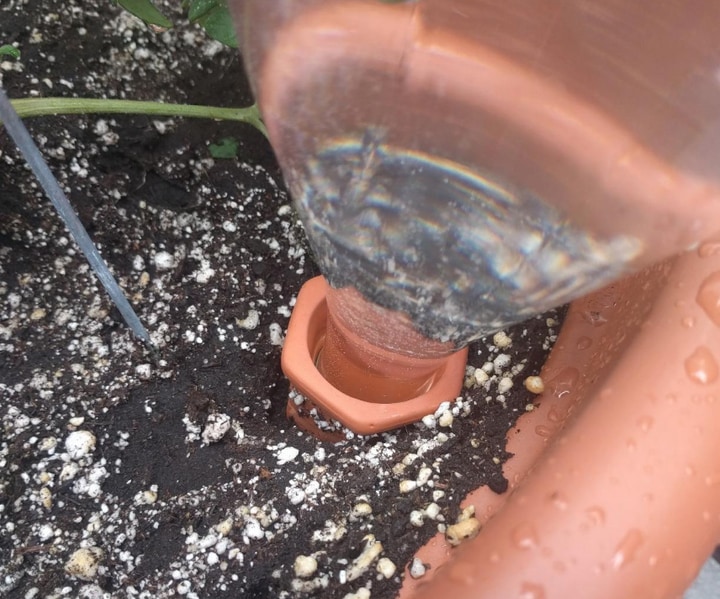 Fill the bottles with water, attach terracotta spikes on top, and push them into the soil. The spikes will provide a slow drip of water to the roots and keep the soil moist.
10. Self Watering Kitty Bulbs
These self watering bulbs shaped like adorable kitties are sure to catch the eye. They are easy-to-use and ideal for small house plants. Fill them with water and carefully insert them into your pots. That's all.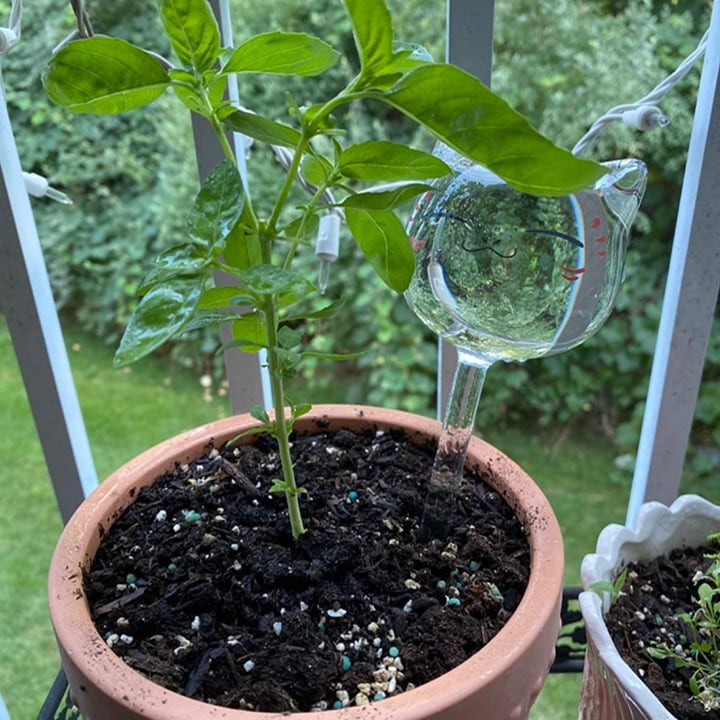 Feel free to leave your plants in the care of your kitties. They know exactly how much water the plants will need.
11. Self Watering Plants Wick Watering
Wick watering can let you off the hook if you forget to water your plants or go out of town often. But how does it work?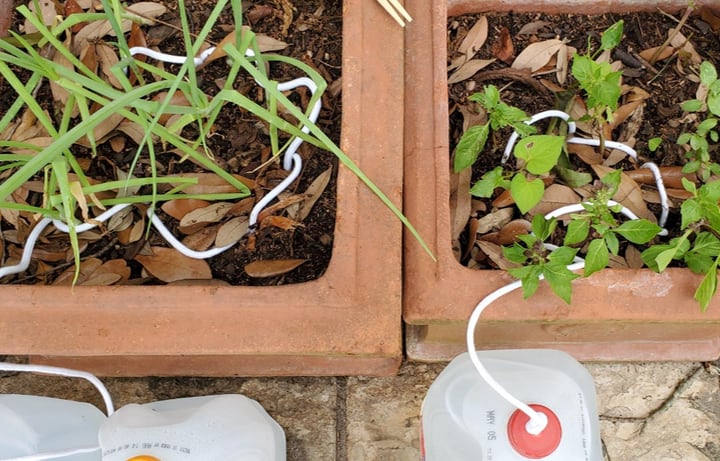 It's quite simple. You'll need to put one end of the cotton wick into your planter and the other into a water source. The wick will slowly suck water and keep your plants hydrated.
Good to know: The process is similar to capillary action, something that plants do naturally through their roots and stems.
12. Self Watering Hanging Planters
Hanging planters can dress up your fences, balcony roof, patio, and even indoors. Plus this time, you don't have to worry about watering them.
Opt for the ones that come with detachable water-storage trays, like in the image above. The planter will keep your plants well-watered and also prevent root rot.
13. Self Watering Hanging Baskets
Self-watering plants also come in the shape of attractive, double-layered baskets. The inner basket is a drainer that allows excess water to get through. The outer basket acts as a water reservoir.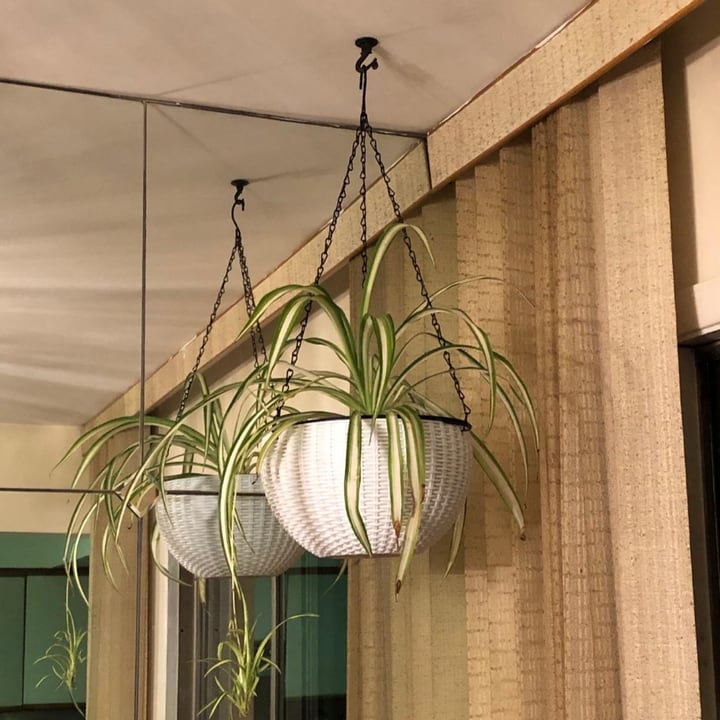 Idea: Plant trailers like pothos, spider plant, or string of pearls in your basket for a nice green waterfall effect.
14. Self Watering Indoor Planters
Here's a sleek and modern self-watering planter idea for your house. The planter comes with a reservoir at its base for the roots to absorb water from.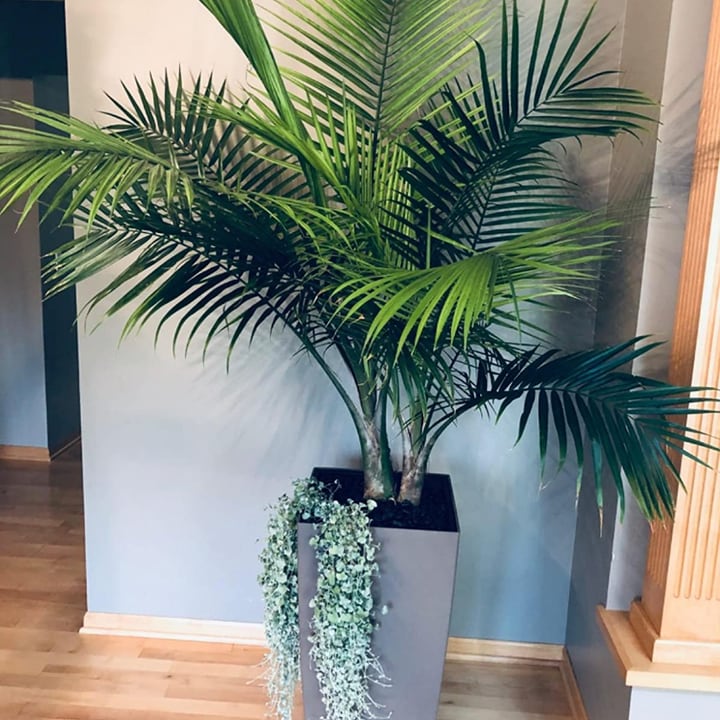 It also has a water-level indicator so you know exactly when your reservoir needs to be refilled. A blessing for the forgetful gardener, truly.
15. Self Watering Outdoor Planters
Looking for a classy self watering planter for your entryway, porch, or patio? Here's one.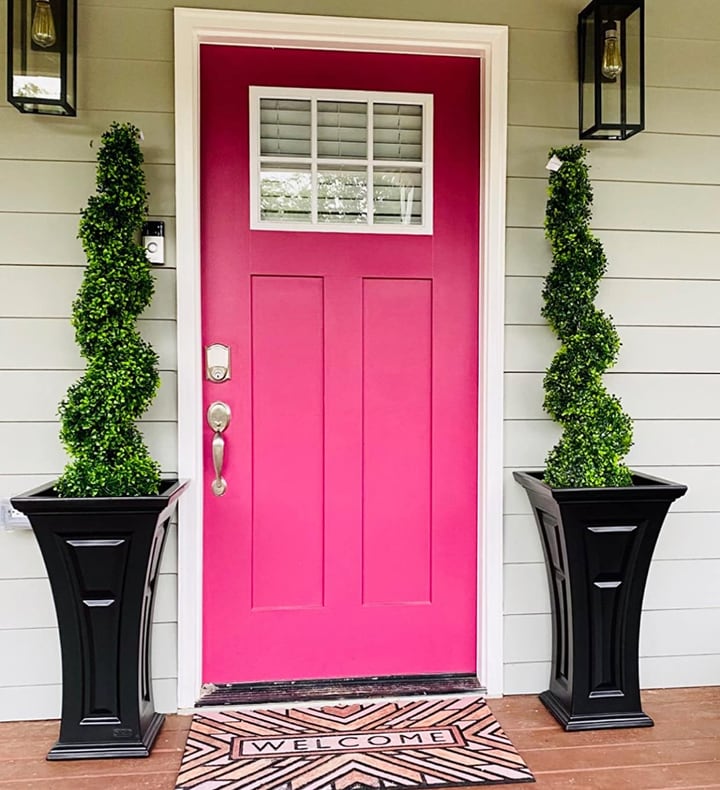 The planter is quite versatile. You can use it for what it is—a self watering planter. Or you can keep small potted plants in it with the adjustable liner.
16. Terracotta Watering Spikes with Hose
An easy approach towards self-watering plants is using a watering spike with a hose. How does it work?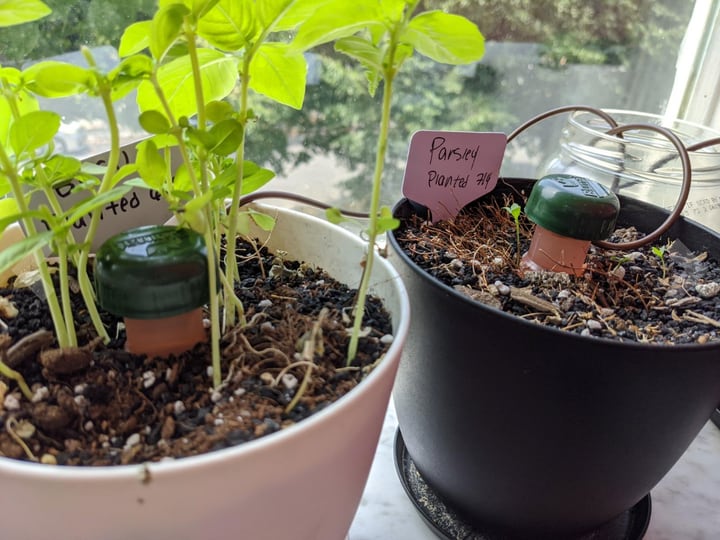 You'll need to push the spike into the soil. Put the hose at the bottom of your water container. As the soil dries, the spike will gradually start drawing water as needed.
17. Self Watering Mushroom Bulbs
Seen mushrooms popping up in your planters? Don't worry, they're not wild or poisonous. They're there to water your plants for you.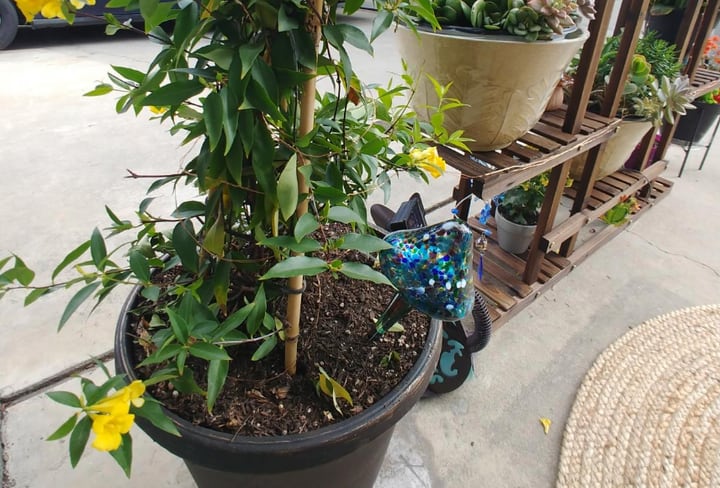 These decorative, self-watering mushrooms are made of glass. Fill them with water, flip, and press them into the soil. Easy-breezy!
18. Self Watering Wicking Pots
Transparent pots that wick water upwards from a reservoir can be your go-to option for two reasons.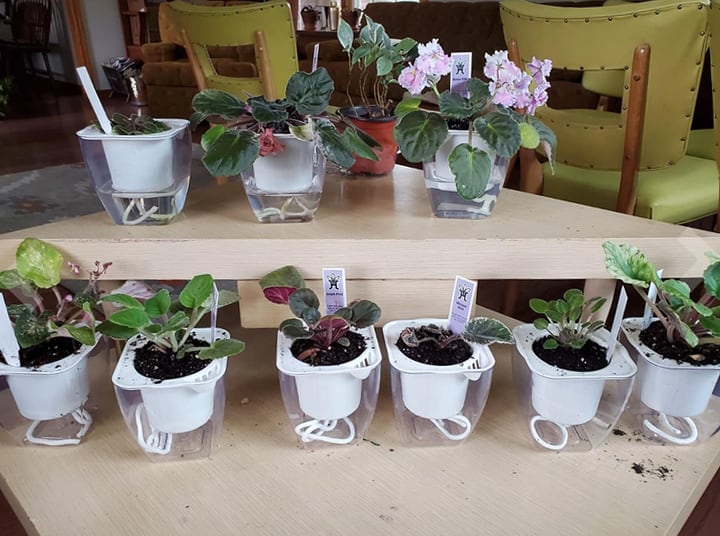 One, wicking pots are perfect for finicky houseplants that need to be watered regularly. And two, you'll be able to see the water level inside the glass pot. Win-win!
19. Self Watering Herb Planter
If you are a herb garden sort of a person but also find it difficult to keep your herbs alive, we have just the thing for you, a rectangular herb planter.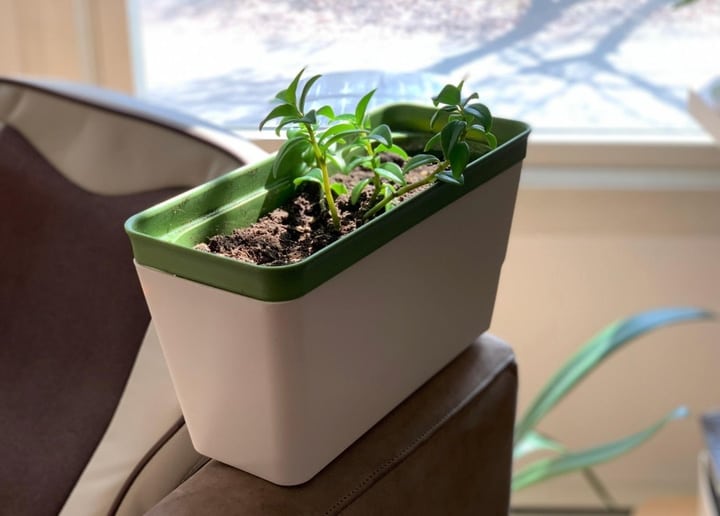 This self watering herb planter sits on top of a water storage box and absorbs water through a cotton rope. Simply plant your herbs in it, sit back, and watch them grow.
20. Wine Bottle Plant Waterer
Upcycle old wine bottles as self watering plants. It's almost effortless and saves both time and money.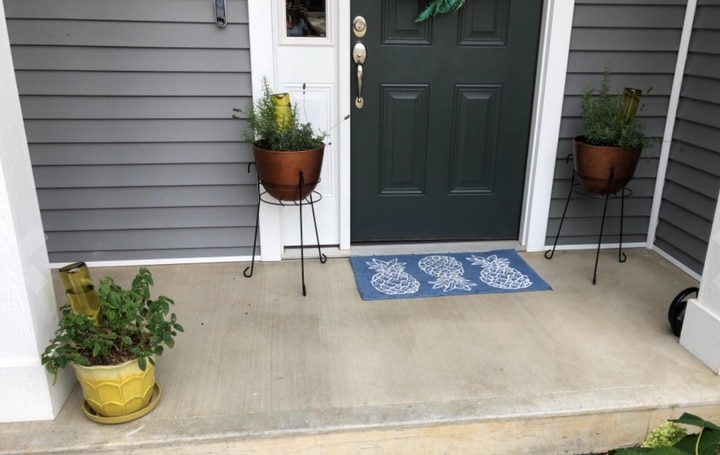 Fill the bottles with water, attach them to clay watering spikes and insert them in your potted plants.
Tip: Since clay watering spikes are fragile, better dig a hole in the soil before pushing them into the soil.
21. Large Self Watering Pots
For plants with a deep root system, it's best to opt for large pots. And because you don't want to fret over your plant's upkeep, why not give a try to large self-watering planters?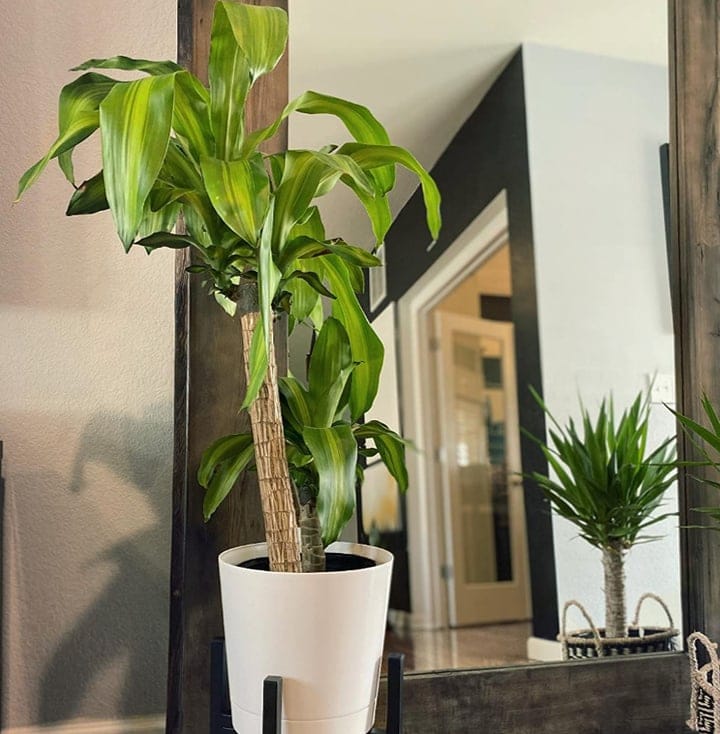 They come with a built-in tray to keep your plants well-watered. Plus, you can keep them indoors without worrying about water leaking into the floor.
22. Self Watering Bottle Garden
In the mood for a DIY project? Create an easy-to-maintain, self watering container garden on your balcony, porch, or patio. You'll need only some water bottles for the project.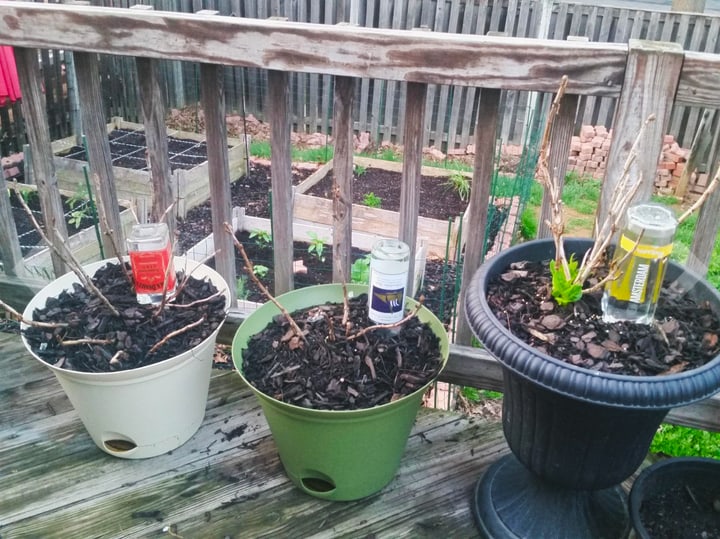 Punch a hole the size of a pea in the cap of the bottle. Then wrap a porous cloth around the hole to keep it from clogging and insert it in your planter. Or simply get a spike from your local garden center.
23. Self Watering Vertical Garden
For those short on gardening space, here's a vertical self-watering planter idea for you. You can grow herbs, veggies, flowers, and much more in it. Just water the top portion and you're done.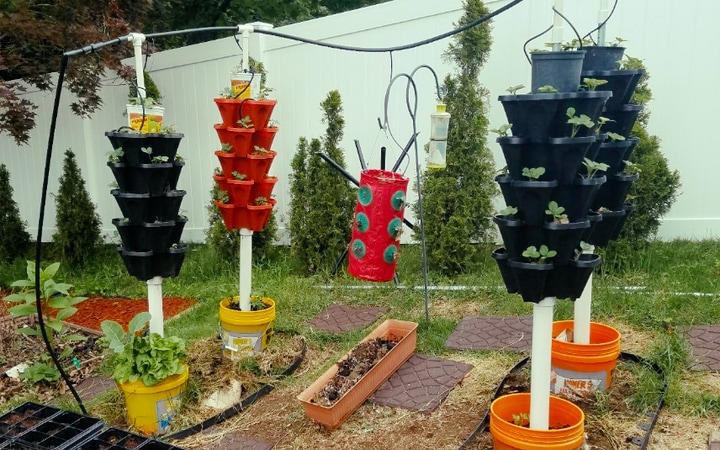 The planter comes with a water reservoir on each layer, plus, a bonus drip tray at the bottom. What more do you need?
24. Bottom Watering Planters
Looking for something easy and inconspicuous? Here's one. The planter looks just like an ordinary ceramic plant pot but has an inbuilt reservoir for water.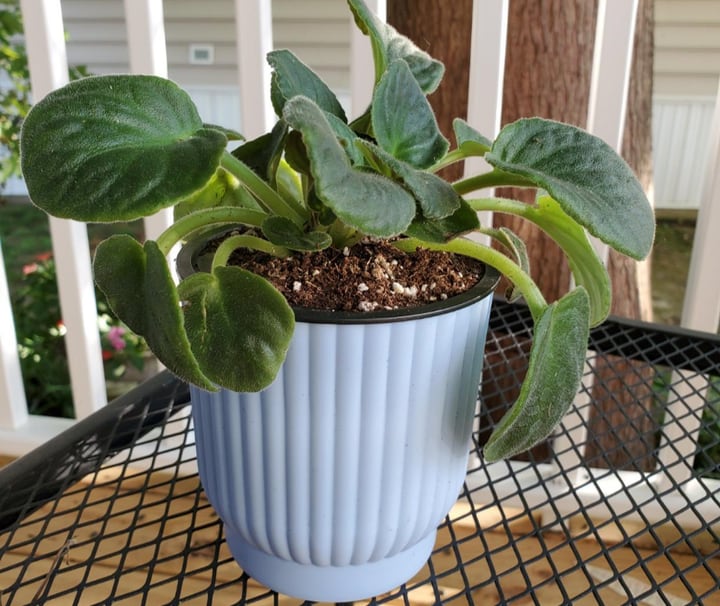 No one will know your plants are self-watering. Plus, you don't even have to worry about getting drips on the floor or carpet.
25. Watering Tray
Did you know seeds can water themselves, too? Well, yes they can, with watering trays like in the image below.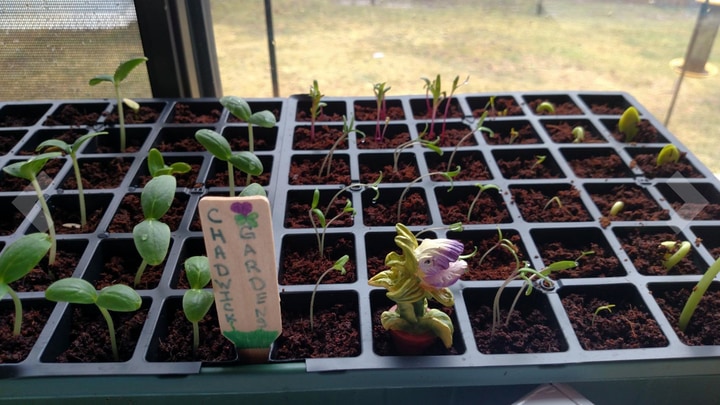 These come with matting to help retain water and also distribute it evenly to all seedlings. Grow seeds, transplant them, then reuse the tray for the next bunch!
Self Watering Plants DIY Guide
You can hope for your friendly neighbors to keep your plants watered when you're out vacating.
Or, you can give a go to this easy water-wicking DIY, and rest assured your plants are enjoying your absence, too.
You'll need a thick cotton string and a water container for this DIY.
Here's a quick guide on how to create a self-watering system for plants.
Step 1 – Cut the String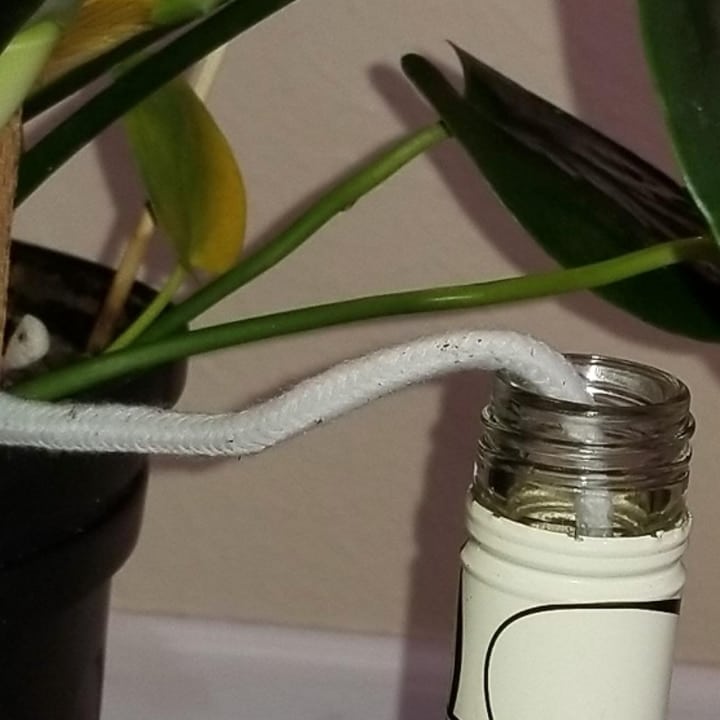 How long or short? Depends on how far you keep the water reservoir from your plants. A decent length would be about 20cm.
Cut a string for each plant that needs watering.
Tip: Use thick cotton or nylon strings so that the water is easily absorbed.
Step 2 – Place the String in Soil and Water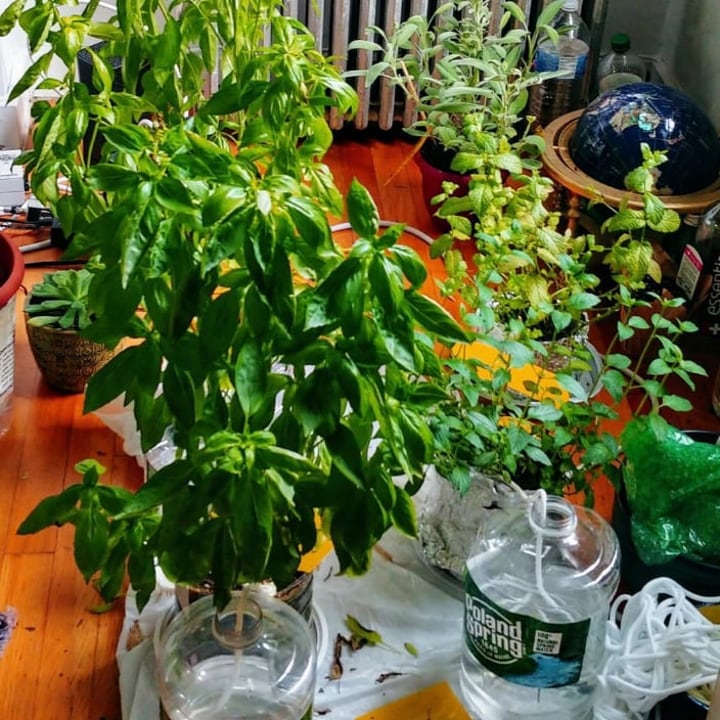 One end of the string will go several inches under the soil. The other end will be placed in the water container.
You can use one container for all your plants, or go for a separate one for each.
Step 3 – Add Water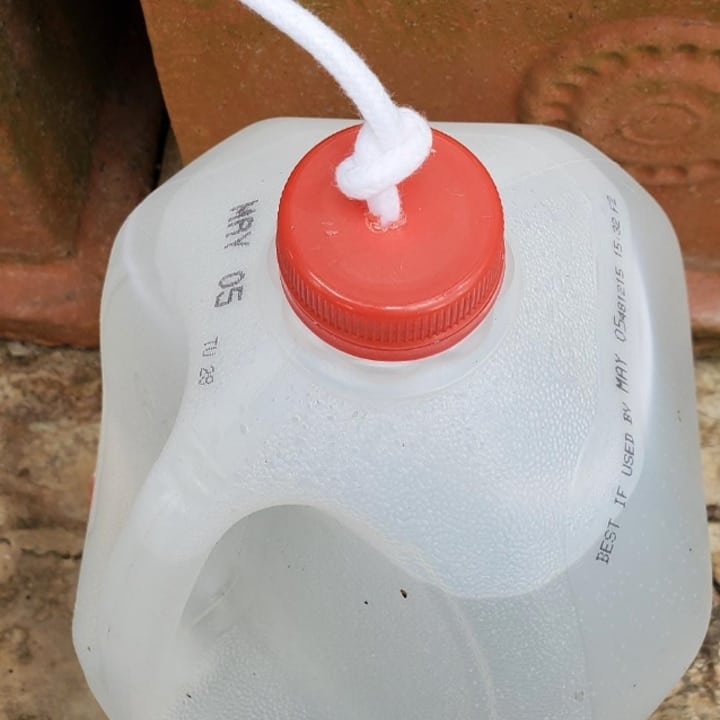 Fill the container with water and also water your plants to start the process.
Once the soil begins to dry, the cotton strings will automatically start absorbing water from the container to keep your plants hydrated.
Make sure you don't forget to refill your container when the water level goes down.
Self Water Plants: Common Questions
Convenient, water-efficient, and time-saving. Yes, self-watering plants are all of that and more. There aren't many reasons why you should run away from them.
Sill, if you have your doubts, maybe these answers will help clear them.
Let Your Plants Look After Themselves!
Plant parents don't have to babysit their little green babies day in and day out. Plants are now capable of looking after themselves.
Self-watering plants are an easy solution for those who have trouble committing to a regular watering schedule. Or the frequent nomads who also have a penchant for gardening.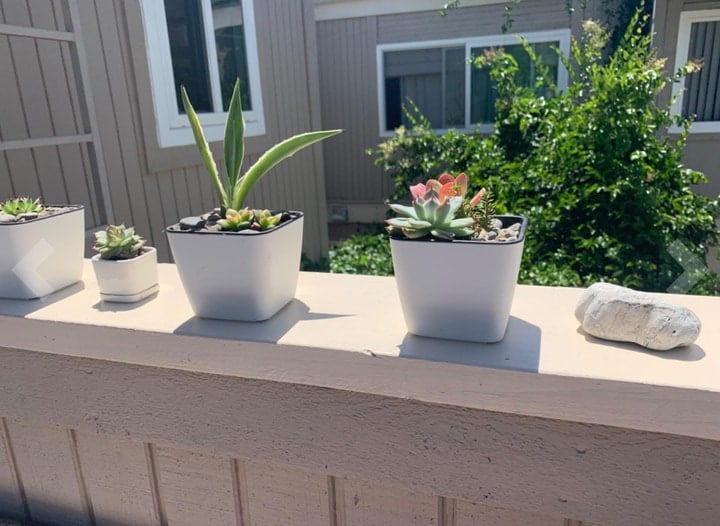 But there are many more benefits of using self watering planters. You can save water, do without fertilizing your plants, and get gardening even if you're space modest.
Time to get started on a self watering journey, for yourself and your plants. Got more questions about these awesome self-sufficient plants? We're all ears.
Happy carefree gardening!