People have been gardening since, well, the original garden–Eden. So, it's easy to assume that there's nothing fun or new about cultivation. But if you haven't heard about the craze of the raised garden bed, you're missing out.
As the name suggests, this type of gardening involves placing a flower bed in a container. It is literally raised off of the ground. It is different from a planter that has a bottom. There are lots of pluses to this type of planting. For one, green-thumb enthusiasts can draw out their planting season since the soil in this kind of gardening warms quicker than the conventional garden.
Also, in springtime, growers can start planting crops such as peas or brassica members much earlier than those planted in the ground. Then there's the fact that you can garden anywhere in your yard, not just places where the soil is naturally suitable.
So, if you're ready to start your very own garden bed and see the benefits first hand, keep reading! We have curated a list of some of our most beloved garden bed designs for you below.
Raised Garden Bed Materials That Won't Break the Bank
Raised garden beds are great for so many reasons. They keep pests out, they're easier on your back, and they are striking to look at. One of our favorite things about them is that they're so easy to DIY.
We have plans for you to use to build your own later. However, if you may be wondering which materials are best for your new raised garden bed. Finding suitable materials is probably the most difficult part of the whole process. So, don't rush the process.
To make this easier, we have done the research, tested and tried each option, and now we are excited to share with you the absolute best of the best when it comes to materials. Here are a few things you need to consider if you hope for the best results on your next project:
Choose the Right Soil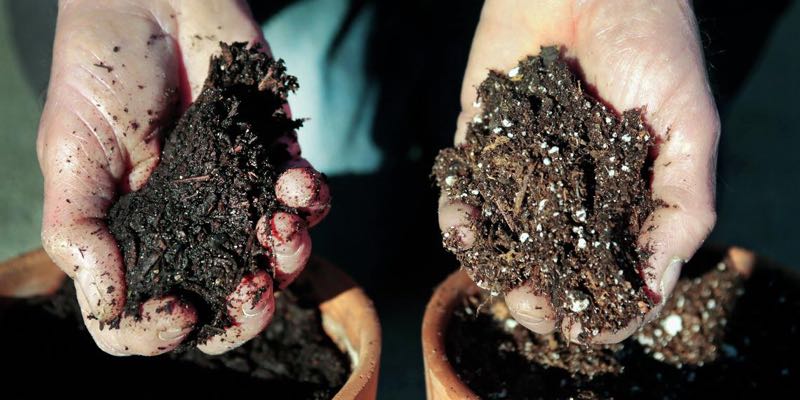 Choosing the right soil for your raised garden bed is arguably half the battle. After all, the whole purpose is to keep your garden alive, right? Since raised garden beds are different in a natural sense when compared to traditional options, it makes sense that you would need to pay attention to the soil you use, as well.
In all of our trial and error, we have found that the best soil mixtures contain 60% topsoil, 30% compost, and 10% potting soil. Because of spacing and regular use of compost, this type of gardening results in a higher yield compared to the conventional row gardening. So, when you're designing your bed make sure that you're using a similar blend.
Build a Sturdy Frame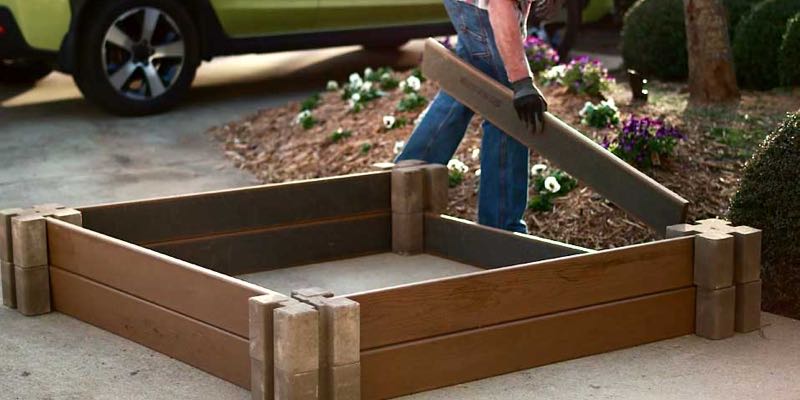 The frame around your raised garden bed sets the foundation for all the plants inside of it. Build a flimsy frame, and all your work could come crashing down with the first heavy rain. That is why it is so important to use high-quality, durable materials when building. This way, you can admire and cultivate your garden for years and years to come.
Believe it or not, this can be done on a budget. You can achieve an affordable raised garden bed for under 20 bucks! To get started, grab these supplies:
A cordless drill that has predrilling bits
Two 2 x 8 x 8 foot boards of rot-resistant wood like pine, cedar, or redwood
4 wooden chunks of a 2×4 cut to the width of the board for your garden bed
Appx. outdoor wood screws that are at least 2.5″ (longer is fine)
Don't Be Afraid to Get Creative
Building a garden bed might feel like a science project, but that doesn't mean it has to be boring. Some of our favorite raised garden beds have little bits of their owner's creativity and personality all throughout them. You can paint the outside of them, or add little garden decorations inside of them to get that quirky look you're going for.
Take a few minutes to jot down some of your thoughts on how you want your unique bed to look and then compare and contrast to the design ideas below.
Raised Garden Bed Designs and Ideas
If you are planning to create your own garden bed instead of purchasing one already created, take a closer look at the following designs. Nonetheless, remember it is always up to you on how you will style your garden!
1. Simple Raised Garden Bed
Sometimes, simple is more. A narrow or tight backyard is not an issue with this 2×2 raised garden bed. This style is highly suitable for flowers or herbs.
This simple, wooden bed is perfect for a small space or someone just starting out. As you go along, you can add extra boxes to make a bigger garden. If you're not sure where to get started, you might want to choose a kit instead. A kit will arrive with all of the pieces needed.
2. Raised Wheel Garden Bed
If you are searching for something unique, choose the raised wheel garden bed. The design definitely adds character to your backyard.
The interesting thing about this wheel design is that it splits the garden bed into six sections. This allows cultivators to grow more than one type of green thing in one central bed.
3. Raised Herb Garden Bed
Herb lovers will surely treasure this garden bed. It is portable and able to withstand different weather. Below you can even store gardening tools.
Herb garden kits are popular purchases, but where will you put the herbs as the grow? Having a stationary place to put each of these individual herbs will help with storage and the overall look.
4. Multi-level Garden Planter
With the multi-level planter, you can keep stray animals from getting to your precious plants. Aside from that, it allows summer plants on the upper level to bask in the sun while providing shade to cool-season plants on its lower layer.
If you have limited space, multi-level planters help plant "grow up" instead of out. Within just a square foot or less of space, this type of planter is able to store a huge heaping of herbs or plants. These kinds of garden beds look great against a wall. They are technically 'planters,' so they can be used indoor or outside.
5. Pyramid Raised Garden Bed
A Pyramid raised garden bed allows hassle-free harvesting. Besides this, the design is smooth to maintain. The best thing about a pyramid set-up is that you have various sizes of boxes. So, if you want to grow a lot more of one thing and a lot of another, a pyramid structured holder might just be the perfect piece to begin with.
6. Corner Tiered Raised Garden Bed
The corner tiered raised garden bed is ideal for those planning to grow plants on their deck. Since it has several tiers, you can choose to grow a variety of flowers or plants.
Although it's similar to a pyramid, it differs in the fact that it can be placed easily in a corner. We love this for a patio garden or any place where two walls meet. We also think this kind of planter works well for larger growing things. So, if you're going this route with your raised garden bed, make sure you have enough space.
7. Raised Garden Bed with Built-in Stools
A raised garden bed with built-in stools is just perfect for anyone who loves to garden but doesn't like to kneel on the ground or lean over for extended periods of time. This makes it super functional as well as interesting to look at.
Although at first glance, this might seem like a more complicated design to attempt, it only requires a few extra boards and nails to create this type of look. You could even add seating to a different shape is square isn't your thing.
8. Medium Raised Wood Planter
Do you live in a place that doesn't have room for gardening? apartment or condominium residents benefit highly from medium raised wood garden beds. It is also a complimentary piece for anyone's patio or deck. This is actually more of a planter, but it works the same.
Placement of such boxes would greatly depend on where you get the best sunlight and what kinds of things you'll be planting inside of it. If you're planting annual crops at the end of a growing season, this simple bed might be a hit.
9. Raised Garden Square Foot Grid Bed
Do you want to grow a lot of different plants and need a ton of space? Try the raised garden square foot grid bed. The design is straightforward but allows for serious gardening. We love the design below.
10. Cinder Blocks Raised Garden Bed
Up until this point, all of the beds we have highlighted were crafted from wood. This isn't the only option, though. Garden enthusiasts that are not a fan of sawing, measuring, and using a power tool should consider using cinder blocks for their raised garden bed. It's as quick as just hunting for your ideal spot, even out the ground, position your blocks, and start planting!
This can be an affordable raised garden bed option since you can often find cinder blocks like the ones pictured above given away for free. Then, you'd only need to buy the soil and seeds/plants.
11. Medium 4×4 Raised Bed Garden
Vegetable growers will extremely profit from this medium 4×4 raised bed. It has a lot of room for roots to loosely grow and get a stronger grasp on the soil. Not to mention, with its size you can be sure your soil will stay in place plus endure kids or pets bumping into it.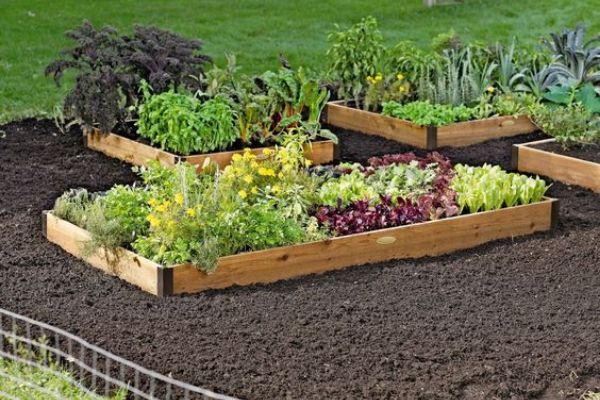 These low-maintenance beds are great for those who can't grow in the ground because of heavy clay or irrigation issue. Just keep in mind that most plants and vegetables will need at least six hours of sunlight every day. So placement is very important.
12. U-shaped Large Raised Garden Bed
Those serious with growing their organic garden should take a look at this U-shaped raised garden bed. It is massive in size and suitable for gardeners with sufficient space.
Most garden beds are square or rectangle-shaped. If you're not a traditional gardener and want something a bit different, you can look into creating a u-shaped format instead. One thing we love about this is that a gardener can kneel or sit in the middle of the U and reach all of the plants on every side.
13. Enclosed Raised Garden Bed
Are pests a problem? This enclosed garden bed is for anyone seeking something sturdy and durable. It's enclosed walls will make sure that playful pets and other critters will stay out of your garden. This protects your precious produce.
Not only are your plants protected with this type of bed, it also offers a bit of shade and protection for the gardener. Of course, this type isn't as affordable as other types of beds, but this doesn't mean you should write off the idea completely. On the contrary, building it might be the perfect project and add a bit of spice to your backyard area.
14. Used Tire Raised Garden Bed
Do you have a lot of tires lying around? Put it to good use by creating a used tire raised garden bed. Tires are a perfect barrier for plants. You can paint, decorate, and place anywhere you'd like.
This is a super-cheap option since people throw tires away every day. All it takes is a bit of dumpster diving to find the right place to grow your produce. Tire shops often have tires they are looking to get rid of as well.
15. gREENHouse Raised Garden Bed
Different seasons have varying effects on your garden. This hoop house is a great solution. The cover ensures that it protects your plants from outside damaging elements. We think this is an especially great option for windy or extremely sunny areas that might be damaging to plants at times.
It's definitely not the best looking option, so if you're wanting to focus on design over everything, you might be better off with a simpler option. But if you're needing to keep wind and water away, go for it.
DIY: How To Build A Raised Garden Bed
With regards to watering, keep in mind that raised garden beds need frequent watering compared to traditional gardening since it drains quicker. If after checking, you notice that your soil is dry one inch beneath the surface, then it is time to water your garden.
This means that in the summer season you will need to water multiple times in a day but it will still depend on the stage and type of your plant. If your schedule does not permit this, then it's best that you do deep watering instead of shallow watering a couple of times per week.
How deep should a raised garden bed be?
A raised garden bed should be at least 6 inches deep. However, many gardeners prefer to go a foot deep. The depth really depends on how deep the roots run on the things that you're planting. Usually, twelve inches is sufficient.
Do raised garden beds have a bottom?
No. Raised garden beds are different from planters that have a bottom. A raised garden bed is built from the ground up. This allows plant roots to go further and receive additional nutrients from the soil underneath if needed.
Should I put rocks at the bottom of the raised garden bed?
If you are planting things that require drainage space, you might consider putting rocks at the bottom. Extra moisture can destroy the soil. Rocks can help gardeners avoid root rot and other problems. This is especially true for delicate produce and plants.
Where do you put raised vegetable beds?
Raised vegetable beds must be placed in a sunny area. This does not have to be in a backyard although this is a common place. If the area doesn't drain well, you'll need to make a way to drain the soil. The most popular height is 11 inches so the materials you can use can hold this size.
Ultimately, once you have chosen your design and installed your raised garden bed, the most important thing to do now is have fun and enjoy your yield! We'd love to hear about your final design and what you think works best. So, feel free to comment after your build.