Why make a planted wall? Well, why not? Using plants to create a live wall can help you reinvent a boring space and bring some greenery where it's needed the most.
A plant wall can also serve other purposes. It can help you grow herbs for the kitchen, create a separator between two rooms, or serve as a backdrop for a lounge area.
In this guide, we'll share with you outdoor as well as indoor planted wall ideas to inspire you including vine walls, pallet planter walls, succulent walls, and DIY plant walls, to name only a few.
We'll also guide you through the essential steps of building your first plant wall without burning a hole in your pocket–or making a general mess of things. Green thumb not required!
But first, let's sum up the reasons why you may want to plant a living wall at home.
Why a Planted Wall?
A planted wall isn't just about the cool green looks. It has a host of other benefits that can be a welcome addition to your home.
Air Purification
Whether indoor or outdoor, a living wall can help filter and purify the air naturally. It does this continuously, and while you may not necessarily smell the difference, you will feel better in that space.
Fact: A square meter of living wall can produce 1.7 kg of oxygen annually. The exact numbers depend on the plants you use and the wall's placement.
Energy Savings
A planted wall creates a cooler climate by both absorbing and reflecting sunlight. Outside, it has a beneficial impact on the environment.
Inside, it will reduce your air conditioning costs and help create a more pleasant and breathable atmosphere during the warmer seasons.
Fire Resistance
A living wall planted in a metal or other fireproof frame creates a fire-resistant structure that can check the spread of an accidental fire.
This makes it a safety choice near kitchens or other areas that carry a higher risk of fire. A planted wall can be especially useful when integrated in high-rise or residential apartments.
Biodiversity
An outdoor living wall will provide a natural habitat for insects and small birds including local species of butterflies, bees, and insects that are beneficial for your garden.
Creating a planted wall is a great way to help these vulnerable life forms to thrive in your area, especially if you live in an urban setting that lacks greenery.
Well Being
Greenery has a positive psychological effect on people, reducing stress and contributing to the release of feel good hormones.
It can help ward off bad moods and speed up healing after illness.
Creating a living wall is a beautiful way to add greenery to your property even if you don't have that much space. With a living wall, you take advantage of vertical space.
Noise Reduction
The happy green of a plant wall promotes relaxation and helps reduce ambient noise inside as well as outside.
A planted wall absorbs more sound than traditional masonry. This means that placing it near the street or another source of noise can help you create a tranquil corner.
Fact: A living wall can as much as halve ambient noise.
As you can see, planting a wall can have a wide range of health and economical benefits and also contribute to a better environment.
Of course, you have to factor in the investment of creating a living wall as well as the time and money necessary to maintain it. But we feel that the advantages are more than justified.
If you've been on the fence about creating a planted wall until now, we say go for it, especially during these times.
And to inspire you, here's a list of some of the best planted wall ideas we've come across lately.
Inspiring Planted Wall Ideas
The plants you choose for your living wall, the material of the supporting structure, the watering system–all of these can influence the type of planted wall you create. And then there is also the question of size.
At the end of the day, every living wall is unique.
Even if you create yours based on an existing design, it will not be exactly like any other–that's part of the beauty of creating one.
Outdoor Plant Wall
With outdoor planted walls, you can give full reign to your creativity. You can make them as long and as sophisticated as you want them to be.
You can create them from scratch or use an existing wall or other structure for support.
Outdoor planted walls are often easier to create than indoor ones because you don't have to worry as much about watering problems. Dripping water and occasional leaks aren't usually a problem.
On the other hand, you have to consider carefully their placement–too much or too little sun can damage your outdoor living wall.
Expositing it to strong winds or smoke from a fire pit isn't a good idea either.
Vine Wall
One of the most popular ways to create a living wall is to drape vine over an old wall or metal structure.
Although vines have their main roots in the ground and so are lighter than living walls that contain plant pots, they can still add weight to the structure they are fixed on.
For your wall to stay green all-year-round, choose a hardy evergreen vine like English ivy, trumpet honeysuckle, or winter jasmine.
Other climbers you may want to consider include Wisteria, Hops, and Clematis.
Keep in mind that different vines have different sun requirements. For example, English ivy needs sun as well as shade while honeysuckle vines usually prefer full sun.
Tip: Be patient. It may take time for a vine to cover a wall, but once it becomes established, you can count on it to look nice with little maintenance.
Living Wall of Plants
A living wall of plants is a plant wall that's entirely covered with one or several plants whose roots are usually embedded into the wall itself.
Some living walls need manual watering, others integrate a self-watering system such as hydroponics or aeroponics. Either way, they require regular trimming and maintenance.
This type of planted wall needs a firm support such as an existing wall, a wooden or metal frame, or a vertical plastic structure that can hold the plants.
The pot plants don't have to be exposed. You can conceal them behind the foliage or use moss or air plants that don't need soil.
Wooden Plant Wall
Whether it's cozy and rustic or decidedly elegant, a wooden plant wall can look beautiful in any garden or backyard.
That said, it's important to choose a wood that's resistant to the elements while at the same time hasn't been treated with harmful chemicals that can leak into the plants.
The moist environment that most plants in a living wall need usually means that plants in a wooden plant wall tend to be self contained in pots or other containers.
Wood itself is often a decorative element in this type of live wall, providing a beautiful, contrasting backdrop for the plants.
Planted Wall Baskets
Planted wall baskets are an affordable way to turn an existing wall or other outdoor structure into a plant wall.
It can consist of just a few baskets or lots of them. Either way, the baskets are hung or nailed to the wall as plant containers.
Adding hanging plants to your baskets can create beautiful explosions of greenery and color in spring and summer.
Tip: Choose hardy plants so you won't have to move the plants inside before winter.
Pallet Planter Wall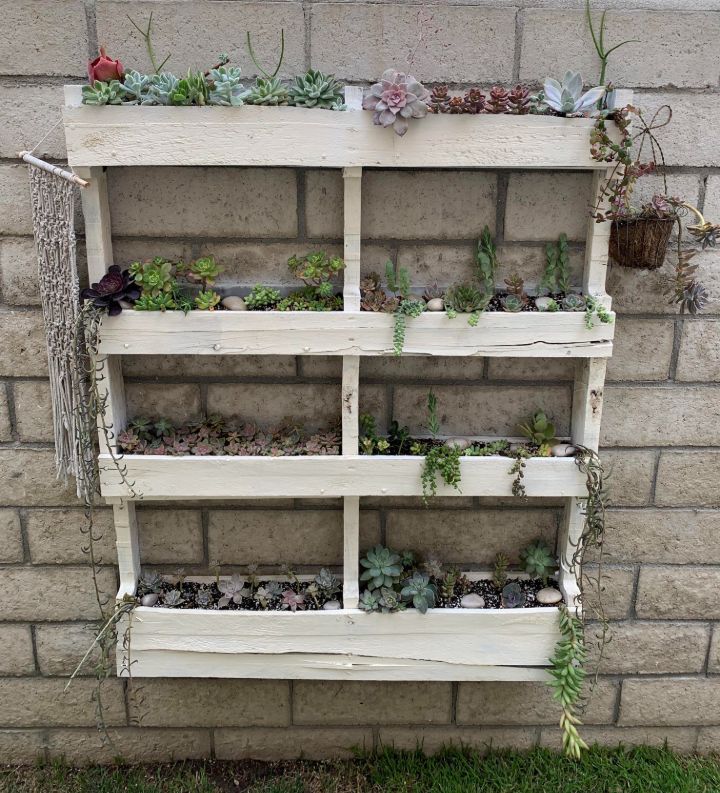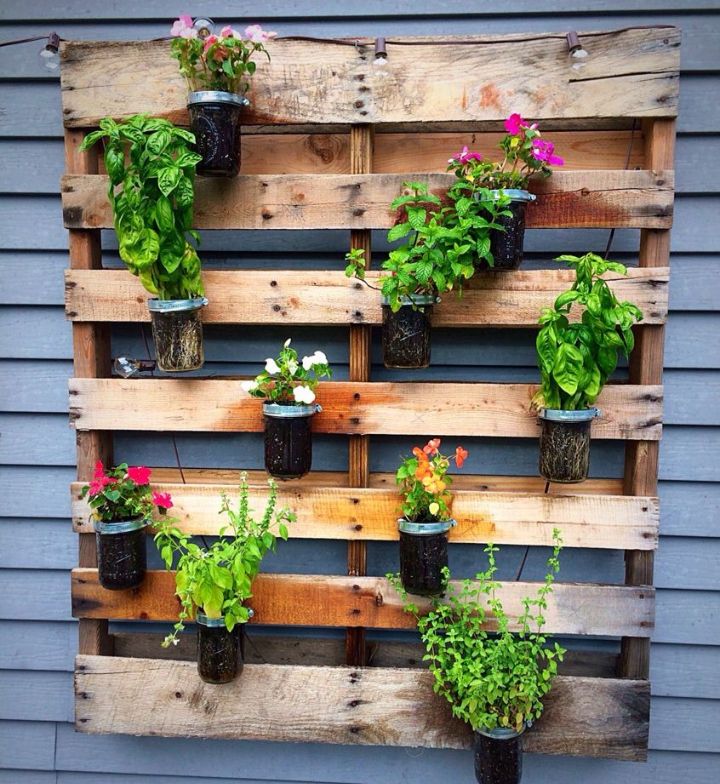 A popular DIY take on living walls comes in the form of a pallet planter wall. You can make this one from pallets you don't need for anything else or even discarded ones you find.
A pallet living wall is more affordable than building a new wooden wall.
It also provides good support for the plants and you can hang or recline it against other walls, including those of the house, shed, or garage walls.
Creating a pallet planter wall is a cheap way to set up a living wall and exercise your creativity in the process. Plus, you'll probably feel good about upcycling pallets.
Pothos Wall
Pothos or Devil's ivy is a climbing evergreen that likes heights and looks great as a hanging plant.
You can make an entire living wall using this plant, whether we're talking about a cultivated plant or one you get from the wild.
Pothos is easy to grow, does well in low light, and won't wither if neglected. So it's an inspired choice for a first plant wall.
Living Wall Art Moss
Here's where you can get really creative and experiment with different textures, shapes, and decorative elements.
Moss can grow on a vertical surface like wood or stone provided it has a layer of earth to cling to.
You may want to let the moss grow horizontally for at least a few weeks before installing it vertically over a wall.
We've written a post on moss gardening–you may want to check it before you create a living wall art moss.
Small Living Wall Plants
You can make a living wall from small plants like petunia, fuchsia, or nasturtiums.
You can also keep the wall itself small in size to make it easier to look after.
For example, it can be a simple decorative strip of greenery in an outdoor lounge area rather than a long and tall green wall.
In time, you can choose to expand your small living wall with more of the same plants or complementary ones.
Elegant Plant Living Wall
When it comes to living walls, elegance is a question of doing away with unnecessary elements while concealing the less esthetic components like any built-in pipes or drains.
How you frame the wall and what you choose to place next to it is also important.
Usually, a minimalist approach and a good selection of beautiful but not overtly showy plants works best to create an elegant plant wall.
Artificial Plant Wall (Fake Plant Wall)
While it wouldn't be our first choice, a fake or artificial plant wall can look good in a garden or backyard, especially if you have an old, unsightly wall to conceal.
Not only is it maintenance-free, but an artificial wall exhibits less color variation because of the weather compared to an all-natural wall.
Choose good-quality faux greenery that's UV-resistant and can withstand low temperatures. Also, you want to make sure it's easy to install.
Here are some artificial green walls you can buy on Amazon.
Indoor Plant Wall Ideas
Now let's take the greenery inside your house.
Building an indoor plant wall requires planning–there's plenty of room for adaptation, but you want to know what plants you choose and how they'll get the water and nutrients they need.
Herbs, succulents, or air plants are a good choice for indoor plant walls because of their watering and soil needs.
As a rule, the bigger the plant, the more challenges it may pose growing indoors.
That's why indoor plant walls usually incorporate plants that don't need sunlight all the time and that are pretty good at storing water in their roots and stalks.
Whatever plants you choose for your indoor live wall, make sure to place them away from outlets and to make provisions for water leakage.
After all, you probably don't want your living wall to sit under your precious Persian rug, right?
Succulent Wall
Cute, easy to maintain, and with an exotic flavor to it–that's a succulent wall in a nutshell.
Succulents store water efficiently and don't need an indoor light to grow, though you don't want to keep them in perpetual shade.
Many are lightweight and propagate fast, so you can make all manner of creative walls with them.
A while ago, we've written a succulents guide so you may want to read it before adding these undemanding flowers to your living wall.
Herb Planter Wall
Put some herbs in planters and add these to a wall and you can create a nice and practical living wall without any headaches.
Maybe you're growing herbs on your windowsill or on the kitchen countertop already. But even if you're not, setting up a herb planter wall is one of easiest ideas on our list.
Pay attention to the planters you choose to ensure they integrate with your design–whether you're placing them on a kitchen wall or in some other room.
Tip: Get some self-watering planters to stop worrying about watering your herbs.
Air Plant Wall
Air plants have external roots and get nutrients from the air, making them another smart choice for creative and interesting indoor planted walls.
Another advantage of air plants is that they are lightweight so you can mount them pretty much directly on a wall with minimal support.
But you may still want to play around with different decorative elements and backgrounds to create an interesting design.
DIY Plant Wall
A DIY plant wall is a wall you make yourself from materials you already have. Think wooden shelves, pallets, plastic bottles, sack cloth, plastic pots, and anything else you will find handy.
Add to your DIY plant wall flowers you already grow in your garden by transplanting them or propagating them,
Building a living wall this way takes time and things can go wrong.
But it's an interesting process that will help you better understand the plants and hone your skills as both a gardener and handyperson.
Green Plant Wall
An all-green indoor planted wall can create a beautiful backdrop for any room of your house–a corner that invites relaxation and that improves your mood whenever you find yourself in that space.
It looks great in kitchens or bathrooms where white or black predominates. It also integrates smoothly into modern minimalist house designs focused on sustainability.
These are actually often the best rooms for a plant wall because the flooring can deal with leaks and humidity is easier to control.
Living Wall Room Divider
When used indoors, a living wall can help you divide a big room into one or more partitions or create a privacy screen for a workspace or a spot reserved for yoga, meditation, etc.
A living wall room divider can use house plants in a vertical arrangement. You'll need a wooden or metal frame on which to put the plants and that you can move as needed.
You can also turn an existing partition or wall into a live plant wall by planting on it climbers, moss, succulents, or air plants.
How to Make a Planted Wall
By now you probably have a few ideas on the type of planted wall you want to create. You can work those ideas into the actual design.
Hanging Wall Planters
Want to create a planted wall without too much trouble? Hanging wall planters can be very useful. They come in many shapes and styles and are easy to install.
You can use them for outdoor as well as indoor walls and arrange them in creative patterns–or just bundle them all together to fill up the empty space.
Here are some popular choices from Amazon you may like.
Common Planted Wall Questions
The following questions pop up frequently when it comes to planted walls. We've gathered them in this section and answered them for you. Explore the answers now.
What is the plant that grows on walls?
Ivy plants and other plants with aerial roots like Virginia creeper can grow on walls without the need for any supporting structure. This makes them ideal for outdoor planted walls.
How do you make a living plant wall?
Choose a wall that gets enough sunlight and add to it a supporting structure of wall planters.
You can get creative with pallets, wooden panels, and frames, battens, or simply suspend pots from it. Read our planted wall easy guide for more ideas.
What is a live wall?
A live wall or planted wall is an indoor or outdoor wall supporting plants attached to it via planters, containers, or that are integrated into it in creative ways.
The benefits of a live wall include better air quality, noise reduction, and fireproofing.
How do you build a living wall indoors?
Choose a sunny wall, add some planters or other plant support, pick plants that can grow in the shade, and avoid any electrical hazards.
Here's a step-by-step planted wall guide to help you create your first indoor living wall.
Plant a Wall
If you've been with us so far, we hope you've found at least a few reasons to want a planted wall garden at home. The benefits of having one aside, the process of creating it is fun and stimulates your creativity.
You can start with a few plants and add more over time. More than adding style to your home, it will help you create a soothing green corner that brings you joy whenever you see it.
And while doing it, you'll be able to tap into most of the health benefits of being a gardener.
If you have any questions about plant walls, we'd be happy to answer them. Drop us a comment below at any time.
Until next post!