When you look at your garden, what do you experience? Beauty? Harmony? Calm? Or is the view a bit dusty, a bit unkempt? Landscape gardening can help you transform your garden into a source of visual and sensorial delight.
Once upon a time the domain of kings and the very wealthy, landscape gardening has become increasingly more accessible over the years.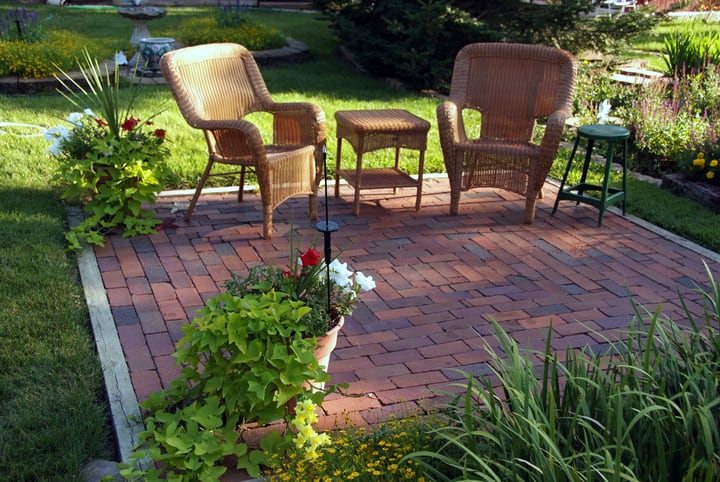 Whether or not you have a big budget for landscaping, there's a lot you can do to bring beauty to your garden–and utility, too.
In this article, we'll define landscape gardening, explore with you a selection of some of the best landscape gardening ideas around, and share some tips on how you can save money when designing your garden.
Let's start with the basics.
What Is Landscape Gardening?
Landscape gardening is the art of creating ornamental gardens for personal and social enjoyment and relaxation.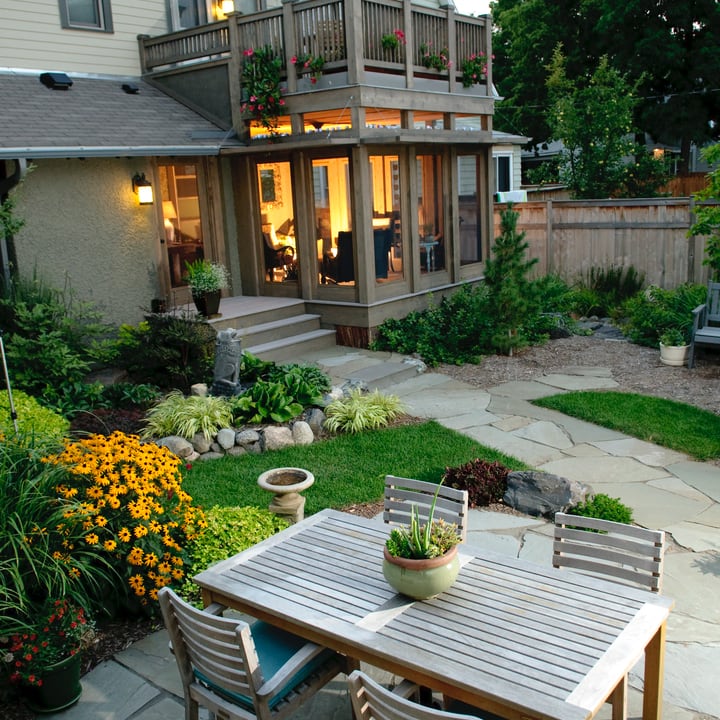 Even when it's very creative and modern in intent, landscape gardening aspires to recreate natural scenery.
Landscape gardening is an old practice that has its origins in the first flourishing human settlements and affluent societies of past millenia.
Designing and building beautiful gardens may not have always been called landscape gardening, but the concept itself is very old.
Today, landscape gardening is something you can do on your own when you want to redesign your garden layout or when you move to a new home.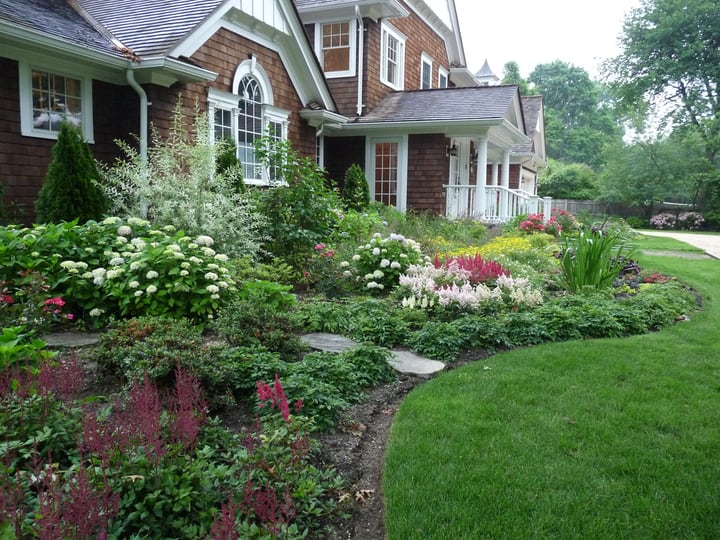 It's also a professional service that you can buy if you want expert advice or just don't have the time or the skills for it.
But landscaping and gardening are not quite the same–it's important to make the distinction between the two.
The Difference Between Landscaping and Gardening
Gardening focuses on the plants and their maintenance. Serious gardening involves design and planning just as landscaping does. It may start with a sketch and can be very sophisticated.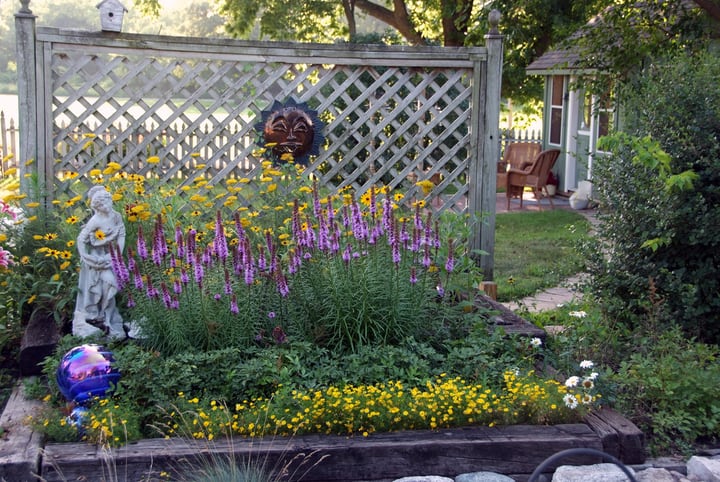 But gardeners stick to the plants–they plant, cultivate, and harvest them.
Landscaping on the other hand is concerned not just with the plants but with the totality of the elements that go into a garden.
It can include paths, water features, lighting, and other design elements. It focuses on the aesthetics and the overall feel of the garden.
The two are often closely associated. For example, professional landscaping services often provide gardening services as well.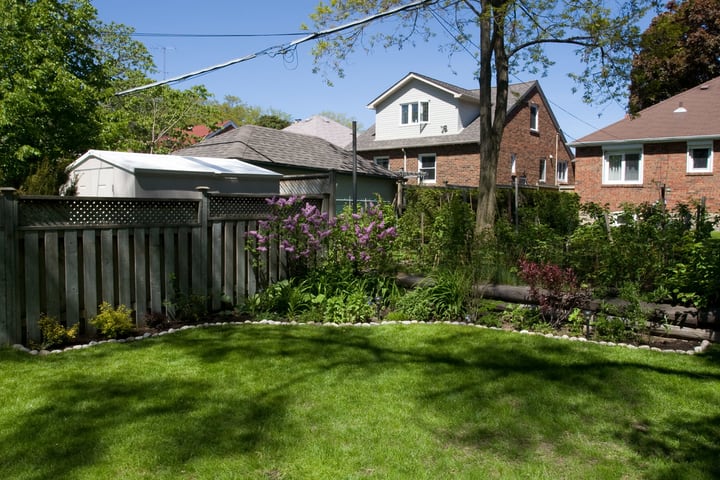 But landscape designers draw and design gardens–they don't usually plant, maintain, or cultivate plants.
From simple paths and common flower arrangements to sophisticated stone creations and lavish flower beds, landscape gardening can open a world of new possibilities for you.
Approach it with an open mind and be ready to adapt different ideas to suit your purpose.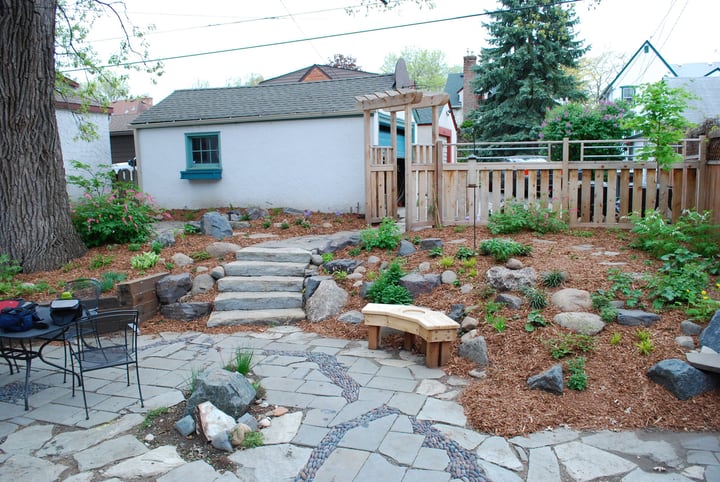 Without further ado, let's explore together some of the best landscape gardening ideas around including backyard, front yard, DIY, modern, Japanese, and rock gardening ideas.
Backyard Landscape Gardening
A garden can be a great addition to your backyard, especially if you build it with relaxation in mind.
Your backyard is quieter than your front yard and may also offer more space, giving you more options in terms of layouts and the number of features you can add to it.
1. Climbing Steps Backyard Garden Landscaping
Sometimes, it's best to keep things simple. This terraced backyard is a case in point. Landscaping is used here to create a climbing stone path amid a profusion of greenery.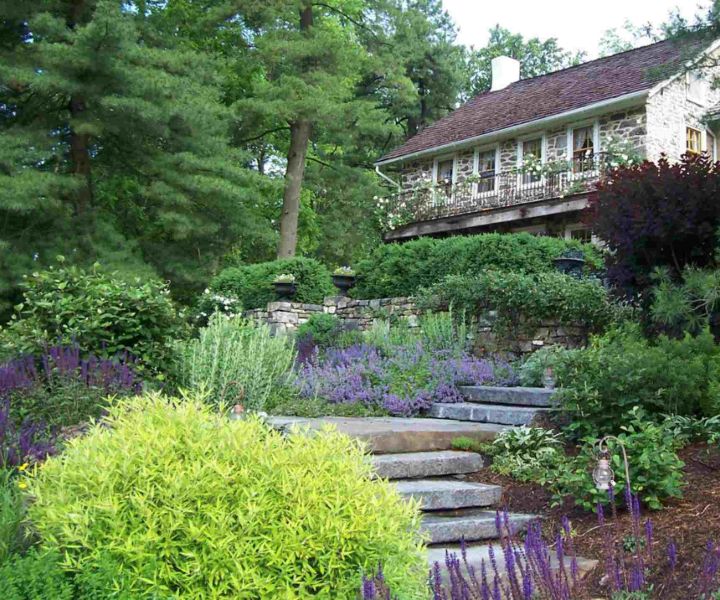 The open air, assorted plants and bushes, and the unobtrusive garden lightning help to conjure calm.
Landscaping rocks play an important role in this setting. The stone wall in the distance only adds to the charm of the setting.
2. Backyard Landscaping with Pond
Landscaping rocks play a prominent role in this backyard layout, leading around the pond and to the patio with its garden furniture. Notice also how the greenery is used for volume–to fill up space.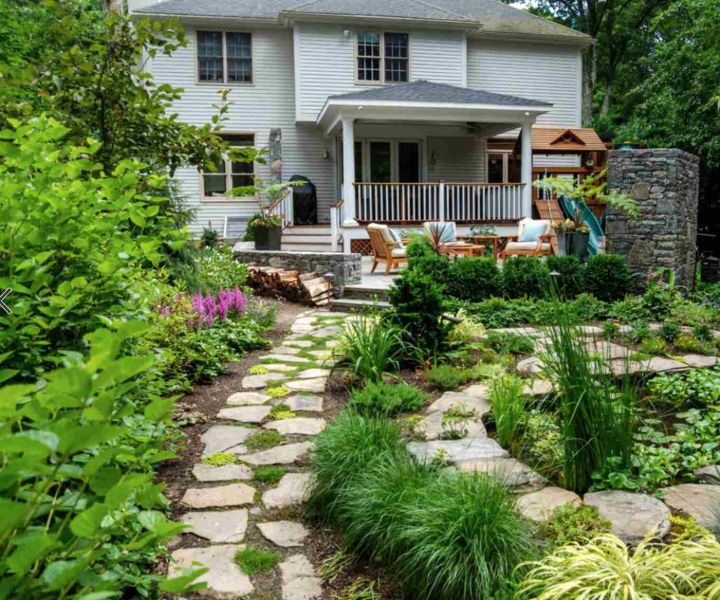 Adding a pond to your garden involves some extra work, but the tranquility it creates makes it a worthwhile addition. In the image above, floating plants share the water with tall grasses.
3. Green Lawn Backyard Garden
Maybe you like to see your kids or your pets running around the backyard. Or maybe you like to keep on the grass a table and a chair in the warm seasons. Or to bring in some chaise longues to get a tan.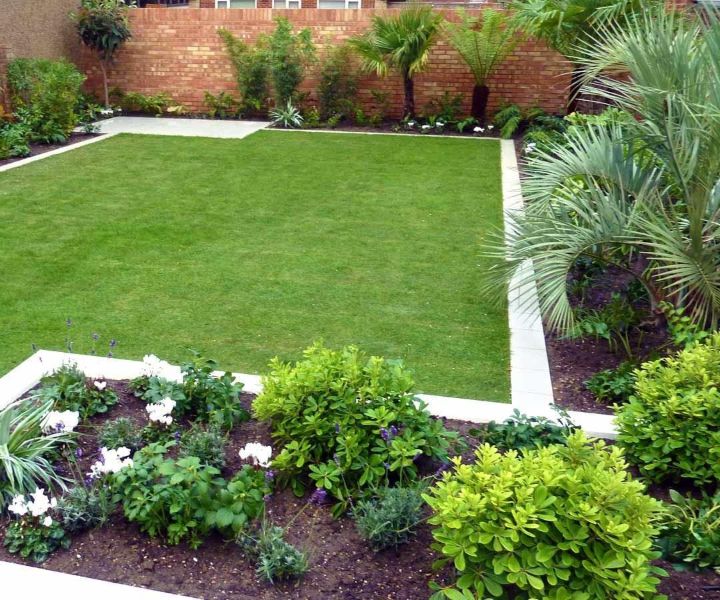 Having an open green space in the middle of your backyard garden can create space even if the garden itself is not large. In this example, borders and exotic-looking plants provide a nice backdrop, and contrast with the brick wall.
4. Undulating Garden Edging
Forget about straight lines and classic edging–you can transform your backyard with a waving edging like in this example.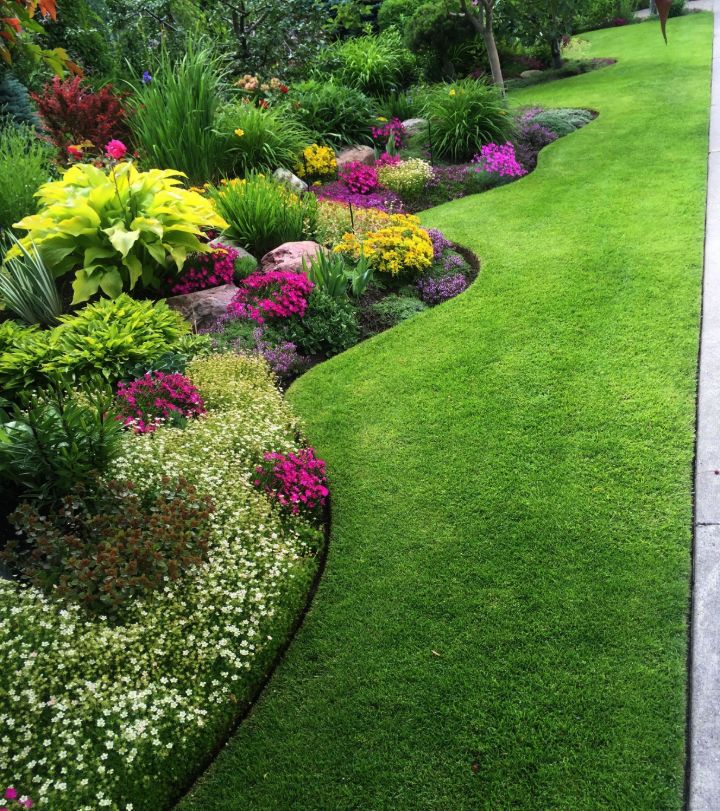 This approach creates a beautiful transition to the flowers and a sea-like effect, almost as if the green is spilling over the flowers. Keep in mind though that having very hard and compact soil could make this harder to pull off.
5. Small Meadow Backyard Garden Design
Here's another deliberately irregular design, this one simpler and smaller. Flower borders mark the perimeter of the garden, which features enough green space in the middle for play or just for walking barefoot on the grass.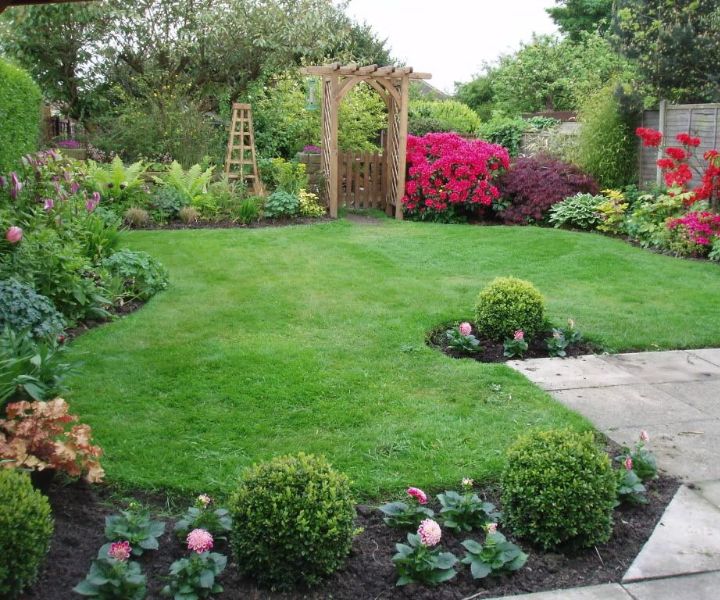 Notice also the separating gate in the distance which can help to divide your backyard into two areas. For example, one can be the garden and the other a space for raising animals. Think chicken coops or rabbit houses.
6. Paved Backyard with Rounded Flower Beds
If you like the idea of non-linear flower beds but don't want or need all that much grass (because you presumably already have a lawn to maintain), check out this paved backyard idea.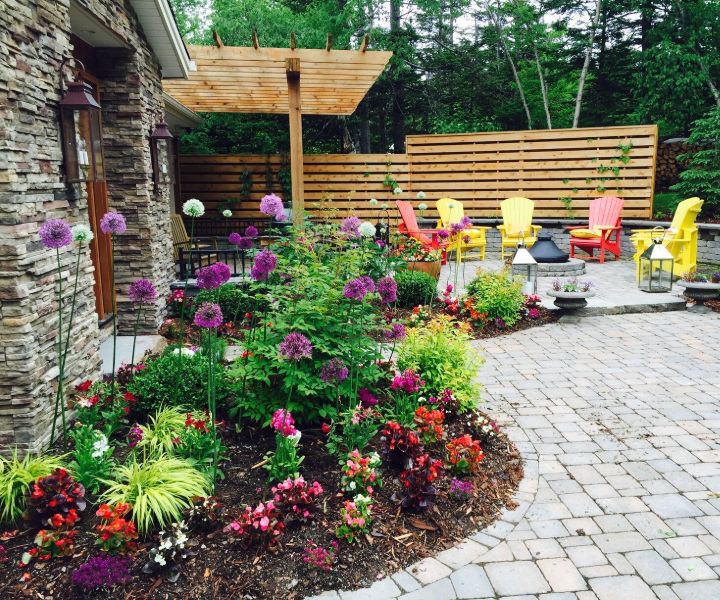 The highlight is the fire pit with chairs where you can lounge on cool evenings with your friends and with a cup of something warm in your hands.
7. Raised Flower Beds Backyard Landscape Gardening
Raised garden beds can help you create better conditions for your plants as well as more planting space. At the same time, they can add a rustic feel to your garden.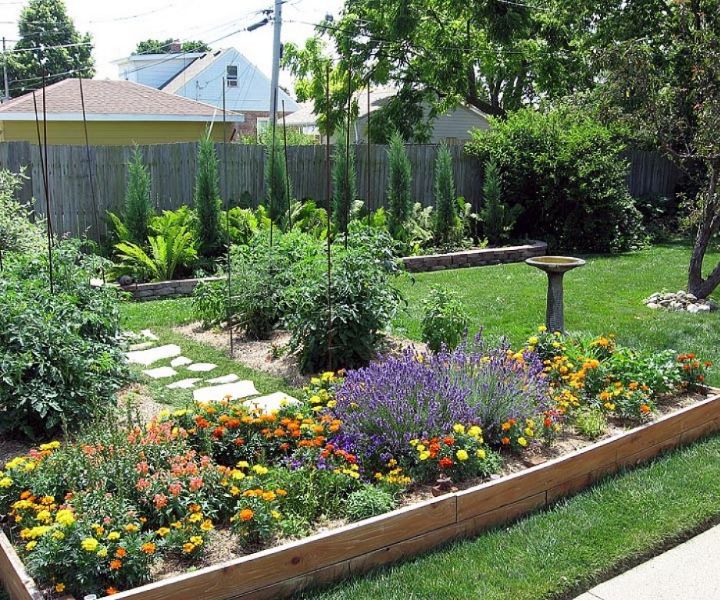 Here's an example of what we mean. You can adapt this design to your own space to do landscape gardening on a budget. If you already have some wood, you could build the raised garden beds yourself.
Front Yard Landscape Gardening
The front yard is the first thing you see when you reach your property–it's also what visitors and friends first observe.
It's often the focus of most landscape gardening projects, and for good reason–it can make a huge difference to your property's appeal and vibe.
8. Modern Minimalist Concrete Front Yard Landscaping
Concrete doesn't have to be the enemy of gardeners. This example showcases how concrete, when used intelligently, can create interesting raised beds for flowers, shrubs, and trees.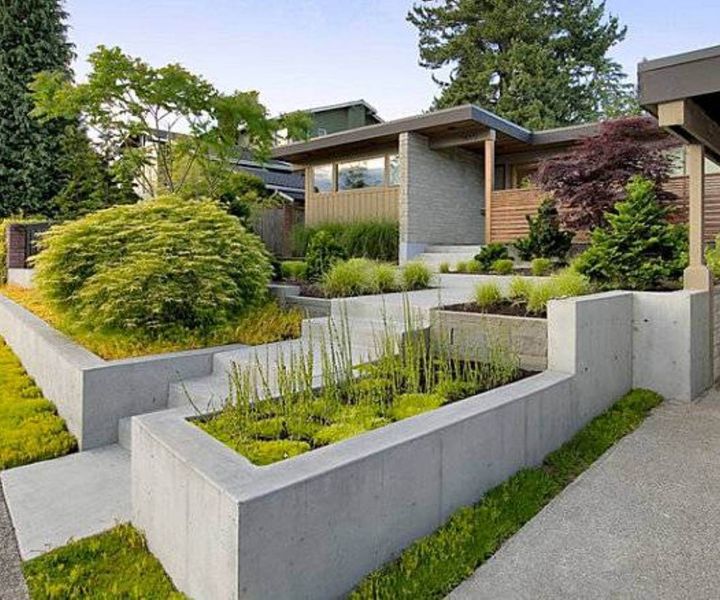 This terraced design works great with the modern design of the building. But even if you have an older house, you can draw some inspiration from it to create an unconventional front yard.
9. Elegant Front Yard Corner Landscape Gardening
Often, it's not how much space you have but what you do with it. Here's an example to show you just what we mean–and to prove that raised beds don't have to be boring.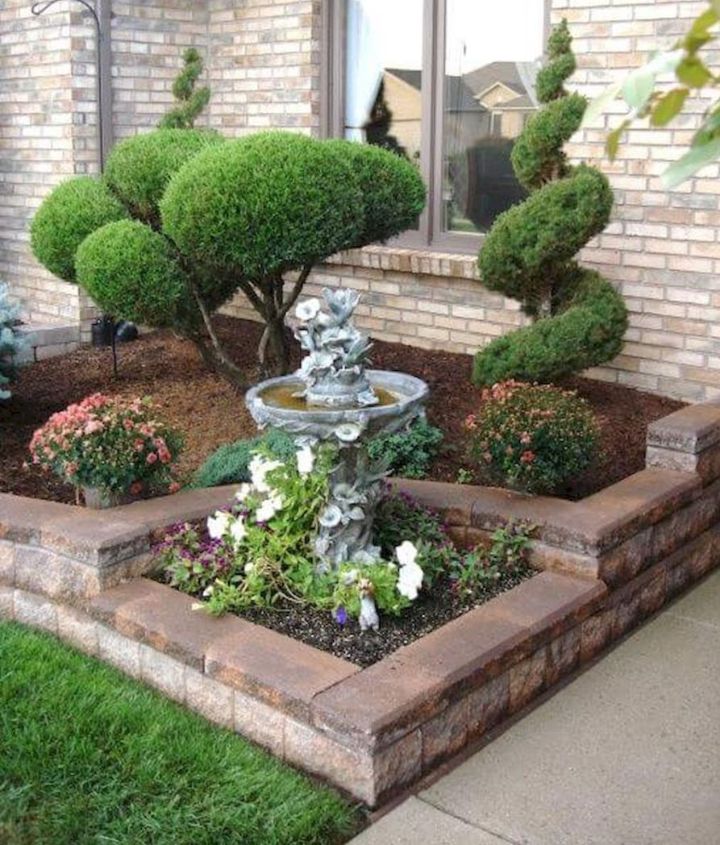 With a few creative touches, well-positioned flowers, and a small water fountain, this landscape gardening project is eye-catching and relaxing at the same time.
10. Front Yard Flower Garden with Tree, Rocks, and Water Feature
Another example of smart landscape gardening in a small space brings together perennials, evergreens, and a small tree that adds height to the design.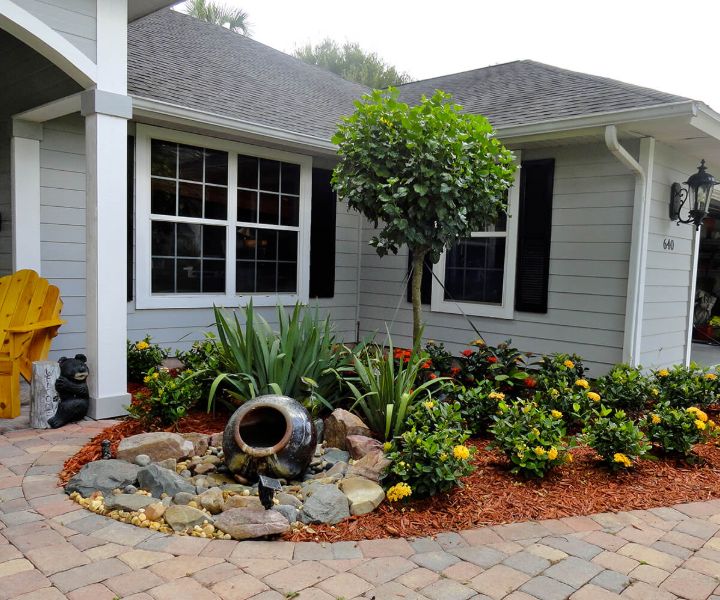 Notice also the jar with landscape rocks–it's a simple alternative to a water feature and easy to recreate with a bit of creativity.
11. Evergreen Front Yard Stone Raised Flower Beds
Stone flower beds are a timeless choice that can survive changing landscape gardening trends. They require more work than your average raised beds, but the result more than justifies the effort.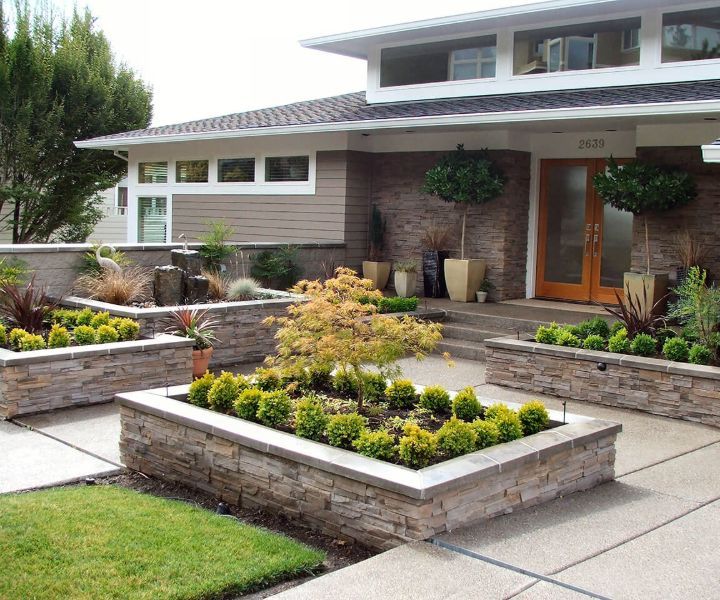 In this elegant example, small evergreens and Japanese-inspired garden features create a simple harmony of colors and textures.
12. Shade Plants Front Yard Landscaping
Just because you have a tree or two in your front yard doesn't mean you can't plant things under it. It's just a question of choosing the right plants. Here's an example of beautiful gardening that illustrates the point.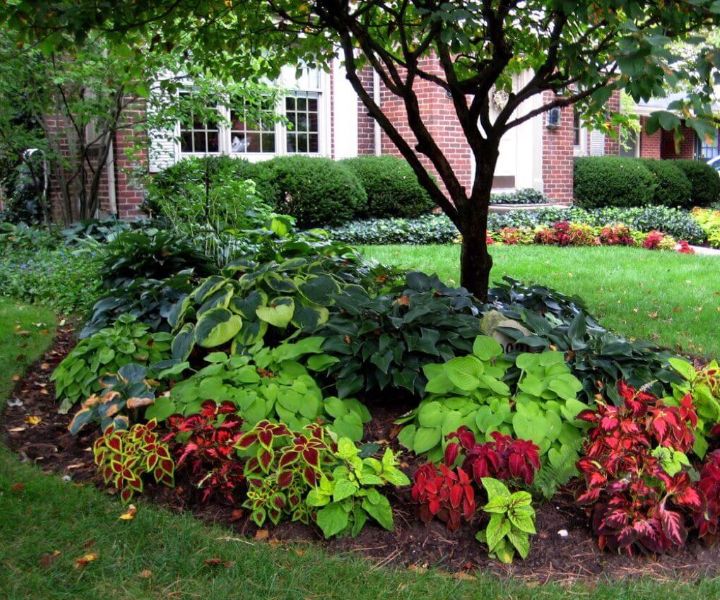 We've written about shade plants already–make sure to check that post.
13. Simple Front Yard Plant Border
You can use landscaping rocks to separate your lawn from flower beds and create a simple and cute border around your house.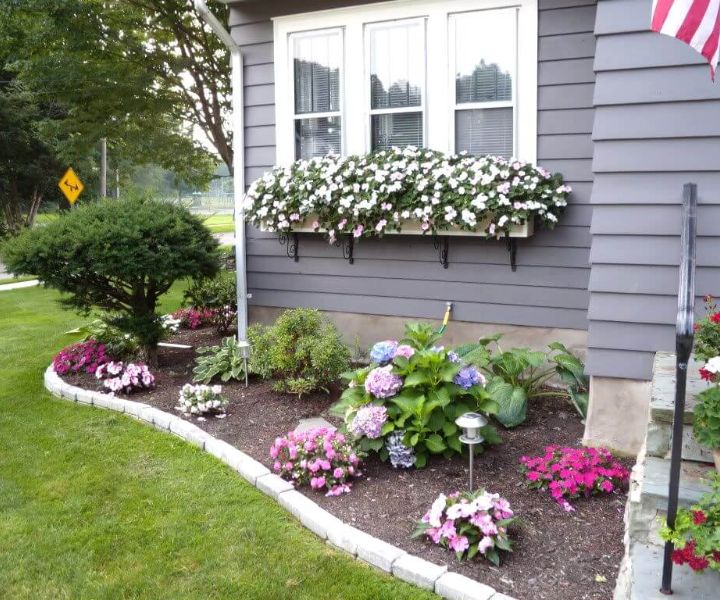 You can pull off a nice design with just a few plants and other materials, like in the example above. You can also add mulch to the ground for more color and texture.
14. Layered Rustic Front Yard Border Landscaping
Sometimes, how you arrange your flowers makes all the difference in landscape gardening. In this example, a border of low, colorful flowers creates a nice contrast with the taller background hedges and bushes.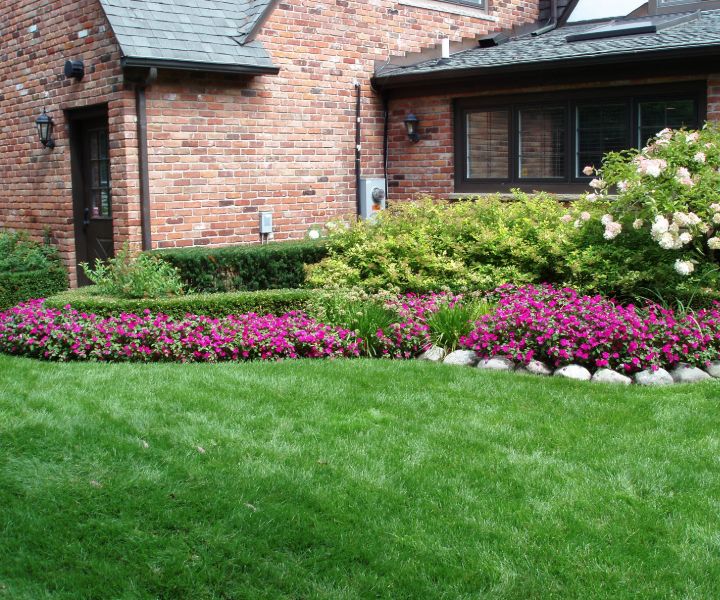 Tip: River stones or a similar choice can add a nice touch to your front yard landscaping, especially if you want to create a rustic feel.
Small Landscape Gardening
Not having all that much space shouldn't be a problem. You can fill it with textures and colors to make it appealing. Or you can draw inspiration from Zen gardens and use empty space as an element in itself.
Here are some small landscape gardening ideas you can play with.
15. Small DIY Garden with Stone Steps
In this example, wooden elements and stone steps complement the freshness of the grass and plants to create a happy corner.
The wooden pallet in the background was repurposed into a simple support for hanging plants.
And don't forget that you can also use gravel or similar small pebbles to add texture and create a transition from grass to another area.
16. Relaxation Landscape Gardening
Landscape gardening can help you create a quiet nook you can enjoy on your own or in the company of a loved one.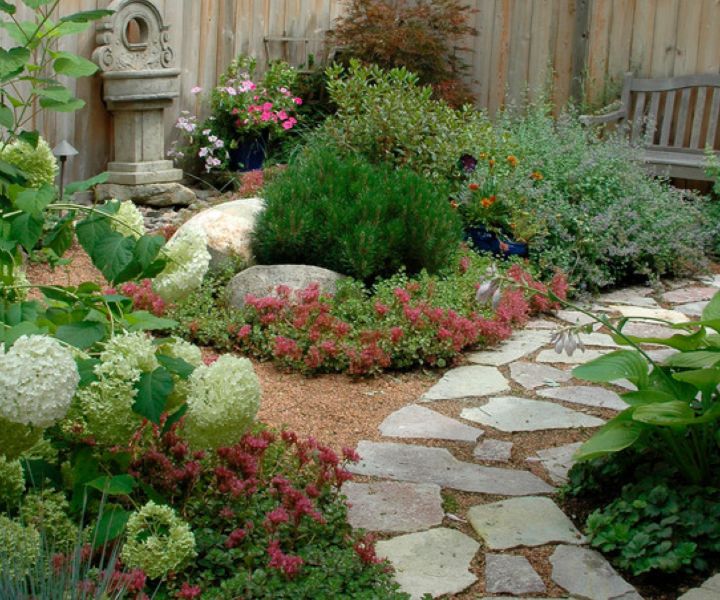 In this example, boulders, irregular stones, and a profusion of plants lead the way to a wooden bench ideal for weekends at home or relaxing evenings after work.
17. Creative Landscape Gardening with Pergola
Playing around with different influences yet managing to stay unique, this is a great example of how you can use space effectively–without settling for any simple conventions.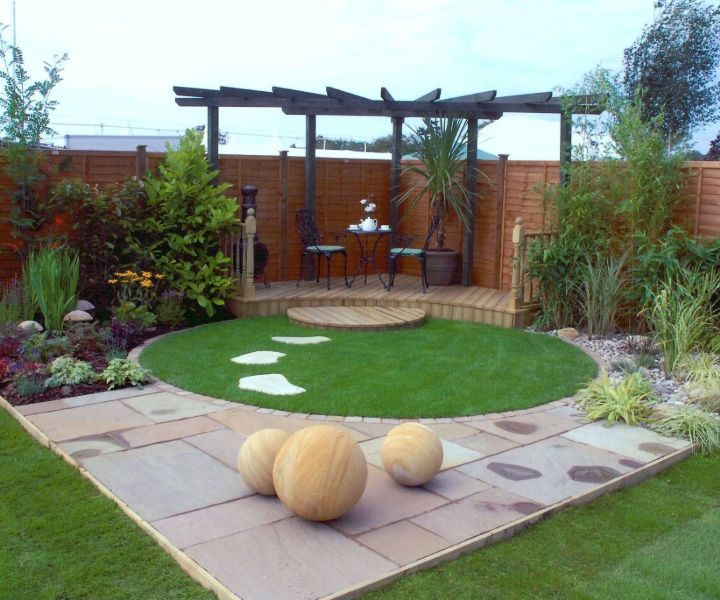 The large spheres help to balance the weight of the design and add an abstract touch to the garden. The small wooden deck is ideal for couples.
18. Minimalist Hedge Garden with Chairs
Here's an interesting take on creating a relaxing space in a seemingly cramped backyard. The hedges add lasting greenness and volume to the space.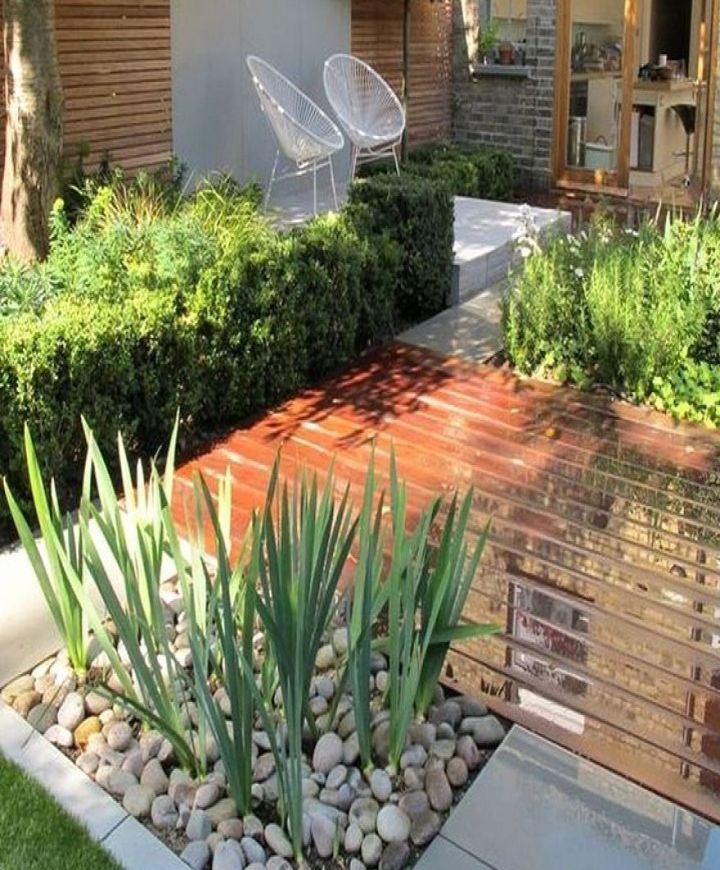 While this isn't the best choice for a large family, it can be an intimate layout for a couple who doesn't care for a traditional backyard patio with garden furniture.
19. Green Patch with Wood Paneling
Here's another example of natural minimalism–the small tree and greenery take the center stage while the wood provides a nice background color.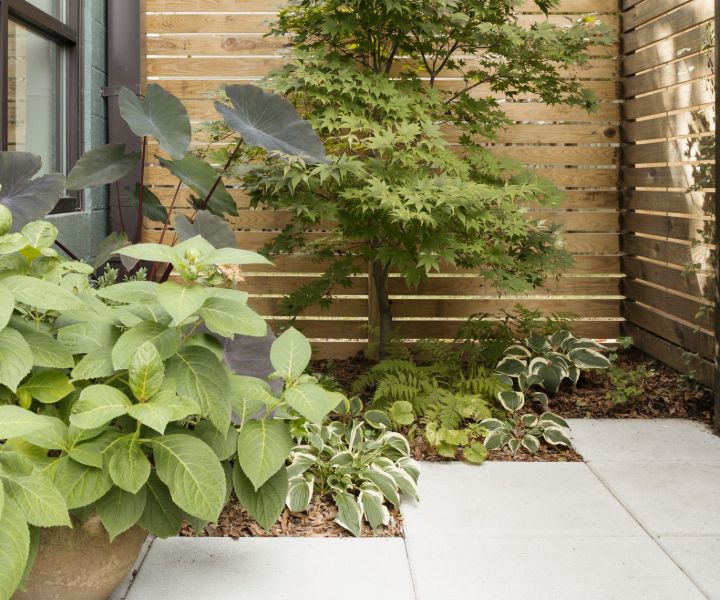 This example showcases how you can create a corner of nature without cramming too many plants or elements together.
20. Cottage Style Landscape Gardening
Bring that cottage feel to your garden with a massive wooden table and benches, stone and log raised flower beds, and lots of greenery. Here's a delightful example to inspire you.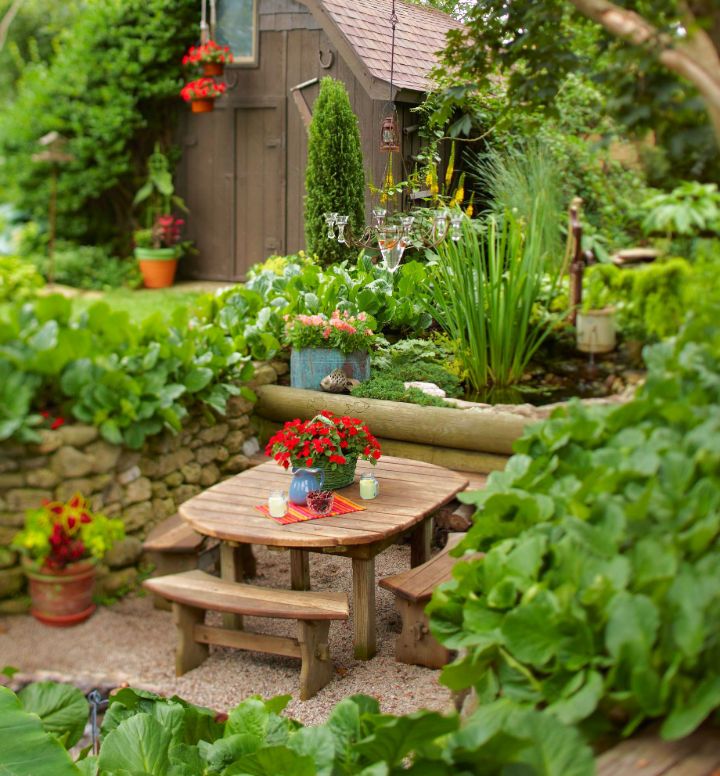 Tip: A gravel mix is a good choice if you want to prevent the ground in your garden from getting all muddy, without installing flagstones or other types of paving.
21. Simple Backyard Relax Space
Sometimes you don't need a lot to relax–just a chair in a quiet spot and not too many plants or garden features to distract you. This example is a case in point.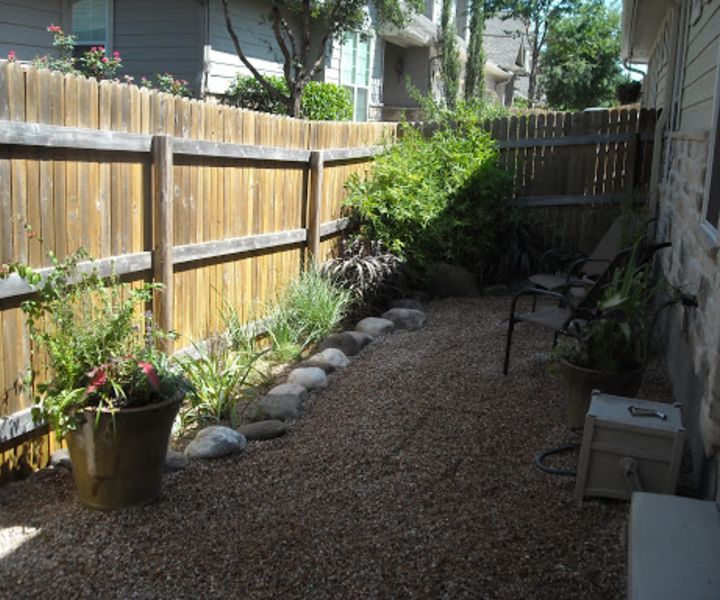 The wooden fencing, gravel ground, and low greenery with their stone border may not seem like much, but the quiet is in the air. Plus, this setup is easy to maintain and change if needed.
22. Water Feature Landscape Gardening
The water feature can take the center stage even in a small garden. And it doesn't have to be too big, either.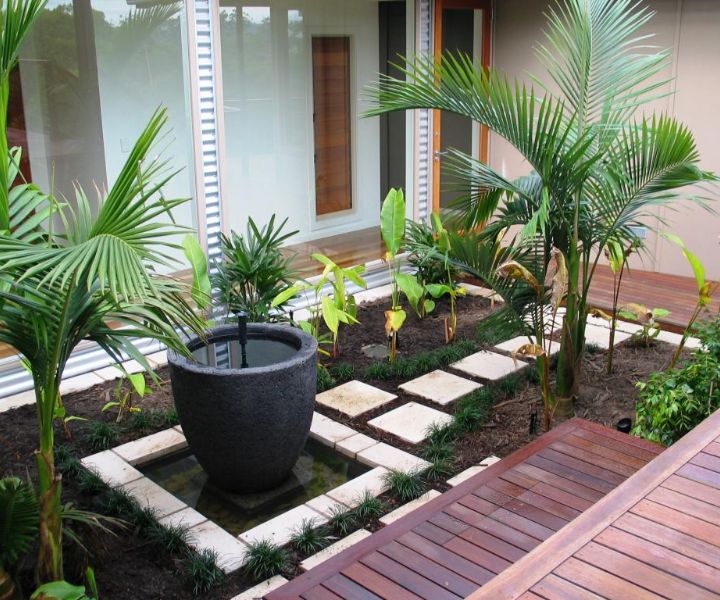 In this example, different materials and textures blend in with harmonious plants and mulch-covered soil to create a harmonious space–relaxing by design.
Japanese Landscape Gardening
No list of landscape gardening ideas would be complete without a section dedicated to Japanese landscape gardening.
Japanese values and approaches to design continue to have a major impact on landscaping around the world, as you've already seen in some of the examples above.
23. Wooden Deck Above Pond
This one may not strike you immediately as Japanese, but it is Zen in its emphasis on minimalism, balance, and quietness.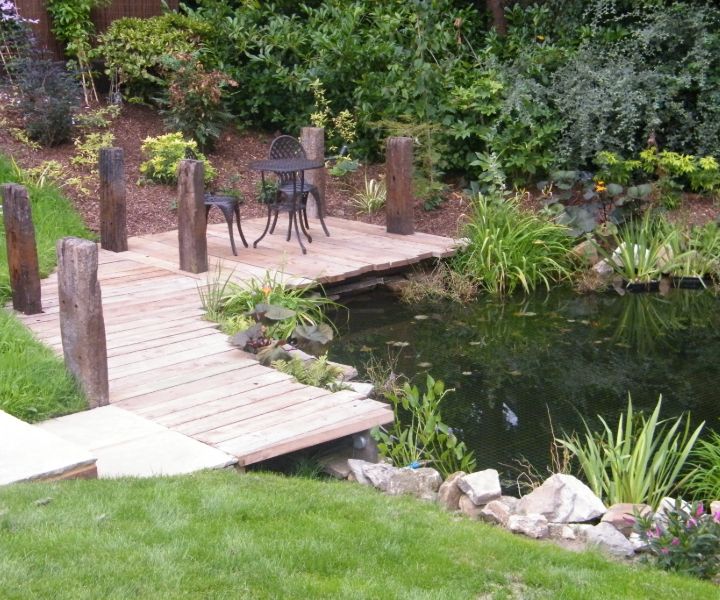 Even if you can't create an artificial pond like in this example, you can incorporate wooden decking, rocks, water features, and vertical pillars into your layout.
24. Gravel Sea Japanese Garden
Sand and gravel play a prominent role in authentic Japanese gardens. They can help create an ocean of tranquility and green islands of peace.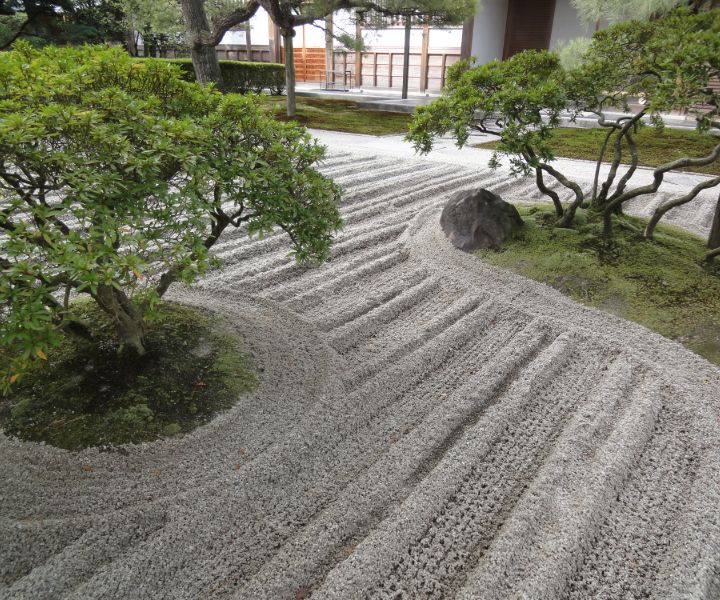 Using gravel or sand in this way can help you add a Zen feel to any landscaping project, even if you don't use it on this scale.
25. Raised Japanese Gravel Garden
Here's another approach to creating a sea of gravel, this time within a raised garden layout. The pagodas and stone elements complement the design without crowding it.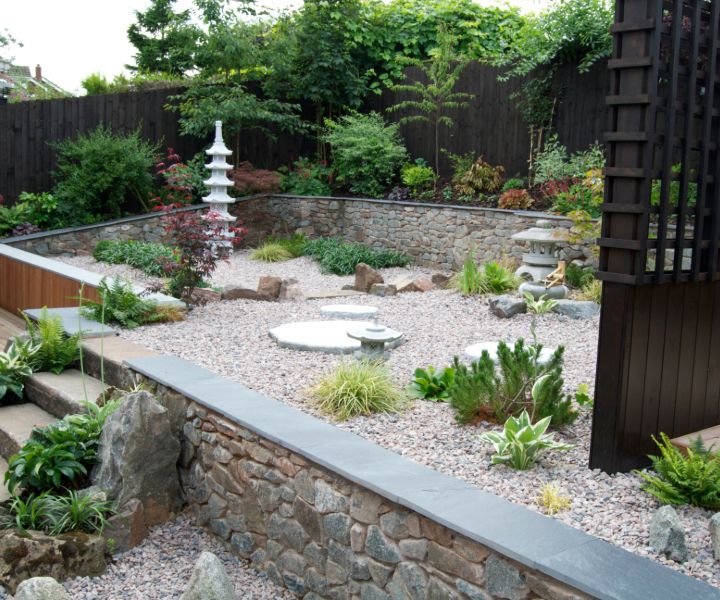 The arrangement of the plants also helps to create space and give this garden a quiet, calm atmosphere.
26. Tiered Japanese Landscape Gardening
But if you'd rather have more greenery in your garden, here's another example to inspire you. Rocks, paving, and bamboo blend in nicely, but it's the well-trimmed bushes and plants that define this garden's character.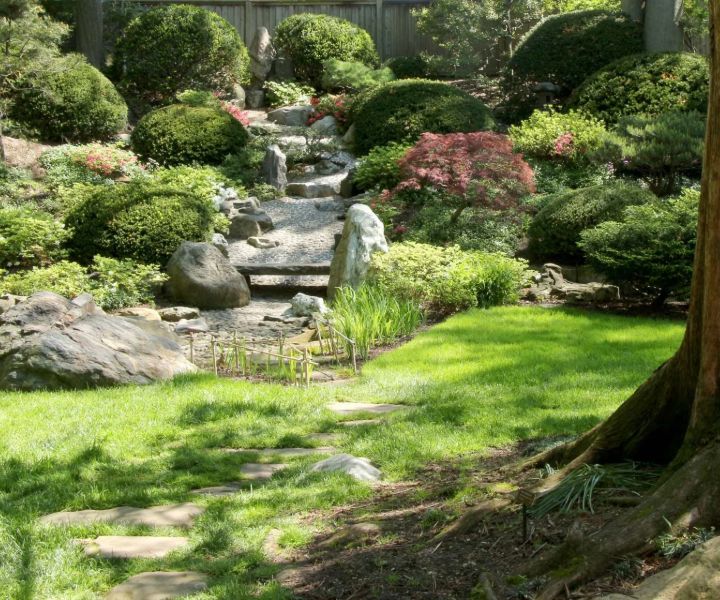 Pruning and trimming are important when it comes to Japanese gardening–sometimes even more important than the actual plants you use.
27. Large Japanese Pond Garden with Gazebo
Quietly magnificent–doesn't that describe pretty well this spacious Japanese garden with its different textures, elements, and types of trees and plants?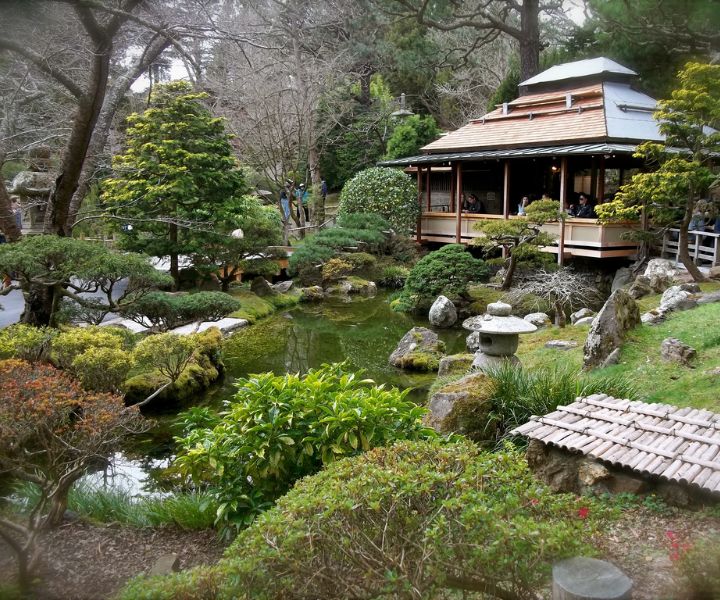 Adding a bit of everything to your garden can be a great idea if at the same time you can create enough empty space for a sense of calm to settle in.
28. Modern Symmetrical Japanese Landscaping
This modern take on the old concept of the Japanese garden also has a bit of everything–but it's the sense of space and freedom from unnecessary details that prevails.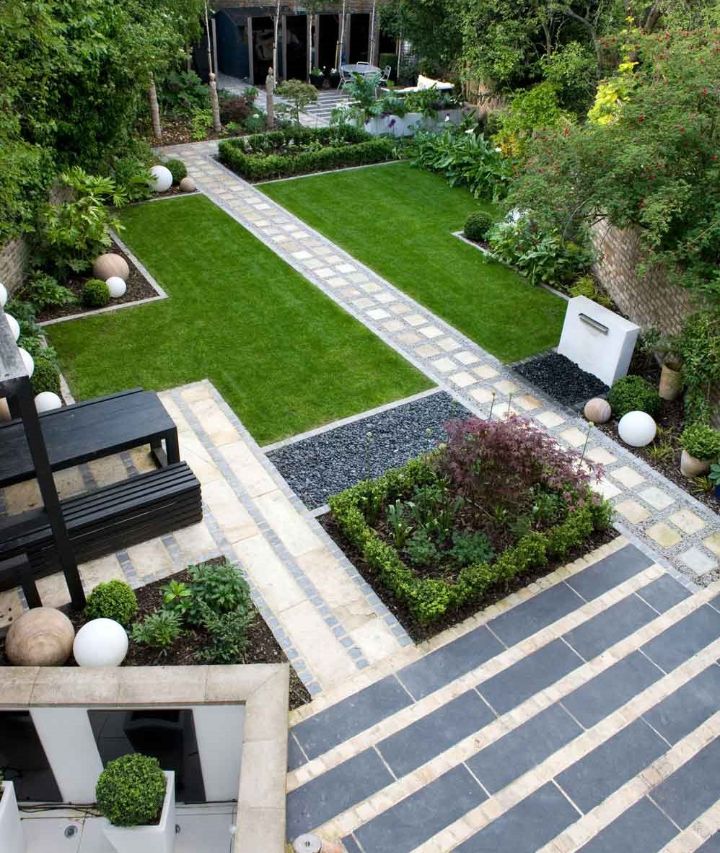 Notice the colors and the textures and how they contrast but at the same time come together into a unified design.
By the time the guests reach the table in the distance, chances are they have already attained a peaceful state of mind.
29. Stone Bridge Over Pond with Rock Features
Now we're not suggesting that you should recreate this one on this scale–not that we wouldn't be glad to hear you have the budget for it.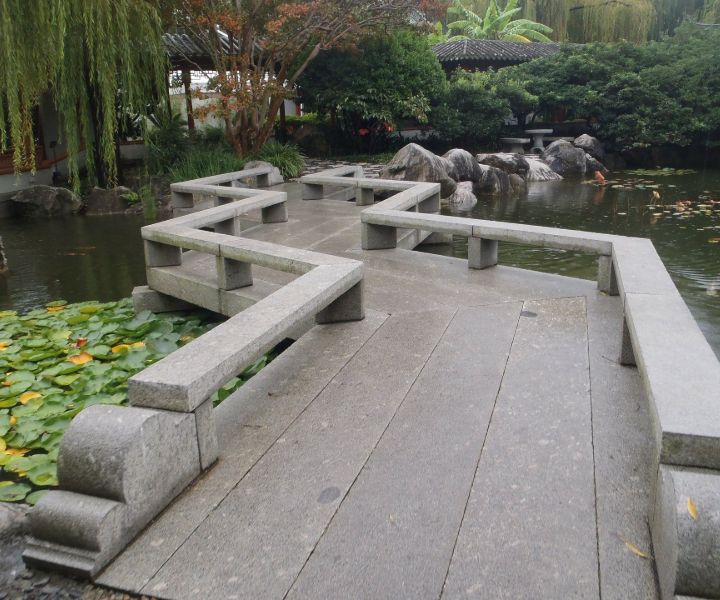 But if you already have a large pond in your garden, you may want to think beyond simple wooden footbridges and opt for something heavier but no less Japanese.
Rock Landscape Gardening
Whether they come in the form of gravel, boulders, or irregular rock formations, rocks play an important role in many landscape gardening projects.
They can add texture and weight to your garden–the good sort of weight that anchors attention on specific features.
30. Long Tiered Gravel Path
In this example, gravel is not the predominant feature, but without it, the garden wouldn't be half as interesting.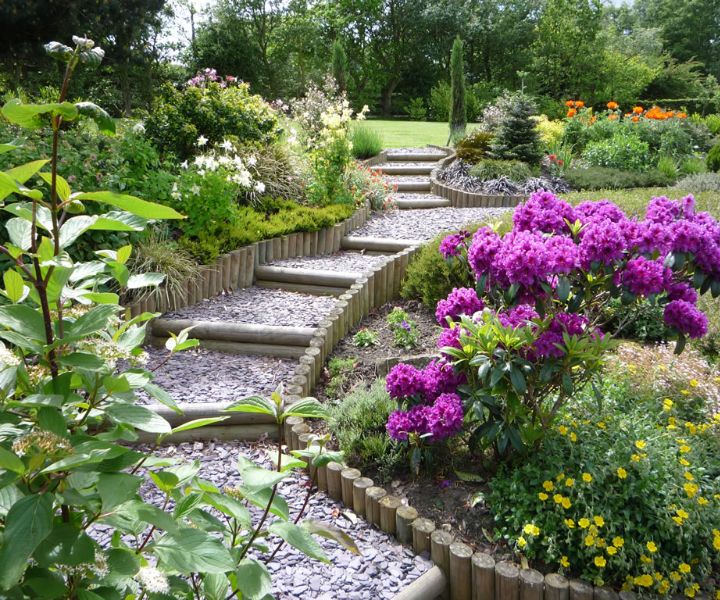 It's the contrast between the gravel and the greenery and wooden edging that gives this place its tranquility and appeal.
31. River Rocks Garden Path
Combining river rocks or large gravel with flat stones can create a beautiful path that lightens up the garden, as in this example that also features wood and bricks.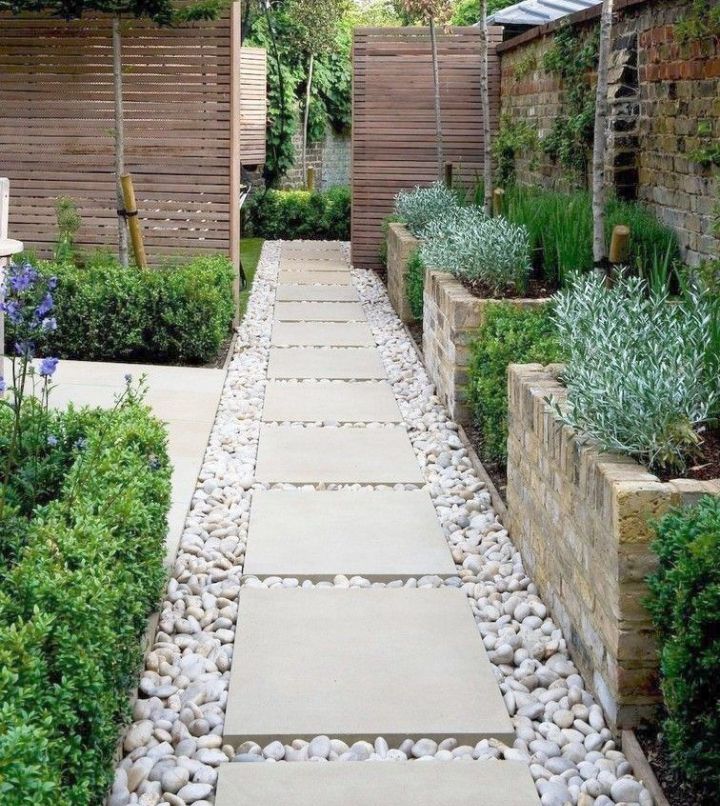 Tip: When choosing rocks for your landscaping project, consider not only their size, shape, and color, but also how they will blend in with the other elements–in the example above, beautifully.
32. Colored Rocks Landscape Borders
You can use rocks instead of mulch or grass to create interesting surfaces and textures around your plants, like in the example below.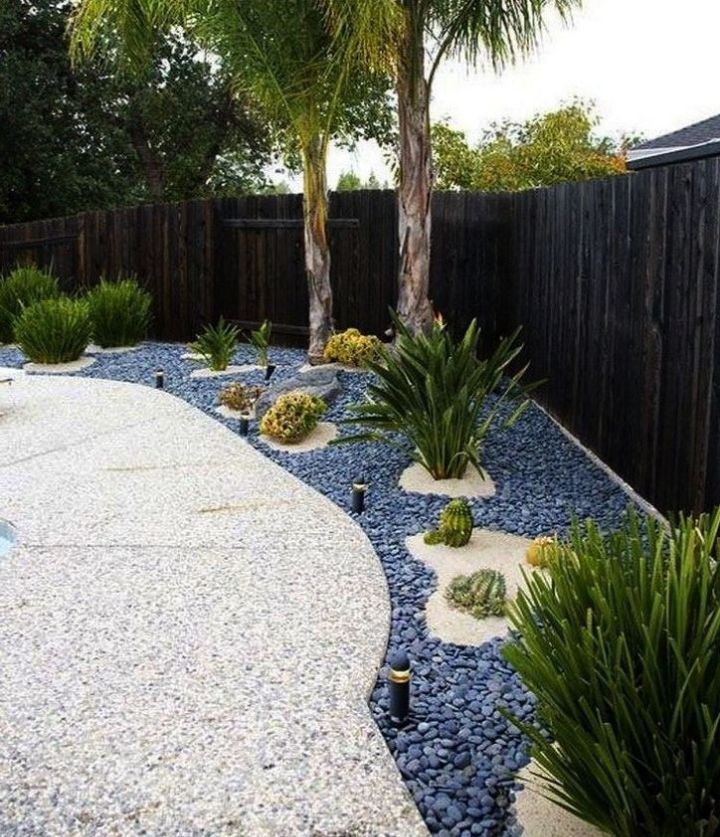 The chosen rocks create a nice interplay of contrasts with the fence and the pavement, while also drawing attention to the plants themselves.
33. Stone Lines and Shapes Landscape Gardening
Now here's a garden design that's neither conventional nor abstract but happily falls somewhere in between.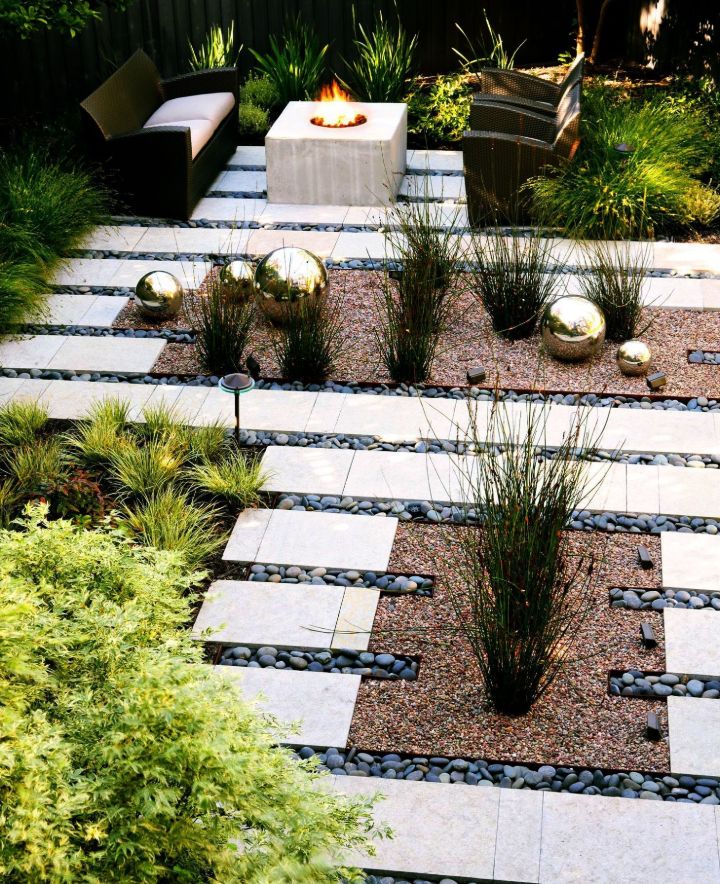 Highlights include the fire pit built into a stone slab, the gravel lines, and the rich interplay of textures and lines.
34. Flagstone Irregular Garden Design
Forgetting about straight lines and classic borders can lead to very interesting results. Here's a good example of an unconventional design that uses common elements in unusual ways.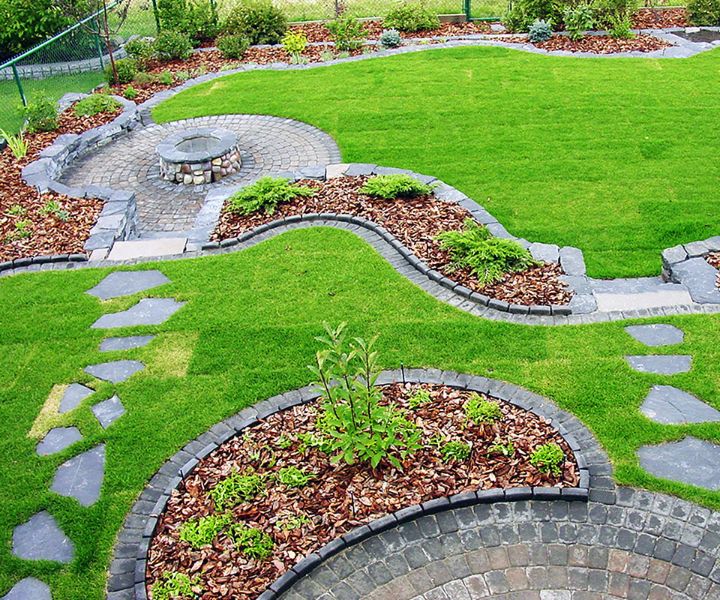 Tip: Maintaining a ratio of about ⅓ between decorative elements and grass can help you design a balanced and well-proportioned garden.
35. Climbing Stone Path with Mulch
Stacking together rocks to create a path like in this example can help you provide a seamless transition between two different levels in your garden.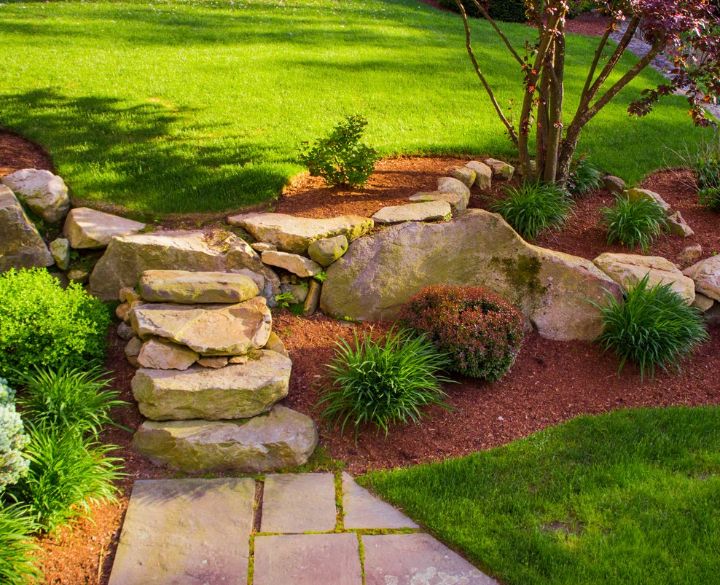 Don't forget to add some mulch–choose a strong color for contrast, like in the image above.
36. Gray Stone Landscape Gardening
Combining neutral shades of gray with stronger colors can be an inspired choice. Just take a look at this example.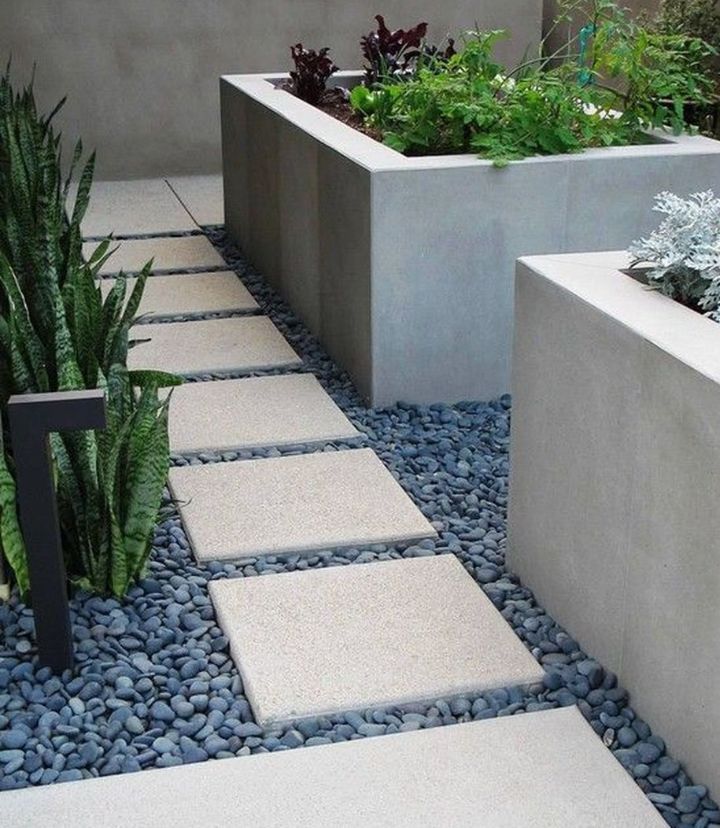 Straight lines can help you create a modern, minimalist design that reinvents old ideas of landscape gardening and puts geometrical shapes at the forefront of the design.
DIY Landscape Gardening
Doing landscape gardening the DIY way can be an interesting experience. You don't have to be an experienced handyman or an artist to mix and combine designs and ideas.
Some of the following examples are admittedly harder to pull off than others, but you can always adapt the design to your time, skills, and resources.
37. Stone Fire Pit Terrace Gardening
Placing a fire pit at the center of your garden space can turn your relaxation area into a warm and cozy place for hanging out.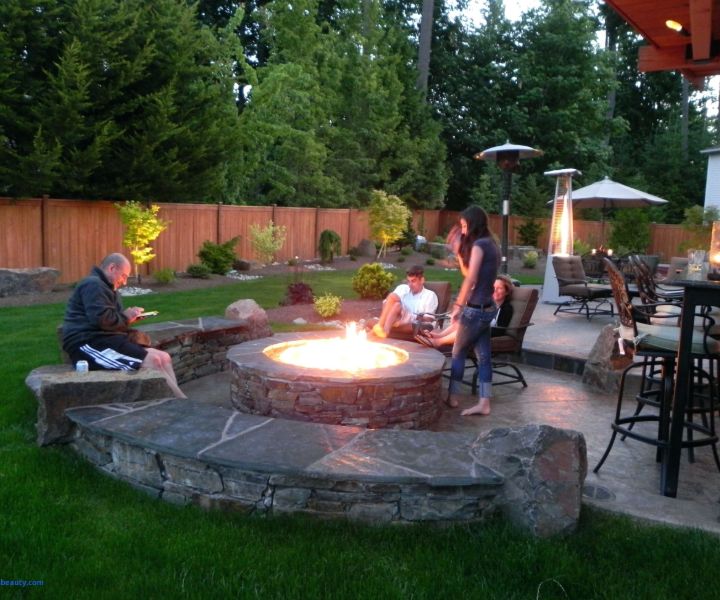 Notice how the greenery and trees in the distance create space and a nice open air, campfire-like feel.
38. Wood and Stone Landscape Gardening
In this creative example, a rustic brick wall serves as just the right backdrop for a green patch with a wooden separator.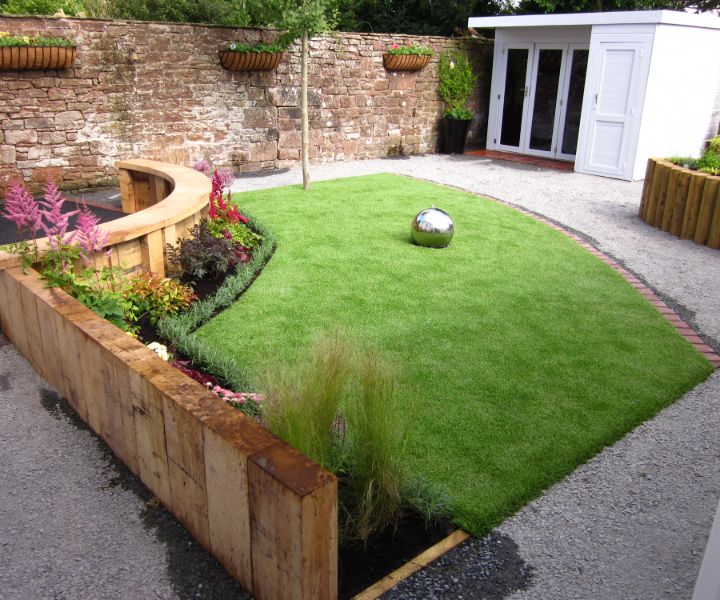 This example has strong Eastern influences, focusing on creating space and air rather than cramping a small place with greenery.
39. Simple Landscape Gardening with Barrel
This example may seem very simple compared to other landscaping designs on our list. But the seemingly careless agglomeration of plants in a raised bed can give a garden a nice impromptu feel.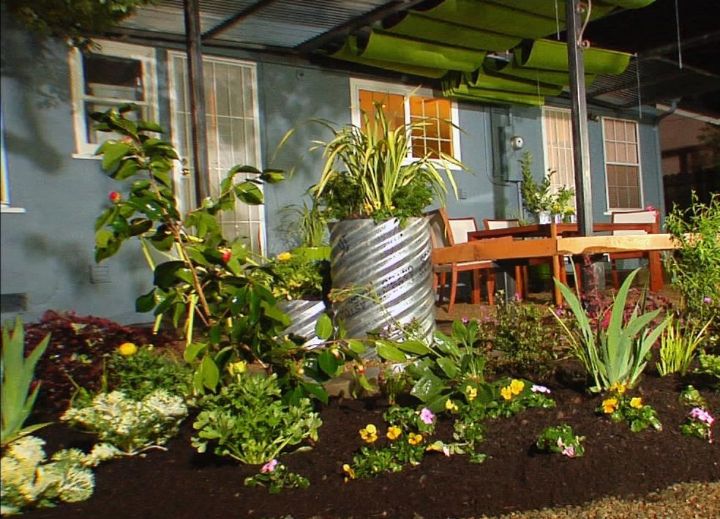 The gray barrel slash pot gives the setup an industrial tone that works in this setting.
40. Stone Spiral Landscape Gardening
Sometimes, how you use the rocks you have makes a bigger difference than what rocks you use. Check out this stone spiral design for inspiration.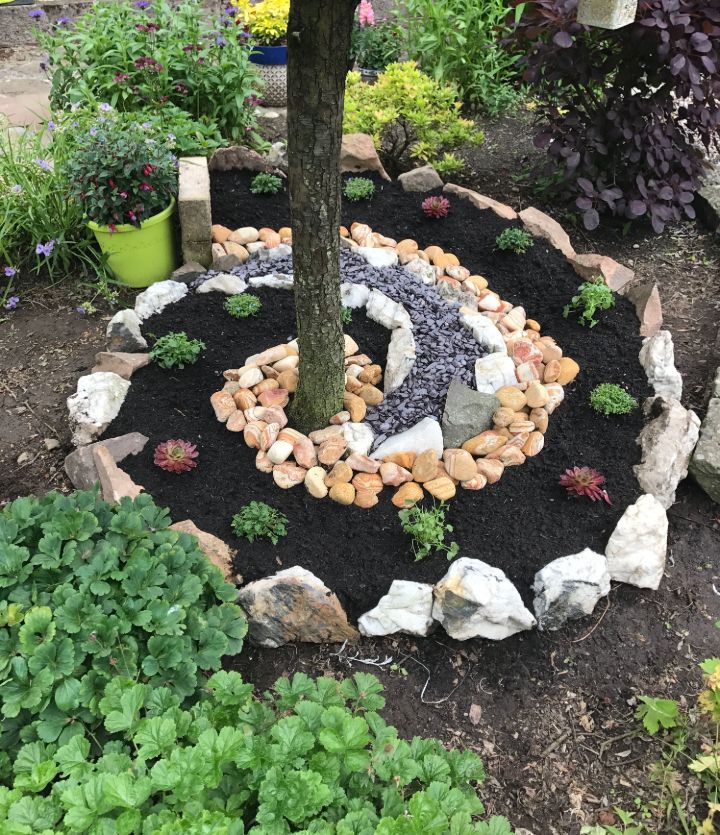 You can combine different types of rocks with a few succulents and other plants to create an interesting design without using too many resources.
41. Square Steps Log Path
Got some square wood from an old patio or other structure? Before throwing them away, consider whether you can't use them to create a climbing path like in this example.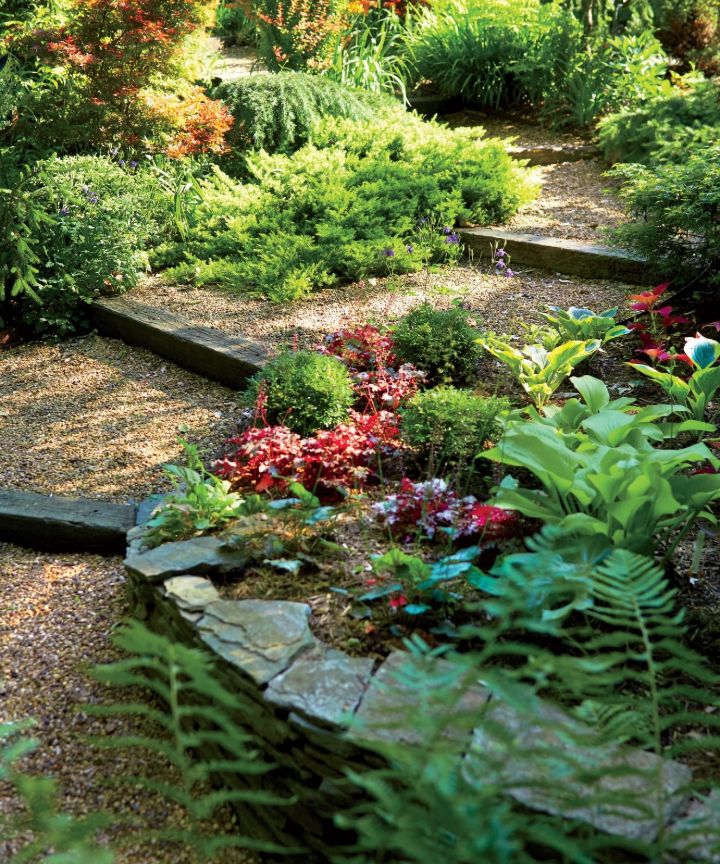 Add some stones and tiered beds with plants, and you can create a wonderful path you'd never want to end.
42. Plastic Container Wall Landscape Gardening Separator
Whether you use special plastic containers or find a way to upcycle bottles, a green separator fence like in this example can help you set up a support for lots of pots.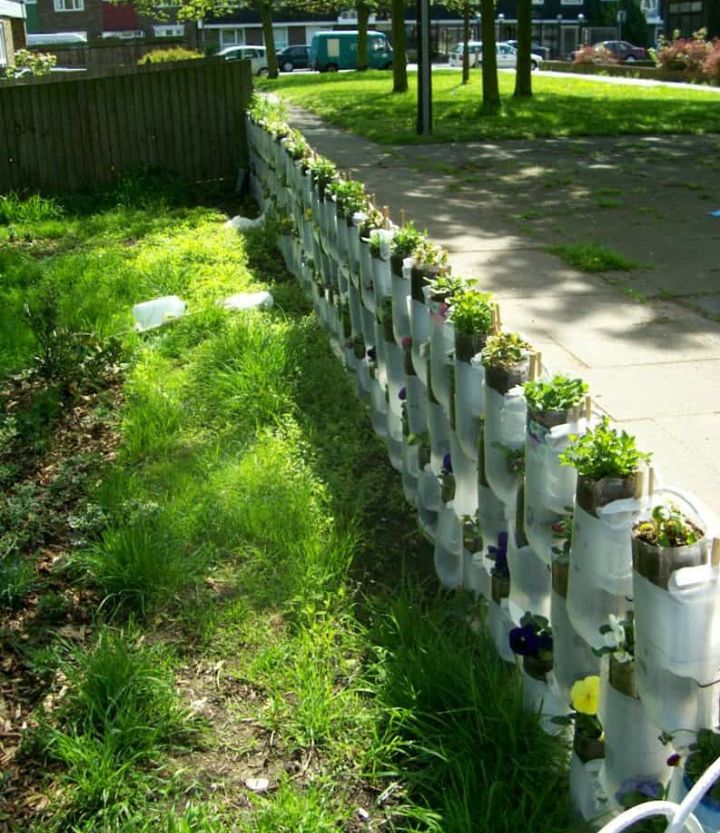 You can also adapt this concept to privacy or separator walls within your garden.
43. Grass Path Landscape Gardening
A lot of the paths and walkways we covered so far featured stones, gravel, or mulch. But sometimes, leaving a path green and grassy is just great. Here's an example that proves the point.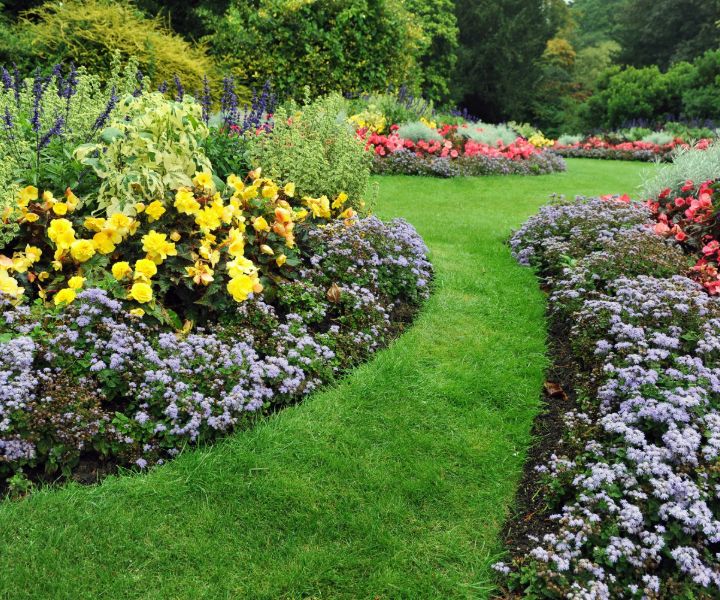 We also like the rich flowers bed and how these are built in tiers and bring together plants that bloom into eye-catching colors.
Modern Landscape Gardening
Clean, simple, streamlined–that's modern landscape gardening in a nutshell, and we have a few nice examples to prove it.
44. Long Terrace Landscape Gardening with Play Area
In this beautiful example, the paved terrace area leads down Japanese steps to a green field all the way to a trampoline and mini soccer play area.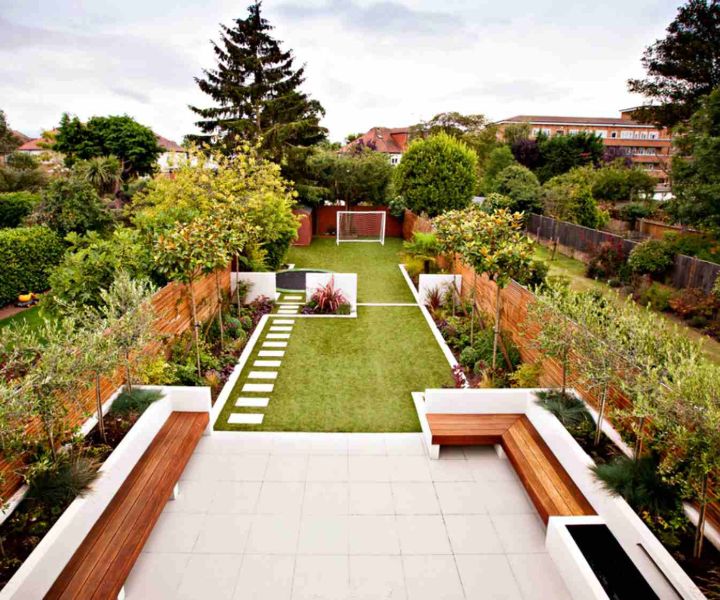 Wood creates a harmonious backdrop and detailing while the careful selection of plants make nature's presence known without taking up too much space.
45. Geometric Landscape Gardening with Pool and Green Wall
Stone or concrete can be the predominant element in a modern landscape, creating a sleek and elegant design that's minimalist all the way.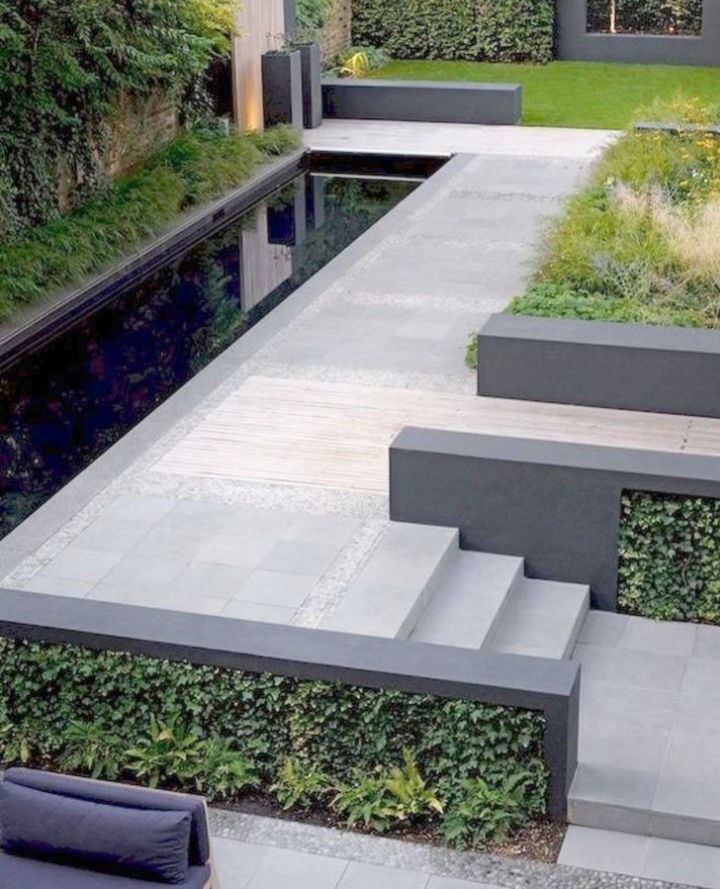 We love the way plants and greenery have been integrated into this design, adding color and accents just where they are needed the most. The rectangular pool is another standout feature.
46. Creative Outdoor Fire Pit Landscape Garden
Combining elements and textures, this landscape gardening idea is an example of creative minimalism. The plant wall with wooden frames creates a nice backdrop for the grass and stone foreground.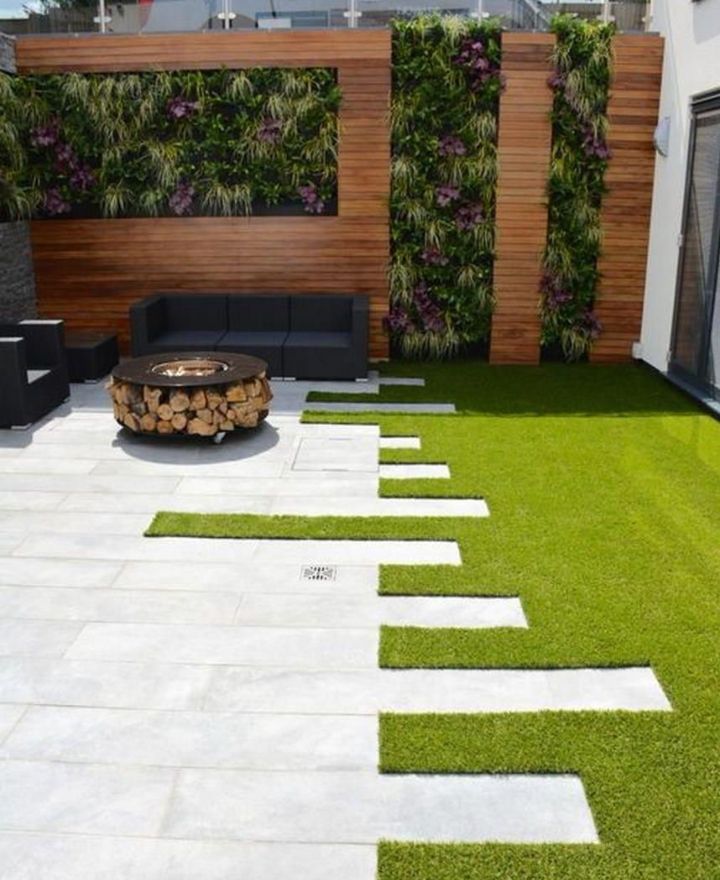 The uneven stone lines add a nice touch to a design that without them may have looked quite common and perhaps a tiny bit boring.
47. Hedge Water Feature Landscape Gardening
In this verdant example, hedges have been trimmed to create beautiful square water features and a dark green backward wall.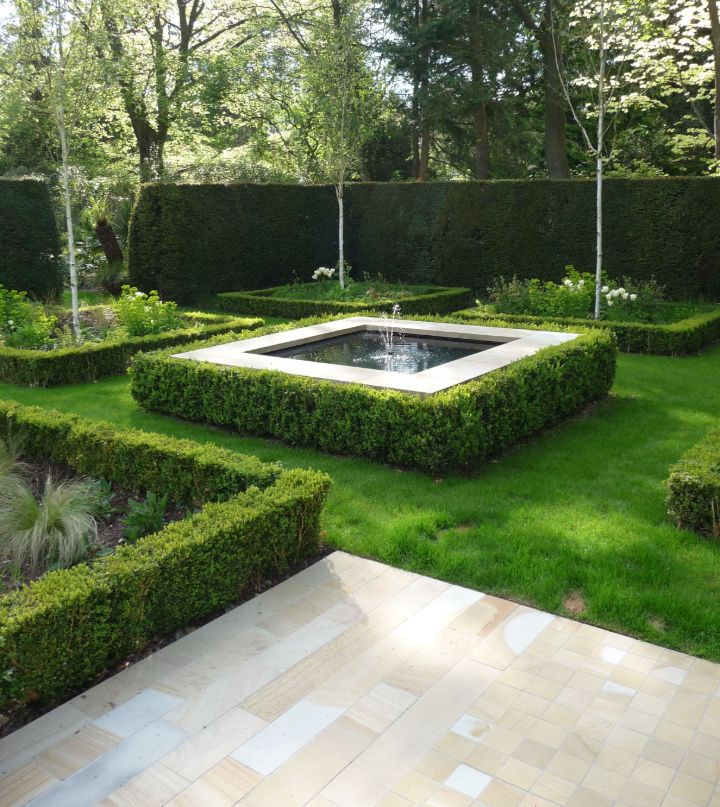 Using hedges in this way can transform the look of your garden. Notice also the careful irregular paving that leads the way into the green symmetry of the place.
48. Brick Wall Landscape Gardening
You can integrate an old brick wall beautifully into an otherwise modern landscape design. The wall creates texture and brings into focus the lower plants and other garden features.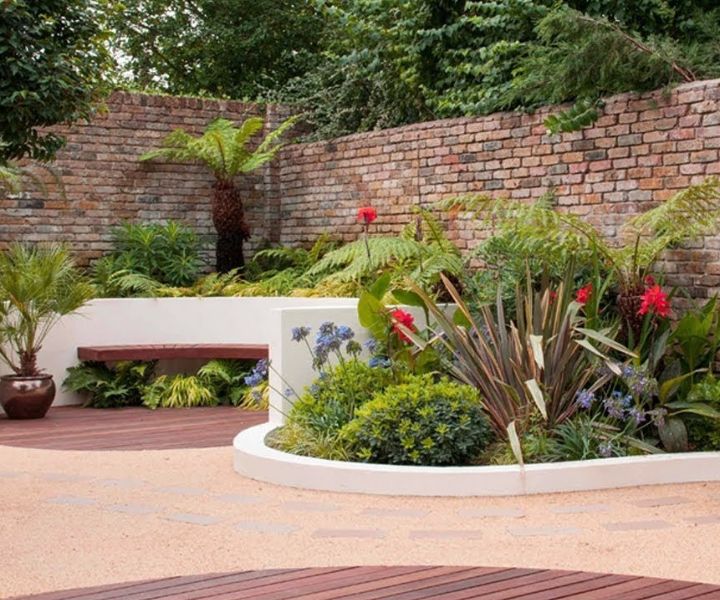 We also like the way wooden decking was integrated with the pastel gravel in the sitting area. The garden bench is simple and helps to maintain the clean look of the place.
49. Green Geometric Landscape Gardening
Here's another great example of how you can transform a small space with gravel, grass, paving stones, and a few well-trimmed hedges.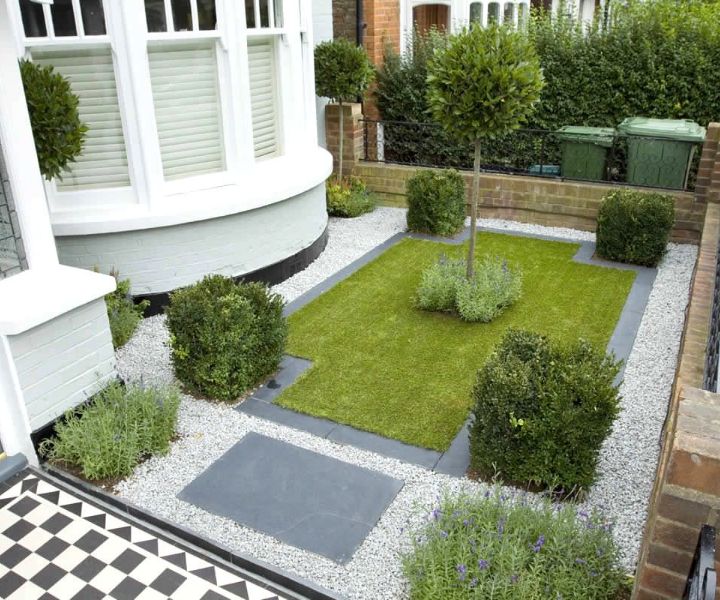 The square edges anchor the design at each point while the tree in the middle adds grace and lightness to it. We think it's great!
50. Small Pool Timber Decking Landscape Gardening
Modern landscape gardening can achieve a lot even in a small space. This example uses landscaping timber in combination with profuse plants and an interesting square pool.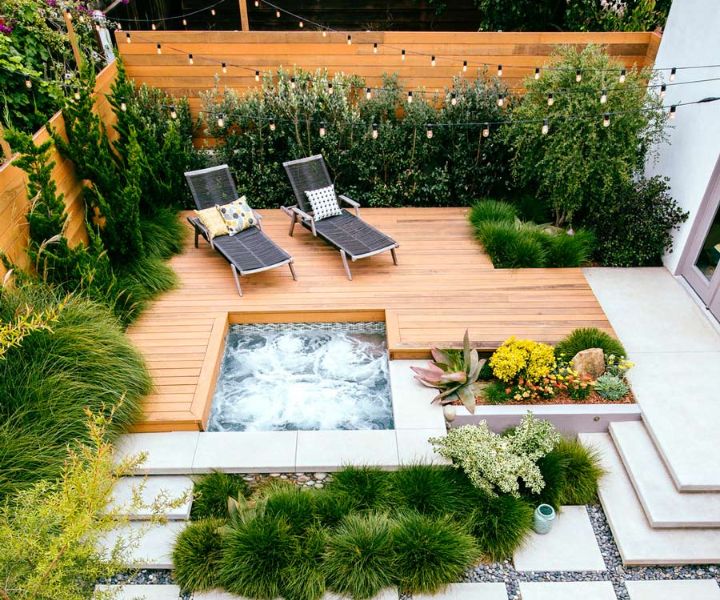 Hanging garden lights contribute to the ambiance and make it a wonderful setting for relaxing in the evening or on warm summer nights. Notice also the layered use of stone–a clever alternative to conventional steps.
51. Wide Pool Modern Landscape Gardening
Last but not least, if you're on the lookout for a design that's futuristic and comfortable at the same time, here's an idea to fire up your imagination. For pool lovers, this can be a fantastic way to landscape your garden.
We like how this concept remains leafy and intimate despite the somewhat radical design choices taken with the deck and the pool. After all, we all need a bit of silence in our lives–silence is healthy.
How to Keep Landscape Gardening Cost in Check
Landscape gardening is often seen as something expensive that only the rich can afford. While it's true that landscape gardening services can be expensive, today you can create a beautiful garden without breaking the bank.
Often, the best way to reduce costs is to design your own garden instead of hiring an expert. But keep in mind that this is not always the best idea.
If you want a large, sophisticated garden and haven't created one before, working with an expert can help you avoid costly mistakes. And, paradoxically, when you draw the line, you may find that you've actually saved money.
Here are some essential tips for reducing your landscape gardening costs.
Step 1 – Plan On Paper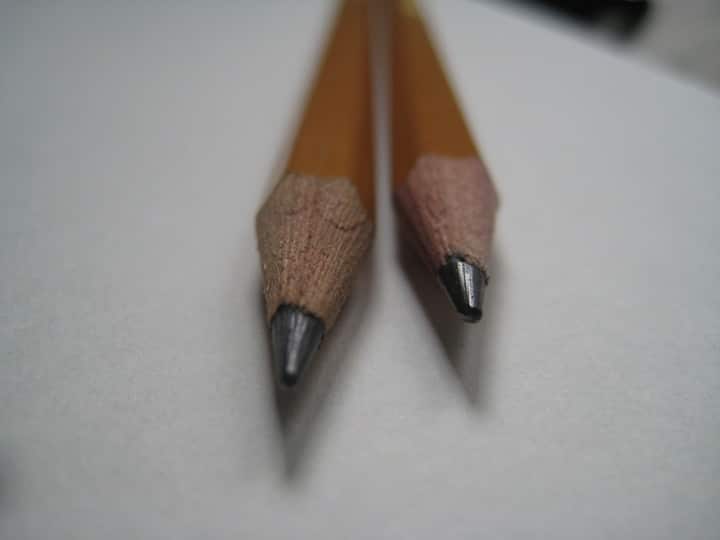 It's easier to avoid mistakes and get everything right if you have a systematic approach to landscape gardening. Take at least a few days to figure out what goes where and take exact measurements.
Step 2 – Do Part of the Work Yourself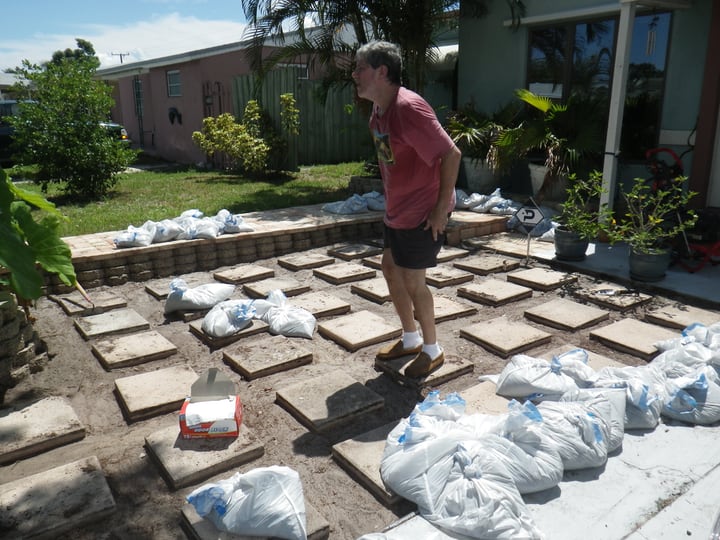 While not all of it will be easy, it can be relaxing and enjoyable all the way. Think of the harder part as a workout in the open air.
Step 3 – Focus on the Essentials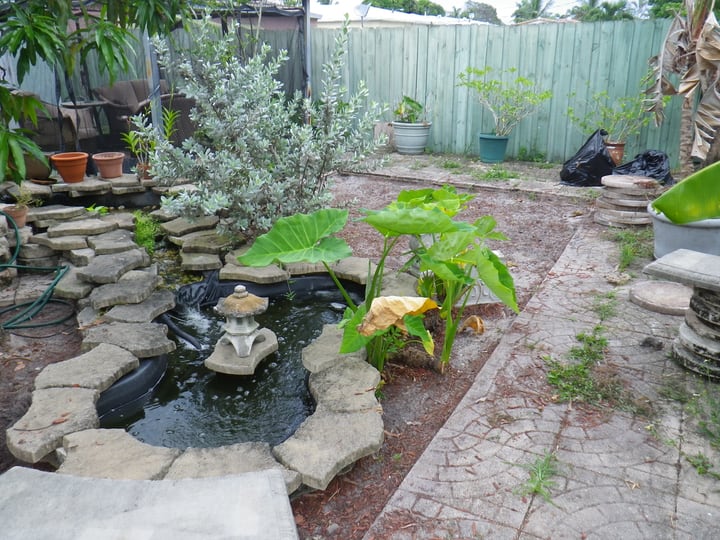 Pools or sophisticated water features can add a lot to your overall costs–both the initial costs of building them and long term maintenance costs. If you're not sure you want them, better leave them out.
Step 4 – Choose Resources That Are Available Locally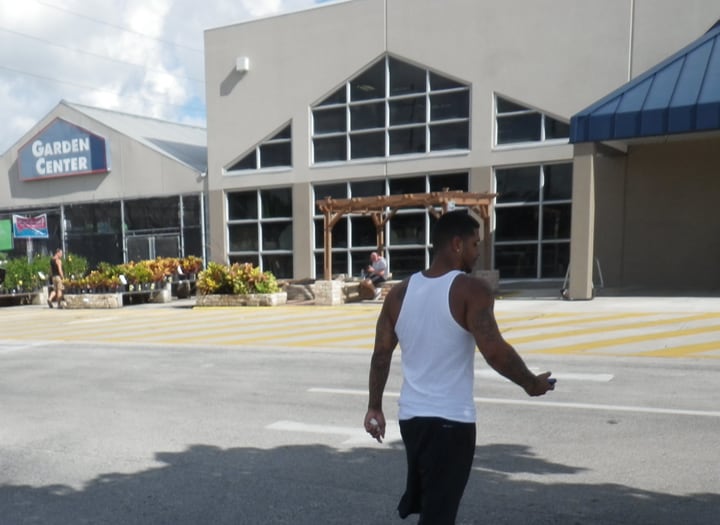 Whether we're talking about landscaping timber or landscaping rocks, products and materials that are readily available in your area will save you money.
Step 5 – Plant Vegetation Adapted to Your Climate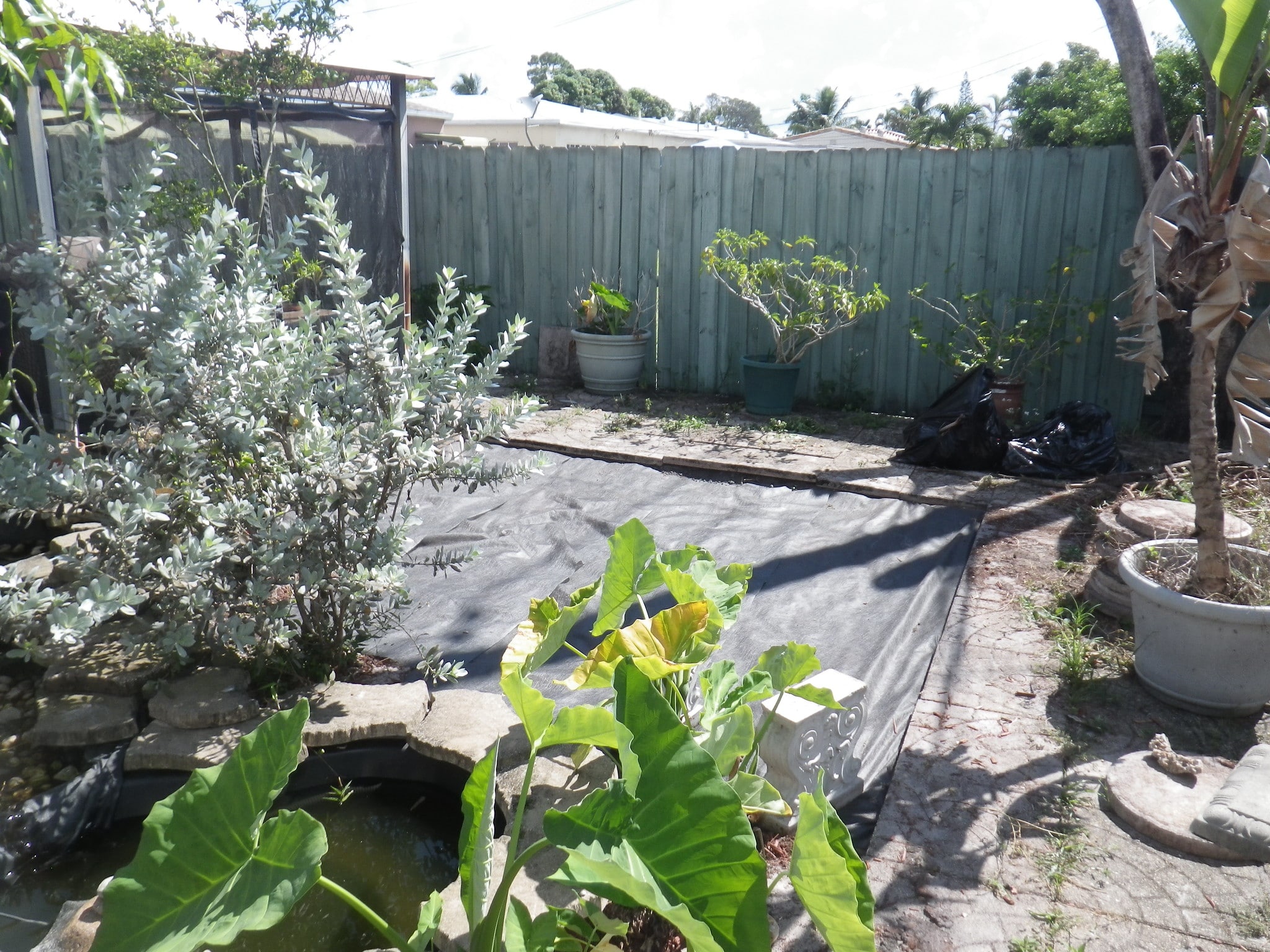 Don't shy away from experimenting with non-local plants. But choose acclimatized plants to protect your investment and reduce the risk of the plants not becoming established.
Step 6 – Rent a Digging Machine to Get the Soil Ready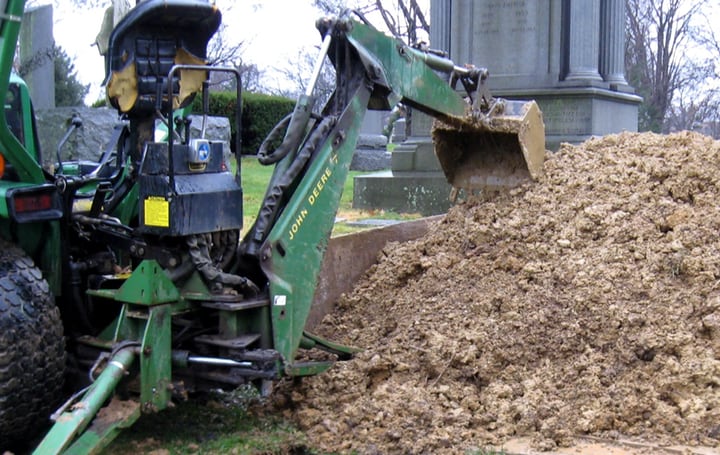 Depending on your design, you may also have to excavate certain areas. Shoveling is fun, but only up to a point–renting a digging machine will make things a lot easier.
Step 7 – Use Your Creativity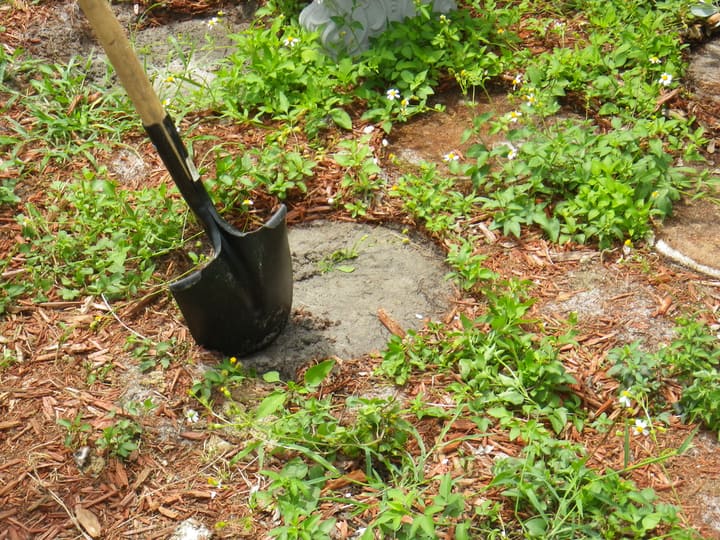 With creativity, you can reuse or upcycle materials you may already have instead of making expensive choices. You can also circumnavigate problems. Landscape gardening leaves plenty of room for experimenting.
At the end of the day, landscape gardening is work. But it can be the good sort of work–rewarding and enjoyable because it's a beautiful process of creating outdoor nature art.
You're creating something with your own hands and not only that but also merging with nature at the same time.
Landscape Gardening Commonly Asked Questions
Still got a few questions about landscape gardening? We've gathered together the most frequent questions on this topic and thought we should answer them. Find the answers below.
The Best Time to Landscape Your Garden Is Now
More than transforming your garden, landscape gardening can transform you. It can help you bring nature closer to home and create a beautiful corner to which you can always retreat.
It's true that it's going to cost money and–if you're doing the work yourself–time.
But more than creating beauty, it's a great way to engage the mind and take it off your worries. Also, it can help you tap into the health benefits of gardening.
But just because we think landscaping your garden is a good idea doesn't mean you should rush the process in any way.
Take the time to consider all your options and draw inspiration from the ideas we shared with you.
Unless you're reading this in the middle of winter, it's probably as good a time as any to landscape your garden. Go for it!
Landscaping is an art that can be very rewarding in itself. And when the end result is great, all the better.
Now over to you.
Have you ever landscaped a garden before? Or are you planning to do it for the first time? Let us now in the comments section below–we'd love to hear from you.